Why Trust Us?
We hope you find your next favorite thing from FavReviews! We are a family friendly product review site.
Four Generation Family: As a four generation family, the breadth of products we consume and review as brand ambassadors is vast. But we can tell you, in general, in we love the outdoors, sports, staying active, living healthy and celebrating the changing seasons.
Trending Products: We also love finding new trending products and we are happy to pass along our research of new trending products to you. Follow us so you don't miss out on a thing! We send out cool emails with our latest reviews, and we will never sell or misuse your information.
Opinions Based on Use, Research and Reviews: Each product we write about is independently selected by our editors. All opinions in this article are our own, based on our own use of the product(s), or hours of research and reading reviews. We will never recommend something we wouldn't use ourselves in our own family.
Compensation: Yes, FavReviews may collect a share of sales or other compensation from the links on this page if you decide to buy something (that's how we stay in business). But, the product never costs you more, in fact in some cases, we hope we might help save you money based on our recommendations.
Reviews have been edited for length and clarity. Enjoy finding your next favorite thing! Happy Shopping! Your FavReviews Team
Camping is a great way to get outside and enjoy nature, but it can also be a bit uncomfortable if you don't have the right gear. An air mattress is a must-have for any camping trip, and finding the best air mattress for camping can make your experience much more enjoyable.
But not all air mattresses are the same, and they've come a long way from your parents air mattresses.  There are a lot of different options out there now, so read on to learn about the different types of  air mattresses for camping, or sleepovers, and find the one that's perfect for you!
---
How to Choose a Good Air Mattress for Camping
Several characteristics should be considered when shopping for air mattresses.
TYPE OF AIR MATTRESS
First and foremost, choose the type of mattress you want.  This requires thinking about how and where the mattress will be used:
Will it be in the back of a SUV?  Truck bed? or,
Will it be on the floor of a tent?  or,
Will it be set up in a spare room (or office) as makeshift sleeping accommodations?
Do you want the air mattress to be directly on the floor, or raised up on a platform?
Would added height to the air mattress make it easier for you to get in and out of bed?
SIZE
There are several sizes available. The majority are Twin (Single) or Queen, however depending on space you have available they also come in XL Twin, Full, King and California King sizes.
In most cases, the manufacturer will indicate the persons height the air mattress will be most suitable for.   They also often include the maximum weight capacity.
AIR CHAMBERS | COMFORT
Some feature more than one air compartment,  so you choose how full you want each compartment to be.   Some of those with several air chambers, allow you to adjust the degree of firmness of the mattress on opposite sides.
MATERIAL
Material is also important.  Most are constructed of PVC or similar material.   You may want to consider one with a soft top material.  Some air mattresses feature a soft, flocked surface which helps with the dampness sometimes felt.   If it has a quilted mattress cover top, you may get away with sheets rather than a sleeping bag.
INFLATION TECHNIQUE
You should also consider how the air mattress will be inflated.   Does it come with its' own pump?  Some air mattresses have a built-in pump, while others need an additional battery-operated pump. For camping, you'll need one with a battery-operated pump or one that links to your car charger, or generator, or electrical (if your campsite has electricity).
WEATHER
Like tents, air mattresses for camping are intended to withstand extreme temperatures. They are more durable than those built for the house.   Be sure to check the suggested usage for the air mattress you are considering.
---
6 Comfy Air Mattresses for Camping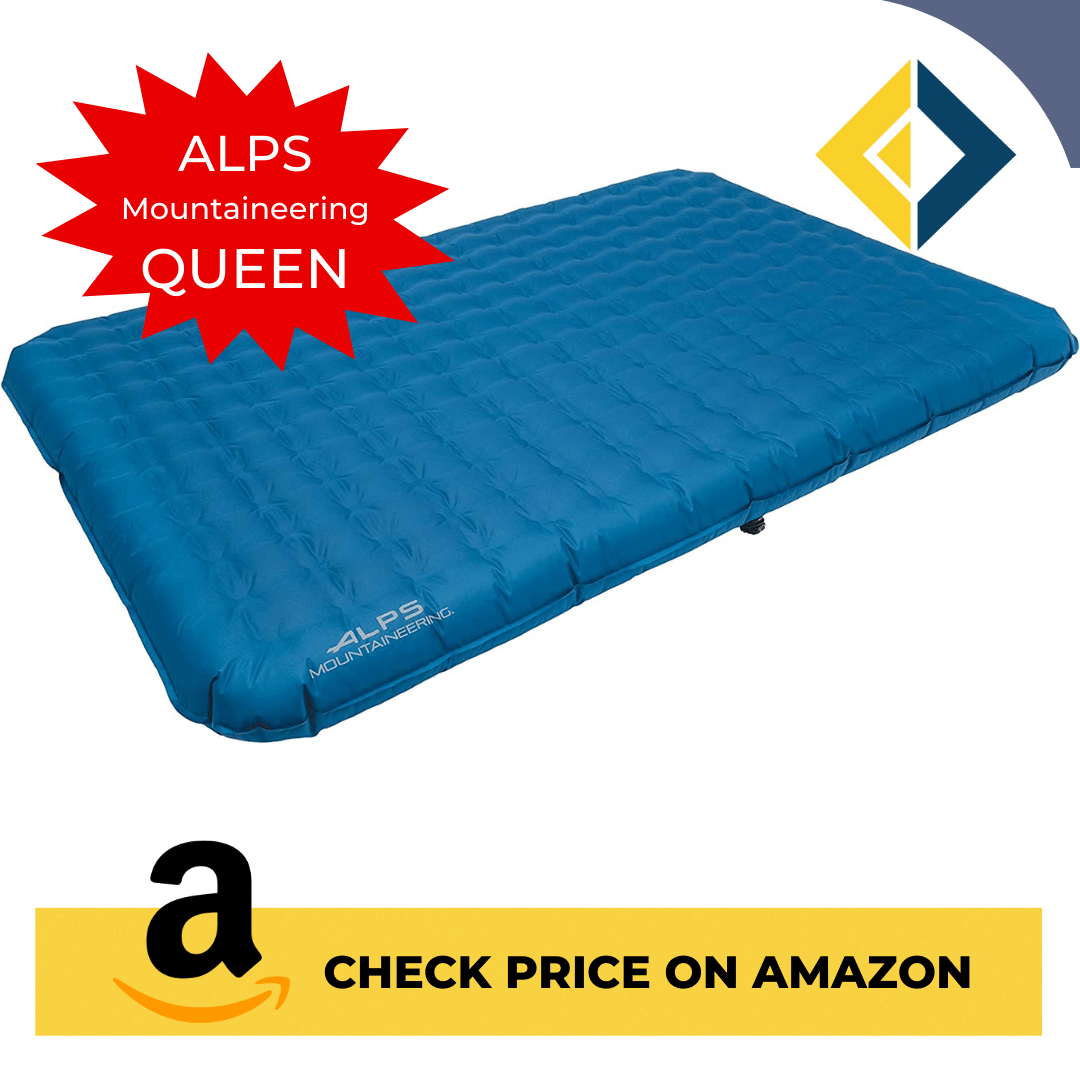 Why it's One of Our Fav's:
The ALPS Mountaineering Vertex Air Bed, available in Twin or Queen sizes, wowed us in our tests with its quick inflation and deflation, strong pump and comfort. When deflated and packed, the air bed weighs just over six pounds and is light and easy to take with you.  A drawstring bag is included for easy and speedy storage and transport.
While the mattress itself is excellent, the pump seals the deal to make it one of our fav's.   ALPS's flexible pump has three charging options: wall outlet, car outlet, or rechargeable battery!
Fav Features:
For those who always like to be prepared, the 2-minutes-and-49-seconds inflation time is excellent.
This queen air mattress is made of durable PVC free fabric with a coil system.
It's comfy to rest on, is 6" deep, will stay inflated all night with a weight capacity of roughly 250 - 500 pounds, depending on size of mattress you choose.
Plus, it has a state of the art air pump that has a rechargeable battery, or can be charged from the car.
---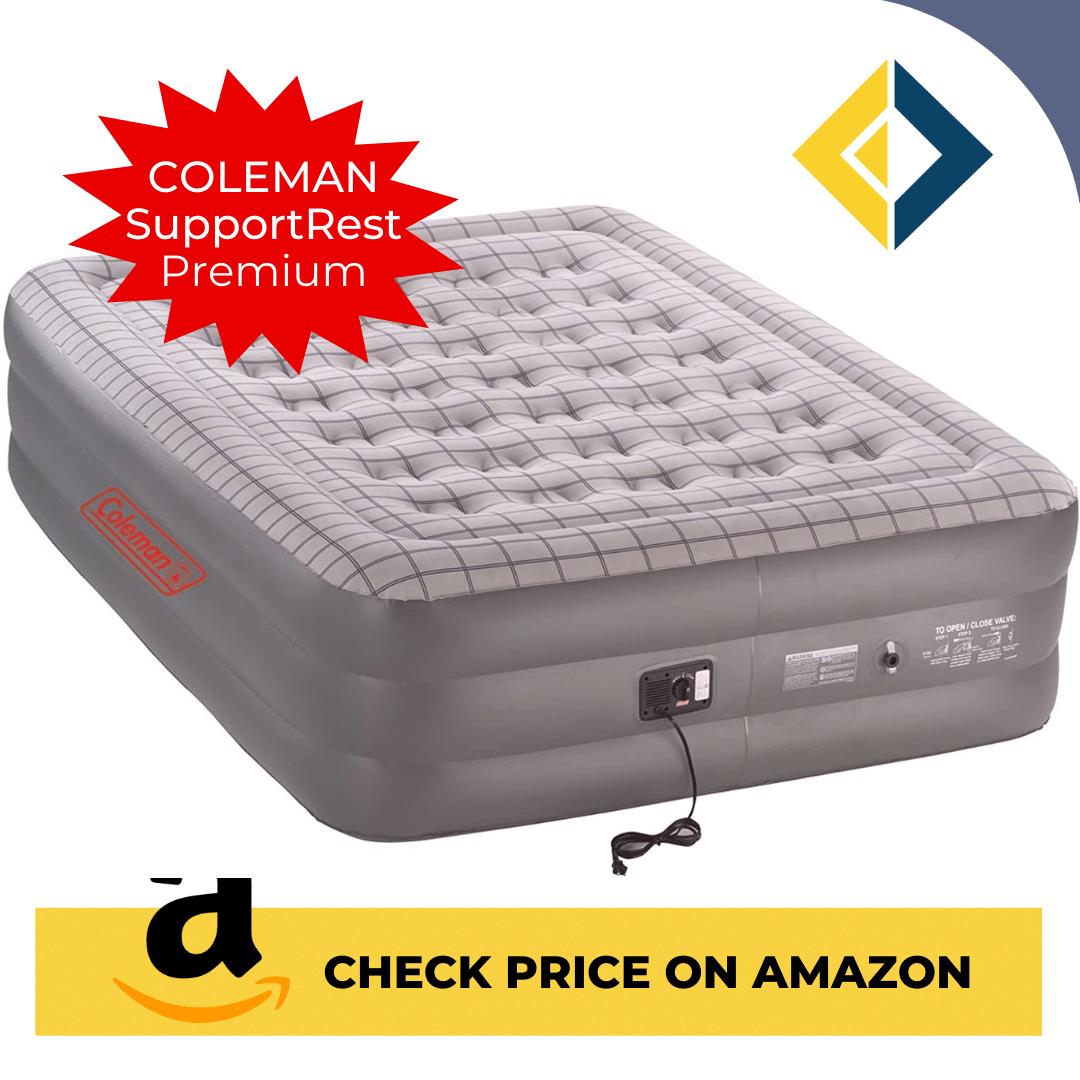 Why it's One of Our Fav's:
The Coleman SupportRest Double High Air mattress is one of the most robust mattresses available.  This air mattress had made more than one of our "fav lists'. It is higher, 18" deep, than the other alternatives on our list, which makes it a bit easier to get in and out of.
It is a perfect multifunctional, comfortable air mattress: although it for indoor use, it ideal for weather-proof camping, and serves really well as an extra bed in your home.
Fav Features:
Its top cover has a velvet-like plush feel that is soft and comfy. It also keeps your sleeping bag or sheets from sliding around on top.
This comfortable air mattress is queen-sized, any queen sheets will work.
Deflate the air mattress, wrap it up, and put it in the built-in storage system using the Wrap 'N' Roll storage system.
The AirTight technology also helps to guarantee that no air escapes as you sleep, allowing the mattress to remain firm throughout the night.
---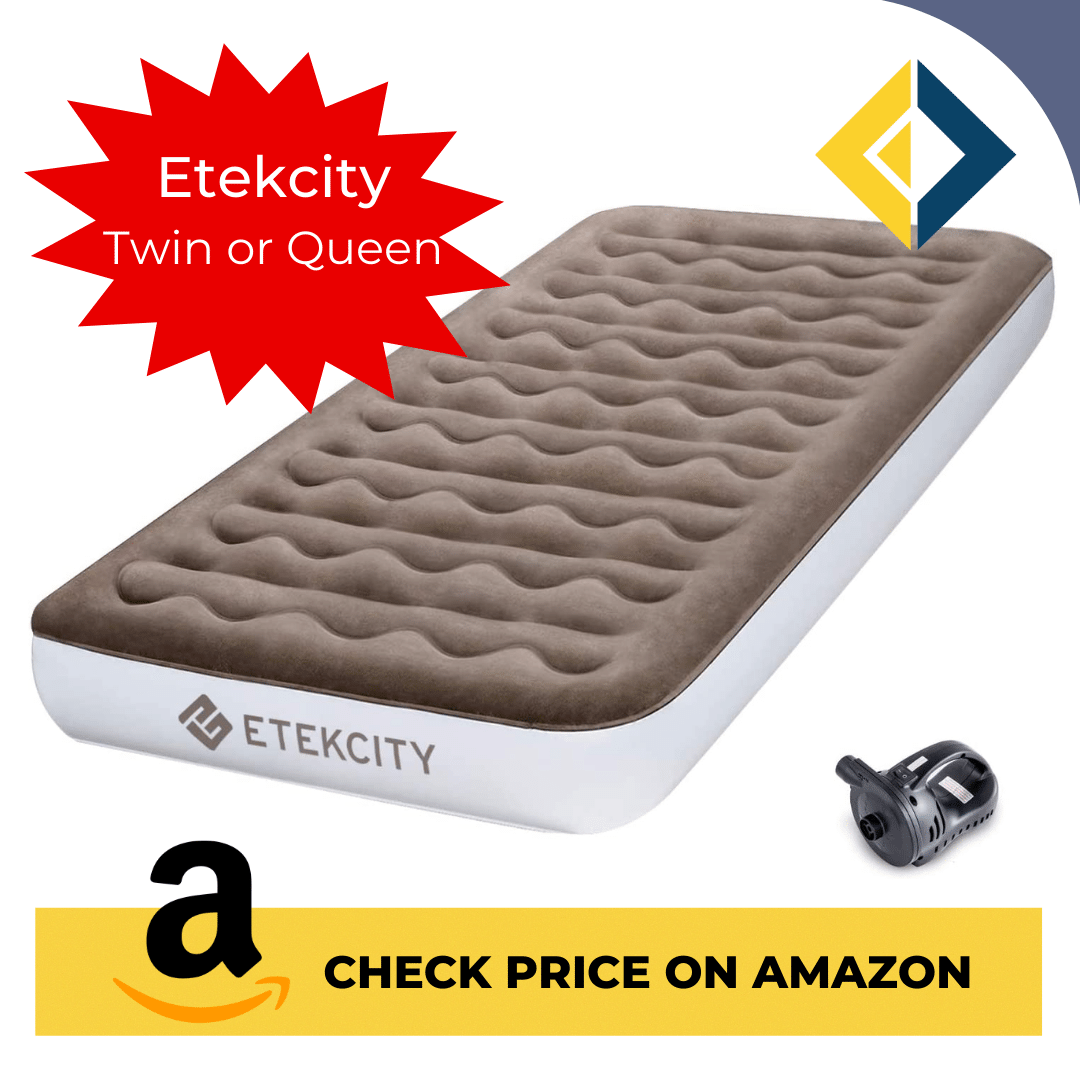 Why it's One of Our Fav's:
The Etekcity Camping Air Mattress is an excellent air mattress that satisfies all of the requirements one may have for such a product: it is comfortable, it is simple to put up, and it has excellent pricing.  It's available in Twin or Queen sizes.
Most importantly, the feature we like the most for camping is; its waterproofness. The air mattress is perfect for tent camping, overnight visitors, temporary lodgings, traveling, and more since it comes with a rechargeable pump and a storage bag.
Fav Features:
The inflation of this mattress was completed in a swift 2 minutes and 41 seconds.
Even when two persons were on it, the mattress maintained a high level of comfort and support.
The polyvinyl material will be long-lasting, and the air mattress comes with a repair kit in case of leaks.
---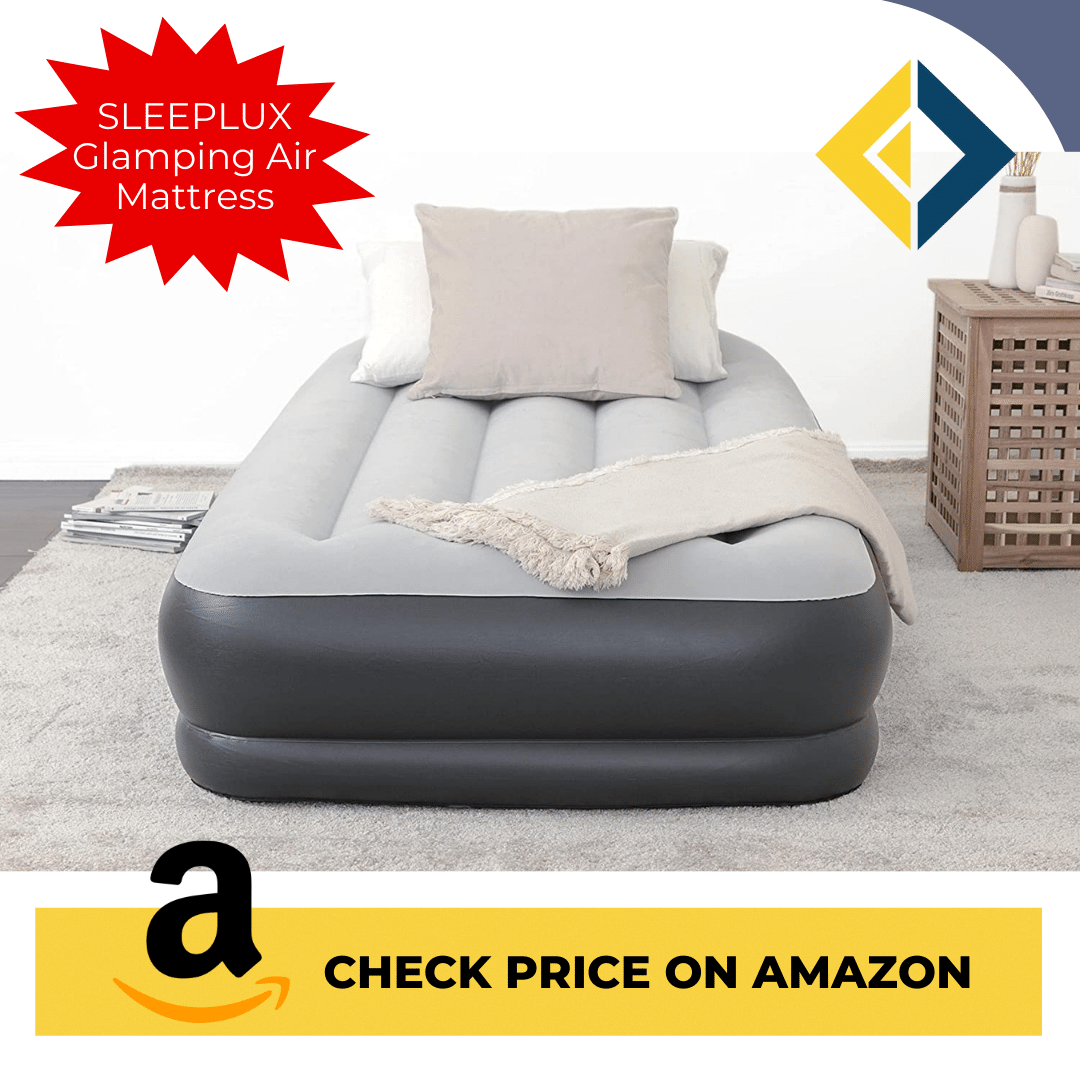 Why it's One of Our Fav's:
We love this SleepLux as one of our fav's because it takes 'camping' to the next level.   We like the USB connectivity for recharging your devices overnight. We also love that it comes in twin, queen or king sizes, 15" deep mattress, with 330 weight capacity nothing more 'glampy' than that.
It has a groundbreaking I-Beam structure  inside this air mattress. The form of this inflatable air mattress, made up of three layers of durable material, will not change throughout the night and will continue to provide a solid surface.
The airbeds sold by SleepLux support healthy sleeping positions. A thick polyester mesh core sandwiched between two layers of solid PVC provides an advanced degree of support for the back and shoulders.
Fav Features:
The sleeping positions encouraged by Tritech airbeds are good for your health.
Simply pressing a button activates the built-in pump, filling the air mattress in only 5 minutes while remaining completely silent. Because it won't let the air out, you won't have to worry about losing sleep.
Because of its non-slip bottom, excessive sliding and sliding throughout the night are avoided by this air mattress.
---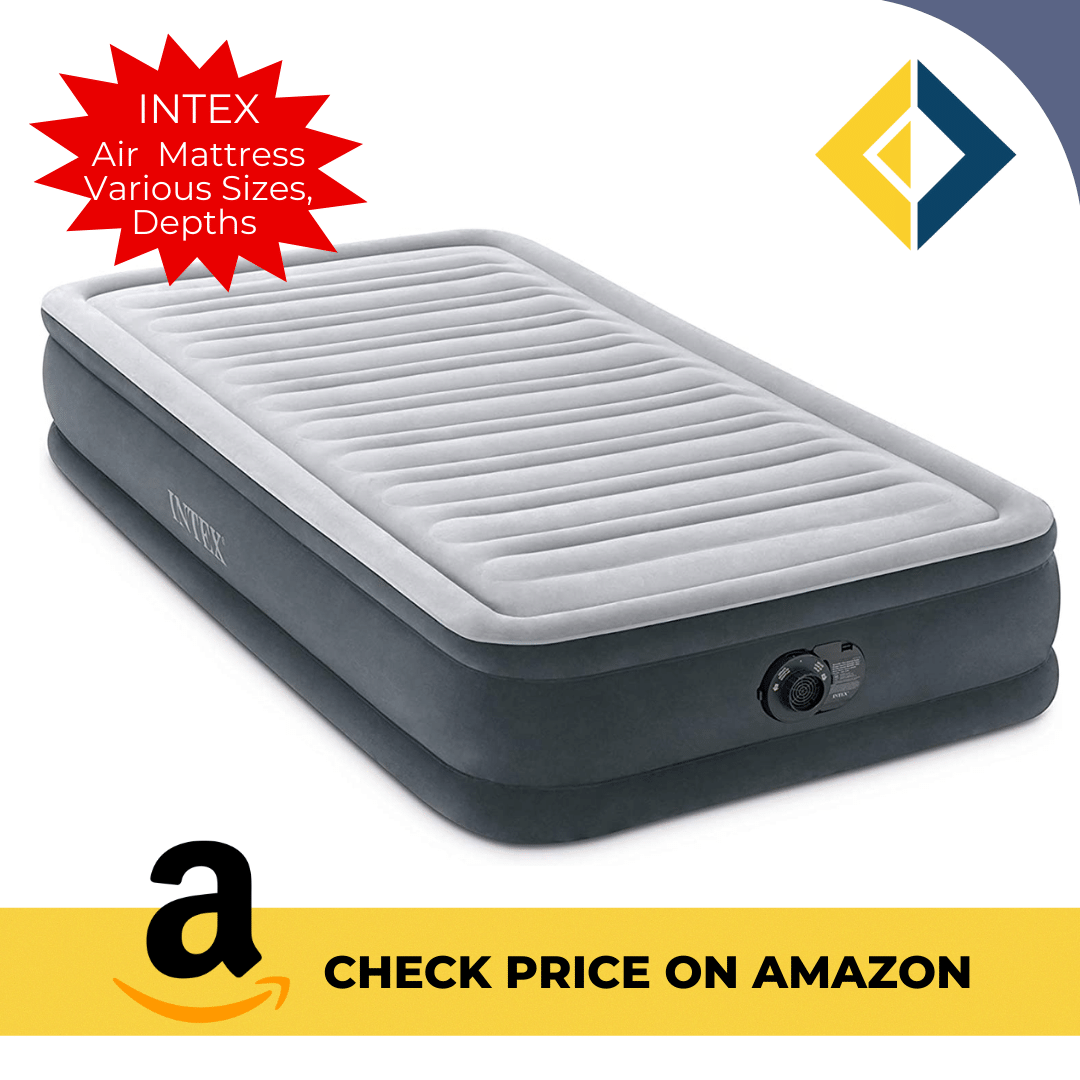 Why it's One of Our Fav's:
The Intex brand is recognized for putting quality and customer comfort first. This camping air mattress lives up to that standard. This air mattress includes a waterproof, extra thick flocked covering that improves comfort and durability.
It comes in a Twin, Full, or Queen size.  It's also available in two different heights 13", 18" and 18" Twin Airbed models.
Dura-Beam guarantees that your air bed remains inflated and robust while you sleep after a long day of camping.
Fav Features:
It can support 600 pounds and offers excellent comfort and support.
Its inflating time is around 3 minutes. With the push of a button, a 110-120v built-in pump will inflate and deflate the airbed.  It also comes with its carry case and is available in various sizes to simplify your life.
---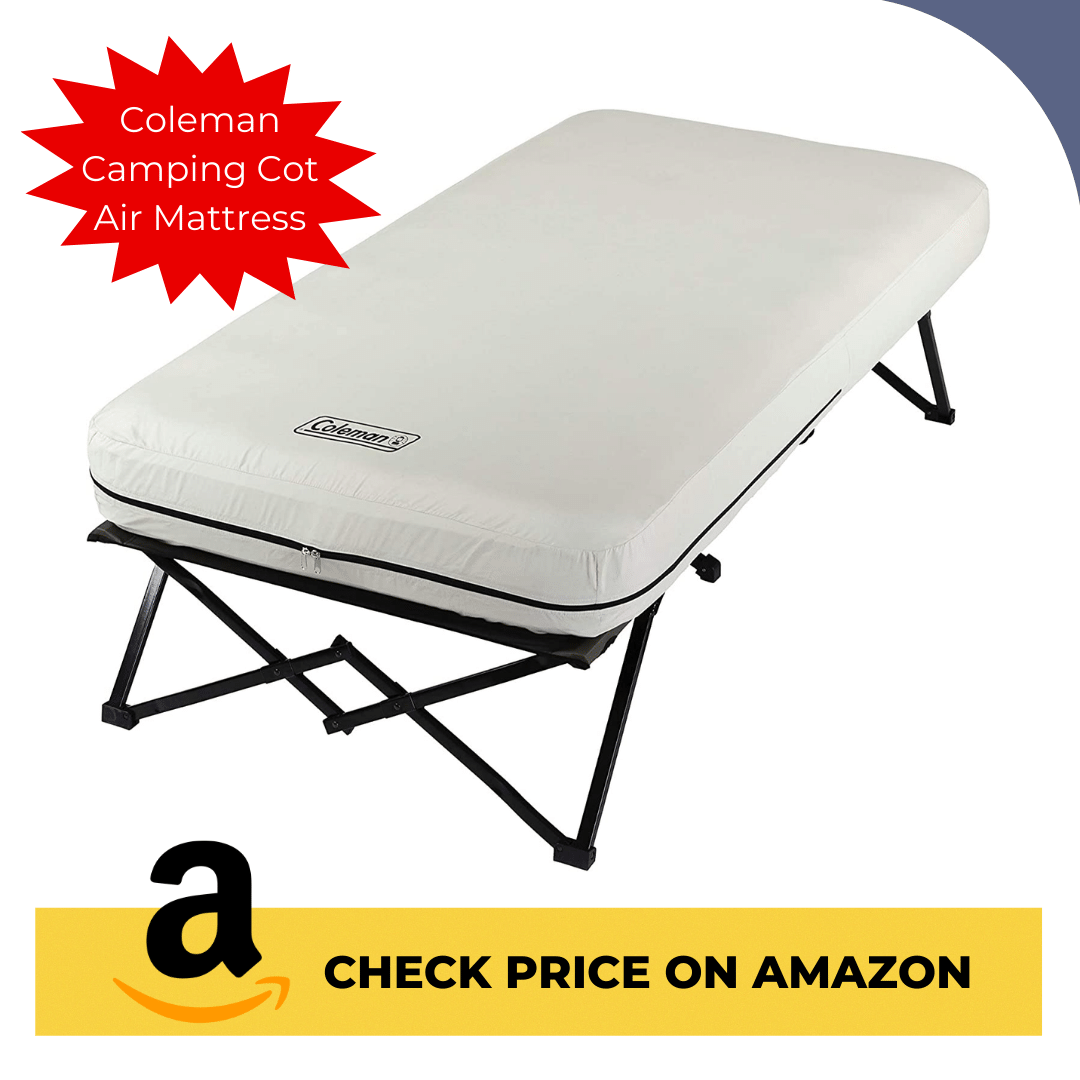 Why it's One of Our Fav's:
Some people like to have space between themselves and the ground, and our list wouldn't be complete without this Coleman Camping Cot.  This cot is almost 24 inches above the ground, is available in Twin or Queen sizes, with a weight capacity of 300 lbs and supports the height of a person up to 6' tall.
The package includes an air mattress with cover, cot, carrying bag (with wheels, necessary), and a battery-operated pump. It's crucial to remember that the pump takes D batteries, so make sure you have enough before you go camping.
Fav Features:
It took less than 5 minutes to set up the cot, and the queen size was reasonably strong with two people, making it ideal for couples.
One of our 'fav features' is the pull-out side tables with cup holders. These were super popular with all testers.
A portable cot is great for camping and entertaining guests.
The AirTight system with the Double Lock valve keeps the air mattress from leaking.   The robust coil system provides support and comfort.
---
FAQs About Best Air Mattress for Camping:
Which air mattress is the most long-lasting?
Air mattresses can be made from a variety of materials, but the most long-lasting material is vinyl. Vinyl air mattresses are also the most affordable option and they are easy to clean. PVC (polyvinyl chloride) is a type of vinyl that is often used in air mattresses because it is durable and resistant to tears and punctures.
How long do camping air mattresses last?
The lifespan of an air mattress is determined by how often it is used, how well it is maintained, and how well it is kept. Best air mattresses that are only used occasionally may last anywhere from eight to ten years, possibly more if maintained.
How can I improve the comfort of my air mattress?
Invest in a quality mattress with a suitable height from the ground to keep you warmer.   Most complaints about sleeping on an air mattresses are from folks feeling they are chilly. If this is the case with your present air mattress, you could add a topper, we often add a wool blanket below our sheets, or you could use extra linens.  If you are searching for a new air mattress consider looking for one with a quilted or padded topper for added comfort.  Lastly, looking for a new air mattress with individual coils or air baffles will help to get the inflated comfort level just right for you.
Is it necessary to pack sheets on a camping trip?
It is optional to bring sheets; however, if you get them, ensure they fit well with your mattress. The most irritating thing anybody can cope with is constantly adjusting sheets that won't stay in position.
Can I use an inflatable bed instead of a real bed?
The short answer is no. While inflatable beds are great for indoor and outdoor usage, they should not be used every night. The reason for this is that you risk reducing the lifetime of the air mattress. In terms of use, it should be done only on occasion.
What if my air mattress has a little hole in it?
These sorts of things are inevitable at some point.   Many new air mattresses will include a vinyl repair kit.  If necessary, you can quickly repair a hole in your air mattress using duct tape, so it's a good idea to pack a roll of duct tape just in case.
Where should an inflatable air mattress be stored?
Always keep your air mattress in a sturdy bag while not in use. In terms of storage, you should keep it in a closet, in a cool, dry spot. The air mattress might develop mildew if kept in a humid space.
Finding Your Next Air Mattress:
So, whether you're gearing up for your first camping trip of the season or just need a new air mattress for sleepovers, we hope this guide has helped you find the perfect option for you.
Air mattresses have come a long way and there are some great options out there now, so don't hesitate to invest in one that will make your next camping trip more comfortable.
And remember, if you're not sure which air mattress is right for you, Amazon has a huge selection with prices starting at just $30!
Click on one of the images above to check today's price on Amazon.
Happy Shopping!
Your FavReviews Team