Coleman is a world renown company for outdoor gear, with over 100 years of expertise. If you love the outdoors you will be familiar with the Coleman brand name.
Beyond the family friendly tents we will discuss in this review, Coleman manufactures top-of-the-line camping lights, backpacks, sleeping bags, coolers, stoves, and more.  Check out the full Coleman store on Amazon here.
Coleman tents are quality, one-of-a-kind tents, available in various sizes to meet the variety of needs for any camping family.
Beyond quality construction and best materials, Coleman camping tents come with a number of standard features that are super helpful. Features like mesh storage pockets, gear lofts, door awnings, integrated rainfly, and screened rooms.
We share our research for the Coleman camping tent, below. With the goal to make it easier for you to get your family out camping and enjoying the great outdoors soon.
---
How We Chose the Best Coleman Tent for Family Camping.
A poor-quality tent will undoubtedly spoil your camping trip faster than anything. We all know intuitively it's best to invest in quality, but from time to time we get lured in with false promised and poor quality products.
Investing in Coleman camping tents should not be understated. However, determining which model of tent is best for you can be challenging because they have so many models available.
We have researched the finest Coleman tents that that you can enjoy it with your family and actually stand up in!
To be quite honest the search has taken lots of hours, to get this right, so you can be assured they are all good options for your next family vacation.
Our Fav Reviews team has researched the top Coleman tents, we've read through thousands of user reviews and star ratings on Amazon and other sites to compile this list of Coleman models that will give you the best return for your money.
In this list, we are focusing on Coleman tents for you to consider for your next camping vacation or outdoor adventure with your family (even if that means something as simple as backyard camping with your kids).
We've itemized how each tent style serves a particular purpose. We've also identified all features and benefits, such as whether it has a room divider, dark room technology, the material of the tent body, whether one or two queen size air beds will fit with room for additional sleeping bags, the types of windows, doors, canopies, storage pockets, gear lofts, quality of the tent poles and even the type of storage bag (because nothing is better than getting it back into a convenient carry bag easily, so it's ready for your next trip).
We trust that you'll find your next favorite item from the list we've researched for you below. All of these products have been hand-picked by our editors and we won't recommend something we wouldn't use in our own family. Some may even be items that we already use! We may receive a small compensation if you decide to buy something (that's how we keep the lights on). Some reviews have been edited for length and clarity.
The variety of tents available today have many features and superior quality. We're sure you will find a quality Coleman tent with the features you need to deliver the best camping experience possible for you and your family.
Have fun searching for your next fav product!
---
Buyers Guide to Making the Right Tent Purchase for Your Family
EASY TO ASSEMBLE:
A difficult-to-assemble tent will undoubtedly frustrate you. Nothing worse than arriving at your camping location late, kids are hungry or rain is in the forecast, and you have to fight with the tent to get it up. Super irritating.
The best tent should also be simple to set up, pack up, and easy to store away when not in use.
People often use the terms "pop up tent" and "instant tent" interchangeably, but there is actually a difference. Refer to our articles on Pop-Up Tents or Instant Tents to learn the differences.
PROPER SIZE OF TENT FOR YOUR NEEDS:
You're heading out to unwind and engage with nature and the great outdoors. The last thing you need is to be packed tight into a tent, with wall to wall sleeping space and nowhere to keep your bags organized, or nowhere for wet shoes to be laid out, or no where for the dog to sleep. When purchasing a tent, consider how many people will use it and any unique space needs you might have
Choosing a tent that can accommodate the number of people who will be camping with you, and any special needs required, will allow you to be more comfortable and less frustrated. You won't likely spend much time in your tent, but to get the most of your time in the wonderful outdoors a good nights sleep and privacy when you need it will be key.
DURABILITY, TYPE OF MATERIAL:
Purchasing a tent is typically a long-term investment. People don't typically buy tents every year. So it's important you choose a Coleman tent made of a durable material, such as nylon used in pop up tents or instant tents, or a canvas tent. The material should ideally be waterproof to keep you dry in rainy weather, but note there are different degrees of water resistant or water proof materials.
When considering the durability of a tent, you need to consider more than the tent material. A tent's strength is also determined by the quality of the stitching, the strength of the poles and it's ability to endure rain and heavy winds.
FEATURES, FEATURES, FEATURES:
But lets face it, beyond set up, size and material of your tent.  What gets people excited and talking is the features of the tent.  And man, have tents come a long way baby.  
Some of the many features that may get you thinking about replacing your old tent are, lithium rechargeable battery pack systems to not only charge your electronics but also charges built in lights and a fan to reduce humidity in your tent. [See the Coleman OneSource Rechargeable Tent below]
Or maybe you're looking for a tent for a large group.  Wouldn't it be great to be able to easily connect two tents, and make them weather proof?  [See the Coleman Connectable Bundle Tent below]
---
Which Coleman Tent is Right for Your Family?
BEST COLEMAN TENT FOR HIGH TECH BACKYARD CAMPING
Why it's one of our fav's
When a tent claims to be high tech, you kind of twist your head sideways and say, "What?"  This tent is on of our favorites because it has some of the modern conveniences of home - lights, electronics charging capability and a fan!
But, it's not just all about high tech.  We think this makes the perfect backyard tent, to enjoy outdoor sleepovers anytime right in your own backyard.  
This tent sets up in about 10 minutes.  It has welded corners, inverted seams and a rainfly cover for extra weather protection.  And, the frame can withstand up to  35 mph winds.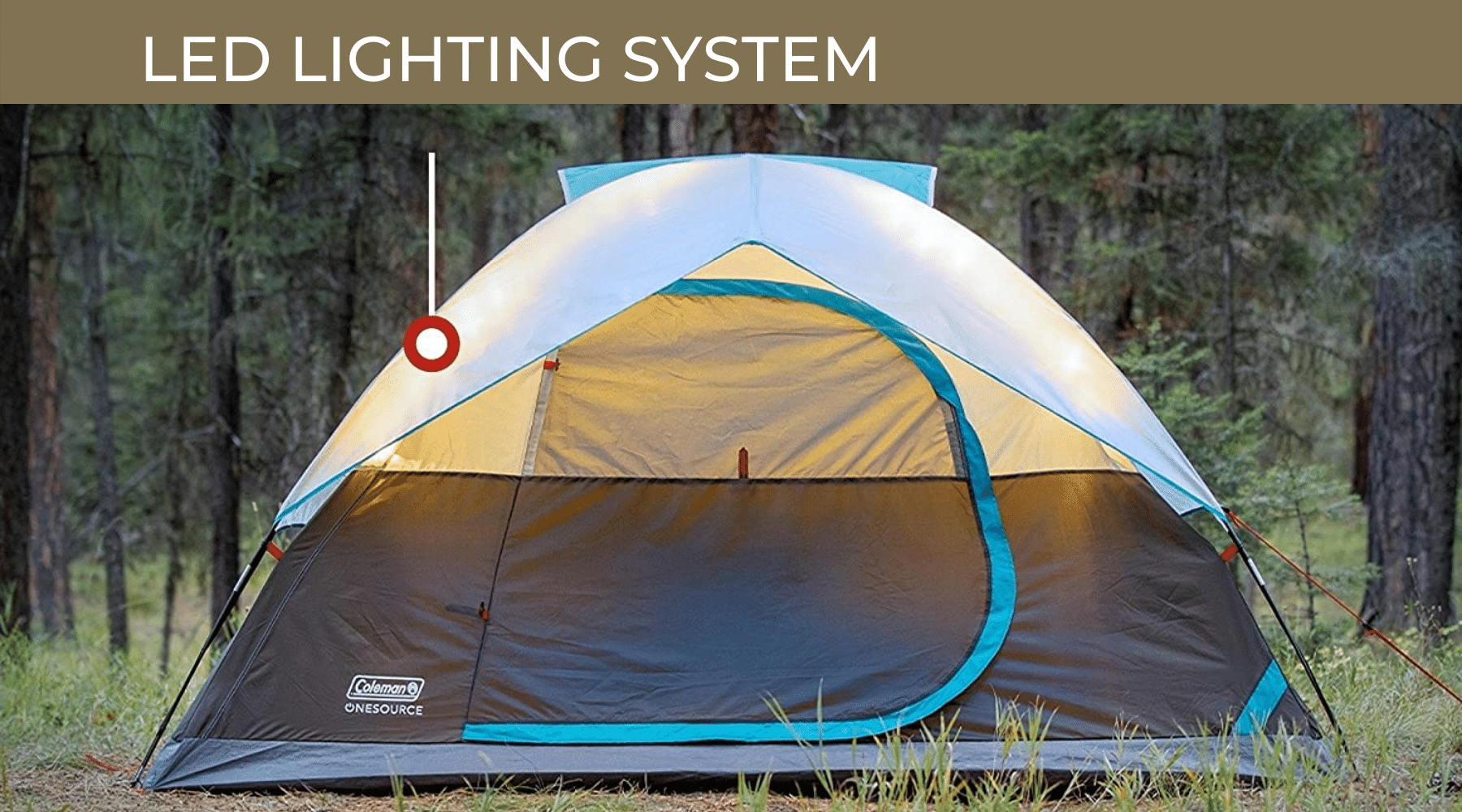 FAV Features:
Comfort is always a favorite feature to talk about, but none of the other tents we reviewed had an integrated fan built in to refresh the air in the tent 6 times per hour to reduce humidity!    And, the built in LED lighting offers a warm diffused light throughout the tent.
The One Source battery eliminates the need for several power sources by letting you charge your devices, like your smartphones or tablets, through a USB port, even while powering gear in the tent.
The lithium-ion battery to keep the tent glowing can be conveniently recharged after each camping trip from a wall outlet at home, or during your trip in your vehicle, with a universal power pack, or other One Source batteries with the included USB cord.  
And, if you choose the 6 person version of this tent (it's also available in 4 person), you will get the 6' center height, and 10' x 10' (100 sq ft)  that will easily fit 2 queen-size air beds and storage pockets keep your small gear organized.
It's all here, one system, one source, power anywhere!  More than a gimmick tent, we think this is one of the coolest backyard tents ever.
---
BEST COLEMAN TENTS FOR CAMPING
Why it's one of our fav's:
When a tent claims to have enough space for two queen air mattresses, you know it's massive. Is larger always better, though? It can be when it comes to having enough room for the complete family to enjoy your weekend break.
The floorless screen room of this tent takes up around one-third of the tent area. A camping tent with a screen room outside the tent body is super convenient for leaving dirty or wet shoes and other 'stuff' that comes on camping trips.
Like other Coleman tents, a floorless screen room is also useful for extra places to sit out of the weather, rain or sun, or to dine, or cook if necessary.
This Coleman camping tent is best for families searching for a spacious six person tent from a well-known brand they can rely on.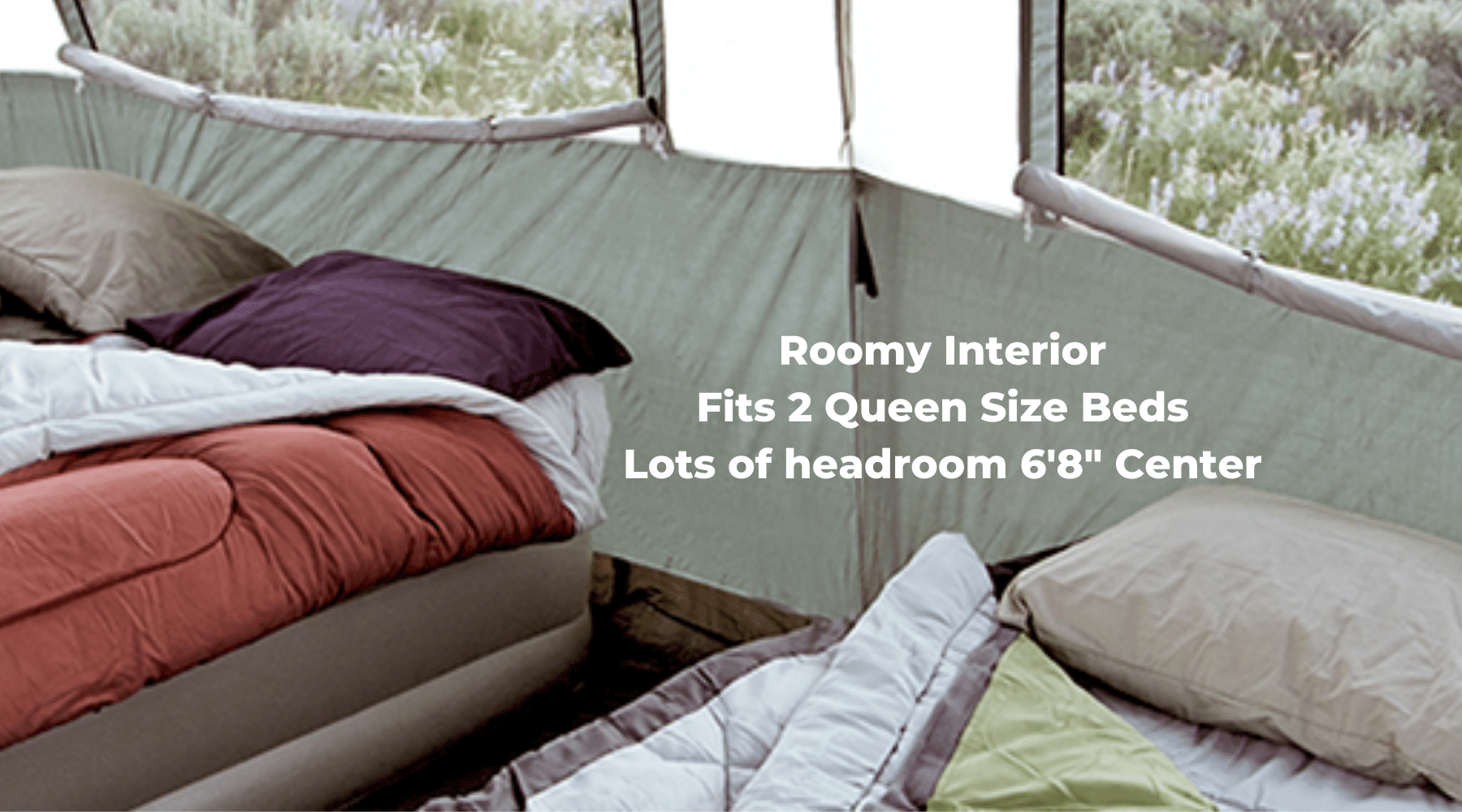 FAV Features:
The rain fly has an entrance canopy at the top, which we particularly appreciate because it gives you space to leave wet shoes and the like, leaving the inner bedroom space of the tent clean.
This huge six person tent is constructed of polyester and has a lot of mesh ventilation. There's also plenty of ventilation towards the top of the backpacking tent, where it's most important.
While the seams aren't taped, they are sewed inverted, which keeps the needle holes out of the way of water.
It is the ideal camping tent, particularly for the price, and like other backpacking tents it comes complete with carry bag.
---
BEST COLEMAN TENT For COLD WEATHER
BEST HINGED DOOR TENT
Why it's one of our fav's:
We like cabin tents. We like the look of them and how easily the tent poles help with setting the tent up.
The Coleman Elite Montana Tent is the company's first super-sized 8-person tent.  This bigger cabin tent style and with larger interior space includes their WeatherTec system for extra weather protection.
This Coleman Instant Cabin Tent is a beautiful moisture-resistant solution with a bathtub-style floor welded shut with inverted seams for extra water diversion.
Best Hinged Door Tent: Have you ever heard about hinged doors on a tent?  We hadn't.  Something unique we like about the Montana is the hinged door that easily opens and closes and includes an extended awning for shelter before entering the tent.
FAV Features:
A rain feature we like is the slanted angle of the windows to prevent water from entering, so you can still enjoy airflow during rainy days.
This tent is built to last.  It's double-thick fabric will stand up to the elements season after season.    As an added layer of protection, it incorporates zip-integrated fabric panels.  This tent with hinged door has a strong frame is tested to withstand 35 plus MPH winds.
The tent's inside is also full of surprises. It has 100 lumens CPX LED lights powered by D batteries that can recharge using rechargeable power cartridges.  Its second built-in charging station serves the same purpose.
It has lots of storage pockets, and a gear loft to keep electronics and small gear organized and off the floor.  And, it comes with it's own carry bag.  When it comes to Coleman tents you are going to love everything this camping tent has to offer.
---
BEST COLEMAN TENT FOR 8 PEOPLE
Why it's one of our fav's:
If you've always wanted to take your whole group camping but couldn't locate the perfect tent, at a reasonable price, your quest may be over.
The Coleman Red Canyon modified-dome tent is one of the larger Coleman tents.  It's a beautiful, large, and a well-built tent ideal for the whole family.  We like the vertical walls that can be added to make 3 sleeping spaces making room and room for two queen sized mattresses.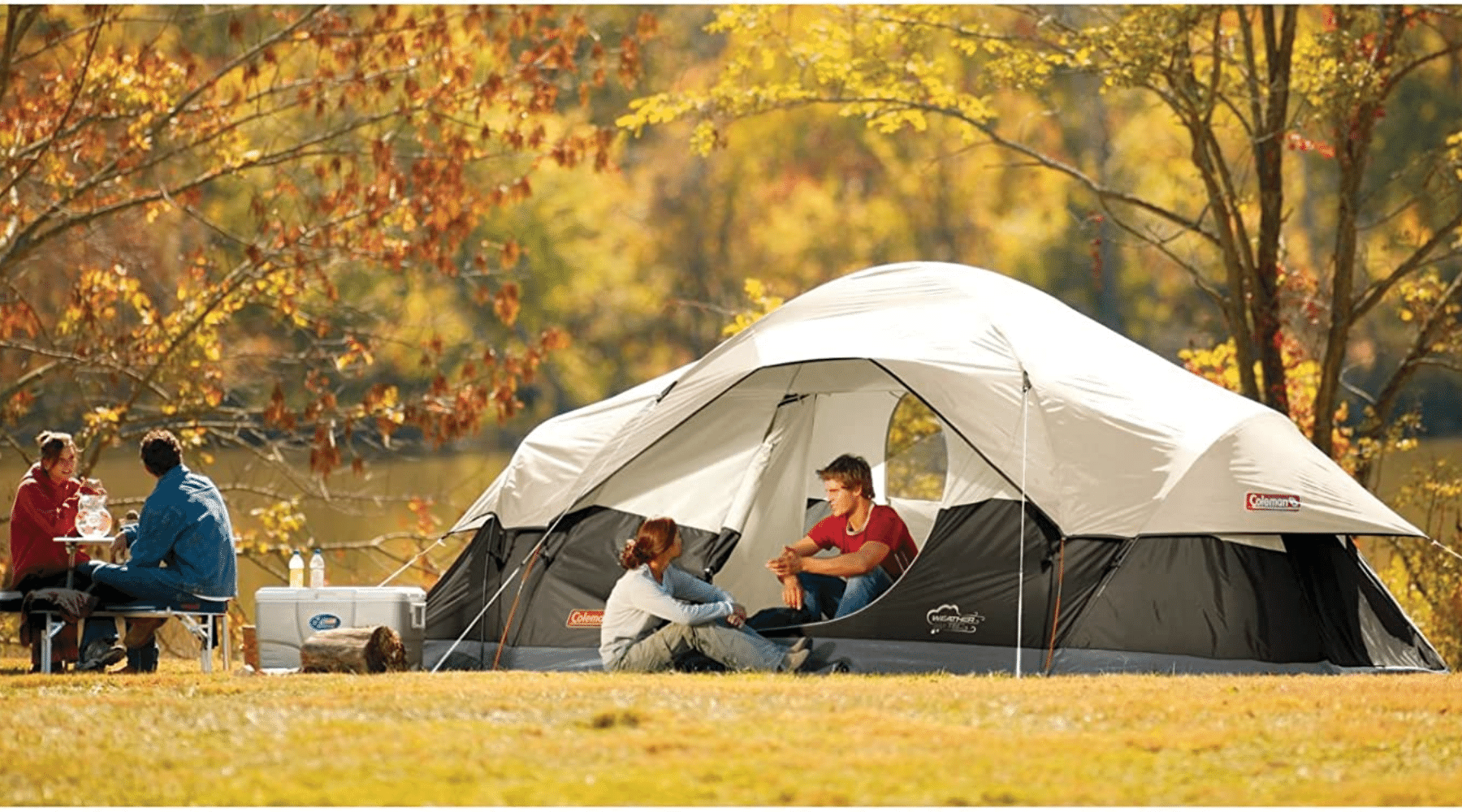 FAV Features:
The Coleman Red Canyon Tent is a highly ventilated, 8 person tent with a spacious interior.  This tent is made of robust, quality material using the WeatherTech system with patented welded floors and inverted seams to keep you dry.
The Variflow system maintains a comfortable temperature while providing proper ventilation and airflow.   The rain fly available to cover dome tents provides one more element of protection.
The spacious tent floor is 17' x 10' (170 sq ft) with 3 room divider spaces, so you have extra storage space in the inner tent for your bags and additional camping gear.
---
#1 Best Seller in Amazon Camping Tents
Why It's One of Our Favs
The #1 best seller ranking with Amazon for camping tents and over 40,000 reviews certainly speaks for itself.  We like the Coleman Sundome tent because it is an instant tent, very quick and easy to set up in just 10 minutes, which is an important feature when looking for the best tent for backpacking.  
It's a Coleman dome tent with a sturdy frame that can withstand 35+ mph winds. We like the rainfly with integrated door awning, to keep rain from getting into the tent. The durable Polyguard on the double-thick fabric is designed to withstand the all kinds of weather for reliable use and fun, season after season.
We also like this one because its available in 4, 6, and 8 person tent sizes, and it's instant tent style is good for backpacking.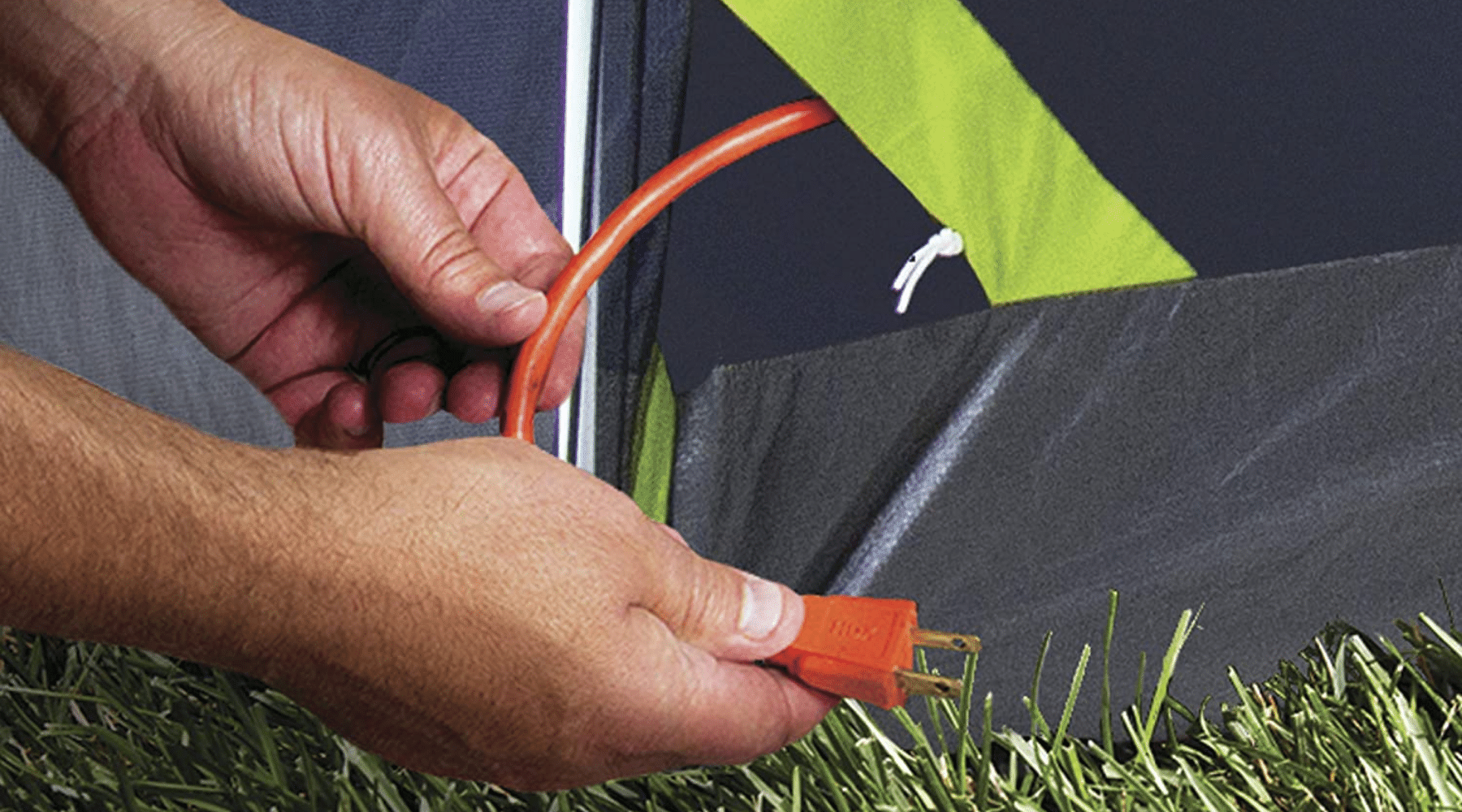 FAV Features
The 6 person version of this tent has enough room for 2 queen size air beds.  The floor is square measuring 10' x 10' (100 sq ft) with a six foot center height.
The Sundome Tent has the WeatherTec system with patented sealed corners and inverted seams to keep you dry and comfortable inside.   It has a a durable frame and a poly guard fabric for long lasting use.
An e-port makes it easy to have electrical power inside the tent.  And, a carry bag is included for easy storage and travel with all of your camping gear.
It's efficient and practical, so it's easy to see why the Coleman Sundome is one of the all time best selling tents on Amazon.
---
Largest COLEMAN TENT FOR 8 PEOPLE (or more)
Why it's one of our fav's:
This tent is more expensive than other Coleman camping tents in these evaluations. However, given the tent's well-thought-out design, we believe it is still a steal.
This tent is part of a connected camping tent system ideal for expanding families and groups of friends.
You can join this tent together through a zipper, making it easy for groups of campers to accommodate everyone who wants to go. A 3-person dome tent and a 6-person cabin tent are both parts of the Coleman Connectable Tent Bundle. The Coleman 6-Person Instant Tent has completed positive feedback.
FAV Features:
Given its size, this Coleman tent features a rapid pitch method, which is helpful.
The fast pitch technology reduces setup time and means you'll have your tent up and running in no time.
This camping tent also has snag-free Insta-Clips, fast-fit feet, and pre-attached poles and hubs. These items help secure the car camping tent to the poles.
Reflective man lines, guy lines are more visible at night.
Increased ventilation and vistas are provided via larger windows and roof vents.
E-Port makes it simple to bring electricity inside to charge phones, electronics, add lighting or heat as needed and the gear loft and mesh storage pockets keep them stored safely away.
---
FAQs About Coleman Tents:
How Do I Put a Coleman Tent Up?
Coleman tents differ in composition and structure, so you will find each model will come with additional setup instructions. Make sure you thoroughly read this information.
Having said this, many Coleman tents follow the fundamental tent setup procedures, which include raising it according to its frame and then fastening it to the ground.
Once you set up your single coleman tent the first time, you'll become a pro and will be able to enjoy making memories for years to come on your camping trips.
Are Coleman Tents Waterproof?
All Coleman tents generally feature some level of waterproofing, which varies depending on the type of tent. You should pay particular attention to the waterproof rating in millimeters.
The optimum rating is 1000mm, and Coleman tents are equal to or more than that waterproof measurement. Aside from that, most Coleman tents with this rating have taped seams to cover the needle holes and keep water out.  Something to remember, the waterproofing capacity may wear off with time, requiring the reapplication of a waterproofing spray.  Looking for a Coleman tent waterproofing spray?  Our FavReviews choice is Scotchguard Heavy Duty Water Shield
Are Coleman tents good quality?
With over 100 years of experience, Coleman tents have stood the test of time. Quality materials and construction is just where the quality starts with Coleman. They are constantly innovating new features to add comforts while away from home.  Consider consider their pop up tents with pre-attached poles and five minute set up. Or, consider patented room darkening technology so you don't wake with the morning sun and reduces heat.  Or their patented Weather Tec system to keep your family warm and dry in a variety of weather conditions.  There will be a Coleman tent to meet your needs - have a look!
---
So, What is Coleman's best tent?
Coleman tents are top of their class. Each Coleman model is distinct and has advantages over others.  You choose, which suits your needs best?
Coleman tents come in all sizes, many with similar quality features.  Whichever you choose will become the best for your needs.
How Will You Choose a Coleman Tent For Your Family?
When choosing a Coleman tent, it is important to consider the size of the tent, the type of fabric, and the seasonality. The size of the tent will determine how many people can comfortably sleep inside, while the type of fabric will affect how well the tent holds up in different weather conditions. It is also important to consider whether you want a tent that is freestanding or one that needs to be staked down. Seasonality is important to consider because some tents are only meant for use in specific seasons.
We hope this information helps you to find the right Coleman tent for your camping needs.
For further information about more Coleman camping gear check out the Coleman Store on Amazon.
Until the next review,
Your FavReviews Team!
PS - Have you joined our FavReviews Newsletter yet?  Don't miss another review.  We review all of your family favorites for Outdoors, Sports, Home Essentials and Eco-Friendly products.  Sign up today and we will send our reviews right to your inbox!  
PSS - You might also be interested in some of these camping related articles .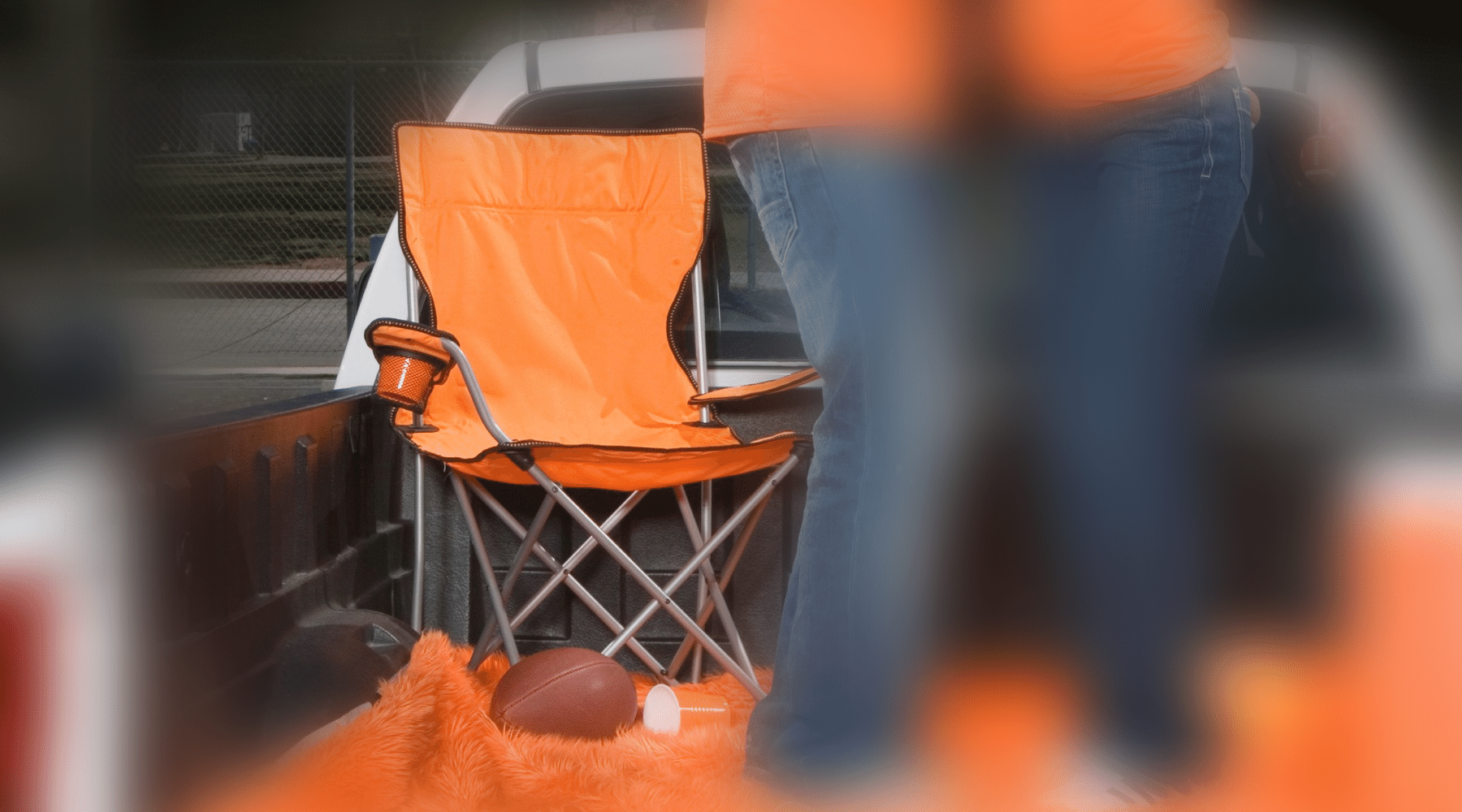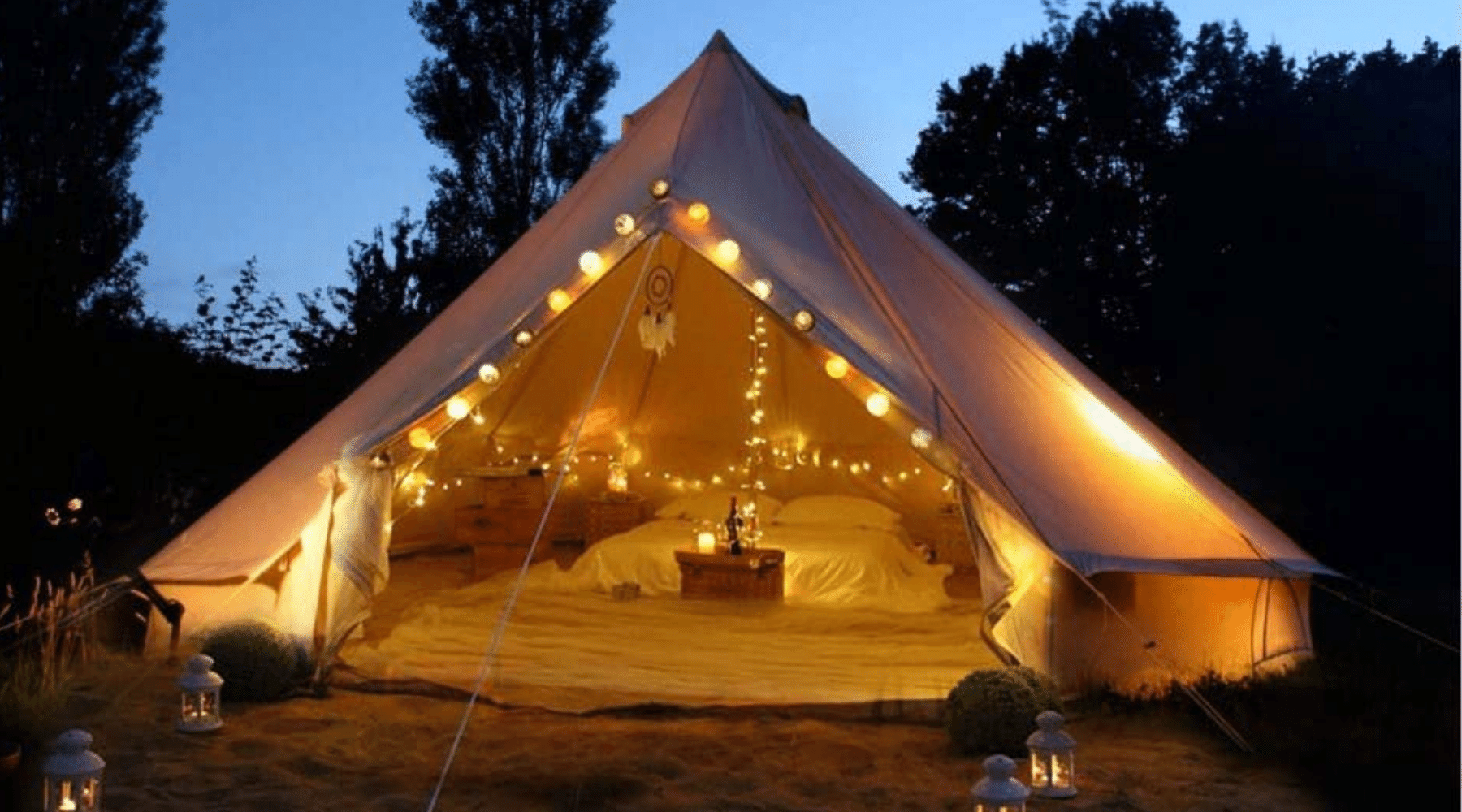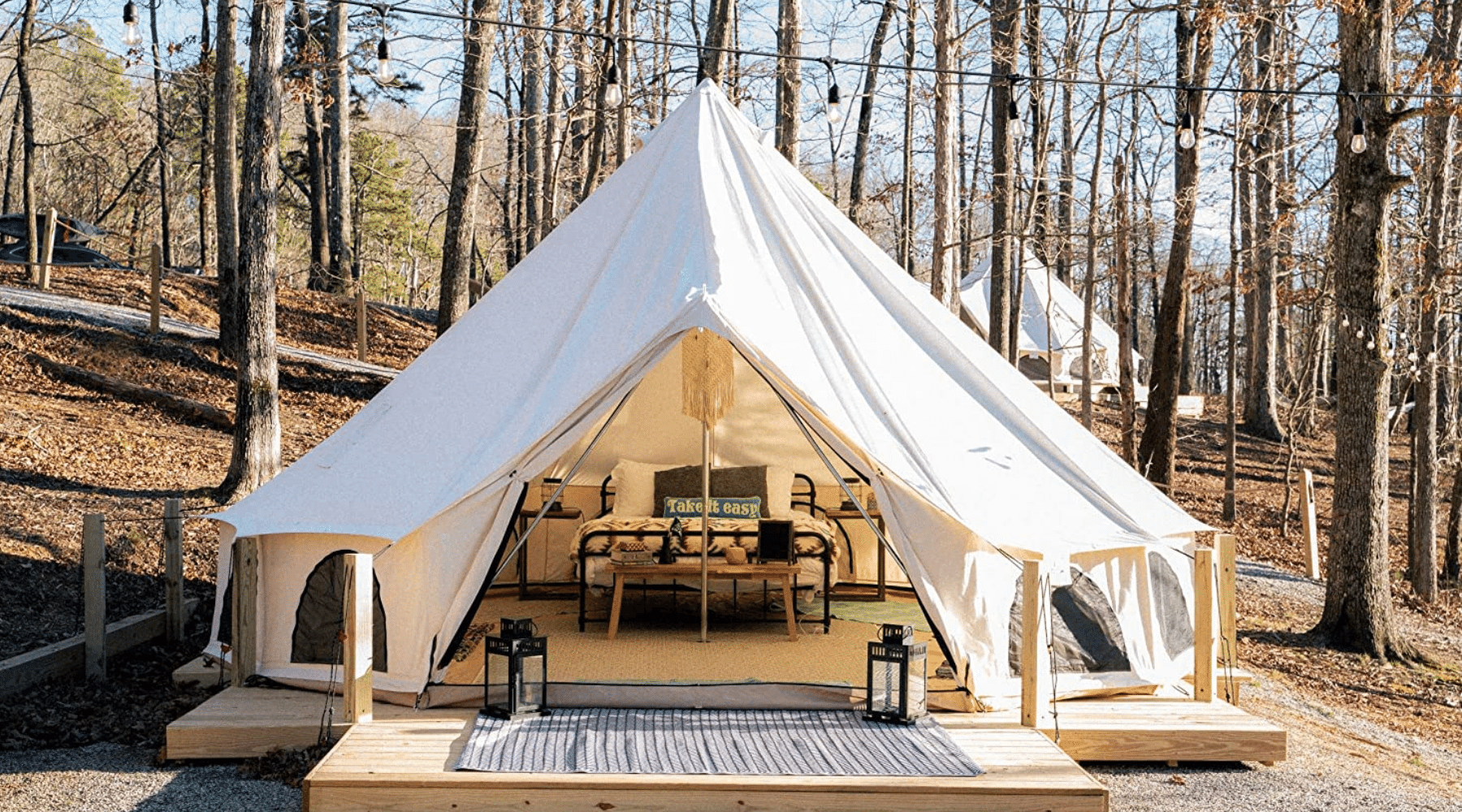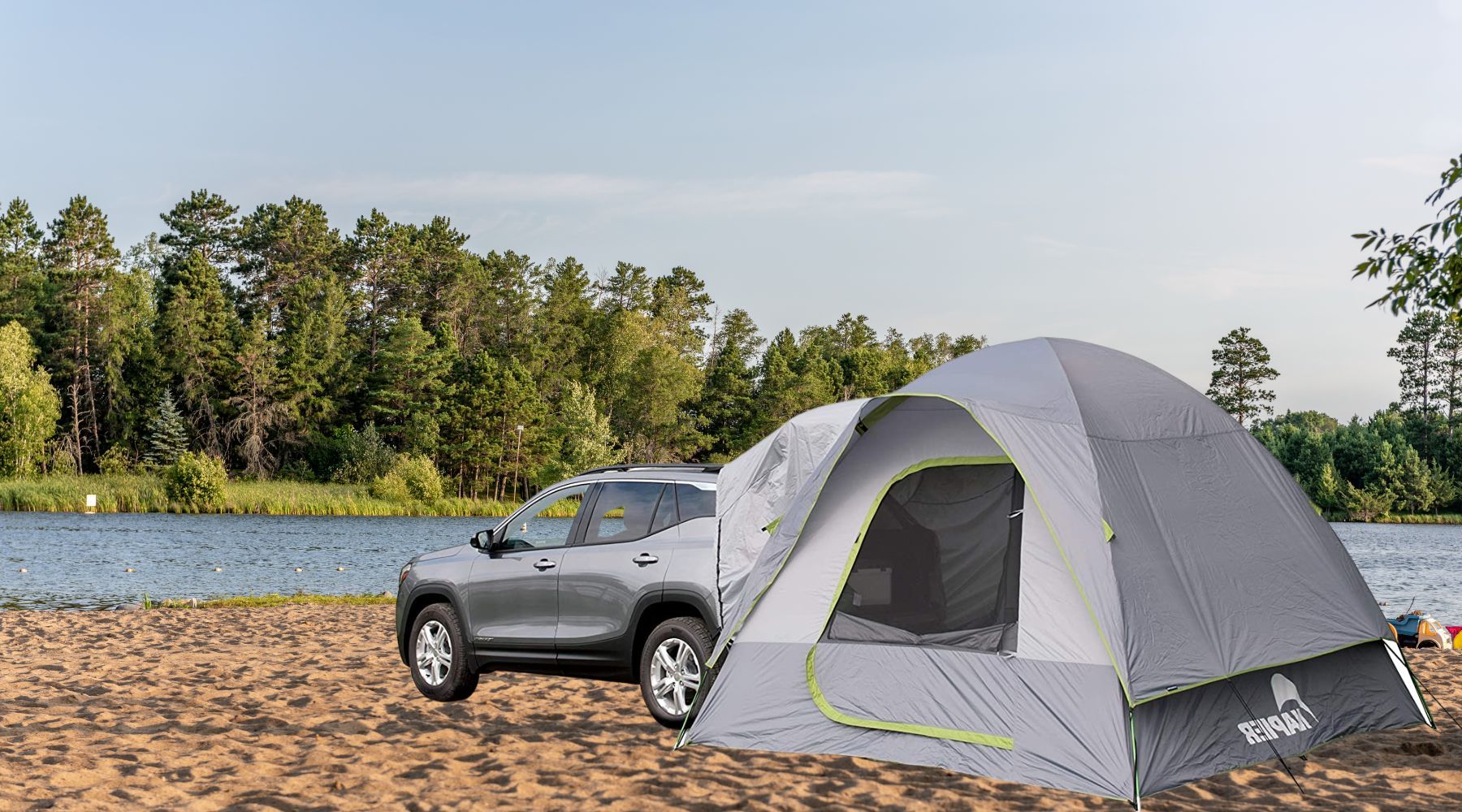 ---
Do You Enjoy the Outdoors as Much as We Do?
If you like to listen while walking or relaxing outdoors like we do, you can get lots of great music with Amazon Prime Music or 2 FREE Audiobooks from Audible Plus!
I love learning and I never give myself enough time to read books, so I love listening to a great book or motivating myself with great songs when out for my daily walks.
Plus, if you want to take advantage of 2-day shipping, get a free 30-day trial of Amazon Prime. ( I used to think free shipping was the biggest benefit of Amazon Prime, but have you seen how many new movies have been added to Amazon Prime lately?)  PLUS, did you know if you receive qualifying government assistance like SNAP or Medicaid, and others you can save even more with Prime Access.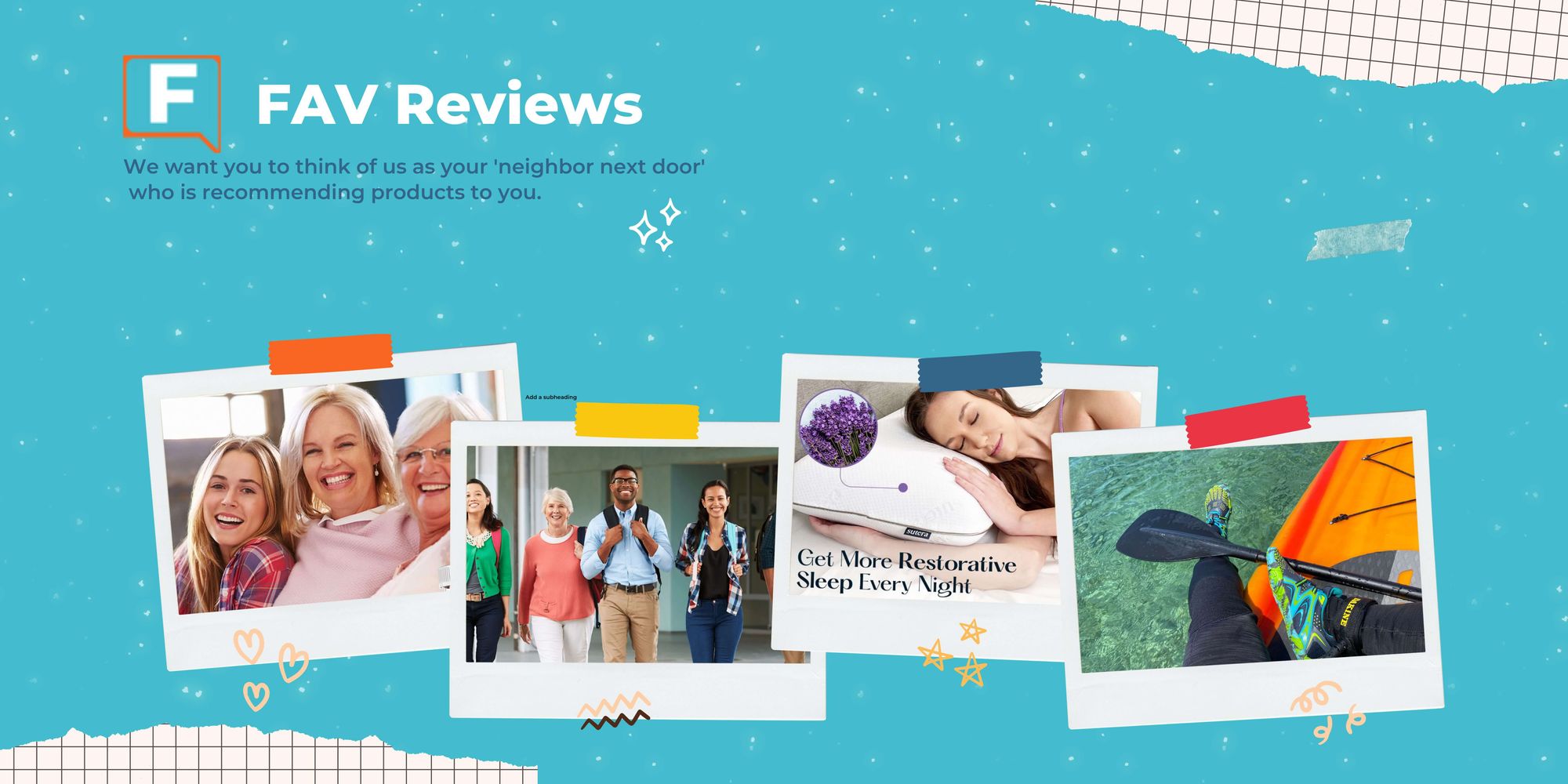 Want to see even more content about products for healthy lifestyles and outdoor enthusiasts?    Be sure to check out all of our FAV Reviews.
Do you love the outdoors as much as we do? Check out our other articles:
Or shop by the season:
Thank you for visiting us at Fav Reviews :)  Stop by again!  Better yet subscribe with the button on this page and never miss another thing.
---