It's officially tailgate season in the USA from late summer through early winter. It's an American tradition before College or Professional Football Games for tailgate parties and tent cities to pop up in stadium parking lots.   Will you be ready?  You will be now!
Truck bed tents will improve your outdoor experience, first by providing your own space to crash (sleep).  You can park your truck almost anywhere and set up fast. Beyond easy set up, they also provide good ventilation and windows with panoramic views of everything around you. The tents in our review have a variety of features built into the design that makes set up and use easier; things like universal fit for most truck brands, color coded poles, spacious interiors and even a zippered port.
Below are our evaluations of the five best truck bed tents on the market, use this information to choose a truck bed tent appropriate for your camping trip needs and truck model.
---
How We Chose the Best Truck Bed Tents
Truck bed tents are ideal for camping out because they provide a comfortable sleeping arrangement right in the back of your own truck!  They are also ideal for tailgate parties because you have your own private space for your gear and you can keep the party going because you don't have to leave the parking lot.  
Question is, which truck bed tent is right for your truck? And, how will you decide?
Our family Fav's below can help make the decision easier. These truck bed tents are both size appropriate, they fit well, and they are functional. With so many features, you can be sure your overnight experience in the back of your tent will be a good one. We've done the research for you. After reading through thousands of reviews on Amazon, our team has compiled a list of the top 5 truck bed tents to make your choice easier.
We know the only thing better than finding the right truck bed tent when you need it, is the peace of mind that comes with knowing it has positive reviews after being purchased and tested by other campers (partiers) just like you. We want to help you to have the best purchasing experience possible.
So take a look at our family 'fav's', and get the right truck tent for your needs.
---
What Makes a Good Truck Bed Tent?
There are a few things to keep in mind when searching for a truck tent.
Size of Your Truck Bed
First, consider the size of your truck bed.   Truck tents sizes are available in a variety of sizes to fit multiple truck bed lengths.  Most truck bed tents are universal, meaning they fit multiple brands of truck beds, but the truck size matters!   Fortunately there are some great size charges with our reviews below.
They typically come available in three truck sizes; full size, mid size or compact.
Then within each truck size, the tent is ordered based on the truck bed size;
Full Size - long bed, regular bed, crew cab
Mid Size - crew cab
Compact Size - regular bed, short bed
Each tent manufacturer has a truck model size chart, be sure to check them out.
For Example a truck bed tent Ram 1500 is available in 3 sizes for Dodge with most of the Truck Bed Tent manufactures.  We like the Napier Backroadz model.
For Example the truck bed tent for Toyota Tacoma is available in two or three sizes depending on the year of the Tacoma (2004-present) two sizes for the midsize are available.  Tacoma's (1995-2004) one compact size is available. We like the Rightline Gear model.
For all types of vehicles see the individual truck bed tent size charts with our reviews below.
Or, Visit the main store on Amazon for each of these manufacturers:
Weather Conditions
Second, consider the weather circumstances when you will be using the tent. You'll need a tent with good ventilation if you will be using it to camp in warm weather.  However, if you intend to camp in cold weather, you'll want a more insulated tent.
Features for Comfort
Third, think about the features that will make your camping experience comfortable.  Some tents have storage pockets and a camping gear loft, to keep things organized and off the floor.  Others include rain flies and privacy screens. Choose the characteristics essential to you to ensure you have the best camping experience possible.
Truck tents are an excellent way to camp since they protect and store all your belongings. We also like the fact they keep you up off the ground.
Given the variety of options, choosing the ideal one for you might be challenging. These are some of the essential characteristics of a truck tent.
---
Essential Characteristics of a Truck Tent
A decent truck tent should:
be simple to set up so you can begin your camping adventure as soon as possible. Choosing a model with color-coded poles will help, and an easy-to-use design.
be able to endure all forms of weather, including strong winds and driving rain.  The best quality tents for weather are made of waterproof materials with taped seams and often include features like storm flaps and rain gutters.
have good ventilation, because tents can get stuffy. Look for a truck tent with large mesh windows and doors that you can open to allow fresh air to enter and flow through. Mesh windows are also excellent for keeping insects like flies, mosquitos and other bugs out of the tent.
include several storage compartments for your belongings and loops or hooks for hanging lanterns or other objects. Some truck tents have a gear loft for additional storage space which is helpful to free up floor space.
Lastly, truck tents should be big and cozy so you can sleep well. Look for a model with a high ceiling and lots of interior space. A thick foam mattress will also improve the comfort of your camping trip, so check to see what size of air mattress will fit in your truck tent.
---
5 Best Truck Bed Tents
Napier Outdoors Sportz Best Truck Bed Tents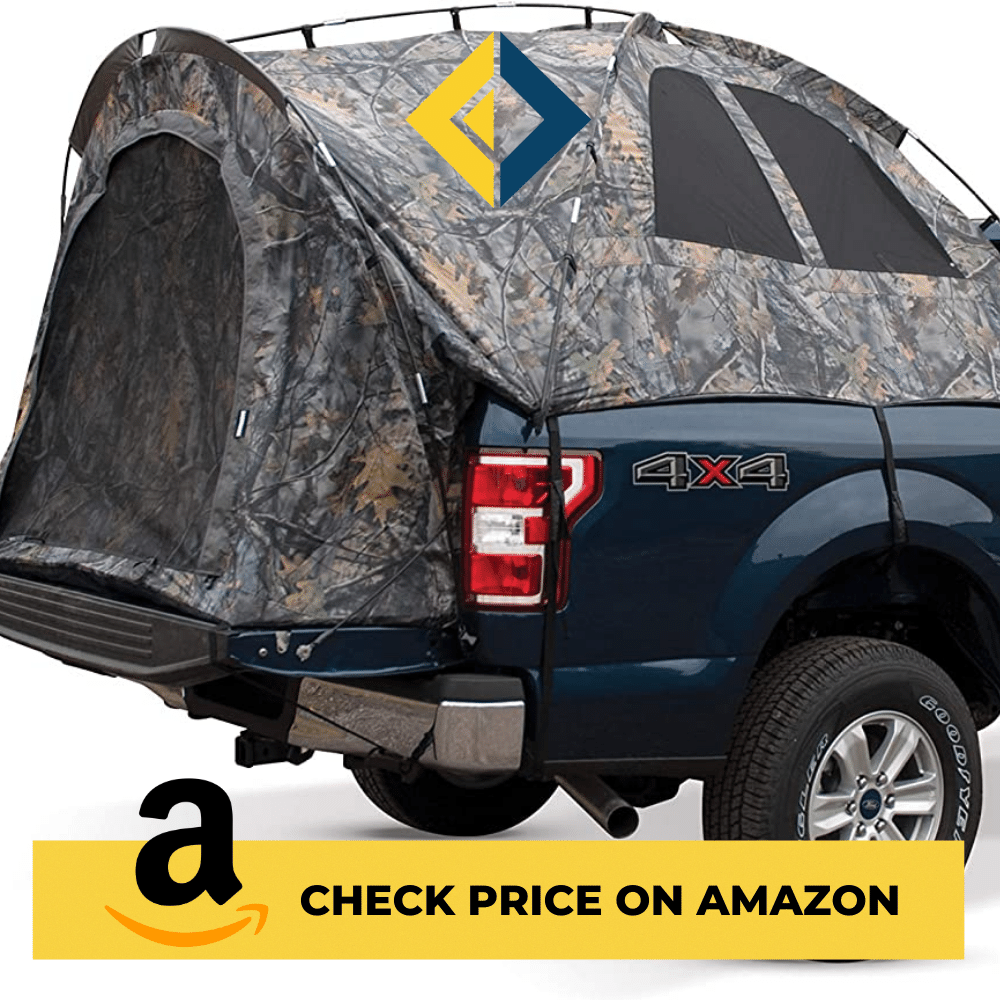 Why it's one of our fav's:
Regarding truck tents, the Napier Outdoors Sportz Camo Truck Tent is the Golden Standard for hunters. The truck tent comprises polyester taffeta with taped seams and a waterproof covering and is supported by shock-corded fiberglass tent poles.
They rapidly snap together and are simple to connect to the tent with fast snaps, and it is a lot simpler than the traditional full-sleeve pole setup.
Overall, the Napier Sportz truck tent is a high-quality best truck tent with a lot to offer. It is not the most extensive selection accessible, but it covers the essential elements.
Not a fan of the camo look? The Napier Sportz is also available in fashionable blue (showing in image above), or grey and white. It has the same qualities as the Sportz Camo but in a different design.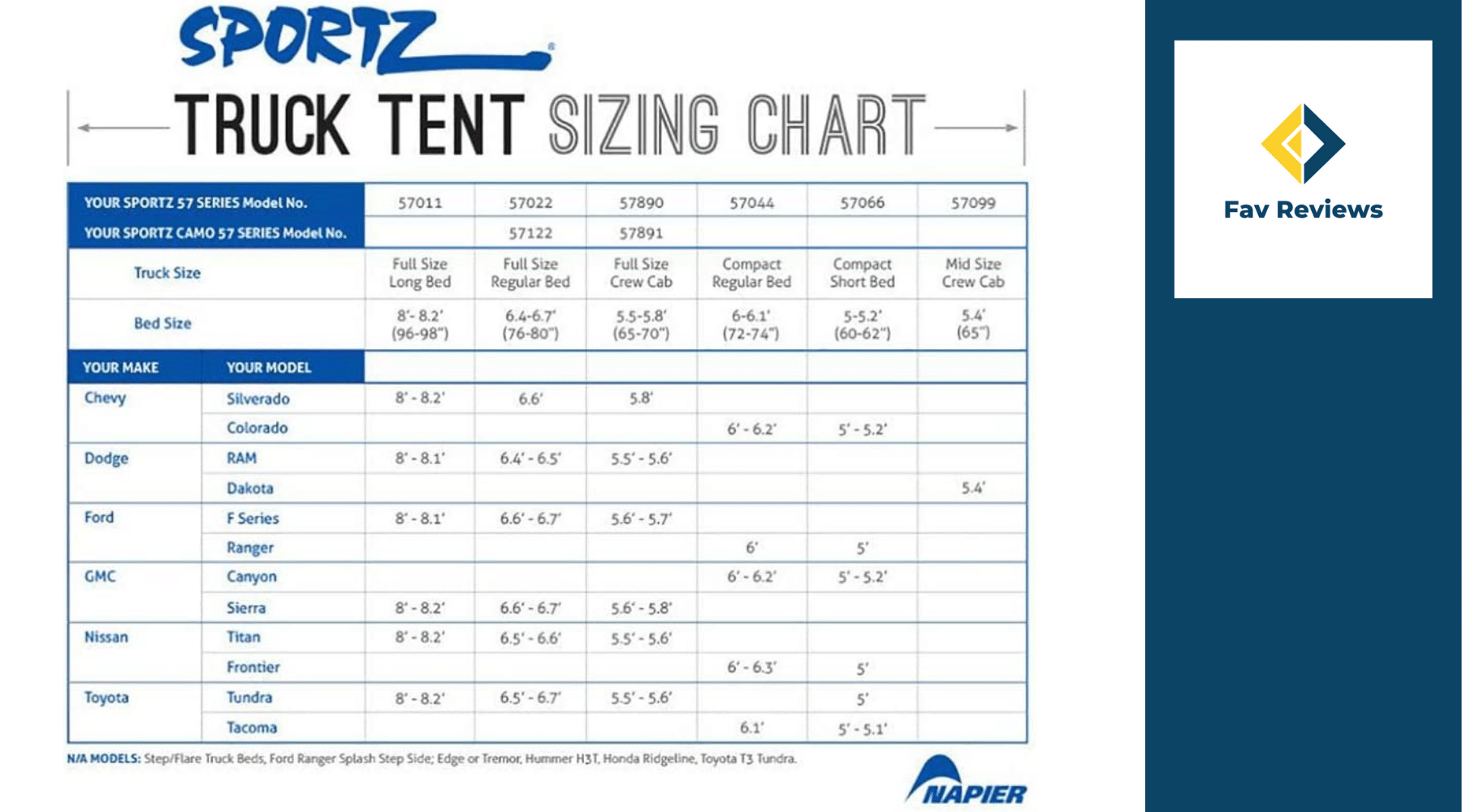 FAV Features:
It provides plenty of ventilation, with two mesh windows and a pair of side vents to allow as much air as possible.
Storm flaps are included with the vents to keep the rain out during big storms.
The Sportz Camo has a complete floor and does not need any equipment to put it together. Tighten a couple of straps around your vehicle's body to keep it flat with the truck tent.
It boasts a roomy cabin with more than 5' 8" headroom.
It's a bed-only best truck tent with an extensible canopy that provides 16 square feet of the covered area behind it.
Its rear access panel was one of our favorite features. It allows you to enter the cab window and utilize the truck's interior as additional storage space.
It's a waterproof 3-season tent in the Mossy Oak Break-Up Infinity camouflage design.
---
Rightline Gear Truck Bed Tent
BEST FLOORLESS TRUCK BED TENT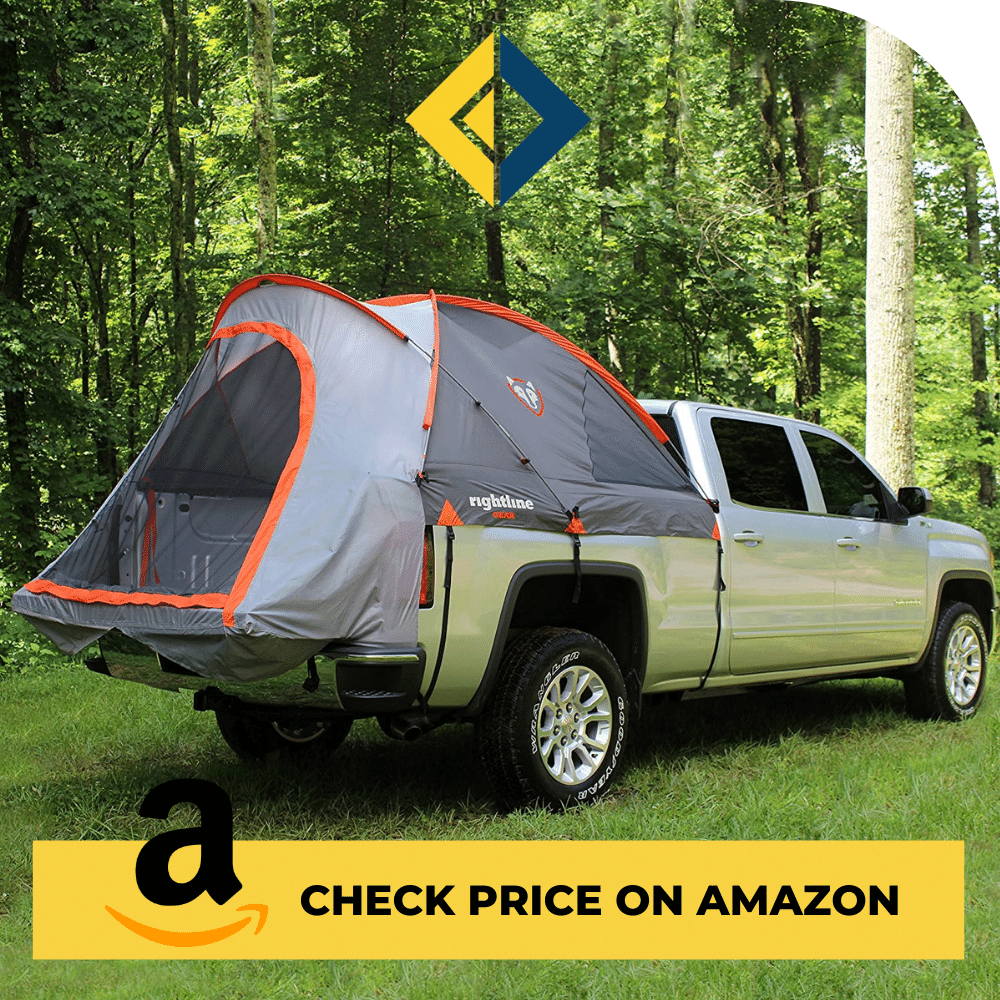 Why it's one of our favs
The Rightline Gear Truck Bed Tent is another top pick for the best truck tent.
Easy set up makes it one of our favs. Its most unique characteristic is its floorless design.  The benefit of the floorless design is that you don't have to remove your belongings from the truck bed to pitch the tent.  It also has simple color-coded poles to help with the set up process.
The carry bag has sewn-in setup instructions, which you should carefully study before hitting the road.
Three buckles and three ropes link the rainfly to the Rightline Gear tent body. The lack of a sewn-in floor is a unique characteristic of backpacking tents. Some people like a layer of cloth between their pad and the truck bed to keep their goods clean.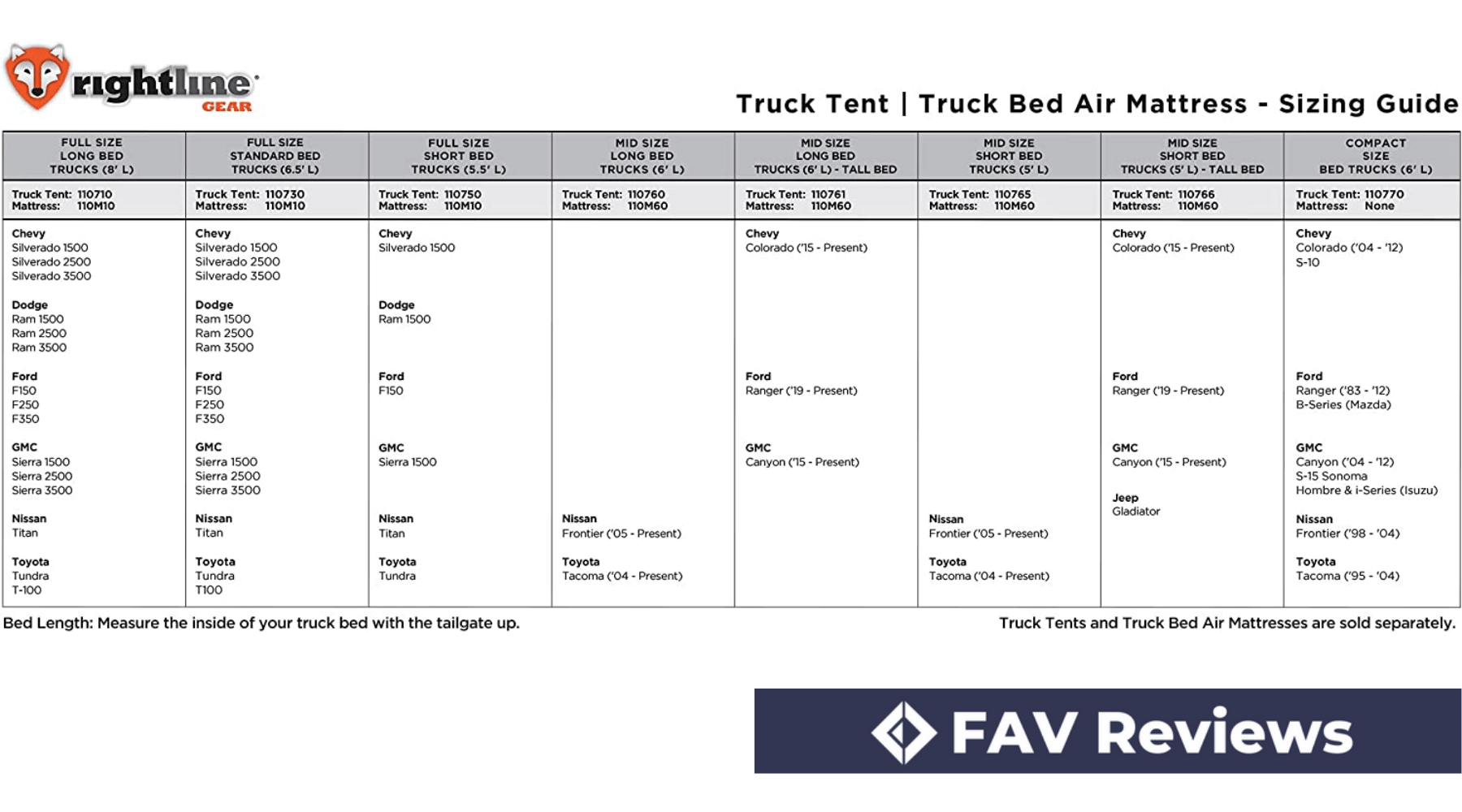 FAV Features
The water-resistant fabric has taped seams for extra-hard rain shower protection, which is always a plus with truck bed camping tents.
Furthermore, the tent has soft polypropylene straps and plastic buckles, so the tent will not harm the finish of your truck.
There are two gear pockets, a lantern hook for lighting, and a sky view vent within the shelter.
The glow-in-the-dark zipper pulls are our favorite detail because they are so helpful when you have to sneak out to go to the bathroom in the middle of the night.
We already mentioned, we like the floorless design because you don't have to remove your belongings from the truck bed to pitch the tent. It's a fantastic design element for when you're attempting to put up your shelter in bad weather.
The Rightline Gear truck Tent is available in three sizes to fit your mid-size, full-size, or compact truck.
---
Kodiak Canvas Truck Bed Tent
BEST CANVAS TRUCK BED TENT | 5' Headspace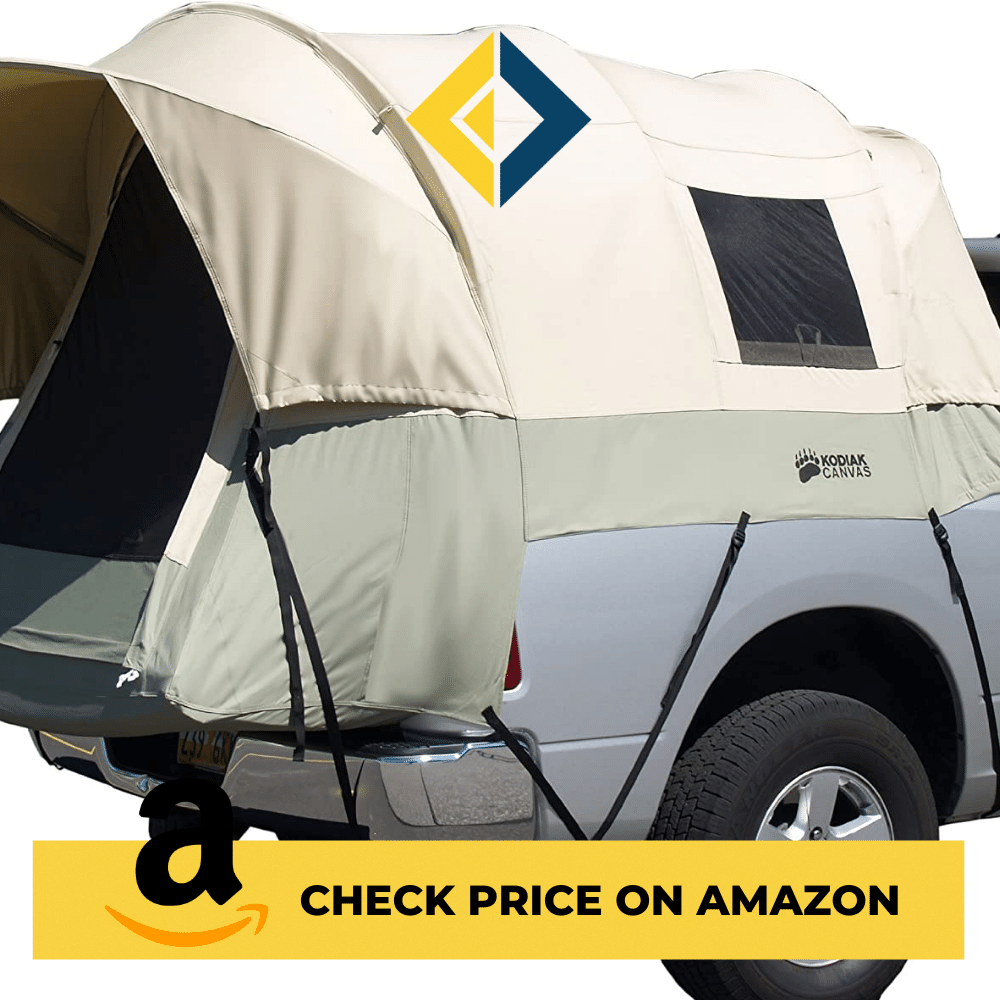 Why it's one of our fav's
Full-size vehicles may benefit from the classic style of the Kodiak Canvas Truck Tent. It's composed of waterproofed duck fabric and has a vintage design that provides a lot of solidity to the tent.
A tubular steel structure is used to create a tunnel-like interior area. It stands 5' tall and has an awning that extends from your truck's tailgate. It is short enough that most adult campers must severely bend a knee or crawl to move around inside. But we think it's not the big issue.
The advantage of this approach is the significant increase in strength. Not everyone will like the Kodiak Canvas Truck Tent, and it lacks a floor and is a little on the small side.
This Kodiak tent might be a fantastic solution for individuals who want a solid 4-season tent but like the aesthetic of traditional canvas.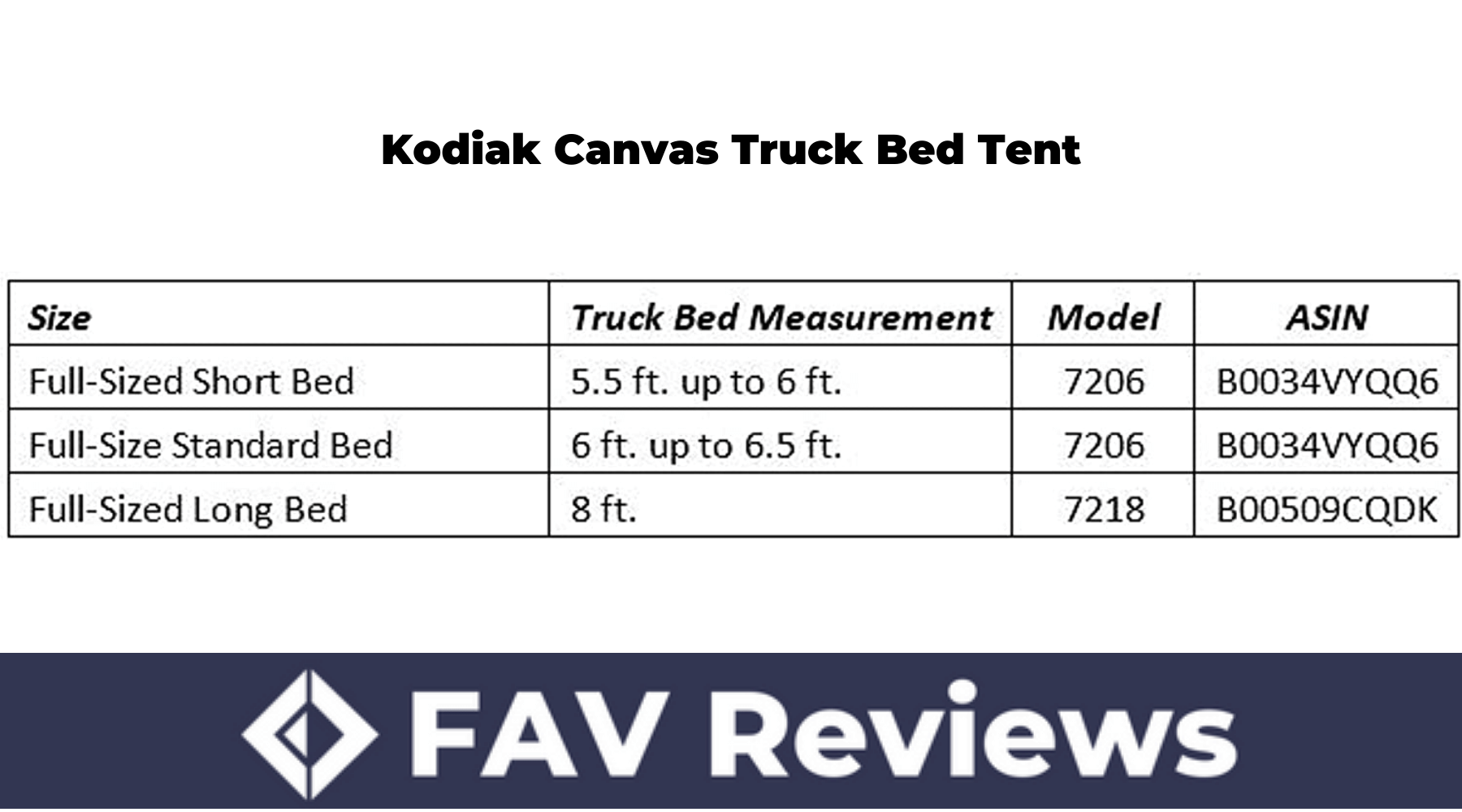 FAV Features
It is a real four-season tent that will keep you comfy all year.
It has five large mesh windows, including a big D-style front opening, for the spring and summer months. The zippers are all super durable for years of flawless operation.
You'll be alright in chilly winter weather as long as it's not snowing heavily.
You may access the cab window for additional storage interior space and the two organizing pockets.
The tent is secured to your truck bed using clamp-on rails, and these are easier to install than you expect and provide a solid connection to your truck.
---
Guide Gear Full Size Truck Tent
WATERPROOF RAIN FLY INCLUDED | 5.3" Headspace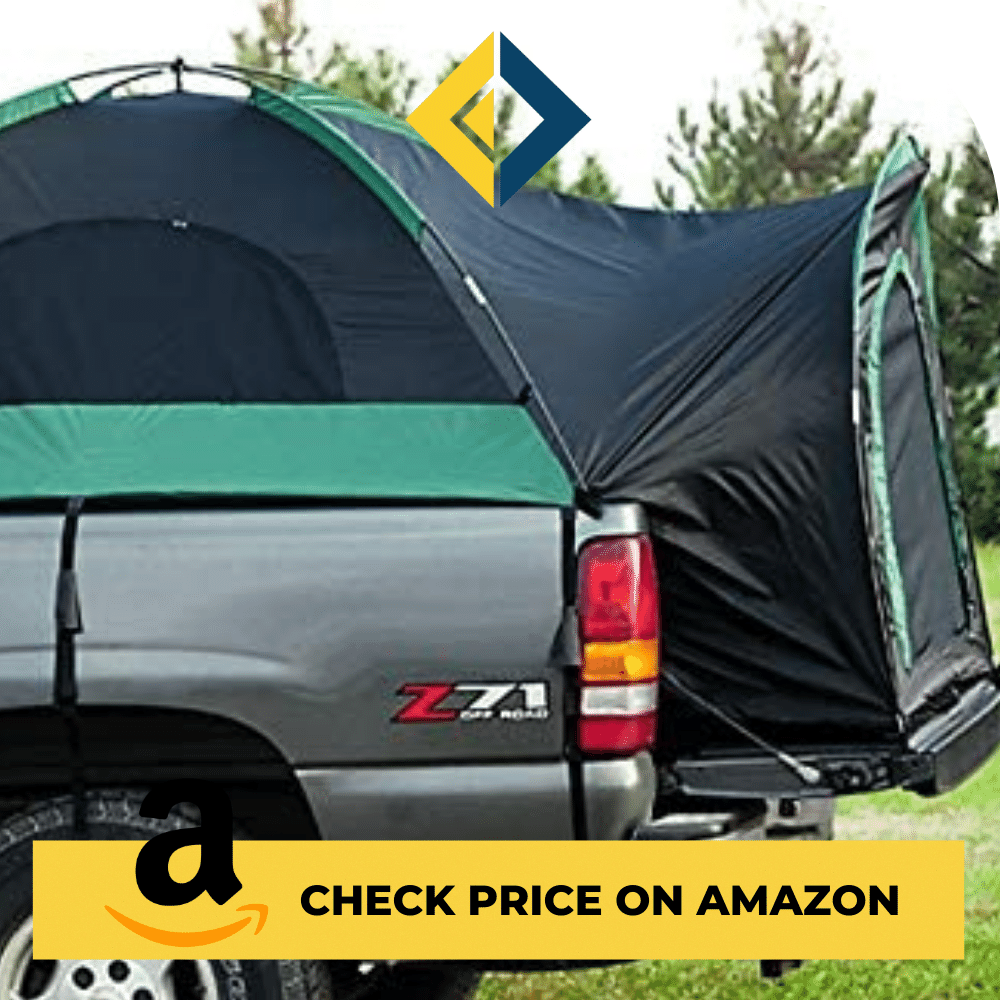 Why it's one of our fav's
The Guide Gear Truck Tent is a low-cost option intended to fit on full-size vehicles. Color-coded tent poles are shock wired together. Once you've erected the tent's body, pitch it in position and secure it to the bed of your truck using the included poly straps.
Our most favorite feature with this tent is the Waterproof rain fly that is included. Some other favorite features are organized pockets near the sleeping area and internal ties that act as light hooks. Overall, the Guide Gear Full-Size Truck Tent offers one of the best value for money in a truck tent.
Don't leave your mascot out in the rain ... with the Guide Gear Truck Tent you can sleep over at the stadium parking lot in comfort, even if it rains.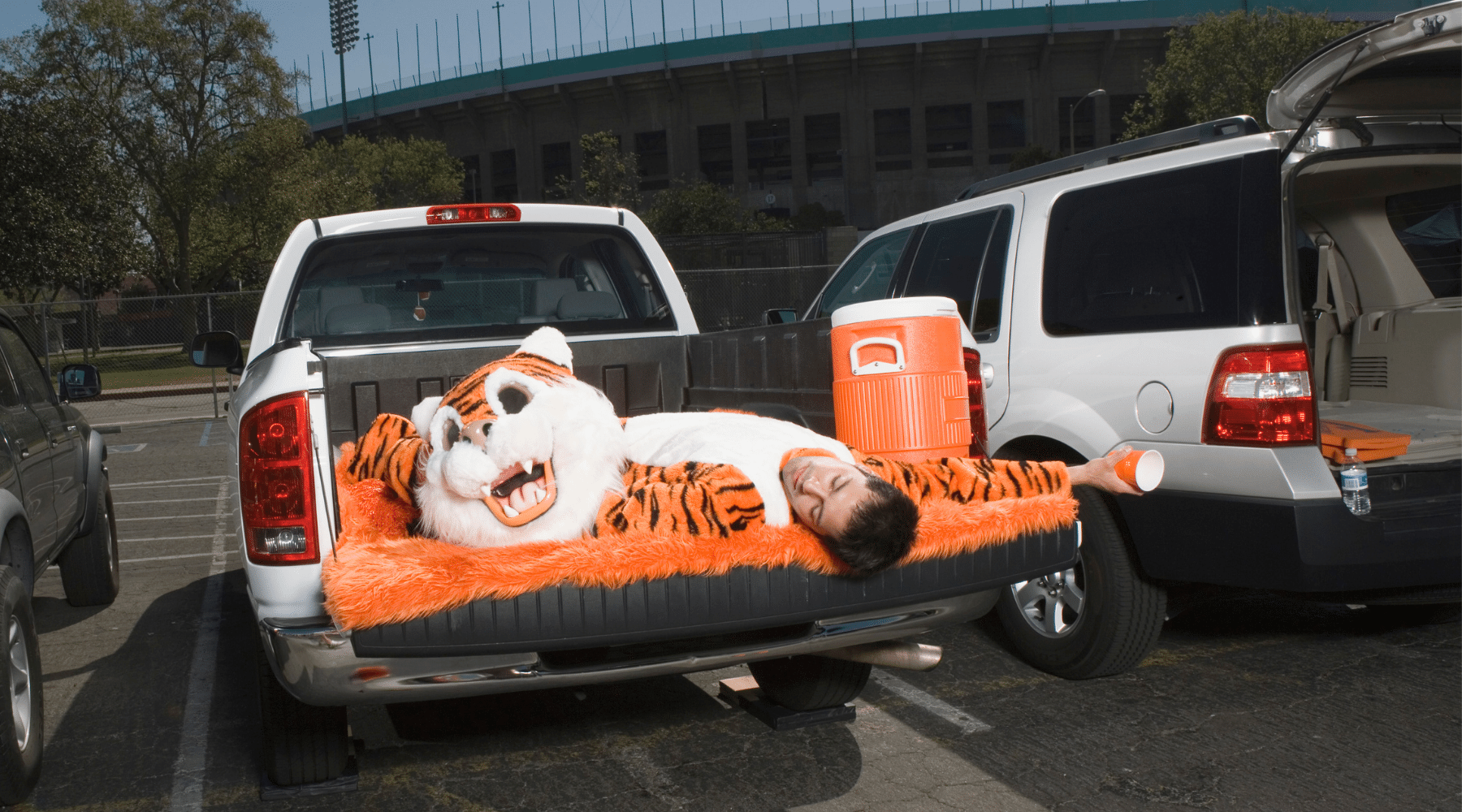 FAV Features
It's composed of waterproof polyester and is designed to be installed without the need for clamps or tools, so it is easy set up.
The Guide Gear Tent has 5'3" head space, which is ample for most people to walk about comfortably, and numerous large mesh windows for ventilation.
It employs a hybrid design of a dome tent with a tunnel entrance to increase your useable area without impacting the tent's setup.
---
Napier Outdoors Backroadz
BEST TRUCK BED TENT | 5.5" Headspace
Why it's one of our fav's
The Napier Outdoors Backroadz is a truck tent you can put up in five minutes due to its easy-to-pitch design, full floor, and fit-around for truck-bed toolboxes.
Although the market for truck tents is expanding, no company does it better than Napier Outdoors. Napier's Backroadz tent has high-quality materials, clever design, and an easy-to-assemble fully-covered floor. Not only is it our favorite tent, but it's also one of the most affordable.
The Backroadz comes with a rain flap to keep you dry in the rain or light snow, and its doorway extends to the end of a bed's lowered back, giving you more room to carry bags, camping gear, or pairs of shoes.
The Napier Outdoors Backroadz is not just our favorite truck tent, hunters love the camo color option for the Backroadz making it a super popular truck bed tent.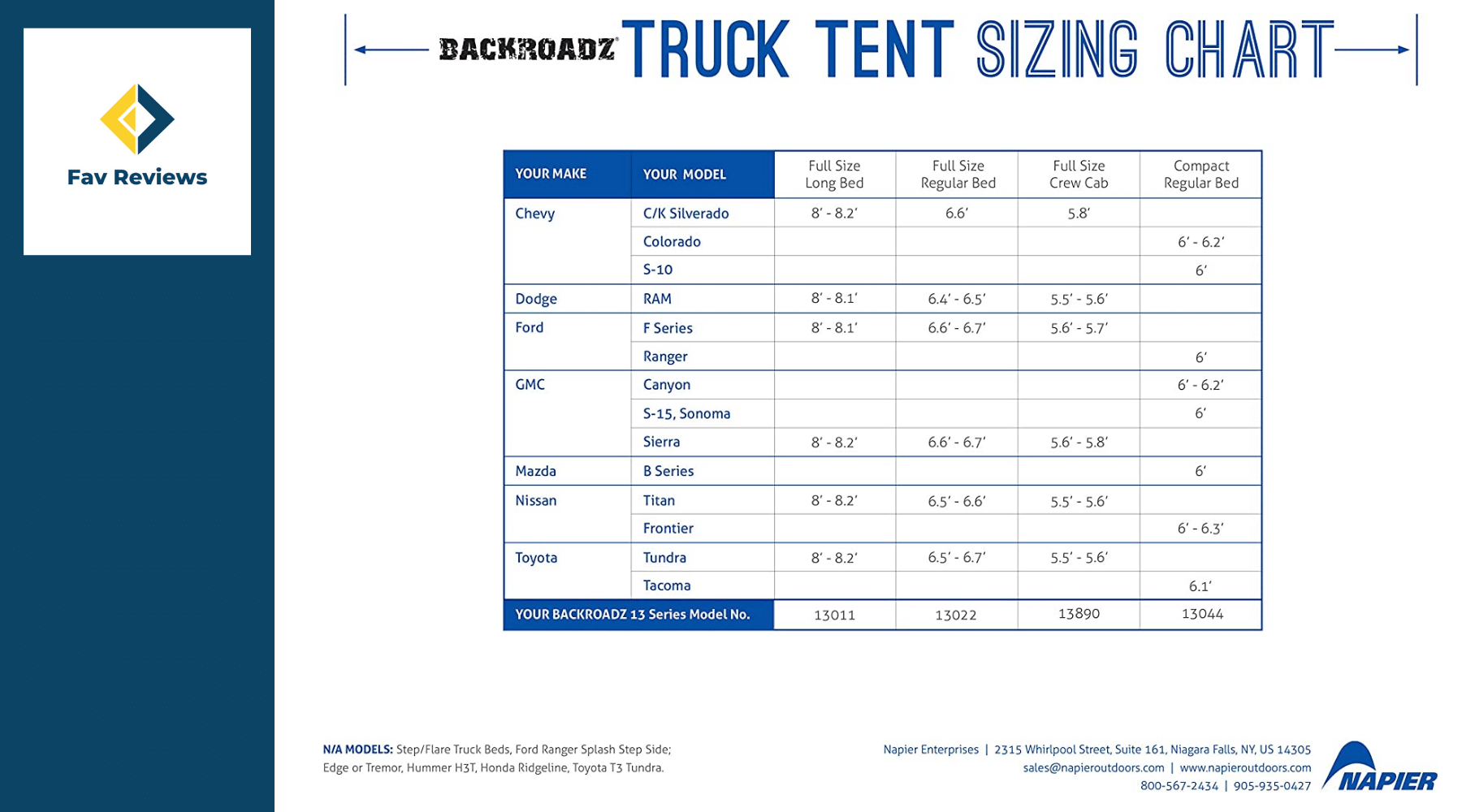 FAV Features
The tent has 5.5 feet of headroom, which may not enable most people to stand up comfortably but gives the inside a large, expansive air.
Its fully-covered floor can sit on the dirtiest truck beds without absorbing any dirt or debris.
It also prevents rain from flowing down the tent's sides and inside.
Its color-coded tent poles make it very simple to pitch, and you can even do it with just one person.
You can construct the ground tent, transport it into the truck bed, or build it into the truck bed itself.
---
Best Truck Bed Tent FAQs:
What exactly is a truck bed tent?
A truck bed tent fits into the bed of a truck. Our guide has a few distinct models, but generally, a truck tent consists of a tent body, a pole-set, and a rain fly.
Can you use a good truck bed tent on the ground?
Not at all. The framework of your truck bed supports truck tents; they do not all have pegs to anchor the tent, nor do they always have floors. We assume you could set one ground tent with some creativity and hard effort, but we don't see why you would.
Can I drive with my truck bed tent up?
No way! Truck bed tents should not be up while the truck is moving. We anticipate that they will blow away at all but the slowest speeds, leaving garbage and rubbish in the best-case scenario and posing serious driving dangers to other vehicles in the worst-case scenario.
We'd only advocate driving your truck with a pitched tent if you're shifting your camping or truck position by a few yards and at a slow pace.
How can I determine the compatibility of my truck bed tent?
Each truck bed tent has unique dimension requirements based on the design and intended application. Once you've found a truck bed tent with the features and price range you're looking for, browse the Amazon page for measuring charts, user reviews, and other pertinent information.
Some truck bed tents in our list are only compatible with particular makes, models, and bed widths, but others are more versatile.
---
Truck Bed Tents Have a Lot to Offer
Camping in the best truck tents has a lot to offer. Unlike camping on the ground, there is no dirt or mud to shake off before packing up in the morning, and sleeping in a tent may seem safe and pleasant.
Furthermore, depending on your flexibility, climbing into and out of truck bed tents may be much simpler than getting up off the ground. Regarding durability, comfort, and simplicity of use; the Napier Sportz ticks almost every box.
Small changes, such as utilizing a canopy (if you choose a model without an awning) and insulating the bed underneath your tent, may go a long way toward making a truck bed tent more comfortable. The essential factor to assess when purchasing a truck bed tent is size; as long as you get a truck bed tent that fits your truck, you'll have a pleasant vacation.
We truly this hope this helps you your next purchase.
Your FavReview Team!
PS - be sure to sign up for our newsletter so you don't miss a thing as we continue to review cool stuff!
PSS - You may also be interested in some of these articles ...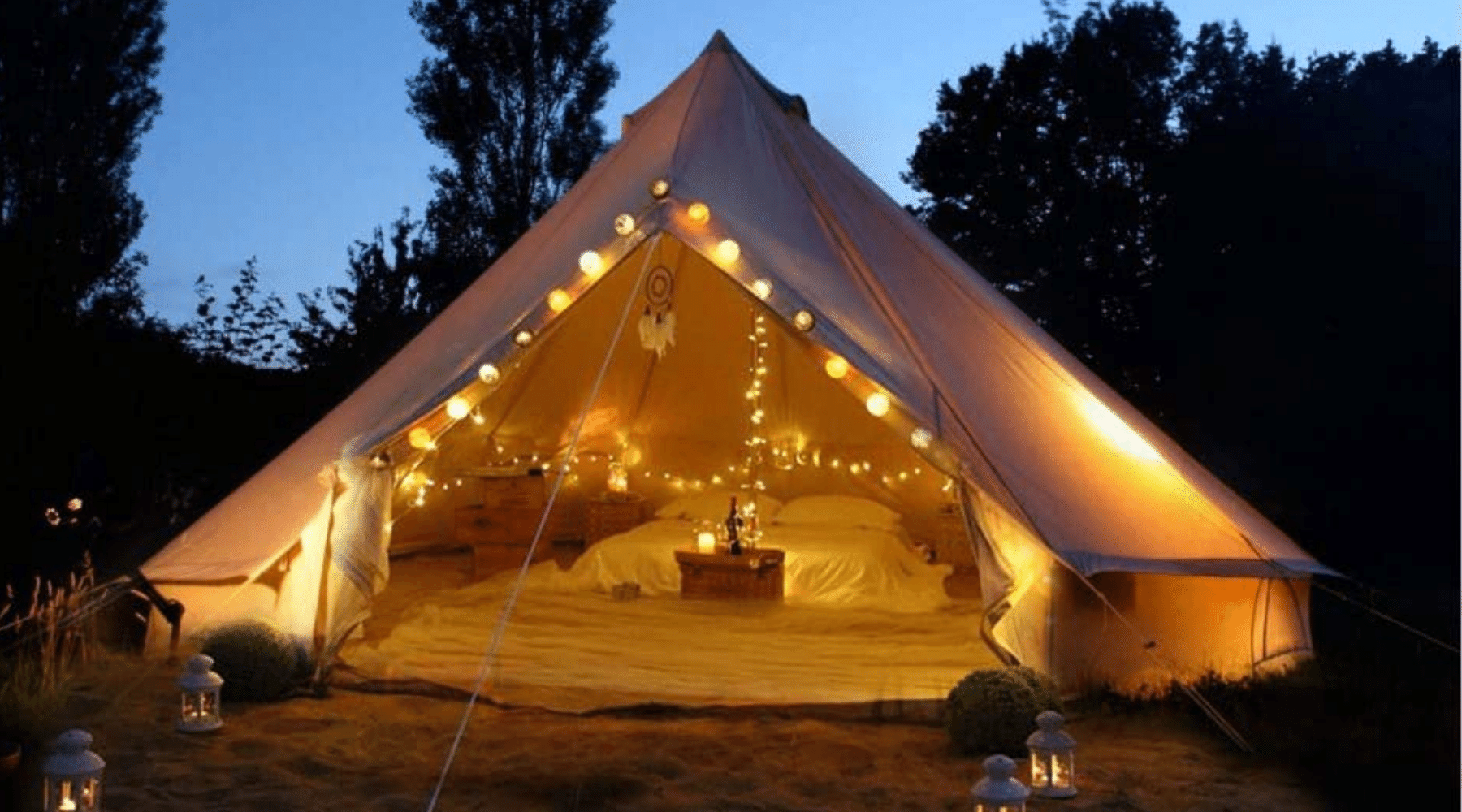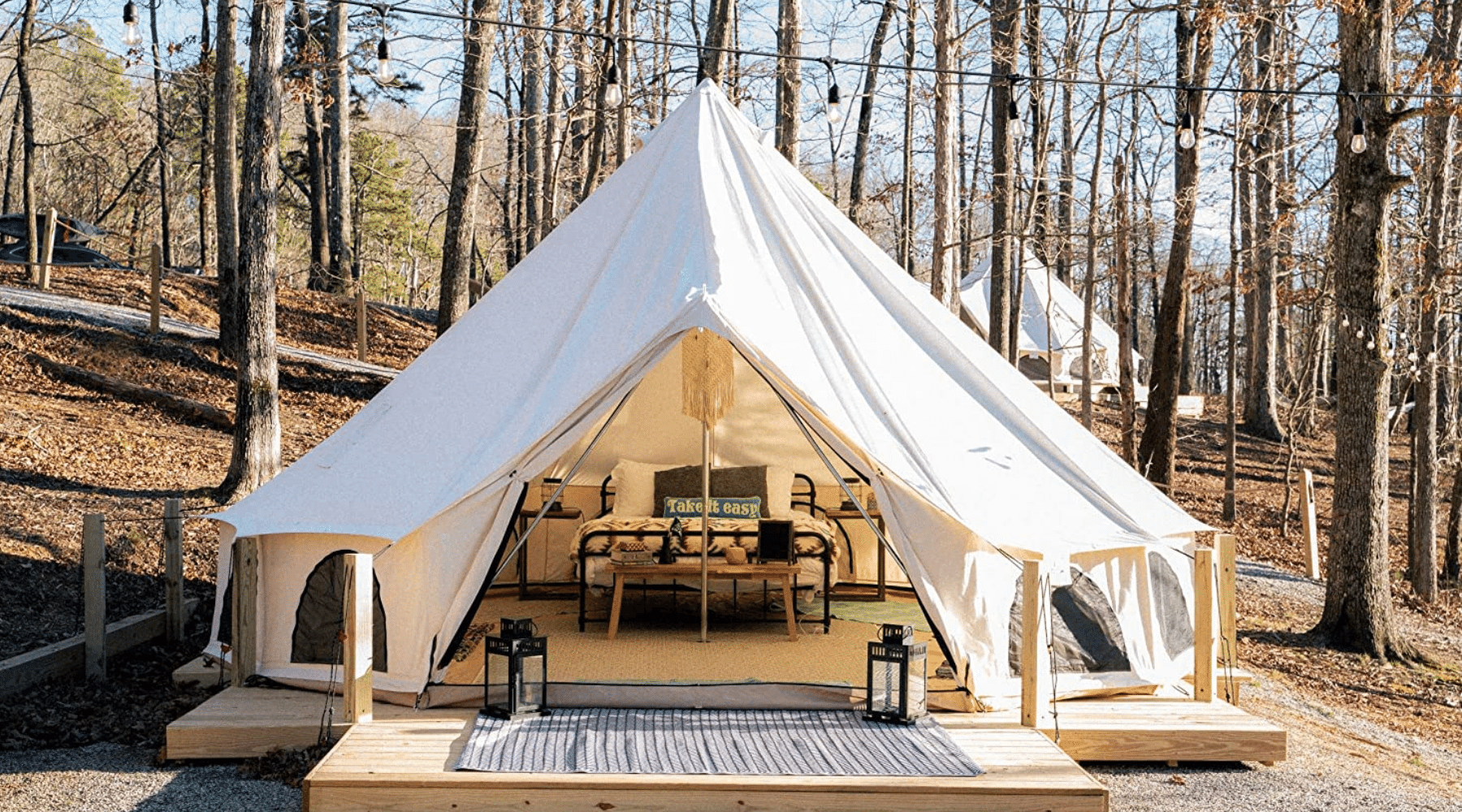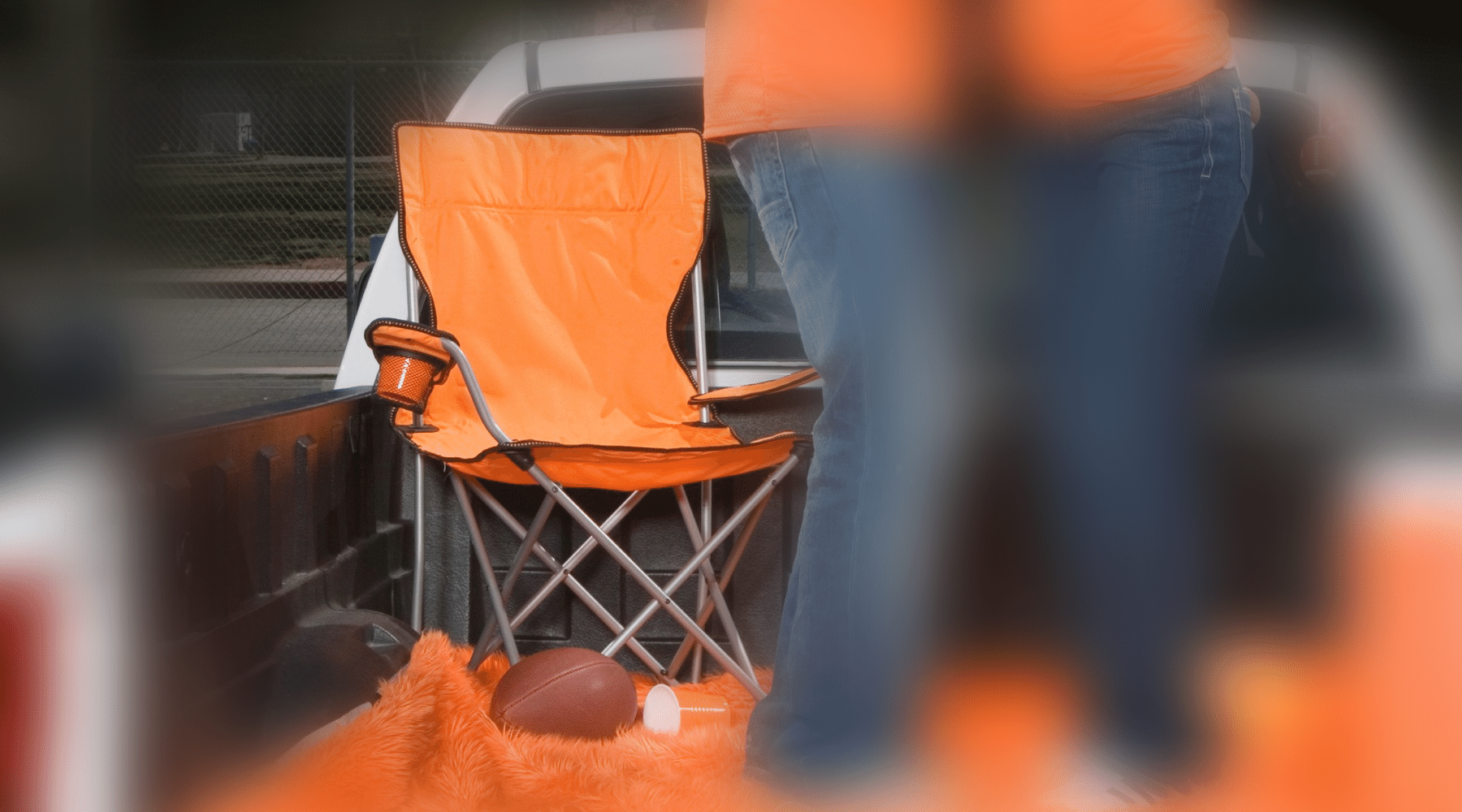 ---
Do You Enjoy the Outdoors as Much as We Do?
If you like to listen while walking or relaxing outdoors like we do, you can get lots of great music with Amazon Prime Music or 2 FREE Audiobooks from Audible Plus!
I love learning and I never give myself enough time to read books, so I love listening to a great book or motivating myself with great songs when out for my daily walks.
Plus, if you want to take advantage of 2-day shipping, get a free 30-day trial of Amazon Prime. ( I used to think free shipping was the biggest benefit of Amazon Prime, but have you seen how many new movies have been added to Amazon Prime lately?)  PLUS, did you know if you receive qualifying government assistance like SNAP or Medicaid, and others you can save even more with Prime Access.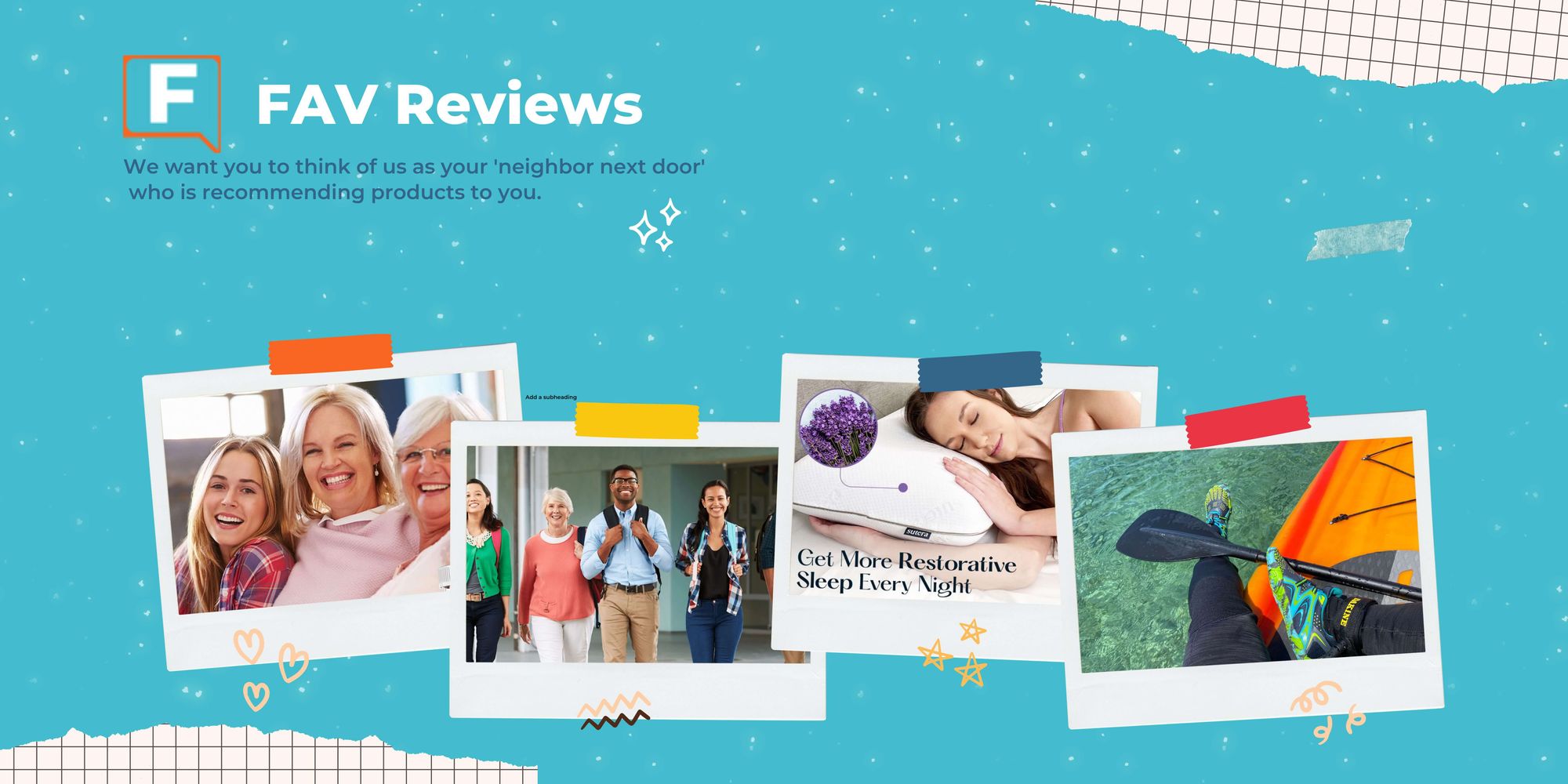 Want to see even more content about products for healthy lifestyles and outdoor enthusiasts?    Be sure to check out all of our FAV Reviews.
Do you love the outdoors as much as we do? Check out our other articles:
Or shop by the season:
Thank you for visiting us at Fav Reviews :)  Stop by again!  Better yet subscribe with the button on this page and never miss another thing.
---
Why Trust Us?
We hope you find your next favorite thing from FavReviews! We are a family friendly product review site.
Four Generation Family: As a four generation family, the breadth of products we consume and review as brand ambassadors is vast. But we can tell you, in general, in we love the outdoors, sports, staying active, living healthy and celebrating the changing seasons.
Trending Products: We also love finding new trending products and we are happy to pass along our research of new trending products to you. Follow us so you don't miss out on a thing! We send out cool emails with our latest reviews, and we will never sell or misuse your information.
Opinions Based on Use, Research and Reviews: Each product we write about is independently selected by our editors. All opinions in this article are our own, based on our own use of the product(s), or hours of research and reading reviews. We will never recommend something we wouldn't use ourselves in our own family.
Compensation: Yes, FavReviews may collect a share of sales or other compensation from the links on this page if you decide to buy something (that's how we stay in business). But, the product never costs you more, in fact in some cases, we hope we might help save you money based on our recommendations.
Reviews have been edited for length and clarity. Enjoy finding your next favorite thing!
Happy Shopping!
Your FavReviews Team
____________________________________________________
BEHIND the SCENES LOOK: If you'd like to learn how to start your own product review blog, with products that you love, check out our article How to Become a Brand Ambassador or visit LearnWriteLive.com There is room for all of us to provide better service to online shoppers. What's your passion?