Waterproof tents are essential for any type of camping because after-all who wants to wake up in the middle of the night with water dripping onto their sleeping bags? A waterproof tent will keep you and your stuff dry in the event of rain or other severe weather.
However, the term waterproof can be defined in varying degrees.  It's critical to know the distinction between waterproof and water repellent, and some of the other measures used to describe waterproof tents in the camping world.
Water-repellent fabrics have a coating that encourages water to bead up and roll off. This coating does not waterproof the cloth but protects it from rain, snow, and other wet weather.
Waterproof fabric coats with a finish that allows water to bead and roll off the fabric, preventing it from absorbing moisture. As a result, the cloth is entirely waterproof and suitable for usage in damp weather.
Since a waterproof tent for camping does not allow air to circulate in or out, it will keep you at a comfortable temperature in either hot or cold weather.
Whether you are a seasoned camper or you are thinking about camping as a new adventure, we've got you covered.   With so many options available, it's difficult to know what to choose.
In this post, we review the best waterproof camping tents on the market, you shouldn't be disappointed with any of them, but have a good look at the features of each.
---
How Do We Choose The Best Waterproof Camping Tent?
If you are looking for a waterproof tent, you want something that will keep you dry in average rainfall conditions.  Let's face it, with extreme weather any tent exposed to enough rain, especially over a long period of time, it's going to be tough to keep everything 100% dry.  But it makes sense you would want some waterproof protection for the occasional rainy nights when you might be outdoors in your tent.
The tents we researched needed to be quality construction, with a comfortable headspace and an easy set up, most feature storage pockets, organizers and a convenient carry bag.
But finding the right waterproof tent for you and your family can be difficult, because there are so many to choose from. That's where FavReviews comes into action. We find out what's trending, read through thousands of reviews and analyze different products related to waterproof camping tents, to find and shortlist the best of the best for you.
We trust that you'll find your next favorite item from the list we've researched for you below. All of these products have been hand-picked by our editors and we won't recommend something we wouldn't use in our own family. Some may even be items that we already use! We may receive a small compensation if you decide to buy something (that's how we keep the lights on). Some reviews have been edited for length and clarity. Have fun searching for your next fav product!
Our team of writers have done some amazing research and we're happy to provide you with the best waterproof tents for your next family camping vacation.
---
Some Things To Look For When Choosing a Waterproof Tent
TYPE OF TENT: The form (type) of the tent is the first thing you should look for in a waterproof camping tent. They are classified into dome tents and tents with vertical walls.
CIRCULATION:  A waterproof family tent should also have good air circulation. If a tent has a very tight waterproof seal but no suitable ventilation system, you'll feel trapped inside the tent.  It will get humid and stuffy real quick without proper air circulation.  So, before purchasing a tent, ensure that it has enough ventilation.
USE OF YOUR TENT: Before purchasing any type of tent, consider your use for the tent.  Will you will be car camping with friends and family, or backpacking, or traveling alone? Are you setting up for one or two nights, or a week?  Before buying a specific model, you should be clear about your needs. The best tents are those that fit the use you intend for them.
---
Our Fav 5 Waterproof Tents:
Mountainsmith Morrison Evo Tent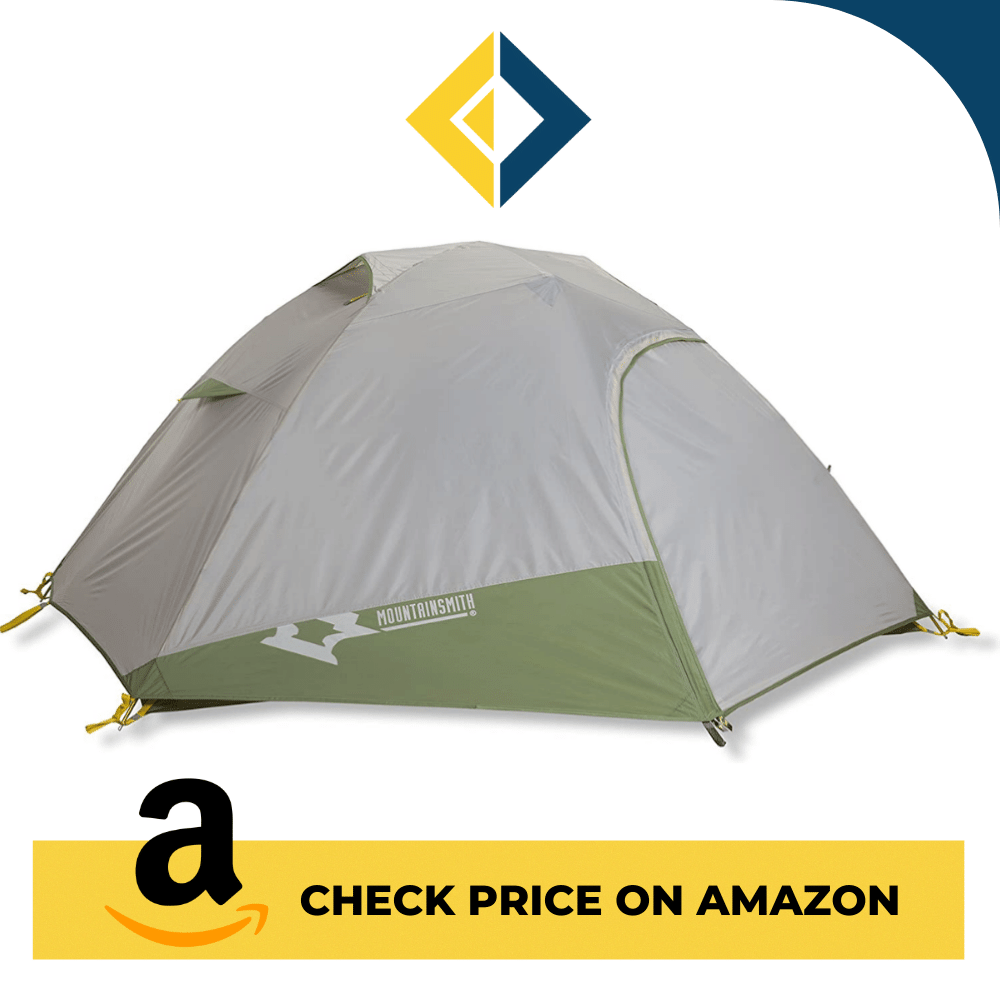 Why It's One Of Our Fav's:
The Mountainsmith Morrison Evo tent is an improved version of an all-purpose tent for camping. It's been used on hiking excursions in the North Cascades, Colorado Rockies, and climbing adventures in the Utah desert.
This tent is fast and straightforward to set up, even for a single person. Its clip-pole attachments make setup a snap, and the fly connects using plastic buckles, which is the most simple fly connection.
Fav Features:
This new version of the Morrison camping tent features an extra short pole for increased headroom.
It also has a footprint, which helps with water protection and protects the base from misuse. And it can fit anywhere for two to four people.
Its two entrances, 6-storage pockets, and a gear loft allows enough room for two individuals with gear storage.  Two doors are great to avoid the awkward shuffle if someone has to leave in the middle of the night.
Despite being a little hefty for hiking, this tent is quite simple to move, particularly when many people share the burden.
---
TETON Sports Backpacking-Tents Mountain Ultra Tent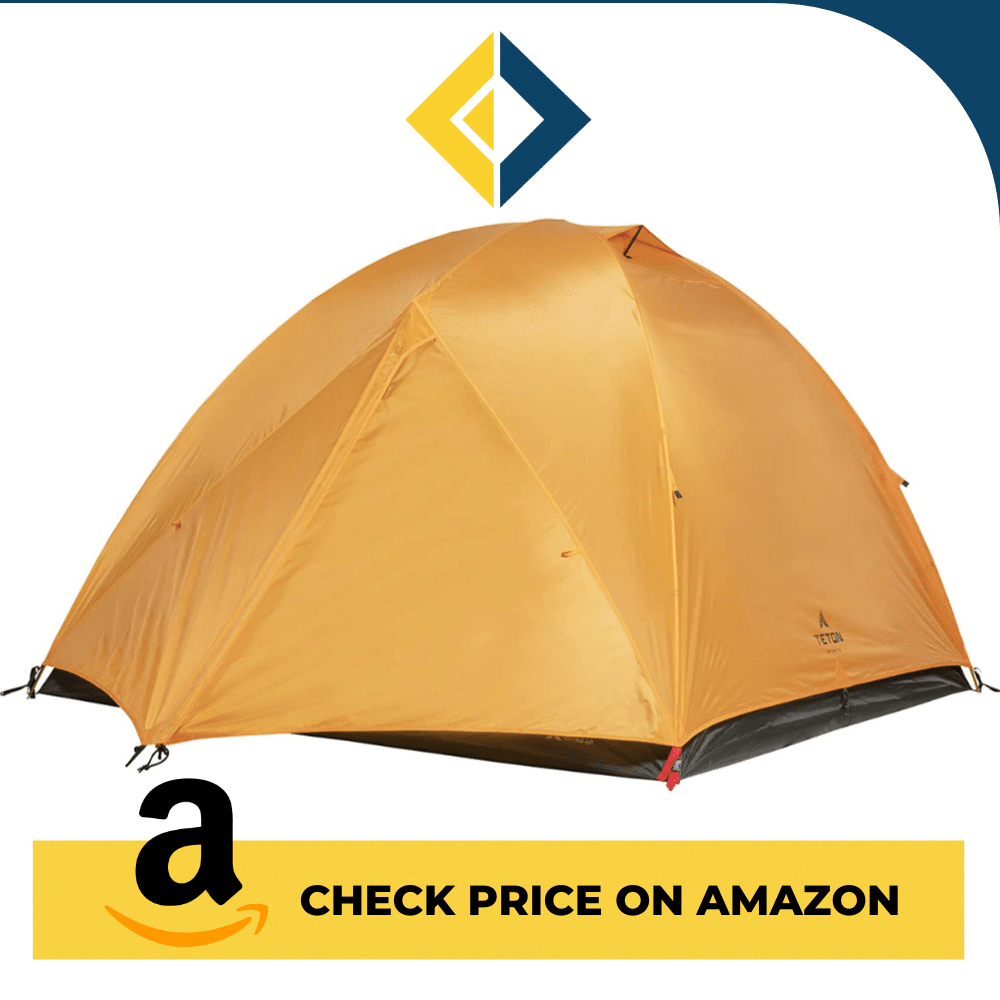 Why It's One Of Our Fav's:
The waterproof tent uses thick and robust materials to be ultimately weather and stormproof. It's the perfect waterproof tent if you are trekking or backpacking.  It is available in four sizes, 1, 2, 3, or 4 person tent size.  
As the name implies, the TETON Mountain Ultra Tent is lighter than the regular weatherproof tent, and the whole tent weighs less than six pounds.
You can be sure, whether you choose the single or up to 4-person tent size it is entirely waterproof and powerful enough to survive storms.
The TETON Mountain Ultra is one of the top waterproof tents and it will stay cool inside even in the hottest summer months.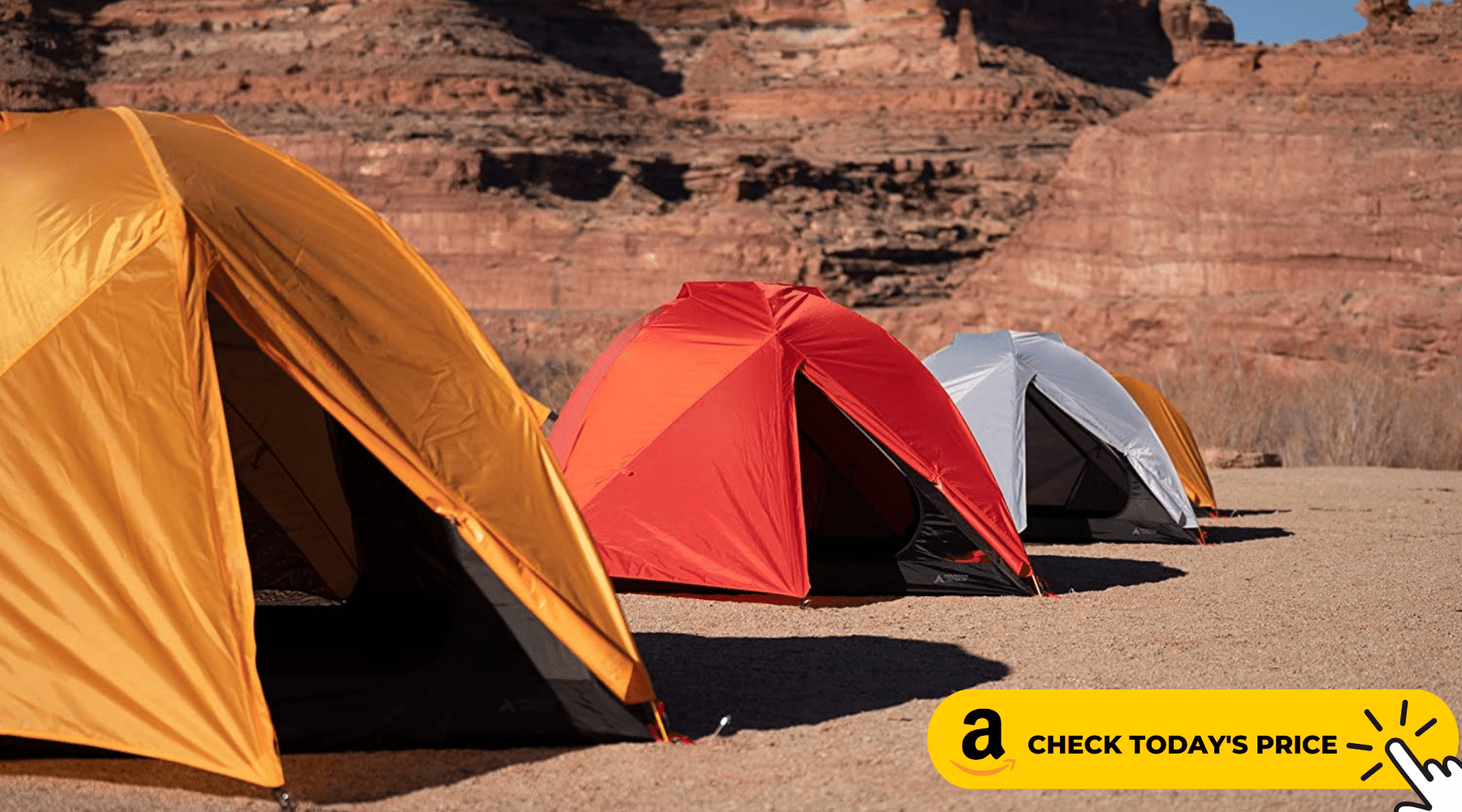 FAV Features:
The two-way zippers are paired with heat-resistant inverted seams to strengthen the structure further.
During downpours, the bathtub-style waterproof tent floor space helps to keep water out of the tent.
The whole tent outfits with mesh tent walls that aid ventilation and circulation. Also, it has a complete mesh roof so on the clear nights you can see the stars.
This lightweight waterproof tent is made of light but strong aluminum poles.
---
ALPS Mountaineering Lynx Tent: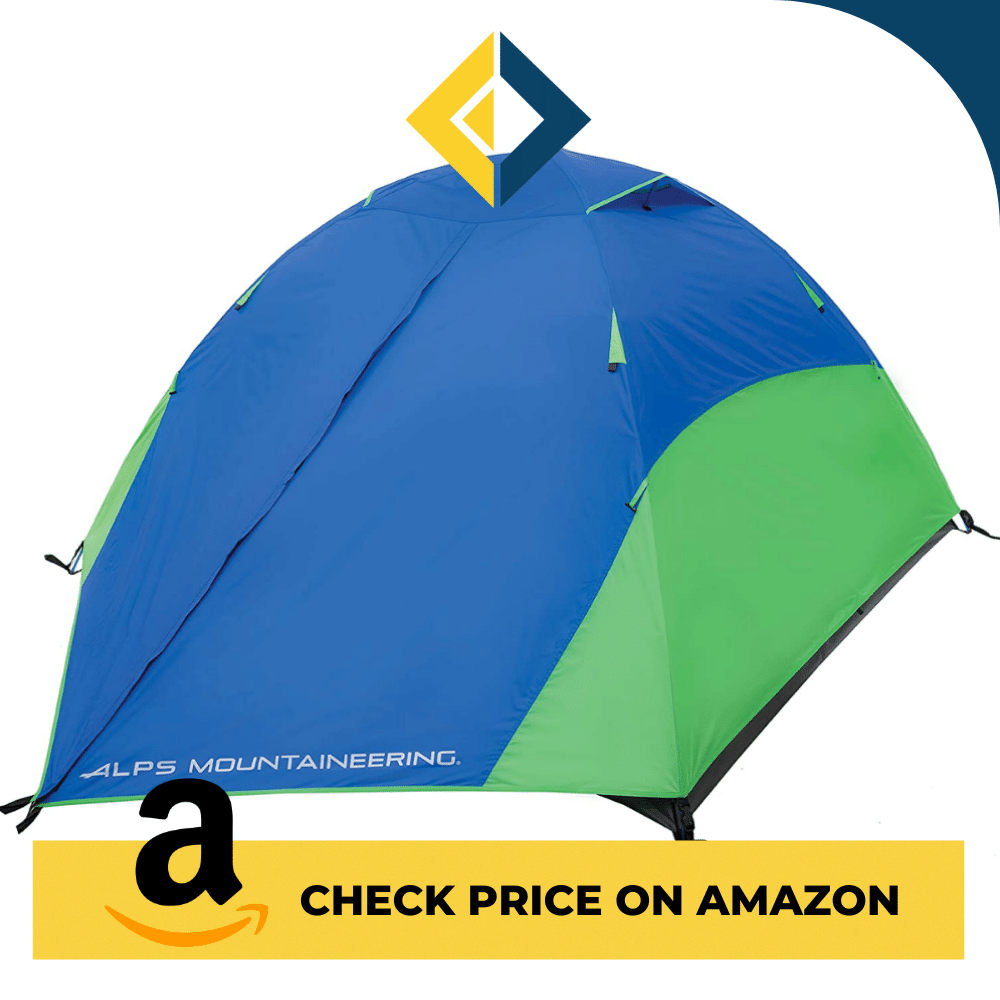 Why It's One Of Our Fav's:
People who want to camp alone but need a safe and secure place to sleep may stop searching now. The Alps Mountaineering Lynx is an ideal one-person tent.
The Lynx's ergonomic design saves interior space by keeping everything small while being very comfy. Its compact size also makes it lightweight, so carrying this 1-person tent backpacking for hours will be no problem.
The inner tent and the fly are the two primary components of this cabin style tent. The former is constructed with two metal poles staked into the ground, giving exceptional stability. That's why we highly recommend it.
FAV Features:
The fly is constructed of polyester, a waterproof material that is also UV resistant.
You may use plastic straps to install and fasten it to the tent's bottom. The inner tent floor is waterproof, and all joints are sealed so no moisture can enter the tent.
Aside from its protective function, the rain fly incorporates a pocket for extra storage space. More storage pockets inside are ideal for storing food, water, flashlights, and other gear storage.
Despite being a tiny, one-person tent, the Lynx's designers included enough space inside for supplies.
---
Featherstone Backpacking Tent Waterproof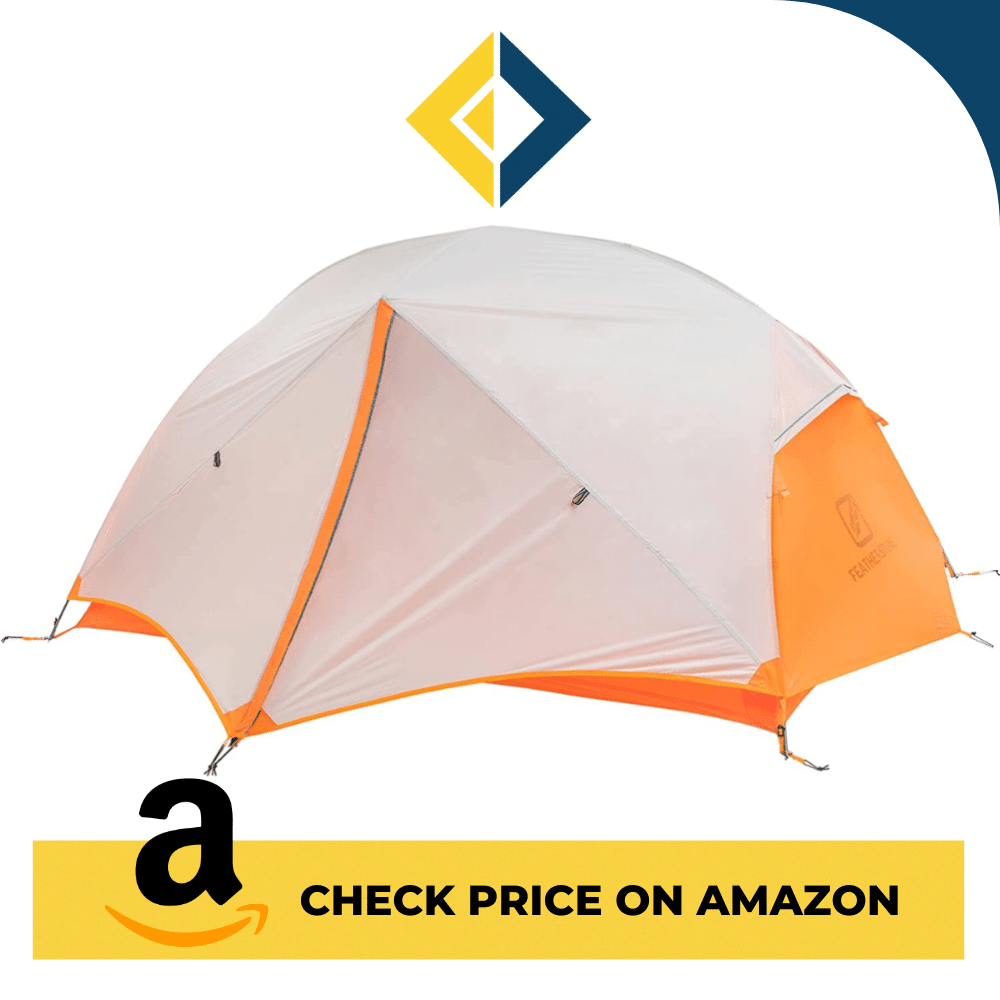 Why It's One Of Our Fav's:
We believe the Featherstone backpacking tent is the ideal waterproof tent for hikers. This dome tent is a lightweight, robust, and breathable waterproof tent.
This 2-person tent was created in response to the needs of today's travelers. It's pretty light and compact, fitting into a cylinder carry bag for easy transport.
With its feature of having a gear loft, and two entrances for ease of getting in and out with two people, it became one of our favorites for backpacking.
The most challenging aspect of constructing a backpacker tent is its weight. Featherstone overcame these challenges to create this tent. This tent is lightweight!
FAV Features:
Its 75D ripstop polyester rainfly offers exceptional rain protection. It is coated with polyurethane and has a tremendous hydrostatic rating of 3000mm.
The inverted seams construction of this waterproof tent makes it impervious to rain and storms.
Its bathtub floor design raises it above the ground, preventing water from leaking through the bottom.
It's a multi-purpose item for fishing, hiking, kayaking, and trekking. Because it is self-contained, it is simple to move, and in reality, it's the best compact rain tent.
The packing structure is adjustable, and the weight of this tent ranges from 6 to 3.8 pounds.
---
NTK Arizona GT 9 Sport Camping Tent [for 9 or 10 people]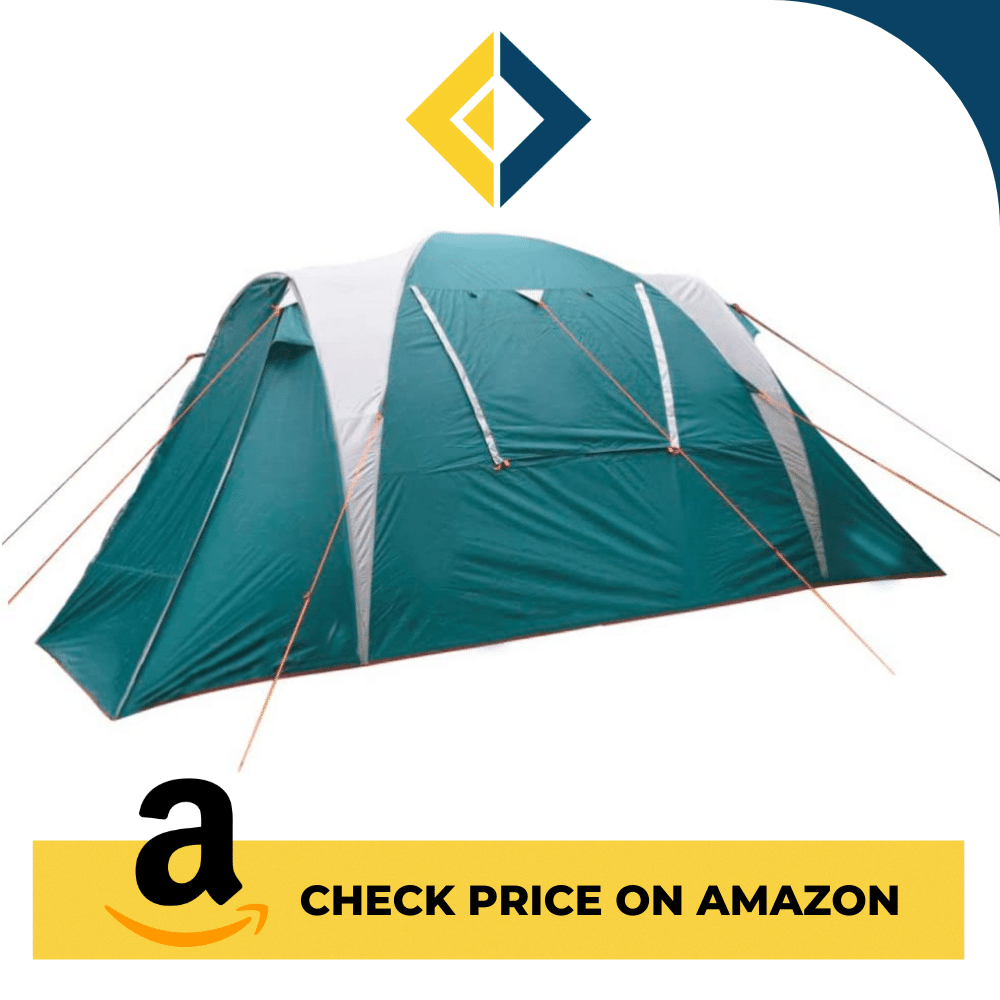 Why It's One Of Our Fav's:
The NTK Arizona GT is considered one of the market's finest bad-weather waterproof tents. The tent's structure and the materials used provide excellent weather protection.
Because of the separate rooms, easy access, and spacious tent interior, this is a perfect choice for family camping.  We specifically like the 6.2 ft height so everyone can stand up in it.   Plus, it has a gear loft to store your essential gear, so you can keep the floor space open.
People who have slept in these waterproof tents have given them excellent reviews. Because of the size of this tent, the material and it's waterproof finish, this is a heavy tent.  It is a tent for car campers.  As long as you have transportation (like a car, SUV, truck) to get you to your camping site, the weight of this tent won't matter as much.  
You will find it has enough room and your family will enjoy the extreme waterproof aspect of this tent.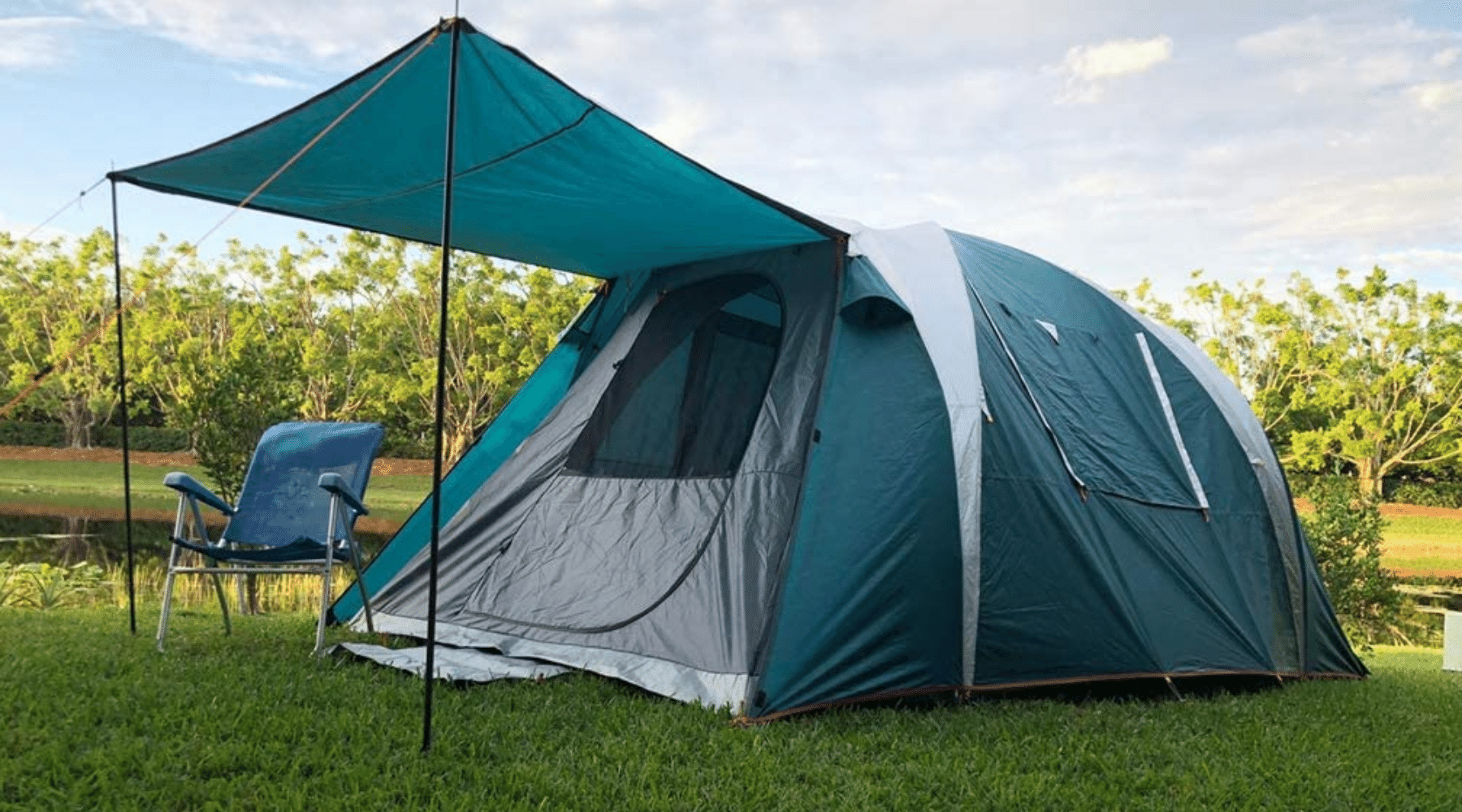 FAV Features:
This dome tent has a full-coverage rainfly constructed of sturdy nylon.  You won't wake up in a puddle with this one, with a heavy duty seamless polyethylene with inner silver coated layer to keep you dry and protected enhanced by the unique bathtub-style construction and patented welded floors.   It also meets CPAI-84 flammability requirements.
It includes two substantial D-shaped doors for convenient access, large windows with excellent views, and mosquito netting for optimum ventilation.
This tent is composed of strong materials that provide additional weather protection, making it one of the best options for rain.
This tent for 9 to 10 persons has a vast sleeping area and has enough space for other gear storage.  But it's also available in smaller and larger sizes too!
These include an anti-fungus and seamless tent body and a barrier bathtub structure.
If you are looking for a waterproof tent for a large group - you'll be happy with NTK Arizona GT. Simply select size best for you:
---
Best Waterproof Tent FAQs:
We know finding a good waterproof tent isn't something you'll do every year, so we've provided you with some good research so you end up with a tent that serves you well for years.  Having said this, we know you may still have questions.  So we aim to answer any further questions you may have about the best waterproof tents right here and now.
What Is The Best Waterproof Tent?
In our view, TETON Sports Mountain Tent is the top waterproof tent. Because this tent is quick, high-quality, stylish, lightweight, and designed for serious hikers and backpackers, the waterproof tents vary in size from one to four people.
Its rainfly and the sealed joints work together to keep you dry and comfortable in any downpour.
Are Any Tents Actually Waterproof?
Not all the tents are completely waterproof. However, some tents are waterproof, many are just water-resistant, and there are a variety of techniques for tents to keep water out - and some hiking tents are unquestionably superior to others.
However, if you discover that your tent is not waterproof, you may waterproof it yourself using a variety of approaches.
What Tent Is The Most Waterproof?
If you need a durable waterproof tent, go no far than the TETON Sports Mountain Ultra Tent. There is no way for moisture to penetrate the canvas since it prevents leaking.
What Is A Good Tent For Rain?
Yes, you can go for ALPS Mountaineering Lynx Tent if it's raining cats and dogs. The tent's 75D 185T polyester fly has a 1500mm coating that protects it from UV rays, and the rain fly buckles are waterproof.
Nothing beats a tent factory-sealed at the fly, and the tent floor space keeps the elements out.
Should I Cover My Tent With A Tarp?
You may increase the waterproofing of your tent by placing a tarp over and beneath it. Putting a tarp over your camping tent is handy when it's heavy rain outside.
Are there rain proof tents?
While no tent is rain proof, some tents are better than others at keeping you dry during a storm. When choosing a rain proof tent, look for a model with a waterproof canopy and walls made of water resistant or waterproof fabric.
The seams should be sealed to prevent water from coming in through the stitching.
The fly sheet, which is the outermost layer of the tent, should extend all the way to the ground to keep water from entering through the bottom.
Other features that can help make your tent more weather resistant include ventilation panels and Guy lines that stabilize the structure in high winds.
What is a good tent for rain?
There are a few things to keep in mind when looking for a tent for rain.
First, make sure the tent is made from a waterproof material.
Second, make sure the seams of the tent are sealed so that water does not seep in.
And third, consider getting a tent with a rainfly to provide an extra layer of protection from the elements.
When it comes to choosing a specific model, there are many great options out there. Some popular tents that are well-suited for rainy conditions come from the following brands North Face, Columbia Sportswear 6,8,10 Person Tents or any of the tents featured in our article. So whatever your budget and needs may be, there is definitely a good option.
Is 3000mm waterproof enough for a tent?
3000mm waterproofing is the standard for most tents. This means that the fabric of your tent will withstand 3 meters of water before it starts to leak.
Most waterproofed fabrics have a polyurethane or silicone treatment on them that helps repel water.
If you're looking for a tent that will keep you dry in heavy rain, make sure to find one with a 4000mm or higher waterproof rating.
However, keep in mind that no tent is 100% waterproof, so it's always a good idea to pack a tarp or groundsheet just in case.
How often do tents need waterproofing?
There is no definitive answer to how often tents need waterproofing, as it can depend on a variety of factors such as the type of tent, where it's being used, and how often it's used. However, most experts recommend treating your tent with a spray-on waterproofing treatment at least once a year.
This will help keep your tent in good condition and prevent leaks and keep your tent waterproof.
---
---
Top Waterproof Camping Tents:
So that's it a good sampling of waterproof tents, depending on your need.  There is a size for individuals, couples, party of 4 or larger families up to 7 or 8 people. Camping is one of the most rewarding and demanding activities!
Whether you're backpacking for hours with your tent on your back or just driving to a campsite for a weekend, acquiring the correct camping equipment is essential.
Having a waterproof tent (or many!) on hand is usually brilliant, even if you don't intend to camp in a particularly damp area.
An excellent waterproof tent may be the difference between a miserable night in the rain and dry and comfortable camping vacation.   Just ask our cousins from cousins weekend this summer - yes, they got wet!  You might also want some water shoes, like Crocs water shoes (they come in helpful when you are out sloshing around in the rain).
Whether you're a first-time camper or have been on the trail for a while, our guide will help you discover a tent that seems to work.
Thank you for checking in with us.
Have you subscribed to get our review articles sent to you yet? Take a minute to do that and you'll never miss another 'trending' family product again.
Your FavReviews Team!
PS - You may also be interested in more of our FAV Reviews ...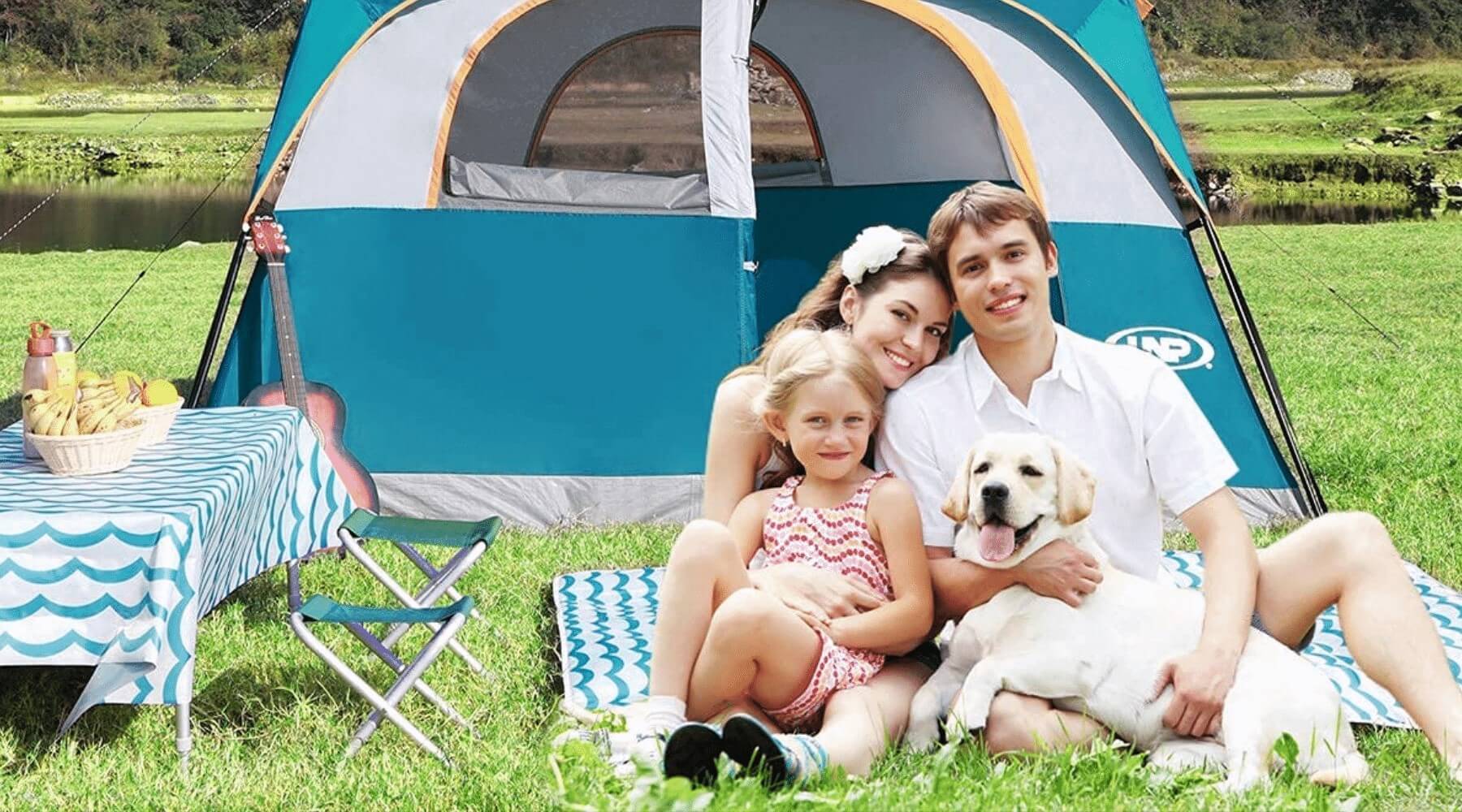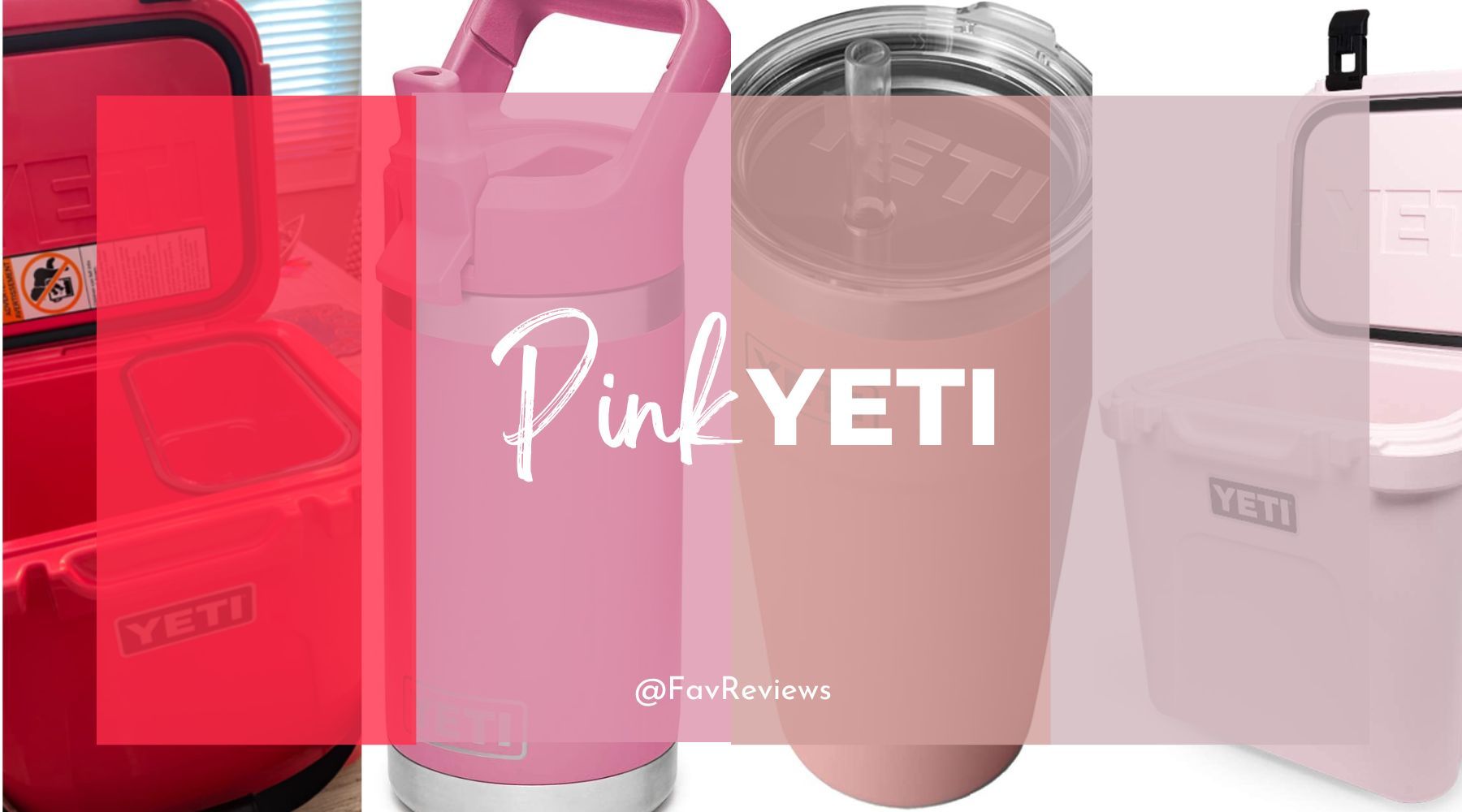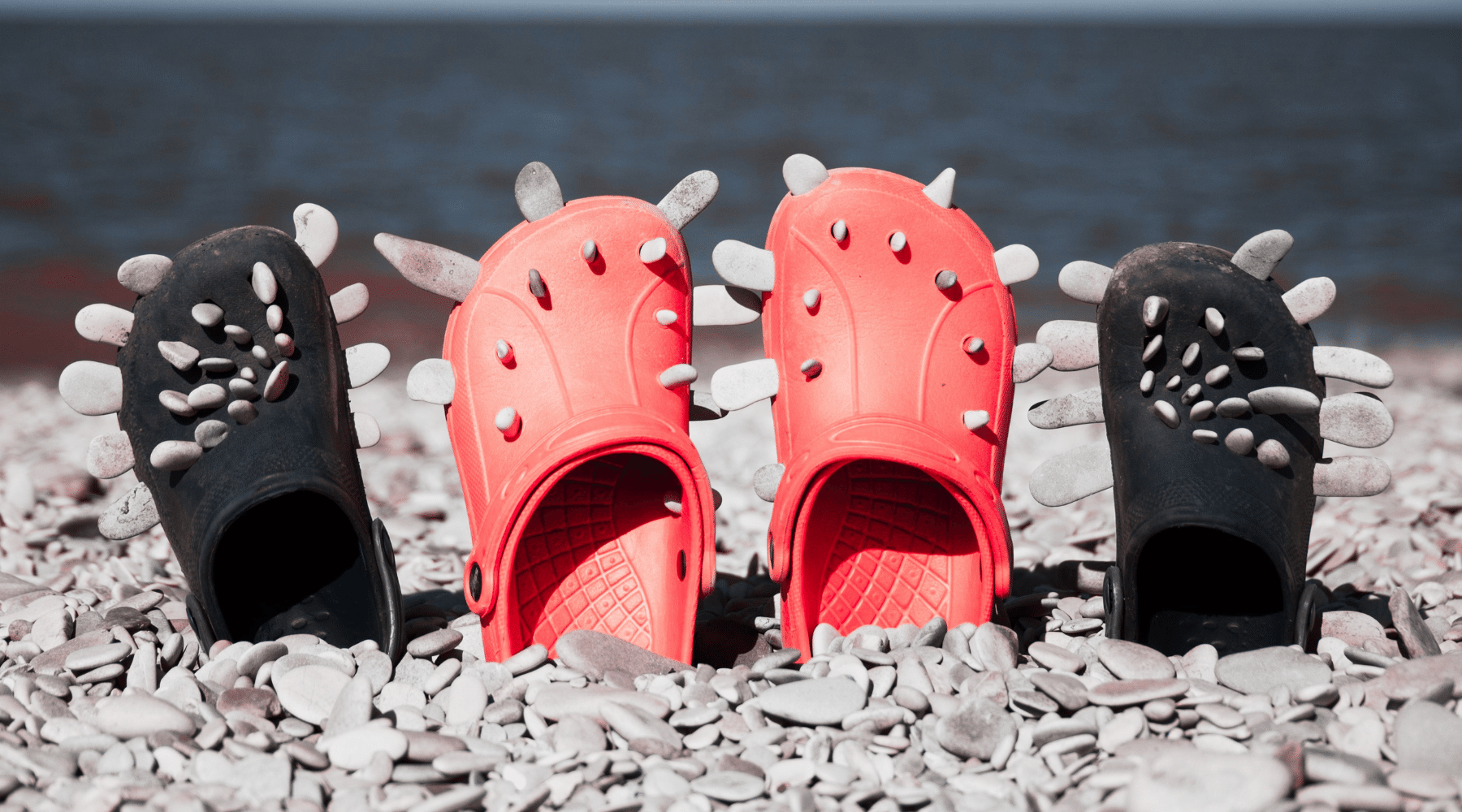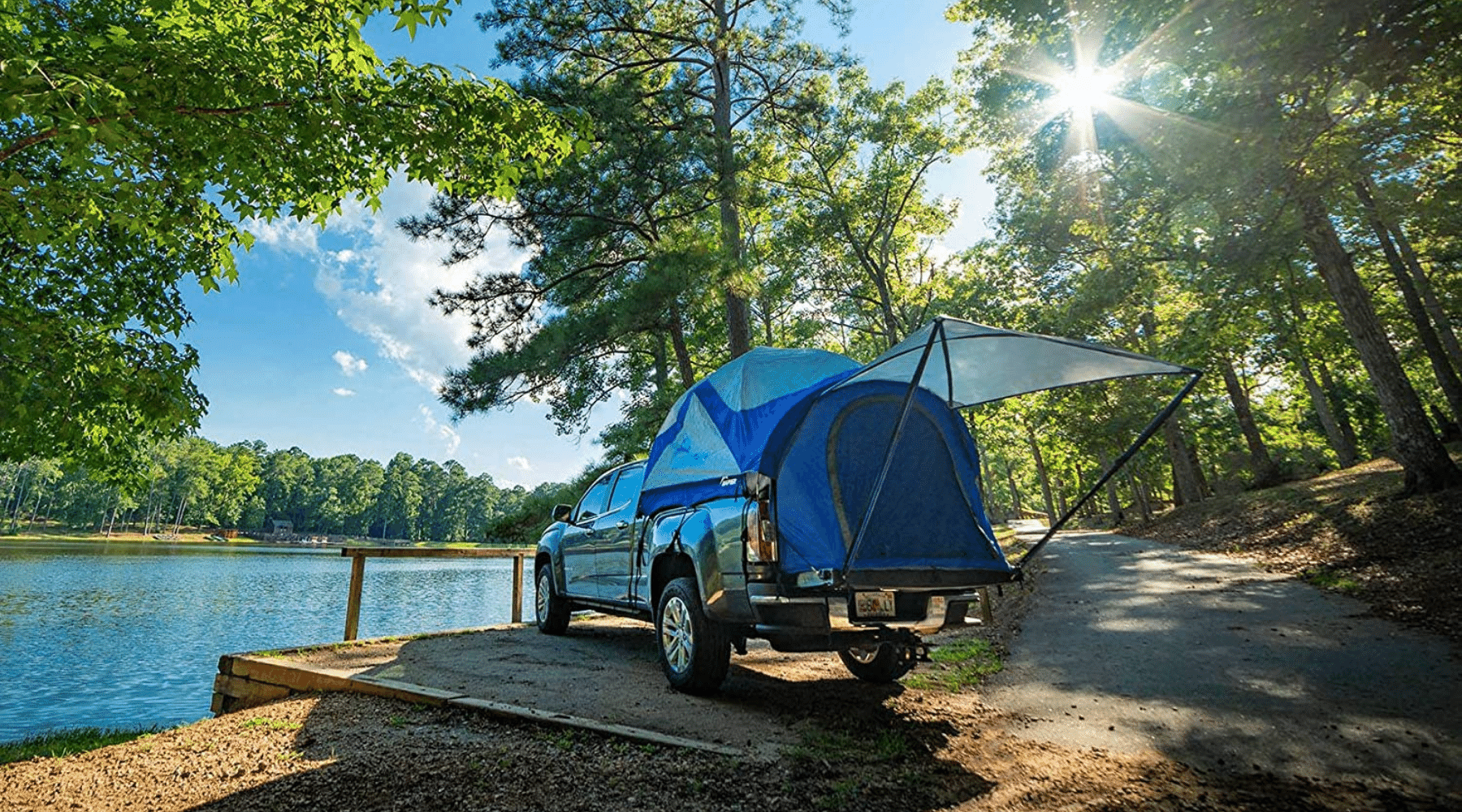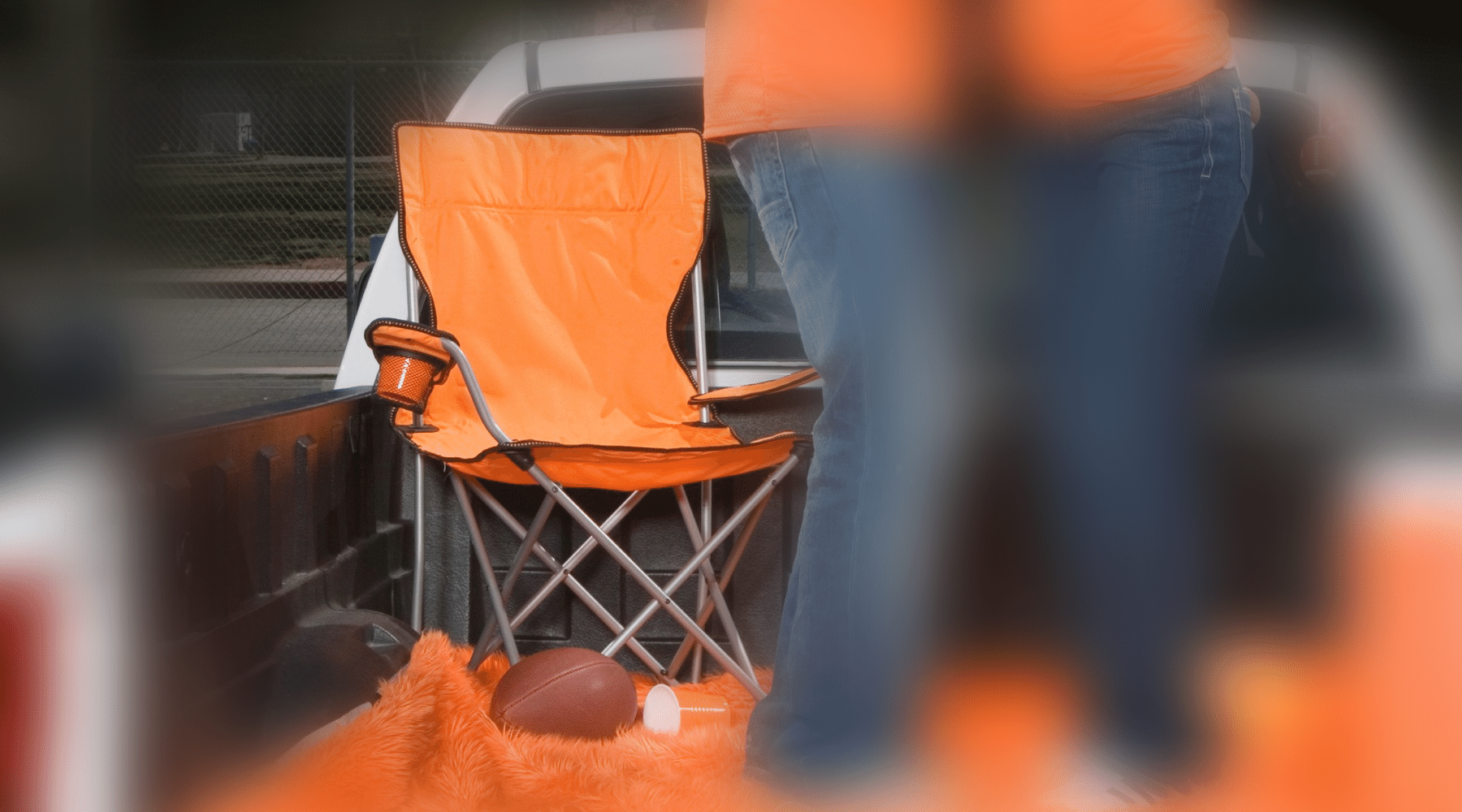 ---
Do You Enjoy the Outdoors as Much as We Do?
If you like to listen while walking or relaxing outdoors like we do, you can get lots of great music with Amazon Prime Music or 2 FREE Audiobooks from Audible Plus!
I love learning and I never give myself enough time to read books, so I love listening to a great book or motivating myself with great songs when out for my daily walks.
Plus, if you want to take advantage of 2-day shipping, get a free 30-day trial of Amazon Prime. ( I used to think free shipping was the biggest benefit of Amazon Prime, but have you seen how many new movies have been added to Amazon Prime lately?)  PLUS, did you know if you receive qualifying government assistance like SNAP or Medicaid, and others you can save even more with Prime Access.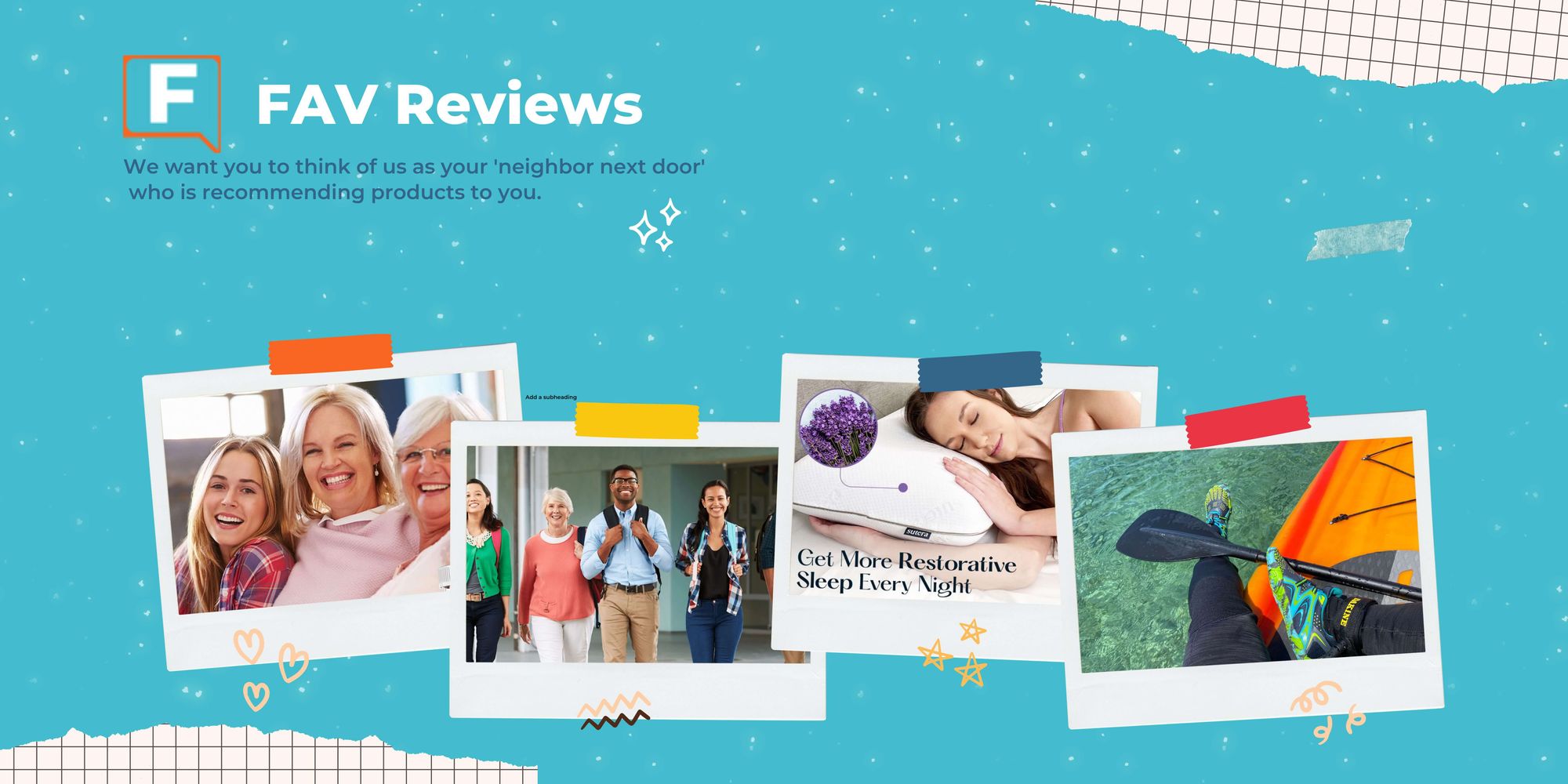 Want to see even more content about products for healthy lifestyles and outdoor enthusiasts?    Be sure to check out all of our FAV Reviews.
Do you love the outdoors as much as we do? Check out our other articles:
Or shop by the season:
Thank you for visiting us at Fav Reviews :)  Stop by again!  Better yet subscribe with the button on this page and never miss another thing.
---
Why Trust Us?
We hope you find your next favorite thing from FavReviews! We are a family friendly product review site.
Four Generation Family: As a four generation family, the breadth of products we consume and review as brand ambassadors is vast. But we can tell you, in general, in we love the outdoors, sports, staying active, living healthy and celebrating the changing seasons.
Trending Products: We also love finding new trending products and we are happy to pass along our research of new trending products to you. Follow us so you don't miss out on a thing! We send out cool emails with our latest reviews, and we will never sell or misuse your information.
Opinions Based on Use, Research and Reviews: Each product we write about is independently selected by our editors. All opinions in this article are our own, based on our own use of the product(s), or hours of research and reading reviews. We will never recommend something we wouldn't use ourselves in our own family.
Compensation: Yes, FavReviews may collect a share of sales or other compensation from the links on this page if you decide to buy something (that's how we stay in business). But, the product never costs you more, in fact in some cases, we hope we might help save you money based on our recommendations.
Reviews have been edited for length and clarity. Enjoy finding your next favorite thing!
Happy Shopping!
Your FavReviews Team
____________________________________________________
BEHIND the SCENES LOOK: If you'd like to learn how to start your own product review blog, with products that you love, check out our article How to Become a Brand Ambassador or visit LearnWriteLive.com There is room for all of us to provide better service to online shoppers. What's your passion?