Why Trust Us?
We hope you find your next favorite thing from FavReviews! We are a family friendly product review site.
Four Generation Family: As a four generation family, the breadth of products we consume and review as brand ambassadors is vast. But we can tell you, in general, in we love the outdoors, sports, staying active, living healthy and celebrating the changing seasons.
Trending Products: We also love finding new trending products and we are happy to pass along our research of new trending products to you. Follow us so you don't miss out on a thing! We send out cool emails with our latest reviews, and we will never sell or misuse your information.
Opinions Based on Use, Research and Reviews: Each product we write about is independently selected by our editors. All opinions in this article are our own, based on our own use of the product(s), or hours of research and reading reviews. We will never recommend something we wouldn't use ourselves in our own family.
Compensation: Yes, FavReviews may collect a share of sales or other compensation from the links on this page if you decide to buy something (that's how we stay in business). But, the product never costs you more, in fact in some cases, we hope we might help save you money based on our recommendations.
Reviews have been edited for length and clarity. Enjoy finding your next favorite thing! Happy Shopping! Your FavReviews Team
It's no secret tailgating season, that corresponds with football season in the USA, is popular from early fall through mid-winter. With that, the popularity of truck camping and SUV camping has skyrocketed.  SUV Tents have come a long way to make it convenient for  adventure fans' and partiers alike enjoy safer play and stay outings.
Suppose you're planning a road trip or off-grid camping adventure. SUV and truck tents will help to make it a memorable experience and you'll never have to worry about where you are staying.
You will have a secure and shaded refuge in the rear of your vehicle wherever you stop. These tents can typically accommodate up to 6 people, if you use the space in the back of your SUV as well as the tent.
The SUV tents we are going to show you, with proper care, will easily last five years or more without trouble. The tent's endurance depends on the quality of materials and overall construction, but most of these top brands are constructed to survive a variety weather situations and will keep you warm and safe.
What kind of SUV Car Camping Tent is best for your vehicle?  Take a look at our choices for the best SUV tents, in a range of styles.
---
How to Choose the Best SUV tent for Your Next Adventure.
Choosing the ideal SUV tent may be daunting and challenging with so many decent options on the market today.   Here is a quick checklist of things you should be thinking about when selecting the right SUV tent for your needs:
Vehicle Compatibility  
When selecting the best SUV tent, vehicle compatibility is critical. Fortunately, most SUV camping tents are built to suit a variety of cars, not only SUVs. They are adaptable due to the use of adjustable straps and elastic bands.  So that's fantastic news if you're looking to purchase one.
Size of the Tent
The size of an SUV tent is another crucial factor to consider before making your purchase.  When manufacturers talk about the number of people a SUV tent will accommodate most will consider both the floor space of the tent and the space in the back of the vehicle.  For example: Sleeps 6 may indicate, 4 people on the floor of the tent and two in the back of the SUV or truck bed.   In the end, sleeping space and interior space is very subjective due to everyone's needs and expectations being a bit different.
On your car camping trip, you may choose to keep the floor space of the tent open for moving around and storing your camping gear, or providing space for your dog to sleep, in this case the sleeping space would be in the back of the SUV or truck bed.  Making a tent that could sleep up to 6 people, really most suitable for 2 (plus a dog).  
Lastly, ceiling height is another important consideration when selecting the right tent size for your needs.  Being able to stand up in the tent portion will make your camping experience more enjoyable.
Quality Fabric
The tent fabric is the key determinant of an SUV tent's durability. That being stated, the best option is to choose a tent with a thick and sturdy material with a high thread count.  You will also want to consider whether the tent is water-resistent or water-proof, also dictated by the type of material used.
The tent fabric is usually stated in the description. If you want a durable SUV tent, you should pay careful attention to that information.
Design and Construction
SUV tent ventilation is a significant consideration since it directly impacts sleeping conditions. Look for designs that have cross-ventilation through windows, doors.
Ideally, your purchase will be a SUV tent with most windows and doors, constructed of high-quality waterproof materials, with suitable floor space and ceiling height to ensure a comfortable stay time and time again.
---
How Do We Choose The Best SUV Tent?
If you are looking for a SUV tent, you want something that will be quick to put up and down.  Something that you can easily detach from your vehicle if you need to run into town quickly, and something that will keep you comfortable and dry throughout the night.
The SUV tents we researched needed to be quality construction, with a comfortable headspace and an easy set up, most feature storage pockets, organizers and a convenient carry bag.
But finding the right SUV tent for you and your family can be difficult, because there are so many to choose from. That's where FavReviews comes into action. We find out what's trending, read through hundreds of reviews and analyze different products related to SUV tents, to find and shortlist the best of the best for you.
Our team of writers have done some amazing research and we're happy to provide you with the best SUV tents for your next tailgating party or outdoor adventure.
---
Our FAV Finds for Best SUV Tents
Napier Backroadz SUV Tent
Why it's one of our fav's:
Napier Enterprises has received several mentions for our lists of best SUV tents. Still, the Backroadz has to be our top pick.  So we can start that we like the Napier brand.
This particular Backroadz tent for SUVs strikes an excellent blend of superb features, ample camping and sleeping space, and fantastic pricing. It connects directly to most SUVs, CUVs (crossover utility vehicles), and minivan types through a waterproof and pest-resistant vehicle tent sleeves.
While Napier promotes this tent for five campers, we believe it is the ideal size for a couple with lots of extra room, for gear or even your dog!
FAV Features:
The tent can sleep up to 5 persons and has a 10'x10' square footprint with 7 feet of the standing headroom, so you don't have to bend over all the time.
One massive D-shaped door and three mesh ventilation windows provide good cross ventilation.
This tent can stand on its own, so you can set it up with or without your SUV. The Napier's unique vehicle sleeve is simple to install and remove, eliminating the need to pack away when making a return trip.
Storm flaps are strategically placed throughout to ensure your vehicle camping vacation remains dry even if the weather turns bad.
You can also install canopies over the entryway to keep the rain out while retaining ventilation.
---
Rightline Gear Suv TENT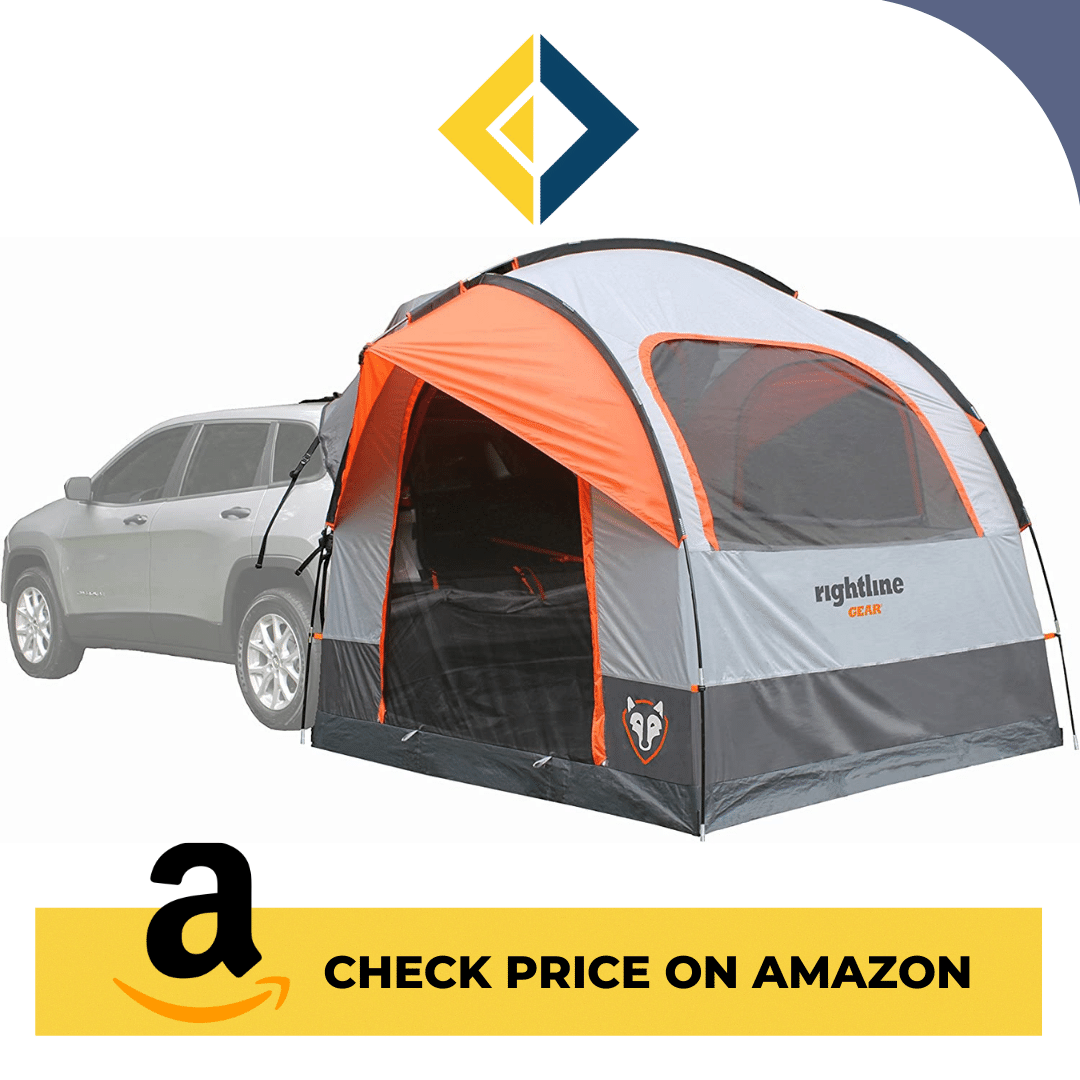 Why it's one of our fav's:
The Rightline SUV Tent is a great option for those who want to sleep off the ground in comfort. It can be easily connected to the back of any SUV, minivan, crossover, wagon, Jeep Wrangler hard top, or pick up truck with cap, and provides plenty of space for additional people or storage.
Plus, you can disconnect the tent during the day if you want to explore the area and easily reconnect when you come back to camp.
While Rightline promotes this SUV tent for six campers, that's 2 people in the back of the vehicle and 4 people in the tent, we feel you will more likely enjoy the experience if you save some of that space for your camping gear or walk around space.
If you are looking for a good tailgate party solution for sleepovers, the Rightline SUV Tent, USA, is a good choice.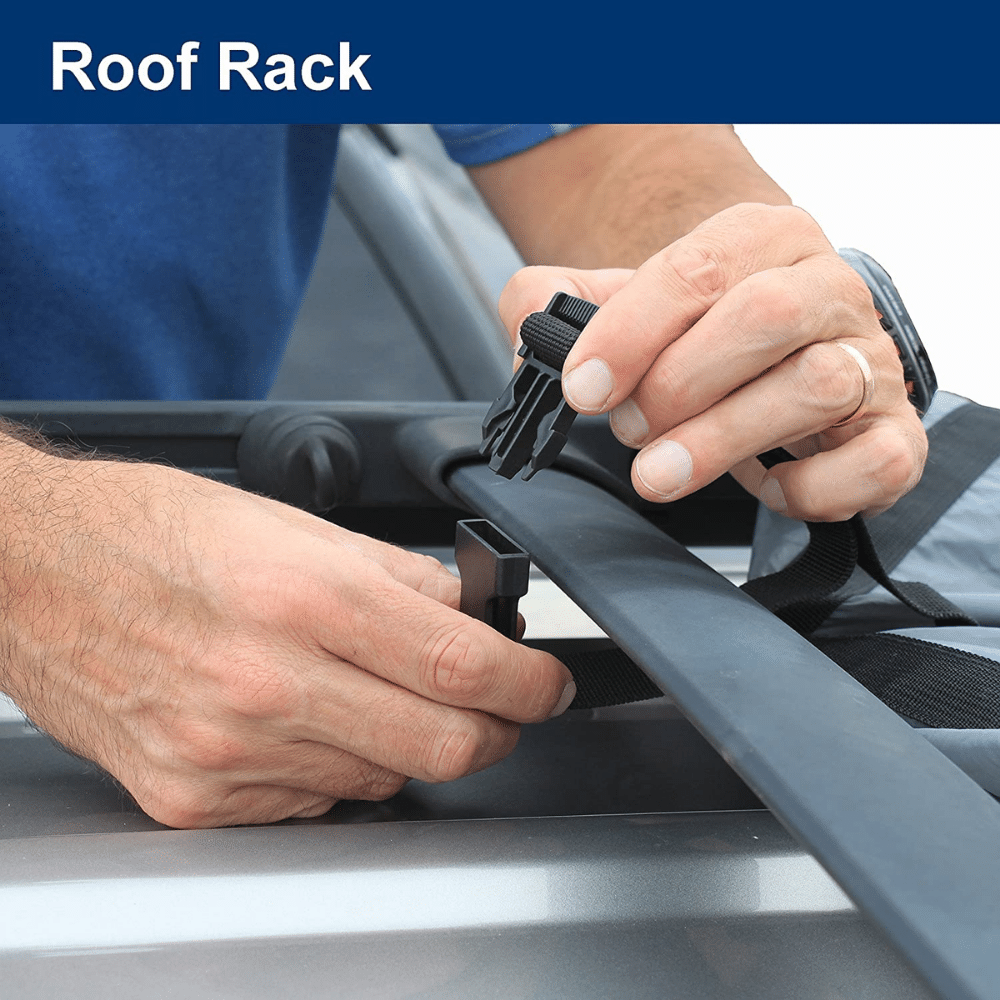 FAV Features:
The tent can sleep up to 6 persons and has a 64-foot square footprint (8'x8') with 7'2" standing height, so you don't have to bend over.
It's water-resistant design features a rainfly, zipper covers, a bathtub floor, and is made of a hydrophobic fabric with tape sealed seams.
This tent can stand on its own, so that you may set it up with or without your SUV.  The Rightline vehicle sleeve is simple to install and remove, eliminating the need to pack up the tent when you want to make a quick trip to town.
The entryway canopy over the door helps to keep the rain out but still allows for ventilation in the tent.
---
DAC Explorer 2 SUV and Minivan Tent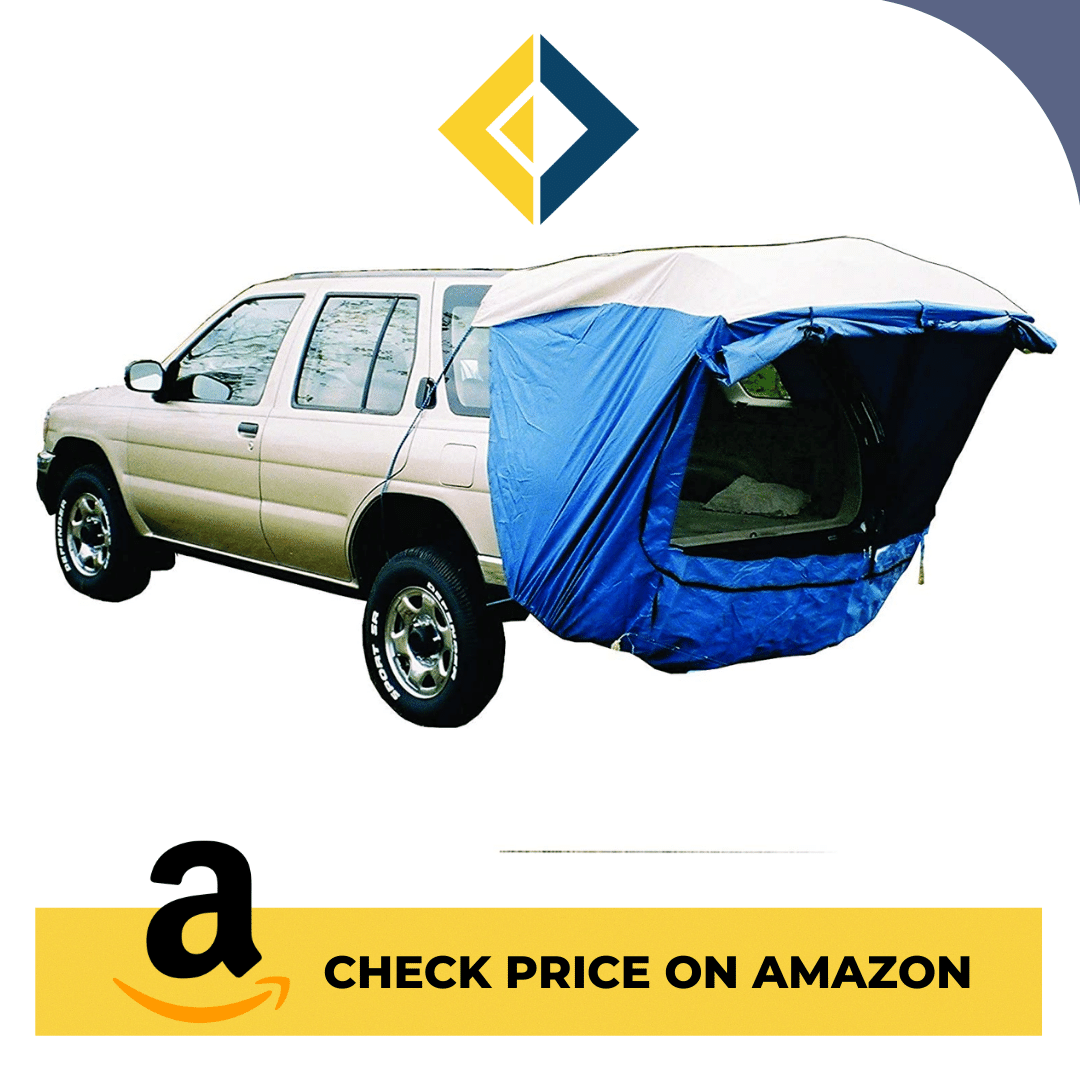 Why it's one of our fav's:
The DAC Explorer 2 SUV and Minivan Tent comes in at a lower price if you are looking to convert your vehicle into a comfy sleeping area for just two people. We are talking, less than $200!
The pricing alone makes it a good choice for campers who do not want to invest in a more expensive and technically advanced rooftop tent.
The DAC Explorer 2 is compatible with the majority of SUVs and minivans. That's why we highly recommend this tent to our readers.
FAV Features:
This hatchback tent is simple to put up, using shock cables (bungy cords) that attach to the wheel wells.
After attaching the cables, the user unzips the doors and raises the vehicle's lift gate. You may use it to link a car to a boat or utility trailer.
The back door panels of this tent may be pulled up for ventilation or closed for privacy at night.
Another key feature for this family camping tent is a no-see-um insect screen, which you can use to keep mosquitoes and other pests out of your tent.
The DAC Explorer 2 lifts you off the ground, sleeping inside your car in a secure, comfortable, dry, and ventilated place.
This tent is incredibly light and small, and the tent's weight is just four pounds and can fit into a shoebox-sized space.
---
Offroading Gear SUV2RV Tent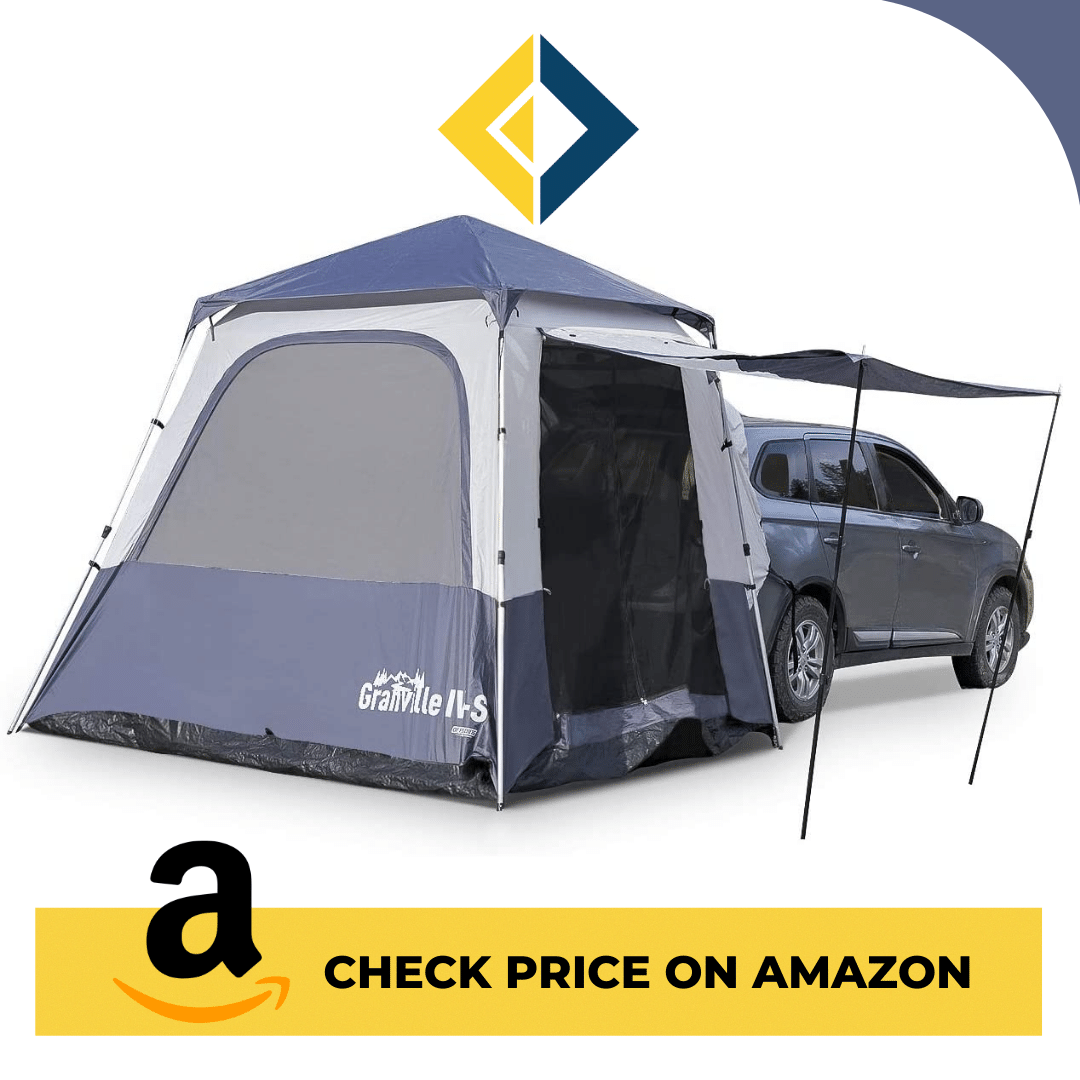 Why it's one of our fav's:
With this hatchback tent, you can turn your SUV into a recreational vehicle, thus the name. It intends to provide you with a friendly and roomy tent that will make car camping much more enjoyable and comfortable.
It will be a terrific option for individuals who wish to preserve a certain degree of comfort by car camping "in" their SUVs. So, if you've been searching for a helpful hatchback tent for your next family camping trips, this may be the one.
FAV Features:
This hatchback tent is 9 × 9 feet when set up, giving you plenty of room inside to sleep up to 5 people.
You may increase that amount to seven by sleeping two persons in the automobile. It provides considerably greater adaptability, which is essential for car camping gear.
It is suitable for any hatchback and can also use as a standalone tent.
Offroading's rapid pop-up technology makes it very simple to put up. Due to the technology, you can install the tent in 2 minutes or less.   Set up alone will save you a lot of time and will allow you to spend more of your leisure time away from the city.
There are no complicated instructions, no fiberglass tent poles, simply a car tent with a quick set up that gives you a lot of options to get out on the road to explore.
---
Front Runner Rooftop Tent With Extra Sleeping Space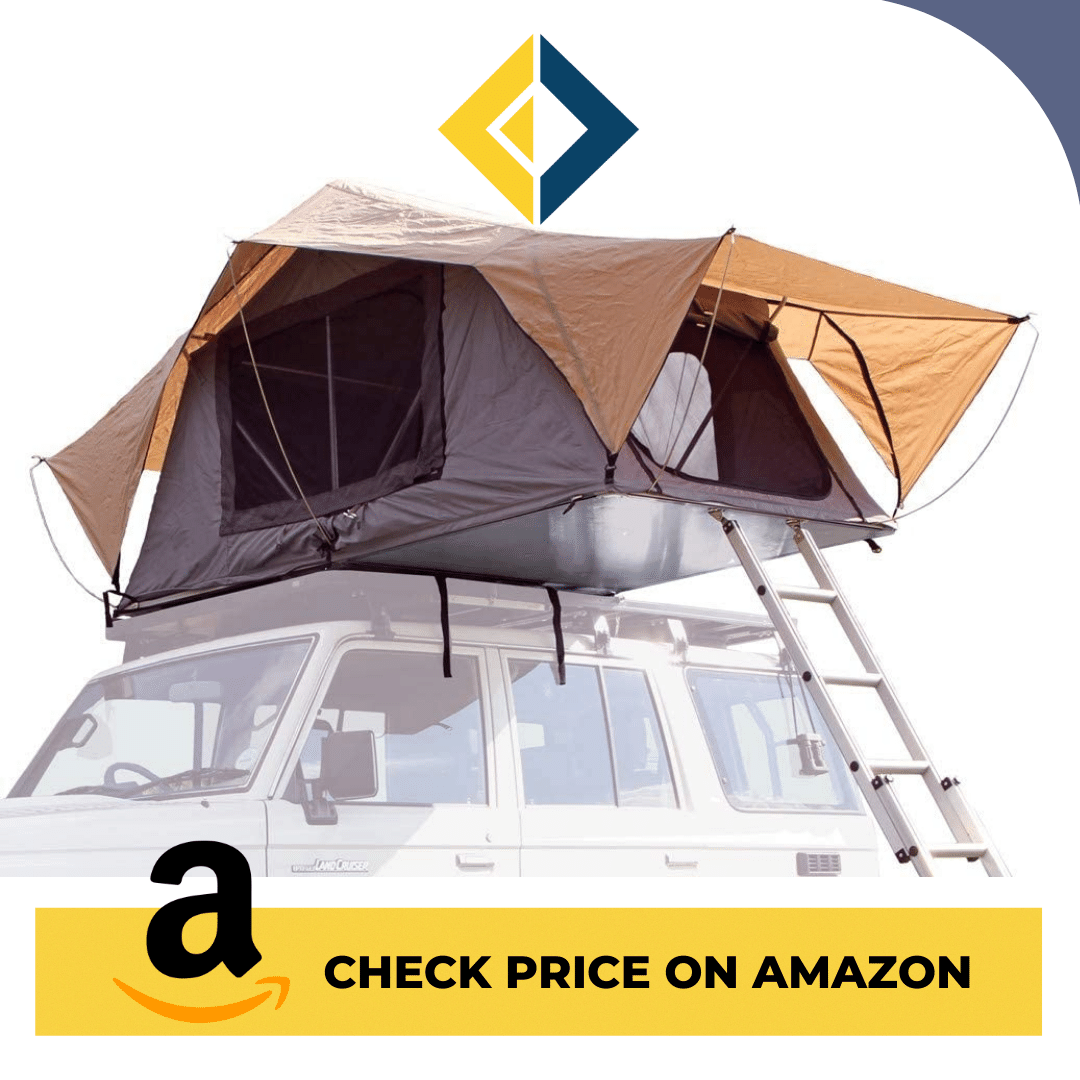 Why it's one of our fav's:
Rooftop tents provide comfort, convenience, and protection from dangerous or unwanted creatures. The Front Runner Rooftop Tent is a popular choice among explorers who seek a fast setup and the ability to sleep above ground. Rooftop tents stay free of sand and dirt, as well as mosquitoes and insects.
A rooftop tent is built differently from a standard tent. Front Runner's is 4.3 feet broad by 8.2 feet long. This car tent is light, making it quicker to put up and and installs right over your roof rack on the SUV underneath. To lessen wind resistance, it measures just 7.87 inches tall when closed.
FAV Features:
The Front Runner Tent comes with a mattress, which offers more comfort and savings since you don't have to buy or transport an fresh air mattress.
This tent quickly opens and has screened windows and a door for optimum pest protection and ventilation.
An ultra-durable cover protects the car tent from weather, road wear, and strain when not in use.
The Front Runner Rooftop Tent also has an HD fly-sheet cover made of a 200D waterproof Oxford cloth.
This fly-sheet offers morning sun protection and aids with condensation reduction.
It also permits windows to remain open in the weather, making campers feel less imprisoned when rain disrupts their adventure plans.
---
Smittybilt Overlander Tent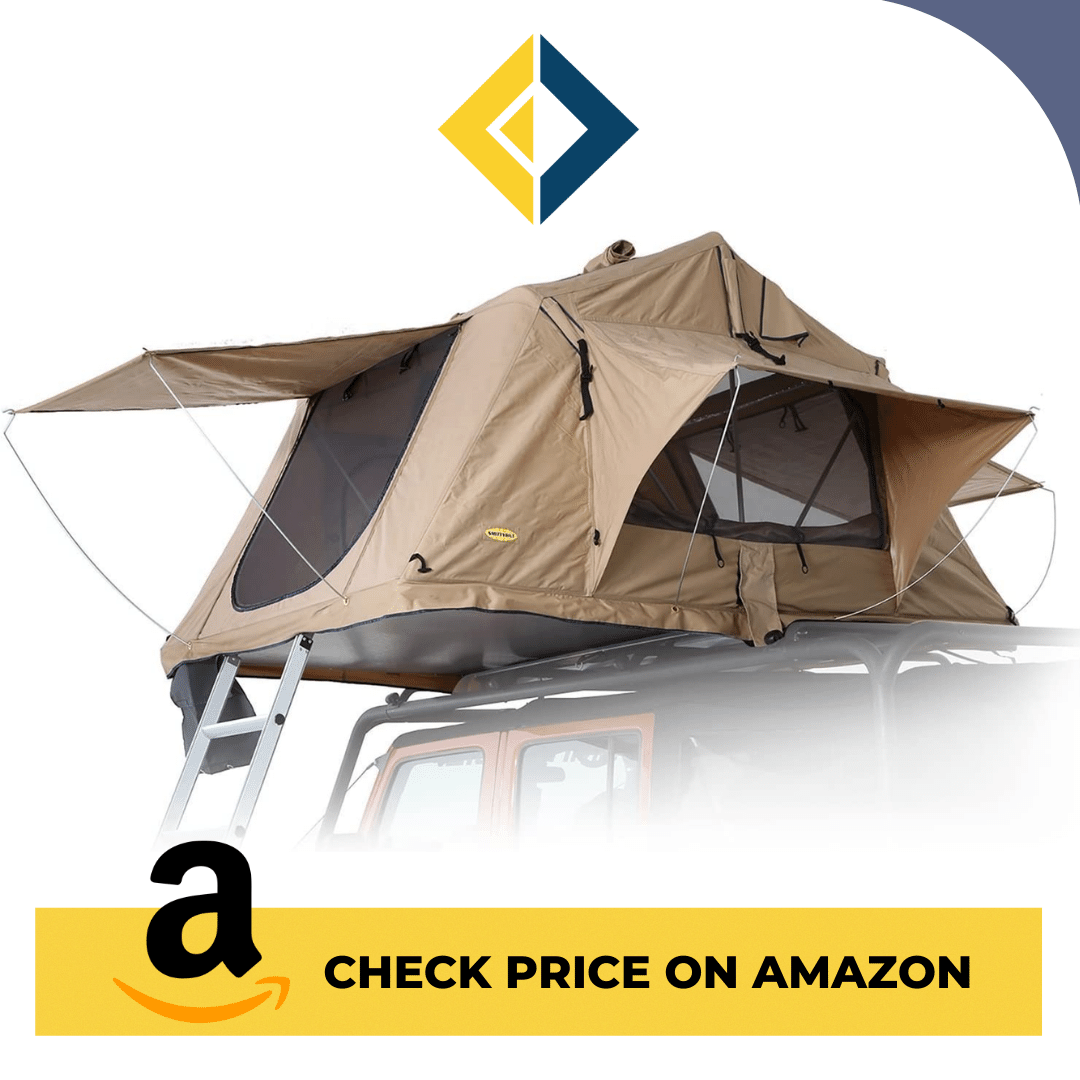 Why it's one of our fav's:
Rooftop tents by Smittybilt are both comfy and handy. Because of their ease of construction and disassembly, many passionate campers prefer them over classic SUV tents and standalone tents. The Smittybilt Overlander car Tent is straightforward to assemble and disassemble. It comes with a PVC cover that keeps the SUV tent dry while not in use.
This tent has several characteristics that outdoor lovers built. Its waterproof rainfly is made of the most durable 60000 ripstop polyesters, waterproofing, and polyurethane integration. Smittybilt understands that its clients want and need a long-lasting rooftop tent.
FAV Features:
The Smittybilt Overlander Rooftop Tent is ideal for all-season activities. The base is made of an aluminum and polyurethane sandwich and can support up to 660 pounds and installs right over your roof rack.
Its anodized aluminum tent poles include stainless steel hooks for corrosion resistance.
The mattress has a fireproof cover made of high-density foam. In contrast, the flysheet is made of waterproof 420D Oxford cloth and is supported by strong spring steel poles and tension rods.
The Smittybilt Overlander car Tent is suitable for all seasons and has a one-year guarantee.
The sunroof provides ventilation and amazing camping views.
An exterior shoe storage bag, mosquito netting, a heavy-duty travel bag, and inside LED strip illumination are all included.
---
Best SUV Tents FAQs:
What Is An SUV Tent?
An SUV tent, also known as an Overlanding tent, is a covering designed to install on the trunk of a car. It was publicly produced and marketed for the first time in 1990. However, truckers have long made improvised shelters out of regular tent material.
SUV tents are typically designed to seat 2-6 people. They are intended to be attached to several strategic spots on the vehicle's trunk.
Many individuals, particularly Overlanding enthusiasts, skip RVs and campers in favor of SUV tents. They provide a more natural camping experience and enable you to travel from one camping area to the next.
What makes a rooftop tent different from an SUV tent?
Rooftop and SUV tents vary in how close they are to your vehicle. Although specific roof tents may use on specific SUVs, rooftop tents, as the name implies, are designed to be placed on top of your car.
You'll have to climb a night's ladder to reach your sleeping capacity.
What is the function of an SUV tent?
An SUV tent aims to make your automobile camping experience more convenient.
You get better access to your stuff, an additional gear loft, and plenty of room to stretch out and relax by linking your SUV tent and vehicle.
Furthermore, since SUV tents are attached to your vehicle, they might give additional structure and durability in the wind if correctly erected.
What is a hatchback tent?
Hatchback tents or car tents are a type of camping tent that is designed to be attached to the back of a vehicle, typically a car or SUV. The idea is that you can camp in comfort and style with adequate floor space while still having easy access to your vehicle and all of your gear. Hatchback tents, car tents, are typically made from high-quality materials and feature plenty of ventilation to keep you cool in warm weather. They typically come with a rainfly for added protection from the elements, and some even have built-in awnings or sunshades.
What are some of the best hatchback tents?
Some of the best hatchback tents, car tents, on the market include the Rightline Gear SUV Tent or the Napier-19100-Backroadz-SUV-Tent or Napier Sportz SUV Tent.  These family sportz suv tent systems differ slightly from your traditional camping tent but are made from the same high-quality materials and feature plenty of ventilation, floor space and headroom, making them ideal for your camping adventures.
---
So here it is: "What we found most important with the best SUV tents reviewed by us".
We found:
the ability to enter and exit your car without leaving your SUV tent is a tremendous convenience.
if you're a frequent vehicle camper like me, you want an SUV tent to improve your camping experience with a quick set up and take down, particularly if you have a family.
when selecting an SUV tent, consider what you want to use it for.  There are several excellent alternatives for single-room tents that also stand alone, (see our article about pop up tents), eliminating the need to have your automobile connected constantly. Multi-room tents, on the other hand, (see our article on instant tents with multi rooms) might be fantastic if you have a big family!
Finally, SUV tents are a terrific way to provide additional shade at a campground (even if used just to store your extra gear) or for outdoor events like tailgating or picnics.
---
We hope you've enjoyed this review of SUV tents.  Remember you can always search other articles by using the "Search bar" at the top of each page.
Lastly, if you haven't signed up yet for our FavReviews Newsletter you are missing out!  We'd love to keep you abreast of all products trending for families who love the outdoors.
Visit our site again soon!
Your FavReview Team.