Everyone likes to go on family camping trips to get away from their busy and often stressful lifestyle. But what is the most essential thing needed when going on a family camping trip?
Yes, you are right!
It's an instant camping tent. The easy set up tent, that anyone can install anywhere. Whether you are going to a campsite or setting up extra sleeping space right at home in your backyard (or in our case front yard for a recent cousins reunion weekend), an instant tent will serve as a temporary home away from home.  
Thankfully, both instant and pop up tent designs have improved a lot over the years.  Some people use the terms 'instant' and 'pop-up' interchangeably, but there is actually a difference.
INSTANT TENTS
Instant Tents can be either dome or cabin style tents.  They have the poles all ready to go, simply unfold them and clip them, or slide them, into place.   Set up is fast and easy.
POP UP TENTS
Pop Up Tents use smart engineering that allows the pop up tent to nearly set up by itself.    All the camper needs to do is remove the tent from it's storage bag and give it a shake to pop it open, then set it in place.
So Many Choices
But at the same time, with so many choices available now, it can be difficult for both the novice and experienced campers to decide which instant or pop up tent is best for their needs.
For example, if you choose a tent strictly for the instant set up design, it may lack some of the amenities available in a more elaborate camping tent that provides a more contemporary leisurely camping experience.
To help you choose the best instant tent, we have created a list of our favorites. We'll provide you with reviews of numerous tents suitable for families needs and budget.
How We Chose The Best Instant Tent?
Life is hectic, we get that. We are living in a fast paced society, one were time is of the essence. As a result, everything is evolving. We want everything 'fast', or instant, and that seems to be the same when looking for the right camping tent for our vacations.
When we go on a summer or fall camping trip with the family, it's become critical to have a camp that is simple, easy and fast to set up. So we can get to enjoying the surroundings.
So we've taken on that challenge for you. We know you don't want to spend a lot of time setting up your campsite. So we've done the research for you.
We have searched the most durable tents that open instantly and installs in seconds.
To be quite honest the search has taken us high and low, and a lot of hours, to find the best possible choices for you.
Our Fav Reviews team has researched the best instant tents and we have read through thousands of user reviews and star ratings to compile this list of the best tents that will give you the best bang for your buck.
In this list, we are focusing on the best instant tents for you to consider depending on the type of camping you will be doing and what you will be using it for. We've itemized how each instant tent style serves a particular purpose. We've also identified all features and benefits, such as whether it is a dome tent, has separate rooms, storage pockets, pre attached poles, an inner tent, two separate rooms, and even if it comes with a carry bag.
We trust that you'll find your next favorite item from the list we've researched for you below. All of these products have been hand-picked by our editors and we won't recommend something we wouldn't use in our own family. Some may even be items that we already use! We may receive a small compensation if you decide to buy something (that's how we keep the lights on). Some reviews have been edited for length and clarity.
Have fun searching for your next fav product!
---
5 Best Instant Tents For Your Next Getaway or Family Reunion Backyard Camping
The variety of instant tents available today have many features and superior quality. We are sure you will find a quality durable tent with the basic features you need to deliver the best camping experience possible.
Coleman Cabin Instant Camping Tent:
BEST CABIN STYLE INSTANT CAMPING TENT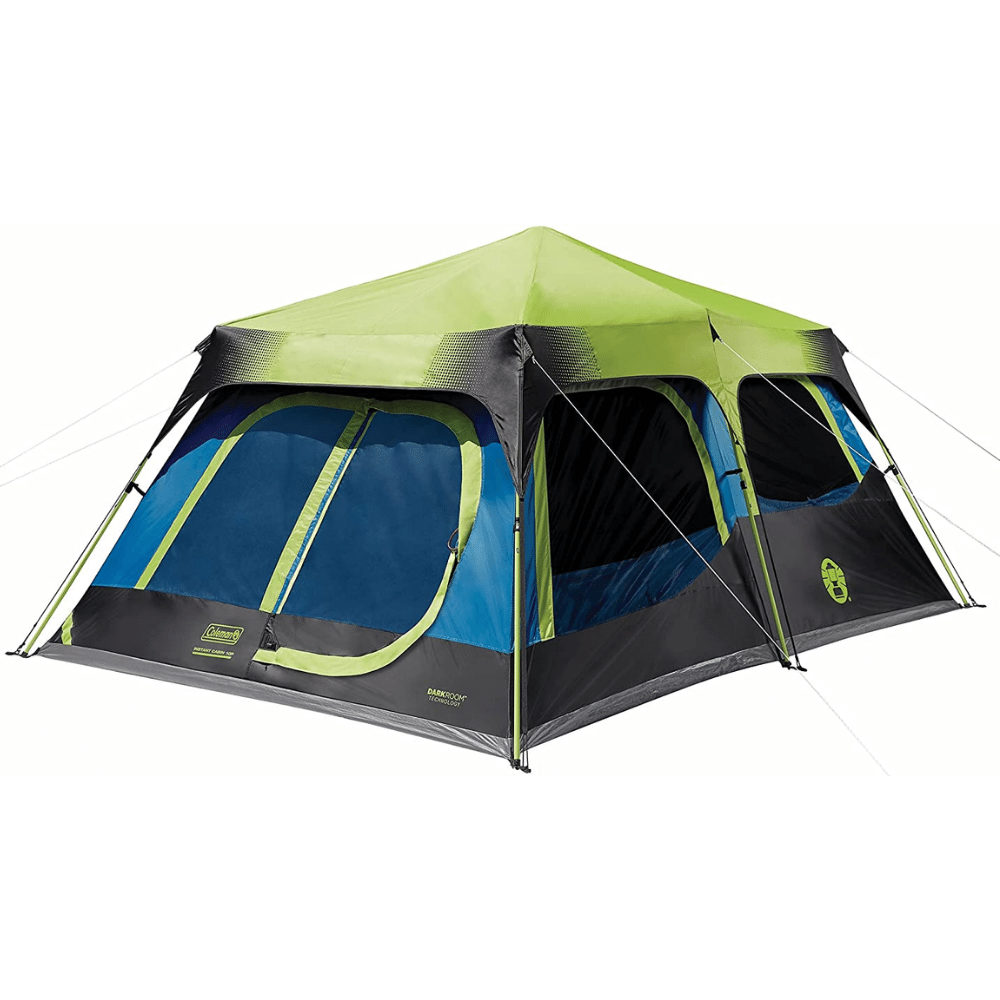 Best Cabin Style Instant Camping Tent
Coleman Cabin Tent | Instant Set Up | 4, 6, 10 Person Tents
Check Price on Amazon
Why It's One Of Our Fav's:
We begin with the Coleman Instant Cabin Tent as our top pick. We like that the tent's four side poles and top poles are already linked with clip system technology, making assembly a breeze. So we like the quick and simple 'instant' set up.
We also like this tent because it has dark room technology.  It blocks 90% of sunlight so you and your family can sleep in past sunrise!
With a large floor space, this tent's adaptability is also indisputable.  The tent in the image is a 10 person tent, but it's also available in a 4 person and 6 person size.
Its freestanding cabin-type design makes it vertically higher to accommodate and ease easy travel without disassembly.  Families who like to get out and about and enjoy the outdoors would benefit significantly from this tent.
FAV Features:
You can use the Coleman instant tent in any weather. Its huge windows and spacious interior make it comfortable for six people to sleep there. Condensation won't be a problem inside this tent.
This tent's single-layer, plastic-welded skin provides reliable weather protection. Its inverted seams and welded tent floor space, and good air flow increase its lifespan.
You don't want a collapsing tent when camping with family or friends. The poles of a Coleman instant tent combine with a clip mechanism, and you cannot collapse its Poles since the clips burst out when they reach their entire tent length.
This Coleman instant cabin tent is as fast as you can get a tent set up. The high-quality ceiling provides shelter from the elements, and different adjustable ground vents provide comfortable ventilation even on hot days.
---
Teton Sports Vista Quick Tent
BEST DOME STYLE INSTANT CAMPING TENT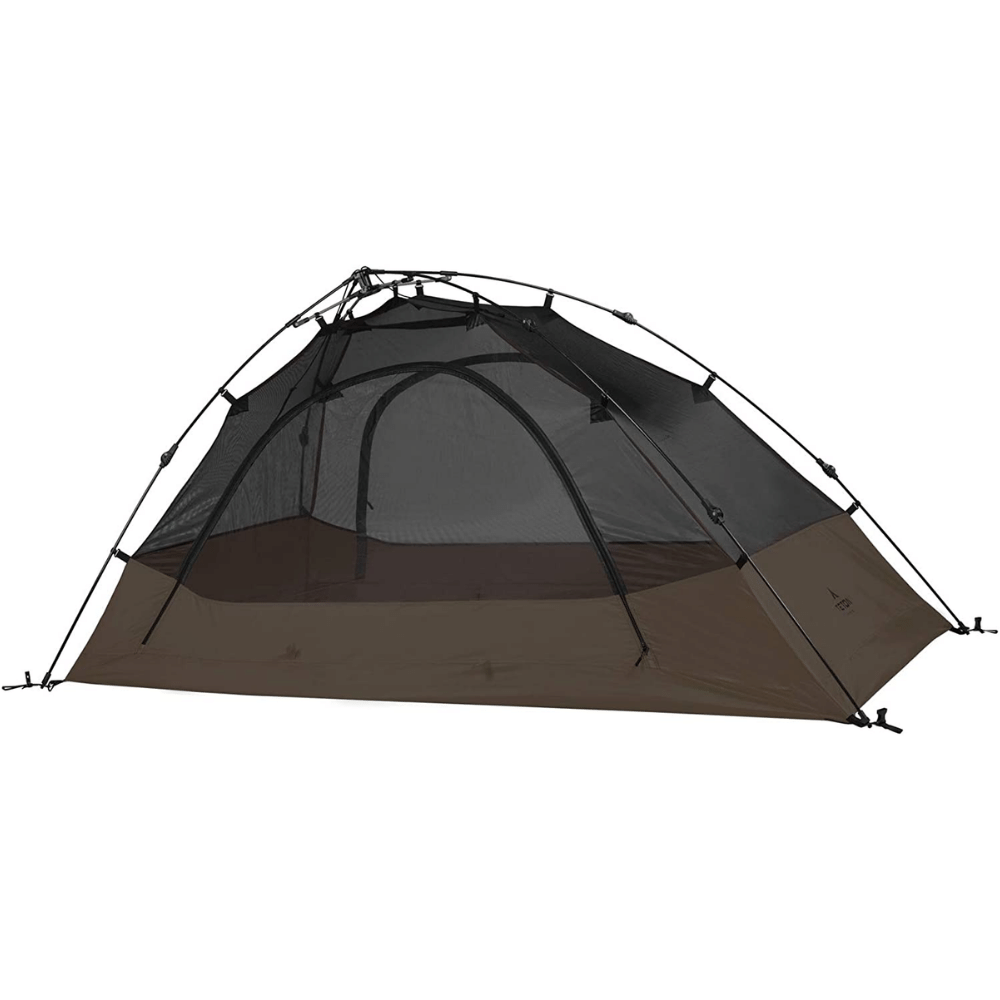 Best Dome Style Instant Camping Tent
Teton Sports Visa Instant Tent | 4 Person Tent
Check Price on Amazon
WHY IT's ONE OF OUR FAV's:
We like this tent for it's quick set up, it is an instant tent that is easy to set up and take down. Simply roll it out, lock your poles, pull the drawstring and in true 'instant tent' fashion you are done. We also like the extra pockets and gear loft for holding cell phones or flashlights at night.
Even if your family camping trip is a thousand miles long, you can camp comfortably with the Teton Sports Vista Quick Tent. Thanks to its sturdy design and convenient instant tent features, this instant tent is an excellent choice for any outdoor adventure.
Enjoy your camping trip even more thanks to the Teton Sports Vista Quick Tent's exceptional waterproof rain fly. The Teton Sports Vista Quick Tent adds convenience and comfort to your camping trip without requiring more work.
FAV Features:
The drawstring on this instant dome tent allows it to install instantly, making it an excellent choice for those who value quickness over complexity. You can similarly uninstall this instant tent by lowering the drawstring.
The tent's easy-to-use locking hub means you can pitch it without fuss and have instant strength. Thanks to the tent's quick-splitting design and the durable micro-mesh outside, you may relax inside this great tent without worrying about being bothered by mosquitoes or other pests.
The superior waterproof rainfly of the Teton Sports vista fast pop up tent ensures that your journey will be pleasant.
With its two large doors and spacious inside, the Teton Sports Vista Quick Tent is ideal for four people, but may be a bit small for traditional family camping.
Additionally, there are two end pockets and a gear loft for keeping a cell phone or other lightweight items.
---
Core Equipment Instant Dome Tent
BEST INSTANT TENT FOR CAMPING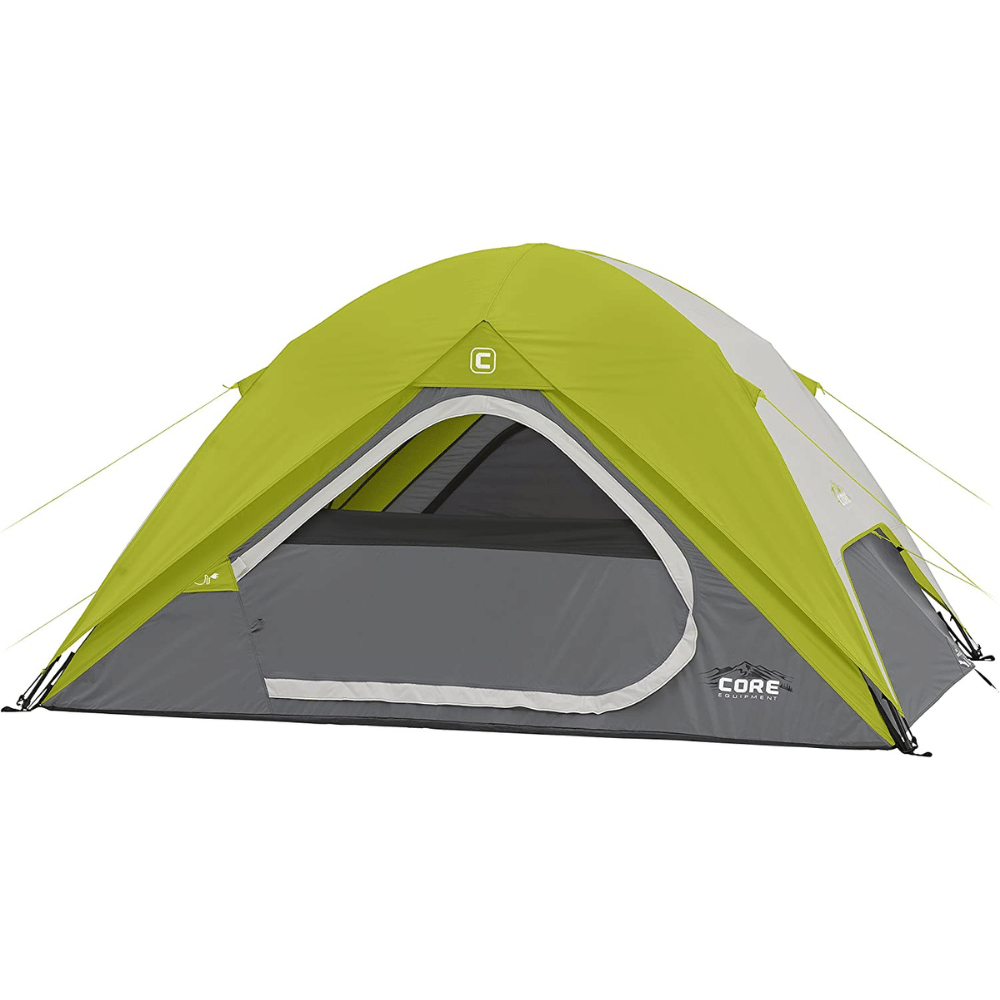 Best Instant Tent for Camping
Core Equipment Instant Dome Tent | 4 Person Tent
Check Price on Amazon
WHY IT's ONE OF OUR FAV's:
Regarding instant tents, Core's Equipment is the best in the market. Green in color, this instant tent is 9 feet by 7 feet in size. Its colors are lovely, and it looks great, but the functionality is what sold it for us.
This core instant tent is made from high-quality 100% polyester, measures 108 by 84 by 54 inches, and weighs 12.1 pounds. It has water block technology to keep the tent contents dry.
It also has a large D shaped door for easy entry, a lantern hook in the gear loft, built in storage compartments and even an electrical outlet!
This instant tent is very secure and clearly one of our fav's.
Fav Features:
The total of the tent poles and the rain fly is 30.69 pounds, and it can accommodate around four people. The maximum weight of this tent is 78 inches, and it has a zippered inside that provides plenty of space.
The resistance of the tent poles may make it more difficult to put up and take down this dome tent, despite its high quality. But the setup for this still only takes a few minutes.
With its solid construction and high-quality zipper, this tent is ideal for any outdoor adventure.
Only two persons can sleep comfortably with one queen-sized air mattress in this tent.
Adding mesh to its design was a brilliant move. Two of the tent's pockets are on the tent's sides, while a third is a mesh pocket is beside the tent's rear mesh window.
You may tote the core equipment tent in a bag in the trunk of your car from home to the campground of your choice. Canopy supports, tent Stakes, and Ropes are included with this tent to ensure a sturdy and safe setup.
---
Wenzel Klondike Instant Cabin Tent:
Best Instant Cabin All Weather Tent with Screened Room - Made in USA
Best Instant Cabin All Weather Tent
WENZEL Klondike Cabin Tent | 8 Person Tent | Made in USA
Check Price on Amazon
WHY IT's ONE OF OUR FAV's:
The Wenzel Klondike's polyester tent's fabric and polyurethane finish make it an excellent tent for camping in all kinds of weather. It is estimated set up time would take 10-20 minutes for this tent.   We like that it's made in the USA.
Its 16 by 11-foot dimensions conceal its surprisingly roomy interior, with space for five inside and three more in the screen room, making it an 8 person tent. We like the screen room for privacy in this tent.
Anybody under 6' 5" tall will have no trouble standing up in it. Toss your bags in the screen room and take a break from the sun.
FAV features:
The mesh roof and two mesh windows in this tan or blue tent allow plenty of ventilation while keeping pests away.
To further aid with air circulation, a mesh vent locates at the back of the vehicle.
It has a tub bottom, all joints reinforce, and the outer layer coats with water repellent, so rain and snow won't be a problem.
The Klondike may be the most time-consuming to set up the examined instant tents. Still, its shock-corded tent poles make it manageable even for solo campers.
---
Pacific Pass Dome Instant Tent
BEST INSTANT DOME TENT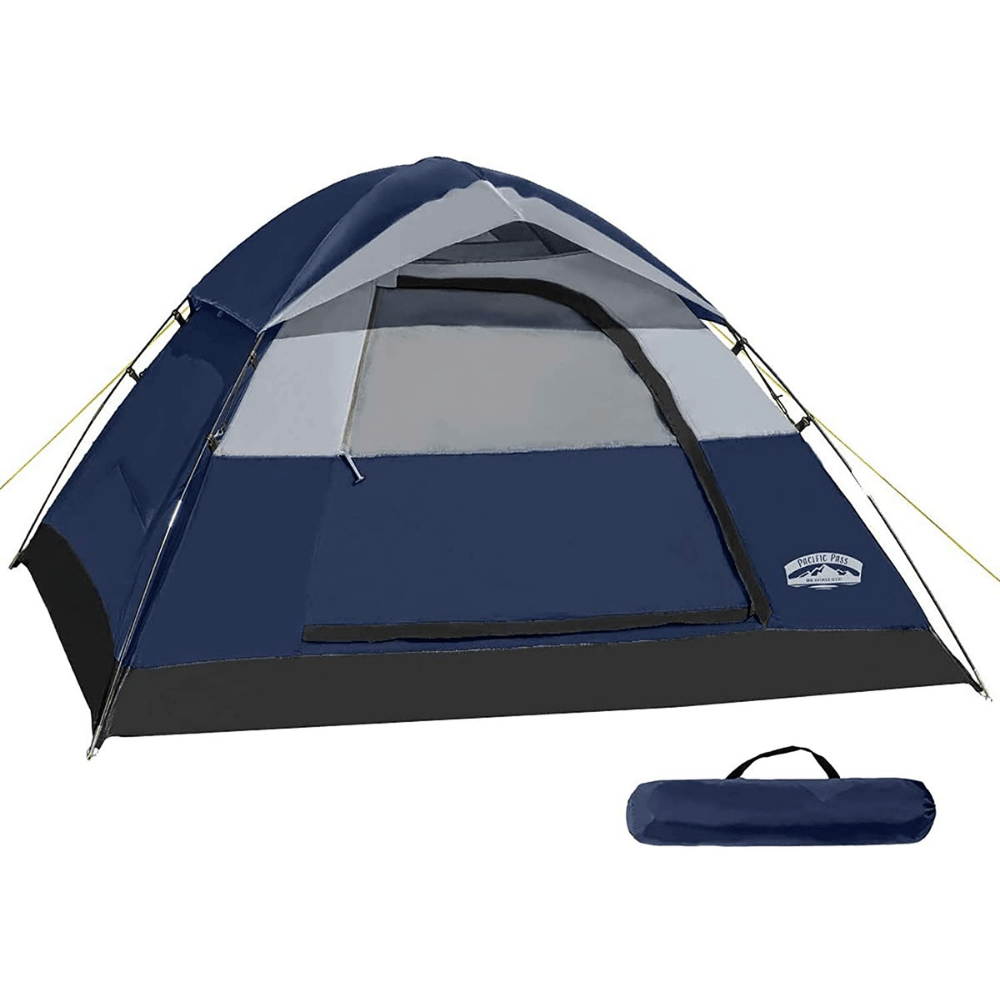 Best Instant Dome Tent
Pacific Pass Instant Dome Tent | 2, 4, or 6 Person Sizes Available
Check Price on Amazon
WHY IT's ONE OF OUR FAV's:
We ranked this tent at #5 because it has some of the most exciting options available for someone who wants to have an instant tent at their ready for camping anywhere, anytime.  The tent showing in our photo is a fast and easy 2 person dome, but this same dome tent comes in a 4 person and 6 person size.
We like the high quality of the material used to make this tent and how quickly it can be set up.
This instant tent can be put up in 60 seconds by a seasoned camper, truly making it an instant tent. Even a novice should take no more than five minutes to set up this tent the first time. The Pacific Pass 2-Person Family Dome Tent is an excellent option for individuals needing a tent that can be put up in minutes and then taken down quickly.
FAV Features:
The tent's high-quality polyester construction makes it both sturdy and portable. The outdoor tent body's durable polyester material and the tent's detachable rain fly work together to keep the rain out of the inside, protecting your camping gear from the elements.
The D-style entrance on the Pacific Pass 2-Person Family Dome Tent allows plenty of fresh air.
You may spend your time in the tent in peace thanks to the mosquito net that covers the entrance.
The included bag for this lightweight tent weighs just 5.7 pounds. You can easily pack everything up and move it after you've reached the end of your journey.
The innovative layout and lightweight of this instant tent makes it an excellent choice for camping, hiking, fishing, and other outdoor pursuits.
---
Frequently Asked Questions (FAQs) About Instant Tents
There are advantages and disadvantages to each instant tent on the list above. Depending on your needs, we hope this list and the FAQs below help you to make the best decision for your next  camping adventure. Spending money on a tent is only justified if it suits your intended purpose.
What is the fastest tent to put up?
The fastest tent to set up is a pop-up tent. These tents can be set up in just a few seconds, which is perfect if you're looking for a quick and easy camping solution.
Pop-up tents are made from lightweight materials, so they're easy to transport and store. They also feature engineered designs, so they're very easy to put together. Just unpack the tent, unfurl it, it pops open - then you're ready to go!
If you're looking for a fast and convenient camping solution, then make sure to check out the, Coleman Pop Up Camping Tent. You won't be disappointed!
What's the best family tent to buy?
There are a lot of great tents out there that would be perfect for families. Depending on your budget and what kind of features you're looking for, here are some of our top picks:
If you're looking for an affordable option, the Coleman Cortes Octagonal 8 person tent is a great choice. It has plenty of room for up to eight people, and features a waterproof design that will keep everyone dry in case of bad weather.
If you want a larger tent that's easy to set up and take down, the Ozark Trail 11-Person 3-Room Cabin Tent is a great option. It can accommodate up to eleven or twelve people, and comes with removable room dividers so you can have privacy if desired.
What Is An Instant Setup Tent?
As its name implies, setting up an instant tent takes little time and effort. You can install this tent in a matter of minutes or even seconds by a seasoned camper.
Dome-shaped or Cabin shaped instant tents with poles already attached are the norm. You simply extend the poles and snap them into place. These instant camping tents weigh very little, depending on the tent's size and capacity. They may be carried about easily by backpack or on foot.
Can You Recommend A Quick-Setup Tent?
Everyone loves a tent that sets up quickly. The Coleman Instant Cabin Tent installs in only a few minutes. Setup is a breeze, thanks to the poles that come connected. Remove the tent from its carrying case and set it up in minutes.
You don't even need to look at the instructions to set it up; one person can do it in no time. This tent's high quality and unique features make it well worth the price.
We also like this tent because it has room darkening walls so you can sleep past sunrise!
Can You Recommend A Good Tent For A Big Group?
You may find a wide variety of the finest fast instant camping tents in stores, both online and off, and choose the one that suits you best.
The Wenzel 8-Person Klondike Tent made in the USA, is our top selection because you can put it up in a matter of seconds; it has unique features and is a great value. It is the best instant camping tent for a family of eight because of its spacious inside.
What Makes An Instant Camping Tent Different From A Pop Up Tent?
A pop up tent is commonly misunderstood as an instant tent.
Ingenious engineering allows pop up tents to "self-set up," meaning the user needs do nothing more than remove them from their storage bag and unfurl it.
To put up the framework of an instant camping tent, you simply need to extend the poles and lock or snap them into position.
Make Your Set Up Easier On Your Next Camping Vacation With the Right Tent
We hope you found what you are looking for in an instant or pop up tent.  We enjoyed doing the research for you.
Each year during camping season, it's something you need to consider. Where will you be setting up your tent, how easy it will be to get your tent there, and is the tent you currently have the right tent for the job?  If not, consider one of these easy to set up Instant tents.
Happy Camping.
Your FavReview Team!
P.S. - You Might ALSO LIKE:
Why Trust Us?
We hope you find your next favorite thing from FavReviews! We are a family friendly product review site.
Four Generation Family: As a four generation family, the breadth of products we consume and review as brand ambassadors is vast. But we can tell you, in general, in we love the outdoors, sports, staying active, living healthy and celebrating the changing seasons.
Trending Products: We also love finding new trending products and we are happy to pass along our research of new trending products to you. Follow us so you don't miss out on a thing! We send out cool emails with our latest reviews, and we will never sell or misuse your information.
Opinions Based on Use, Research and Reviews: Each product we write about is independently selected by our editors. All opinions in this article are our own, based on our own use of the product(s), or hours of research and reading reviews. We will never recommend something we wouldn't use ourselves in our own family.
Compensation: Yes, FavReviews may collect a share of sales or other compensation from the links on this page if you decide to buy something (that's how we stay in business). But, the product never costs you more, in fact in some cases, we hope we might help save you money based on our recommendations.
Reviews have been edited for length and clarity. Enjoy finding your next favorite thing! Happy Shopping! Your FavReviews Team