When it comes to camping, there are a lot of different factors to consider. But one of the most important decisions you'll make is what type of tent to take along.  We want you to know how to choose one of the best pop-up tents for your needs and what you should know before you make your purchase.
In this article, we will discuss the best pop-up tents we found and why they are a great choice for families. We'll also explain the differences between pop-up tents and instant tents, so you can be sure you're getting the right gear for your next outdoor adventure!
Tired of struggling to put up your tent?
We love pop-up tents - they're so easy to put up and take down, you'll never have an excuse not to go camping again.   Other tents are great, but they can still be a pain to set up if you don't do it very often because you still have to get the poles all connected and secured into place.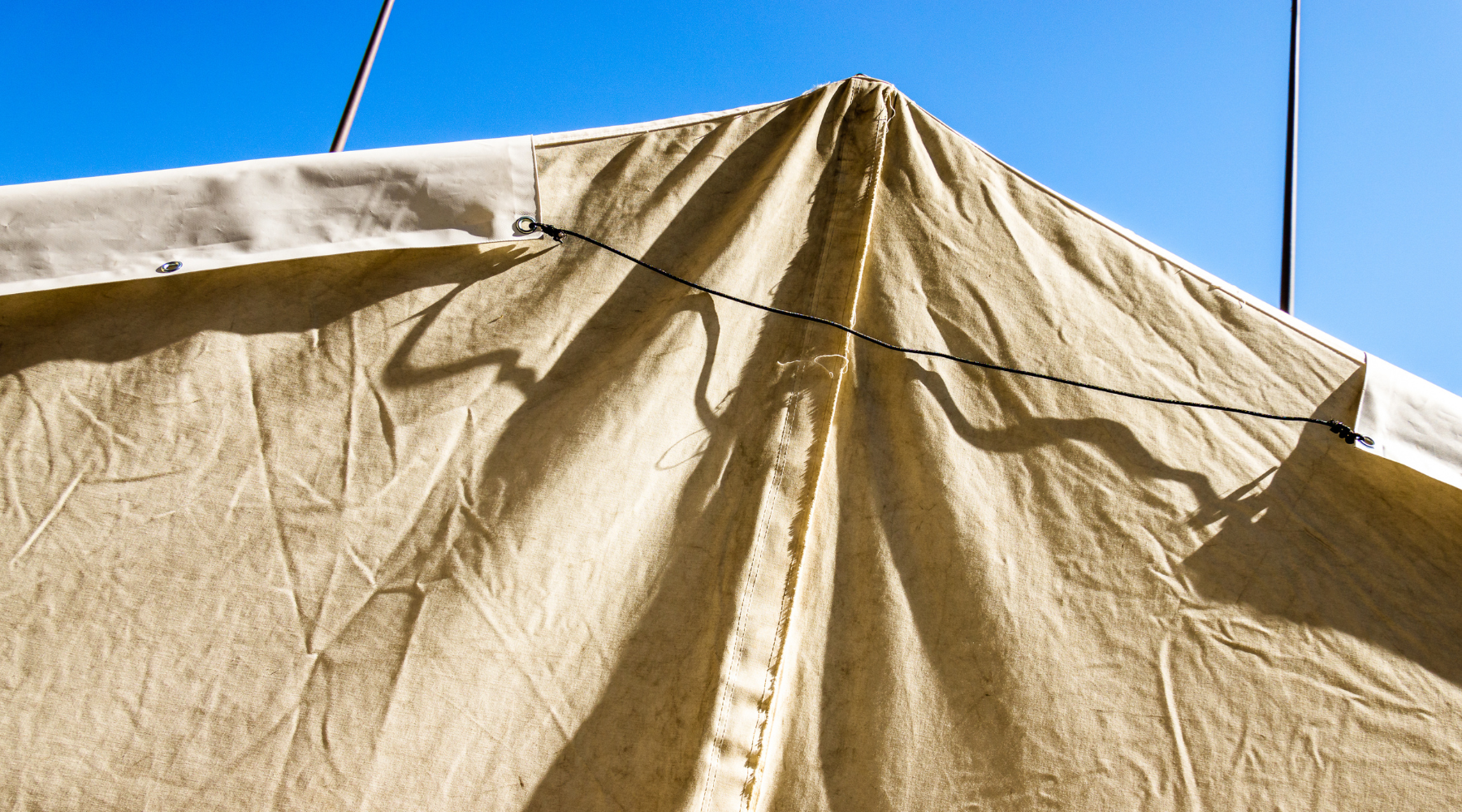 Not only are the best pop-up tents easy to set up, but they are also incredibly durable. Most are made out of waterproof and weatherproof materials, so you'll stay dry even in the worst weather conditions. Plus, with plenty of ventilation and mesh windows, you'll stay cool and comfortable all night long.
We've started our research looking for the best camping pop-up tent and we have found 5 we believe are the best of the best.  Check out our list below before you purchase a pop-up tent for your next camping trip!
How We Choose The Best Pop-Up Tents for Camping
It can be tough to find the right camping tent that is both durable and easy to set up.
Most camping tents require you to spend a lot of time setting them up, which can take away from the relaxation you're hoping to achieve while on vacation.
We've done the research for you and found the best pop-up tents that are both easy to set up and very durable.  To be quite honest the search has taken a lot of hours, to find the best possible choices for you.
Our Fav Reviews team has researched the different types of tents, both instant tents and pop-up tents, for individuals and families.  We have read through thousands of user reviews and star ratings to compile this list of the best pop-up tents that will give you the easiest set-up experience for your next camping trip.
But, before we get into the list of our findings, we should first address the most frequently asked question:
What is the Difference Between a Pop-Up Tent and an Instant Tent?
Yes, people often use the term 'pop-up tent' and 'instant tent' interchangeably, but there are significant differences between these two types of tents.
Pop Up Tent
Pop-up tents can be set up in just a few seconds because of the engineering involved in their design. The tent poles are already connected, so all you have to do is unpack it and let it "pop" into shape.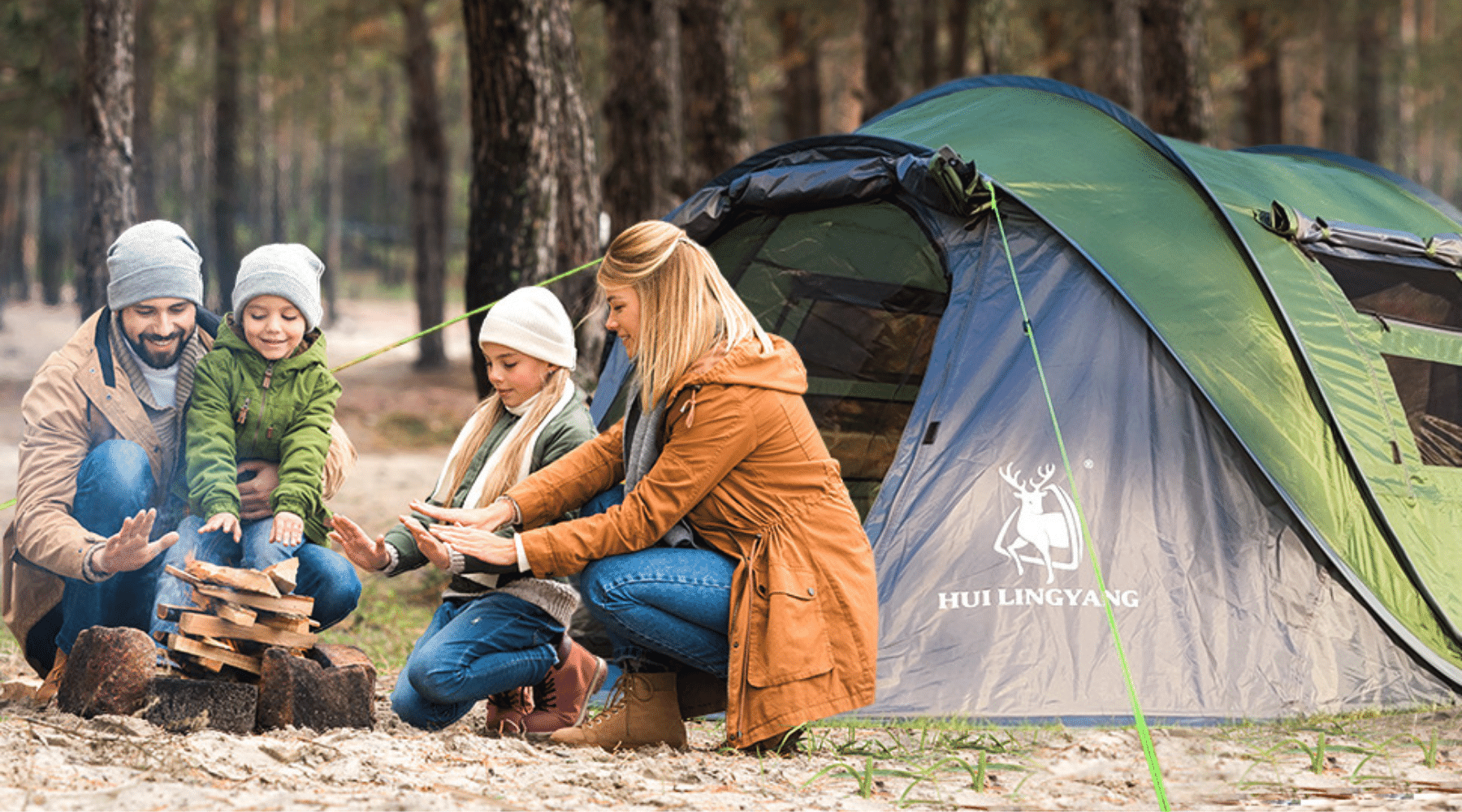 Instant Tent
An instant tent, on the other hand, requires you to connect the poles yourself before pitching the tent. While this process is still relatively easy, you simply extend the poles and snap them into place, it will take a few minutes longer.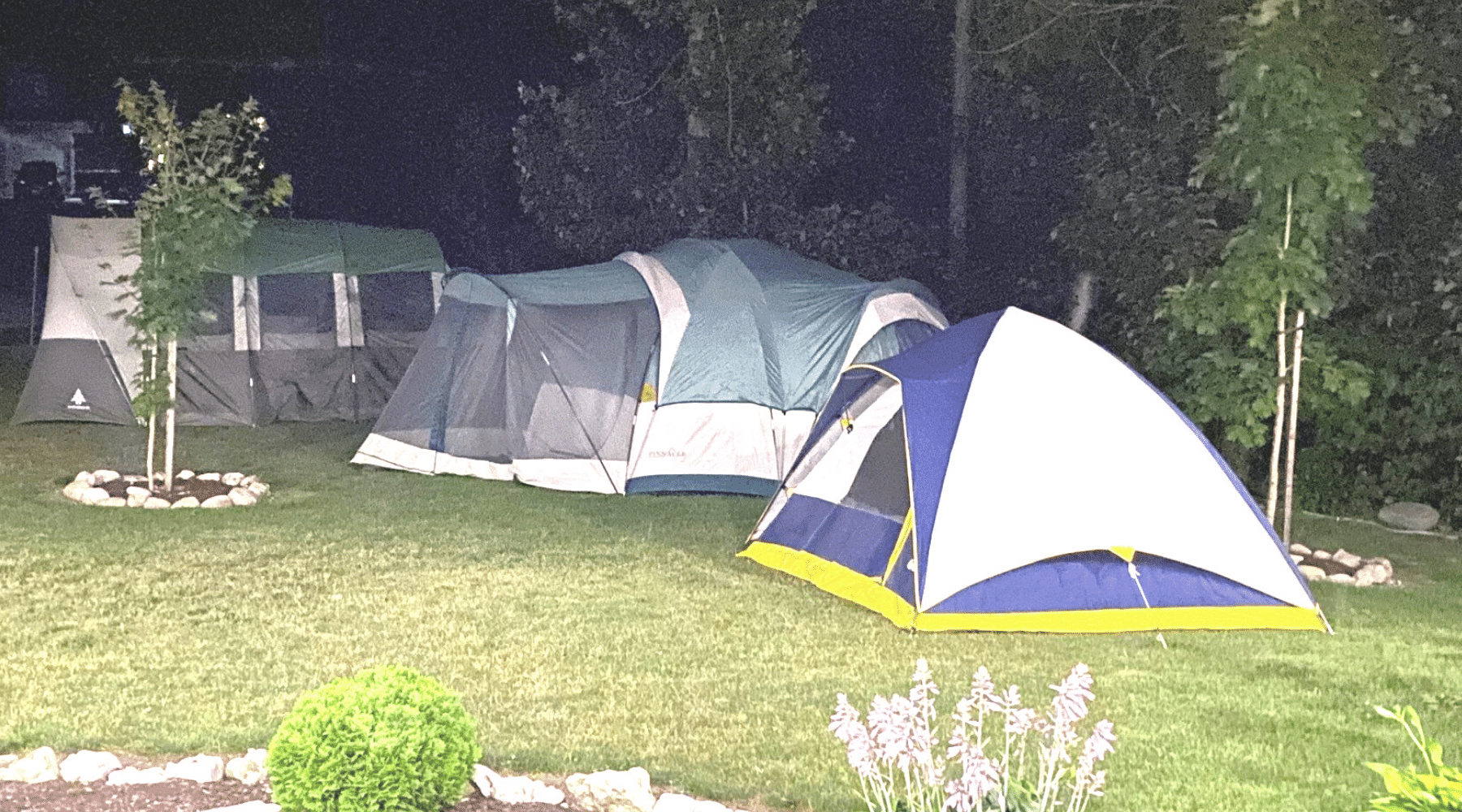 What to Know
Both types of tents are great for camping, but each has its advantages.
A pop-up tent is usually lighter and smaller than an instant tent, making it easier to carry and transport. They're also generally less expensive.
Instant tents tend to be larger and have more features than pop-up tents, such as rain flies, fully-enclosed walls, windows, doors, and storage pockets. They're also typically made from higher-quality materials, which makes them more durable.  [See our article about the best instant tents here]
The quickest way to tell the difference between a pop-up tent and an instant tent is by looking at the poles. If the tent poles are built into the dome tent chances are it is a pop-up tent.   If the tent poles are exposed to the exterior of the tent, chances are it is an instant tent, that requires you to assemble and attach the poles.
So, which type of tent is right for you?
It depends on your needs and preferences. If you want a quick and easy setup, go for a pop-up tent. They sure beat car camping.  If you are looking for larger traditional tents with more features, choose an instant tent.
Now that we've answered the most common question we get - what's the difference between a pop-up tent and an instant tent? - let's move on to our list of the best pop-up tents for your next camping experience.
4 Person Easy Pop-Up Waterproof Tent
BEST WATERPROOF POP UP TENT
Why It's One of Our Favs
We like this Londtren pop-up tent because it has two doors, front and back for easy access and tent placement.  We also like the fact it has a small vestibule area aside from the main sleeping space, for your shoes, etc.  The material is waterproof with sealed seams, including taped floor seams for inclement weather.  It also has the most generous center height of 51" for a four-person pop-up.
FAV Features
Our fav feature, of course, is the easy set-up, with pre-assembled poles you will waste no time setting up this tent.  It may take some practice but it is equally easy to take it down and fold it away.   We like the fact it has its' own zipped carry bag for easy transporting and storage of the tent.
The spacious interior and small vestibule area are perfect for 2 - 4 people. The floor space is a generous 9.2 x 6.6 feet; The Center Height is 4.3 feet.
The convenient storage pockets and lantern hook keep items neat and organized inside the tent.  This pop-up tent is also waterproof and tearproof, making it perfect for most weather conditions. Whether you're camping in the backyard or enjoying a festival, this durable tent will keep you comfortable and dry.

6 Person Easy Pop-Up Camping Tent
BEST ALL-AROUND POP-UP CAMPING TENT
https://www.amazon.com/Automatic-Waterproof-Instant-Camping-Traveling/dp/B07MM1DJKV
Why It's One of Our Favs
We like the larger floor space, 12.5 x 8.5 feet, in this pop-up tent.  With one of the most generous inner tent centre heights of 4'6" ( 53.5"), it's a roomy tent with enough room for you and your family or friends.
But it's the 'extra' things in this spacious tent that make it one of our favorites.  It's the only tent we found with extra things like an electrical cord access port, to allow you to run a power cord from an outside power source to your charging devices inside the tent.  The e-port is also fully closable with a waterproof zipper when not in use.   This unique feature alone, not even found in regular tents, makes this a favorite choice for us!
FAV Features
Every moment of your outdoor adventure is precious, so you don't want to waste time setting up camp. With this instant pop-up tent, you can be ready in as little as 20 seconds - letting you and your children get back to enjoying the fun.
This tent features a vestibule design that offers a separate area for storing camping gear, shoes or your large dog. So you can leave muddy shoes and outer clothing in the vestibule and needn't bring dirt into the main tent.
The double-layer design of this pop-up camping tent is more water resistant and can stand up to inclement weather and heavy rain better than a single-layer traditional tent. Plus, it features well-designed vents that offer good ventilation and help prevent condensation inside the tent. Thanks to the two-way zipper, you can zip it from the inside or the outside of the tent.
Other great features include mesh windows for continuous airflow, storage pockets and a lantern hook to help you keep small items organized and of course access to an outdoor power cord to easily charge your devices.
So if you're looking for a sizable pop-up tent for camping, with a couple of unique features, this is the one you want. Order yours today!
Moon Lence Pop Up 4 Person Tent
BEST TENT FOR IMPROMPTU TRIPS
Why It's One of Our Favs
This is one of the tents you can take out of the package, unstrap the tent, throw it into the air, and it will be opened automatically in seconds.  We also like the 47.5" stand-up room inside the tent.  it's also equipped with a waterproof cover for the top of the tent that helps on a rainy day.  It's a decent-priced tent for 2 - 4 people (although most recommend it's best for 2-person or solo campers use).
FAV Features
This dome tent only weighs nine pounds. It has two large doors with dual zippers, two mesh windows, and an extra top mesh window for ventilation. The tent also has a waterproof cover, also called a rain fly for heavy rain, and is made of 190T PU material, which is 2000mm water resistant.
Finally, the tent is equipped with ten lightweight alloy tent stakes and four guy lines for stability in windy conditions. All of these features work together to provide you with a comfortable, safe, and easy-to-use tent with a carry bag.
Coleman 2 Person Pop Up Tent
BEST SOLO or 2 PERSON POP UP TENT
Why It's One of Our Favs
You can't argue the Coleman brand when it comes to camping gear.  This pop up tent is no exception.  Available in both 2 person or 4 person sizes, this pop up is super easy set up at any camping site or even in your yard.
We particularly like the adjustable rain fly cover.  It can be used for protection from the elements, or open it for wide open viewing and great ventilation.  We also like the taped floor seams that add extra protection from rain and the elements.
FAV Features
The Coleman pop up tent is easy to set up in just ten seconds, so you can spend more time enjoying the great outdoors. It also folds flat for easy storage and transport, making it a great choice for camping trips. The adjustable rainfly helps keep you dry in wet weather, while the gear pockets are perfect for storing small items.  
Dimensions for the 2 Person tent are 7'6" x 4'5" with a center height of only 35" (2'11"), so beware of the lower ceiling height.
Zomake Pop-Up Beach Tent for Sun Protection
BEST POP-UP TENT FOR THE BEACH
https://www.amazon.com/ZOMAKE-Person-Beach-Shelter-Protection/dp/B01GLPO0RG?th=1
Why It's One of Our Favs
We like this tent for use as one of the new pop-up shelters as a sun shade at the beach, or for the kids to use as a playhouse outside in the summer. It's a nice way to provide some summer living space in your yard or on the beach. Like most pop-up tents, you simply take it out of its carry case, throw it in the air and poof, it's open! There is no need to fumble with extra poles or instructions.
With only 40" (3'4") center height it's not the tallest tent, but for the beach, we like the cross ventilation from the two mesh doors and 2 mesh windows which helps in hot weather.   It even has a big mesh sky window that makes it different from other pop-up tents.
FAV Features
Our favorite features of this pop-up tent make it the ideal travel companion for summer camping or trips to the beach;  it's lightweight to carry, it will provide some wind resistance so you'll stay comfortable even on windy days, and it has 50+ UV sun-protection rating so you don't have to worry about staying out in the sun too long.  Lastly, the tent's fabric is made of waterproof material (for reasonable amounts of rain) so it should keep you dry and warm.
So At the End, What Makes the Best Pop-Up Tent Experience?
For the best experience, ensure you get a pop-up tent that is large enough for your needs.  Not all tents need to be big, but some of the things you should consider are:
the centre height of the tent. Are you able to sit up in it?
the floor space of the tent. Is it big enough for an air mattress if you want to use one?
does the floor space have an extra vestibule area for shoes, or for the dog to sleep?
does the tent have good cross ventilation and huge doors for easy access?
does the tent have a gear loft or wall pockets for your small items?
Lastly, when it comes to camping equipment pop-ups are certainly easy to set up, simply take them out of their carry case and give them a toss into the air and they should be ready to set up.  However, it will likely take a bit of practice to properly fold them back up to put them back into your carry case.  We recommend you practise this skill a couple of times before heading out on your camping trip, or for use as a sun shade at the beach.
FAQs About the Best Pop-Up Tents for Camping
Are pop-up tents any good?
There's no doubt that pop-up tents are incredibly convenient. They're easy to set up and take down and they don't take up much space, which makes them ideal for camping or taking to the beach. However, there are a few things you should keep in mind before purchasing a pop-up tent.
First, pop-up tents tend to be on the lighter side when it comes to construction. This means that they won't stand up as well to strong winds or heavy rain as some of the sturdier models on the market. If you know you'll be spending time in inclement weather, it's worth opting for a more traditional tent.
Second, because of their lighter construction, pop-up tents also don't provide as much privacy as some of the other options out there. If you're looking for a tent that will give you some privacy from your camping neighbours, you might want to consider one of the alternatives, but they sure beat car camping!
That being said, pop-up tents are still a great option for those who want an easy-to-use and convenient tent for their next camping trip.
What is the best pop-up tent?
There are a few things to keep in mind when choosing the best pop-up tent for your needs.
First, consider the size of the tent and make sure it will be big enough to comfortably accommodate you and your gear.
Second, think about the weather conditions you'll be using the tent in and make sure it's appropriate for those conditions.
Lastly, take a look at the features offered by different models and choose the one that has the features you need.
One thing for sure a comfortable pop-up will be better than car camping.
What are pop-up tents made of?
Most pop-up tents are made from polyester or nylon. These materials are lightweight and easy to work with, which makes them ideal for use in a pop-up tent. However, some models may also feature waterproof or water-resistant materials to provide additional protection from the elements.
How do you set up a pop-up tent?
Setting up a pop-up tent is incredibly easy. Simply take the tent out of its carrying case and give it a toss into the air. The tent should open up on its own and be ready to use. However, it's important to note that some practice may be required to properly fold the tent back up. We recommend practising a few times before taking your tent out on your next camping trip.
Can you camp in a pop-up tent?
Yes, you can camp in a pop-up tent! Pop-up tents are a great option for camping because they're lightweight and easy to set up.
There are many different types of pop-up tents available on the market, so make sure to do your research before purchasing one.
When camping in a pop-up tent, it's important to pay attention to your surroundings and be aware of your campsite's environment. Make sure to stake down your tent and tie it off properly so that it doesn't blow away in the wind or light rain.
A pop-up sure beats car camping ... enjoy your camping trip!
What is the biggest instant pop-up tent?
Lots of tents are described as pop-up tents when they are 'instant' tents. Read our article to learn the difference.
In our research we found the 6-Person Hui Lingyang Easy Pop-Up Tent to have the largest floor space, at 12.5' X 8.5' X 53.5'', of all the Family Tents for Camping, Hiking & Traveling we reviewed.
We also liked it was the only pop-up tent we found with extra things like an electrical cord access port, to allow you to run a power cord from an outside power source to your charging devices inside the tent.


Is there a pop-up tent you can stand in?
The only true pop-up tent we found that is tall enough for an adult to stand in are the pop-up Shower Tents, like the WolfWise Pop-Up Shower Tent. It stands nearly 75" (6'3") tall and is 47" x 47".  This is a great addition to a camping site as it can be a place to shower, change clothes and/or add an outdoor toilet.  With nearly 7k glowing reviews it's a popular choice.
Some people use the term pop up and instant tents interchangeably, or even together.   If this is the case the Ozark Trail 11 person tent at 14'x14' with a 76" (6'4") center height ... adults can easily stand up.  This tent is an instant tent, not a real pop-up tent, but it can be set up in just a few minutes.
Who makes the best quality camping tents?
Coleman is a well-known and highly respected brand in the camping industry. They make high-quality tents that are durable, reliable, and affordable.
If you're looking for a top-of-the-line camping experience, then you might want to consider investing in a tent from one of the more premium brands such as North Face or Mountain Hardware or Kelty.  However, these tents often come with a higher price tag.
In general, any of the major camping brands (Coleman, North Face, Mountain Hardware, etc.) will produce quality tents. It's important to do your research and read reviews before making a purchase, as not all tents are created equal.
That's All Folks!
Everything you need to know to purchase a pop-up tent today!
We hope this guide for pop-up tents helps to make your next purchase easy and confidently.
Your FavReviews "Pop-Up Tents" Team!