YETI coolers are the best way to keep your food and drinks cold, no matter what the temperature is outside.
Whether you're tailgating at a football game or spending a day at the beach, a YETI cooler will keep your food and drinks cold for hours.
But with so many different sizes available, how do you know which one is right for you?  We know one easy measure for you will be how many cans does each hold.  So we are providing you with exterior dimensions, interior dimensions, gallons, quarts and how many cans each cooler will hold.

YETI Coolers - YETI Cooler Capacities

YETI offers a variety of sizes to fit your needs, whether you're packing lunch for yourself or enough food and drinks for a whole group.
Here's a breakdown of the different YETI cooler sizes to help you out (believe us when we say there is a YETI cooler for everyone!)
We trust that you'll find your next favorite item from the list we've researched for you below. All of these products have been hand-picked by our editors and we won't recommend something we wouldn't use in our own family. Some may even be items that we already use! We may receive a small compensation if you decide to buy something (that's how we keep the lights on). Some reviews have been edited for length and clarity. Have fun searching for your next fav product!
Tundra Coolers:
Tundra coolers are the largest size offered by YETI. They're perfect for long weekends away or large groups.  They are hard sided coolers, and claim to be indestructible.
Tundra coolers come in eleven different sizes: from Tundra 35, 45, 65, 75, 105, 110, 125, 160, 210, 250, and 350.
Then there is another five: the Tundra Haul, the Tank 45 and Tank 85, The Roadie 24 and Silo 66 which are all part of the legendary YETI Tundra family.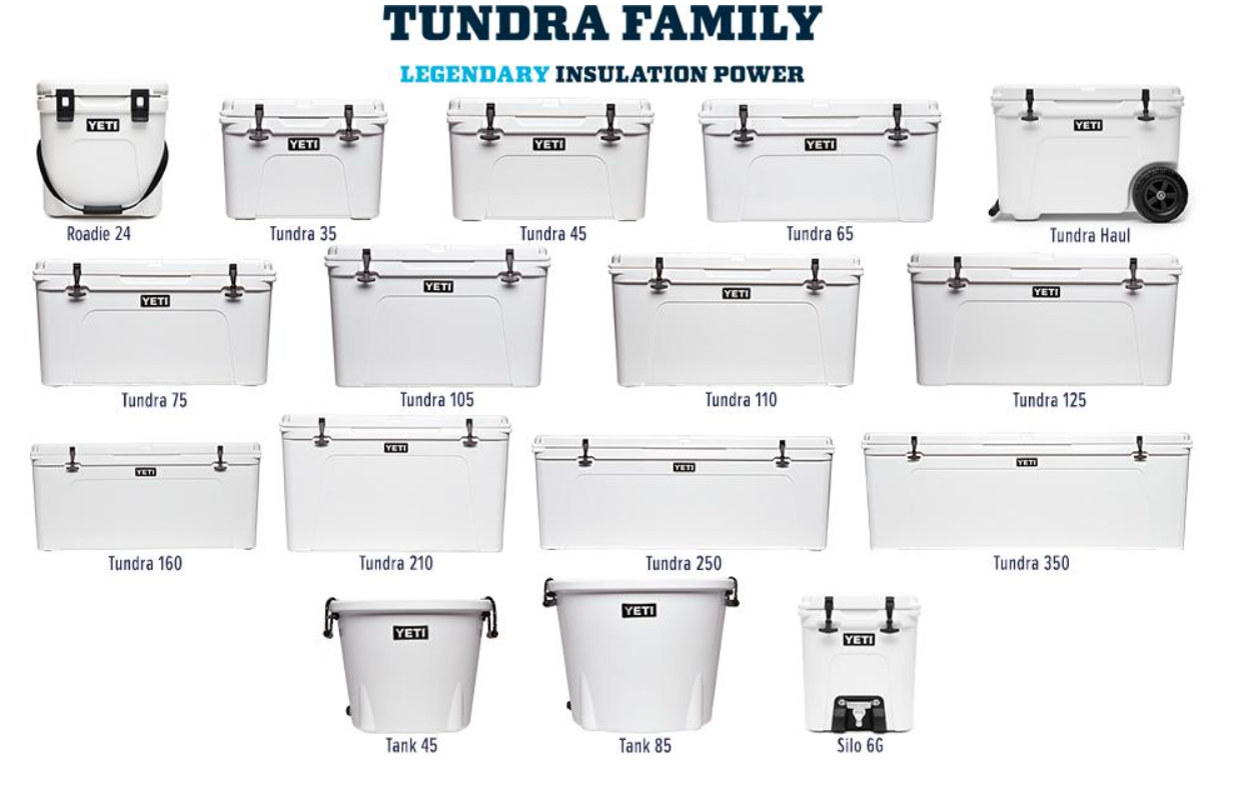 Tundra Cooler Sizes, Dimensions, Gallon and Quart Capacities
The 35 is the smallest Tundra cooler, measuring 21.5" x 16.75" x 16.25". It weighs 20 lbs empty.   It can hold up to 7.2 gallons, 28.8 quarts, up to 20 cans of beer or 26 pounds of ice.  It is still portable enough for one person to handle, and it's nearly indestructible.
The YETI Tundra 45 is slightly bigger, measuring 25" x 13.875" x 11.875". It can hold up to 9.4 gallons, 37.6 quarts, 28 cans of beer or 38 pounds of ice.
The 65 is the largest of these mid-range Tundra coolers, measuring 26.75" x 16.75" x 15.5". It can hold 11.8 gallons, 47.2 quarts, up to 36 cans of beer or 48 pounds of ice.
The 210 is the deepest of the their outdoor coolers.  The Tundra 210 dimensions are 39+" long x 25.5" wide x 24" high with an empty weight of 62 lbs.  It also comes with a standard dry goods basket. It can hold 52.1 gallons, 208.4 quart capacity, and up to 140 cans.
The Tundra Haul is super popular, as you can imagine, because it can be pulled on wheels.  It's the first ever YETI cooler on wheels. It has puncture resistant, never flat wheels.  It weighs 32 lbs when empty and is 28.25" x 18.63" x 19.5" with a chamber depth of 28.25".
You can check out all of the Tundra Coolers and exact dimensions at the YETI Store on Amazon.
---
HOPPER Coolers:
HOPPER coolers are designed for portability and easy access to your food and drinks.   These are more easily managed soft sided coolers.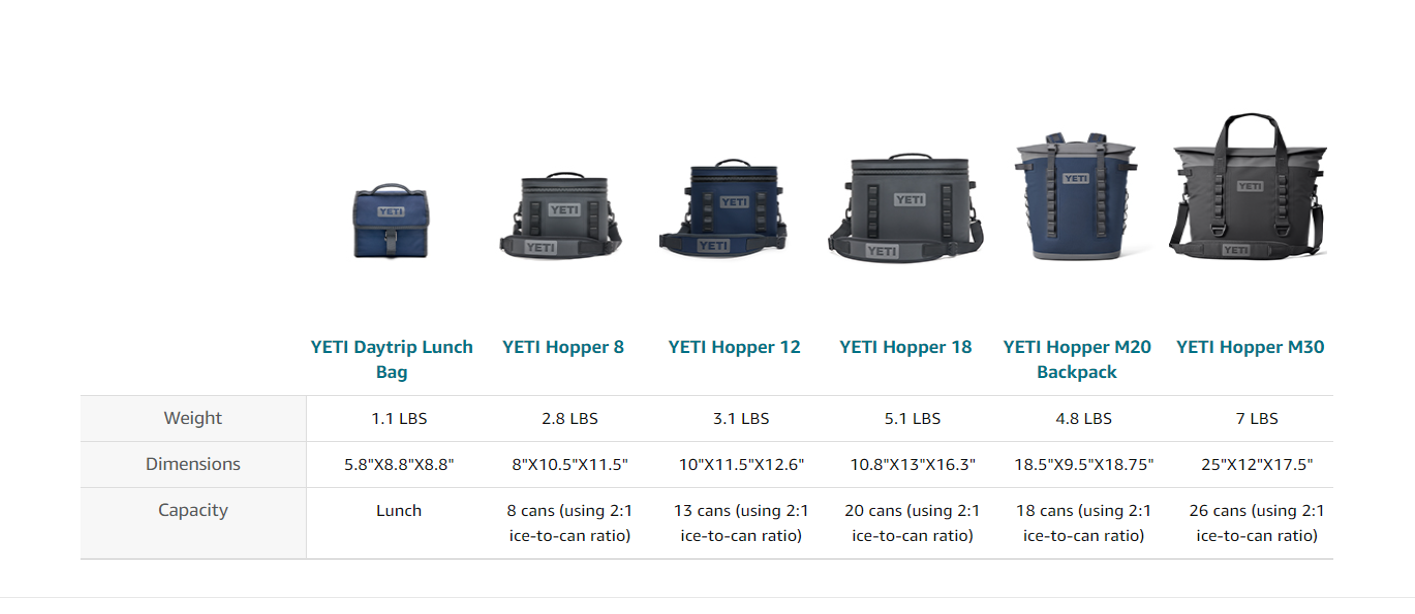 ---
You might like the additional information in our review:  Unboxing Best YETI Soft Coolers:  What You Need to Know  (includes link to the Hopper Owners Manual with additional size and capacity information).
---
The Hopper
The HOPPER comes (technically) in six different sizes from a lunch box cooler size right through to the largest YETI HOPPER M30 that holds up to 26 cans.
The YETI DAYTRIP Lunch Bag is perfect for packing a lunch for work, or when you are on the road.  It only weighs 1.1 lbs empty and is 5.8" x 8.8" x 8.8"
The YETI Hopper 8 is perfect to take along 8 cans of your fav craft brew using a 2:1 ice-to-can ratio).  It only weighs 2.8 lbs when empty and measures 8" x 10.5" x 11.5"
The YETI Hopper 12 is perfect for taking along 13 cans (using the same 2:1 ice-to-can ratio).  It only weighs 3.1 lbs when empty and measures 10" x 11.5" x 12.6".
The YETI Hopper 18 is perfect for 20 cans of your favorite drink (using the 2:1 ice-to-can ratio).  It only weighs 5.1 lbs and measures 10.8" x 13" x 16.5".
The YETI Hopper M20 is a backpack cooler!  This super popular cooler only weighs 4.8 lbs when empty and can hold up to 18 cans of your favorite beverage, and you can carry it hands free!  It measures 18.5" x 9.5" x 18.75".
The YETI Hopper M30 is their largest soft sided cooler.  It can hold up to 26 cans of your favorite drink.  It weighs 7 lbs when empty and measures 25" x 12" x 17.5".
---
ROADIE Coolers:
ROADIE coolers are the perfect size for taking on road trips or storing in tight spaces like underneath a car seat.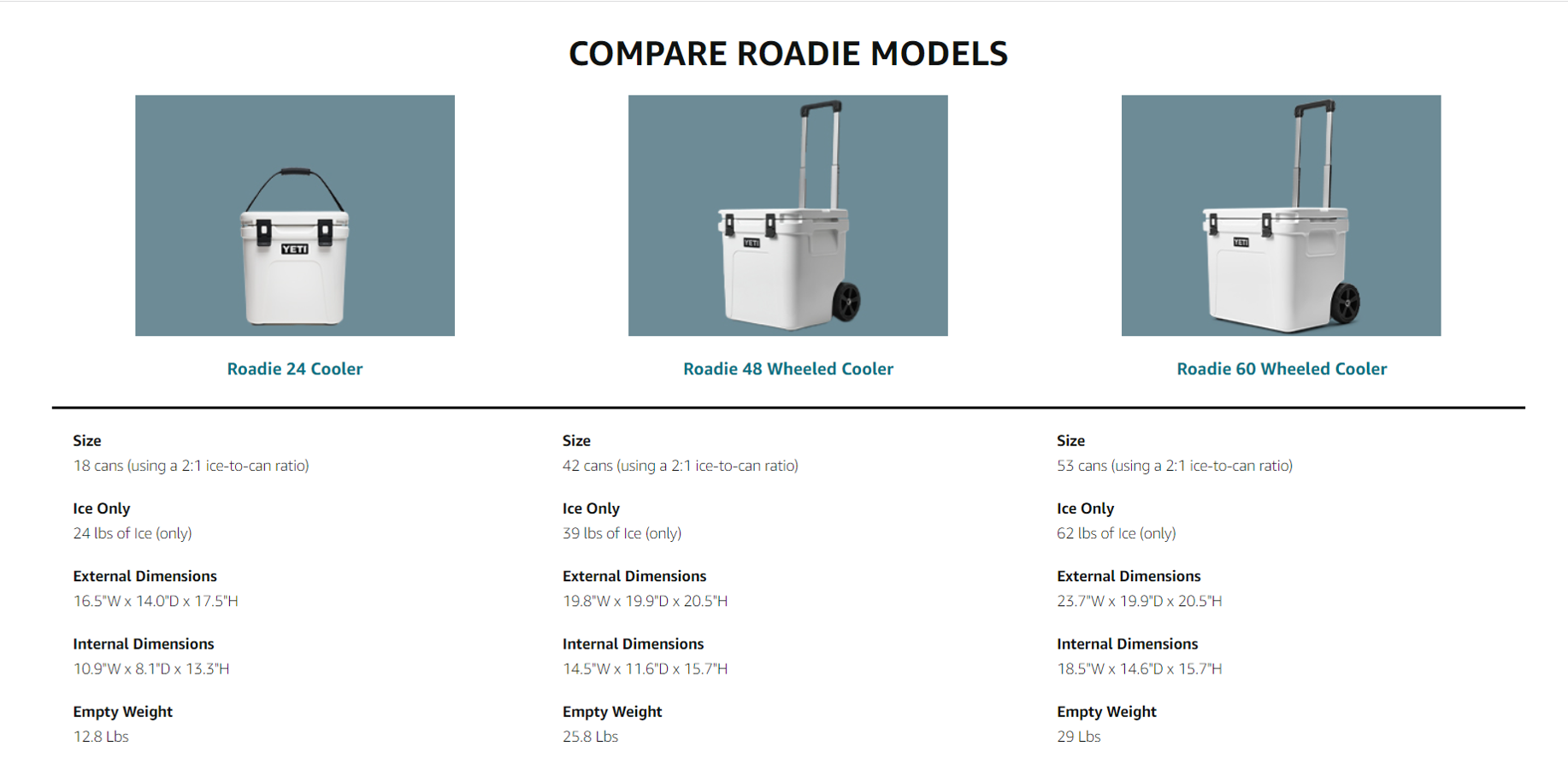 ROADIE coolers come in three different sizes:  24, 48 and 60:
The ROADIE 24 measures 16.5"W x 14.0"D x 17.5"H  and weighs 12.8 lbs empty, making it small enough to fit in most car trunks or backseats. It can hold up to 18 cans of beer or 24 pounds of ice.
The ROADIE 40 is a popular wheeled cooler.  It measures 19.8"W x 19.9"D x 20.5"H and weighs 25.8 lbs empty. It can hold up to 42 cans (with 2:1 ice-to-cans ratio) or 39 lbs of ice only.
The ROADIE 60 is also a wheeled cooler.  It measures 18.5"W x 14.6"D x 15.7"H and weighs 29 lbs when empty.  It can hold up to 53 cans of your fav brew or will hold up to 62 lbs of ice only.
You can check out the YETI ROADIE coolers here at the YETI STORE on Amazon!
---
YETI HAS A COOLER THAT WILL FIT YOUR NEEDS
No matter what size you need, YETI has hard coolers that will fit your needs perfectly. From the smallest ROADIE cooler to the largest Tundra cooler, YETI has you covered with the exact capacities to keep your food and drinks cold no matter where you are going or the size of your truck bed to get you there!
What is the best size YETI cooler for you to hit the road this weekend? Now you know!
Happy Shopping!
Your Fav Reviews Team
If you are looking to gift a YETI product, check out these ideas!!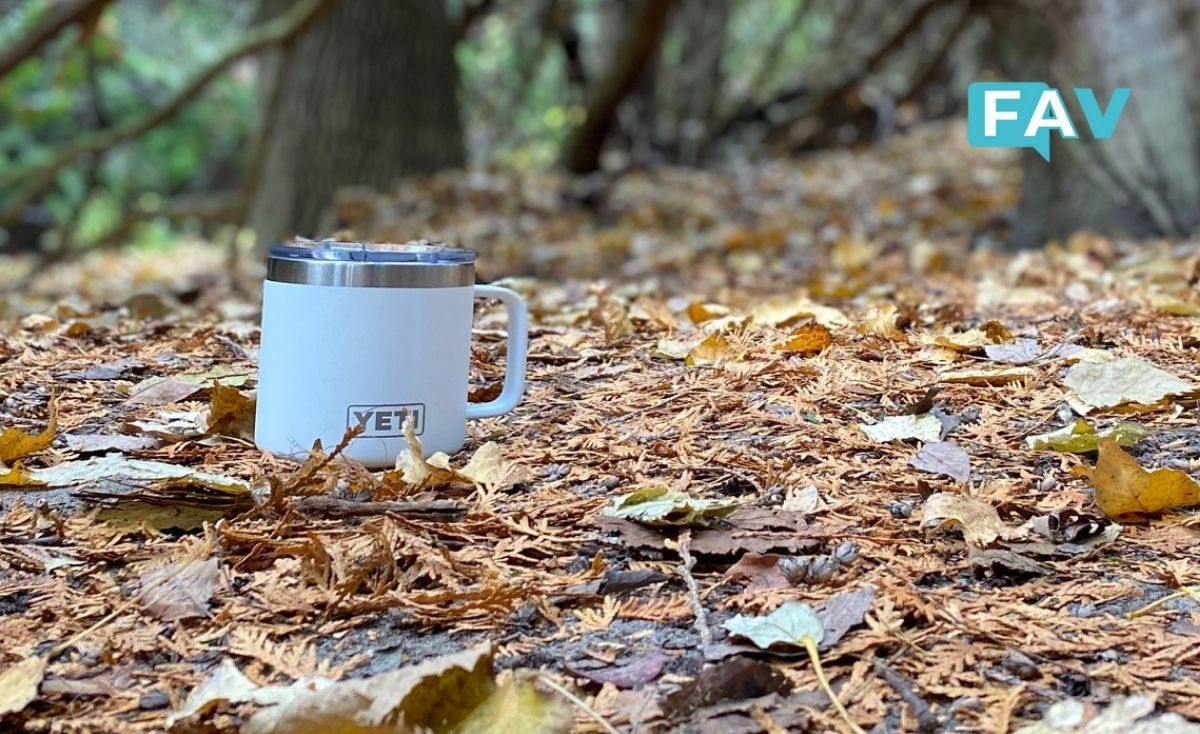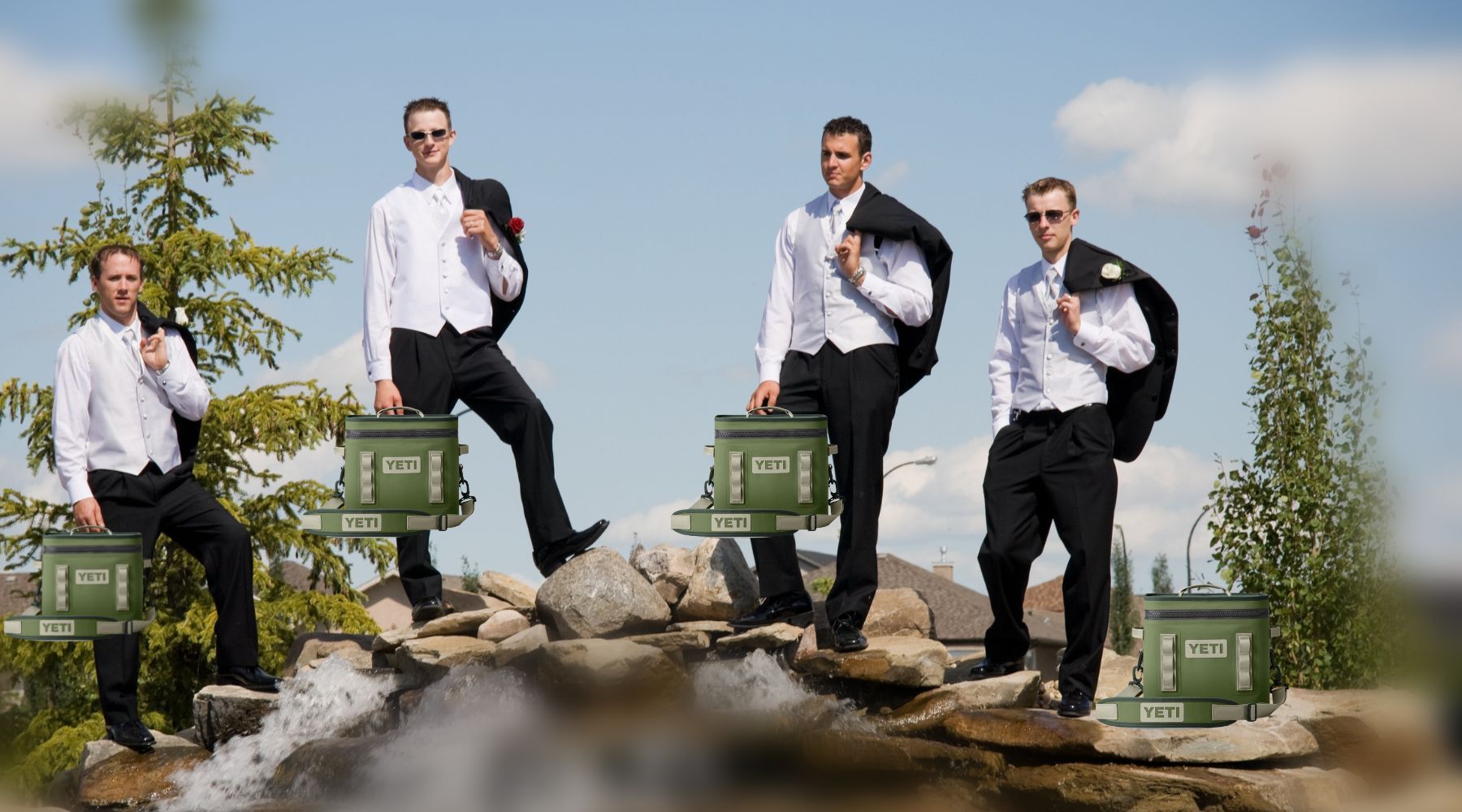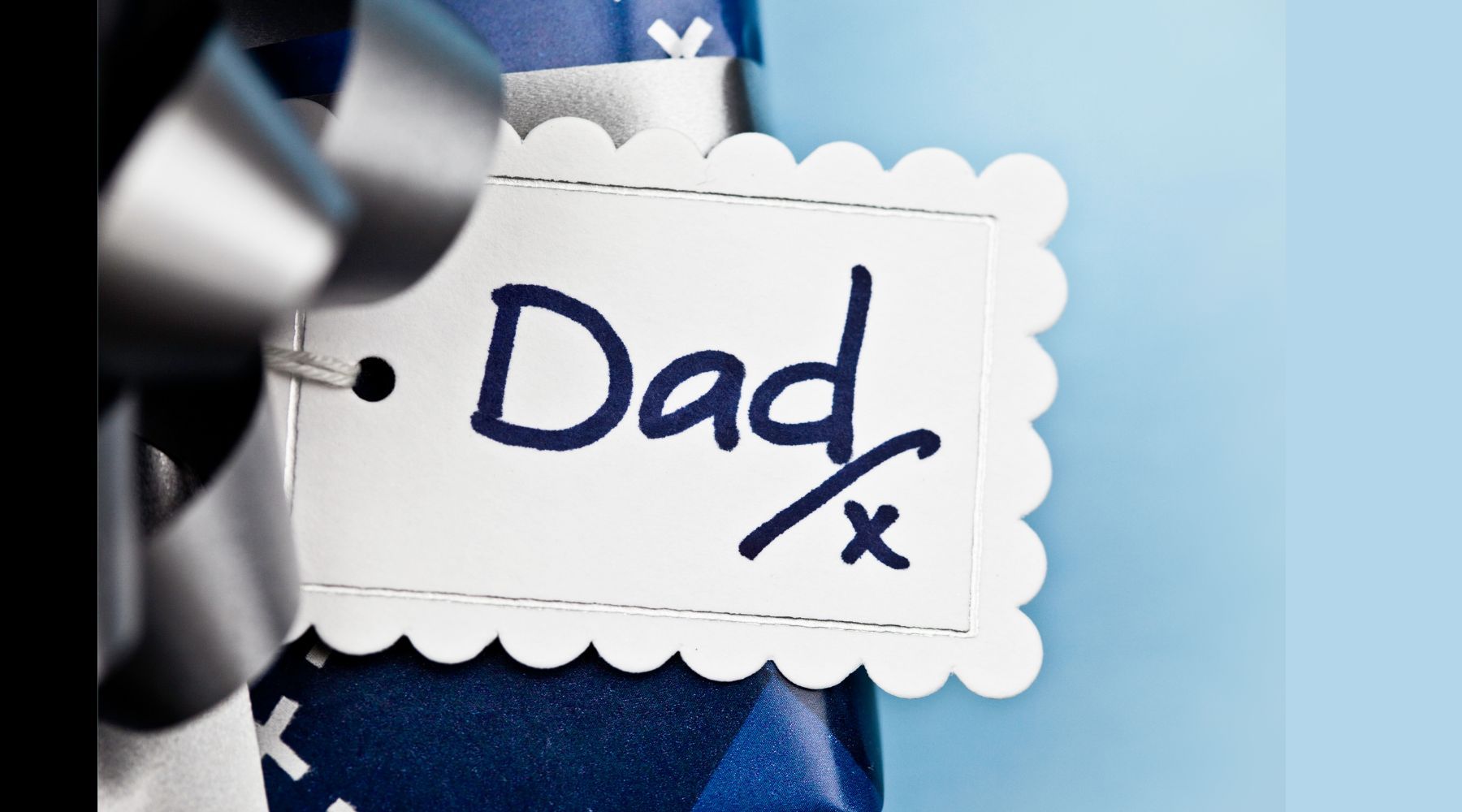 ---
P.S. - Have you signed up to get our FavReviews yet?  If not you can subscribe free right here.  So you never have to miss another thing!
Why Trust Us?
We hope you find your next favorite thing from FavReviews! We are a family friendly product review site.
Four Generation Family: As a four generation family, the breadth of products we consume and review as brand ambassadors is vast. But we can tell you, in general, in we love the outdoors, sports, staying active, living healthy and celebrating the changing seasons.
Trending Products: We also love finding new trending products and we are happy to pass along our research of new trending products to you. Follow us so you don't miss out on a thing! We send out cool emails with our latest reviews, and we will never sell or misuse your information.
Opinions Based on Use, Research and Reviews: Each product we write about is independently selected by our editors. All opinions in this article are our own, based on our own use of the product(s), or hours of research and reading reviews. We will never recommend something we wouldn't use ourselves in our own family.
Compensation: Yes, FavReviews may collect a share of sales or other compensation from the links on this page if you decide to buy something (that's how we stay in business). But, the product never costs you more, in fact in some cases, we hope we might help save you money based on our recommendations.
Reviews have been edited for length and clarity. Enjoy finding your next favorite thing! Happy Shopping! Your FavReviews Team