Why Trust Us?
We hope you find your next favorite thing from FavReviews! We are a family friendly product review site.
Four Generation Family: As a four generation family, the breadth of products we consume and review as brand ambassadors is vast. But we can tell you, in general, in we love the outdoors, sports, staying active, living healthy and celebrating the changing seasons.
Trending Products: We also love finding new trending products and we are happy to pass along our research of new trending products to you. Follow us so you don't miss out on a thing! We send out cool emails with our latest reviews, and we will never sell or misuse your information.
Opinions Based on Use, Research and Reviews: Each product we write about is independently selected by our editors. All opinions in this article are our own, based on our own use of the product(s), or hours of research and reading reviews. We will never recommend something we wouldn't use ourselves in our own family.
Compensation: Yes, FavReviews may collect a share of sales or other compensation from the links on this page if you decide to buy something (that's how we stay in business). But, the product never costs you more, in fact in some cases, we hope we might help save you money based on our recommendations.
Reviews have been edited for length and clarity. Enjoy finding your next favorite thing! Happy Shopping! Your FavReviews Team
Okay, we know they aren't the most popular piece of camping gear to talk about, but sleeping bag liners are essential in environments that are either extremely cold or extremely warm. There are a lot of seasoned travelers who wouldn't consider going anywhere without one.
Because they provide an additional layer of warmth as an inner lining of a sleeping bag or between you and the blankets on a bed, a quality sleeping bag liner is well worth its (very little) weight in gold when traveling to locations with lower than average temperatures.
They can also perform as a lightweight travel sheet that will give you a decent night's sleep in tropical areas, whether you are staying in a hostel, riding on a train, or even camping in the jungle.    So even if you aren't able to carry a full pack of camping gear with a sleeping bag, having a small lightweight sleeping bag liner still provides you with the clean comfort of being in your own environment.
Convinced? Awesome!  We've done a lot of research for you and have come up with a some of the en best sleeping bag liner suppliers to make it easier for you to pick the best sleeping bag liner for your next outdoor adventure.
cocoon silk mummy liner
---
How to Choose the Best Sleeping Bag Liner?
Most Important Characteristics to Consider
MATERIAL
A wide variety of materials are available for sleeping bag liners. Each of these materials comes with its own set of advantages and limitations.
Silk, cotton, fleece, microfiber, and synthetic materials are used.  Which material you choose will depend on a few things:
some materials, like silk sleeping bag liners, are more lightweight, so suitable for backpacking or taking in a suitcase.
others materials are better suited to keep you warm; or maybe you are looking for a cooling sleeping bag liner.
TEMPERATURE | R-VALUE
Most manufacturers will include a temperature value on their best sleeping bag liners. Winter sleeping bag liners, will have temperature ratings based on the temperatures they will be most effectively used.  They often have a plus sign before their rating. This grade indicates the number of degrees of warmth that the liner ought to provide to your system.
The R-value provides a more straightforward reference for determining the level of warmth. The R-value of an object is a measurement of how well it can prevent heat from passing through it. A warmer sleeping bag liner has a higher R-value because it provides a higher level of insulation and may prevent heat loss.
SHAPE and LENGTH
Sleeping bag liners may be rectangular or mummy-shaped, much like sleeping bags. Investing in a sleeping bag liner that conforms to the specific contours of your sleeping bag itself is your best option.   Also consider the length of the sleeping bag liner; if it is too short or too long, it will not be as effective.
If you lose heat from your head throughout the night when camping, it won't matter how warm your sleeping setup is; you'll feel cold.  Lots of sleeping bags come with hoods, so if your sleeping bag has a hood, order a sleeping bag liner that also has a hood.  
Maybe even consider a sleeping bag liner with a hood even if your current sleeping bag doesn't have a hood.  At least you would have one extra layer of warmth.
WEIGHT
Before purchasing any equipment, consider if you will be hiking for long distances with your gear, or will you be car camping, where the weight and size won't matter as much?
You might have to compromise on weight and pack size vs warmth.
But there you have it.  Make your decision based on your intended use and choose the right material, size and weight to fit your sleeping bag.
---
Best Sleeping Bag Liner
BEST SILK SLEEPING BAG LINER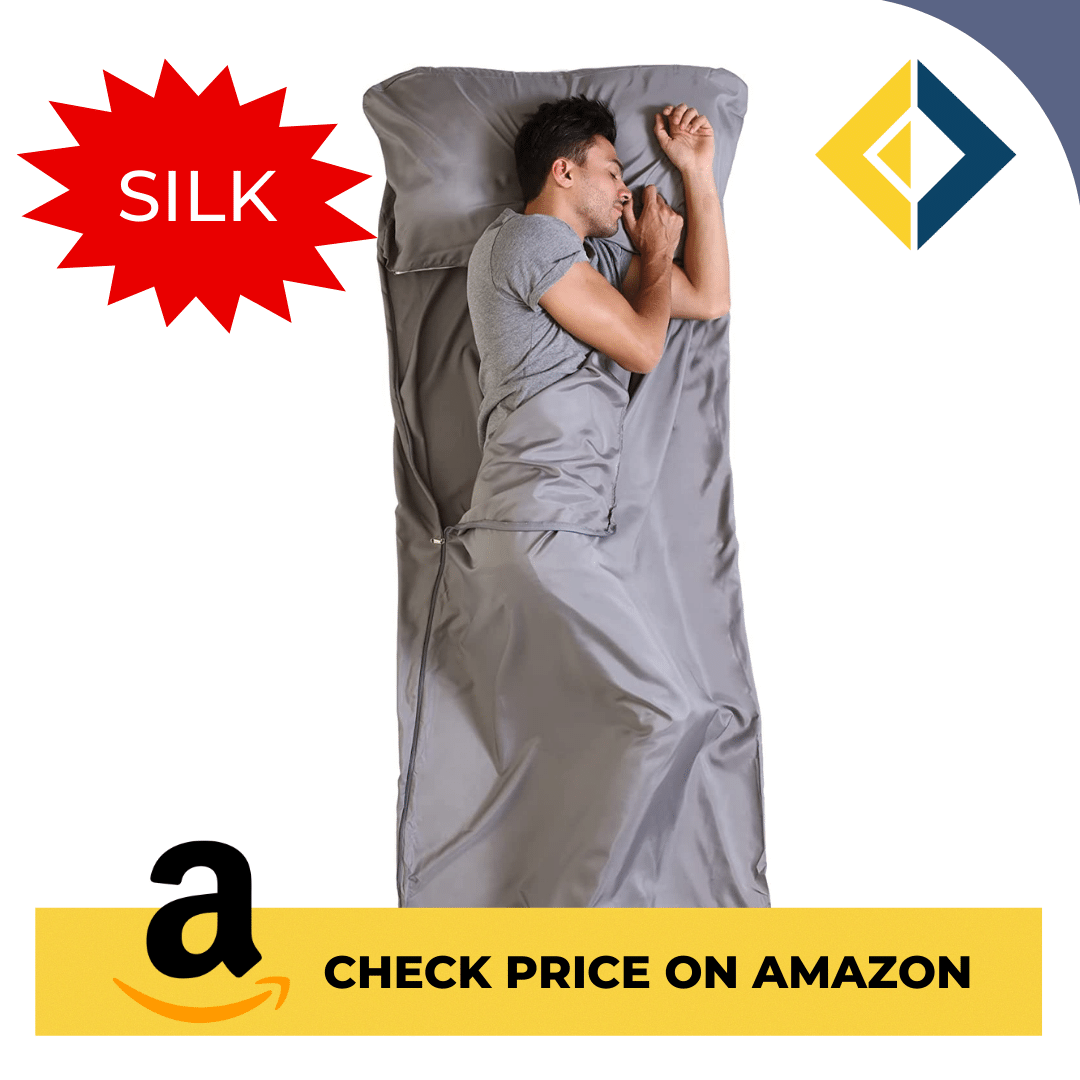 Why it's one of our fav's:
Silk is an excellent liner material because it has a high warmth-to-weight ratio. It still breathes well and locks in heat very rapidly.
This is a rectangular shaped sleeping bag liner that is a perfect travel accessory if you want to ensure you have clean sleeping area in any hotel, hostel or campsite.
We like it because it packs very small and is lightweight.  We also like the silky smooth material and the fact it can be machine washed in cold water.
Fav Features:
Because the Tough Outfitter silk liner folds down to a package 8" x 6", it is suitable for even the most weight-conscience traveler. It is functional for traveling and classic camping activities.
Silk has a pleasantly silky sensation against the skin and even contains antibacterial characteristics, which means that it will assist your sleeping bag to stay fresh for a more extended period.
This high-quality silk sleeping bag liner has a handy pillow pocket and fits anyone up to 6'6" tall.  
You can purchase this silk sleeping bag liner in single or double size.
---
WARMEST SLEEPING BAG LINER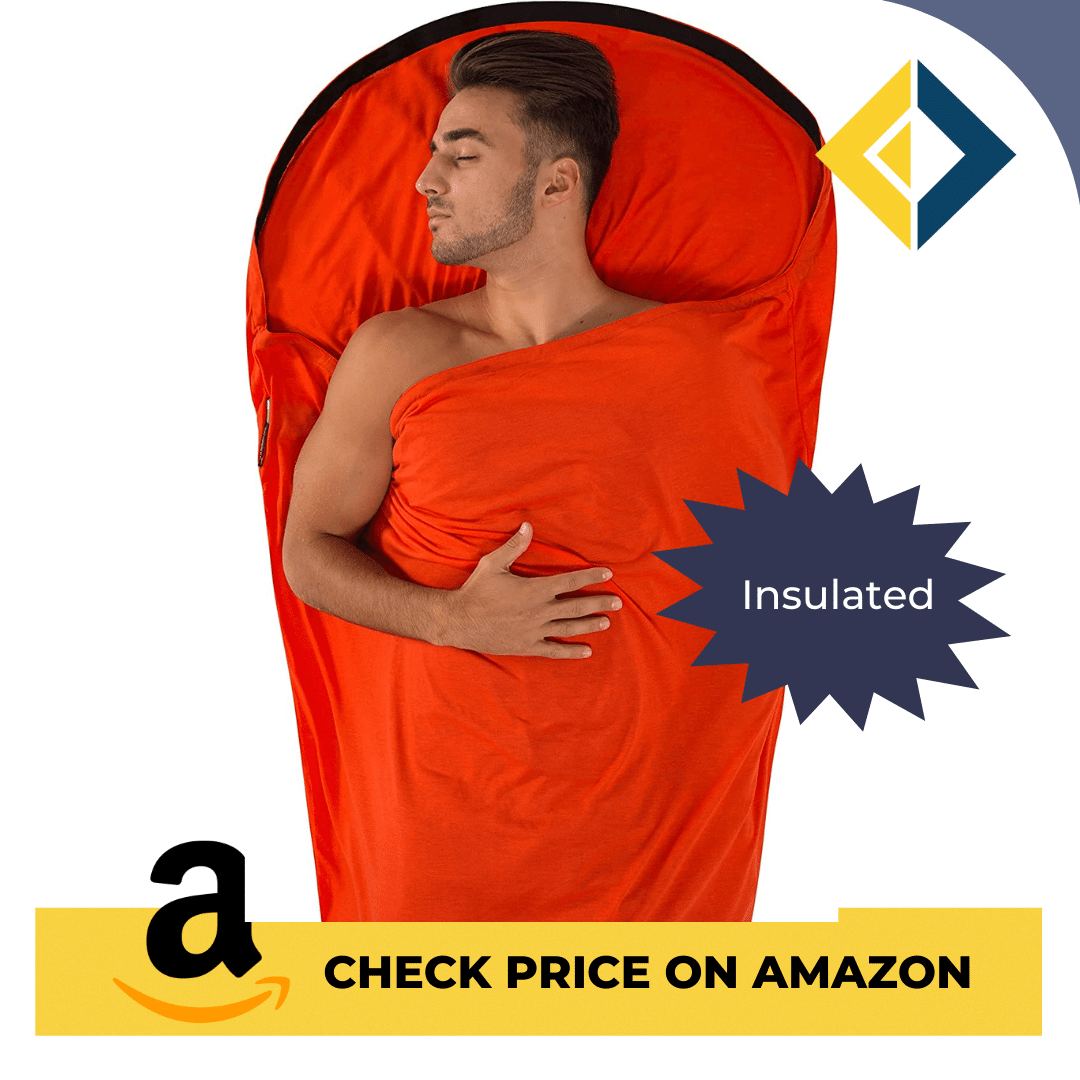 Why it's one of our fav's:
There is a solid reason why the Sea to Summit Reactor Thermo light Insulated Liner is one of the most well-liked and best-selling sleeping bag liners available on the market.
We like the Reactor Thermo light fabric, it's truly the liners unique feature. It is designed with hollow core fibers and is composed entirely of polyester, both used so this sleeping bag liner can keep you super warm.
The Sea to Summit Reactor Insulated Liner has a weight of 8.7 ounces, which not only offers a significant amount of warmth but is also extremely lightweight, making it ideal for camping.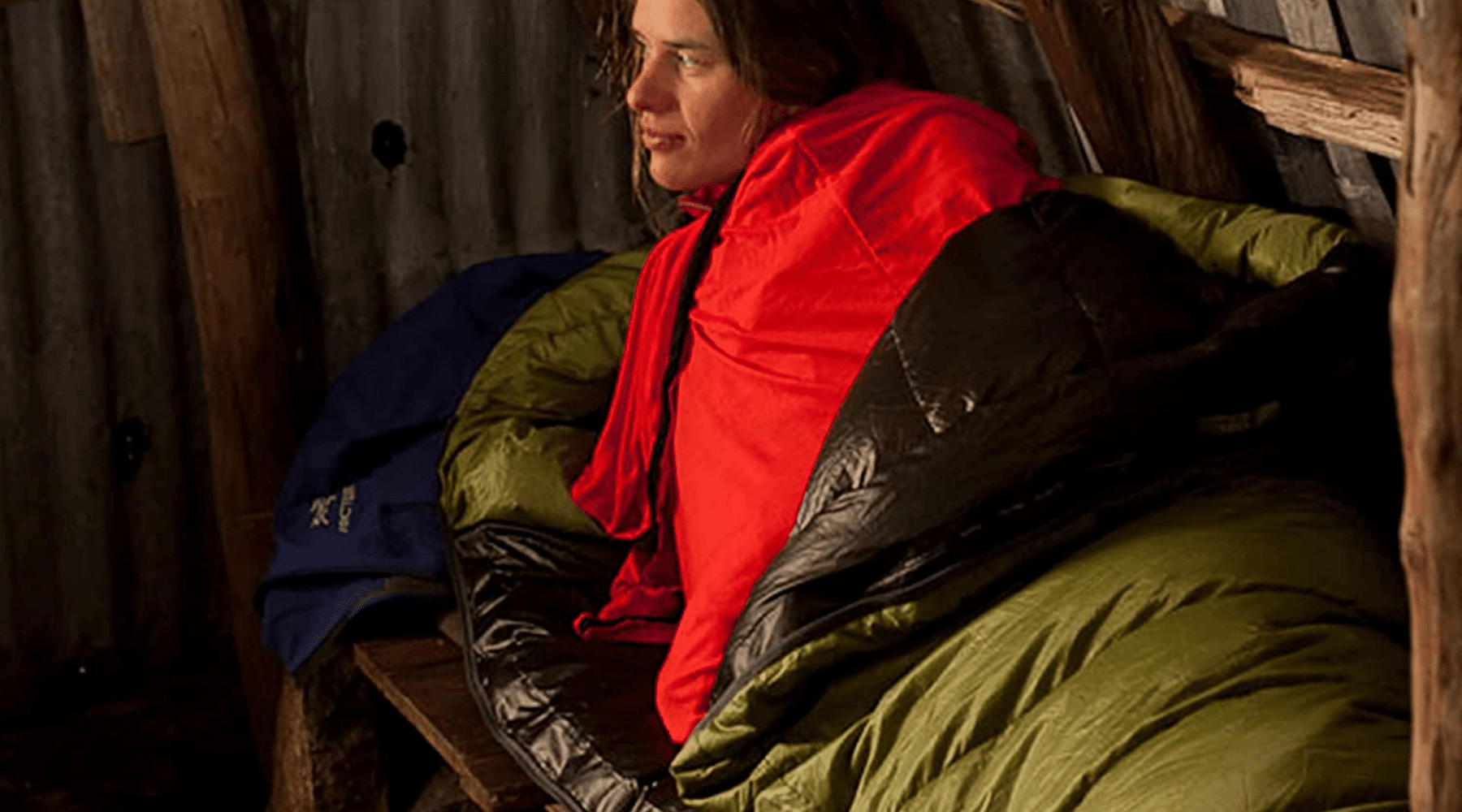 Fav features:
It can provide up to an additional 25 degrees Fahrenheit of warmth. It works by entrapping more warm air for insulation.
This sleeping bag liner is much simpler to fold and pack away than a liner made of fleece.
It comes with a Sil-nylon stuff bag of its own, which can be collapsed down to the size of a one-liter water bottle when not in use.
Because it is shaped like a mummy sleeping bag, it can fit under your head and on top of your pillow, so your head is protected.
This great sleeping bag liner comes with a drawcord, which allows you to pull it in tightly around you if the temperature drops significantly.
It is a portable ultralight sleeping bag liner and comes with a carry pack.
You can wash this liner in a washing machine without damage.
---
FLEECE SLEEPING BAG LINER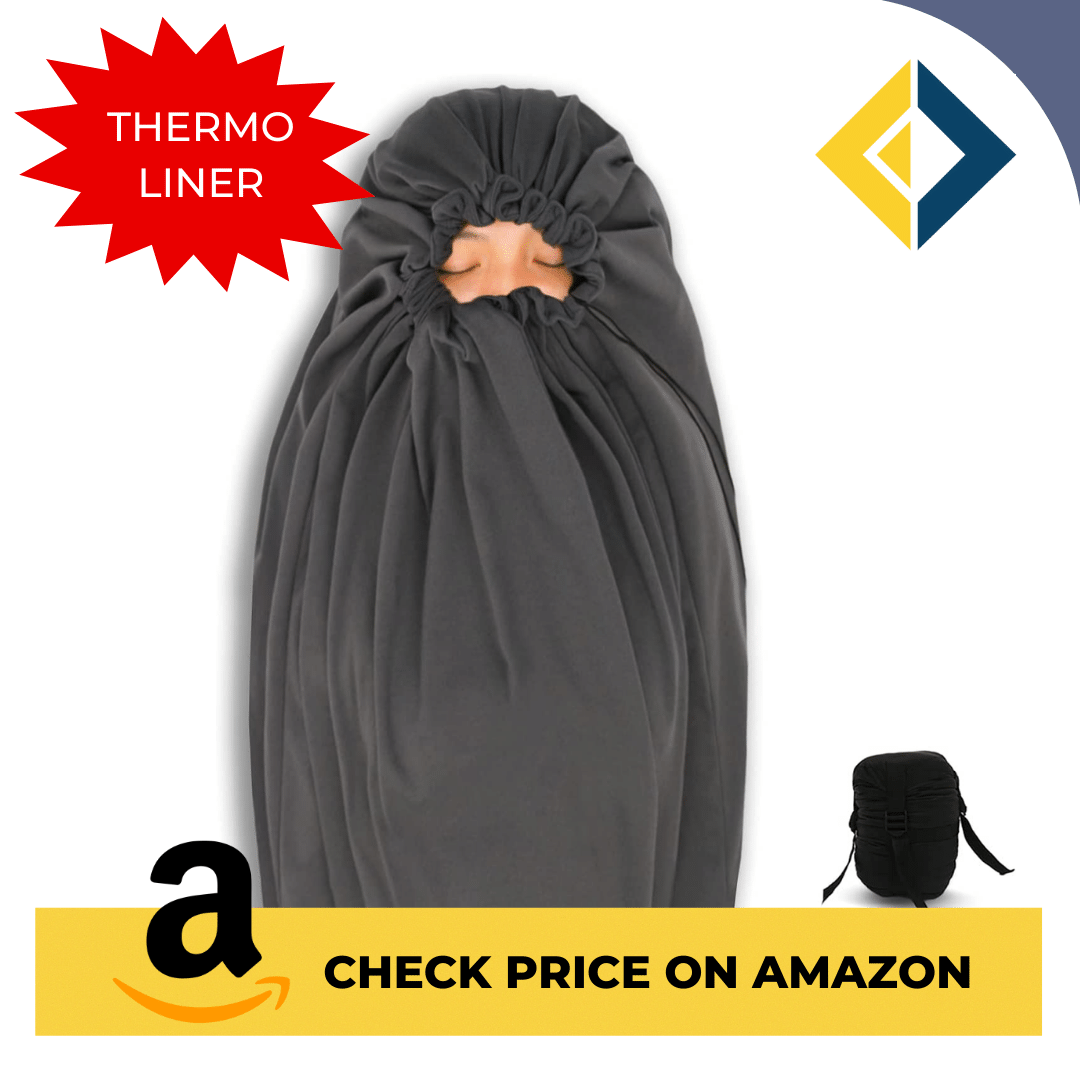 Why its one of our fav's:
Litume began as a modest family company and has gradually expanded its assortment of high-performance outdoor goods. Their sleeping bags and liners are outstanding, and this is just one of four sleeping bag liners available.
The Litume Thermolite All Season Sleeping Bag Liner is a great way to warm up and get comfortable in your sleeping bag. We like how it  can cinch up around your face, which is ideal for the winter when the air is freezing your cheeks off.
Fav Features:
The Thermolite type can add up to 27°F / 15°C to your sleeping bag and is even warmer with the fleece lining.
The Thermolite sleeping bag liner employs hollow fiber technology to retain warm air and promote moisture wicking.
It is made of the same exceptionally soft and elastic bag liner material as several of the Sea to Summit Reactor series.
The well-defined and distinct foot area keeps everything in place so you don't get all twisted up, which is beneficial.
---
COTTON or FLEECE SLEEPING BAG LINER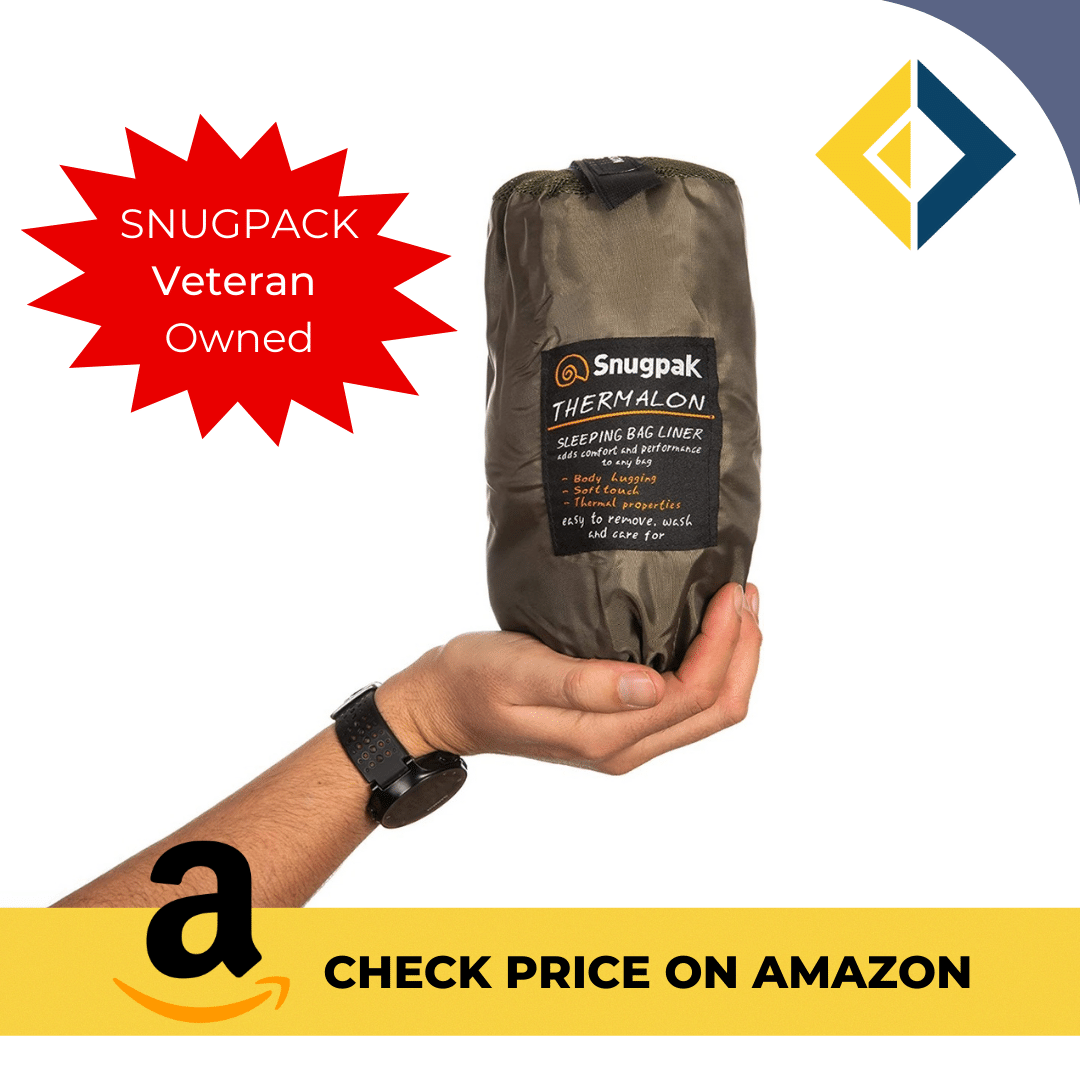 Why it's one of our fav's:
The Snugpak Thermalon Liner is another excellent option for those looking for a good sleeping bag liner that offers an excellent warmth-to-weight ratio and can be used throughout the year.
Snugpak is a veteran-owned business that provides the United States military with various camping supplies.
Because the taper towards the foot box is so slight, this would be a good choice if you are over 6 feet tall and like having plenty of space in your legs.
Fav Features:
This sleeping bag liner is a long-lasting sleeping bag liner that adds warmth while keeping your sleeping bag clean.
You can choose from different fabrics, such as fleece, which is rough and twice as heavy as cotton but is very comfortable, warm, and soft to the touch.  Or you can choose a cotton sleeping bag liner.
Check out all of the Snugpack liners and bivvy's here.
---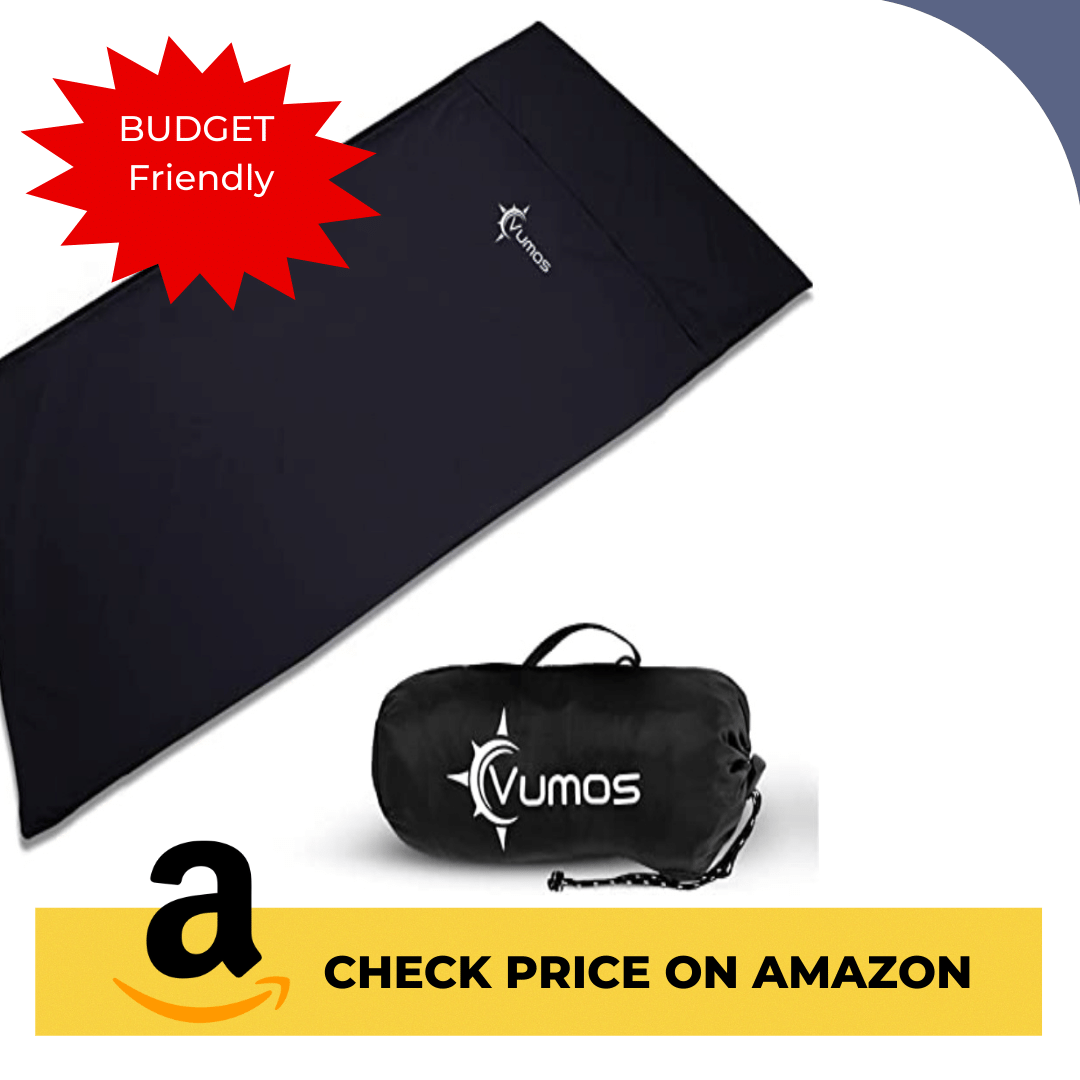 Why it's one of our fav's:
The Vumos Sleeping Bag Liner is a budget-friendly option that will help you keep your sleeping bag cleaner, provide you with a few more degrees of warmth, and won't break your budget. It is breathable, composed entirely of polyester.
This sleeping bag liner can be packed up with a reasonable amount of ease. It also features a pillow pocket, a feature that we like since it prevents you from resting your head on a potentially unsanitary hotel pillow when traveling or contaminating your clean pillow while camping.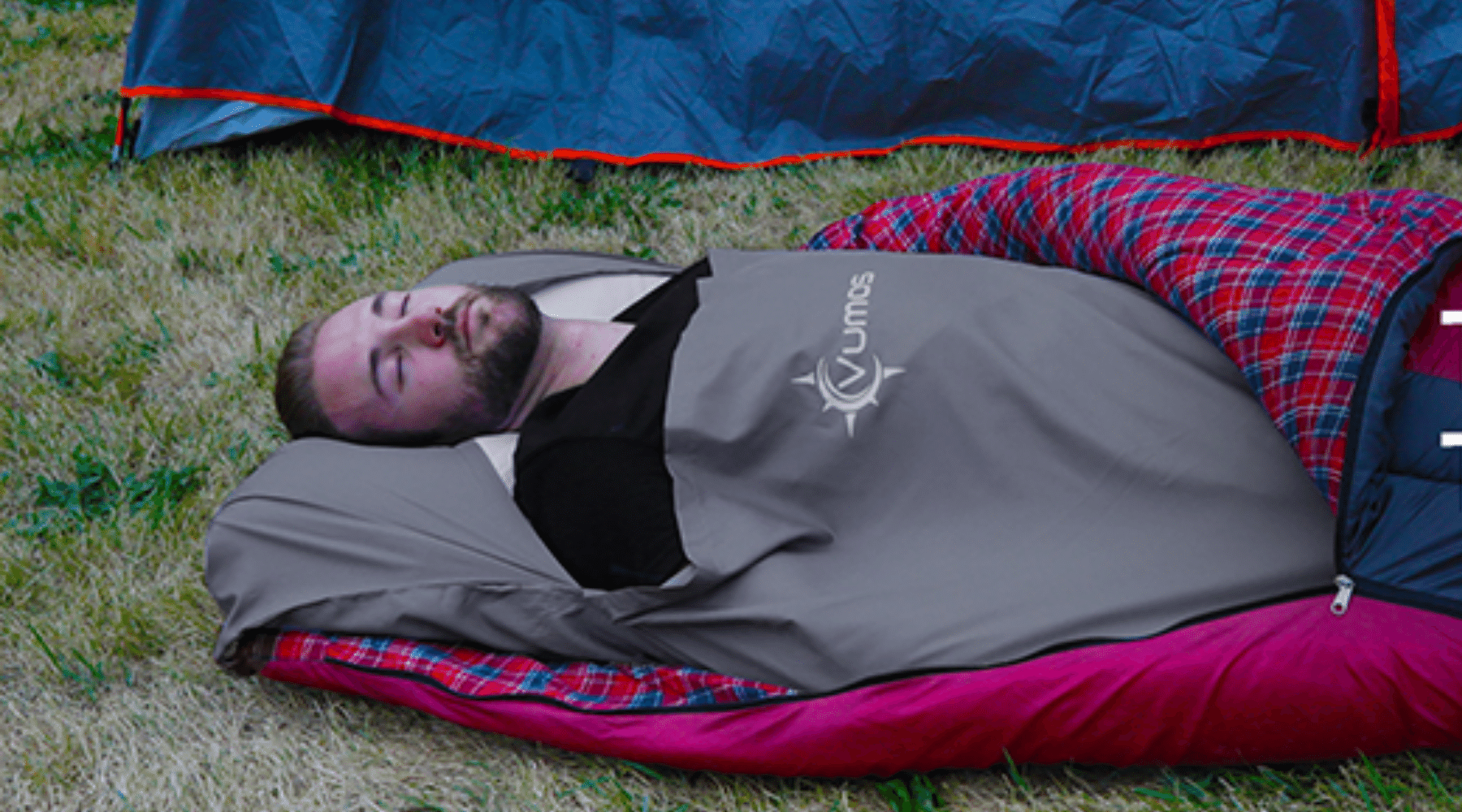 Fav Features:
This sleeping bag liner features a zipper that goes down the side and the bottom.
It makes it simple to get in and out of the liner, and when unzipped, it functions as a single massive sheet.
This sleeping bag liner also comes with a stuff pouch and can be packed down to approximately the size of a pair of wool socks, which is perfect for when you want to take it camping or hiking.
It's inexpensive and easy to transport and store.
---
FAQs About Sleeping Bag Liners:
Is It Worth It To Buy Sleeping Bag Liners?
Yes, they are worth it.   When camping in cold areas sleeping bag liners are undoubtedly worth it.  A sleeping bag liner will give you much-needed warmth if your tent doesn't have a heater.
We also like sleeping bag liners for protection and use in hotel rooms, youth hostels, cottages or cabins to cover the sheets or old mattresses. It's an easy way to protect yourself and sleep more soundly.
Which Is Better for Sleeping Bag Liners: Silk or Cotton?
Both silk and cotton sleeping bag liners have their benefits and drawbacks.  So the answer to this question largely depends on personal preference. Some people like silk liners because they feel smoother and cooler against their skin, while others prefer cotton liners because they are more absorbent and comfortable. Ultimately, it comes down to what you prefer.
Is a fleece sleeping bag liner suitable for backpacking?
Yes, a fleece sleeping bag liner can be a suitable option for backpacking, but it will add some extra weight to your pack. A fleece sleeping bag liner can provide an extra layer of warmth on colder nights, and it can also help to keep your sleeping bag clean. If you're looking for a lighter option, you might consider using a synthetic sleeping bag liner instead of a fleece liner.
---
So There You Have It!
Who would have thought sleeping bag liners could be so interesting.  We learned a lot about them and we hope you have too.  
After purchasing one of our recommended sleeping bag liners, you will never have to worry about getting a good night's rest.
Whether you choose a budget liner or one with extra features, a well-known brand, or a cutting-edge newcomer, we are pretty sure you will find these top best sleeping bag liner suppliers have come through with a liner that will suit your needs!
Happy Shopping.
Your FavReviews Team!
PS - Have you subscribed to our email list to get all of our reviews?  Go to our Home Page to sign up now FavReviews.com