With so many of us working from home or downsizing our homes these days, many a spare bedroom has been converted to a home office.
So when company comes visiting you need an easy set up inflatable bed to convert your home office to a bedroom.
Air mattresses are a staple to get you out of a tough spot when more company shows up for an overnight stay than you have beds for.
Or, if you are like me, when you get invited to go camping, and you really dislike sleeping on the ground, you've got a nice mattress with a built in pump all ready to go.
How We Chose the Best Air Mattresses with Built in Pump
I don't think our family is unique in the fact, we love to have family and friends sleep over, but we don't always have enough beds for everyone. And at great grandma's when she has the grandkids and great grandkids for a sleepover, she sets up air mattresses wall to wall. It's fair to say we've tested all types of air mattresses over the years, and what we present to you here in this review are our family favorites.
Having air mattresses with a built-in pump became a game changer in our family. No more using hair dryers or reversing vacuums to blow up air mattresses (do you remember those days?) No more misplacing the pump, because the last person who put the inflatable away couldn't fit the mattress and the pump back in the same box it came in.
An air mattress with a built in pump, that actually fits easily back into the carry bag provided is worth something. And, having overnight guests or an overnight in a tent, waking after having a good sleep is worth a lot too.
But finding the right mattress with a built in pump can be difficult, because there are so many to choose from. That's where our FavReviews team comes into action. We find out what's trending, read through thousands of reviews and analyze different products related to air mattresses, to find and shortlist the latest and greatest for you.
Our team of writers have done some amazing research and we're happy to provide you with a list of the five best air mattresses with built in pump for all of your indoor or outdoor sleepovers, whether it's turning your home office back into a bedroom for a night or having an overnight with friends at a campsite, there are several air mattresses here you are going to love.
We trust that you'll find your next favorite item from the list we've researched for you below. All of these products have been hand-picked by our editors and we won't recommend something we wouldn't use in our own family. Some may even be items that we already use! We may receive a small compensation if you decide to buy something (that's how we keep the lights on). Some reviews have been edited for length and clarity. Have fun searching for your next fav product!
A Guide to Choosing the Best Air Mattress with Pump
Finding the best air mattress with it's own pump might seem daunting, particularly when many online alternatives seem to be the same. To assist in simplifying the process, keep the following features in mind when you look for your new air mattress:
A built-in electric pump:
These pumps enable the quickest and most complete inflation and deflation, and having a connected pump eliminates the need to store (and find) an additional item.
Some air mattresses come with battery-powered or manual pumps that may be used while camping, but don't bother with them if you're going to use the mattress inside, where you'll never be far from an outlet.
Inflation time:
Pumps do vary, so check the manufacturer's specifications to see what the inflation and deflation time is for the mattress you are considering. A few seconds, or minutes, won't make much difference but it does tell you something about the pump that is built in.
Height:
The height is making reference to the depth of the mattress. A higher air mattress, typically 15" , 16" or 18" tall, is usually more comfortable. Still, a lower profile one is simpler to fold up and transport. It all boils down to personal choice and whether you use it at home or on the road.
Air chambers:
The most supportive air mattresses contain vertical air chambers or coils that aid weight distribution. Air chambers that run horizontally, side by side, are okay but when you lay down, you may notice some drooping or rolling toward the middle. Looking at the surface of air mattresses, you can see the difference: those with fewer supported air channels will appear like rows.
Flocked fabric or Quilted Top
A flocked fabrice material feels like a suede and is often found on the top air mattresses to make them slightly warmer and more comfortable to sleep on.  Some models, like the Insta-Bed, have a removable quilted top that can be washed.
Storage or Carry Bag:
We can tell you from experience not all storage or carry bags, are created equal. If you are familiar with air mattresses you can relate with the difficulty of trying to get the air mattress back into a box or small tote that came with it. Having a quality storage container that actually fits your air mattress after first use, is worth something.
---
Our 6 Favs for Air Mattresses with Built-in Pump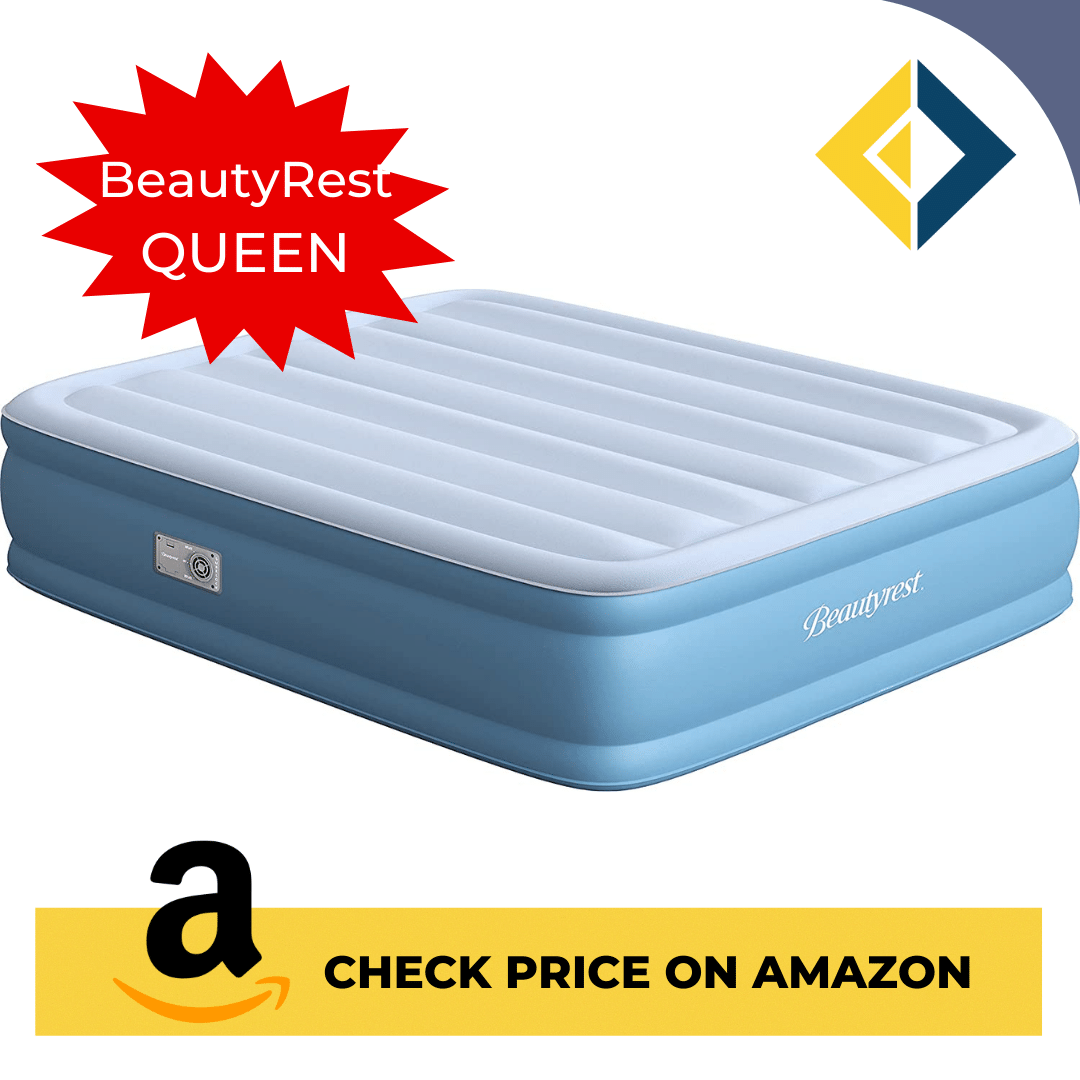 Why it's one of our fav's:
This luxury air mattress is one of our fav's because it is robust and durable, and it comes with an easy to reuse carry bag.
With its coil-in-coil construction it provides good support and relief for your pressure points. It has a convenient pump built in to quickly inflate or deflate the mattress.
And if durability is important to you, this soft 18" deep queen mattress (or 16" deep twin mattress) has it. It's solid and will be durable enough to handle families with children.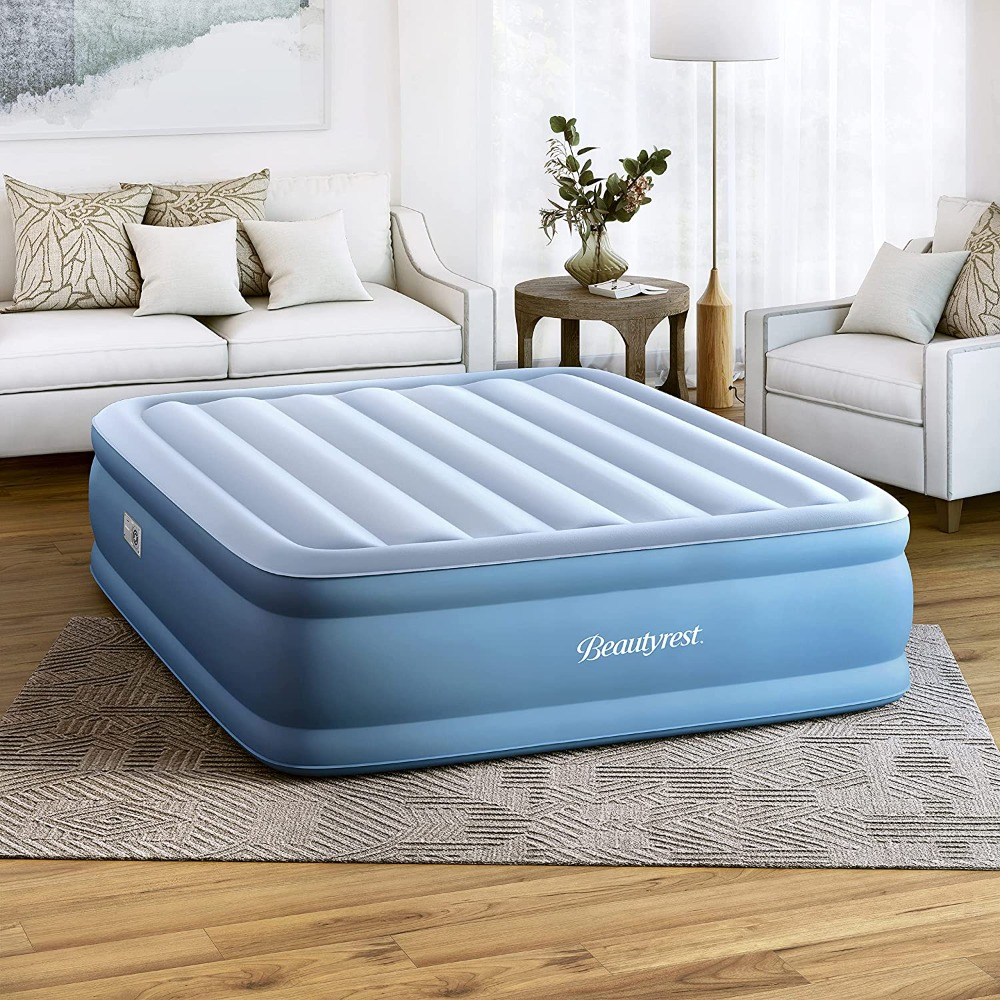 Fav Features:
The bed is quite comfy, a good size, and stays filled for at least a couple of days before needing to be topped up.
Its top is constructed of a robust and puncture-resistant fabric that is difficult to tear.
The same fabric stimulates airflow to keep you cool while sleeping, making this air mattress an excellent choice for hot sleepers.
It offers excellent back support.
The queen can handle up to 750 pounds and automatically adjusts air pressure.
---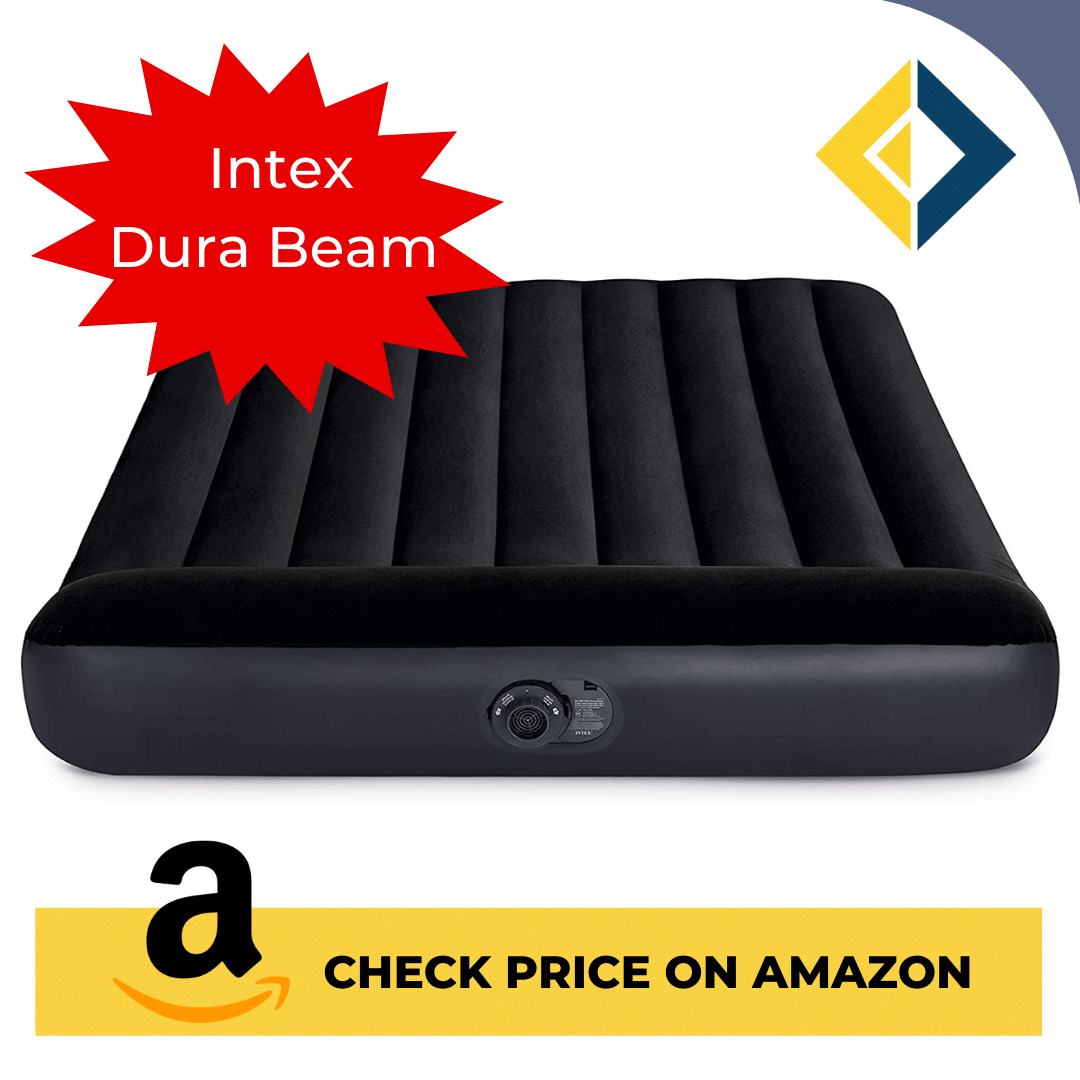 Why it's one of our fav's:
This Intex air mattress is among our fav's because of it's price point. If you need an inflatable bed for emergency use, or the odd camping trip, this 10" deep mattress that's under $40 may be exactly what you are looking for.
This Intex air mattress has a silky sleep surface, the company's unique fiber-tech inner structure for stability and support, and a pillow rest for extra comfort.
When you're finished, the Intex dura-beam mattress is easy to deflate by reversing the pump.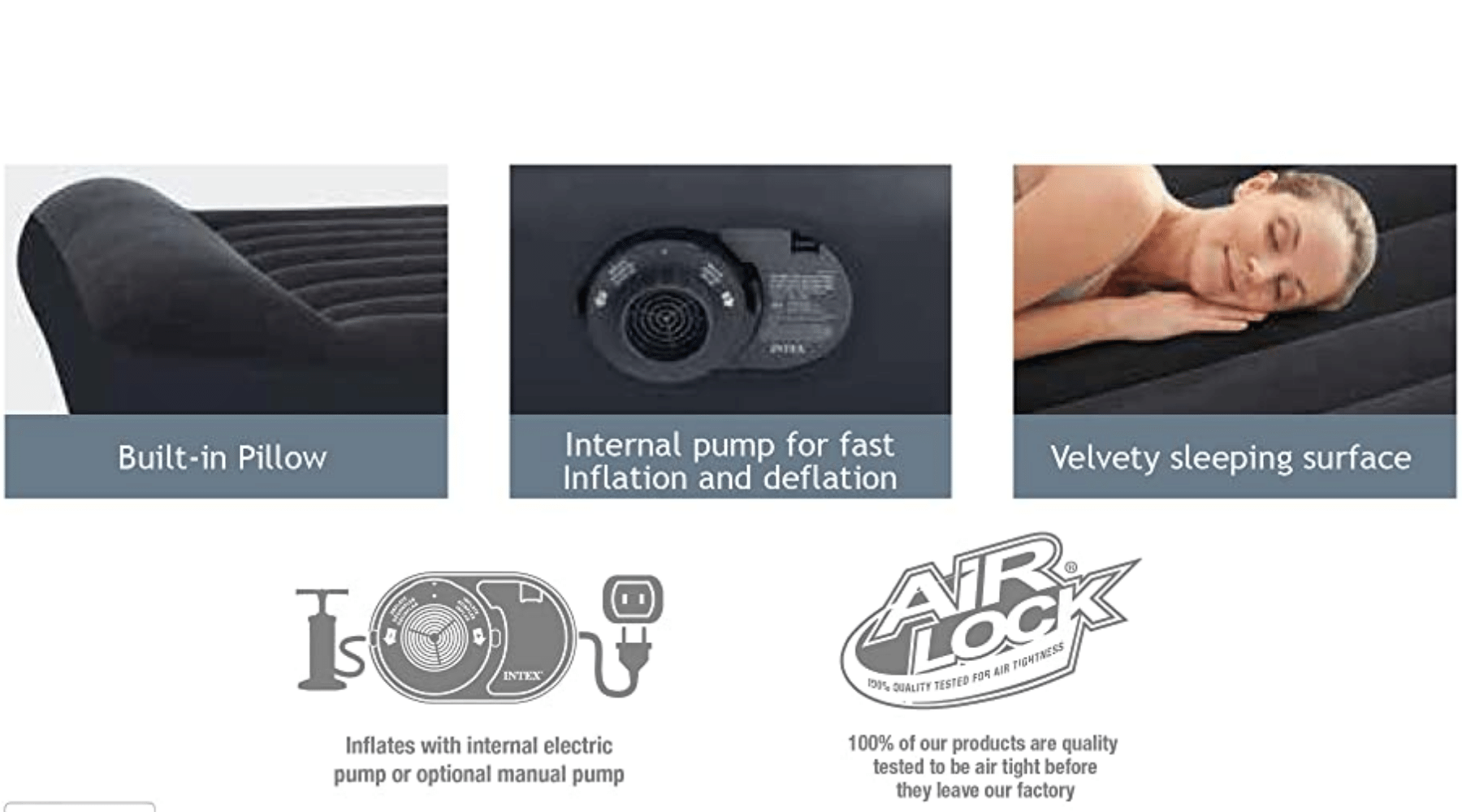 Fav features:
We like how quickly the Intex air mattress inflates and deflates because it's only 10" deep.
Amazon customers strongly recommend this affordable Intex air mattress as a short-term or emergency use option.
For comfort, the Intex air mattress has a plush velvety material to cover the mattress to maximize relaxation while you sleep.
Intex air mattress is one-of-a-kind Fiber-Tech inner architecture gives maximum stability and support.
It includes an Integrated pillow for extra support and bed-like comfort.
---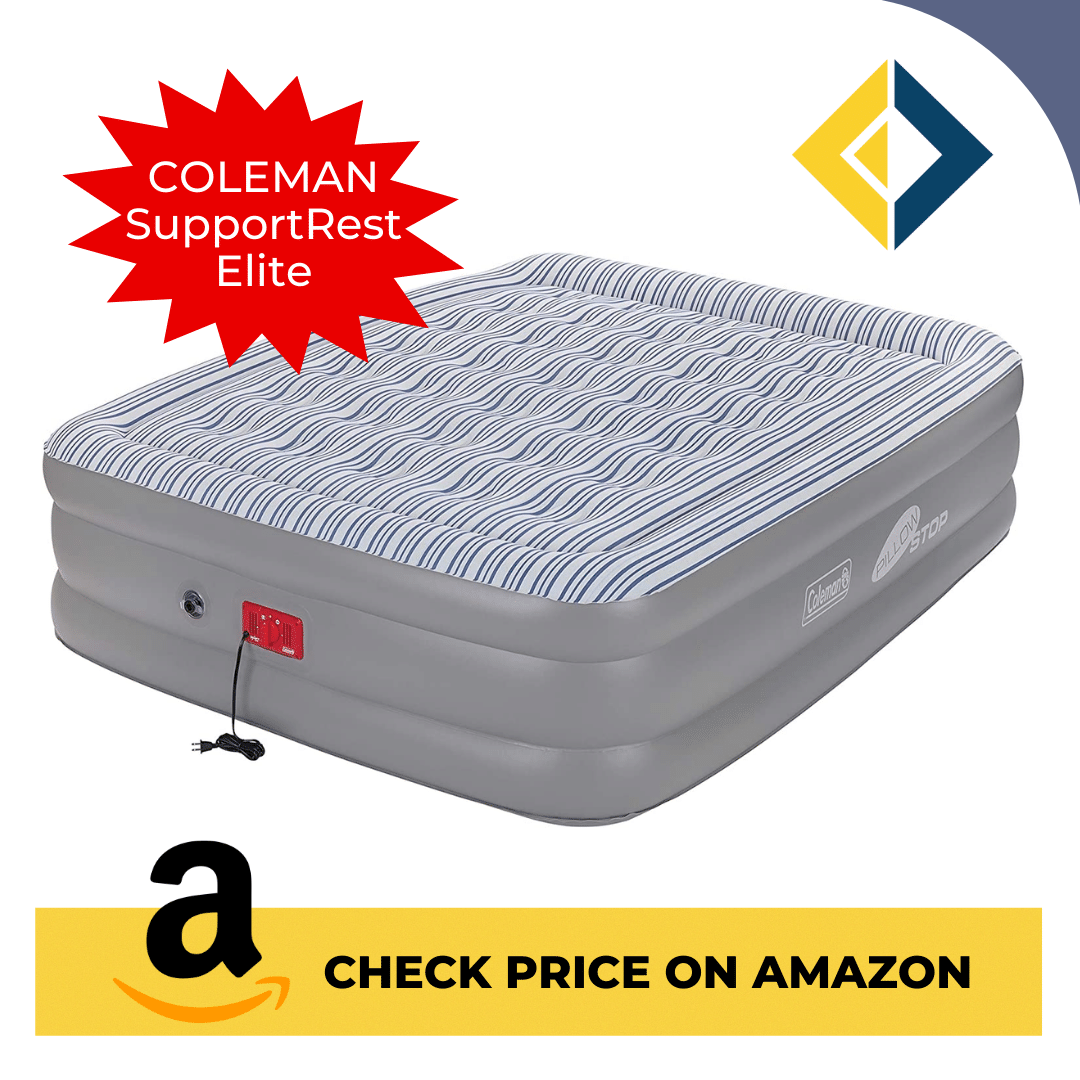 Why it's one of our fav's:
The Coleman name is synonymous with quality camping products and this SupportRest Elite Air Mattress with Internal Air Pump doesn't disappoint.
We like the 18" deep mattress to keep you up off the floor. We also like the quick-release valve for faster deflating, and we like the convenient size of the carry bag.
Our family owns this airbed and we have used it both indoors and outdoors successfully many times.  We have the 18" height in this air mattress, we like that it is higher off the ground than most.   And finally, we love how easy it is to set up and deflate to put away.  It fits the carry case as well - bonus!
Fav Features:
PillowStop technology prevents the pillow from slipping off the bed.
It has a fixed 120V pump for easy inflating at home or on the move.
It has a ComfortStrong coil system for further support and comfort. Coils conform to your body to provide additional support and decrease bulging for a more level sleeping surface.
The perfect amount of firmness is maintained with the help of an AirTight system and a Double Lock valve.
Coleman can hold up to 600 pounds and is suitable for indoor and outdoor sleepers.
It comes with a tote for convenient storage and transport.
---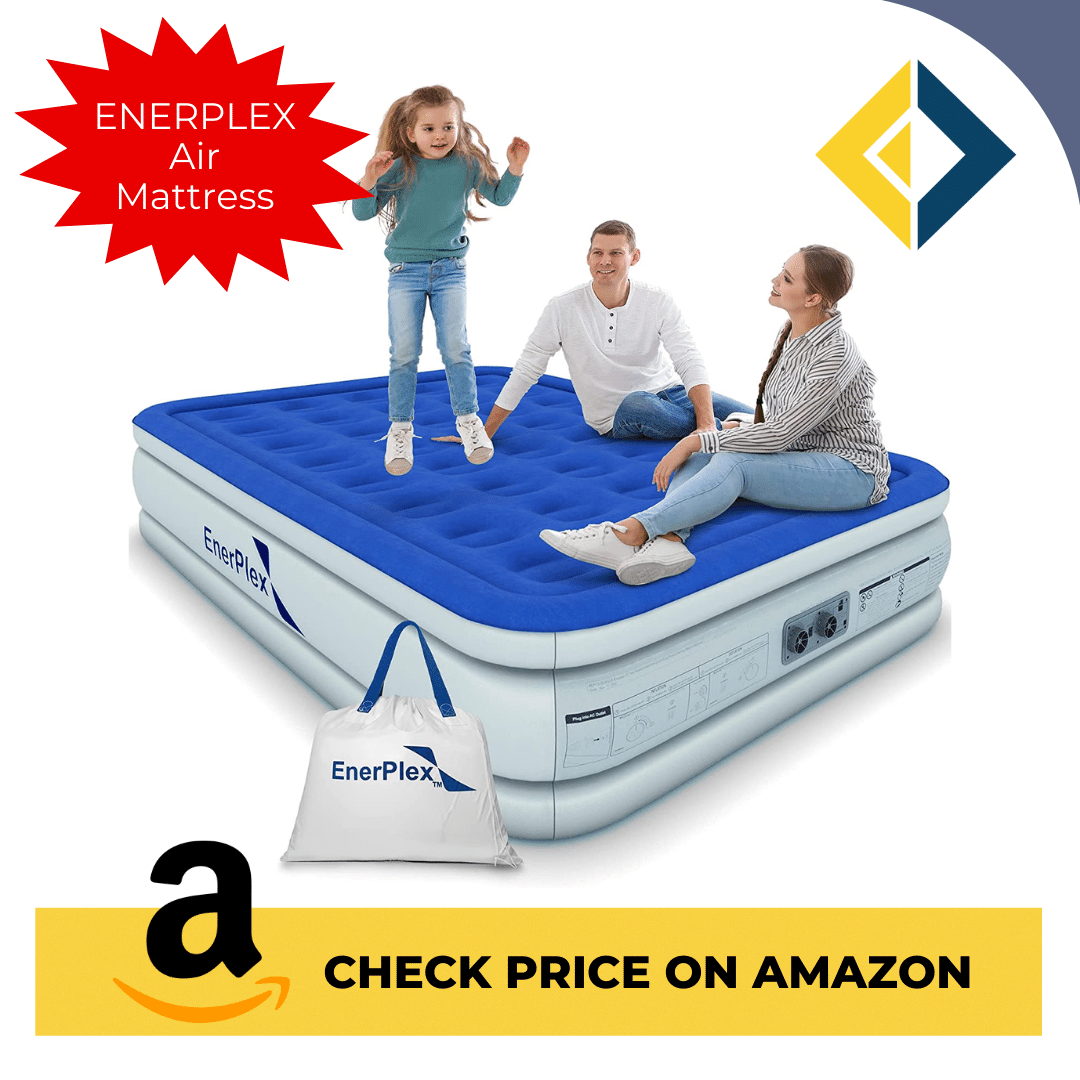 Why it's one of our fav's:
We like this mattress, because you have all of the same function as the other beds, andyou have choices ... you can choose the size, twin, queen or king. And, you can choose the depth of the mattress, 13", 16", 18".
This temporary bed has a two-pump mechanism that helps you to find the right level of firmness for your taste.
The first pump is used to fast inflate and deflate the mattress. In contrast, the second pump lets you control the air pressure to blow up or deflate the mattress. The best part is that it's meant to feel like a regular mattress with its built in circular coils that provide a sturdy and supporting base.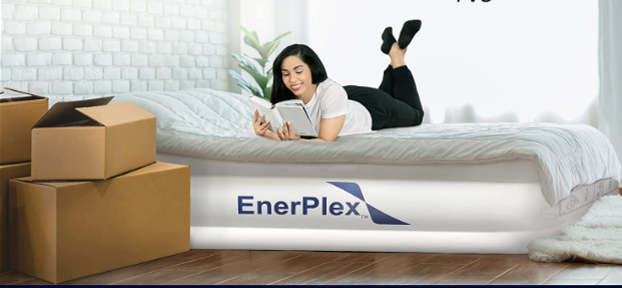 Fav Features:
This 13", 16" or 18" raised inflatable bed is made of puncture-resistant PVC and has a superior comfort top flocking to prevent leakage and give non-slip stability.
A quick two minutes is all it takes to typically fill this air bed with the help of the mattress's integrated pump.
This EnerPlex air bed comes with a tote bag for easy storage and taking it with you for sleepovers on the go.
---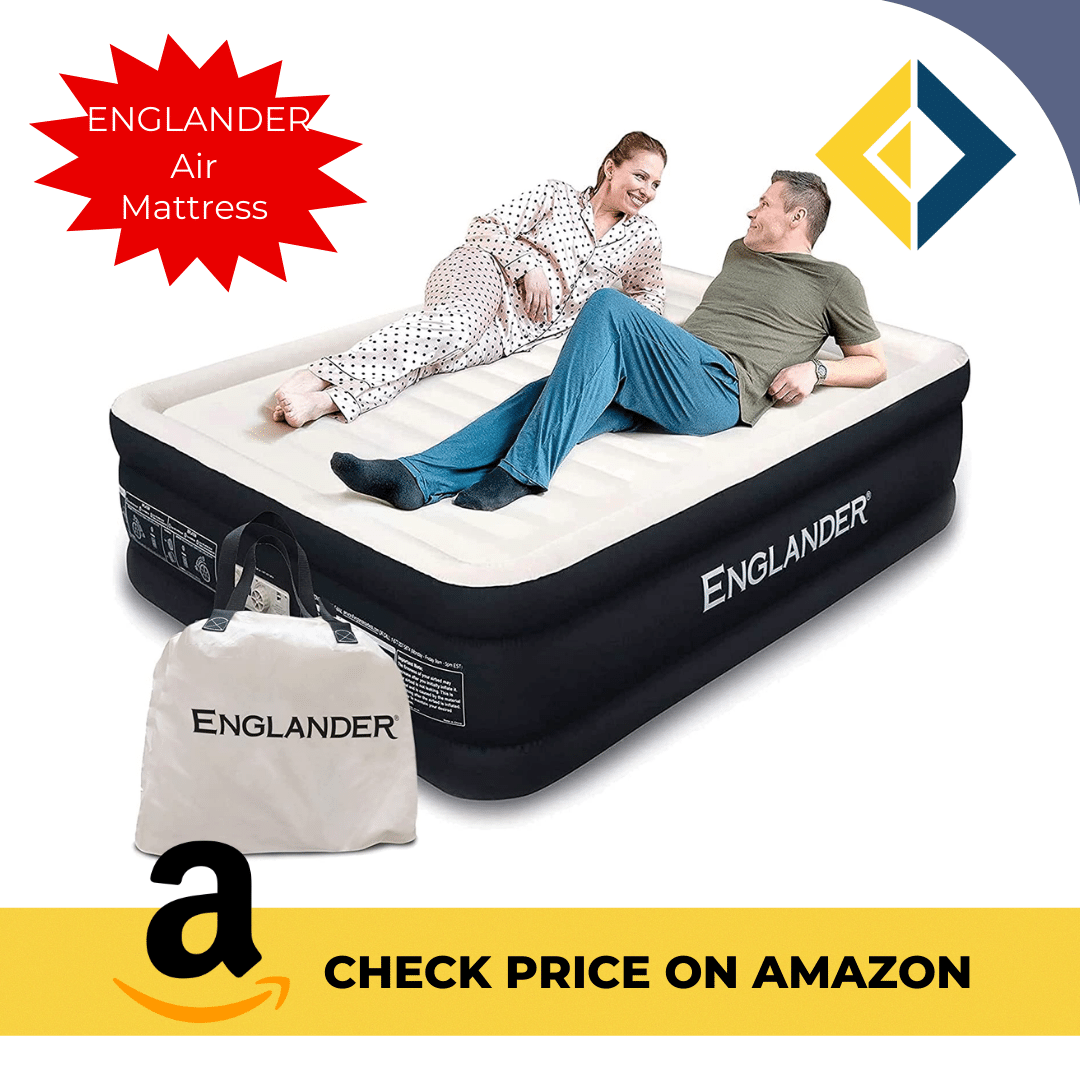 Why it's one of our fav's:
This Englander air bed is one of our fav's because it could be defined as a luxury air bed. It is 4" deeper than most air mattresses at 20". It will become your new favorite due to its mix of features, comfort and durability.
The microfiber surface provides a touch of luxury, while the puncture-resistant structure and waterproof components give it long-lasting appeal.
The internal pump system easily inflates and deflates this air bed in just 90 seconds making set up and tear down time a breeze.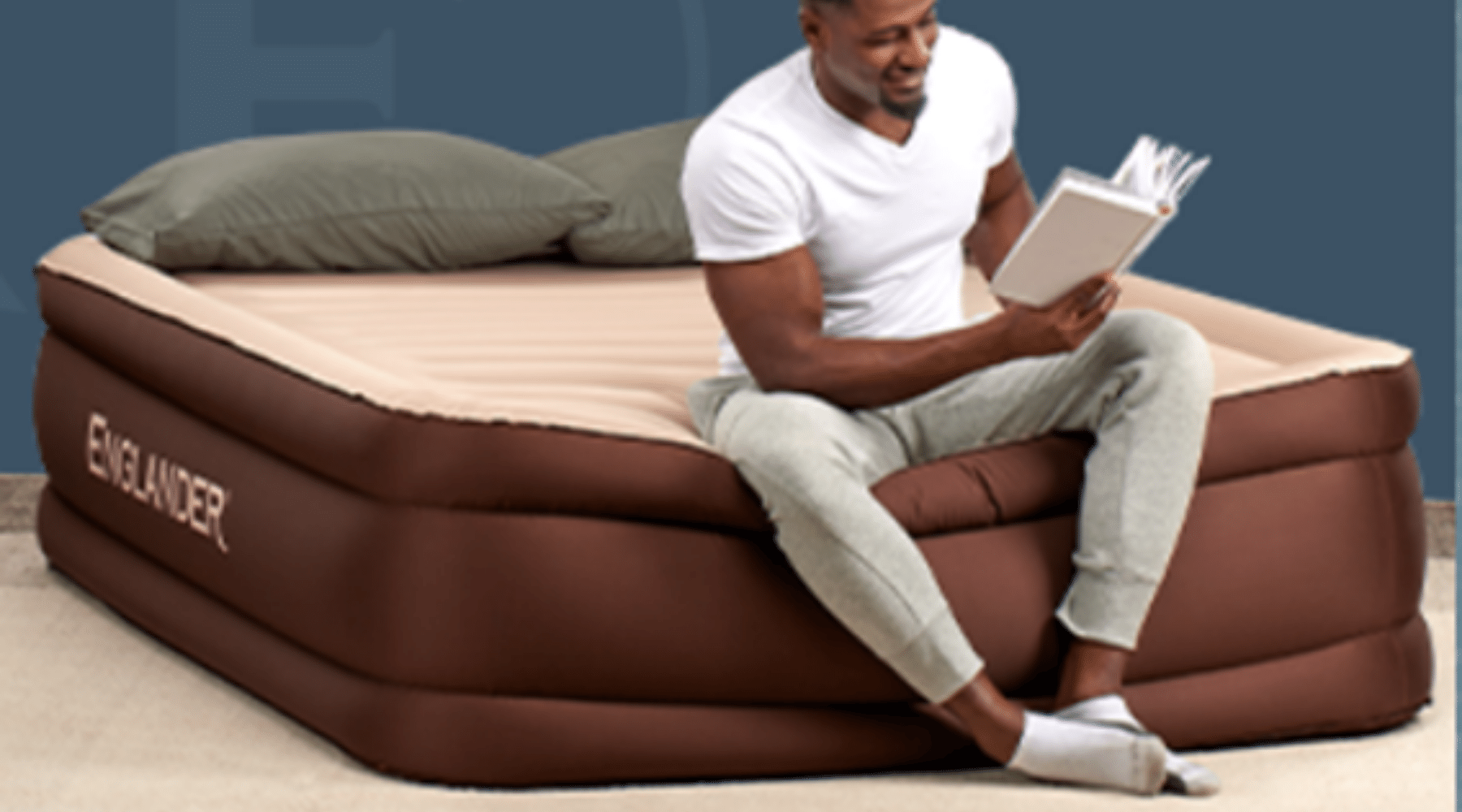 Fav Features:
This New Englander is the air bed to choose if you want one that feels more like a typical bed.
It is an air mattress with a luxury feel that camping enthusiasts will enjoy - and it's an air mattress you can use proudly for your home guests too.
These air mattresses are 4" wider than others on the market, 20" depth, while being very light, making it one of the most portable mattresses available.
It isn't your average pop-up bed! This inflatable mattress's high-quality materials and strengthened coil beam structure will ensure its longevity and will be good for passionate sleepers.
This air mattress with a fixed pump, comes in twin, queen and California king sizes, enabling you to sleep in luxury no matter the size of the room or space you have available.
It also includes a carry case that allows you to easily pack the bed away.
---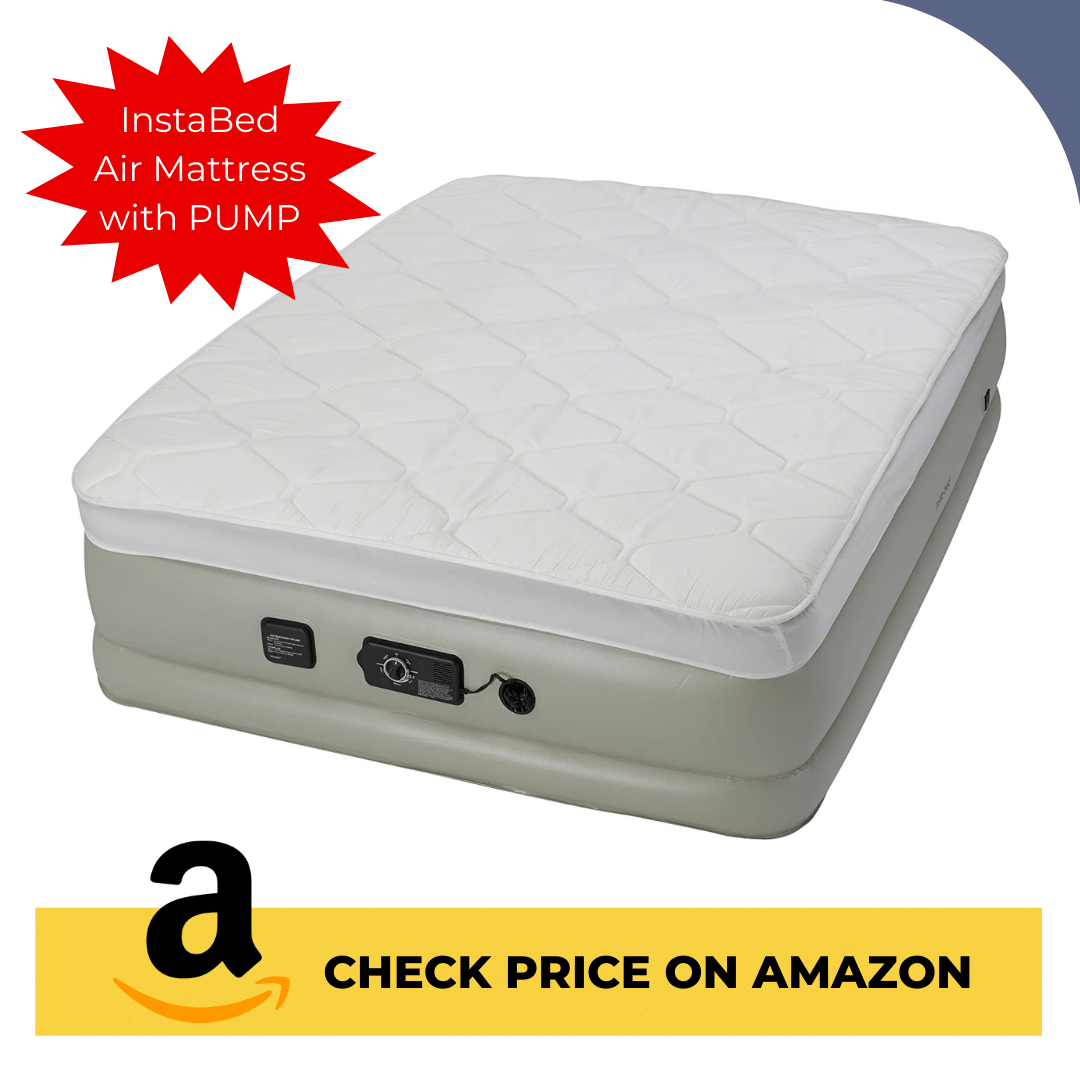 Why it's one of our fav's:
The critical feature that distinguishes this air mattress is the pillow top, which is a detachable mattress pad that comes with it.
This mattress pad provides a layer of plushness to the air mattress, comparable to that of a typical pillow top mattress. If you want to sleep without a pad, the air mattress includes a flocked surface that adds comfort and helps keep sheets in place.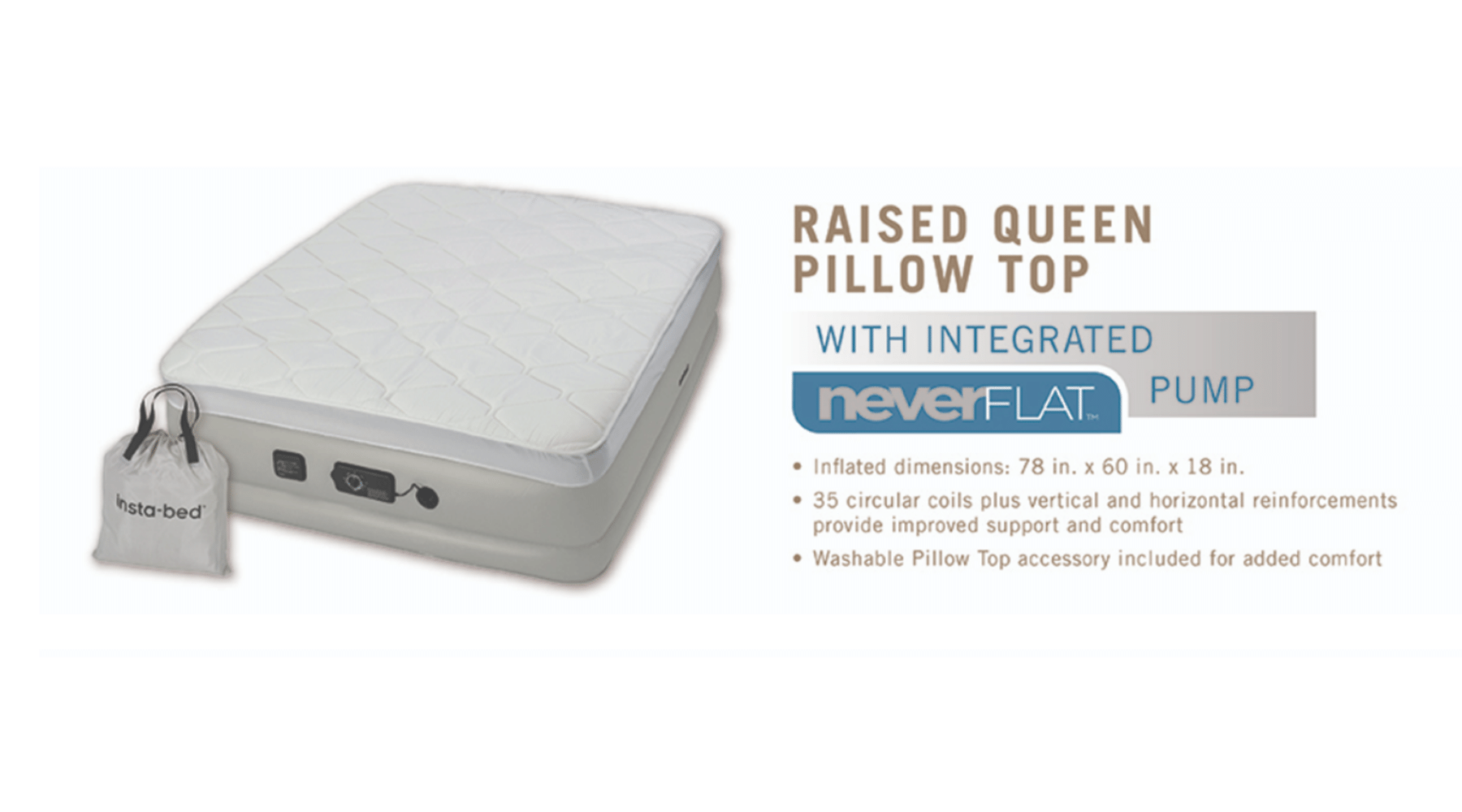 Fav Features:
An embedded pump swiftly inflates the air mattress, and a secondary pump helps maintain the optimum firmness level through automated sensors.
You may set the bed too soft, medium, or firm, and the secondary pump will add or release air to maintain it at that level.
This air mattress has a carrying case.
The queen-size Insta-Bed Raised Pillow Top Air Mattress can handle up to 500 pounds of combined weight.
It costs more than $200 and comes with a one-year guarantee.
---
FAQs About Best air mattresses with built-in Pumps
How frequently should I refill my air mattresses?
You should only inflate your air mattresses when you are about to use them. It does not have to remain fully inflated indefinitely. If you notice any air leaking, top up your air mattresses using the pump again as required.
How should I care for my air mattresses?
It is simple to maintain an air bed. Roll your mattress back up and store it in its box or tote after deflating it. Keep the box in a secure location, away from severe heat, cold, and water. Keep sharp items away from your air mattresses since they may pierce and damage the air mattress. If you follow these instructions, you will have the ideal air mattress that will last for years than real mattress.
Why aren't my air mattresses staying inflated?
Even the best air mattresses have a little air leak now and again. However, suppose your air mattresses considerably deflate throughout the night. In that case, you should examine the air mattress for holes or damaged seams. A loose cap on your air valve is sometimes the cause. If this is the case, refill your queen air mattress and ensure the cap is properly secured before using it again.
How long can an air mattress be used?
In contrast to conventional mattresses, which have long-term guarantees that may last up to 25 years, the majority of the air mattresses in our ranking have a one-year or no warranty. However, an air mattress may survive many years if properly cared for.
Check your air mattress's weight capacity and ensure you're constantly keeping it inside to extend its life. Over-inflating the mattress may harm the seams and cause premature deterioration of the materials. Avoid underinflation as well. Because PVC may expand with usage, you may need to add additional air to your mattress after sleeping on it.
---
An Air Mattress with Built in Pump is Super Handy to Have Around
So, there it is.  All indications from our review of air mattresses with built in pumps is they are super convenient to have around.  They can be used indoorsfor extra sleeping space when needed, or for added comfort on a camping excursion.
While an air mattress shouldn't be used as a substitute for a full-time bed, it is beneficial in many situations.  We have them in our home, air mattresses with fixed pumps conserve space.  We love how easy they are to deflate with the super easy deflating option that can be engaged with the turn of a dial.
We hope our guide on the best air mattresses with embedded pumps helps you to make your decision.   You can't go wrong with any of the choices offered here.
Happy Shopping!
Your FavReviews Team
You May also be interested in these camping, sleeping bag and air mattress articles!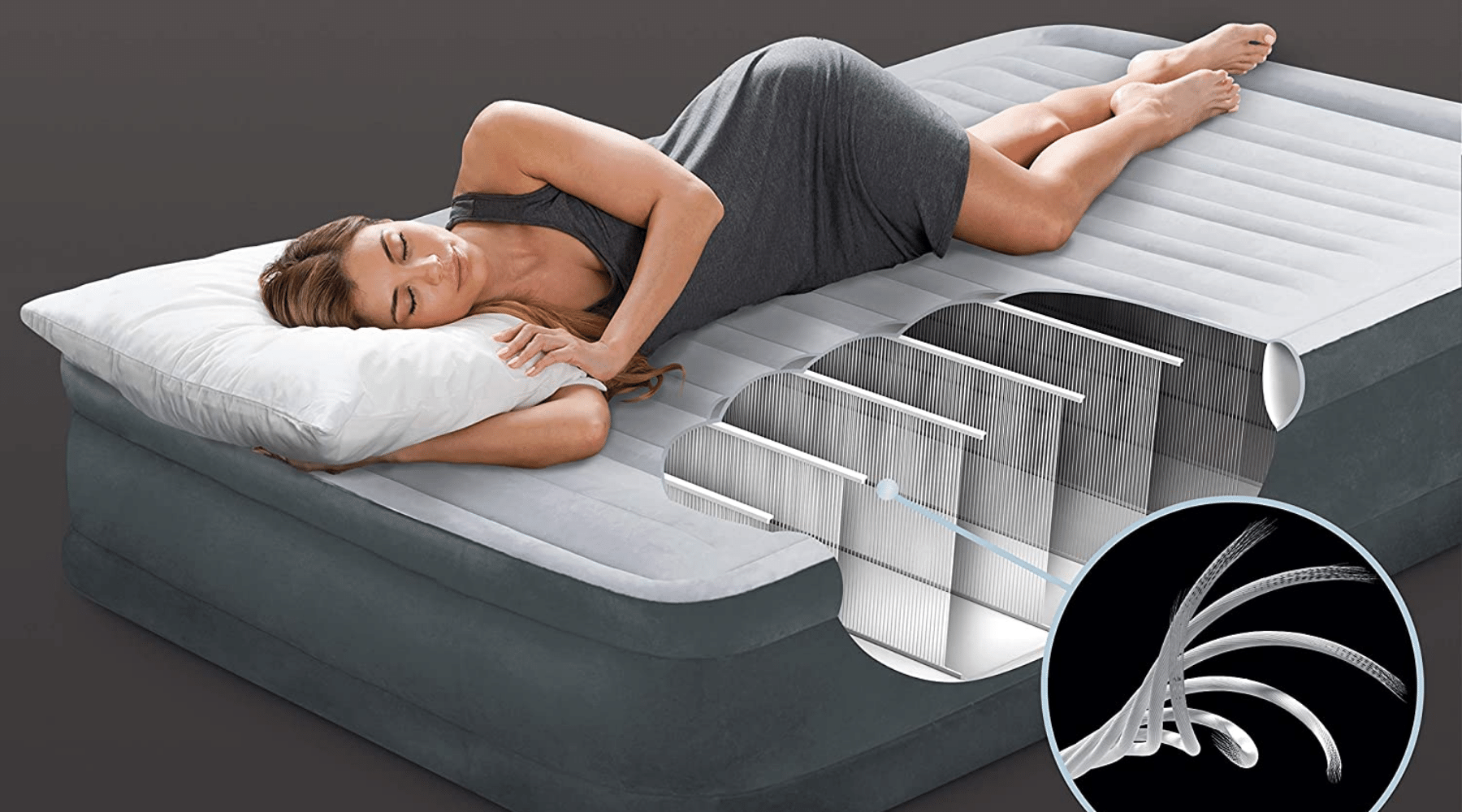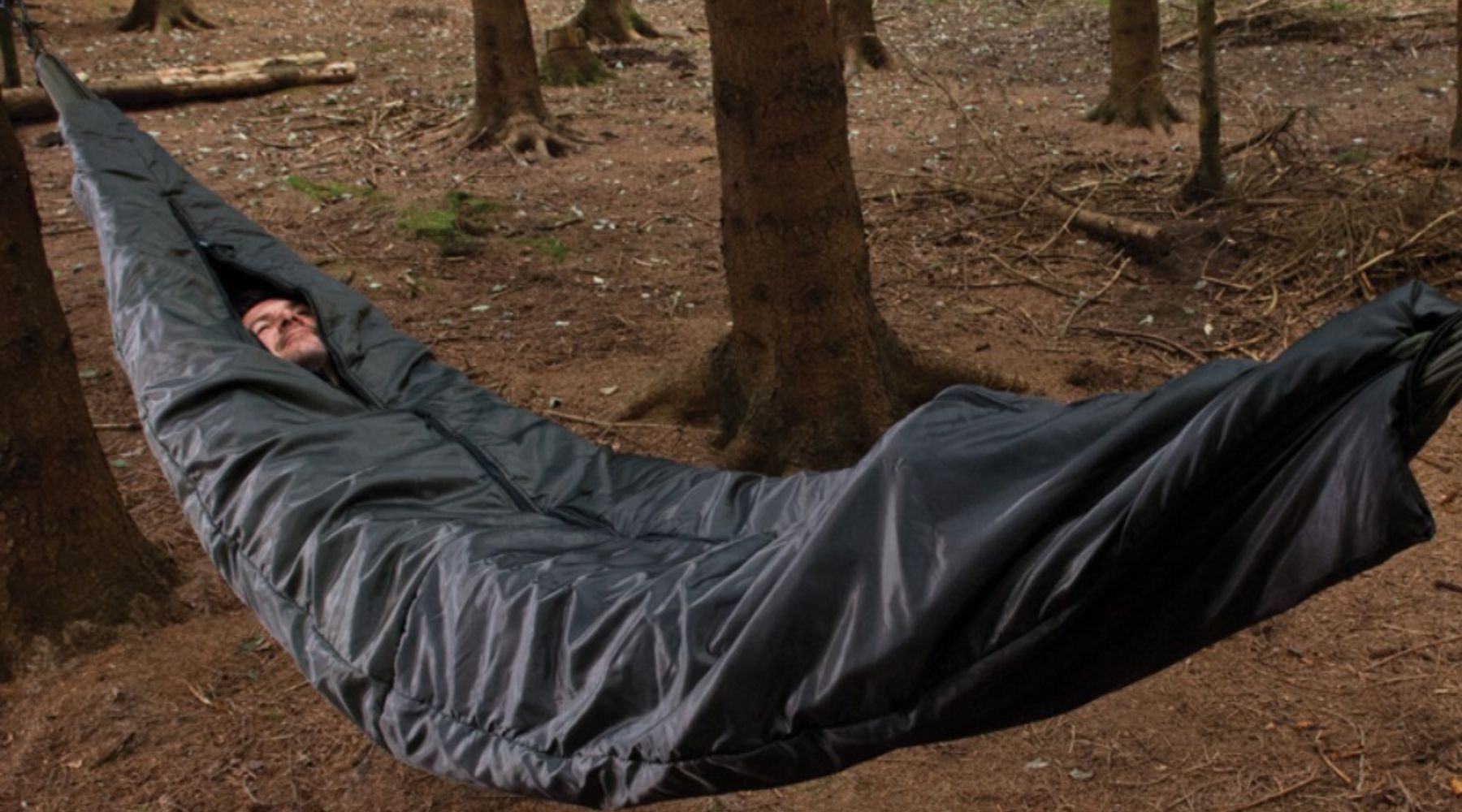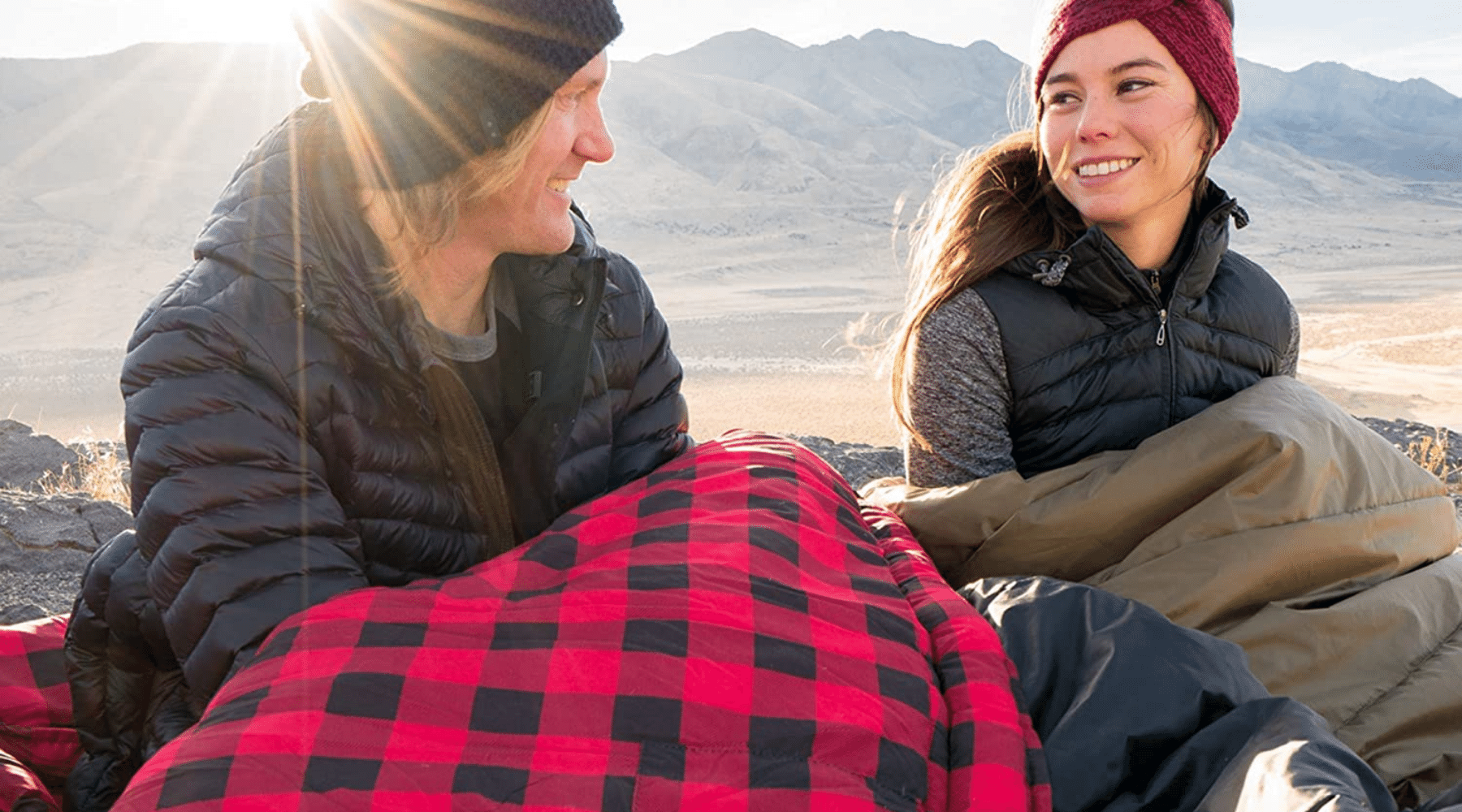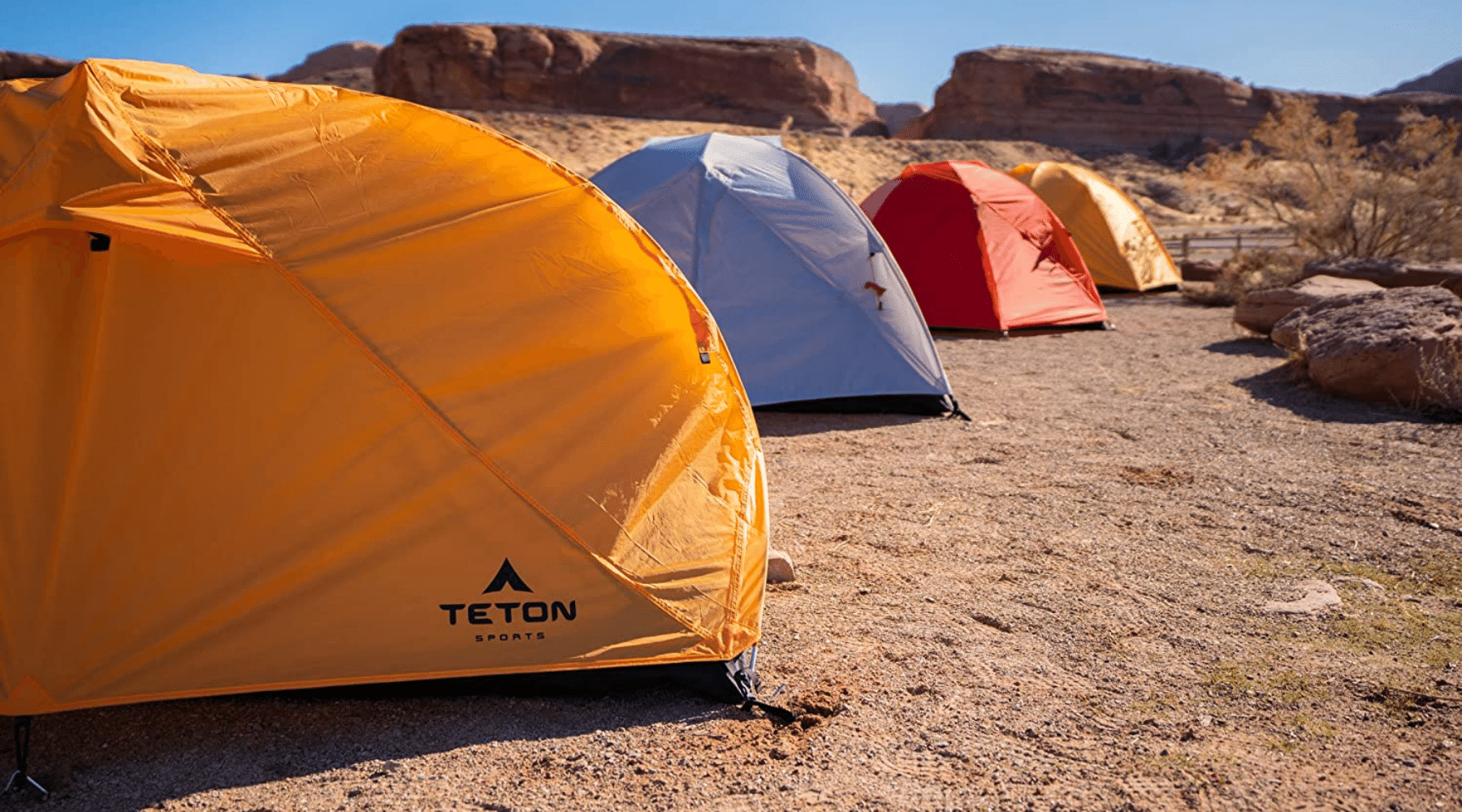 And, if you are planning to go swimming, you'll want to check out these swimming goggles with nose cover for the family ...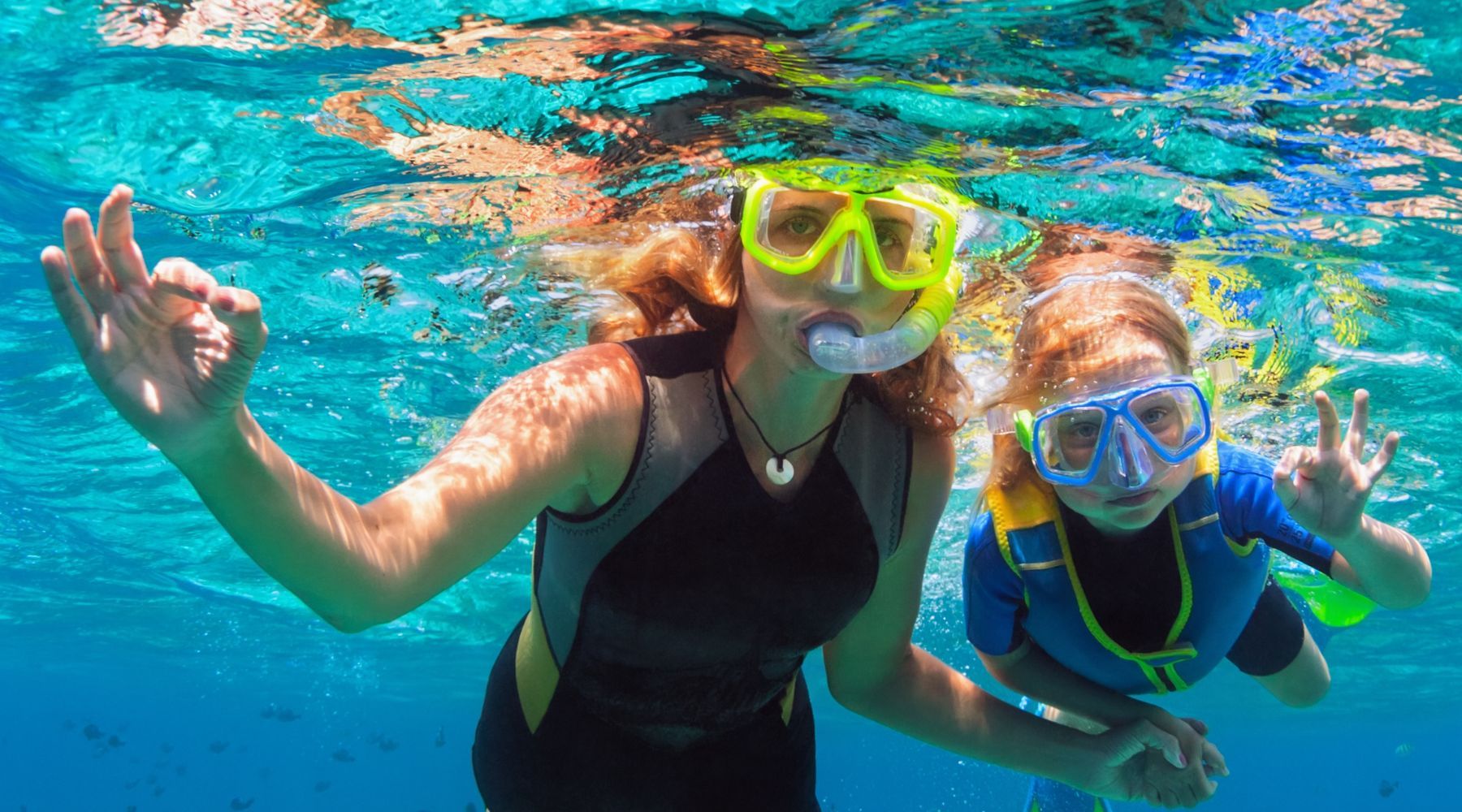 ---
Why Trust Us?
We hope you find your next favorite thing from FavReviews! We are a family friendly product review site.
Four Generation Family: As a four generation family, the breadth of products we consume and review as brand ambassadors is vast. But we can tell you, in general, in we love the outdoors, sports, staying active, living healthy and celebrating the changing seasons.
Trending Products: We also love finding new trending products and we are happy to pass along our research of new trending products to you. Follow us so you don't miss out on a thing! We send out cool emails with our latest reviews, and we will never sell or misuse your information.
Opinions Based on Use, Research and Reviews: Each product we write about is independently selected by our editors. All opinions in this article are our own, based on our own use of the product(s), or hours of research and reading reviews. We will never recommend something we wouldn't use ourselves in our own family.
Compensation: Yes, FavReviews may collect a share of sales or other compensation from the links on this page if you decide to buy something (that's how we stay in business). But, the product never costs you more, in fact in some cases, we hope we might help save you money based on our recommendations.
Reviews have been edited for length and clarity. Enjoy finding your next favorite thing!
Happy Shopping!
Your FavReviews Team
____________________________________________________
BEHIND the SCENES LOOK: If you'd like to learn how to start your own product review blog, with products that you love, check out our article How to Become a Brand Ambassador or visit LearnWriteLive.com There is room for all of us to provide better service to online shoppers. What's your passion?