There is nothing better than sleeping outside on a hammock. Cuddled in your hammock sleeping bag under the stars, well that's the ultimate.
We live on the lake and I love taking a book, to the hammock on a Sunday afternoon ... within a short time I'm not reading, I'm sleeping.  
Taking your book, a blanket and a pillow is great for an afternoon nap in the hammock.  But, if you want to get serious about camping with a hammock, you will want something more substantial before you start stringing your hammock between two trees.    
In cold weather, for hammock camping, a high-quality hammock sleeping bag is a must.  Mummy sleeping bags are a great way to stay cozy warm when the temperatures drop below 40 degrees Fahrenheit.
What we found most challenging about selecting the perfect sleeping bag for a hammock was searching through the hundreds that are available.  The good news for you is we've done the research for you and prepared this comprehensive guide with our top recommendations.
Why Trust Us?
We hope you find your next favorite thing from FavReviews! We are a family friendly product review site.
Four Generation Family: As a four generation family, the breadth of products we consume and review as brand ambassadors is vast. But we can tell you, in general, in we love the outdoors, sports, staying active, living healthy and celebrating the changing seasons.
Trending Products: We also love finding new trending products and we are happy to pass along our research of new trending products to you. Follow us so you don't miss out on a thing! We send out cool emails with our latest reviews, and we will never sell or misuse your information.
Opinions Based on Use, Research and Reviews: Each product we write about is independently selected by our editors. All opinions in this article are our own, based on our own use of the product(s), or hours of research and reading reviews. We will never recommend something we wouldn't use ourselves in our own family.
Compensation: Yes, FavReviews may collect a share of sales or other compensation from the links on this page if you decide to buy something (that's how we stay in business). But, the product never costs you more, in fact in some cases, we hope we might help save you money based on our recommendations.
Reviews have been edited for length and clarity. Enjoy finding your next favorite thing! Happy Shopping! Your FavReviews Team
HAMMOCK SLEEPING BAG GUIDE:  What to Look For When Choosing a Sleeping Bag for a Hammock
These are some of the things to consider when looking for the best sleeping bag for hammock camping.  
HEAT RETENTION
Hammock compatible sleeping bags capture and keep the appropriate warmth with your body heat.  Some, like a down filled sleeping bag we feature below, have sophisticated heat-trapping mechanisms.
A decent sleeping bag will keep your body heat throughout the night. Be sure to check for additional insulation and heat retention levels in a bag.
TEMPERATURE RATING
Most sleeping bags have a temperature rating.  Choosing the right temperature rating for your needs can be tricky. For example, a bag with a temperature of 20 degrees F indicates that you can tolerate cold temperature that level and higher.
To be certain you will be warm enough, check the manufacturers temperature value displayed and select a bag with a rating at least 10 degrees cooler than the temperature you are expecting.
TYPES OF HAMMOCK SLEEPING BAGS
There is also a variety of styles or types of hammock compatible sleeping bags that will affect your comfort.  We have reviewed rectangles, mummies, and quilts  
We like the slim-cut mummy for a snug fit. The slim cut allows you to sleep and roll from side to side without issue making for a comfortable night's sleep.
WARMTH TO WEIGHT RATIO
The warmth-to-weight ratio of a sleeping bag is affected by its insulation. The most preferred fill is down, if looking for the best weight-to-warmth ratio.    Down is pricey but has the greatest compression capability.  So, it's warmest and packs well.  Ultra-lightweight bags weigh less than 3 pounds.
Ensure the insulating material you chose is appropriate for the environment, or for use as a sleeping bag liner. Keep weight in mind when choosing the best sleeping bags for a hammock. It's preferable if it's not too heavy, especially if backpacking or carrying your camping gear for any distance.
Just remember to check the weight-to-warmth ratio.
---
5 Best Hammock Sleeping Bags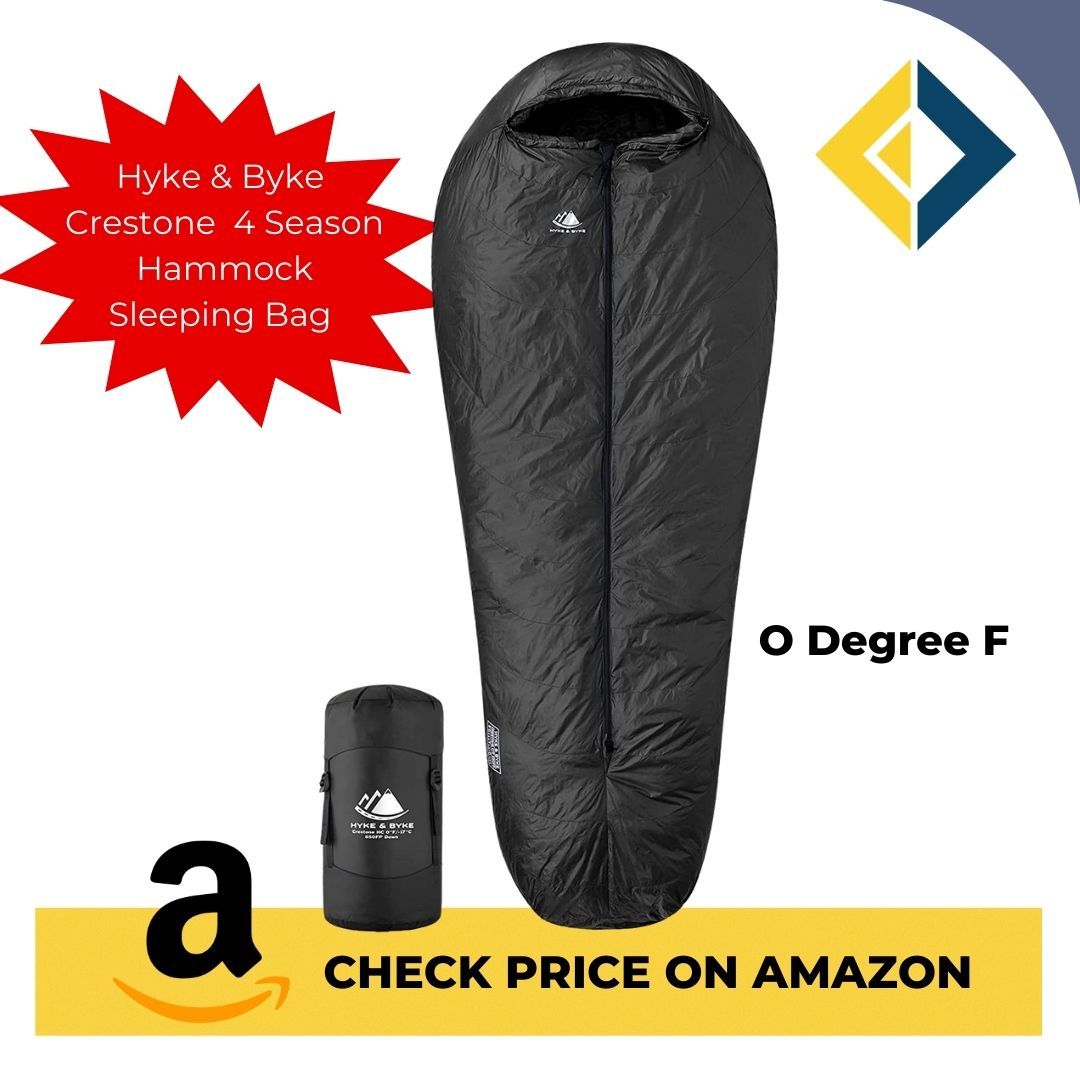 Why it's one of our fav's:
We like this product because it comes with a lifetime guarantee. It tried and true. Over 60,000 clients, many repeat customers, have tested this product. It is a USA based brand that has stood the test of time.
Furthermore, this four-season incredibly light hammock has a 650 Fill Power Down and a cluster loft base. It will provide you with moisture resistance.
This original design, with specific accommodation for affixing to a hammock, will win your admiration and appreciation too.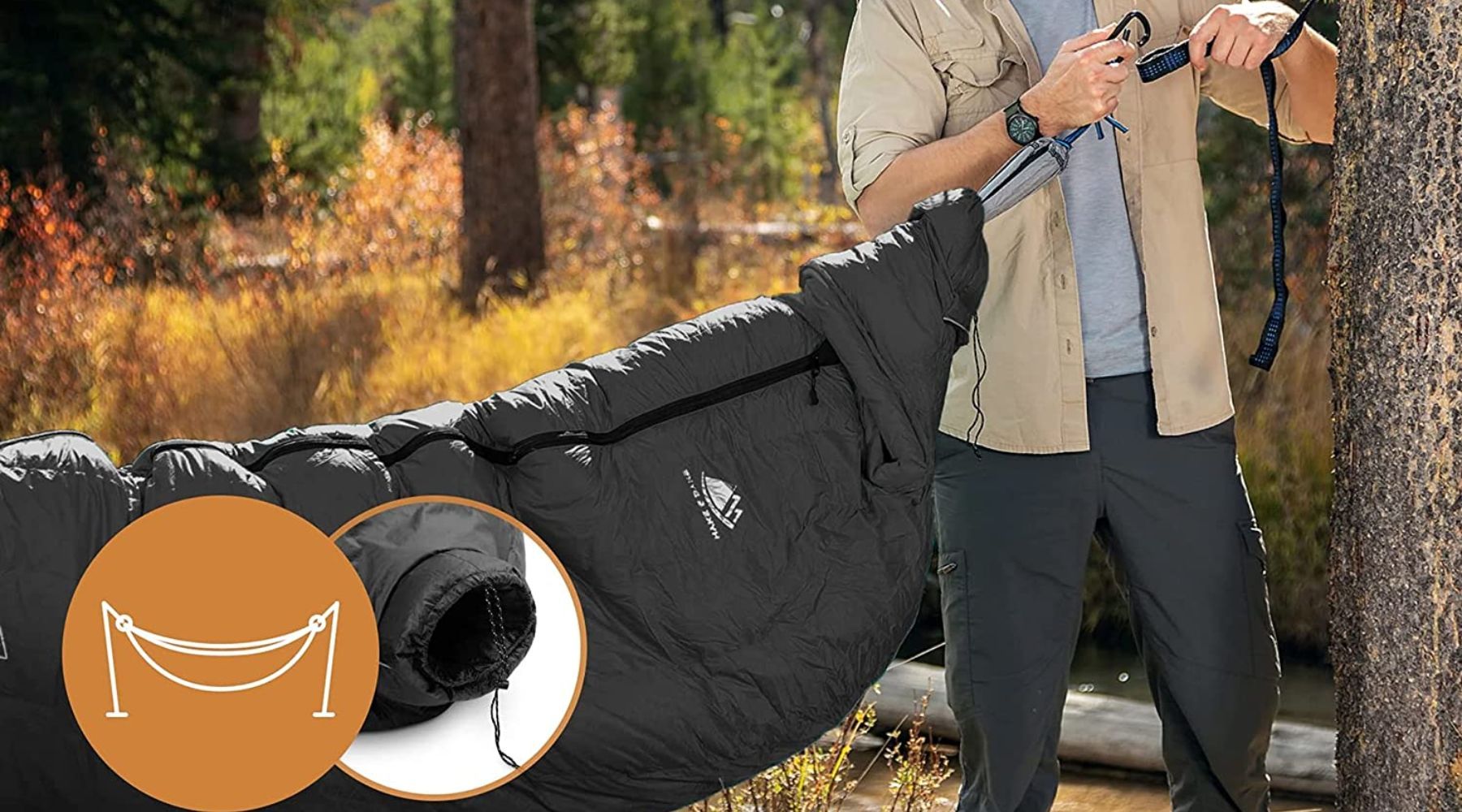 Fav features:
This down-filled sleeping bag fits any hammock and serves as an under a blanket and a top sleeping quilt.
And, you won't give up any comfort! This long mummy sleeping bag can accommodate a 6ft 6in person, with broad shoulders and it also has a big foot box.
It's a warm yet lightweight four-season, yes including winter, sleeping bag.
The design is ideally suited for both men and women in severe cold spots tenting and camping.  
This gadget would also be helpful for hiking, mountain riding, and other duties such as bike packing.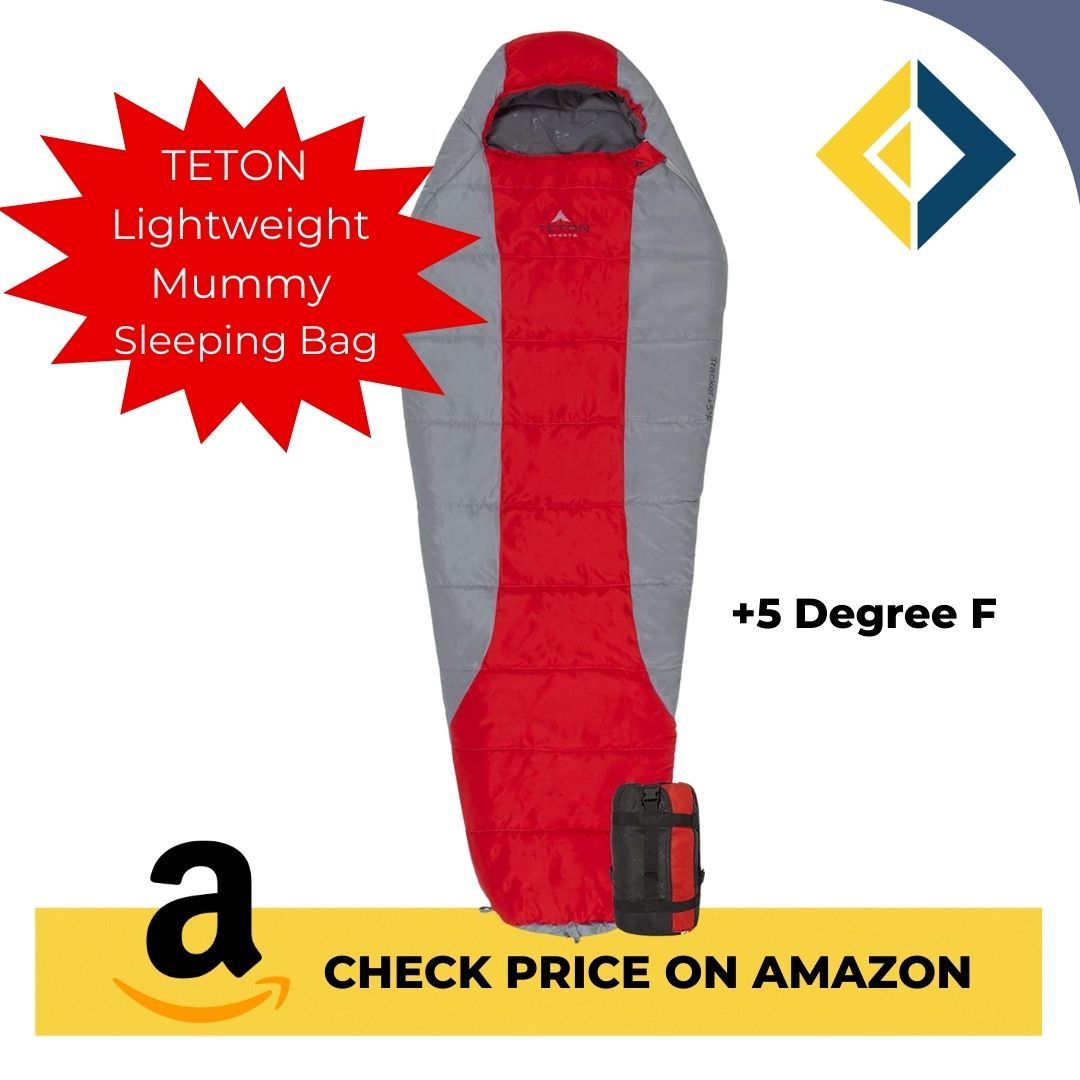 Why it's one of our fav's:
TETON Sports Tracker Ultralight Sleeping Bag is an all-in-one solution, with extra insulation strategically placed to keep your feet cozy. The mummy's sleeping bag designed to reduce holes to keep your head and face warm.
To load your sleeping bag, TETON provides a good compression pack; start from the lowest point and fill the bag full, then tighten the heavy-duty belts. This hammock sleeping bag has been deliberately constructed for your comfort.
We like that it is available in two sizes (adult and scout) and two different colors.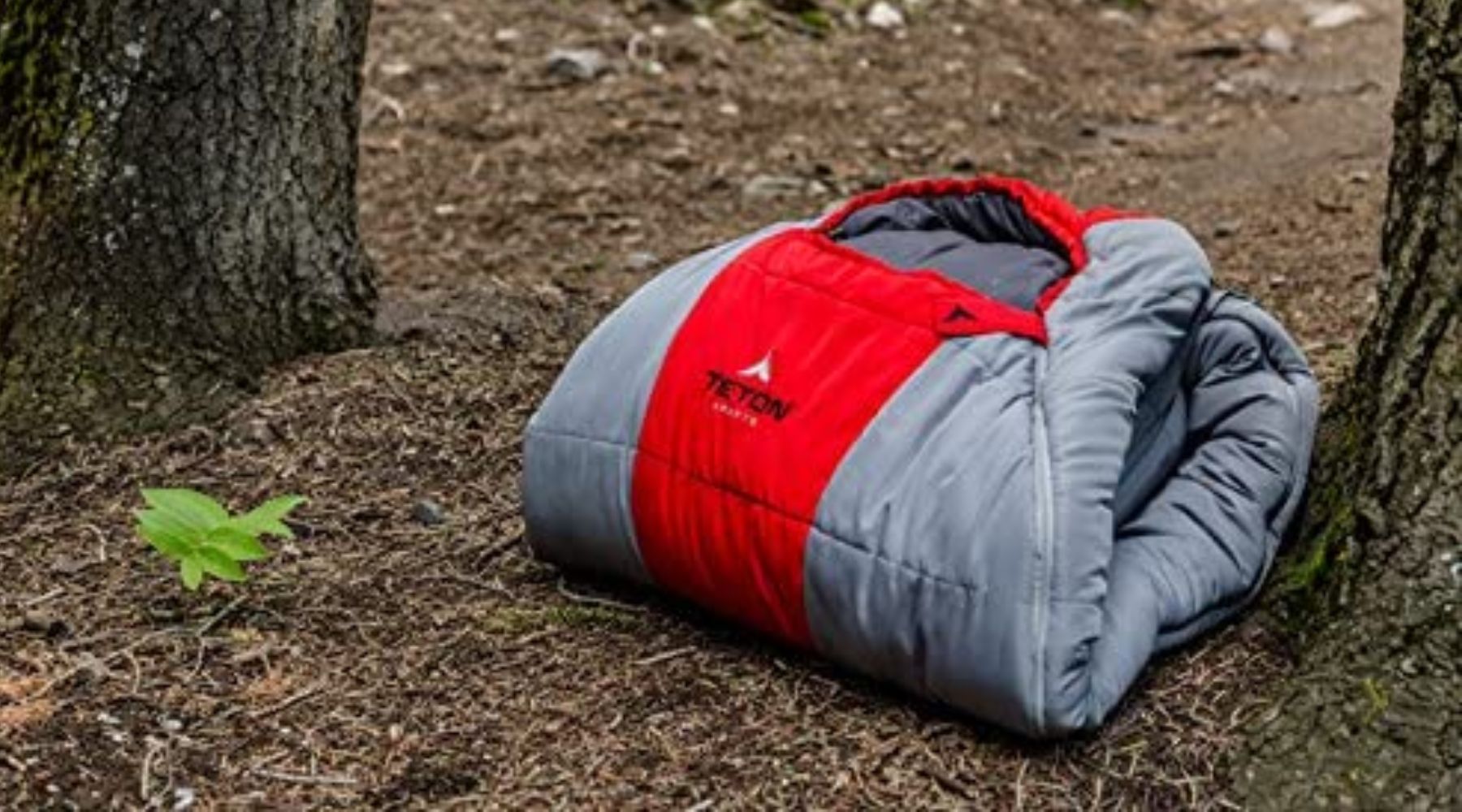 Fav features:
Its smooth lining warms up quickly and feels great.
The rigid shell is flood and tear-resistant, and it's the ideal combination for the most challenging trips.
Zipper tubing and extra insulation in the vaulted foot box often provide much-needed sensations of warmth and comfort.
These compatible sleeping bags has a strong compression bag that makes it easy to tote while traveling.
The Interior compression sack helps you to store things such as keys, wallets, and phones close at hand.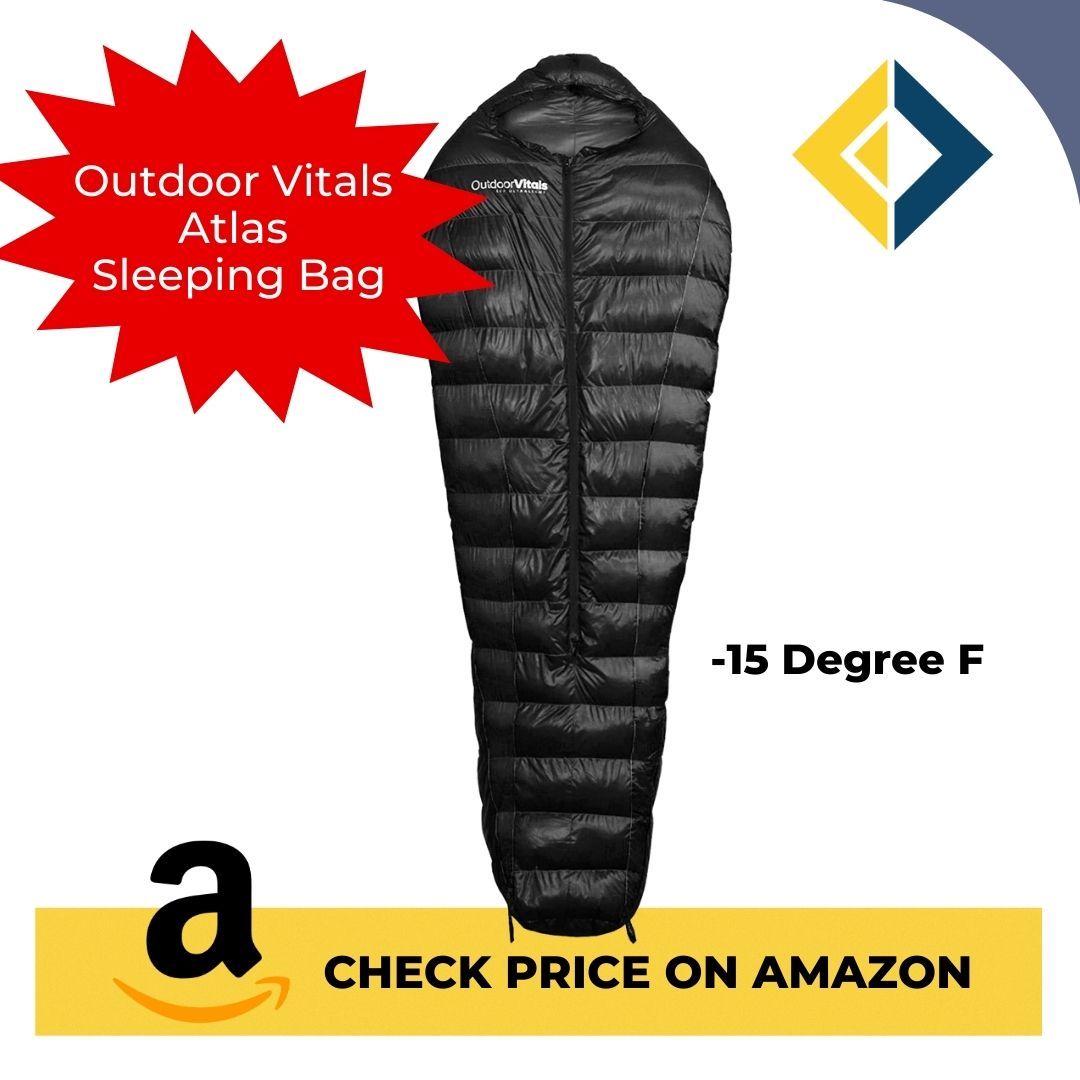 Why it's one of our fav's:
The Outdoor Vitals Atlas 0-30 degree becomes a terrific alternative to consider when it comes to great multi-functionality. It is suitable for both hammocks and tent sleepers. The outside is water-resistant, made of 20 Denier Ripstop Nylon with VitalDry DWR.
This textile cover is not only long-lasting, but it also repels water and wicks away moisture.
Overall, the Outdoor Vitals atlas is inexpensive, lightweight, and adaptable.
Fav features:
The bag meets both your hammocking and tenting requirements.
This bag is simple to use since it is a lightweight fabric that is sturdy and machine washable.
This model has anti-snag zippers. When opening and closing the bag, they are smooth and without hassle.
The 20D poly fabric and the insulating pad keep the interior lining warm and snug.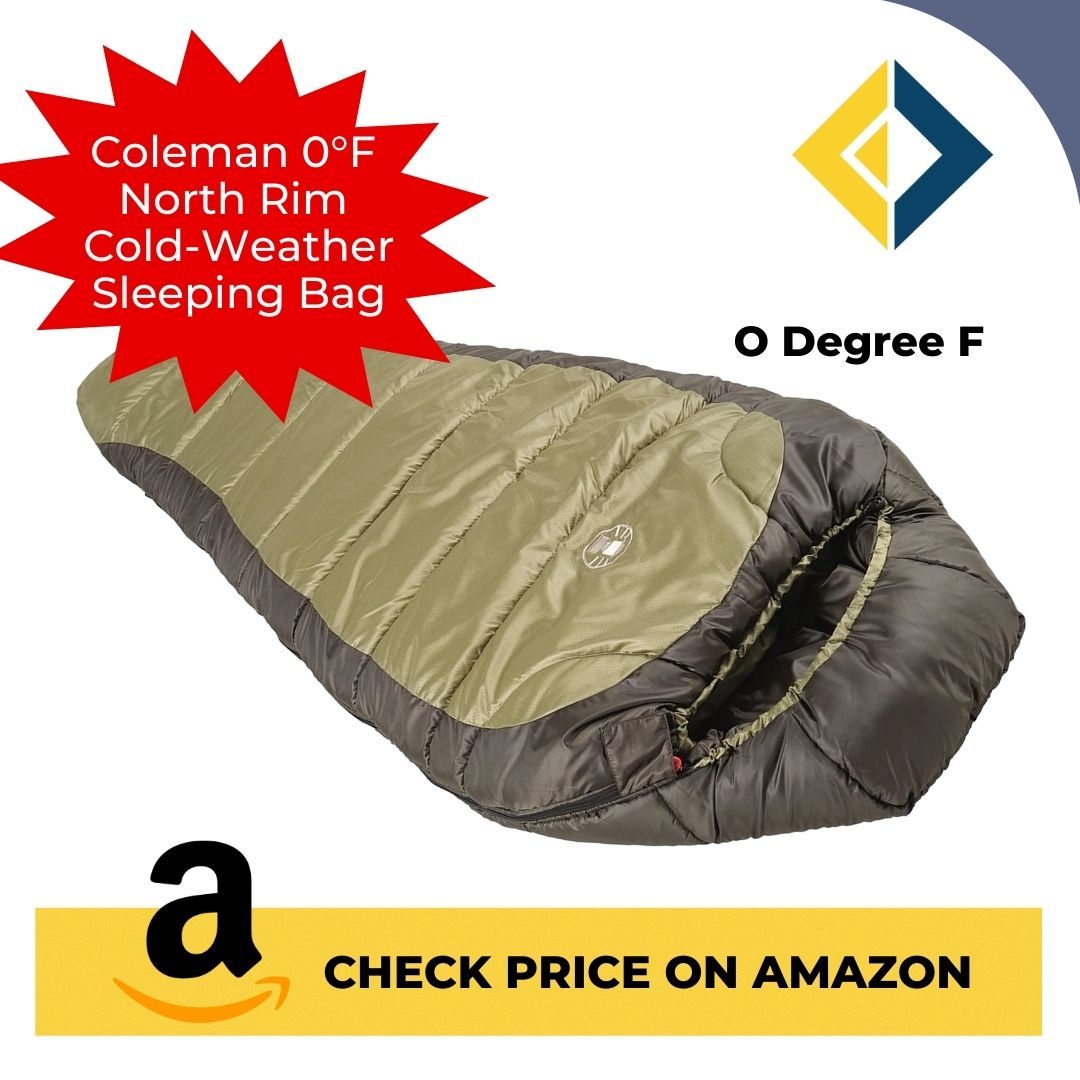 Why it's one of our fav's:
The Coleman 0°F Mummy Hammock camping sleeping bags are designed to use in hammocks. It will keep you warm in temperatures between 0 and 7 degrees Fahrenheit.
On warm evenings, the additional zipper in the foot box allows air in the foot box. The zippers are simple to operate, anti-snag, and should never get caught.
Its draft tube and additional insulation ensures the bag keeps sufficient heat.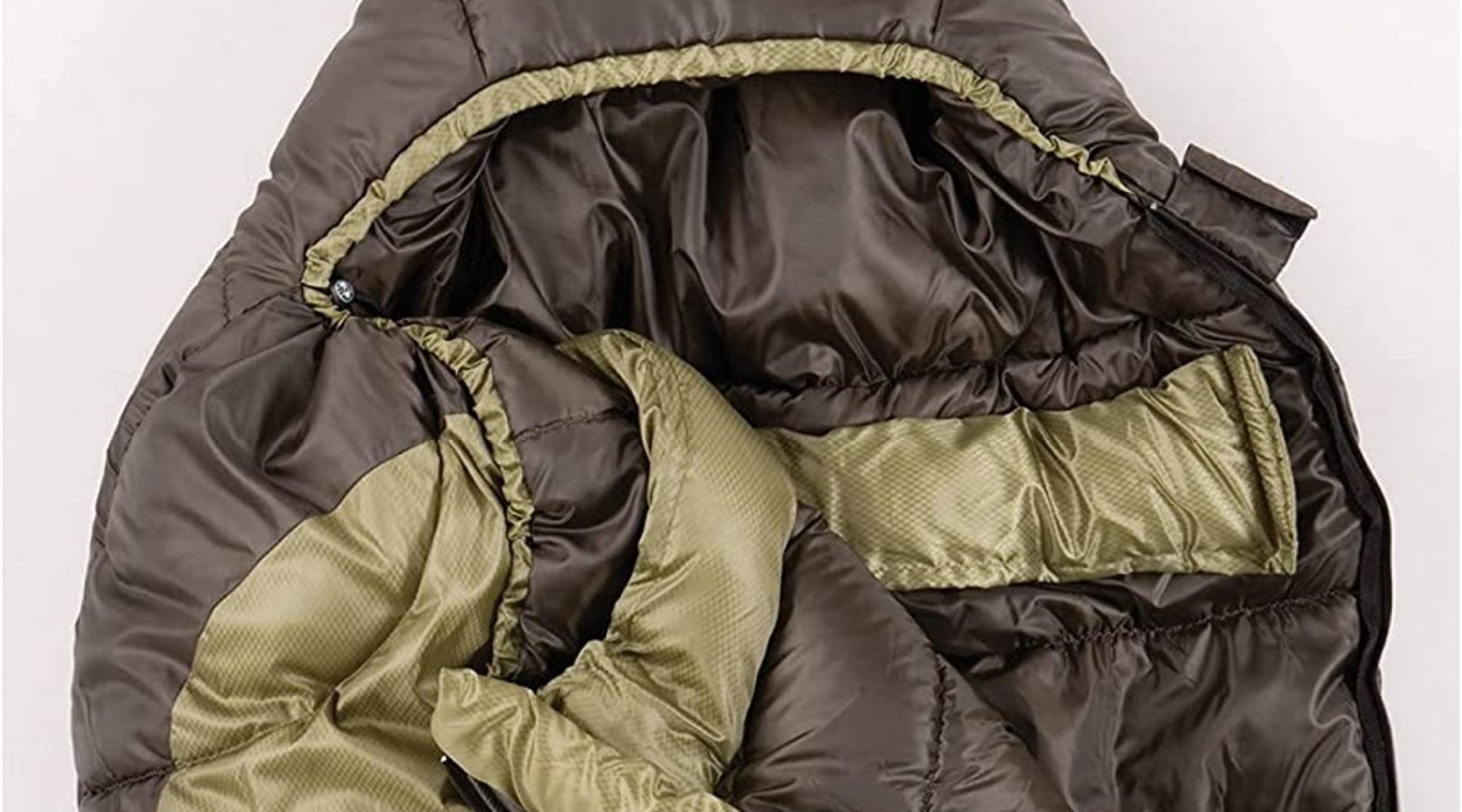 Fav features:
These Hammock sleeping bags are portable and lightweight.   The fabric is water repellent, and the mummy-style hood fits over your head, to keep you warm all night long.
The patented Coleman ZipPlow mechanism plows away fabric while zipping without snagging.
A drawstring tightens the semi-sculpted hood to keep heat in.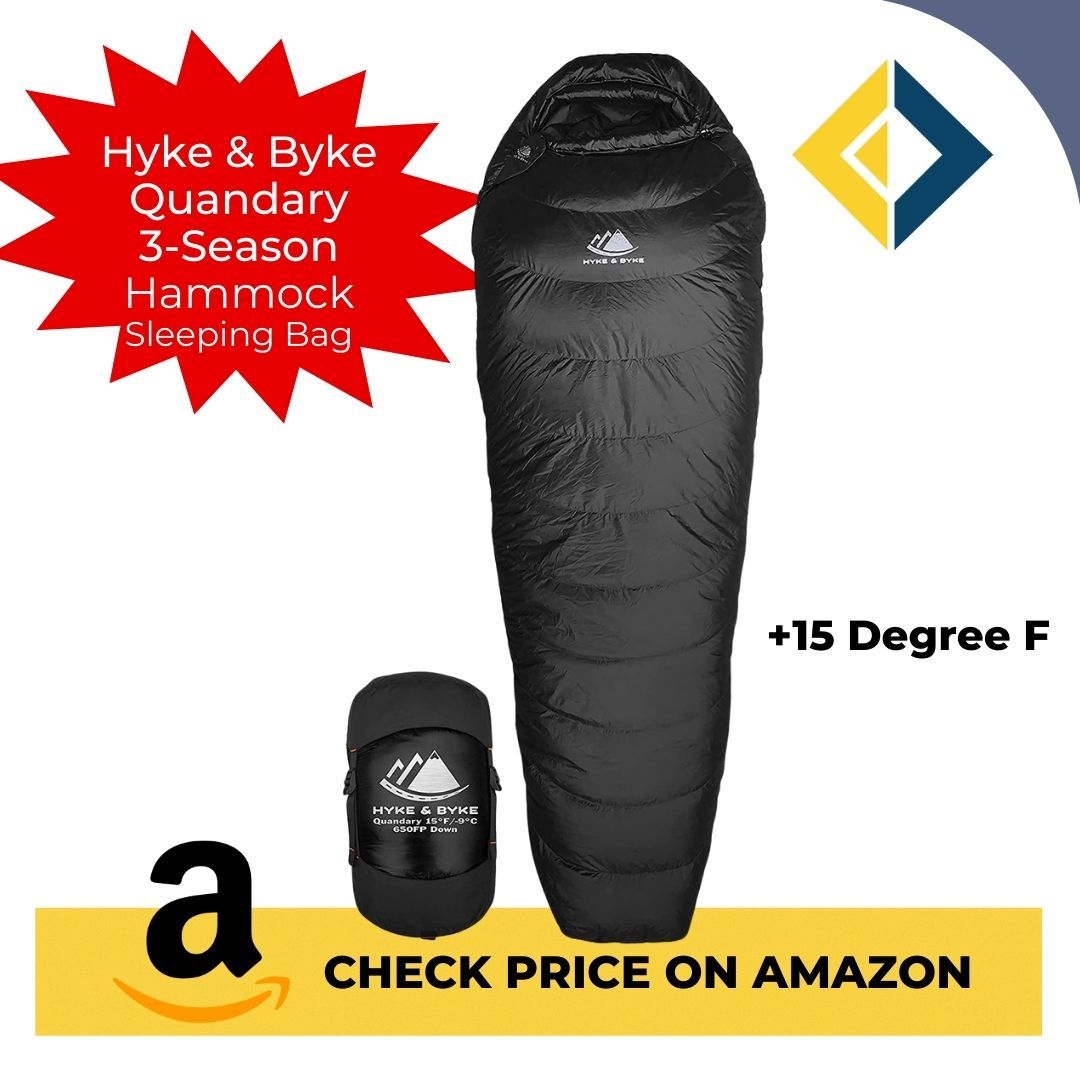 Why it's one of our fav's:
The Hyke & Byke Quandary Down Sleeping Bag weighs 2.95 pounds and is hammock suitable.  We like that it is a USA based brand and ships quickly.
We like this duck down filled sleeping bag, found it to be sturdy yet still lightweight and compact. The zippers are anti-snag and do not get caught up in the material.
It features a spacious loft, with broad shoulders, and additional food space, making it incredibly comfortable for sleeping. Because the bag comes in various sizes (3 sizes) and 5 colors, there is one for everyone. Even in 30 degrees F temperatures outside, it will keep you comfortable.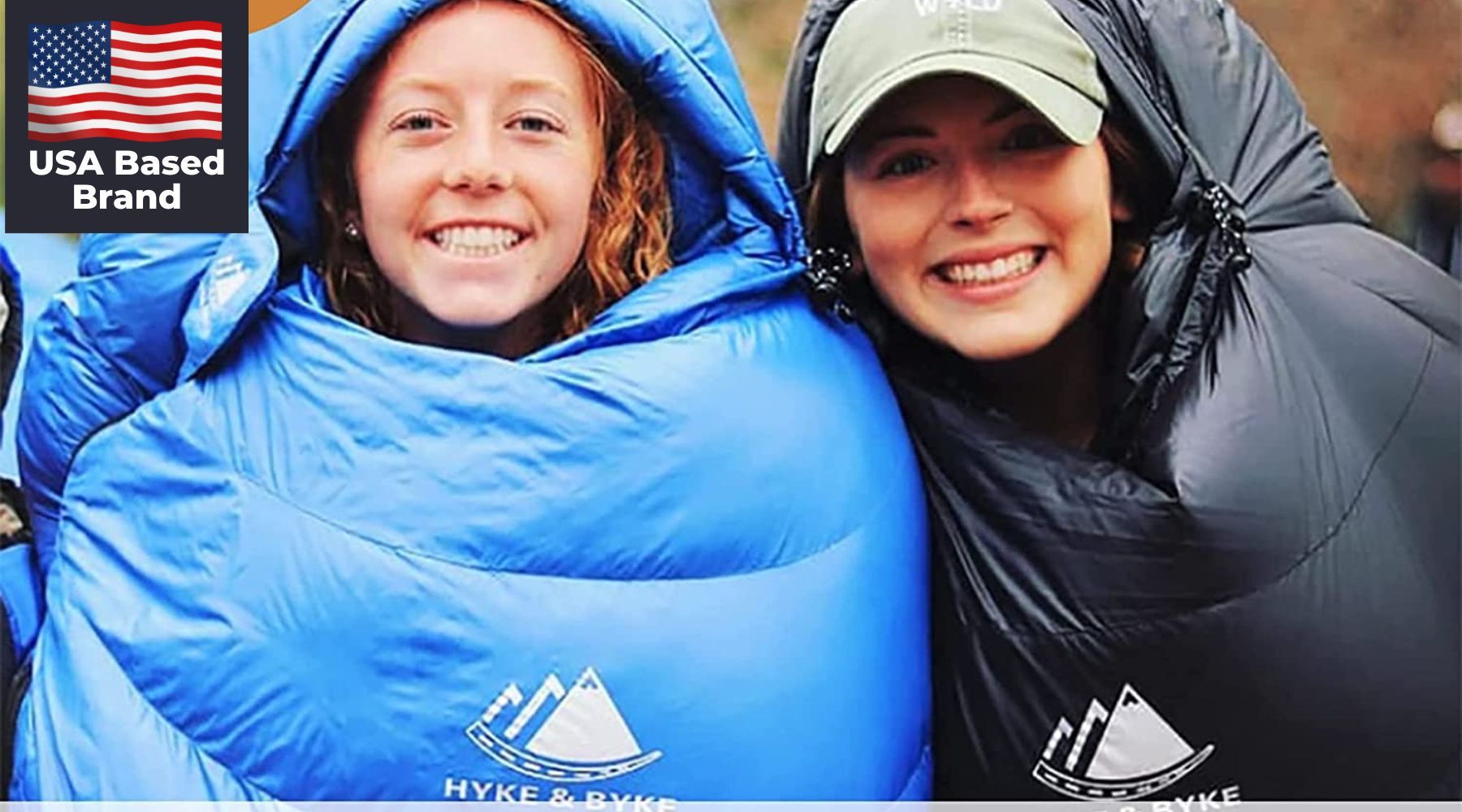 Fav features:
Inner and outer nylon shells with horizontal baffles transfer 650-fill insulation to where it's needed.
Stay warm thanks to Hydrophobic Down insulation and waterproof materials.
This sleeping bag folds up to 10" in length and 7.5" wide.
The sleeping bag's body is lightweight, water-resistant 400T 20D ripstop nylon.
---
FAQs About Hammock Camping Sleeping bags
Can the Sleeping Bags Be washed?
Yes, all of the bags we looked at are machine washable. We suggest using cold water with a light detergent to keep everything nice and clean.   Pay attention to the manufacturers label for washing, and pay particular attention to note about drying the down filled sleeping bags.
Is There a Women's regular Sleeping Bag?
Yes, there are compatible sleeping bags designed specifically for the female body shape.  They feature a thinner shoulder area that allows them to trap more warm air.  Most of the sleeping bags we featured come in more than one size.
Will these bags keep you warm in extreme weather?
Most tested bags are intended to keep you warm in cold conditions. Many of them include temperature ratings, so if you have an idea of the extreme weather conditions in the area you'll be traveling, you may select the bag to match that temperature.
Is camping in a perfect hammock safe?
Yes, if measures are taken. In terms of insect protection, a camping hammock is superior to tent camping. Various steps must be followed to secure the camping hammock against bear attacks.
Will hammock hooks cause tree damage?
Even if you utilize intrusive hooks for your hammock, trees will recover once they are removed. However, if you opt to use non-invasive straps, be sure to remove them when finished; otherwise, the strap will cause girdling of the tree trunk.
---
We Love Hammocks!
Now, with your new found knowledge, you can feel quite comfortable selecting the best sleeping bag for a hammock.   Depending on your intended use, weather conditions and type of camping ( whether sleeping in the rough or napping in your backyard), there is a sleeping bag for your hammock.  Remember that what is best for someone else may not be great for you. Choose the bag that best meets your needs in terms of price, weight, form, and size, among other things.
We have thoroughly analyzed each product to assist you in selecting the best option for you.
Happy Shopping!
Your FavReviews Team