Can we be candid for a minute?  Doesn't hearing the words, "flannel lined sleeping bag" take you back to your childhood?  It's one of those 'comforts from home' that stick with you.  Flannel.
But, believe us, sleeping bags have come a long way.
Camping outside can be extremely uncomfortable if you don't have the right sleeping bag for the conditions. There are so many different types of sleeping bags on the market today, in a variety of fabrics, with lots of different features.
Without question, the lining material of your sleeping bag will make a difference to the comfort you experience on your overnight stay.
There is something comforting about a cotton flannel material against your skin. Sleeping bags with flannel inside are one of the most comfortable and practical sleeping solutions. They are incredibly gentle on the skin and provide enough warmth, you can prepare for the best camping night ever with one of these sleeping bags.
There are a few factors to consider when searching for the best flannel-lined sleeping bag.  In this review, we compiled a list of the features you should look for before purchasing. In addition, we curated a list of our best finds for flannel lined sleeping bags.
---
How To Choose The Best Flannel Sleeping Bag
Doing a bit of research before you buy is wise when it comes to purchasing a new sleeping bag.
Sleeping Bag TEMP RATING | Summer, Winter, three Seasons
Sleeping bags are not all created equal. Some are intended to be used annually, and others for certain seasons. Summer sleeping bags are often lighter and have less filling. On the other hand, winter and low-temperature sleeping bags are made of materials other than cotton for warmth. So, it's important you make an informed decision.
SIZES & CARRY WEIGHT
Like other sleeping bags, flannel sleeping bags come in various sizes. If you share it with another person, you can choose the double sleeping bag option. If not, go for a single sleeping bags since the extra weight makes the sleeping bag bigger and more challenging to carry.
EXTRA FEATURES | Material, LINERS, BUILT-IN PILLOWS, waterproofing
Sheets, pillows, compression sacks or sleeping bag liners, are sometimes (but rarely) included with sleeping bags. They aren't necessary with a great sleeping bag, but if you've ever slept with a sleeping bag liner, you know how beneficial they are to provide you with a great sleeping experience.  So always check the features that are included and be sure to take them into consideration when evaluating the price of your new sleeping bag.
We trust that you'll find your next favorite item from the list we've researched for you below. All of these products have been hand-picked by our editors and we won't recommend something we wouldn't use in our own family. Some may even be items that we already use! We may receive a small compensation if you decide to buy something (that's how we keep the lights on). Some reviews have been edited for length and clarity. Have fun searching for your next fav product!
---
5 Best Flannel Lining Sleeping Bags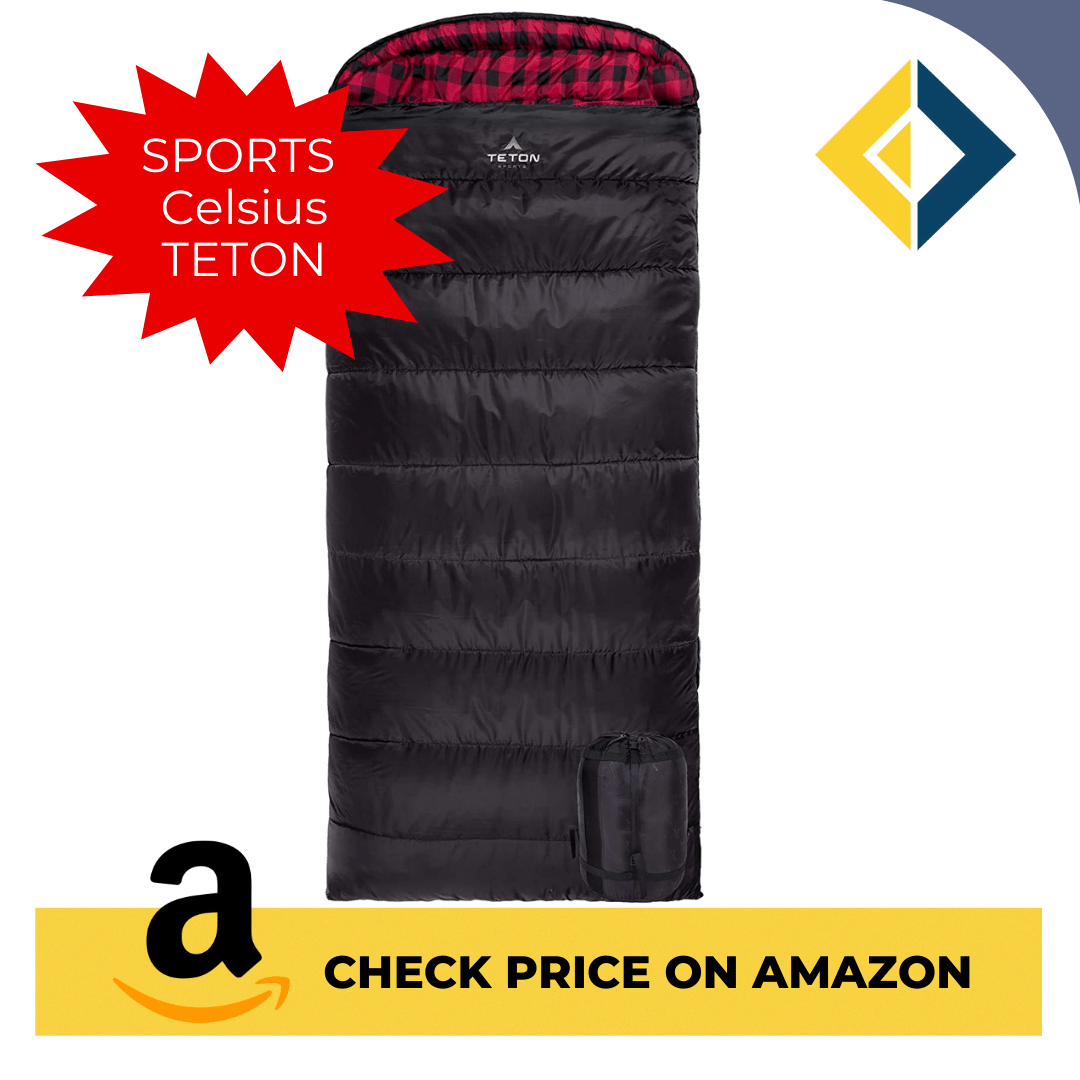 Why it's One of Our Fav's
We like the soft lining of this TETON bag.  We also like the half-circle mummy style hood that will keep you cozy warm and will keep your pillow clean.
A unique feature is that it unzips at both the top and bottom of the bag for easy access and ventilation.  
This sleeping bag is suitable for 3 season camping and will keep you toasty warm. The outer material is a taffeta, known for its longevity so it can be used for several years. You will have a comfortable night's sleep thanks to the brushed poly-flannel material that lines this TETON sleeping bag.  It can withstand temperatures as low as ten degrees Fahrenheit.
The fact that it has more room inside than comparable sleeping bags gives the impression that it is much larger.
This extra-large flannel classic sleeping bag is perfect for you if you plan on camping in a chilly region and want a roomy sleeping solution that is also simple to pack.  The compression carry sack is also unique in that you don't fold the sleeping bag, instead you stuff the sleeping back in the compression carry sack.  Start at the bottom and just keep stuffing the sleeping back into the sack.
Fav Features:
With its half-circle mummy-style hood, you can cover your head and sleep firmly during very chilly nights.
This sleeping bag has certification for low temperatures.  It is spacious for those of a larger stature.  We like the head cover, mummy style with drawstrings. It's built to last, both on the outside and the inside, and should last for many years of use.
Lastly, a smooth-rolling two-way zipper and an inside storage pocket are both included in this item.
---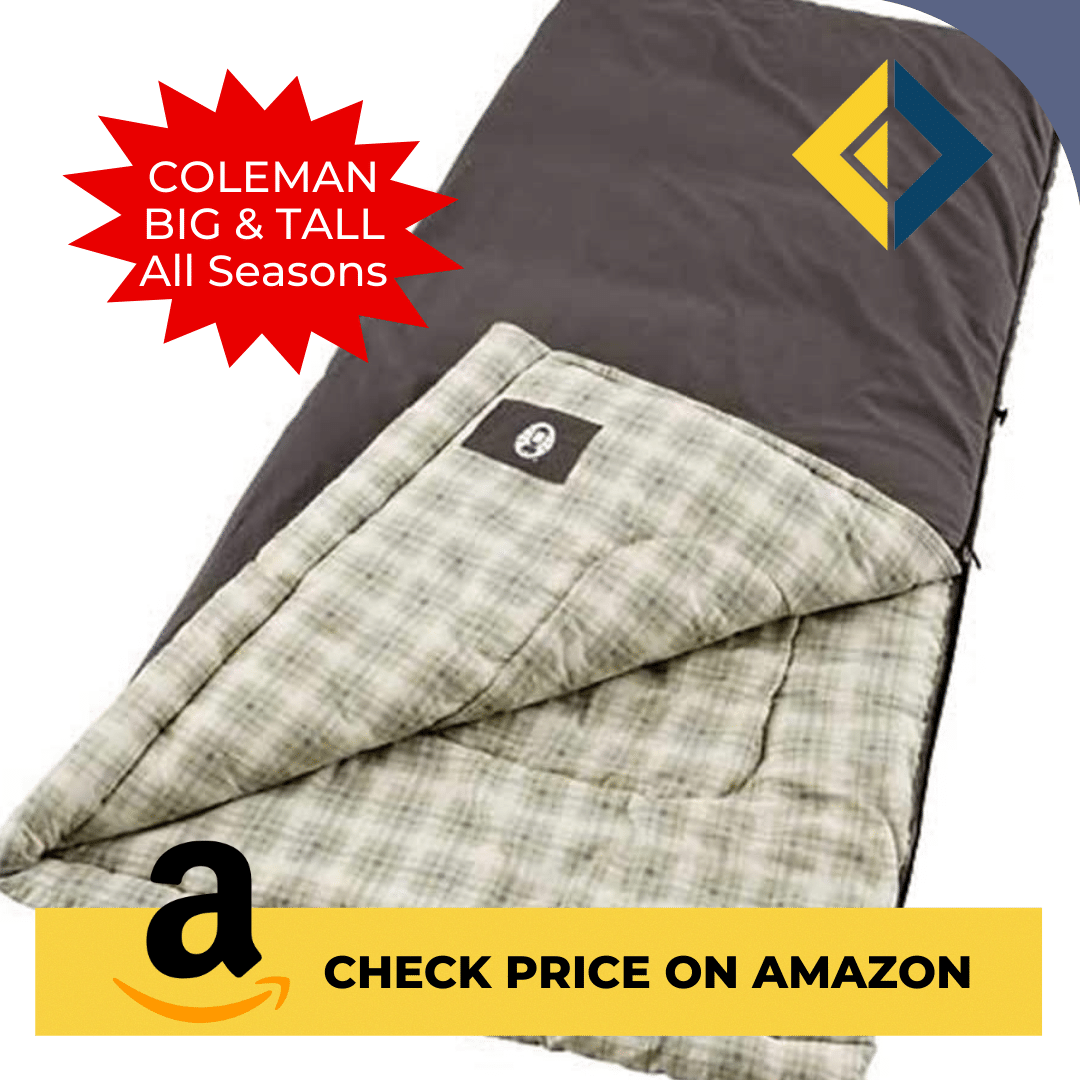 Why it's One of Our Fav's
Imagine that you are a tall person, around 6 feet 7 inches tall. Even in this case, this sleeping bag will be the ideal sleeping bag for you.  We like the generous size of this Coleman and we also like the soft cotton flannel used in the interior lining.  Plus, it's washable, so the flannel material just gets softer and softer with use.
Even in temperatures as low as 10 degrees Fahrenheit, you will remain toasty thanks to the heat-locking flannel layer included in this sleeping bag.
Review (September 2022|USA): "Breathable, soft, warm, large enough and a pocket for your cell phone. Ticks all my boxes! This really is a nice sleeping bag. So many of them are made of polyester or some fabric that leaves you feeling damp and clammy or so thin that there isn't any softness. This sleeping bag is really designed to last. We actually use ours as a comforter during cold weather!"
FAV Features
A draft tube runs down the zipper, trapping heat and preventing it from leaving. It is why this bag remains significantly warmer in cold weather.
The zipper does not catch or get caught on anything.
An excellent value-for-money alternative is a Coleman cotton flannel sleeping bag for large and tall people.
---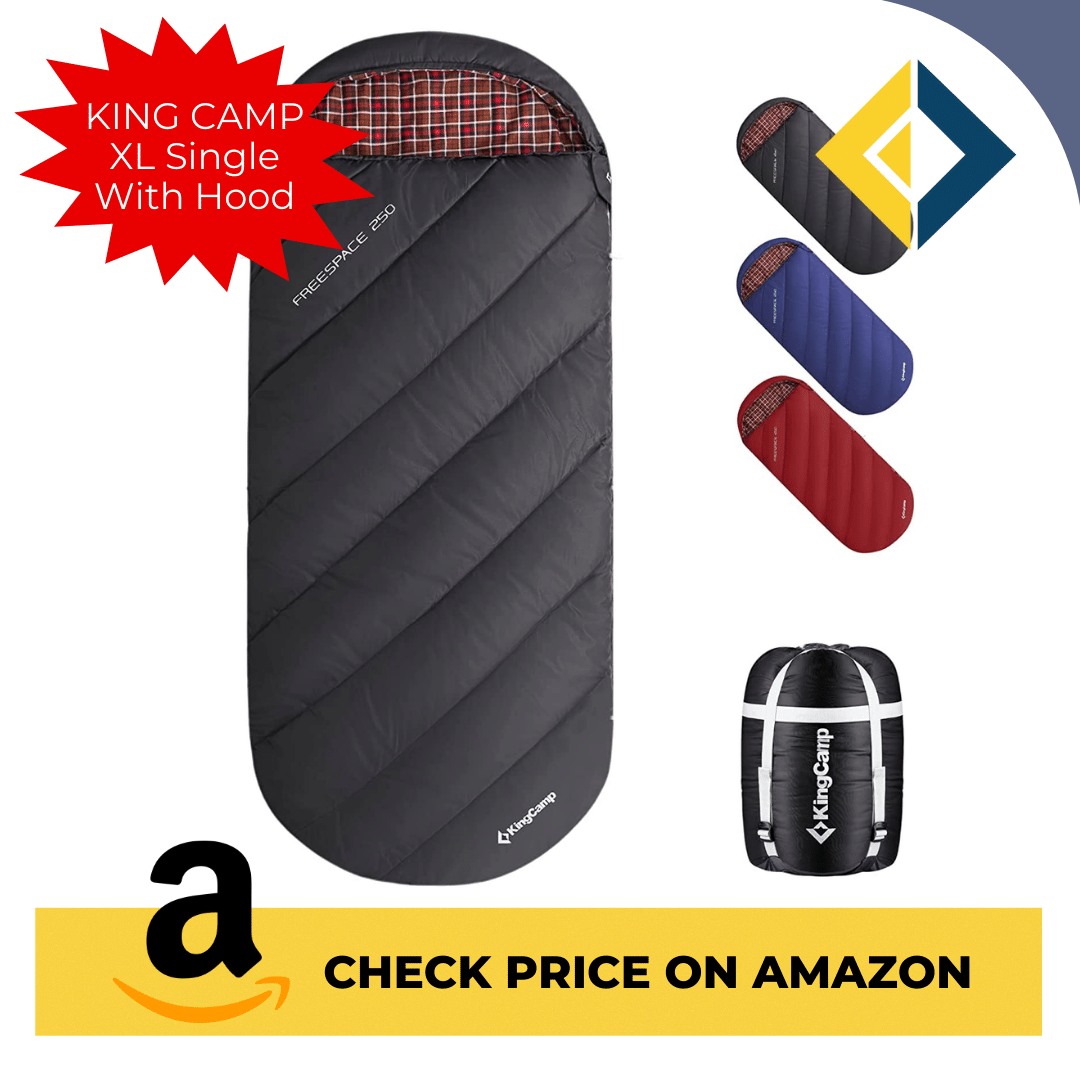 Why it's One of Our Fav's
The dimensions of this extra-large sleeping bag are 86.6 inches wide by 39.4 inches long, which is much broader than the dimensions of regular sleeping bags. Because it is so large, this sleeping bag makes it easy for adults of any size to get in and out of it fast. The bonus of this wider size is you won't be restricted in movement throughout the night.
This waterproof camping sleeping bag contains a windproof strip along the zipper, an adjustable drawstring hood, and a neck-collar loop. All three of these elements may be adjusted to keep you cozy warm all night long.  The sleeping bag's insulation is enhanced by its 250g of hollow fiber filling.
The outside fabric of this sleeping bag is made from a 210T diamond lattice fabric that is waterproof and breathable. This fabric is made from 100% polyester. The inside is lined with cotton flannel, making it soft, warm, and cozy.
Its double-filled construction will ensure that all explorers remain warm and comfortable after a long day of participating in outdoor activities.
FAV Features
This large and tall three-season sleeping bag weighs 4.6 pounds.
Every sleeping bag comes with a compression bag with straps for storage and easy handling.  Best of all once packed it measures 15 x 9.4 inches, so it's easy to grab and go!  
Another feature we like is the ability to zip two single sleeping bags together to make one large sleeping bag, allowing you to cuddle up with a companion.  Or, it can be laid out open and used as a blanket or quilt.
The sleeping bag's hanging loop is convenient too, if you need to hang it to dry out.
---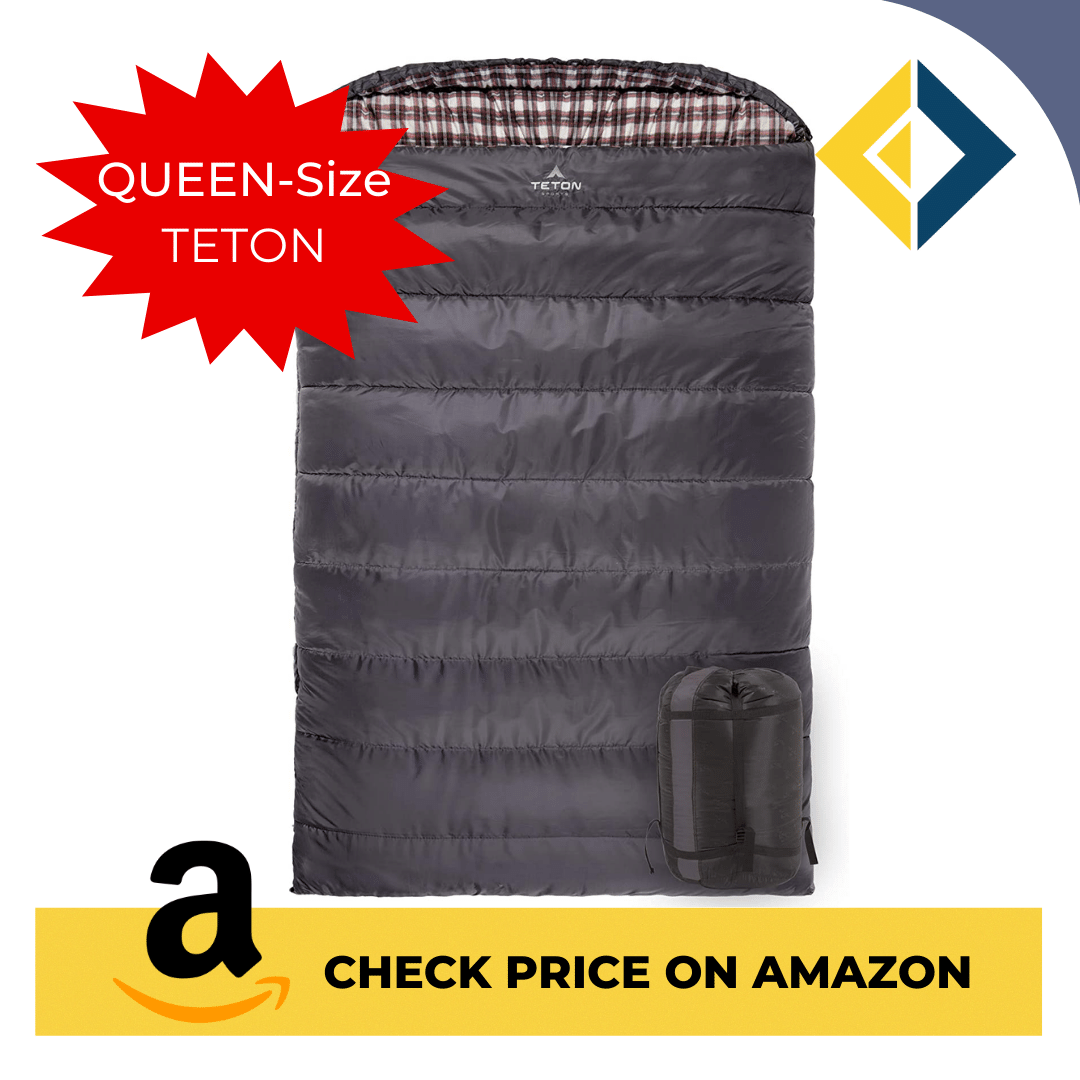 Why it's one of our fav's
Teton Sports also has a queen size, double sleeping bag made of canvas and flannel. We like this double sleeping bag, with its generous room for two people.  So, when you go camping with your spouse, even if one of you has a bigger frame, you'll be able to sleep comfortably in this bag because of its generous size.
You can depend on this bag even when the temperature is around -6 degrees Celsius (21 degrees Fahrenheit). The fiberfill is toasty, even for temperatures as low as they are now. When the temperature is above 35 degrees, you probably want to avoid wearing layers of clothing.
In addition, it features a taffeta exterior that is durable and will last for many years. A brushed poly flannel is used to line this Teton Sport sleeping bag.
The weight of this comfortable sleeping bag is significant. Consequently, it is suitable for use only with drive-in camping, in which you do not have to carry your belongings for a considerable distance.
Imagine it's cold outside, and you've brought your whole family, including your kids, to go camping. If such is the case, this flannel-lining sleeping bag will ensure you have a restful night's sleep.
FAV Features:
Hollow fiber fillings provide optimum warmth.  It's covered with an outer durable shell cloth.
The flannel interior is very soft, and gets softer and more comfortable with every wash.  
It also has high-quality zippers on each side, making it super durable and convenient to get in or out of.
---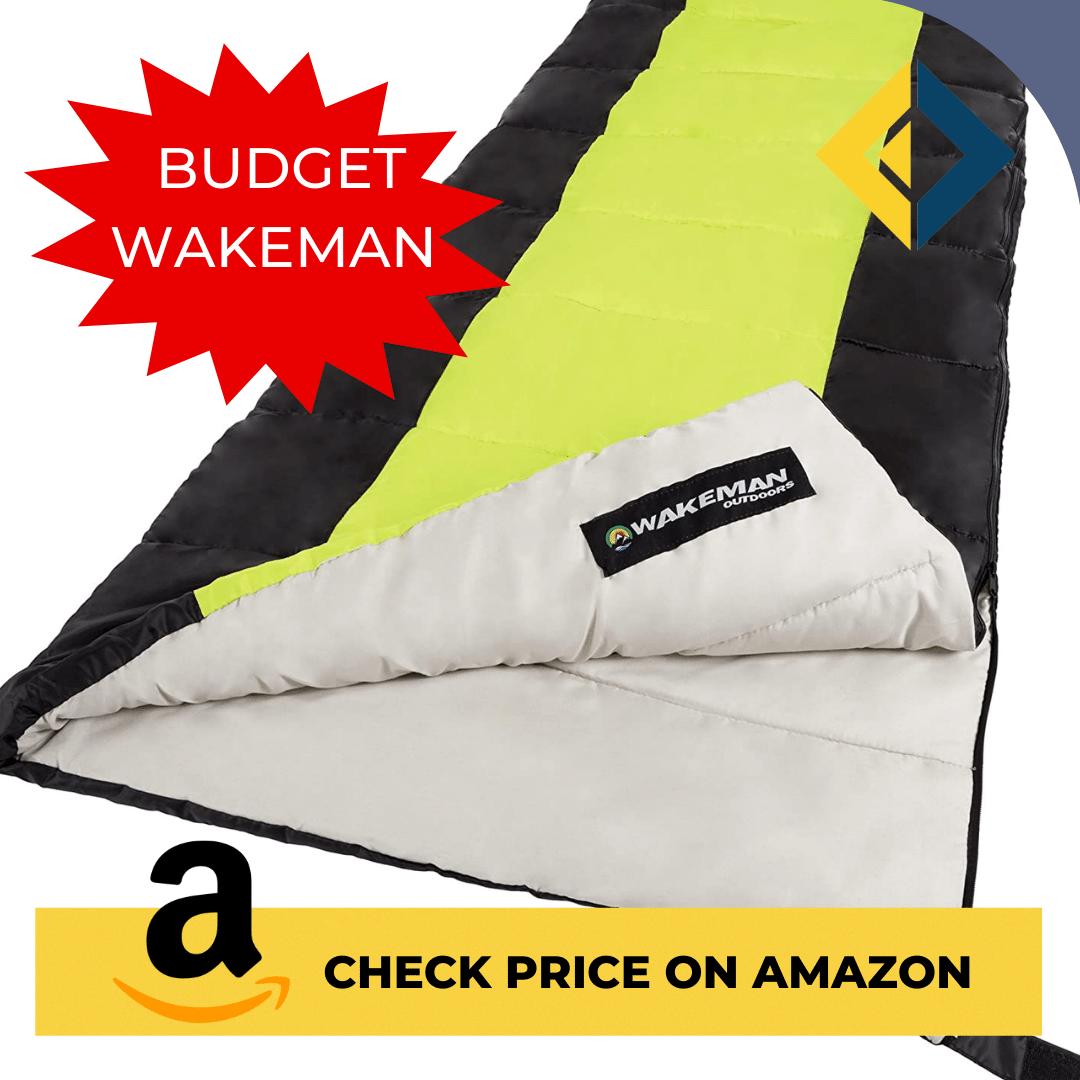 Why it's One of Our Fav's
At just over $20, we don't think you'll find a better sleeping bag with cotton flannel liner and waterproof polyester outer shell.
You'll get a restful night's sleep no matter where you are when you have this Wakeman XL 3-season sleeping bag.    It has a comfort rating of 32 degrees Fahrenheit to keep you warm and dry even when the temperature outside is low.
Thanks to the bag's two anti-snag zippers, the bag can be easily opened and closed inside or outside.
After a long day of braving the chilly weather, you'll appreciate the comfort of this camping sleeping bag, that you can wrap up in. It won't take long to get to the top of your list of must-have camping necessities, at a reasonable price.
FAV Features
This Wakeman Sleeping Bag is ideal for two season use.  Because it can handle temperatures down to 25 degrees, this sleeping bag will be good to go with you throughout the spring, summer, and early fall seasons.
The bag is amply designed to fit any camper up to 5'11".  It's an inexpensive option perfect for camping and hiking.
When not in use, the provided easy-packing carrying bag has compression straps to keep this lightweight sleeping bag compactly stowed.
This multipurpose sleeping bag is ideal for stargazing, camping, hiking, festivals, and more!
---
Frequently Asked Questions (FAQs):
Do Flannel Sleeping Bags Keep You Warm?
Yes, flannel sleeping bags keep you warm by trapping your body heat and preventing it from escaping.
Sleeping bags made with flannel are soft, comfortable, and durable. They are also effective at keeping you warm on cold winter nights. Flannel sleeping bags are a good choice for people who live in cold climates or who enjoy camping and hiking in the wintertime.
What Sets Flannel Sleeping Bags Apart From Others?
There are a few things that set flannel sleeping bags apart from other types of sleeping bags. For one, flannel is a very warm and soft material, making it great for snuggling up in on cold nights. Additionally, flannel is known for its natural moisture-wicking properties, which help to keep you cool and comfortable during the night.
Flannel sleeping bags are also typically made with a higher fill power than other types of sleeping bags, meaning they can provide more warmth without being too bulky or heavy. And finally, because of their softness and warmth, flannel sleeping bags are perfect for use in cold weather camping trips or winter getaways.
What Is the Best Cold Weather Camping Sleeping Bag?
When looking for a cold weather camping sleeping bag, it's important to consider the temperature rating and insulation type. Down insulation bags are typically the warmest and most compressible, but can be expensive. Synthetic insulation sleeping bags are less expensive, but don't compress as well as down.
It's also important to choose a sleeping bag that is appropriate for your height and weight. A bag that's too small will cause you to overheat, while a bag that's too large will leave you cold. And finally, consider the interior and exterior materials of the sleeping bag, make sure to choose one that is at least water resistant and has a good windproof rating if you'll be camping in inclement weather.
What Is the Best four Season Sleeping Bag?
There is no definitive answer to this question since there are a variety of factors that can affect what constitutes the "best" four season sleeping bag for someone. For example, climate and weight preferences are two important factors that will vary from person to person.
That said, some general things to consider when looking for a four season sleeping bag include warmth (down insulation is typically best for cold weather), weight and compressibility (a good four season sleeping bag will be lightweight and able to be compressed down to a small size), and durability (since it will likely be used in different seasons, it's important that the sleeping bag can handle a variety of conditions).
---
There You Have It - Our Fav Sleeping Bags with Flannel Lining.
Remember, your favorite flannel-lined sleeping bag doesn't have to be costly. To get the most bang for your buck, evaluate the sleeping bag size, thickness, type of insulation and if the outer shell is water-resistant.  
We know from experience, you'll love the cozy flannel interior.
Choose any of the sleeping bags listed above based on your budget and what you'll be using it for (location, indoor, outdoors, camper, tent)  and get comfortable for a good nights sleep.
Something else that may interest you is a sleeping bag liner, to easily use inside any sleeping bag as an extra layer of warmth and comfort. They come in a variety of materials. Read about them in our review "Best Sleeping Bag Liner to Keep you Warm".
Happy Shopping.
Your FavReviews Team!
You may also like these articles ...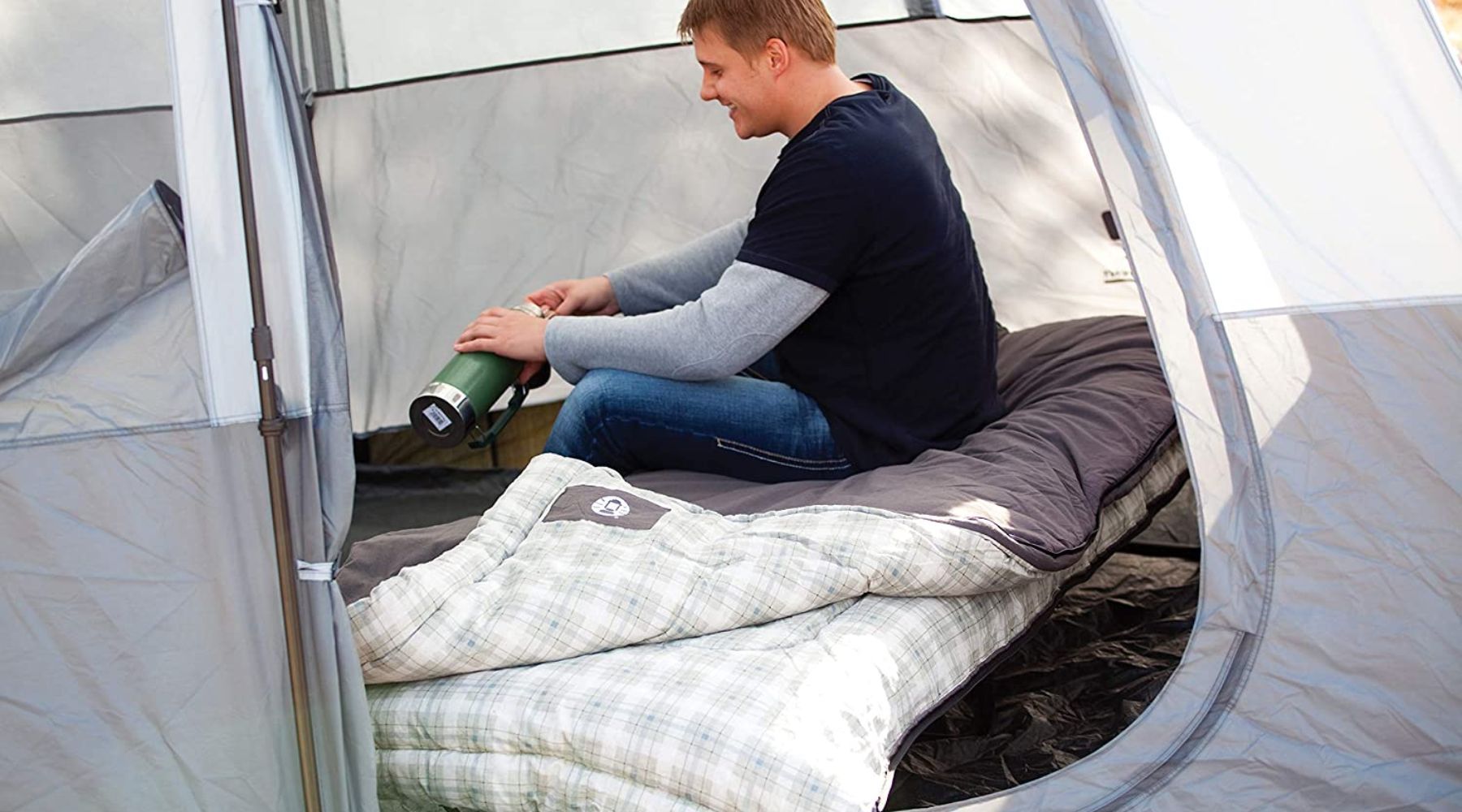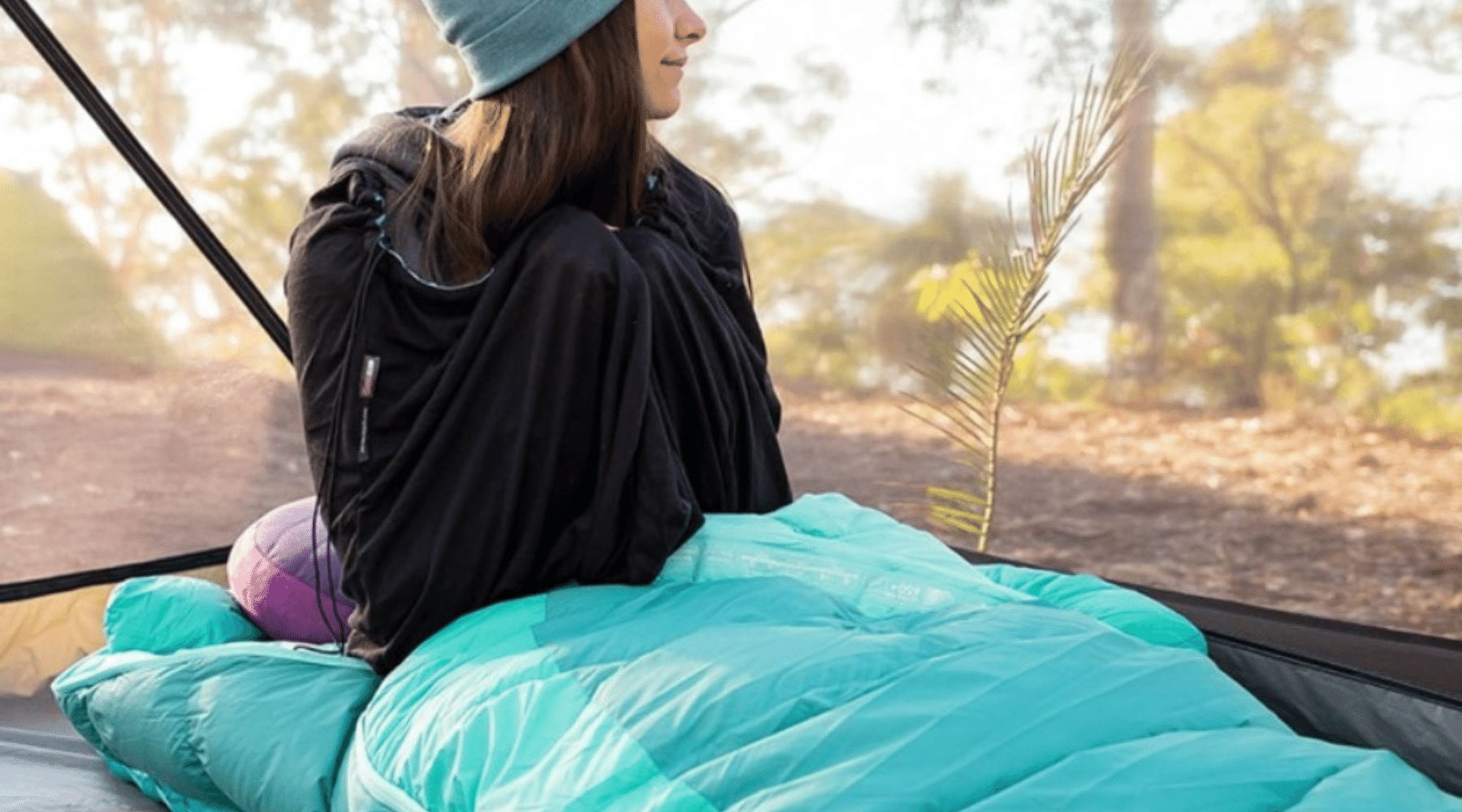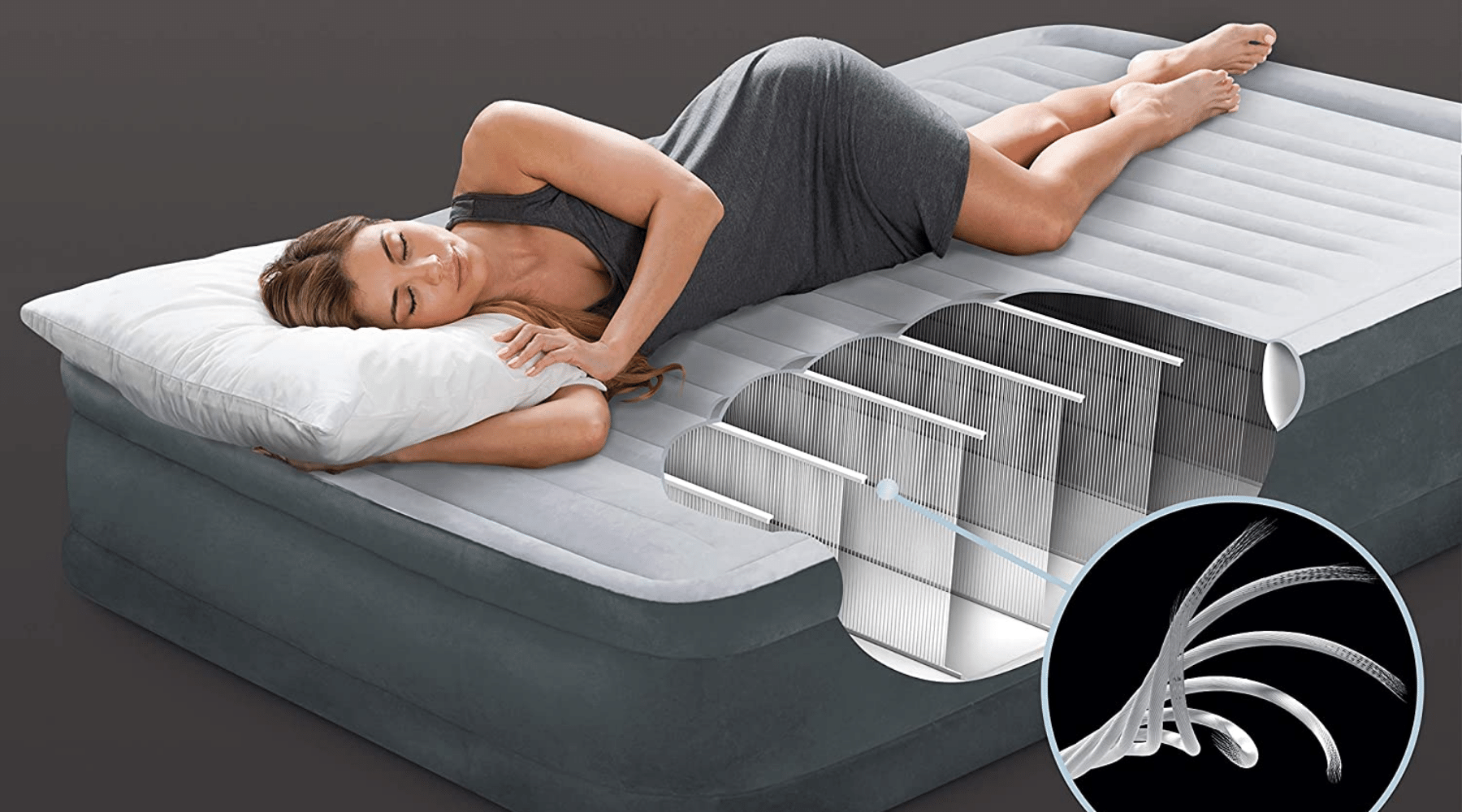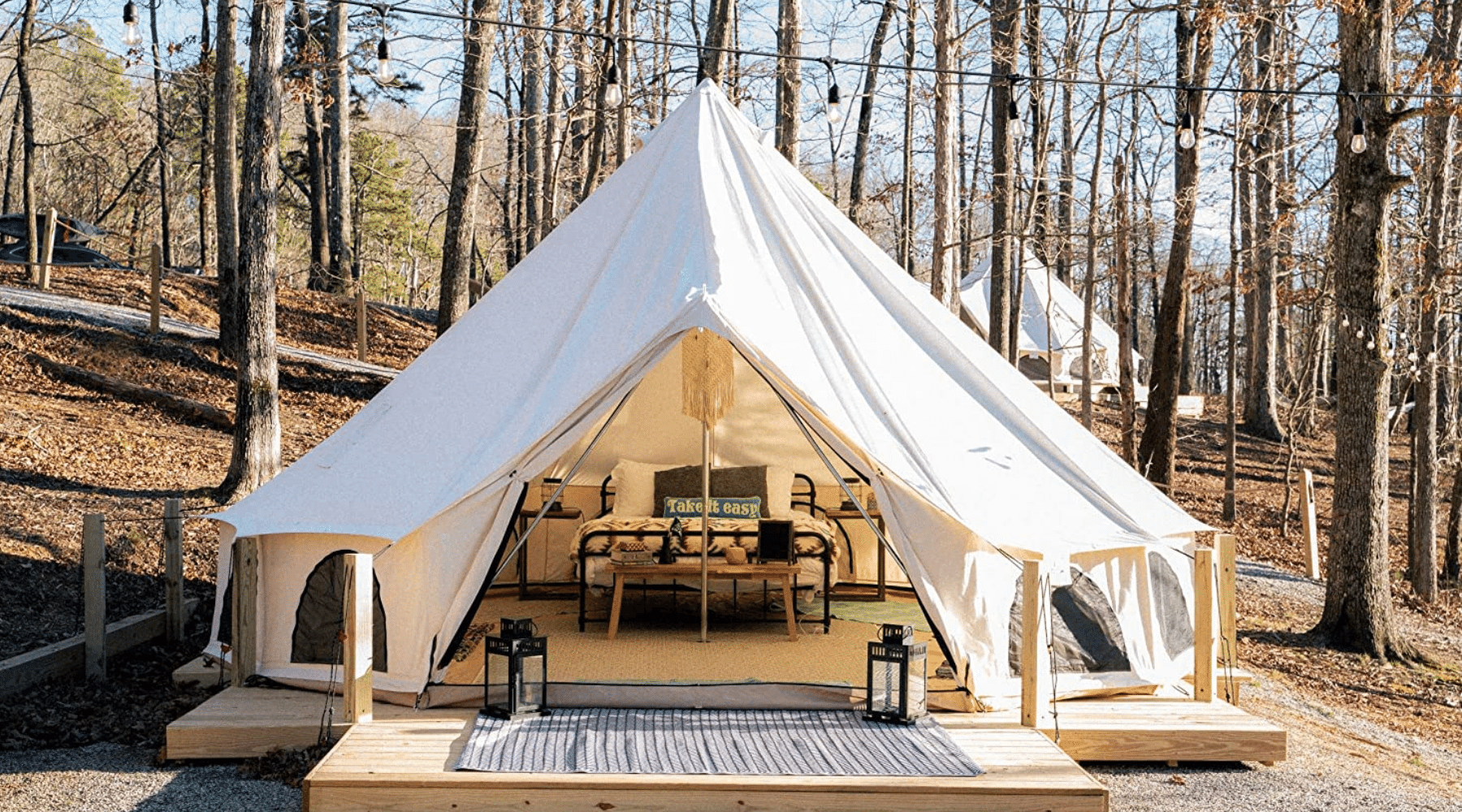 P.S. - You might also like these funny door mats that will delight visitors to your campsite!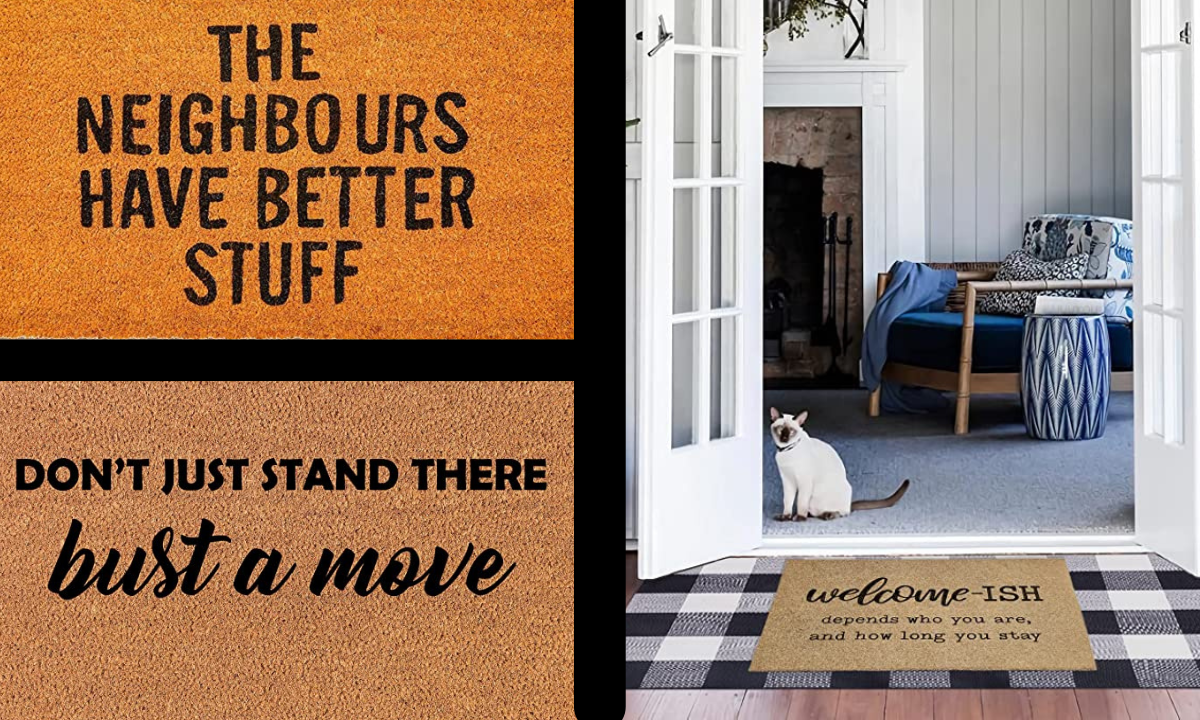 ---
Why Trust Us?
We hope you find your next favorite thing from FavReviews! We are a family friendly product review site.
Four Generation Family: As a four generation family, the breadth of products we consume and review as brand ambassadors is vast. But we can tell you, in general, in we love the outdoors, sports, staying active, living healthy and celebrating the changing seasons.
Trending Products: We also love finding new trending products and we are happy to pass along our research of new trending products to you. Follow us so you don't miss out on a thing! We send out cool emails with our latest reviews, and we will never sell or misuse your information.
Opinions Based on Use, Research and Reviews: Each product we write about is independently selected by our editors. All opinions in this article are our own, based on our own use of the product(s), or hours of research and reading reviews. We will never recommend something we wouldn't use ourselves in our own family.
Compensation: Yes, FavReviews may collect a share of sales or other compensation from the links on this page if you decide to buy something (that's how we stay in business). But, the product never costs you more, in fact in some cases, we hope we might help save you money based on our recommendations.
Reviews have been edited for length and clarity. Enjoy finding your next favorite thing!
Happy Shopping!
Your FavReviews Team
____________________________________________________
BEHIND the SCENES LOOK: If you'd like to learn how to start your own product review blog, with products that you love, check out our article How to Become a Brand Ambassador or visit LearnWriteLive.com There is room for all of us to provide better service to online shoppers. What's your passion?