When it comes to camping, comfort is key. And one of the best ways to ensure a comfortable night's sleep is by using a sleeping bag made of cotton. That's because cotton is soft and cozy, much like your favorite flannel shirt.  So, if you're looking for a sleeping bag that will provide you with comfort during your next camping trip, look no further than the products on our list.
We've done the research for you and put together a list of three of our favorite sleeping bags, made of cotton, for adults. All of these sleeping bags are made from high-quality materials and construction, so you can rest assured that you'll be comfortable all night long.
Plus, they're all reasonably priced, so you won't have to break the bank to get a good night's sleep.
We hope you find your next fav thing from this review article and list below. There are so many amazing family friendly products out there and over time we will write about a lot of the products your family will use.  Products have been independently selected by our team.  For some products we may have received a sample, but all opinions in this article are our own and based on tests conducted by ourselves (and maybe a little bit too much time spent online).  
If you have trouble finding the right products in your searches online, you aren't alone.  We have you covered. We've done the research for you.  That's our thing.  
Oh, and FYI: FavReviews may collect affiliate compensation from items purchased via some links found within our reviews should you decide to make a purchase after reading about it first hand - this is how we keep the lights turned on at home without any donations thrown into mix ;)    
Enjoy finding your next favorite thing while shopping today!
---
Coleman - Quality Supplier of Outdoor Gear
For years Coleman has been well-known as a quality supplier of outdoor gear. We looked high and low for quality cotton sleeping bags and it may, or may not surprise you, the top 3 models we are referring to you today are all made by Coleman.
Read on to find the perfect one for your needs.

How We Chose the Best Cotton Sleeping Bag
You're looking for cotton because you love the comfy feel of your old worn-in cotton sleeping bag. We understand, we love cotton too. But, they are hard to find these days.
Natural Material
You aren't alone if you want an all-cotton bag, with cotton liner, and no nylon. They are warmer, they last longer, and they are easier to roll up to a reasonable packed size.  Most people prefer a breathable material. So when you find a quality sleeping bag stick with it. If you have an old one that needs replacing, don't wait - they sell out quickly.
Quality Construction
The construction of your sleeping bag matters. When it comes to extra warmth and feeling cozy, natural material is just the start. How the sleeping bag is stitched to hold the fill, which may be synthetic insulation, in place and create draft protection all aids in keeping you warm through the lowest of temperatures.   You will also want to check the temperature rating of your sleeping bag to ensure it meets both your breathable material and extra warmth needs.
Storage and Carry Bags
Most cotton sleeping bags do not come with a traditional stuff sack. When I think of a stuff sack I think of lighter sleeping bags that you can literly stuff in any random order into the sack for storage and carrying.   Cotton sleeping bags really don't stuff like that.  Weight and packed size is always important. So, some sleeping bags do come with a compression sack that can be used to reduce the size of the sleeping bag, or a tote of some sort, for storage or transport when folded up properly and placed into storage bag.

Yet, choosing the right sleeping bag for you and your family can be difficult, because they are so limited and difficult to find. That's where FavReviews comes into action. Our team of writers have done some amazing research and we're happy to provide you with a short list of three sleeping bag made of cotton that we think will interest you.
---
Our 3 Fav Cotton Sleeping Bags For Your Consideration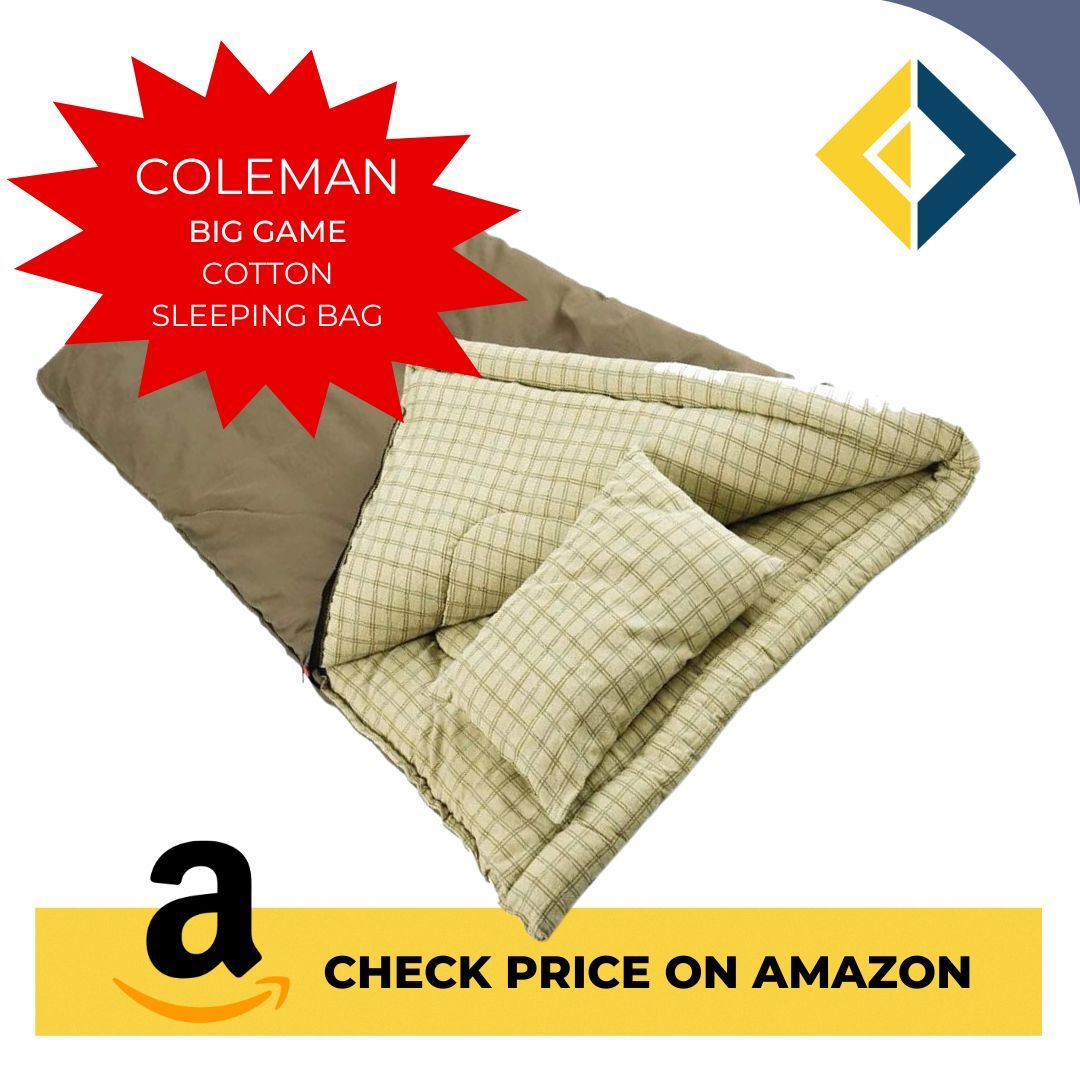 Why It's One of Our Favs:
This one is on the list for individuals who choose comfort above cost. It's one of our favs because it is a rare find with a 100% cotton outer shell with 100% cotton fill and a heat-locking flannel cotton lining.
We also like the big and tall design with this sleeping back that can accommodate someone up to 6'7" tall.   You can also zip two of these sleeping bags together and have instant room for two.
Cotton-lined sleeping bags, in general, seem to sell out faster than others. This Coleman sleeping bag is popular on Amazon and when in stock it's not uncommon for campers to order two.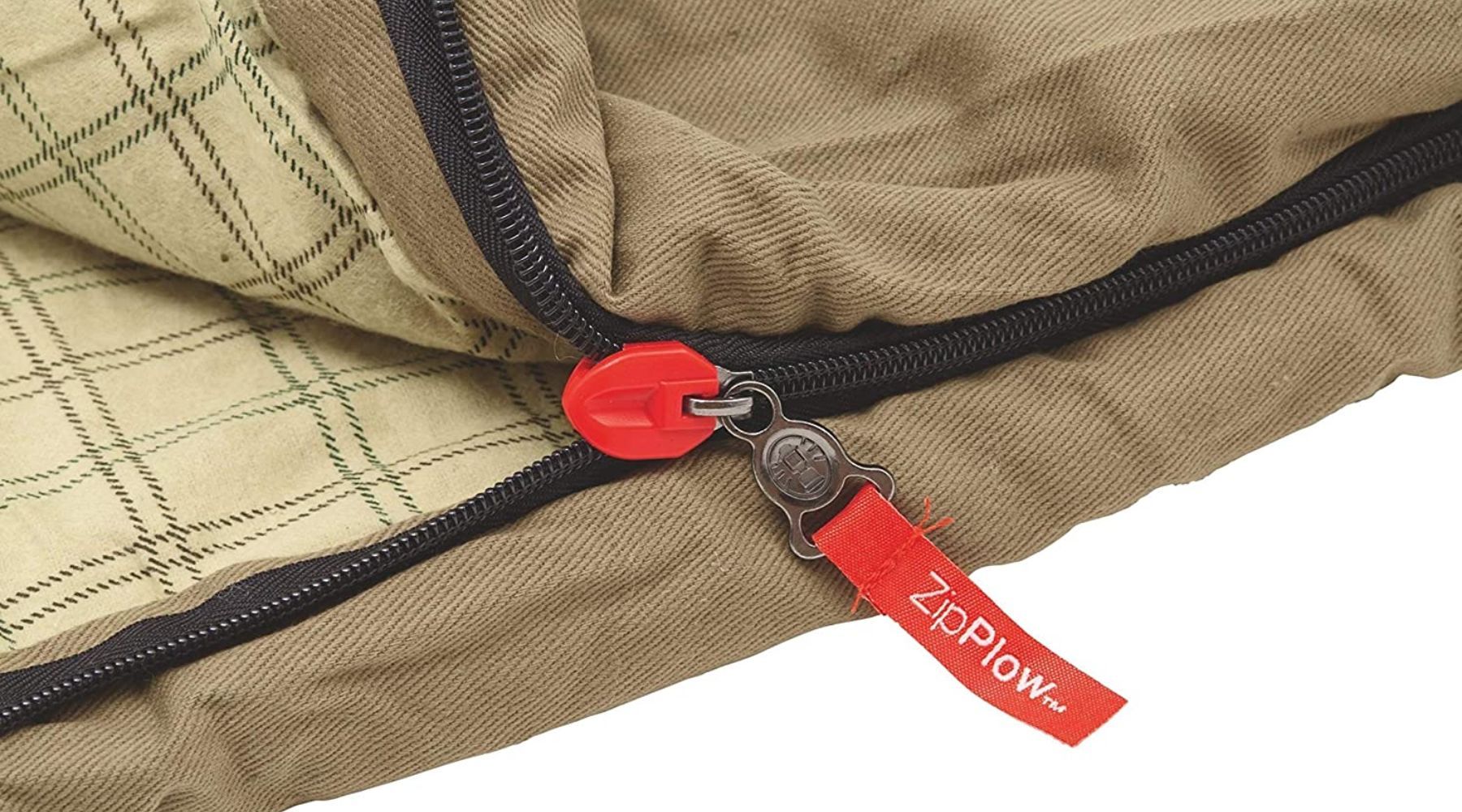 Fav Features:
The Coleman Big Game Sleeping Bag is a comfortable and warm option for sleeping, even in cold temperatures. The cotton canvas cover and cozy cotton flannel liner work together to retain heat, keeping you warm from head to toe.
In addition, the Thermolock draft tube helps prevent heat from escaping through the zipper.  The patented ZipPlow Zipper ensures your zipper doesn't get caught in the fabric (don't you hate when that happens!).  
Lastly, the ComfortCuff surrounds your face in soft, warm fabric, and the fiber lock construction keeps the insulation from shifting.
The Big Game Sleeping Bag is machine washable and comes with a matching flannel pillow and pillow pocket.
You May Also Want This Handy Carrier Bag
The only negative feedback we got on this sleeping bag was about the Wrap 'N Roll integrated packing system.  It was designed to make this backpacking sleeping bag easy to roll and pack, with a pillow pocket, but with no stuff sack, no carry tote most people are used to.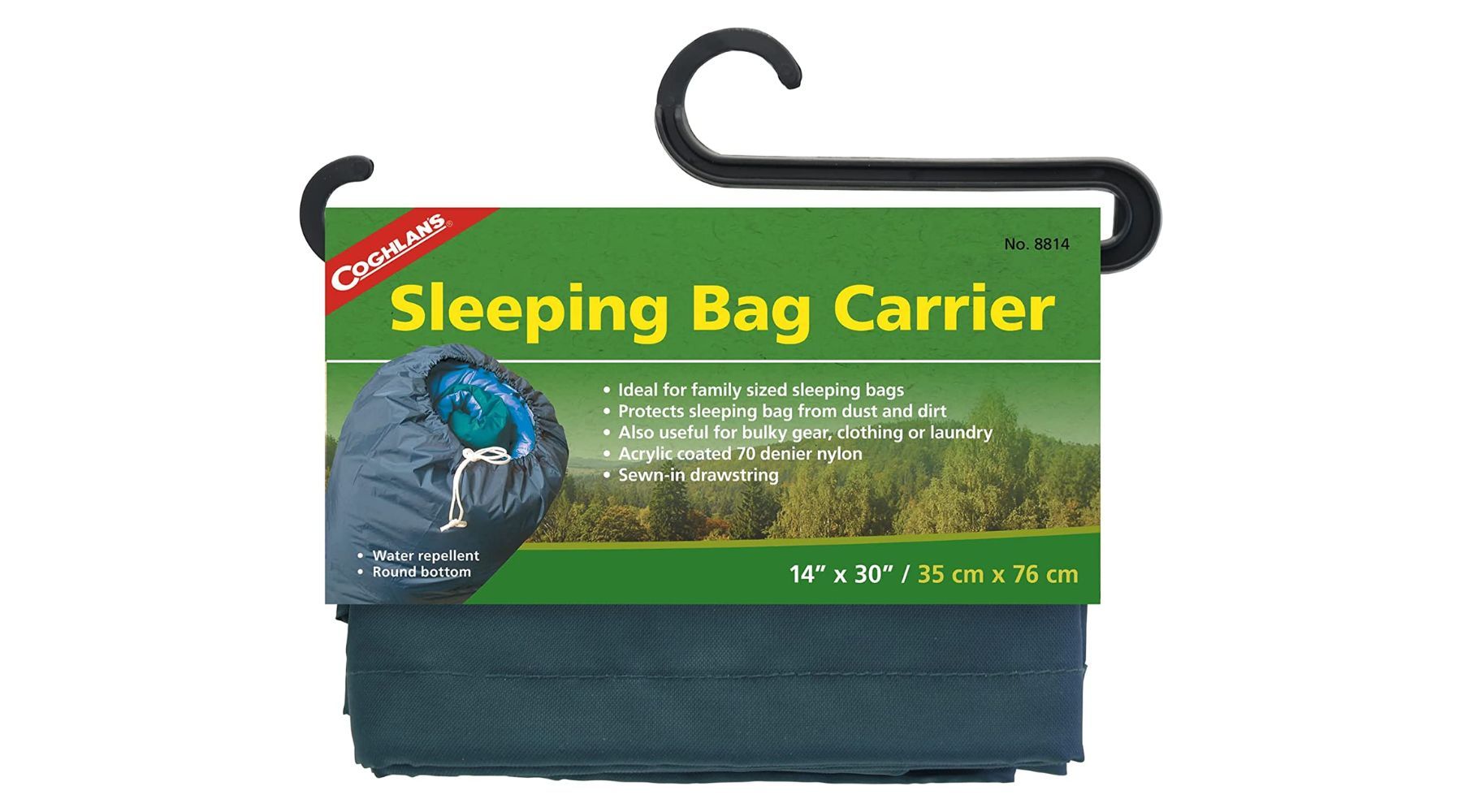 So, after reading several reviews and ratings about this sleeping bag, buyers recommend it's worth the purchase of a carrier bag.    So we've searched for one for you! This sleeping bag tote (carrier) is 14"x 30" and makes it much easier to keep this sleeping bag together to stow away safely. Order the sleeping bag carrier here!
---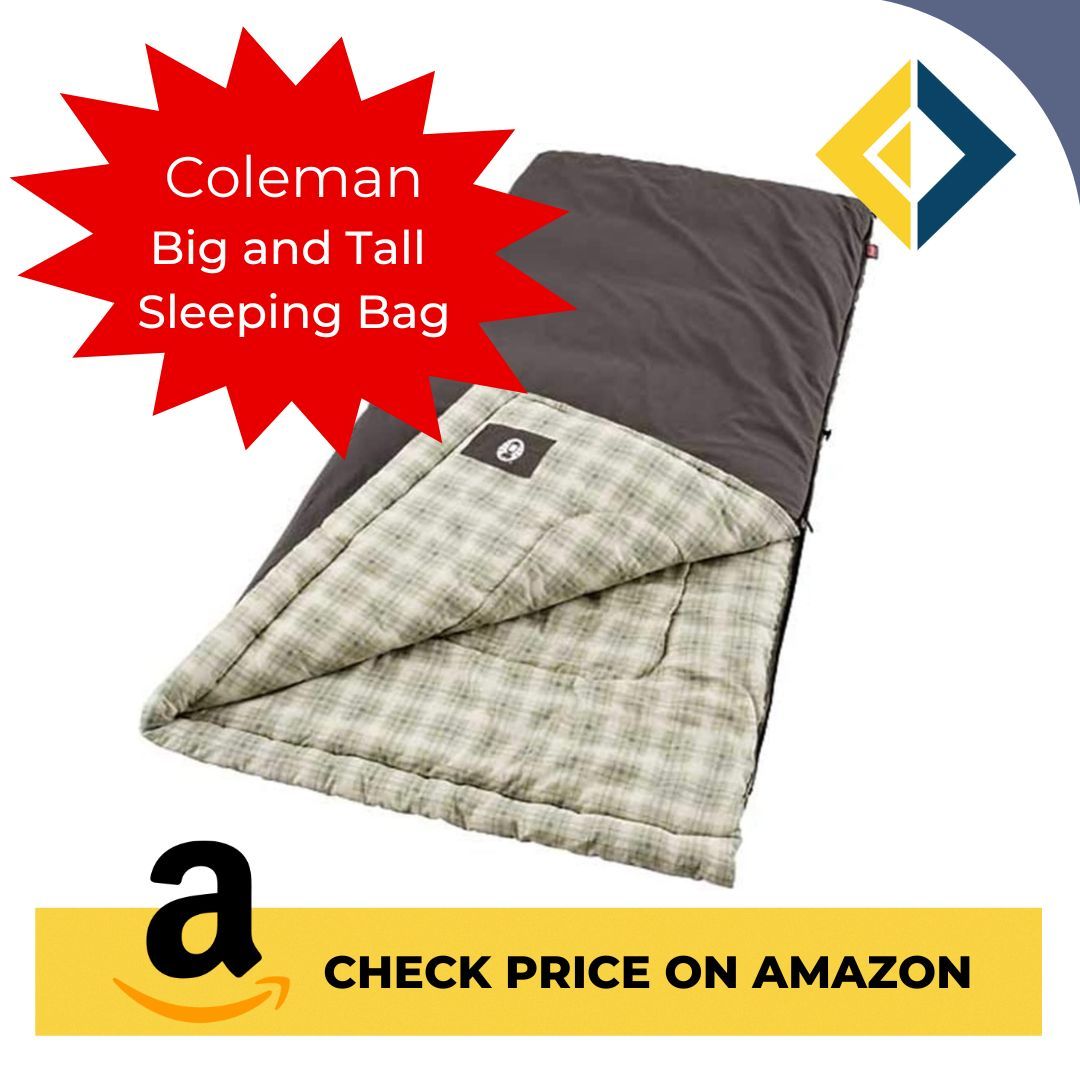 Why it's one of our fav's:
This Amazon in-stock rectangular-shape  sleeping bag's inside component is composed of flannel-lined cotton, which is why it is so popular.
Its flannel lining is quite comfortable to put on the skin. If you have sensitive skin, you will find that this is beneficial.
The outside shell of these sleeping liners is not polyester like traditional liners; instead, it is made of cotton fabric. When you shift about in your sleep, the sleeping bag clean won't slide off because of this.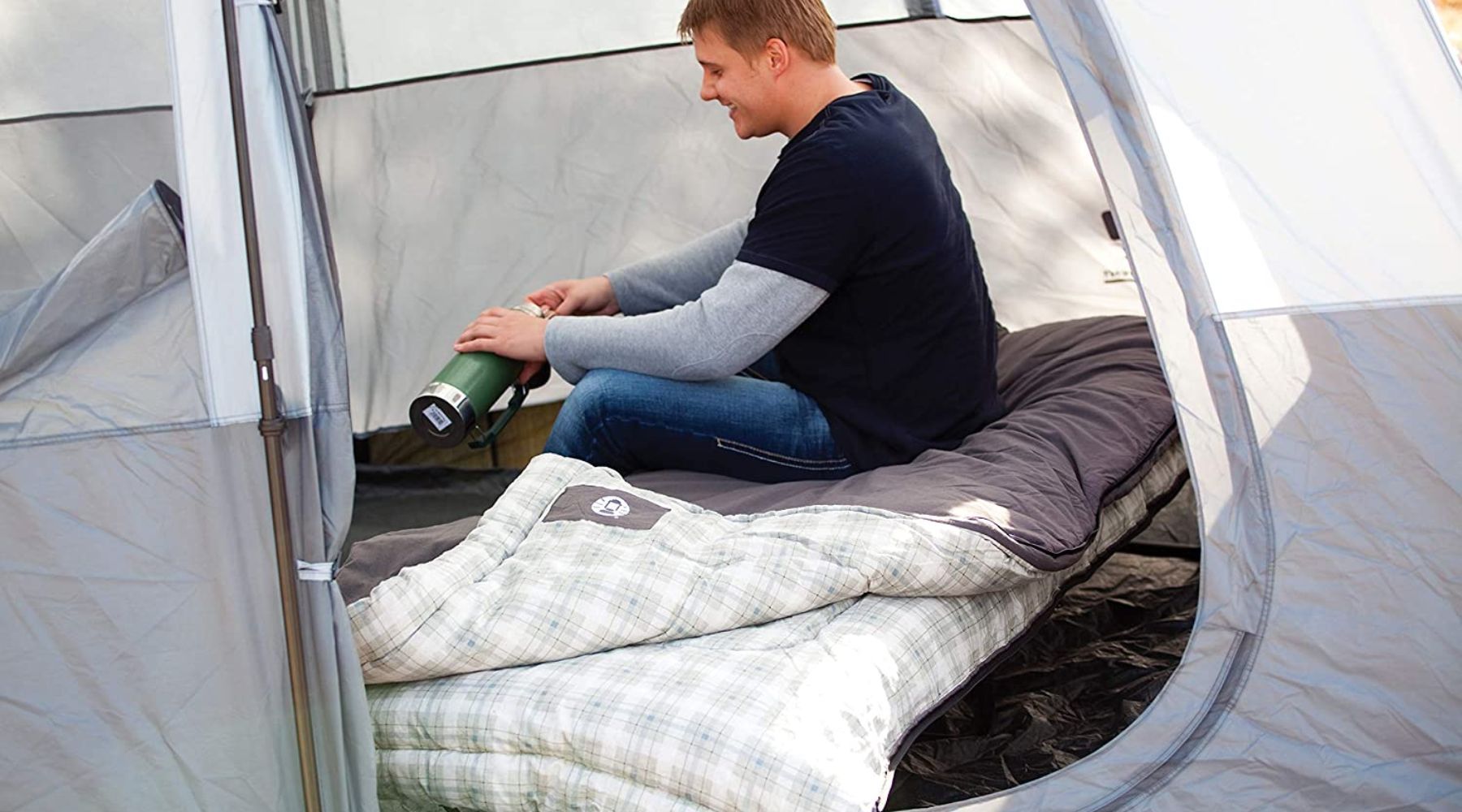 Fav Features:
This heavy-weight bag performs an outstanding job regarding supplying extra warmth, bringing us to the topic of its heat insulation. Inside this sleeping bag liner, you will feel pretty comfy even when the temperature rating outside is 10 degrees Fahrenheit.
The zippers are relatively long-lasting and do not cause any snagging or catching of the cloth as they are being unzipped.
You won't be sorry you purchased this Amazon in-stock Coleman sleeping bag with flannel lining if you're looking for a big bag liner that will keep you warm down to 10 degrees Fahrenheit.
Additionally, it can be washed in a machine, so doing so won't cause too much hassle.
---
Why it's One of Our Fav's:
The Coleman Dunnock Cold-Weather Sleeping Bag is one of our favorite sleeping bags because it is ideal for camping at higher altitudes or in cooler months. This sleeping bag features Fiberlock construction that keeps the insulation from shifting, to reduce getting cold and increasing durability.
With a cotton cover and ultra-soft cotton flannel liner you'll be cozy and warm.  IT'S AWESOME! No, seriously, this sleeping bag is great for colder weather stays because it has a lot of features that provide thermal efficiency to eliminate cold spots to keep you cozy like a warm blanket.
CUSTOMER FEEDBACK: "This is the second time I have bought this exact sleeping bag. My first one that I had for about 6+ years I used so much and it finally got a rip that was not worth trying to fix. I am 5'3 so this bag makes me feel like I am in a king size "bed". It's soooo comfortable, roomy and keeps me very warm even during the coldest camp nights. My only complaint is the bag has gotten so popular, that it's always out of stock."
Fav Features:
This sleeping bag is spacious and can accommodate most people up to 5' 11" tall. It's also machine washable for easy cleaning.
The Coleman Dunnock Cold-Weather Sleeping Bag will help you sleep comfortably in temperatures as low as 20°F due to a number of factors like the Fiberlock construction that keeps the insulation from shifting, the cotton cover and cotton flannel liner and the Thermolock tube design to keep cold air from escaping through the zipper.
---
FAQs About Sleeping Bags
Are cotton sleeping bags good?
Cotton sleeping bags are great, if you are looking for a comfortable, cozy sleeping bag.  But, it really depends on what you are looking for in a sleeping bag.   Consider how it will be used.   If you want a bag that is fairly inexpensive and will keep you warm in most conditions, then yes, a cotton sleeping bag is a good choice.
How do you store a sleeping bag long term?
To store your sleeping bag long-term, we recommend using a storage sack and storing it in a cool, dry place. You can find storage sacks here.

What's the difference between down and synthetic sleeping bags?
The main difference between down and synthetic sleeping bags is the insulation. Down is made from feathers and has a higher warmth-to-weight ratio than synthetic insulation made from polyester fibers and is typically cheaper than down. However, synthetic bags don't compress as well as down

What is the best material for a sleeping bag?
Wool sleeping bags are often thought to be the best type of sleeping bag, as wool is a natural material that is both insulating and breathable. However, wool sleeping bags can be expensive and may not be as comfortable as other types of sleeping bags.    Cotton sleeping bags are also a natural material is comfortable and breathable.
---
Cotton Comfort is a Great Option
A good night's sleep is essential to any camping trip or sleepover, so make sure you have a comfortable sleeping bag like one of these top three cotton options.
Getting cotton comfort in a sleeping bag will provide you with the warmth and coziness you need to get some rest after spending all day exploring the great outdoors!
Sleeping bags stay in the family for a LONG time, so choose wisely.  You can save a lot of time vetting your purchase, we've done your homework for you on this one.
Happy Shopping!
Your FavReviews Team
NOTE:  You may also like our review, Best Sleeping Bag Liner to Keep You Warmer and Cleaner!