Do you want to take your dog camping with you? If yes, great!  Camping and exploring outdoors is one of the most enjoyable things you can do with your dog. The process of selecting the best tent for camping with dogs, on the other hand, is a little less fun.
Finding good tents for dogs can be challenging because there are so many options to consider, and no tent is specifically labelled for being good for traveling with dogs.
We're here to help you decide by providing a list of possibilities well-liked by previous dog owners. Can't wait to buy the best tent for camping with your dog? Continue reading!
---
10 Tips For Camping with a Dog
1. Choose the right campsite:
Not all campgrounds are dog-friendly, so do your research ahead of time and make sure you're staying at a place that welcomes four-legged guests.
2. Get your dog familiar with tents and outdoor space:
If your dog isn't used to sleeping outside or being around loud noises, it's a good idea to get them acclimated to the camping environment before your trip. Set up a tent in your backyard and let them sleep in it overnight, or take them on short hikes and car rides to help them get used to being in new surroundings.
3. Pack all the essentials:
Make sure you have everything you need for your dog, including food, water, bowls, a leash, a collar or harness with ID tags, and poop bags. It's also a good idea to pack any medications or other supplies your dog might need in case of an emergency.
4. Keep your dog on a leash:
Even if your dog is well-behaved, it's important to keep them on a leash while camping. There are many potential hazards in the wilderness, and it's best to err on the side of caution.
5. Be aware of wildlife:
If you're camping in an area with potentially dangerous wildlife, such as bears or mountain lions, be extra cautious with your dog. Keep them leashed at all times, and make sure they're always within your sight.
6. Avoid leaving your dog alone:
Dogs can get bored and restless when left alone, so it's best to avoid leaving them unsupervised for long periods of time. If you need to leave the campsite, take them with you or ask a friend or family member to watch them.
7. Be mindful of the heat:
Dogs can overheat quickly, so it's important to keep an eye on them in hot weather. Avoid taking them on long hikes during the hottest part of the day, and make sure they have plenty of water to drink.
8. Protect your dog from insects:
Mosquitoes, ticks, and other insects can carry diseases that are harmful to dogs, so be sure to use a preventative measure such as a collar, spray, or ointment before heading outdoors.
9. Watch for signs of illness:
Just like humans, dogs can get sick while camping. Be on the lookout for signs of illness such as vomiting, diarrhea, excessive thirst or urination, lethargy, or fever. If your dog seems to be sick, take them to a vet as soon as possible.
10. Have fun!
Camping with your dog can be a great experience for both of you. Just make sure to take the necessary precautions and be prepared for anything. Have a safe and fun trip!
---
How We Choose the Best Dog Friendly Tents for Camping with Dogs?
With the growing market for dog-friendly items, it can be confusing when researching the best tents for camping with dogs.   The biggest thing to consider when purchasing the right tent for you and your dog is establishing the needs for you and your dog.
Ask yourself, 'what is the overall purpose of the getting a tent?'
Consider (and be honest) about your dog's personality and habits.  Will the dog be sleeping on an air mattress with you, or do you need a screened in porch area for the dog to stay, or do you need a separate room in the interior space, or simply additional floor space between air mattresses?
Our family Fav's below can help make the decision easier. These tents are all suitable for traveling with dogs.  They all function well, are weather proof, and could work for you and your dog.   With so many features, you can be sure your dog will be protected and comfortable while camping with you.
We've done the research for you. After reading through thousands of reviews on Amazon, our team has compiled a list of the top tents for camping with dogs to make your choice easier.
We trust that you'll find your next favorite item from the list we've researched for you below. All of these products have been hand-picked by our editors and we won't recommend something we wouldn't use in our own family. Some may even be items that we already use! We may receive a small compensation if you decide to buy something (that's how we keep the lights on). Some reviews have been edited for length and clarity. Have fun searching for your next fav product!
We know the only thing better than finding the right tent when you need it, is the peace of mind that comes with knowing these tents have positive reviews after being purchased and tested by other people with dogs just like you. We want to help you to have the best purchasing experience possible.
So take a look at our family 'fav's', and get one of the best tents for camping with dogs to make your next camping trip a memorable one.
---
What to Consider When Purchasing a Dog Friendly Tent
Tent size is an essential consideration, including center headspace.
How many people will be sharing the tent with you and your dog?
Consider a tent with a front and back entrance so getting in and out of your tent with a lot of gear is easier.
Think about additional storage space required when traveling with your dog. Choosing a tent with a large vestibule or screened area is wise so you have space for toweling off a wet dog if necessary, to keep your inner tent dry.
Consider the additional pockets, gear hammocks and other storage solutions for the additional gear you will have for your dog, so floor space is freed up.
Ventilation is one of the most crucial elements to consider.  With your dog sleeping in the same tent you want to ensure it has a good cross breeze and air circulation to keep the tent smelling fresh.   Nobody likes a stuff tent, believe us.
Here are our 5 family favorites for camping with your dog.  And don't forget dog treats!
---
5 Best Tents for Camping with Dogs
BEST 8 PERSON TENT FOR CAMPING WITH YOUR DOG
Why it's one of our fav's:
For those campers who want to stretch out, the Wenzel 8-Person Klondike Tent is a terrific option. The main compartment is relatively spacious, and the screened part is more of an open room than a vestibule.
It is a tent for eight people. The main compartment is roughly 11' by 9',  the screened section is also spacious measuring  around 6' x 7'.   The peak height of the tent is 6.5 feet, and the overall weight of the tent is around 25 pounds.
The majority of buyers gave the Wenzel 8-Person Klondike Tent high marks. Many people liked the quantity of room supplied and the tent's design, making it easy to maintain the inside nice and orderly. Several others also commented on how simple it was to pitch.   It's highly recommended and would be a great purchase to enjoy camping with you dog!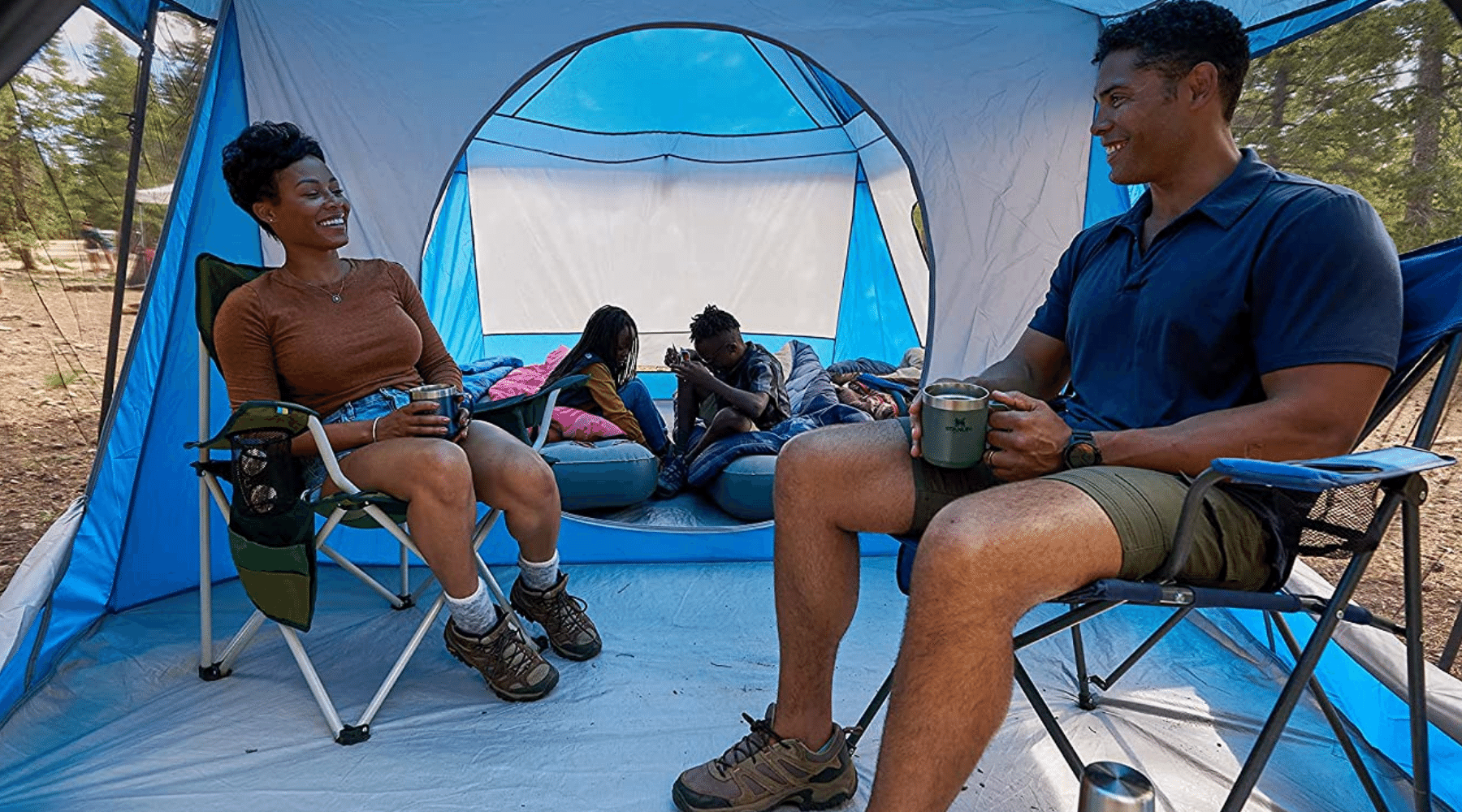 FAV Features:
It is a large tent built of solid materials that will survive many years.
The sides and tent floor are constructed of weather-resistant Polyester with a polyurethane coating.
All seams are lap-felled and double-stitched, and the zippers are coated with water-repellent chemicals to keep you dry.
It also has double-staked power corners for further stability in windy conditions.
The inner wall that separates the main compartment from the screened section may be entirely zipped up.
It has two hanging storage compartments to free up floor space as well as a duffel-style carrying bag.
---
BEST FOR WEEKEND VACATIONS WITH YOUR DOG
Why it's one of our fav's:
The Coleman Evanston Screened Tent is a budget-friendly yet high-quality tent. It's mainly intended for car camping families, although campers prepared to carry a more significant load may also find it beneficial.
The Coleman Evanston Screened Tent comprises 75D polyester taffeta, so it's not challenging enough for trekking the Appalachian Trail with your pet. Still, it'll do for weekend dog camping vacations.
The main compartment is 10' by 9' in size, while the connected screened vestibule is 10' x 5'. It stands 5' 8" tall in the middle and weighs around 21 pounds.
Considering many more factors, we learned it's a valuable and durable tent.
FAV Features:
The Evanston Screened Tent, like several other Coleman tents, has the company's trademarked WeatherTec technology, which includes welded floor borders and inverted seams to help prevent leaks and keep you dry.
It is also a simple tent to set up, with the maker claiming that most people can do it in 15 minutes.
The rainfly provides canopies over the windows so you can leave them open when it rains. The screened viewing windows keep air circulating through the tent.
It also has storage compartments and a handy carrying case. This tent can consume six people.
---
BEST TENT FOR CAMPING WITH BIG DOGS
Why it's one of our fav's:
This product is ideal for large families traveling with a dog; it measures 10 feet L* 9 feet W*78 inches H, making it one of the best tents for camping with dogs.
This perfect tent is composed of Polyester and comes in various colors, most notably a gorgeous blue. It has a zipper closing and a rectangular design, making it one of the best tents for camping with big dogs.
The invention uses chimney effect ventilation, allowing the dog to stay inside without discomfort. It is constructed using steel poles, which are not found in most other goods, making it one of the best tents for dog camping.
It can be one of the best tents for camping with large dog.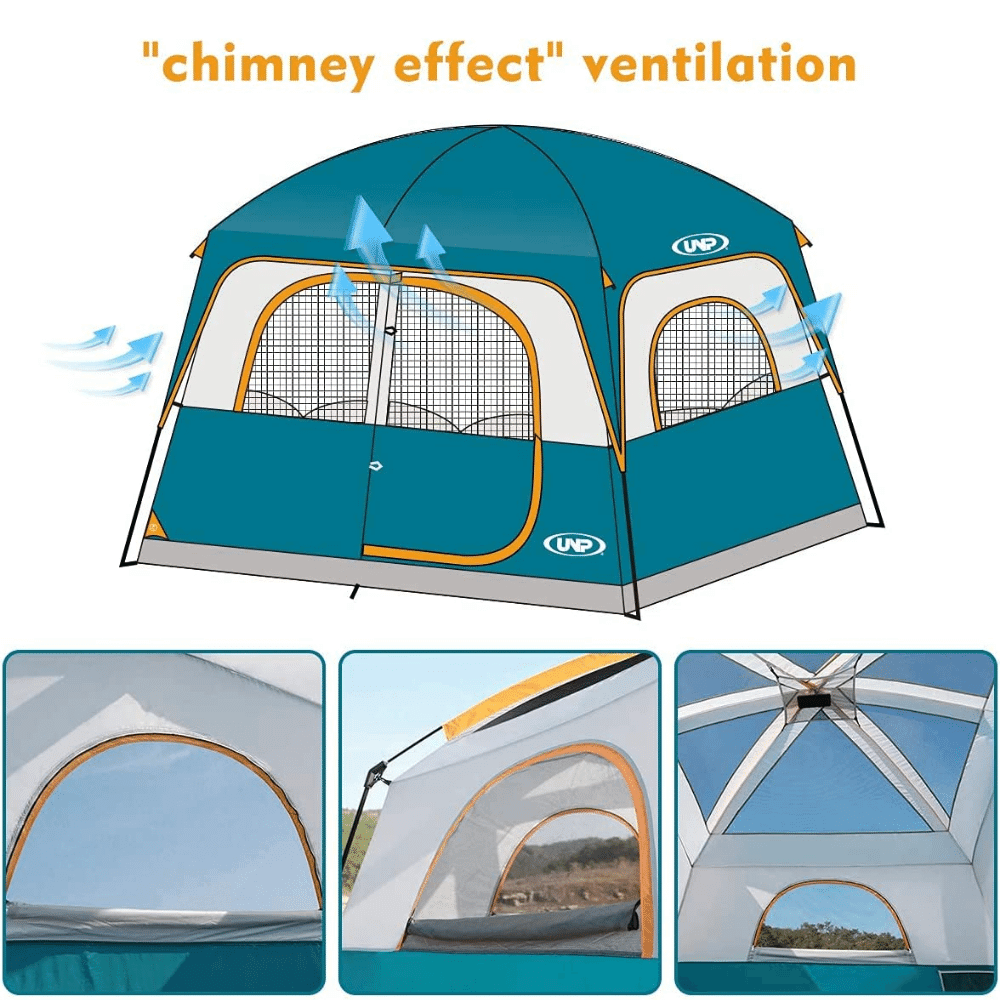 FAV Features:
This tent is seam-sealed and has a cut-in floor, making it one of the best dog friendly tents; the dogs are secure and happy within the tent and need little care.
The polyester material is covered with a high-quality waterproof substance that protects the tent in case of a water leak or damage; the tent stays 100% waterproof in an emergency.
With an Electrical Access Port, you have a variety of storage alternatives; the availability of mesh storage pockets makes it simple to keep minor but essential items organized.
Because of the better roof space, the internal area can easily transport six campers and even allow them to stand up to their full height.
---
BEST 2 PERSON TENT For CAMPING WITH YOUR DOG
Why it's one of our fav's:
The Mountainsmith Morrison 2-Person 3-Season Tent is ideal for campers who want to go into the wilderness, unlike many other tents we suggest, which are too huge and heavy for most trekkers.
Because of the limited space, you and your pet will have to sleep closer together than in a more spacious tent.
Morrison's Mountainsmith earned largely excellent reviews. Many people appreciated the tent's double-door design and durability; others said it was simple to set up.
Many dog owners stated that they could use the tent in summer and winter with similar ease, and the poles, seams, and pole sleeves all looked well-made and sturdy.
FAV Features:
It does, however, contain a few beneficial design characteristics. For example, this tent has two entrances, allowing you and your loyal dog to escape and enter from either side.
Furthermore, the tent's rainfly is intended to give two vestibules near each entrance. It will provide your dog with a tiny area to sleep or relax.
The Mountainsmith Morrison Tent also has a "bathtub floor structure," which means the bottom tent material extends a few inches up the edges of the walls.
It dramatically enhances its capacity to keep you and your things dry while protecting the walls from your dog's paws.
This tent has a rainfly with ventilation windows and a water-resistant stuff bag to keep your belongings dry while hiking.
It is a two person tent with dimensions of 56" x 92", stands 43 inches tall in the middle, and has 7 square feet of room. Moreover, this tent is just 4 pounds and 11 ounces in weight.
---
BEST 2DOOR 2VESTIBULE ULTRALIGHT TENT
Why it's one of our fav's:
The Big Agnes Copper Spur HV is an ultralight backpacking tent.   This quality tent has new awning-style vestibules that expand to cover the living space which is  great for both drizzle and sun protection.
It comes in 2 person, 3 person and 4 person sizes.   Each of these feature two doors and two vestibules, making it a great tent for traveling with your dog.
Even the 4 person tent is lightweight and ideal for people searching for a relaxing backcountry retreat with their pets.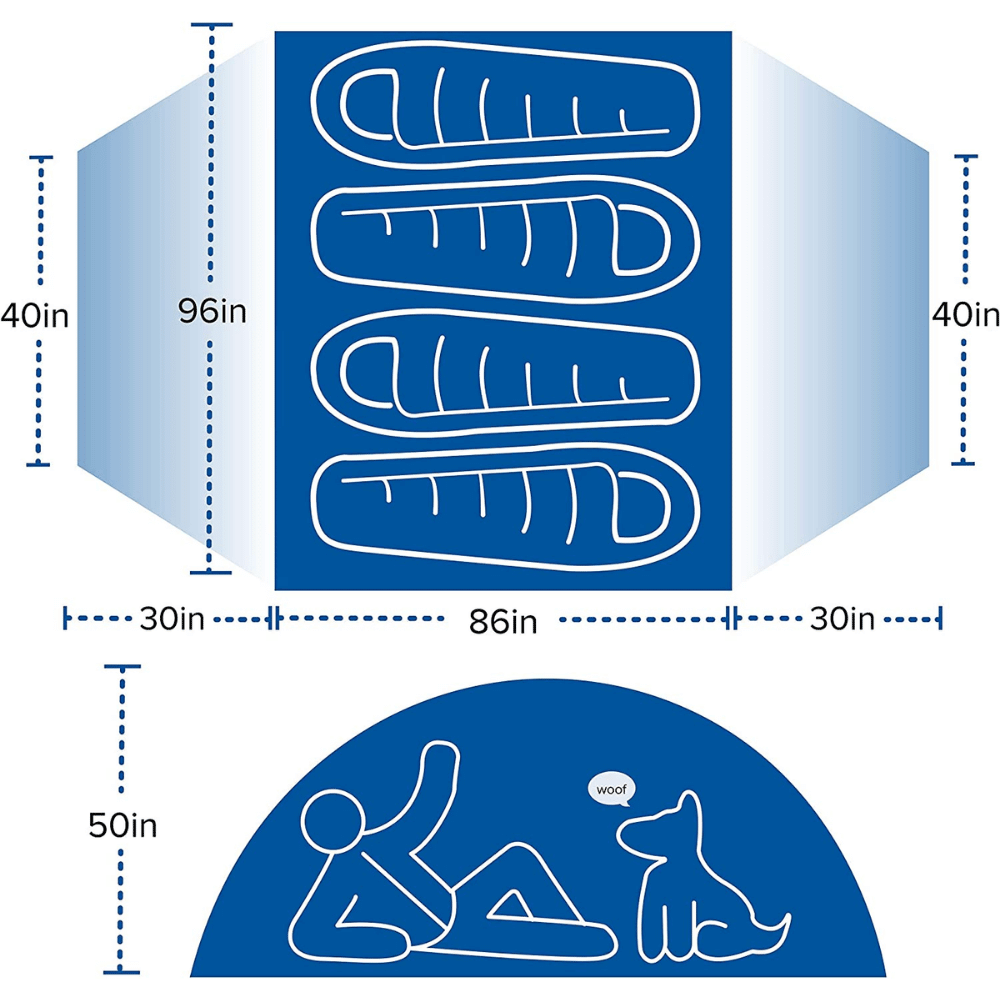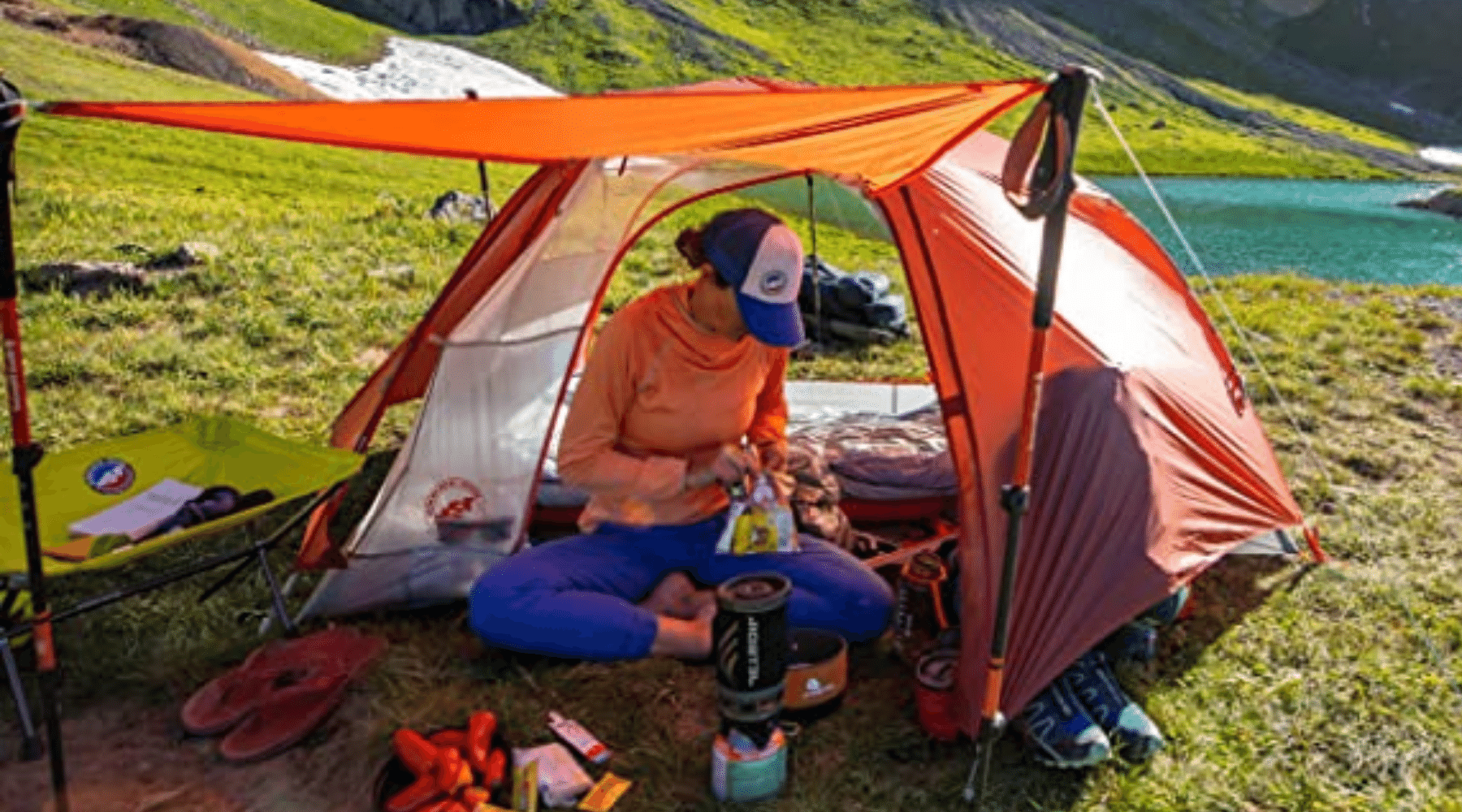 FAV Features:
This lightweight tent includes some additional storage spaces at head and foot, making it easier to organize your pets gear as well as your own without cramping your floor space.
These are true backpacking tents for camping with dogs.  The Copper Spur HV UL tent has been completely redesigned, as a 3 season tent with two vestibule areas front and back.  So you are light on the trail and warm at night with your pet.
While the size of these tents (all sizes 2, 3, 4 person) are all smaller than other tents for the same numbers of people, the design and features of the tent make it very workable for a lightweight tent.
We are pretty sure you will like the features of this tent for camping with your dog.
---
Best Tents for Camping with Dogs FAQ:
Should I buy a separate tent for a camping trip with my dog?
It's usually better to have your dog inside the tent with you. It eliminates the need to bring two different camping tents on your summer camping trip. Furthermore, with you at their side, your dog sleep will be easier in a foreign place.
On the other hand, getting your dog a separate tent guarantees that you both have more room to sleep at night. It's also more sanitary since they won't be bringing germs and bacteria into your tent.
What size of Backpacking tents do I need if I'm sleeping with my dog?
It is determined by the size of your dog and the number of people camping in the same tent. Ideally, you should consider your dog to be an additional person.
You'll need a six-person tent with four people and your dog. Of course, you may choose something more significant for a more comfortable experience.
Looking for more tips?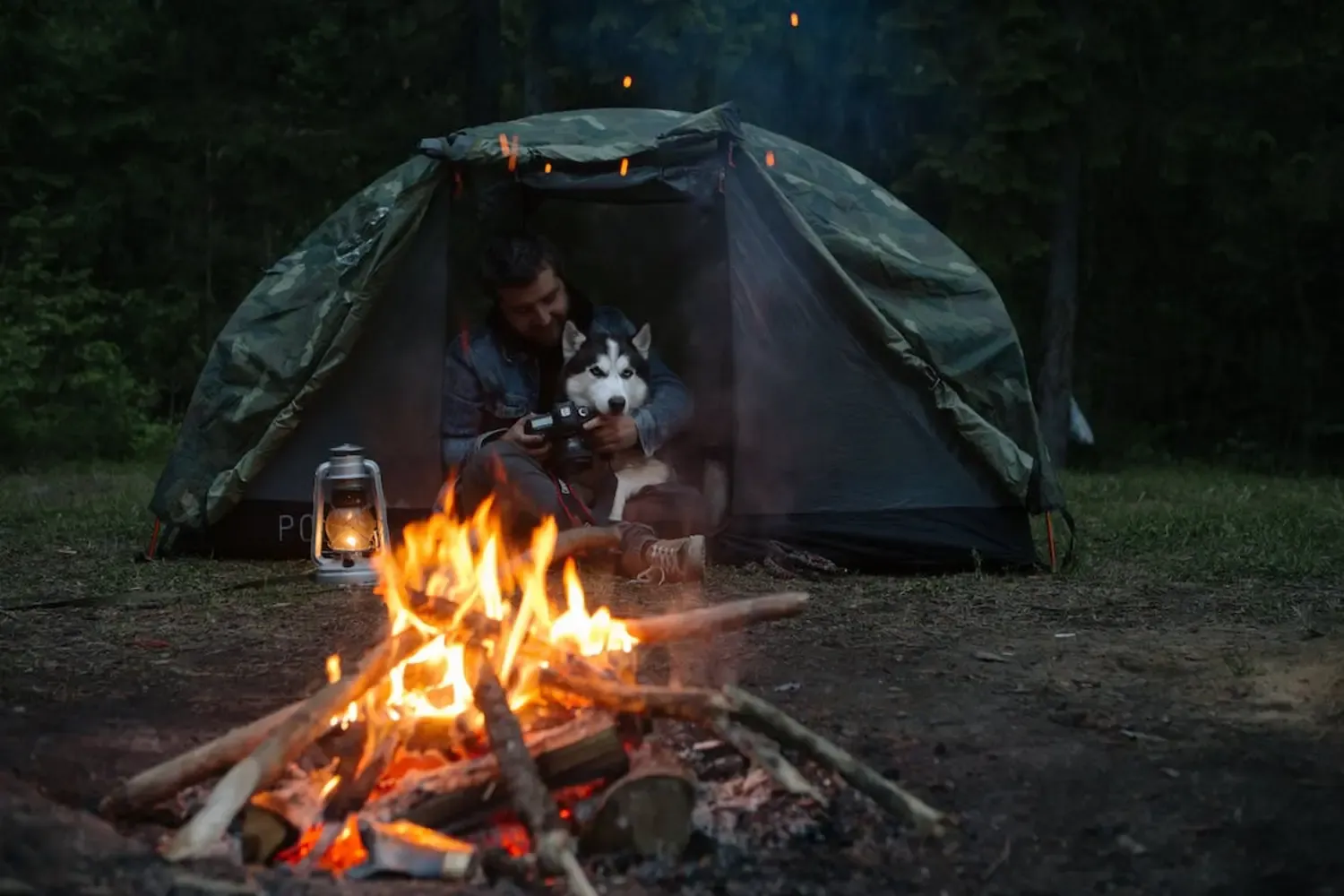 How long does it take to put a pet-friendly camping tent together?
It is determined by the kind of tent purchased. Most, though, maybe throw in 10 to 20 minutes. Some people use the terms 'pop up tent' and 'instant tent' interchangeably but there is a difference.
Read more about Pop Up Tents here, with the definition and comparison to instant tents.    Read more about Instant Tents here, with a definition and comparison to pop up tents.
---
So, We Hope You've Been Successful Deciding on the Best Tent for Camping with your dog(s).
Getting to enjoy the great outdoors with your favorite fury friend, makes every outdoor experience even more complete.
We like the Wenzel 8-Person Klondike Tent as one of the best tents for camping with your dog. Be mindful of the recommendation of purchasing one size up to accommodate your small pet, and perhaps two sizes up if traveling with other people and a larger dog.
Be sure to prepare for the camping trip carefully and plan for any needs your dog may have. You and your dog are sure develop some great memories and photographs the next opportunity you get to be out in the wild.
Thank you for stopping by FavReviews.
Happy Shopping!
Your FavReviews Team
PS - Have you signed up for our FavReviews Email Updates yet?  Don't miss another review - we review family favorites for outdoors, sports, home essentials and eco friendly products.  Follow us!  Let us do the research for you. Subscribe right here on this page now :)
P.S.S. - You might also be interested in our articles:
Better yet ... use the "Search" function at the top of each page to find what you want.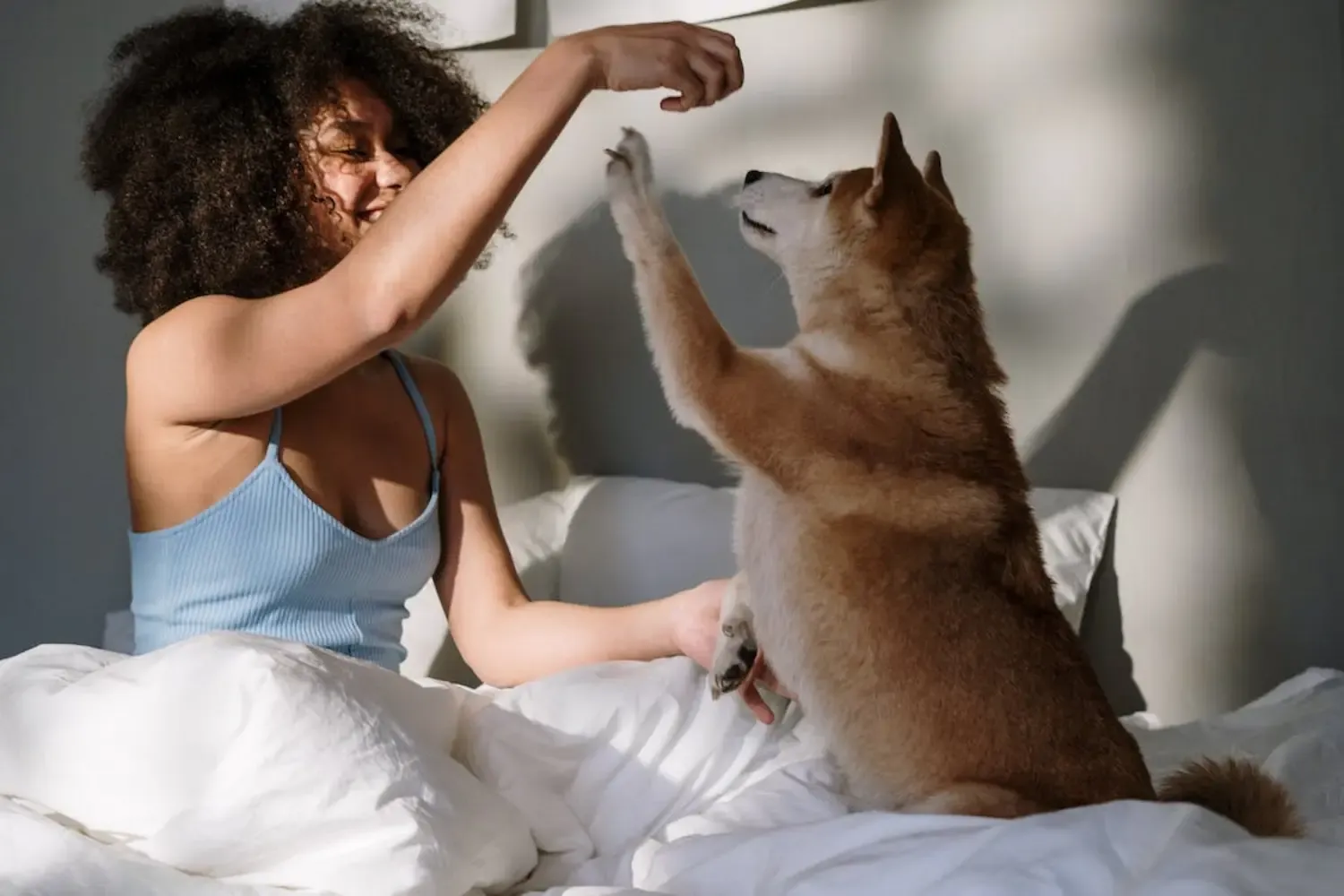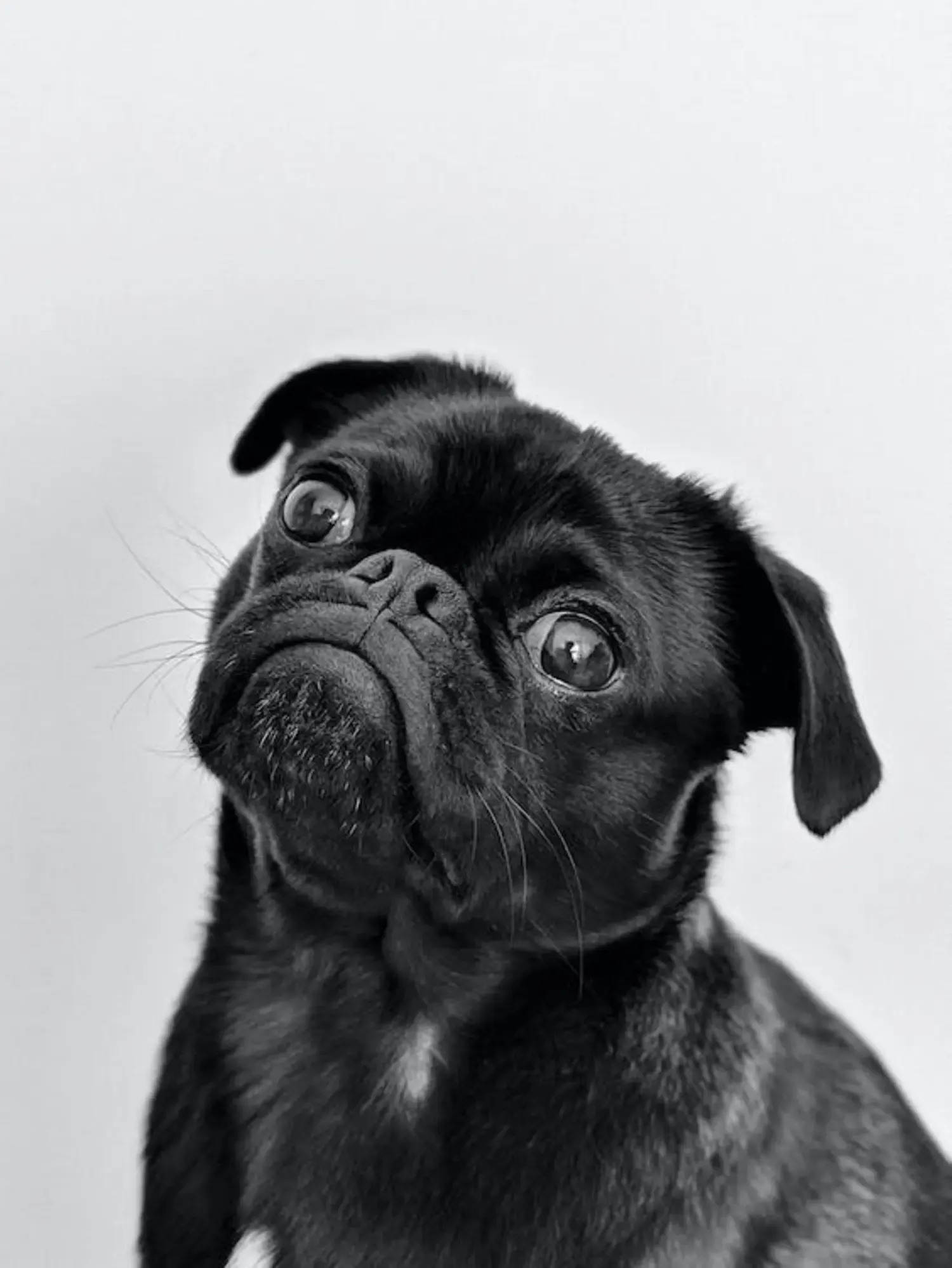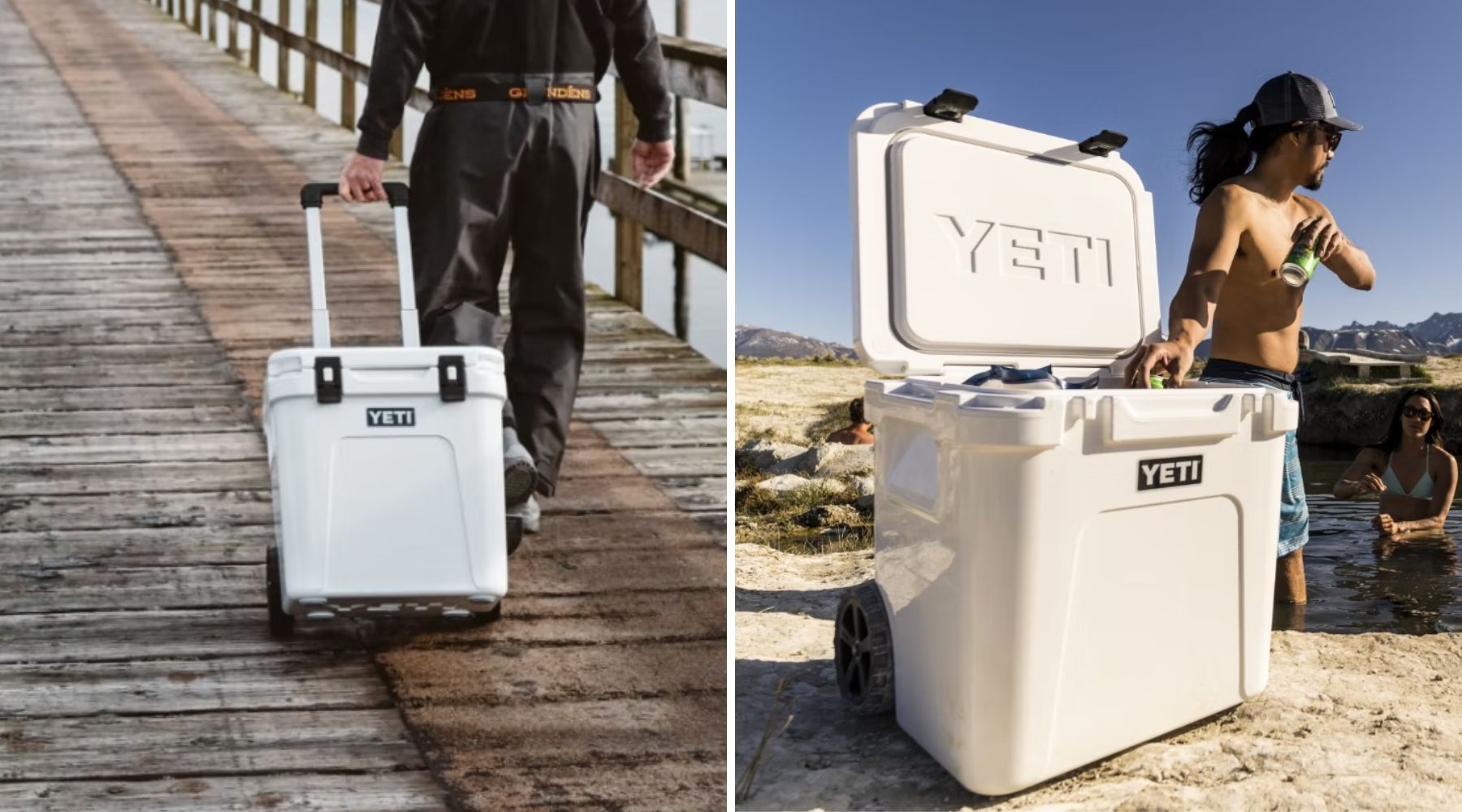 ---
Do You Enjoy the Outdoors as Much as We Do?
If you like to listen while walking or relaxing outdoors like we do, you can get lots of great music with Amazon Prime Music or 2 FREE Audiobooks from Audible Plus!
I love learning and I never give myself enough time to read books, so I love listening to a great book or motivating myself with great songs when out for my daily walks.
Plus, if you want to take advantage of 2-day shipping, get a free 30-day trial of Amazon Prime. ( I used to think free shipping was the biggest benefit of Amazon Prime, but have you seen how many new movies have been added to Amazon Prime lately?)  PLUS, did you know if you receive qualifying government assistance like SNAP or Medicaid, and others you can save even more with Prime Access.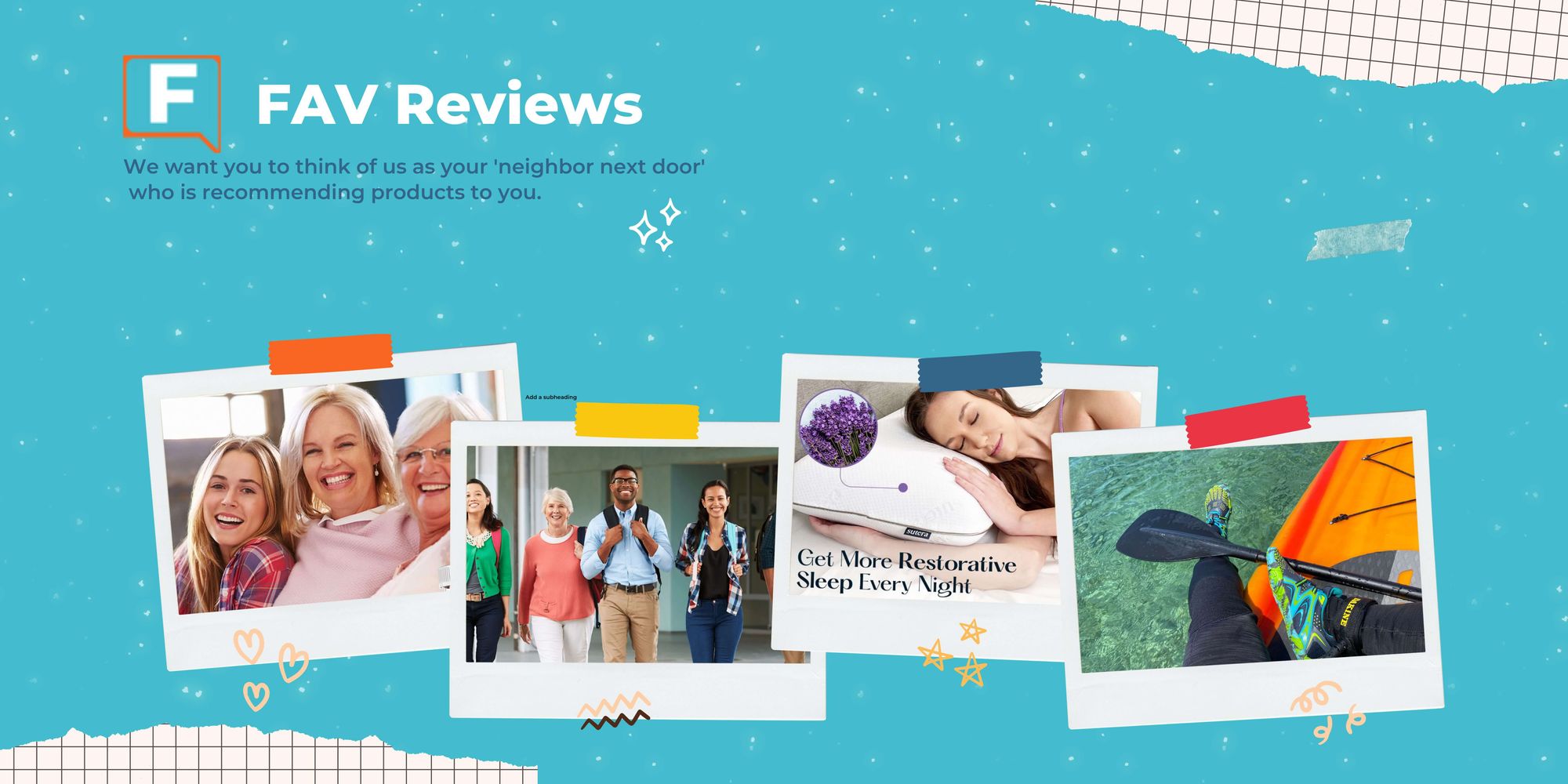 Want to see even more content about products for healthy lifestyles and outdoor enthusiasts?    Be sure to check out all of our FAV Reviews.
Do you love the outdoors as much as we do? Check out our other articles:
Or shop by the season:
Thank you for visiting us at Fav Reviews :)  Stop by again!  Better yet subscribe with the button on this page and never miss another thing.
---