When it comes to tailgating, there are a few essentials that you need in order to have the perfect experience.
Of course, you need food and drinks, but you also need a comfortable place to sit.
That's where tailgate chairs come in!
In this blog post, we take a look at the different types of tailgate chairs that are available on the market so that you can find the best tailgate chairs for your needs.
We trust that you'll find your next favorite item from the list we've researched for you below. All of these products have been hand-picked by our editors and we won't recommend something we wouldn't use in our own family. Some may even be items that we already use! We may receive a small compensation if you decide to buy something (that's how we keep the lights on). Some reviews have been edited for length and clarity. Have fun searching for your next fav product!
BEST TAILGATE CHAIRS | TYPES to CHOOSE FROM
One thing for sure, you will find a style or type of tailgate chair to suit every fan out there.  You will find everything from:
Licensed Chairs, even 3pc sets
Big Game Chairs for Big Guys
Maximum Weight Chairs
Folding Chairs with Folding Coolers Attached
Most Compact, Light Chair
Portable Hammock Chairs
Portable Rocking or Recliner Chairs ... and more
You may want to visit our review on The Top 10 Styles of Tailgating Chairs this Season
But before you start shopping, here are some things to consider when buying any type or style of tailgate chair.
Portable
One of the most important things to consider when choosing a tailgate chair is how easy it is to transport. After all, you'll likely be doing a lot of walking when you're tailgating, so you don't want to be lugging around a heavy chair.
Some of the best options in terms of portability are folding camp chairs or beach chairs. These chairs can be easily carried over your shoulder or even in a backpack, making them ideal for long days spent outdoors.
Look for chairs with their own carry cases, so you can keep them in the trunk of your car or back of your truck for easy access.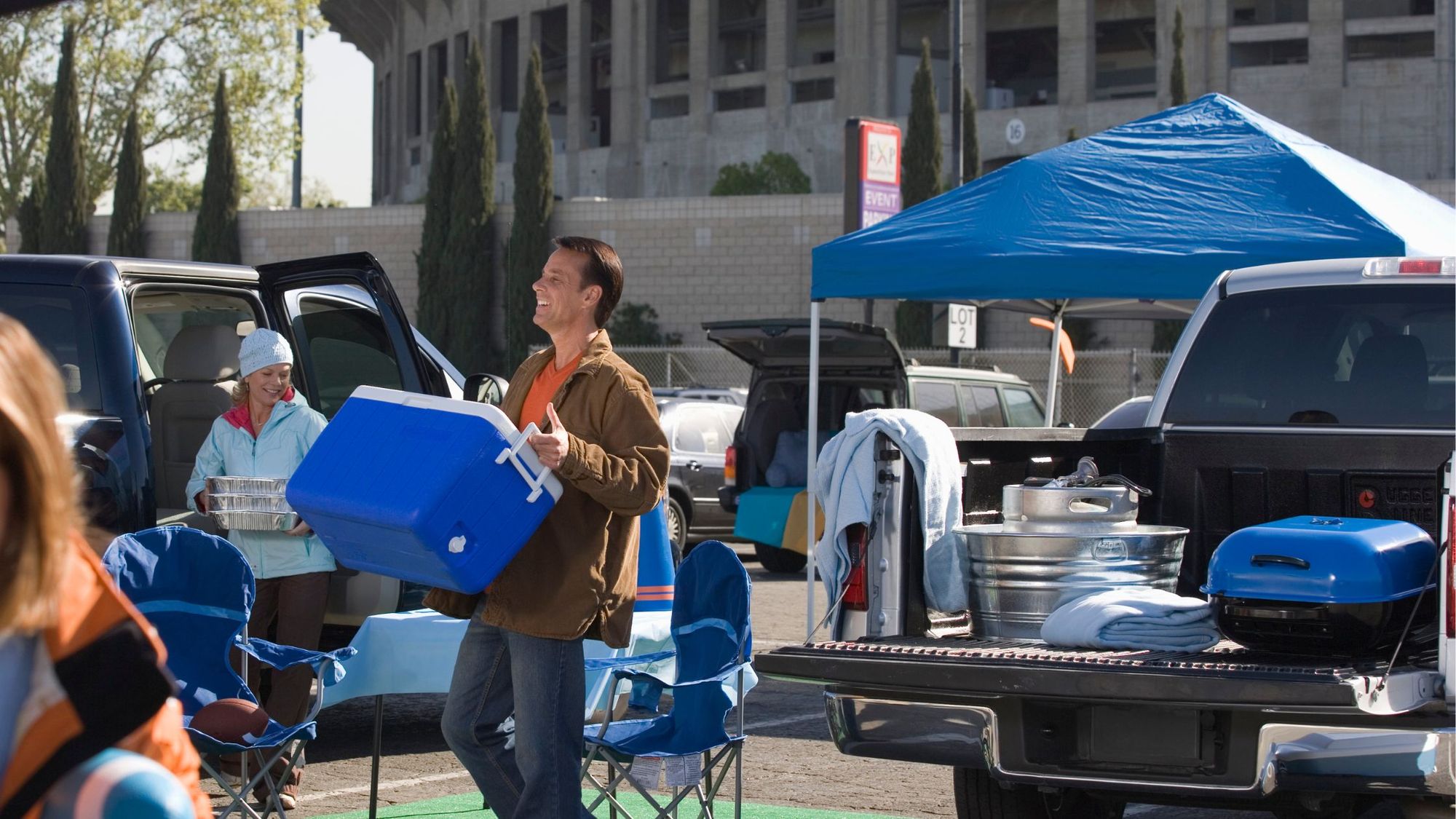 Comfort
Another thing to keep in mind is how comfortable the chair will be. You'll be sitting in it for hours at a time, so you want to make sure that it's comfortable enough to last. Look for chairs that are easy to get in and out of.  Some will have backrests for added comfort. You might also want to consider getting a chair with armrests so that you can rest your arms while you're sitting.
Durable, Weather Resistant
Finally, make sure to choose a chair that is durable and weather-resistant. Tailgating takes place outdoors, so you'll want a chair that can withstand sun, rain, and wind without falling apart. Look for chairs made from strong materials like aluminum or steel that won't rust or deteriorate over time.
Size, Weight Capacity
For some tailgaters size will matter.  Consider the weight capacity for the chair you are looking for.  Nothing worse than buying a cheap chair only to have it collapse on you during the first tailgate party.   The size of the chair itself isn't as important as the overall weight capacity of the chair.

There are a lot of things to consider when choosing the best tailgating chairs. But as long as you keep your needs in mind, you're sure to find the perfect one for you!
You may be interested in reading ...
Happy Tailgating!
Your FavReviews Team