YETI knows customers come in all shapes and sizes, with a wide variety of interests and styles.
That's why they carry such a diverse range of products; cups, mugs, can coolers and the ever-popular YETI coolers. And yes, they have them in pink!
Whether you're tailgating at the big game or spending a day at the beach, YETI has you covered in PINK!
Read on to learn more about the selection of pink YETI products.
💡
Quick Read: FavReviews is a family friendly product review site. We also write quick read checklists and tips like this one, so you can get the information you need quickly without a lot of searching. In exchange we need you to know we may collect a share of sales or other compensation from the links on this page if you decide to buy something (that's how we stay in business). But, the product never costs you more, in fact in some cases, we hope we might help save you money based on our recommendations. PS - if you would like to follow us, we will send our articles to you by email. Sign up on our home page https://FavReviews.com
The Different Hues of YETI Pink and What They Mean for the Outdoor Enthusiast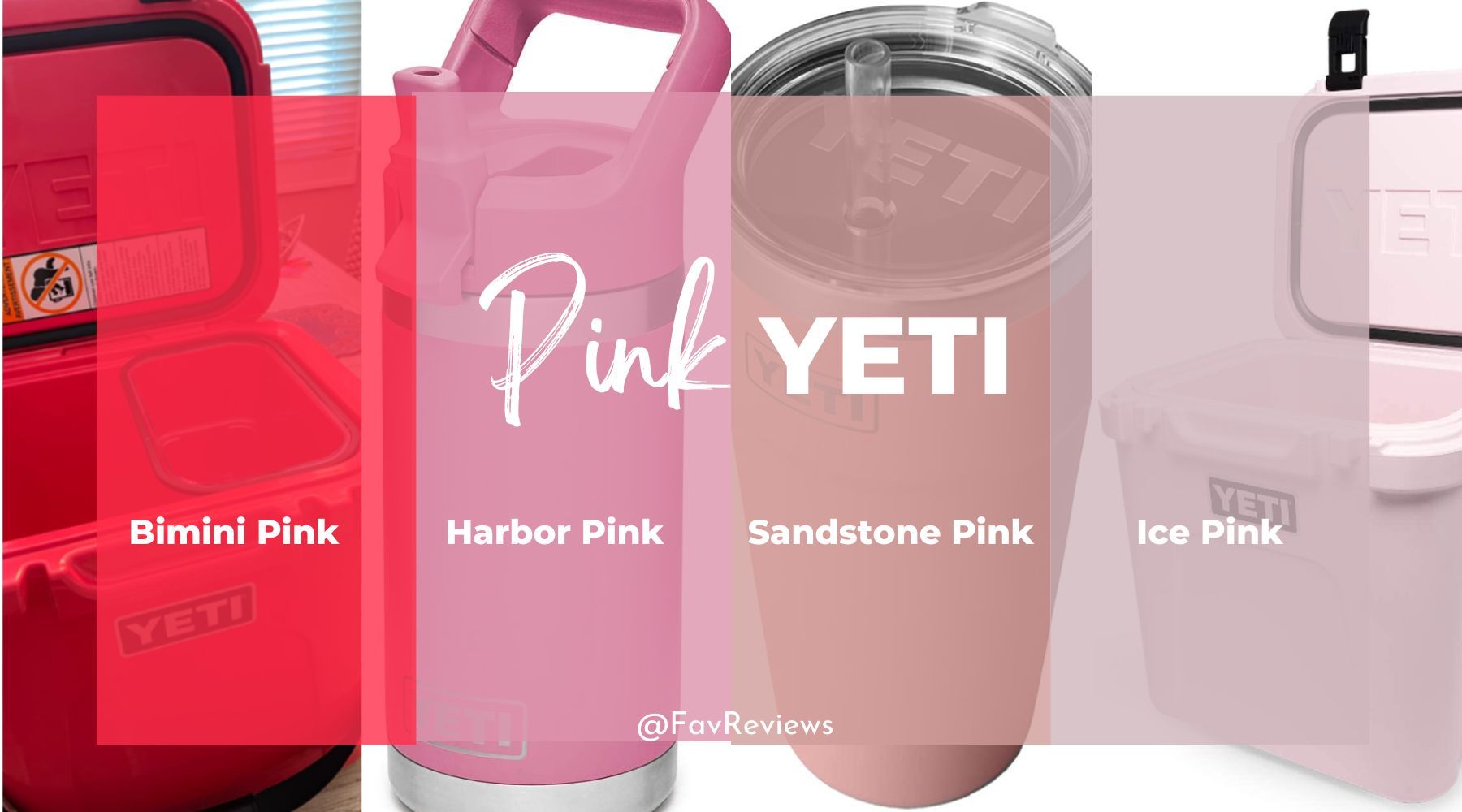 At first glance, one might think that all shades of pink are created equal. But when it comes to the world of YETI coolers, there is most definitely a difference between Bimini Pink, Harbor Pink, Sandstone Pink, and Ice Pink.
Let's break down each color so you can make the best decision for your next outdoor adventure.

Bimini Pink: This shade is perfect for those who want their cooler to make a statement. Bimini Pink represents confidence and self-assurance - perfect for the outdoorswoman who knows her own strength.
Harbor Pink: If you're looking for a pink color that's both sophisticated and practical, Harbor Pink is the way to go. The color is similar to Bimini Pink but with a slightly more muted tone. It's perfect for those who want their cooler to say "I'm here to have fun but I take my adventures seriously."
Sandstone Pink: Sandstone Pink is the perfect color for those who want their cooler to have a timeless look. The hue is inspired by the natural shades of pink found in sandstone formations around the world. This color represents strength and durability - perfect for the outdoorsman who wants their gear to last through any adventure.
Ice Pink: Ice Pink is the lightest and most delicate of all the pink YETI colors. It's perfect for those who want their cooler or drink to be both stylish and functional. The hue is inspired by the delicate shades of pink found in glaciers and icebergs. Ice Pink represents beauty and grace - perfect for any outdoors enthusiast who wants their gear to reflect their personality.

No matter what your style or personality, there's a YETI pink color that's perfect for you.
So what are you waiting for?  We've done the research, start exploring!
---
The Best Way to Keep Your Drinks Cold this Summer: Pink YETI Roadie Coolers!
There's nothing worse than a lukewarm drink on a hot summer day. Whether you're at the beach, by the pool, or just enjoying a backyard barbecue, you want your drinks to stay cold.
That's why we're big fans of YETI coolers. Not only do they keep your drinks icy cold, but they come in a variety of colors and styles to fit your personality.
And our personal favorite?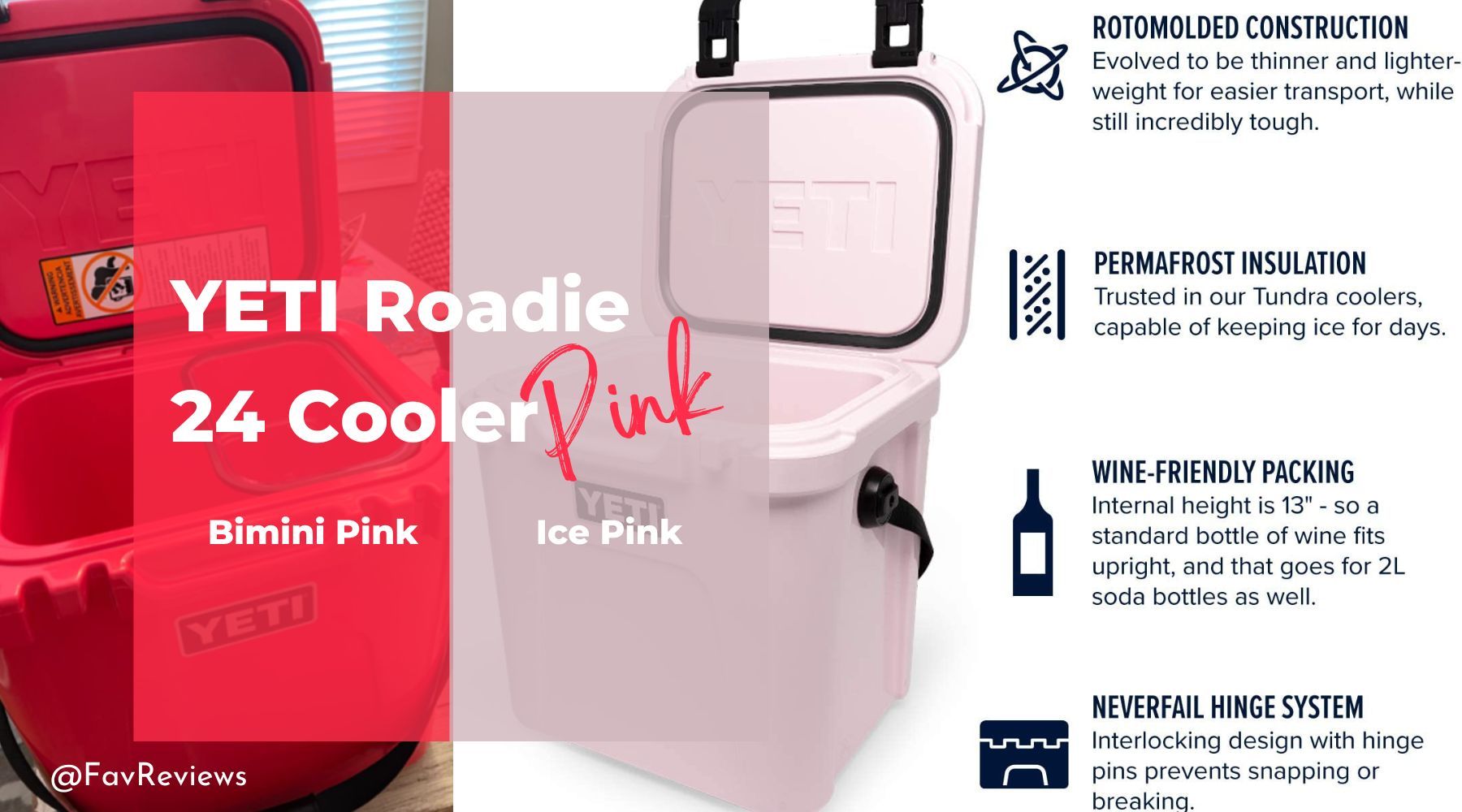 YETI Roadie coolers are some of the most popular on the market for a reason: they work. They're made with thick walls and a durable lid to keep heat out and cold in.  The Rotomolded construction has evolved to be thinner and more lightweight, so it is easy to transport ... but it's still tough.
And a pink YETI Roadie 24 is no exception. The YETI Roadie comes in two shades of pink, either Bimini Pink or Ice Pink, along with 10 more great colors.  It's perfect for storing all of your favorite summer beverages, from cans of soda to bottles of wine.  
Did you notice the YETI Roadie 24 will hold a full size bottle of wine (or large bottle of pop) standing up! It's the perfect cooler for a day out to keep your drinks chilled all day.
Plus, it's big enough to fit everything you need for a day at the beach or a picnic in the park, and it fits easily in the back seat of your car, SUV, or truck.
But our favorite thing about these pink YETI Roadies?  They are so darn cute! Whether you're using it for yourself or giving it as a gift, a pink YETI Roadie 24 is sure to please.
You can check today's price on Amazon here! Click the button below, or the image above.
---
PRETTY IN PINK - Yes you are!
Whether you want to keep your coffee hotter in the morning, or keep your water cold throughout the day, or your 'happy hour drinks chilled longer' - YETI has a mug, cup, glass, sippy cup for you!
Most of the traditional YETI Rambler drinkware line comes in at least two of the three pink YETI colors.  Several come in all three colors.
Here are some of our drinkware favorites, we use a couple of these daily! (okay 3 of them!)
For Morning Coffee ... at my desk, coffee stays hot longer
YETI RAMBLER 14oz Mug | 3 Colors of Pink, Plus about 20 other Colors!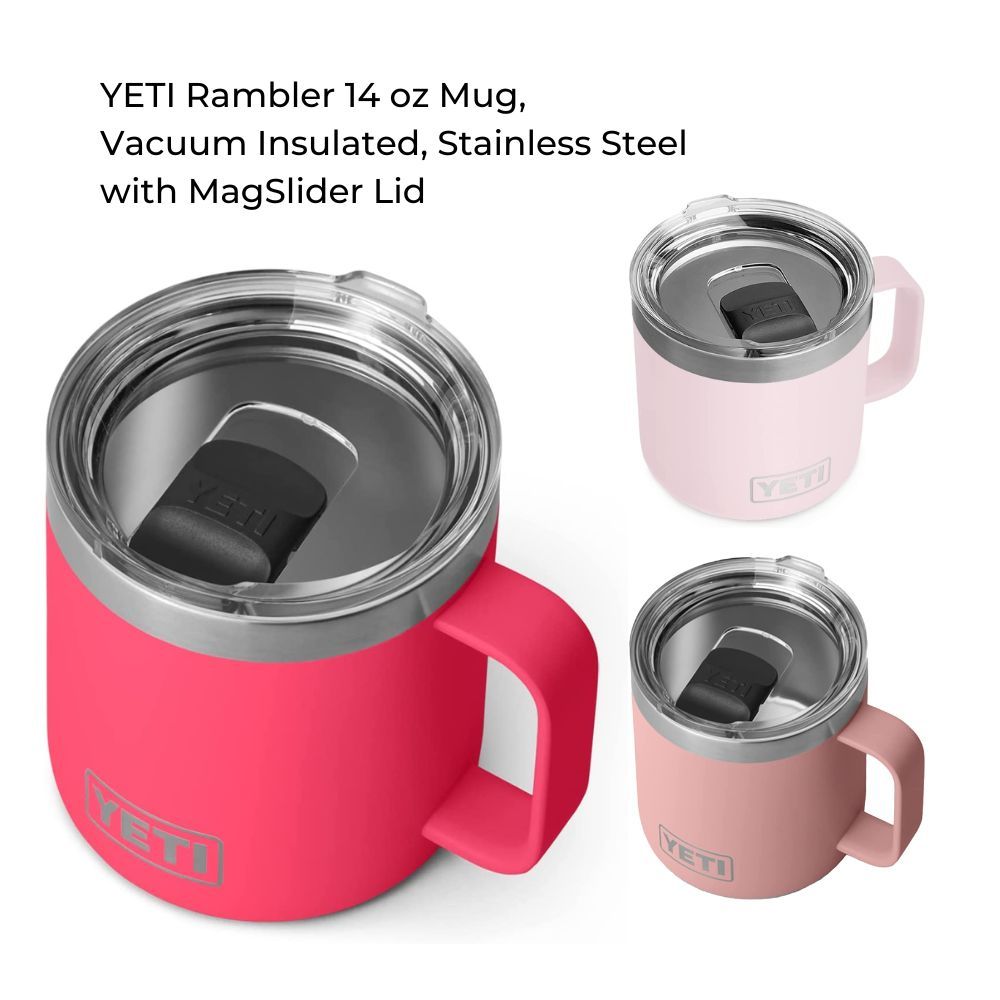 ---
For mid-morning and afternoon water
Two choices, depending if you like to chug your water out of a bottle, or sip it out of a straw.
YETI RAMBLER 18oz Water Bottle with Chug Cap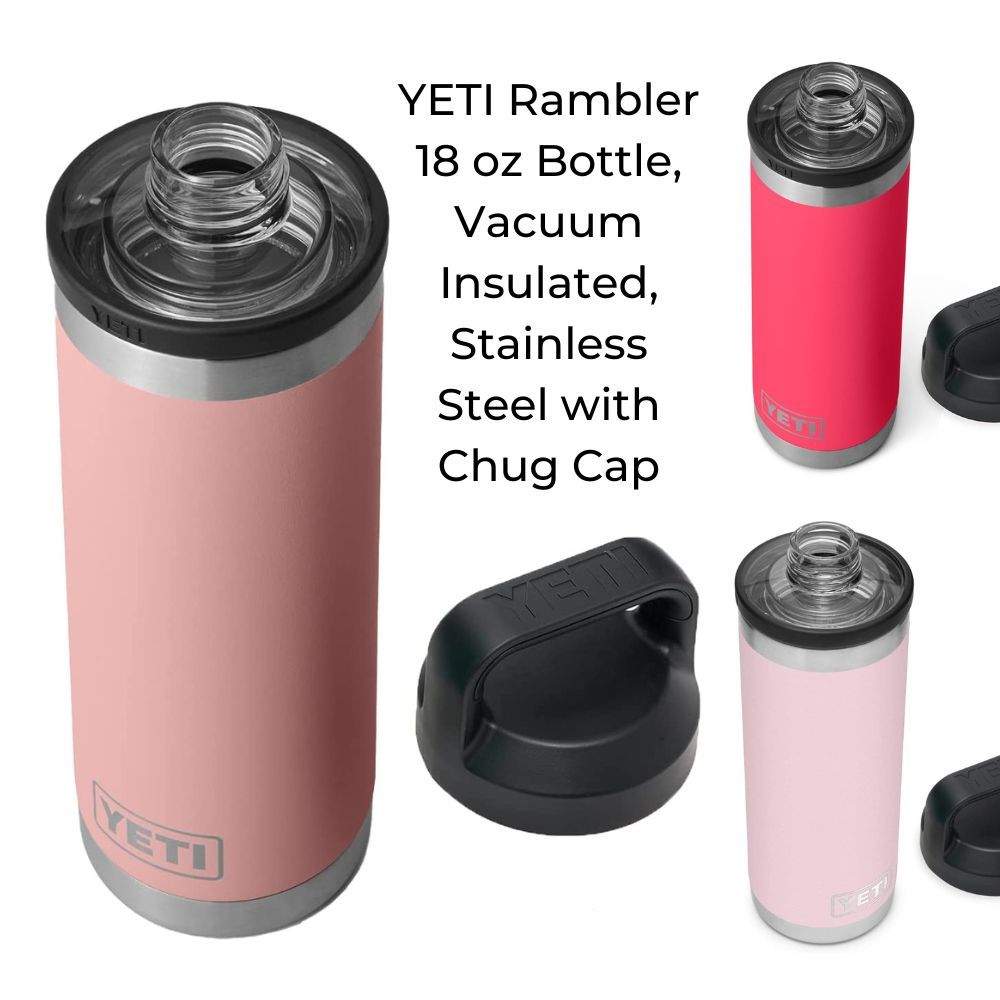 YETI Rambler 26 oz Straw Cup, Vacuum Insulated, Stainless Steel with Straw Lid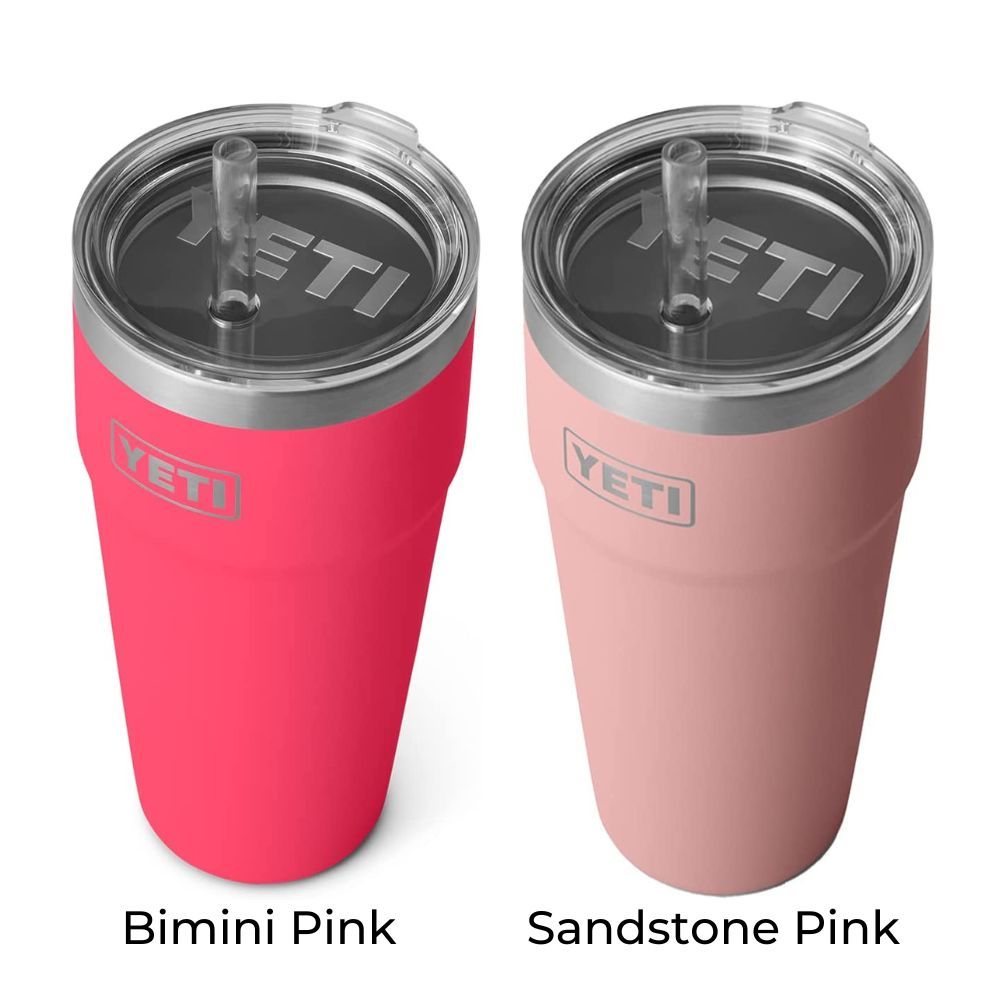 ---
For Happy Hour with Neighbors!  
Depending on Size You Need!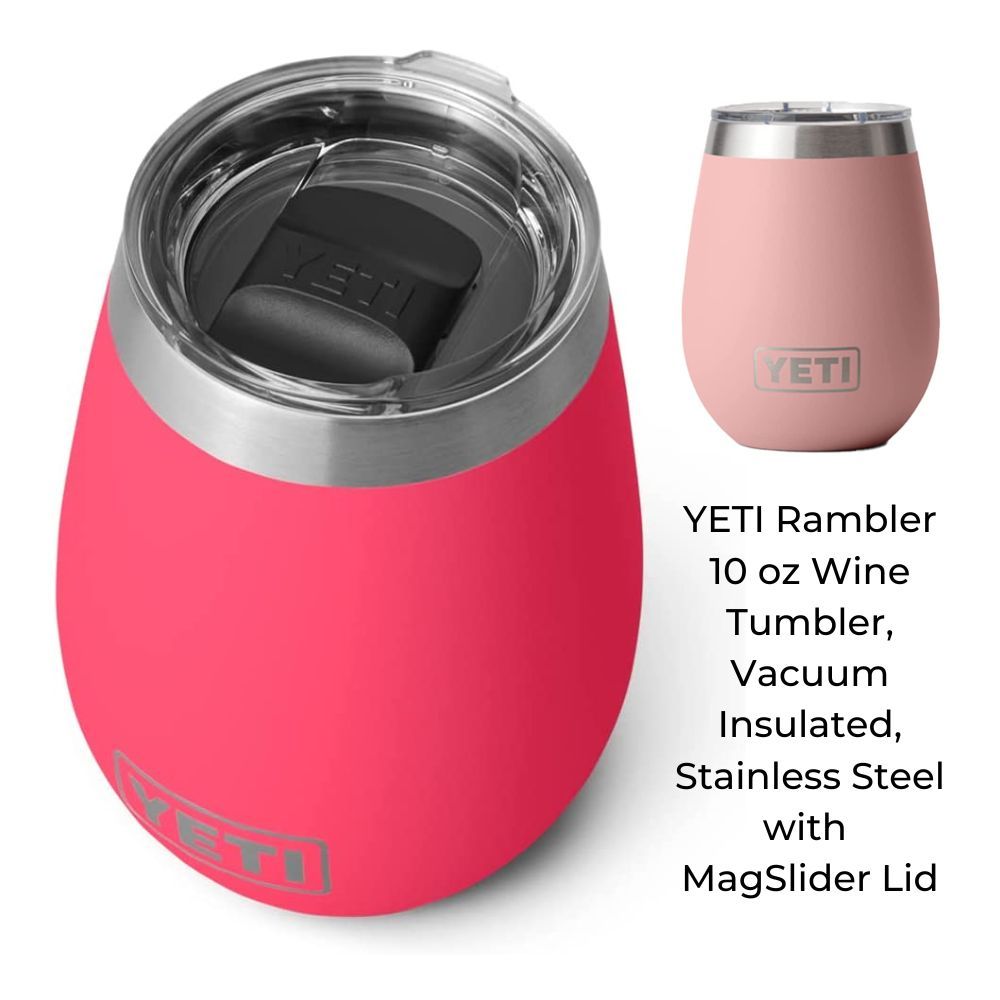 OKAY, for happy hour I go back and forth between the Wine Glass above and this tumbler.   If I want (need) a taller drink, I will use this 20oz tumbler.  
Want to know one of my happy hour tricks?  I often start with a tall glass of ice water, and then go to beer or my favorite cocktail ... and no one knows the difference when I use this glass.
This 20oz tumbler comes in four shades of pink.  The original "pink" is still available in this popular tumbler.   It also comes in about 25 more colors!
This tumbler gets lots of use in our household!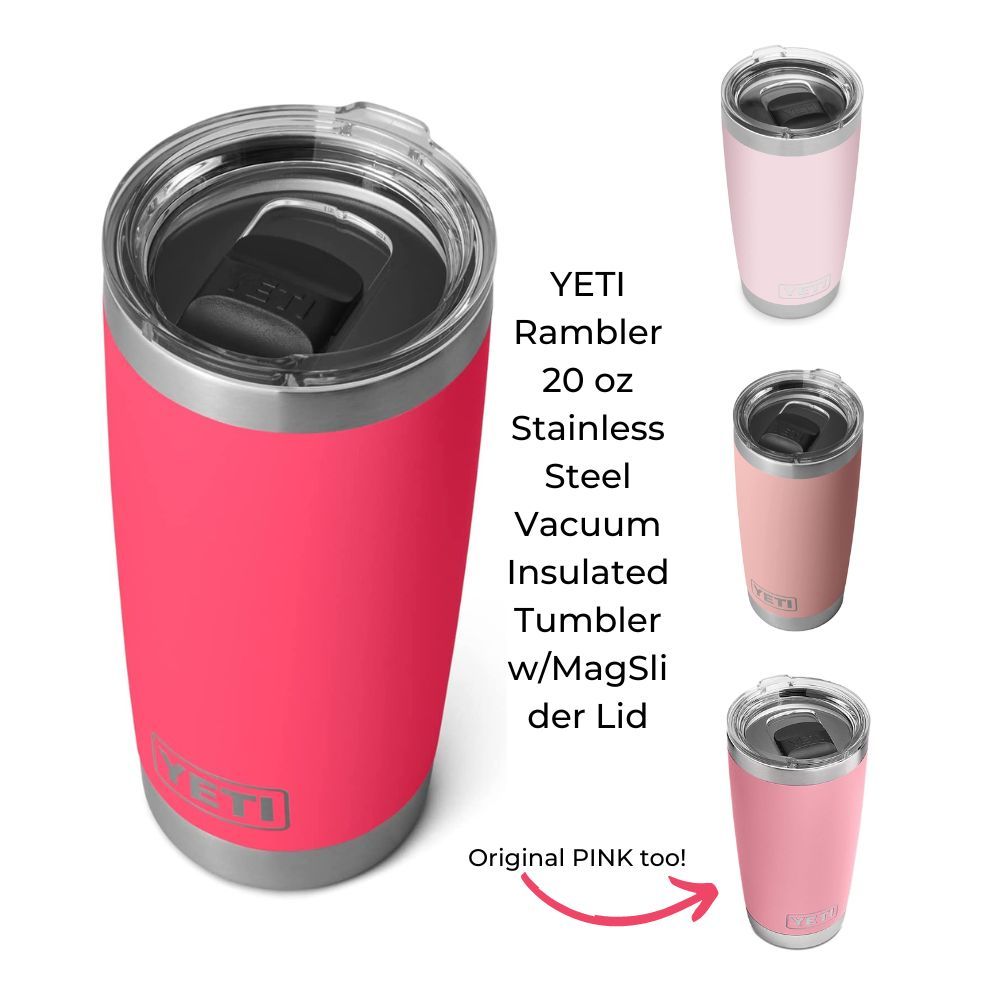 ---
And, we don't forget the kids.  
For kids you need something durable, right?! Something that can handle all of the roughhousing.   This YETI Rambler Jr. for kids is getting an A+ passing grade with parents.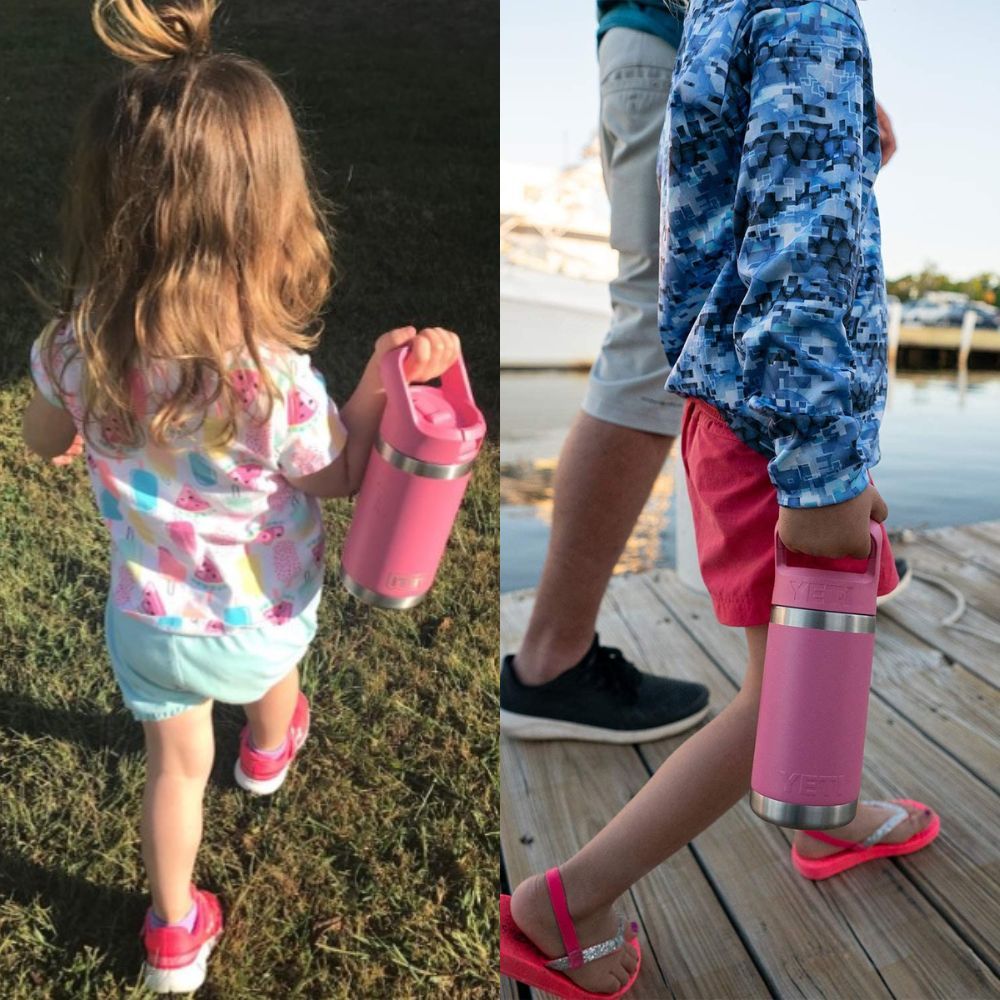 ---
YETI ACCESSORIES
In addition to coolers, drinkware YETI also carries a selection of YETI accessories, including hats, and lunch boxes. So whether you're looking for the perfect gift for the outdoorsman or woman in your life or just want to treat yourself, YETI has you covered.
Why not try this YETI Lunch Box for Your Next Day Trip?
Don't think this is just another lunch box.  This YETI has a Thermosnap Magnetic Closure that will keep your meatball sub hot or your cold cuts sub, well, cold.
It is food safe, from your fruit to your subs, it's all safe and keeps your food fresh. The Lunchbox measures (10.5"long X 4.5"high X 8.5"wide)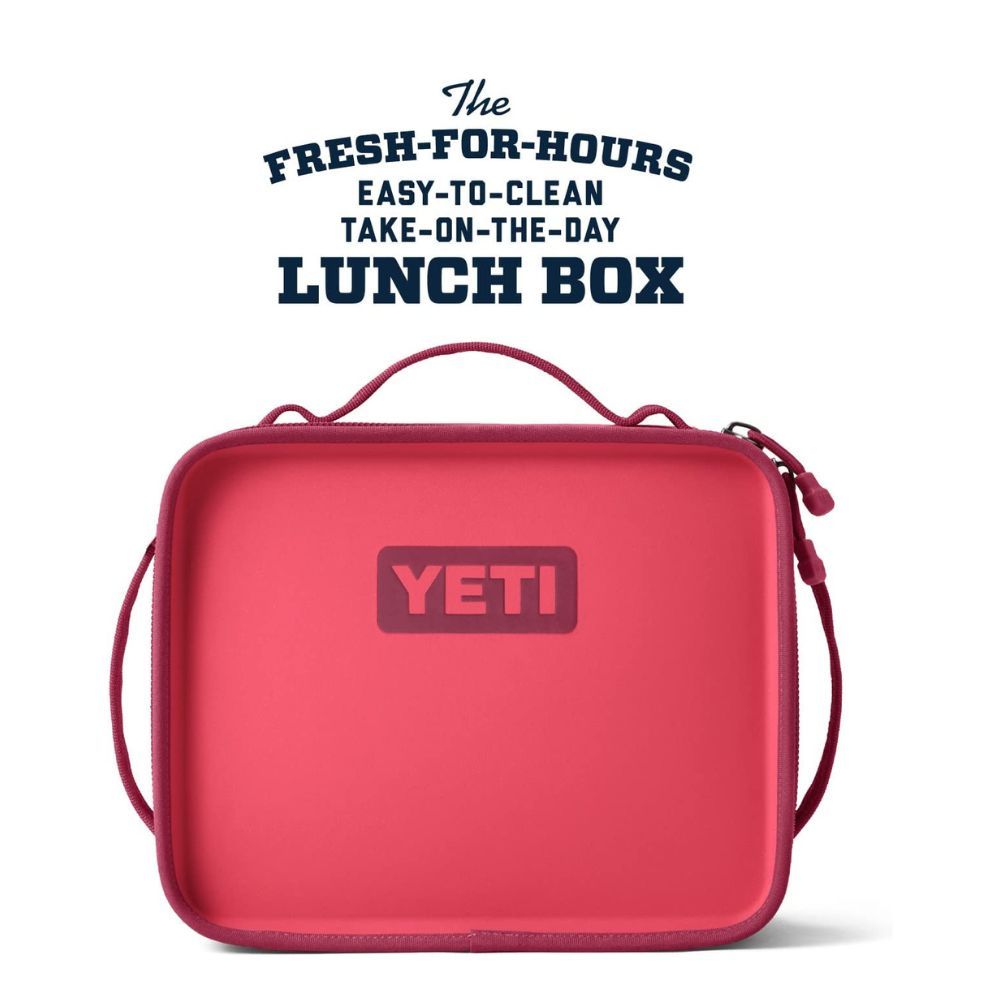 ---
PRETTY IN YETI PINK - So Many Choices
Check out all the Pink YETI's at the YETI Store on Amazon today!
Whether you're planning a picnic for two or a tailgate for twenty, YETI's got you covered.
Visit the YETI Store on Amazon and see what's in stock that's PINK!
Happy Shopping!
The FavReviews Team