The late Princess Diana was an international icon and her sudden death in 1997 left the world in mourning.
In tribute to her life and legacy, Ty Warner released a special edition "Princess" Beanie Baby later that year.
This toy was only available for a short time and now, twenty-five years later, it remains one of the most sought-after Beanie Babies on the market.
If you're lucky enough to own one of these rare dolls, you might be wondering how much it's worth. Read on to find out!
Background
On August 31, 1997, Diana, Princess of Wales died in a car crash in Paris, France. The world was shocked and mourning ensued. People placed flowers and other tributes at royal residences and landmarks associated with Diana. Her funeral was held on September 6, 1997 at Westminster Abbey.
In 1997, Ty Inc. released a Beanie Baby in honor of Princess Diana.
The company had previously created a Bear named "Princess", but shortly after the untimely death of Princess Diana, was the first time they had made an official Beanie Baby "Princess"™ in her honor.
The Release
The "Princess Diana" Beanie Baby was released on October 1, 1997 and retired a few short months later  on December 31, 1997.
The toy was meant to be a tribute to the late princess and came with a special tag that read:
"Princess.  Like an angel, she came from heaven above. She shared her compassion, her pain, her love.  She only stayed with us long enough to teach the world to share, to give, to reach."  
The tag also went on to say:  
All profits of Ty from this collectible will be donated to the DIANA, PRINCESS OF WALES MEMORIAL FUND.
The doll was only available for purchase for a few months and was then retired by Ty Warner.
If you're lucky enough to own one of these gems, you might be wondering how much it's worth.
Million Dollar Question - How Much is My Princess Diana Beanie Bear Worth?
From the research we've been able to gather, like anything else, market demand will drive or soften the market when it comes to Beanie Babies in general, as well as Princess Diana memorabilia.
In all cases, your Beanie Baby must be in mint condition complete with tags in order to be worth anything on the secondary market.
We've all seen the crazy pricing on eBay listings for Beanie Babies ... just remember, people can ask what they want.  What they sell for is another thing.
There are a few things to check to determine if your Princess Diana Beanie Baby is one of the rarer first edition runs.  
Through our research we've come across 90's Toys, a company we deem to be reliable in their comments and valuation for Princess Diana Beanie Babies.
Things to look for:
Was it among the first edition produced in China or Indonesia?  How can you tell?
Tag Inscription: the inscription about the donation on the tag had no spaces in between the lines.
PVC Pellets vs PE Pellets: The first run have been cited as produced with PVC pellets, the balance of them were PE Pellets.
Canada Customs Stamp: Those with the Canada customs stamp are slightly more valuable.
Article: REAL PRINCESS DIANA BEANIE BABY VALUE - August 2022 (Source: https://www.90stoys.com/dolls-and-soft-toys/real-princess-diana-beanie-baby-value )
It is worthy of noting that Ty Warner's scarcity selling strategy for most of their beanie babies was the reason they limited production of each new release.  
In the case of the Princess Diana beanie baby, they also limited each store to only 12 beanie babies, in order for a wide circulation throughout USA, Canada and the UK.
None of their previous Beanie Babies caused quite the buying frenzie as the Princess Beanie Baby dedicated to Diana Princess of Wales.
Production
It is reported by Encyclopedia Britannica, that "100,000 Princess Diana Beanie Babies were produced by Ty Inc. between October 1, 1997 and December 31, 1997." - Encyclopedia Britannica (https://www.britannica.com/topic/Diana-Princess-of-Wales)
Of the 100,000 produced, it is deemed a total of 60,000 Ty Inc. Princess Diana Beanie Babies were distributed in the USA, 30,000 in Canada, and 10,000 in the UK.
As a result of all of these nuances, the Princess Diana Beanie Baby remains one of the most sought-after toys on the market.
However, they still may not be worth what many think.   Still, how much?
The answer depends on a few factors, including the condition of the toy and whether or not it has its original tag.
Generally speaking, a mint condition first edition Princess Diana Beanie Baby with its original tag, can fetch anywhere from $500 to $5,000 at auction. So we are told.
However, the fewer of the unique features listed above, the lower the value.
We have ONE ONLY available for sale in Canada.
This is part of the editors personal collection.  She was gifted the beanie bear in a plastic case, as a door prize back in 1997 when they were first released.  It has remained in the plastic case until just recently, when she removed the packaging to take photos for this presentation.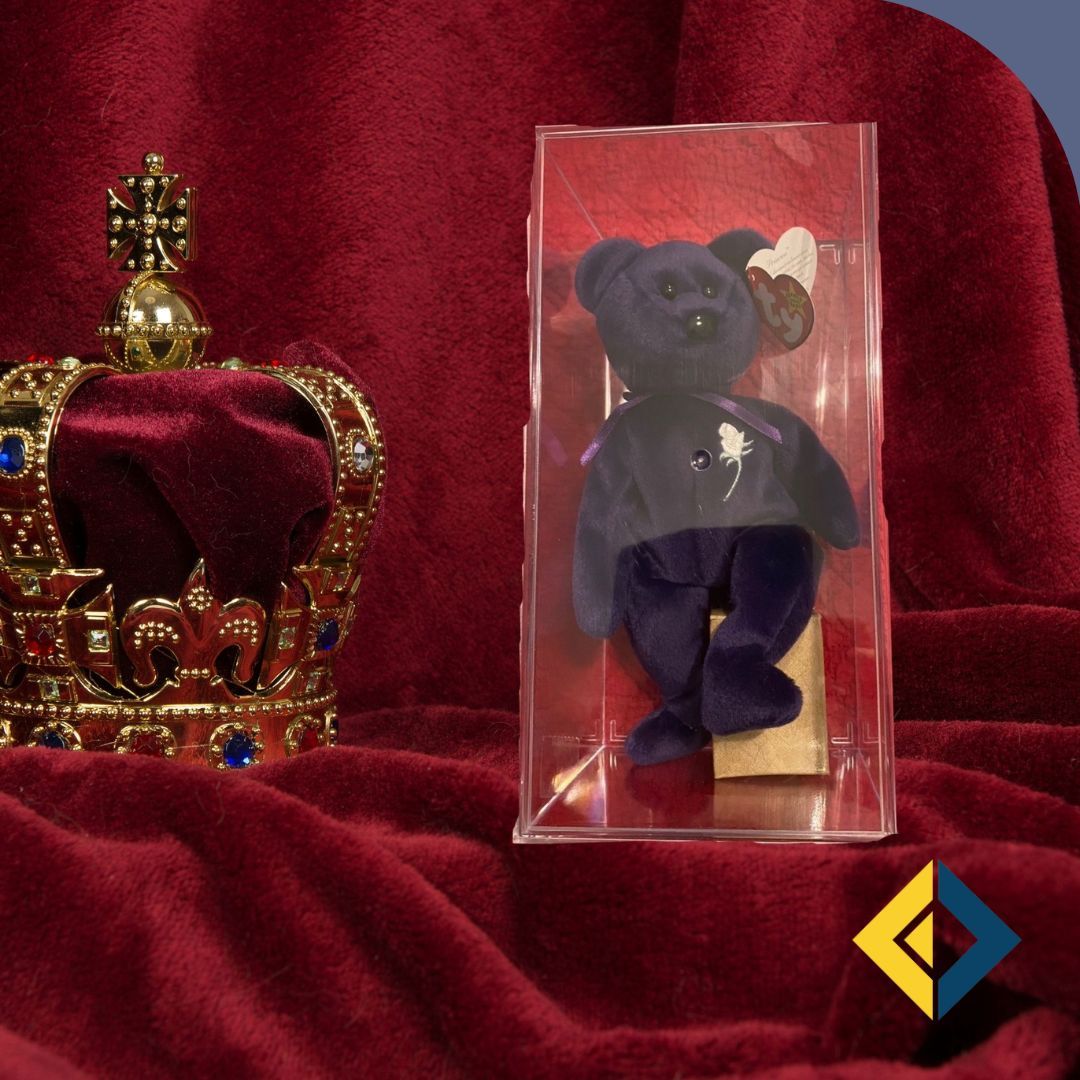 TAG:  It is not one of the first editions run. There is a space between the four lines "All profits of Ty from this collectible will be donated to the <line space> DIANA, PRINCESS OF WALES MEMORIAL FUND"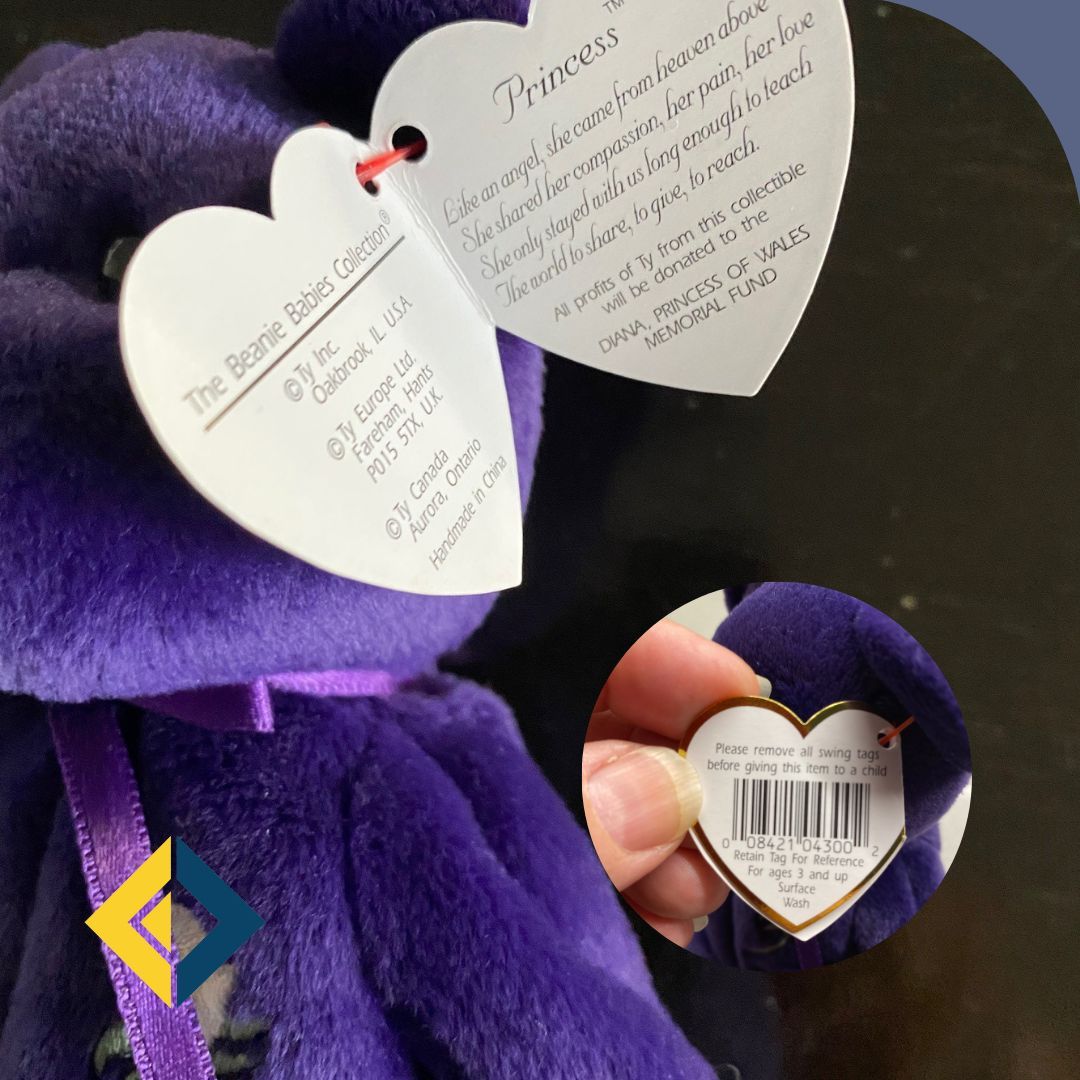 PELLETS:  It has P.E. Pellets, not the PVC pellets reported to be part of the initial run.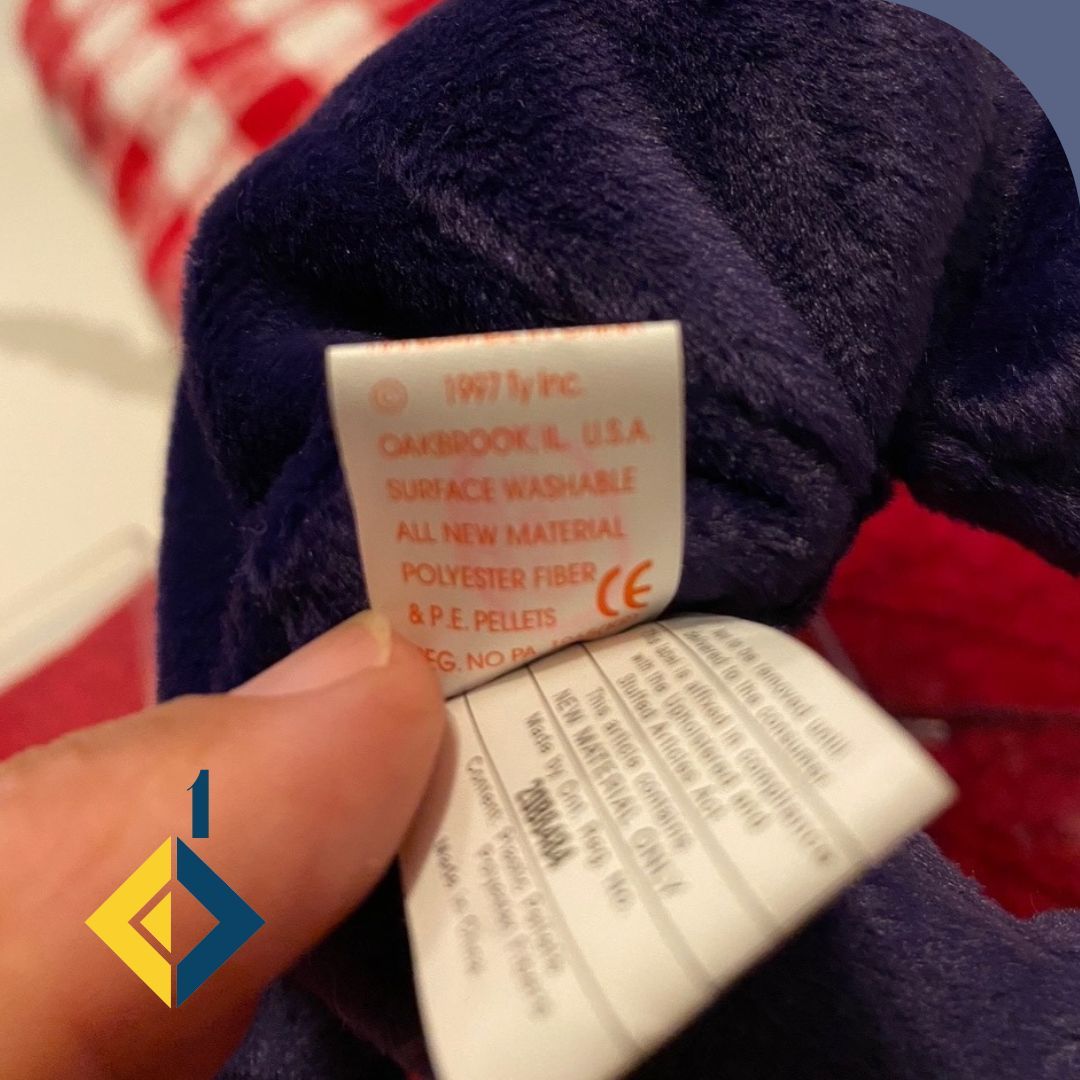 Canadian Customs Tag:  It does have the Canadian customs stamped inside the tag!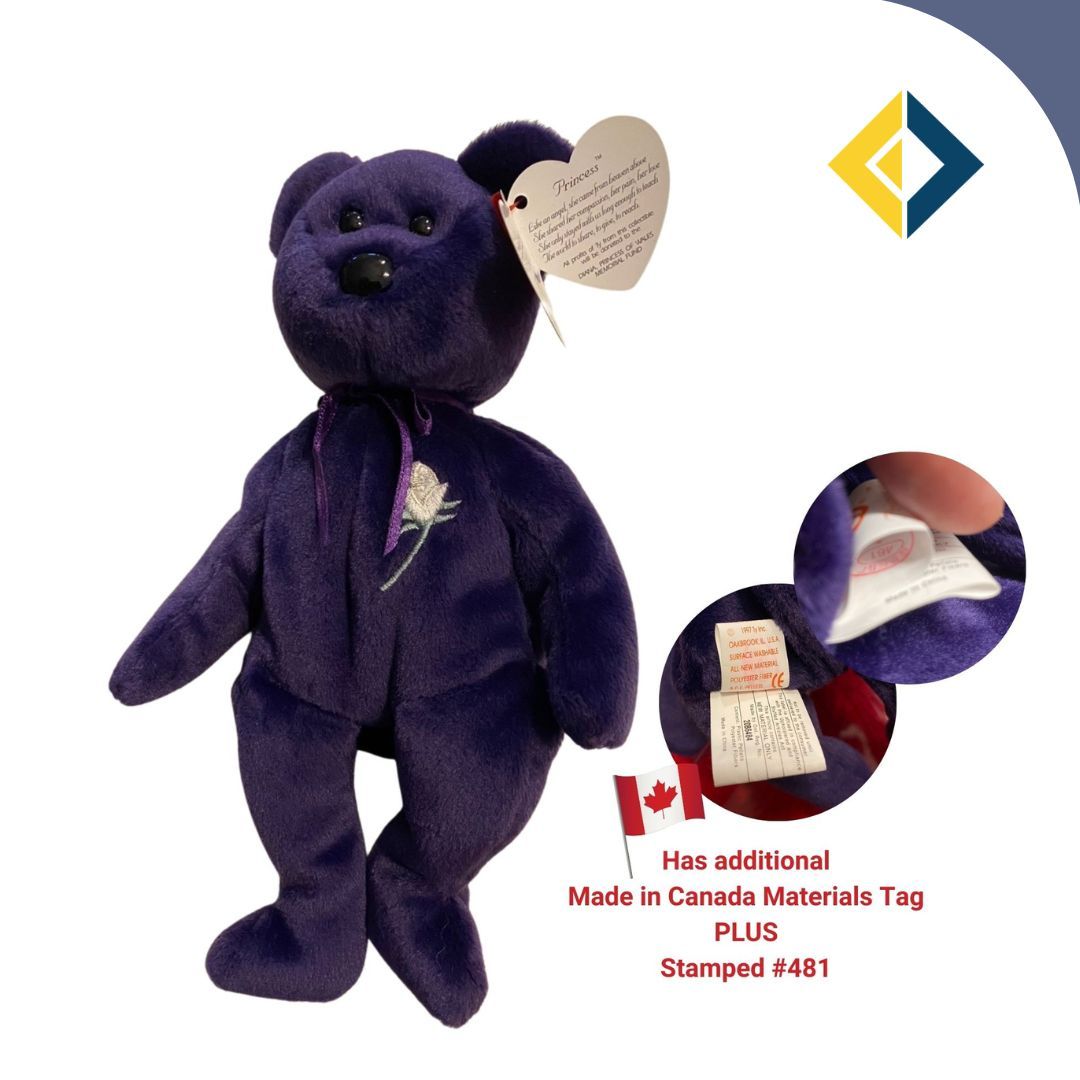 Given all of the research done on this beanie bear, we are willing to accept offers for purchase of this Princess Beanie Bear, until December 15, 2022. The highest offer, over $100 USD, will be awarded this Princess Diana Beanie Bear.  The final price, will be the bid selected, plus shipping costs. We will communicate with selected bidder about shipping arrangements.
Please email Deborah directly at hello@favreviews.com to submit your offer.  We will reply to let you know your offer has been received and after December 15, once all offers have been received, we will notify everyone who has communicated with us of the status of this collectible.bean
Highly Coveted Toy (that's likely never been played with)
The Princess Diana Beanie Baby is one of those highly coveted toys that has likely never been played with.
If you're lucky enough to own one, you could be sitting on a small fortune!
Whether you're looking to sell your beanie or simply want to know how much it's worth, be sure to do your research before putting it up for auction.
With a little luck, you could end up pocketing a nice chunk of change!
Ty Beanie Babies Still Available on Amazon
Did you know Ty Beanie Babies are still available today, on Amazon!
They have holiday editions, and lots of fun new Beanie Boos, Squishy Beanies and Beanie Balls!
We happen to like the Beanie Boo, "Ramsay" Lion with a unicorn horn.  But there are lots of different fun characters for you to view ... right here on Amazon, most for under $20.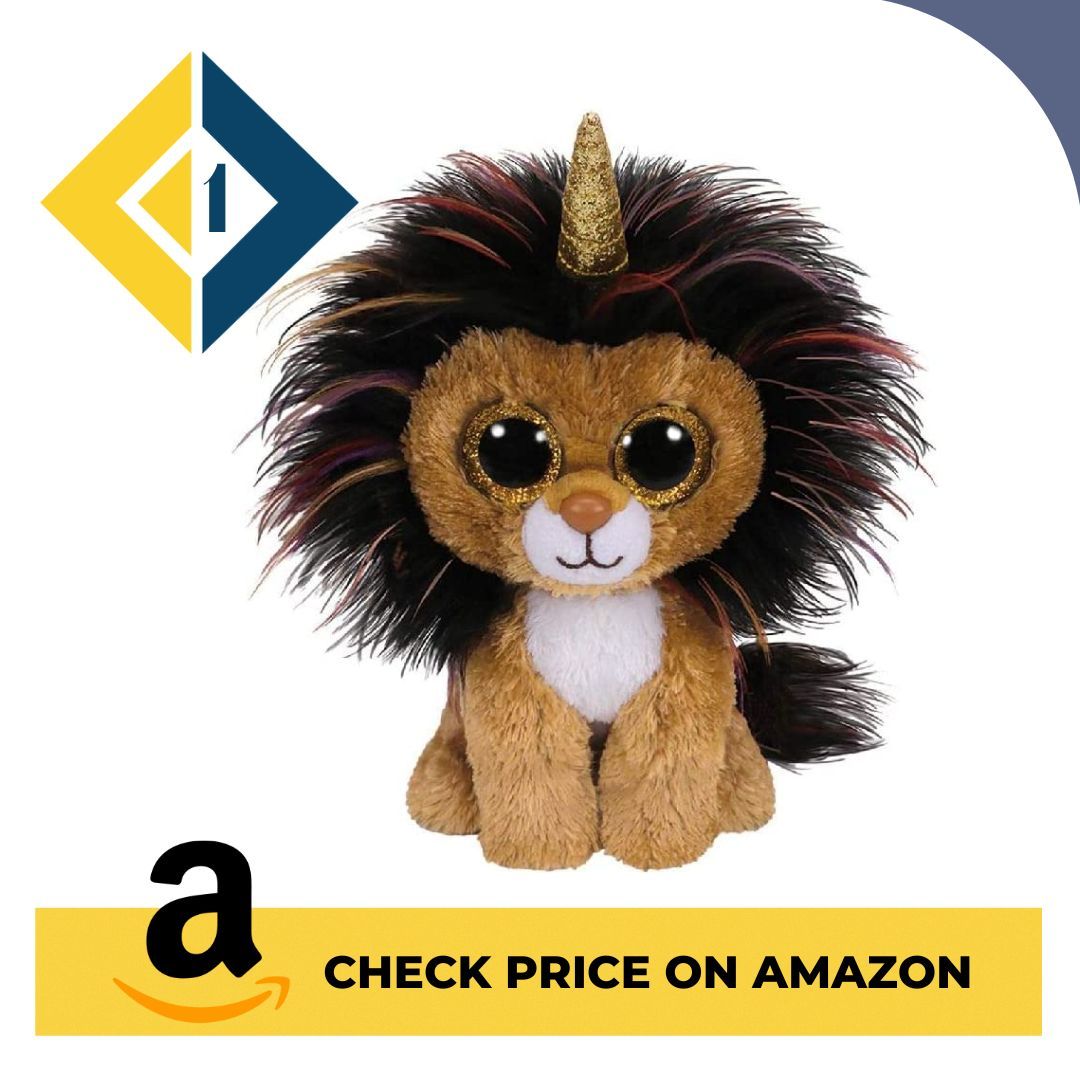 As always,
Happy Shopping
Your FavReviews Team
PS - Have you joined our email list yet?  Subscribe today and you'll never miss another review from us!  We review family favorites, those of interest, used and loved by someone in our four generation family.