Nurses are the backbone of our healthcare system.  We can't begin to thank them enough for their dedication and sacrifice. Nursing professionals understand how important it is to stay safe and healthy while working in the hospital. We know how challenging it can be to find the right backpack, so we've compiled a list of the best to carry your supplies and tools so you can work efficiently and effectively while on the job or while at nursing school.
If you are in nursing school, a backpack is an essential tool for you.   Everything you need to care for patients—from medication to supplies to patient charts—in a single bag. So, when choosing one, you want to make sure that you pick something that can hold what you need, that it's comfortable to wear, without shoulder pain, and is durable enough to withstand the rigors of a day in a hospital setting.
This post reviews our 7 favorite backpacks for nurses and nursing students based on their size, weight, features, and other factors.
How we Select The Best Backpacks for Nursing?
Nurses need to be able to access items they need quickly, without searching around.  The backpacks we researched needed to be quality construction, comfortable and ergonomically sound, feature multiple pockets and organizers.
But finding the right backpack can be difficult, because there are so many to choose from. That's where FavReviews comes into action. We find out what's trending, read through thousands of reviews and analyze different products related to backpacks for nurses, nursing students and other medical professionals, to find and shortlist the best of the best for you.
Our team of writers have done some amazing research and we're happy to provide you with a list of the 7 best backpacks for nurses and nursing students.
BUYERS GUIDE: When buying a backpack for nursing students or nurses, what should you look for?
When it comes to choosing the best bag for a nurse or a nursing student, several different factors need to be considered.
1. Comfortable
Comfortable doesn't mean that it has to be small. But comfort is the most crucial factor when choosing a nursing backpack.  When you are carrying heavy loads on your back, the bag you choose must be ergonomically designed. It needs to fit you well and  make you feel good when wearing it.
2. Durable
If you are carrying a backpack for hours at a time, it needs to be sturdy. Especially if you are using it day in and day out, for days and weeks on end, it needs to be durable and able to withstand some rough handling.
3. Stylish
Just because your nursing backpack needs to be serviceable, it doesn't need to compromise in style.  Choose something that suits your personality as well as function.  There are a variety of stylish functional nursing and nursing student backpacks to choose from depending on your needs.  You may have preferences, like a particular color or strap type.  It can reflect your own personal style, make a statement to help you stand out in a crowd, so go for a bag with a style and design you like.
4. Size
Whatever you buy must fit your individual style and needs. It should have enough space to hold everything you need for your day, before during and after work. When looking for a backpack, consider the bag size and function you need.  Some features to consider; does it need to have a laptop sleeve, or padded laptop sleeve, a phone stash pocket or a hidden anti theft pocket, and is it going to be used as a nursing clinical bag?  Multiple pockets will help to keep your bag organized, but remember filling them all increases the size of the backpack you will be carrying.
5. Light-Weight
The weight of a backpack for nurses is essential. You may find that some backpacks weigh too much even before you fill them. It is also important to remember that a lighter bag will allow you to carry more and still keep the load on your back manageable. Remember, you will be less likely to get injured when carrying lighter loads.
6. Features
The right backpack for nursing students and nurses has to have features to keep you organized. The backpacks we reviewed have features totally directed to a nurse, nursing student or medical professionals needs.  Quality construction, with reinforced seams, waterproof zippers and compression straps are just the beginning.  The best bags for the nursing profession will have multiple compartments and a large storage capacity, a media pocket and side pockets for organizing supplies.  Some we found are fully padded and have a detachable lunch pack with room for your water bottle.  We are certain you will love the features in the
Editor Top-Rated Picks: Best Backpacks for Nurses
Best Backpack for Nurses
WHY IT's ONE OF OUR FAV's
As a nurse, you know how important it is to have a backpack that will hold all your equipment and supplies.  This one comes with a water-resistant cover and a shoulder strap. It has a padded back and a front zipper closure. It has a laptop sleeve compartment, luggage strap and a large zippered pocket.
With a large storage capacity it can organize everything you need while keeping your belongings safe and secure. We've labelled it the best backpack for nurses in a soft pink color that will help to keep you organized and prepared for any situation.
FAV  FEATURES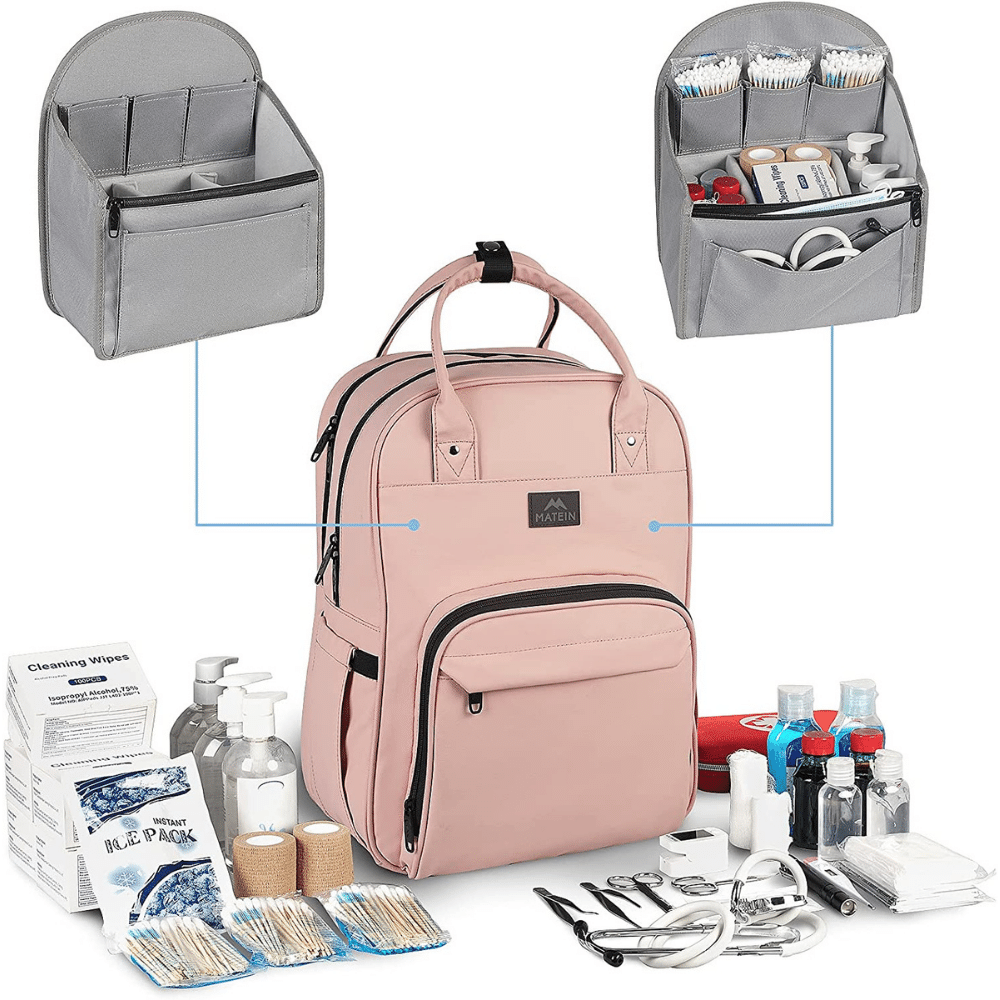 LARGE STORAGE CAPACITY:  There are two roomy compartments. One for a tablet or laptop. A middle pocket is designed for nurse accessories and/or supplies. There is a pocket that holds small nursing items like tweezers, scissors, pen light. There are two elastic side pockets, one front pocket, and an anti-theft pocket.
MULTIFUNCTIONAL BACKPACK: It's designed to hold medical supplies. There is an organizer for oversized items. It also serves you as a school or travel backpack, or a laptop backpack, and so on if you remove the organizers. You can use this bag to store your college supplies, travel accessories, stationery, clothes, book, etc.
HIGH-QUALITY MATERIAL: This Nursing Tote is made of lightweight and durable waterproof material that ensures your long-term use and effectively protects your day to day supplies.
APPLICATIONS: It's the perfect tote for your clinical research, medical service personnel, and emergency responders to conduct home visits and first aid in daily work.
COMFORTABLE: This bag provides the perfect amount of comfort with an adjustable padded shoulder strap and foam pads that relieve most of the stress on your shoulders.
Best Backpack for Nursing School
WHY IT's ONE OF OUR FAV's
A backpack is one of the most popular travel or commuting bags used by women and men. This one is made of high-quality and durable material. It is very comfortable to wear and is an excellent choice for work, school, and as a traveling bag.   We've chosen this as one of the best nursing school backpacks for nursing students because of the laptop compartment, USB charging port and the multi-use you will get from this bag.
We like the large center capacity, opens wide, so it can be used for a lot of different things depending on your needs for the day. It has adjustable shoulder straps and is designed to be worn on the shoulder. It has a comfortable padded design and a removable waist belt.  It also features two smaller pockets to hold your phone, keys, and other small items so you always have quick and easy access to them.
But most of all we LOVE the 20 different colors and designs (including Camo) that this bag comes in.
FAV FEATURES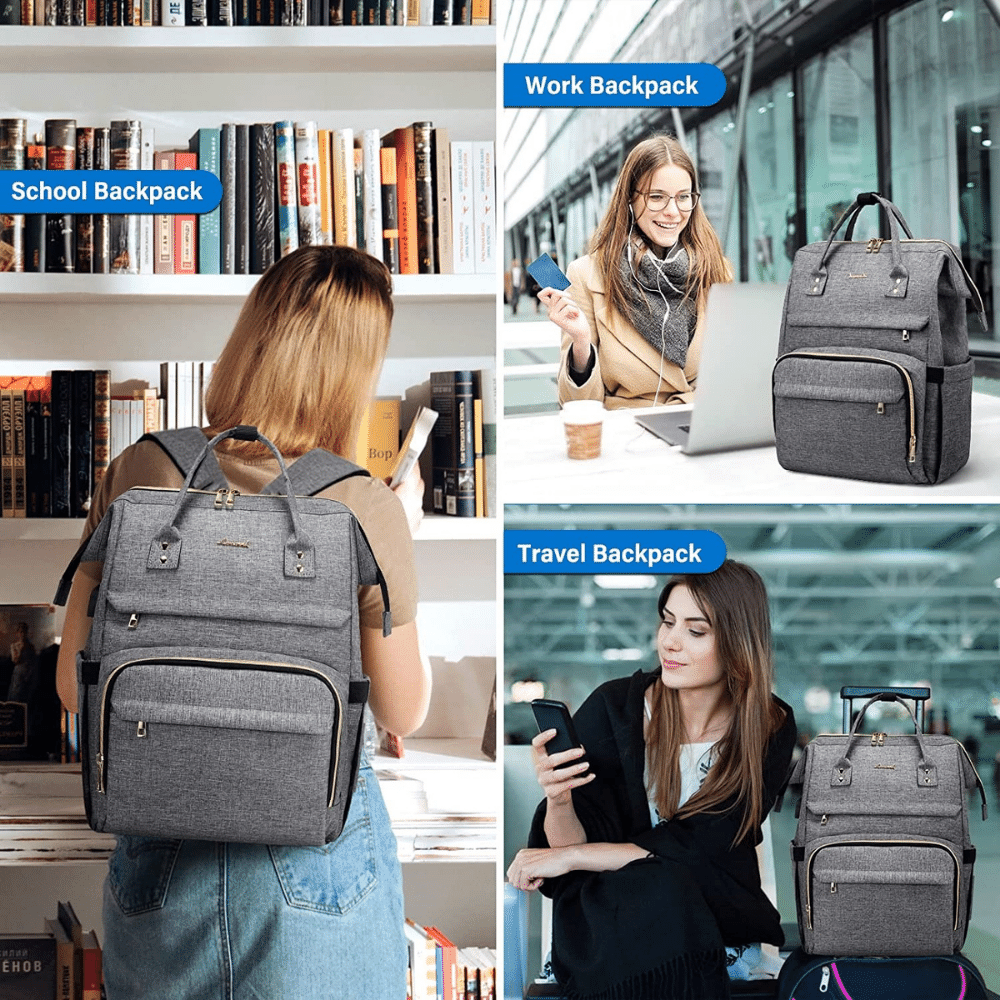 LARGE SIZE: The bag is large enough to carry everything you need for the day. It has a multi compartment design with 18 pockets and two main compartments (the laptop compartment can hold up to a 15.6 inch laptop).  The convenient organizer area has pen pockets, a media pocket and large storage capacity for personal items to make your life easier.
WIDE OPEN: it is a practical gift for nursing students, its main compartment with a large open design is easy to organize and easy to access.
DURABLE BACKPACK FOR NURSING SCHOOL or DAY TO DAY WORK: It's a heavy duty and durable bag that is  made of high-quality polyester, with thick shoulder straps, robust handles, no-slip zippers,
USB CHARGING PORT: We also like that it's equipped with a built-in USB port, making it easy to charge your phone on the go, after a long day at the hospital on your commute home.
Best Backpacks for Nursing Students with RFID Anti-Theft Design
WHY IT's ONE OF OUR FAV's
It is the perfect bag if you work in a hospital setting or you are attending nursing school.  You need a backpack that is easy to carry, has comfortable shoulder straps and protects your laptop with a padded laptop sleeve.
We love the organizational ability of this bag making it one of the best nursing school backpacks.  Plus, it has an RFID anti-theft design to keep your identification and credit cards safe, and an easy access USB charging port.
It's made of durable nylon, is water-resistant, and has an adjustable strap that can be worn around your waist or shoulder.
It has a wide opening for easy access and all the features we feel necessary to keep your items safe and organized.
FAV FEATURES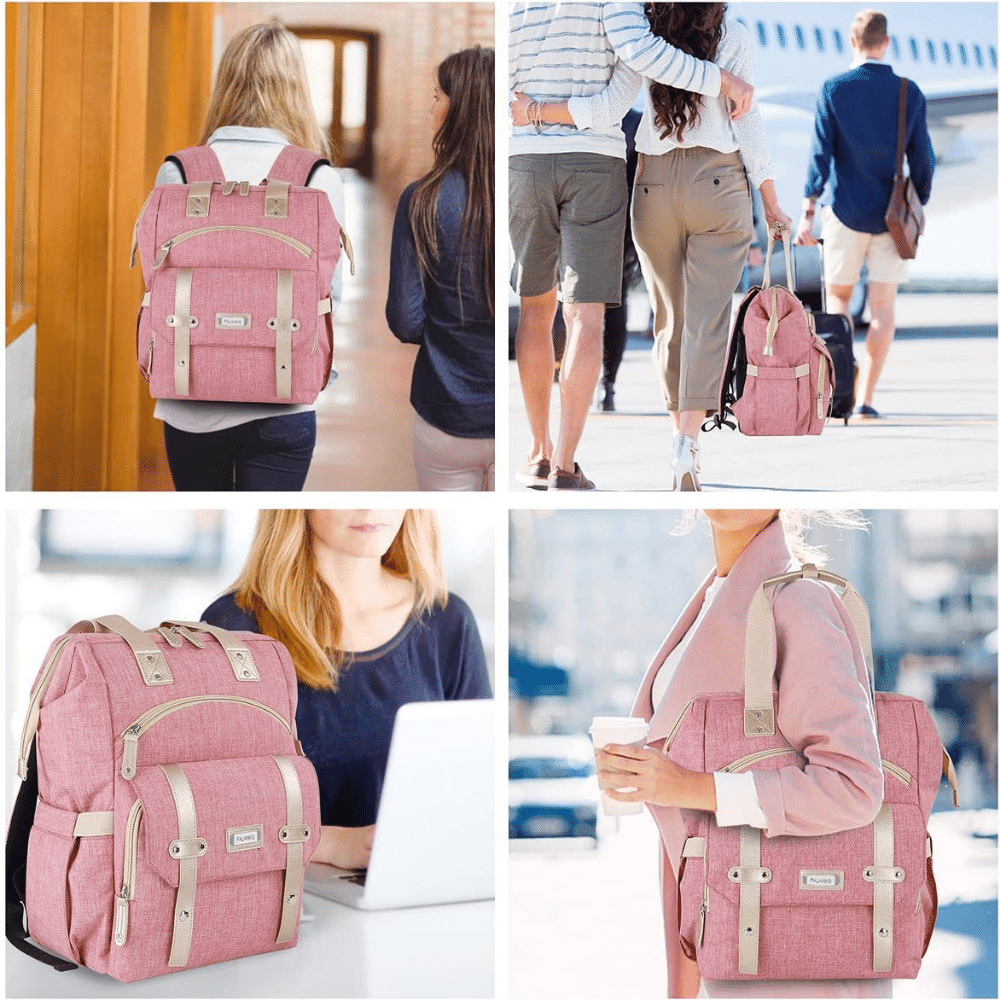 LARGE SIZE: A large and stylish backpack with a 20L capacity, durable waterproof material, and a sturdy metal zipper. It is excellent for traveling with your laptop. These stylish packs are not only great nursing school backpacks, but they are also great for college students and teachers.
MULTI-FUNCTION BACKPACK: The most spacious, comfortable, and secure backpack with a ton of space for all your essentials and gear! This pack will keep its shape for years with an anti-theft zipper and a sturdy metal frame.  We love the multiple pockets, two front pockets, four small inner pockets, two outside pockets, 1 main pocket, 1 laptop compartment with padded computer sleeve for a 15.6inch laptop, 1 iPad pocket, and 1 interior zipper pocket.
EASY ACCESS: This nursing school backpack has a rectangular frame, luggage strap and wide-open access to your gear. This bag is made from high-quality, durable material, keeps the perfect shape, and is very functional.
USB PORT DESIGN: This is an excellent backpack for nurses, it has a built-in USB charging cable design and power bank pocket inside, which is an incredible convenience for charging your electronic devices, plus it has a back pocket for a notebook.
RFID BLOCKING SECURITY: This laptop backpack blocks RFID signals and protects sensitive information, such as your credit cards, passport and identification.  Making it one of our the Best Backpacks for Nursing Students with Anti-Theft Protection
Best Backpack for Work
WHY IT's ONE OF OUR FAV's
This Kenneth Cole Reaction Backpack is a high quality backpack, that qualifies as one of the best backpacks for work that we reviewed whether you are attending nursing school, a medical student or working full time at the hospital.
The shoulder straps of this bag are adjustable so that you can fit this bag on your body. The shoulder strap of this bag is padded, so it feels comfortable when you use it.
This is a nurse's and nursing students' backpack that can be has multiple compartments that can be used for various purposes.  You can easily carry your purse and laptop in this backpack.
It is made with a stylish chevron quilted polyester-twill water-resistant exterior with gold-plated zippers. The interior features a fully lined tear-resistant stripe polyester lining that will stand up to daily use. And, it has many features that make it perfect for nurses, students, and other professionals who need to carry a laptop or computer with them on the go.
FAV FEATURES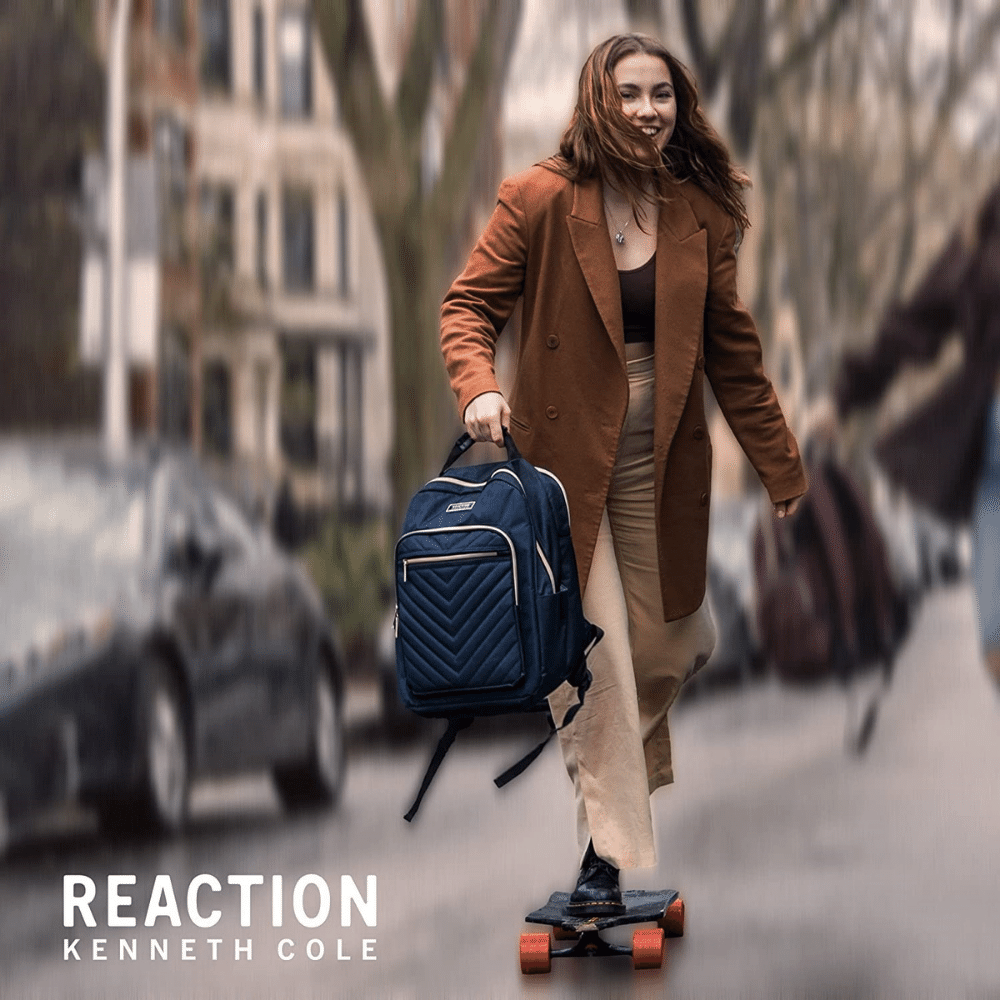 STYLISH FASHION: This great backpack features an elegant polyester-twill water-resistant exterior with gold zippers. This is a must-have for those of us who enjoy spending as much time in the great outdoors as we do indoors.  It's the perfect size for your essentials and will keep everything organized while on the go.
STORAGE SPACE: The padded laptop sleeve in the main compartment is compatible with most tablets or laptops. This bag is ideal for work, school or travel. It has a large outside utility side pockets for carrying supplies such as pens, business cards, and other things.
COMFORTABLE: It has breathable and adjustable shoulder straps and rubber wheels black backpack that is comfortable while you're moving. The backpack's rear features a comfortable trolley strap that fits over most luggage upright handles, allowing for hands-free carrying. Great beverage holsters on both sides of the backpack for a convenient place to carry beverages. This bag is convenient, easy to carry, and has a top handle.
MULTIPURPOSE: This ideal backpack is designed to fit perfectly under an airplane seat when traveling or on a business trip. Suitable for travel or carry-on, it is easy to store and pack. This is the ideal bag for school, college, traveling, hiking, business trips, commuting to work, and everyday use. It's also a perfect gift for those you love.
Best Backpack for Nurses with Detachable Lunch Cooler
WHY IT's ONE OF OUR FAV's
The ETRONIK Lunch backpack is one of the best nursing school backpacks, if you need a comfortable, durable, and stylish bag to carry your laptop and lunch!
This backpack has been designed as a school bag, a purse, and a backpack. It has a padded laptop sleeve (for a 15.6 inch laptop), padded straps, and a built-in cooler to keep your lunch cold and fresh.
The ETRONIK lunch backpack comes in three sizes to fit your needs and style. It is available in two colors - black and beige.
FAV FEATURES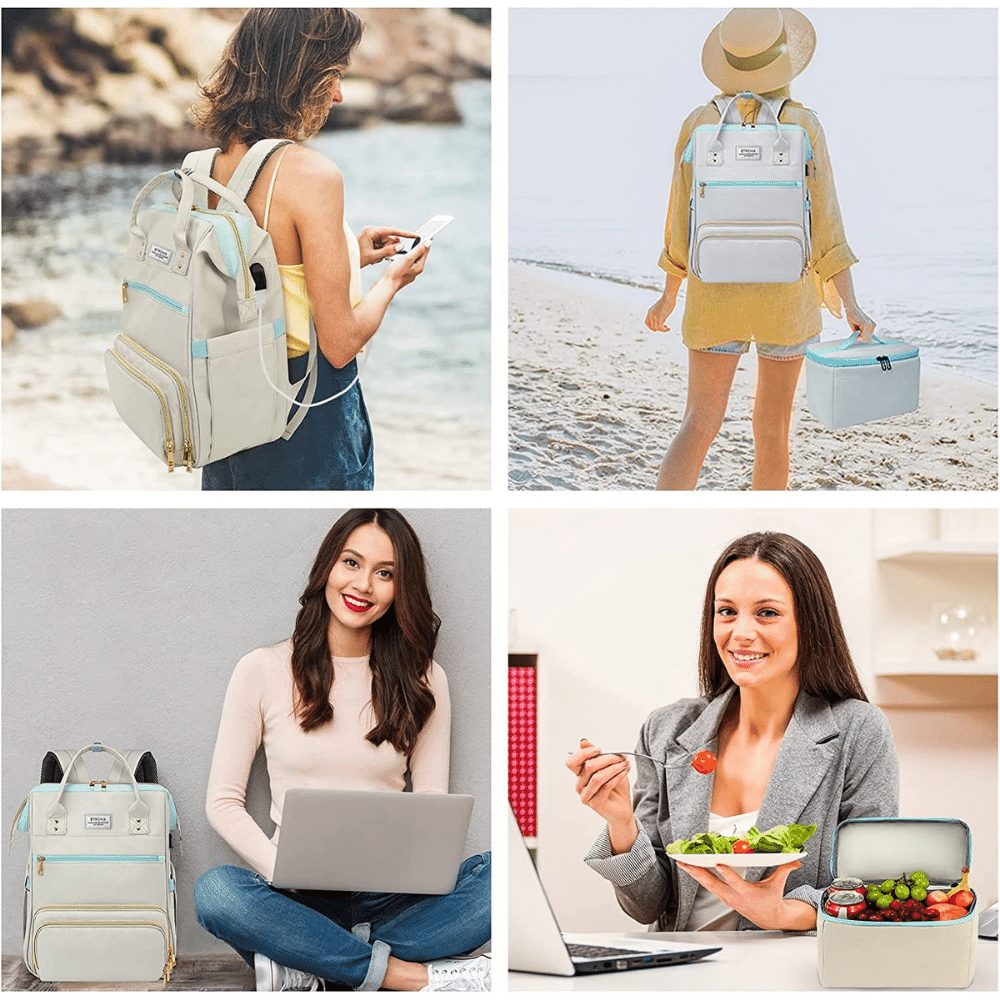 LUNCH BACKPACK: You can enjoy delicious food at any time. Because This laptop backpack includes a detachable insulated lunch bag, it is made of clean aluminum foil and high-quality Oxford cloth to keep the food warm and cold drinks for about 3-5 hours. You'll love this product.
MULTIPURPOSE:  The big main compartment of the school backpack will hold enough stuff to last all day and has a dedicated laptop sleeve pocket for carrying around your laptop. It has a utility pocket and mesh inside pockets spacious enough for tablets, power banks, A4 files, clothing, and more.
2 IN 1 DESIGN: No need to hold the lunch box anymore! Or to adjust the baffle to get more space when you don't need to carry a lunch box. They've also designed a special compartment that stores the laptop for your convenience.
USB PORT: A high-performance backpack with a USB charging port on the side and a built-in charging cable is perfect for the student on the go.
COLLEGE BACKPACK: This backpack is made of durable material with metal zippers. It won't rip, tear or scratch, making it the perfect bag for college life.
This school backpack is excellent for any school activity. It's large enough to carry all your textbooks, books, and supplies, and it also has a built-in pen holder, so you're ready to write down anything you're thinking of.
It's an excellent gift for teens, daughters, sisters, girlfriends, mothers, etc.
Best Nursing Backpack with USB Charging Port
WHY IT's ONE OF OUR FAV's
Do you want a backpack that will fit all your daily (work, school) essentials? Then, this backpack is for you! It's the best bag for nurses, teachers, and students, including all your daily essentials.
This backpack will be your best friend when you go to school or work. It will be your best travel companion almost anywhere.
This backpack is super stylish, comfortable, and functional. Show off your personality It is made of durable materials. and has a removable water-resistant pad for protecting the laptop.
FAV FEATURES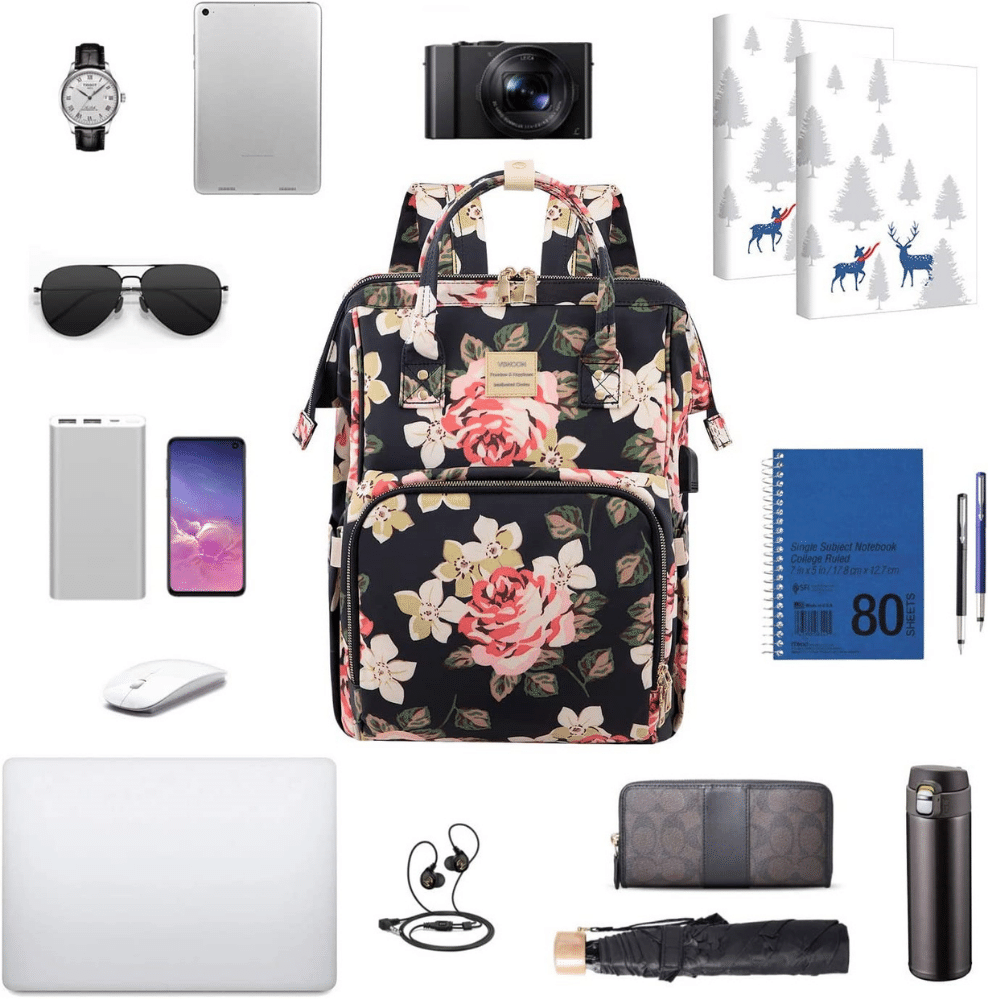 HIGH QUALITY: This is a fashionable laptop backpack, made from water-resistant and durable polyester fabric with metal zippers. The leather-trimmed handle makes it super-easy to carry and use.
MULTI FUNCTIONS: The main compartment has separated compartments and pockets, which provide roomy space for your laptop(15.6 inches), power bank, A4 files, wallet, clothes, and more of your items.
USB PORT: It has a USB charging port on the side of the backpack, and there's a built-in charging cable inside, so it's easy to access for a quick charge of a phone while carrying a backpack.
SAFETY FEATURE: A RFID protection pocket will protect your personal information from being stolen by an RFID scanner.
AWESOME GIFT: This beautiful backpack for women is the perfect companion for college, travel, business, everyday use, and outdoor activities. These are great gifts for teens, girls, or friends who need a little inspiration!
Best Backpacks for Nursing Students
WHY IT'S ONE OF OUR FAVs
The Herschel Supply Company brand is based in Vancouver, Canada.  Their backpacks are manufactured of the finest quality and workmanship.   We like the fine details that go into these backpacks that are suitable for everyday activities, like commuting to work.
More than one nursing school student has reported this backpack was just what they wanted in a nursing clinical bag, so we are happy to rate it as the Best Nursing School Backpack.  It has lots of compartments so you can organize your 'I need this right now' items from your 'I might need this later' stuff.   It's spacious and everything needed for day to day on the job, this bag carries it.
We paraphrase one nursing student who reported: Imagine fitting your laptop, 1 1/2"  notebook, spiral notepad, med-surg book (that's likely massive!), index card organizer with cards, hot sauce, nalgene (32oz), wallet, and your stethoscope. That's just the main pocket. Then there is everything you can put in the front pouch and the easy access pouch on top (which is great for metro cards, school/company access ids, and chargers).  Oh, and she's pretty.
FAV FEATURES
We've likely mentioned enough, that you'll want to have a closer look, but here are a few more backpack features we think you'll come to expect in a quality Herschel backpack.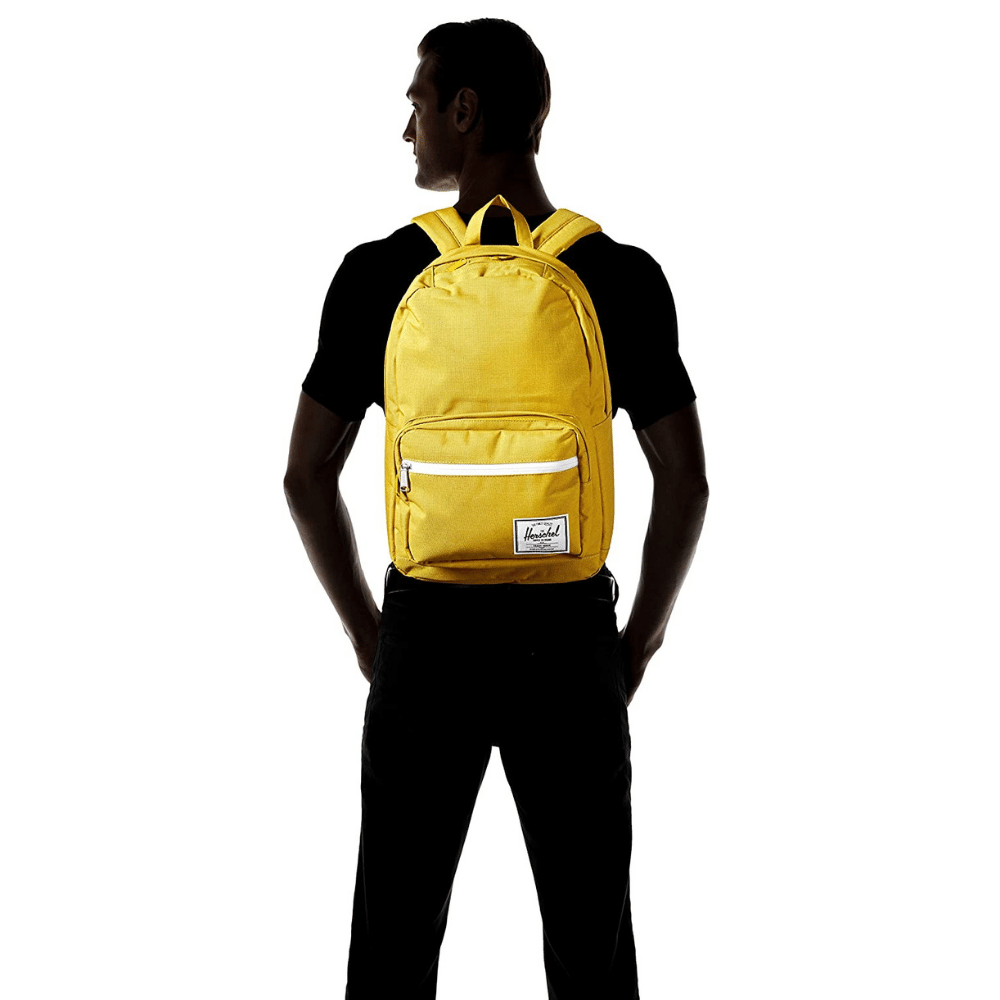 HIGH QUALITY: You'll come to love the extra touches like the signature striped fabric liner.
WATERPROOF DETAILS:  Waterproof zipper detail to help contents stay dry when you get caught in the rain.
MULTIPLE POCKETS:  Front pocket with a key clip and internal mesh organizers.  This Herschel backpack also has a fleece lined, padded 15 inch laptop sleeve.
We're certain you'll appreciate the quality and this will become one of your favorite backpacks for nursing.
Final Thought:
In conclusion, if you need your favorite nursing school backpacks to keep your items organized and easily accessible, then our first top pick, 'Nursing Backpacks,' is a perfect choice. So we highly recommend you must buy this one. The main features of this backpack include the spacious interior, the adjustable straps, and the extra pockets.
FAQS
What bags are good for nurses?
Nurses need to have easy access to supplies and equipment when it's required. Having a backpack that is comfortable, durable and provides easy access to a wide variety of daily supplies is important.  Our article discusses some of the best backpacks available for nurses. We also looked at some of the reasons why they are so popular among nurses.  Some of our fav's are:
What is a nursing bag?
A nursing bag is a backpack style bag that is designed to hold all of the supplies and equipment that a nurse might need while on duty. Typical items include a stethoscope, blood pressure cuff, gauze, gloves, tape, scissors, and penlight.
Do nurses need backpacks?
Nurses must be ready to handle almost any emergency.   So it's smart to have a backpack ready with supplies and basic tools you are familiar with so you are ready in an emergency situation. A properly packed Backpack is the best way to have all of your nursing supplies ready so you are prepared for almost anything. They are versatile and easily carried and offer the excellent organizational capability.  We like the Trunab brand of first responder and EMS backpacks and totes.
What bags are suitable for nursing supplies?
The high-quality backpacks are made of nylon canvas or polyester. These bags are strong and durable, and they are waterproof. They can be used for storage, cleaning, sterilization, and transportation.   There is a wide range of backpacks designed with nurses and nursing students in mind.  We like the Trunab brand of first responder and EMS backpacks and totes.
What backpacks do medical students use?
Backpack choices for medical students include several different types. Some of the best backpacks are made of durable materials and have many pockets for organization. The Trunab brand of first responder and EMS bags are ideal for doctors, nurses, technicians, and other medical professionals.
The materials are rigid, and they are durable. They are also waterproof and comfortable. They are easier to clean and sterilize than other types of backpacks. They are also helpful for transporting instruments, supplies, and other things you may need for your daily tasks.
Medical students backpacks should be ergonomically designed and comfortable to carry so you have less strain on your shoulders and back.
What is the best backpack for nursing students?
If you are a nursing student commuting to the hospital or planning to travel, you should check out our Best Backpack for Nurses selection. It is an excellent choice because it is incredibly versatile. You can use it for school, work, and travel.  It is versatile, comfortable, ergonomically friendly and has multi compartments for various types of supplies.
You will also have enough space to carry your notebooks, tablet or laptop, a water bottle, a lunch, and more. The Nursing School Backpack is comfortable because it has padded shoulder straps and a padded back.
The straps are adjustable, so you can customize them to fit you perfectly. It is very stylish because of its attractive design and colors. You will look professional when you are wearing this backpack. It is also easy to clean and sterilize.
What is a good backpack for work?
Kenneth Cole Reaction is a great backpack for commuting to work. Suppose You will look professional when you are wearing this backpack. This is also easy to clean and sterilize. The nursing school backpack is excellent for work.
You can put your laptop inside this backpack and take it wherever you want. When using this backpack for work, you don't have to worry about damaging your laptop or tablet like other backpacks, because the bag is made of high-quality leather.
Which nurses and nursing students' backpacks are best for your back?
If you want the best backpack for your back, Trunab first responder backpack. It not only has comfortable, padded and contoured shoulder straps, making it easier to carry with less shoulder strain, it also has an adjustable check strap to help balance the straps and weight more evenly.  This backpack will carry everything you need and will make travel easier because the best backpack for a nurse, or nursing student, should be comfortable, made with water-resistant fabric, and be ergonomically designed.