Why Trust Us?
We hope you find your next favorite thing from FavReviews! We are a family friendly product review site.
Four Generation Family: As a four generation family, the breadth of products we consume and review as brand ambassadors is vast. But we can tell you, in general, in we love the outdoors, sports, staying active, living healthy and celebrating the changing seasons.
Trending Products: We also love finding new trending products and we are happy to pass along our research of new trending products to you. Follow us so you don't miss out on a thing! We send out cool emails with our latest reviews, and we will never sell or misuse your information.
Opinions Based on Use, Research and Reviews: Each product we write about is independently selected by our editors. All opinions in this article are our own, based on our own use of the product(s), or hours of research and reading reviews. We will never recommend something we wouldn't use ourselves in our own family.
Compensation: Yes, FavReviews may collect a share of sales or other compensation from the links on this page if you decide to buy something (that's how we stay in business). But, the product never costs you more, in fact in some cases, we hope we might help save you money based on our recommendations.
Reviews have been edited for length and clarity. Enjoy finding your next favorite thing! Happy Shopping! Your FavReviews Team
It's that time of year again! The leaves are changing color, the air is getting crisp, and pumpkin spice everything is hitting store shelves. That can only mean one thing: Halloween is just around the corner!
If you're like me, you love to go all out when it comes to decorating your home for the spookiest night of the year. But if you really want to take your decorating game up a notch to become the biggest Halloween light show on the block, then you need to invest in a good outdoor Halloween projector. With the right projector, you can transform your home into a Halloween light show everyone on the street will be talking about.
But before we get into the best projectors on the market today, we've got some tips for becoming one of the best decorated Halloween houses this year.
---
Looking to win the best Halloween house contest this year?
Here are some great tips to win best Halloween decorations on the street!
To start, you'll want to make sure you have the best possible Halloween display.
This means investing in a quality projector. There are quality projectors that can be used indoors to reflect through your windows, or maybe you are ready for an outdoor Halloween projector this year. With the technology available today, you'll be able to create a truly amazing display that will impress your neighbors and have them talking about your house for years to come.
In addition to a great projector, you'll also want to make sure you have a good sound system.  Read our review "Speakers for Outdoor Projector to Liven Up Your Neighborhood Party"
This way, you can create an immersive experience for your guests that will make them feel like they're right in the middle of the action.
Finally, don't forget to add some spooky special effects to really wow your guests!
Smoke machines, lasers, and even fog machines can add an extra level of eeriness to your display. Just be sure to use them sparingly, as too much of a good thing can quickly become overwhelming for the little kiddies visiting you on Halloween.
With these tips in mind, you're sure to create a winning display that will have everyone talking. Good luck!
---
In this review we looked at what's trending in Halloween decorations.
HOW WE CHOOSE THE BEST HALLOWEEN PROJECTORS.
If you are looking for a Halloween projector, you want to know what different types are available to you, right?
The projectors we researched needed to be something that would provide quality projection, with Halloween images, like spooky skeletons, giant spiders or singing pumpkins, already included making your home feel like a monster house.
They also need to have stood the test of time as far as reviews, and of course, they needed to be something you can use in your front yard that could handle a bit of weather if you are using them for outdoor projection.
Yet, finding the right Halloween projector for you and your family can be difficult, because there are SO MANY to choose from.  Many are sub-standard projectors that won't last too. That's where FavReviews comes into action. We find out what's trending, read through thousands of reviews and analyze different products related to Halloween projectors, to find and shortlist the best of the best for you.
Our team of writers have done some amazing research and we're happy to provide you with three different types of Halloween projectors that we think will interest you.  You just need to decide your price point and whether you want something for all year round, or just the holiday season.
P.S. - the Halloween projection systems we look at here include both Halloween and Christmas packages, so you will have both seasons covered.
---
So, What is a Halloween Projector?
It's a projector or device that projects images onto surfaces such as walls or doors. You can find projectors specifically designed for Halloween that come with pre-loaded images of ghosts, witches, and other spooky things. Or, you can use a general purpose projector and create your own slides with Halloween-themed images.  Either way, a projector is a great way to add some extra pizzazz to your Halloween decorations
Why Use a Projector?
A projector can help you create an effect that would be difficult or impossible to achieve with traditional decorations.
For example, let's say you want to project a ghostly image onto your front door. With a projection, you can make the ghost appear to be floating in midair! You can also use projections to create an eerie glow around doorways or windows.
Projections are also great for adding some extra excitement to Trick-or-Treat night; imagine the looks on the kids' faces when they see spooky images projected onto your house as they approach!
Let's take a closer look at three different types of Halloween Projectors for you to consider:


HOUSE PROJECTION
Colorful images are shown on your house exterior (or interior). Weather resistant. People use creative displays outside to hide these small projectors that project images up on the exterior walls of the house.
MULTI-USE PROJECTORS with SCREENS
Projectors that can be used for any outdoor/indoor movie nights
WINDOW HOLOGRAPHIC PROJECTOR
Projects movies or images on windows from the inside, so passers by can see them from the outside of the house.
---
BEST FOR OVERALL HOUSE PROJECTION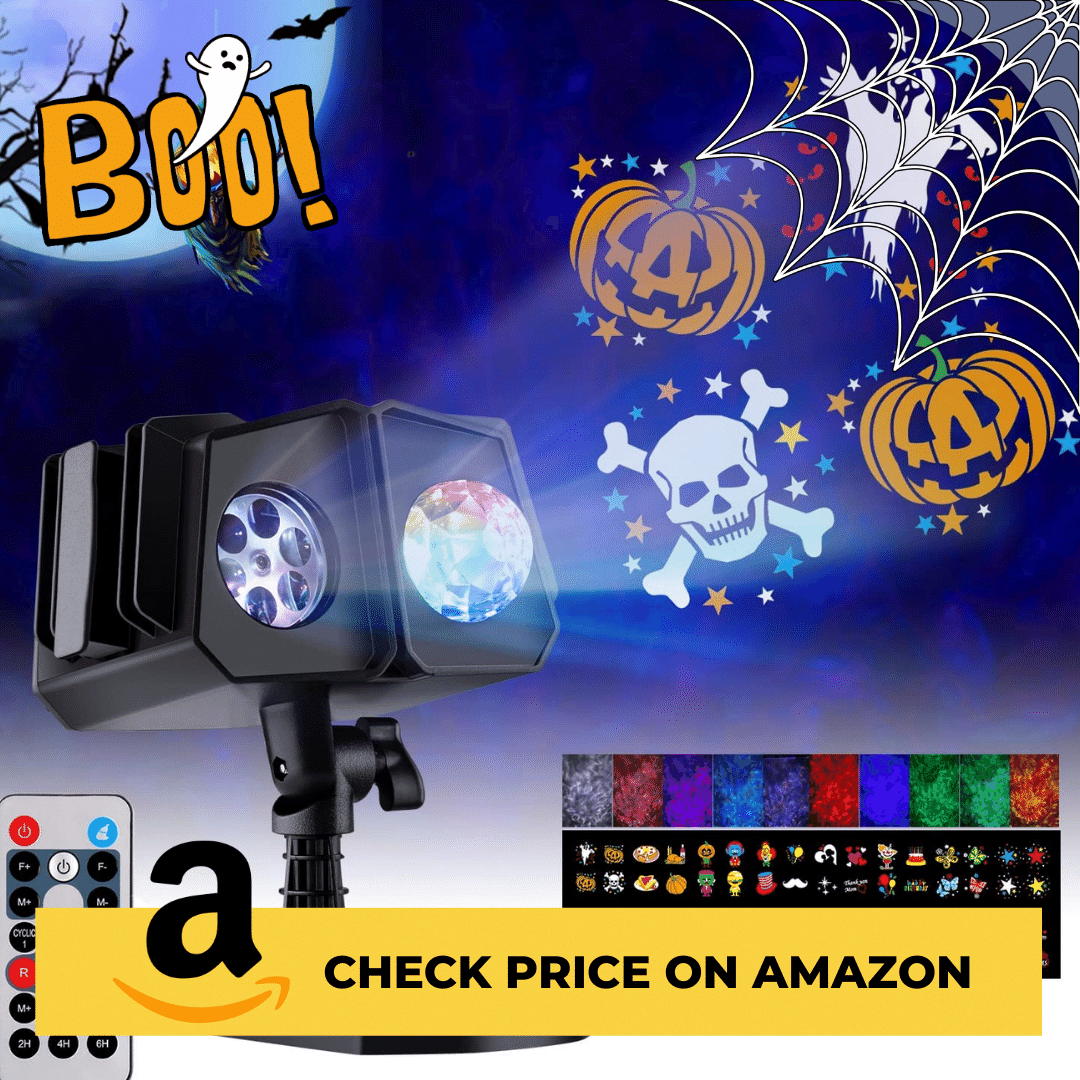 WHY IT's ONE OF OUR FAVS
This product is ideal for anyone who wants to create an unforgettable Halloween party.  You've seen homes with exterior light projections like this before during holiday seasons (like Christmas or Halloween).
What we like about this newer version is the waterproof protection is better quality, so it will last longer.   Plus, the images are brighter, more colorful and vivid than ever before.
The projector light comes with 26 HD effects, 3D ocean wave, and patterns that are sure to impress your guests.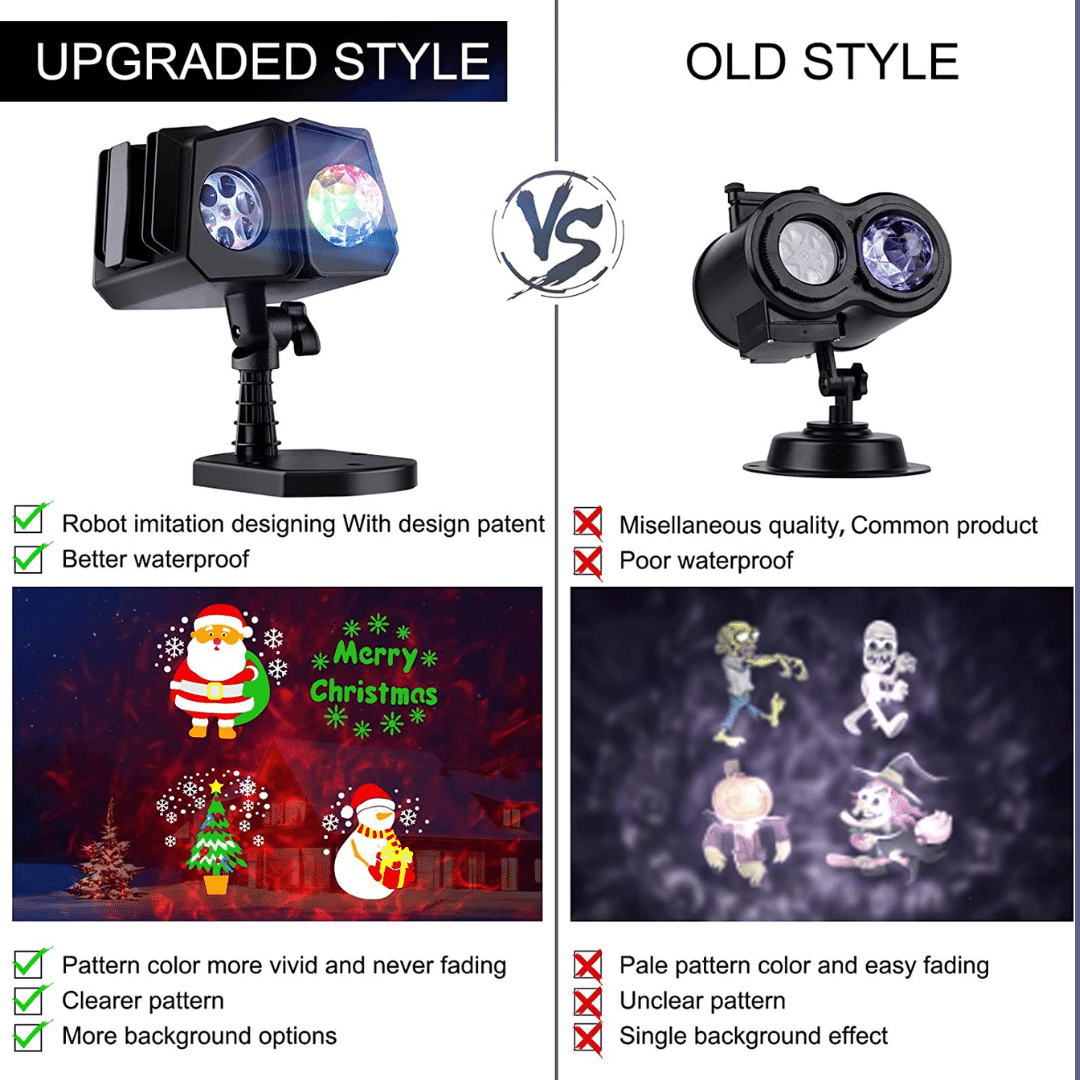 FAV FEATURES
This projector light package comes with 26 HD Holiday Patterns (Halloween, Christmas) suitable for reflection on the exterior of your home, or interior rooms.  Plus, it also comes with 3D Ocean Wave Patterns and Sounds suitable to create a year round spa like environment indoors.
It is also waterproof and comes with an RF remote control and a timer function for easy operation.
Plus, this light projector can be inserted in the ground for exterior projector, or can be used indoors to reflect on walls or ceilings in any room. The AC adapter is weather resistant so it can be used indoors or outdoors.
---
MULTI-USE PROJECT OR [NO SCREEN]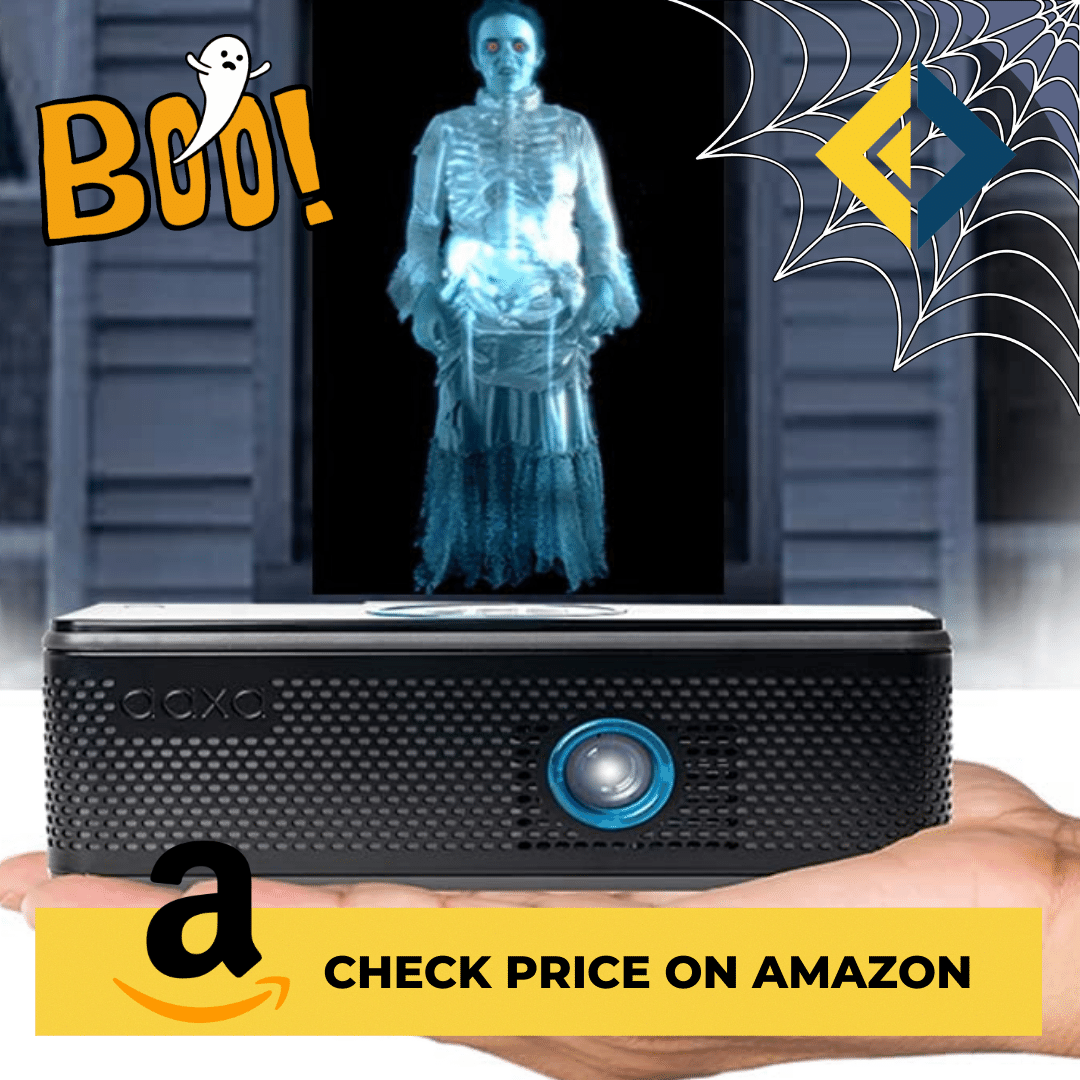 WHY IT's ONE OF OUR FAVs
The HP1 Projector is the perfect way to create spooky, holographic projections of ghosts and other spectral illusions. Multiple scenes can be created right in your own front yard with this small hand-held sized projector.
We love some of the creativity used to hide this small projector outdoors as part of a Halloween scene or set up.  Think about hiding the projector under a tombstone in your scary dead end cemetery and projecting the movie or images out from below.
With its built-in speaker and 4-hour battery life, it's perfect for setting the mood at your Halloween festival. And with Bluetooth connectivity, you can easily control the projector from your smartphone or tablet.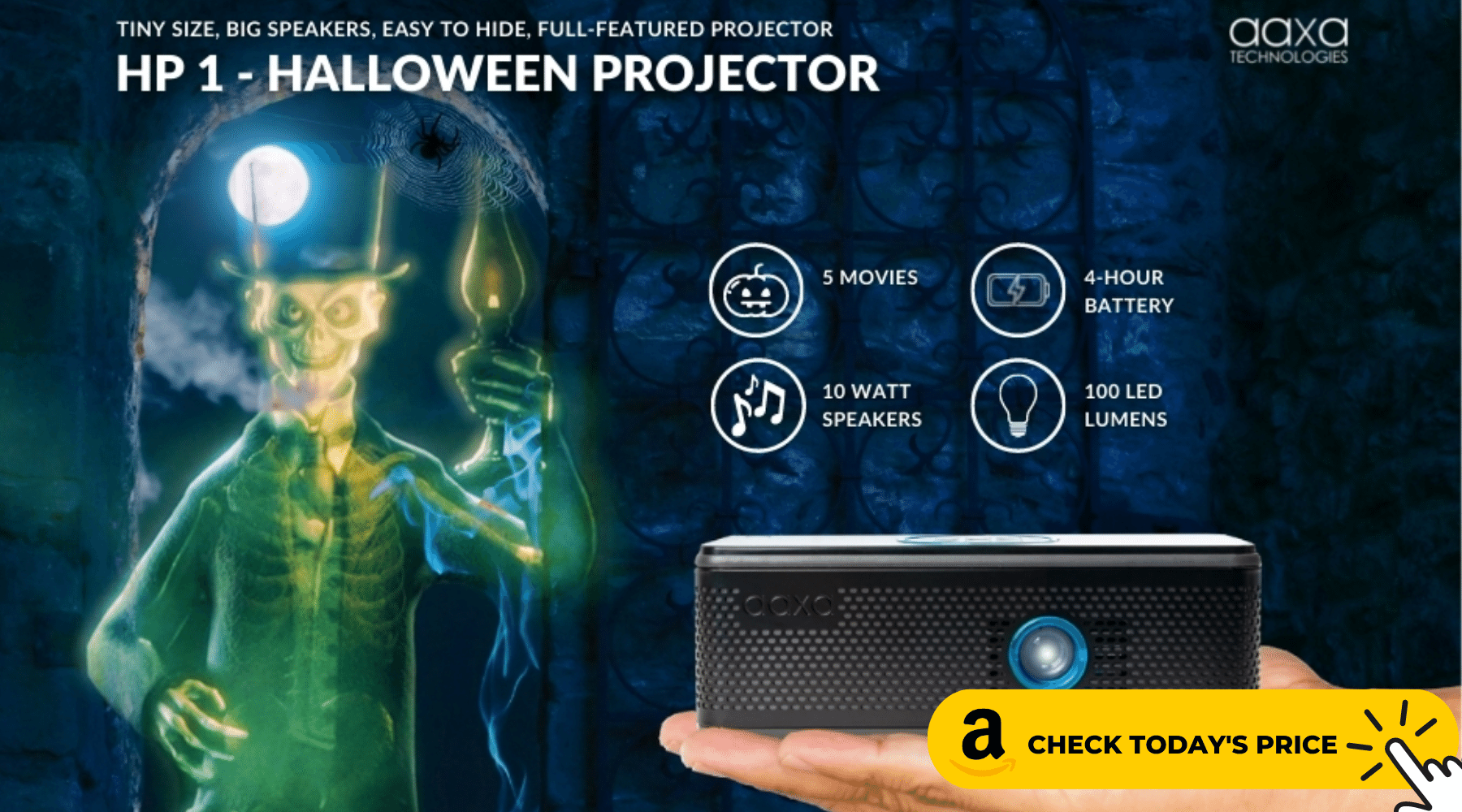 FAV FEATURES
Are you looking for a way to make your Halloween decorations stand out this year? If so, consider using a projector to create some spooky effects.
A pico projector is a great option because it is small and easy to hide, but still produces high-quality projections and it can double as an everyday projector beyond Halloween.
It has all the features you need to create a truly haunting experience, including HDMI inputs, smart device mirroring, a 4-hour battery, and Bluetooth speaker mode. State-of-the-art DLP Technology produces high-quality projections compared to LCDs.
The only thing you'll need to buy separately is a semi-transparent screen.
So why not make this your year to be among the top decorated Halloween houses in your neighbourhood this year?
---
MULTI-USE PROJECTOR WITH SCREEN [250" Display]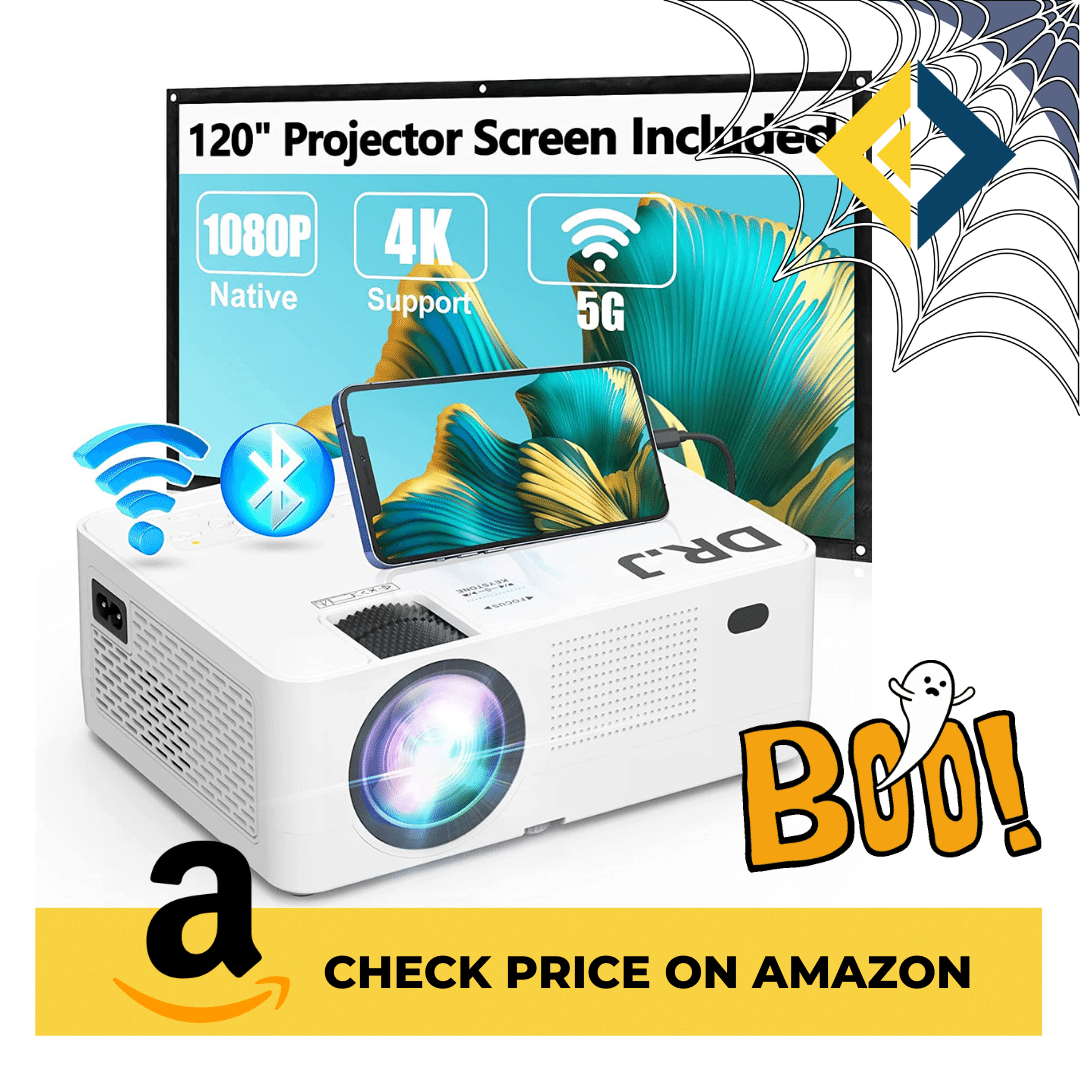 WHY IT's ONE OF OUR FAV's
This amazing 5G WiFi Bluetooth projector is compatible with your TV Stick, HDMI, DVD Player, or AV for theater quality movies all year round, not just Halloween.
It's our favorite projector because it is full HD native 1080P and has wireless screen mirroring. The 120" Projector Screen is included so you can have the perfect movie experience.
This is a projector that you will be able to use outdoors (or indoors) with neighbours and larger gatherings for a variety of holidays and movie events.
FAV FEATURES
Some of our FAV Features for this projector are the 5G WiFi connection that allows for a quicker and more reliable connection than ever before.
We also like the built-in Bluetooth technology that allows you to connect your Bluetooth speakers (or headphones) wirelessly for the best sound experience, whether you are using it outdoors or indoors.
The projector also comes with a 120-inch portable projector screen, making it easy to set up and use.  But it is worth noting the projector can project up to 250" if you want to be innovative with a larger screen outdoors (did someone say white bedsheet? Ya, we've done that too.)
---
MULTI-USE PROJECTOR WITH SCREEN [300" Display]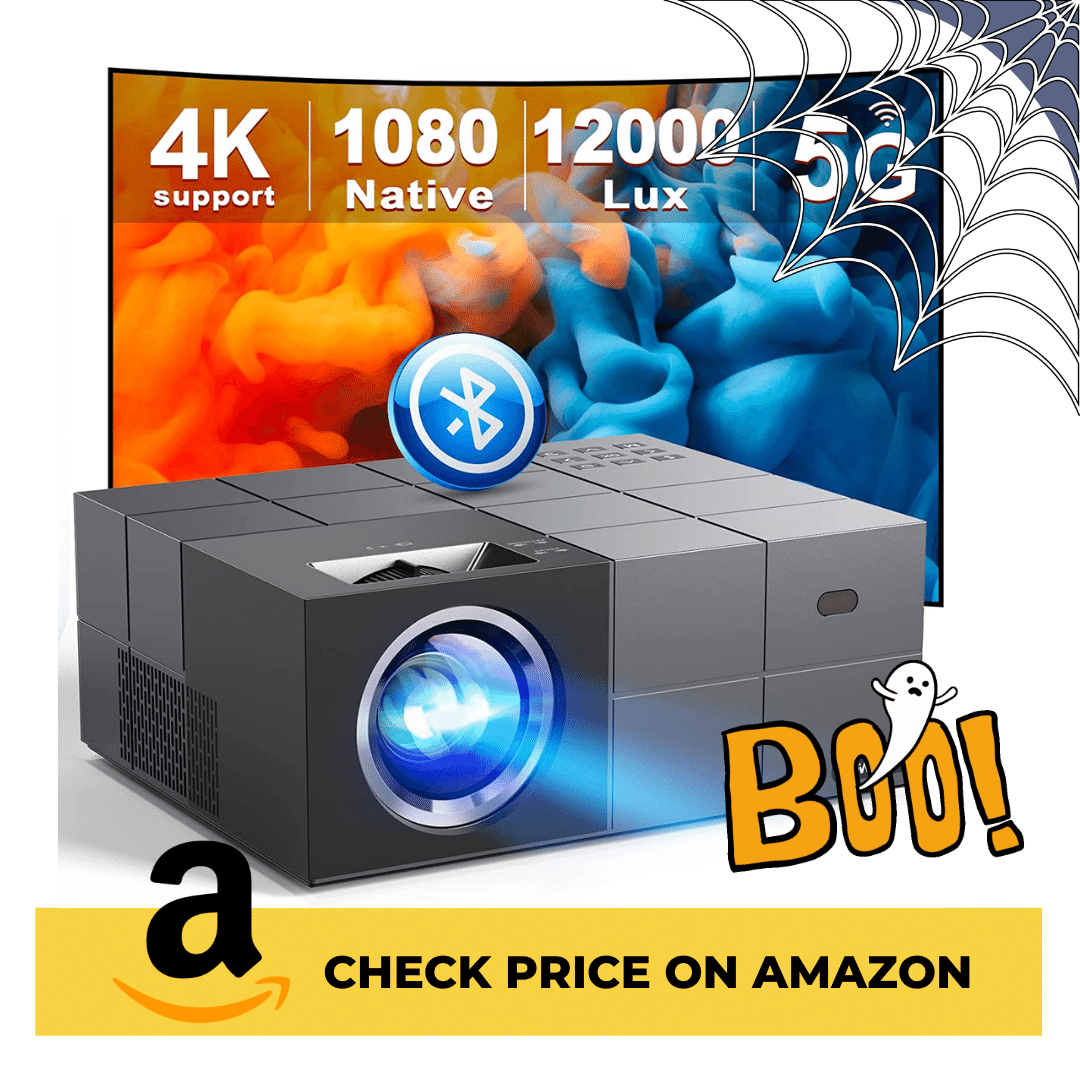 WHY IT's ONE OF OUR FAVs
This top-notch projector is ideal for a range of uses, whether you're looking to experience movies and games in true 4K quality or give presentations at work.
It comes with a large 300" display, so you won't have to worry about skimping on screen size. Plus, the built-in 5G WiFi and Bluetooth support make it easy to connect your favorite devices and stream content wirelessly.
If you're looking for a top-of-the-line projector that can do it all, well beyond Halloween and holiday seasons, this is the one for you.
FAV FEATURES
This projector can project really big and can make your house look like a movie theater or an outdoor movie, with up to a 300" display . You can make the picture bigger or smaller depending on what you want to see. There are also some really cool speakers built in so you don't have to worry about connecting to Bluetooth all the time.
The Yowhick projector provides high definition picture quality with its native 1920x1080P resolution and support for 4K resolution. This will ensure that your pictures are clear and vibrant, without any eye irritation.
The high-end projector is extremely bright this ensures that your pictures are clear and vibrant, with accurate colors.
The projector also has fast and stable WiFi and Bluetooth connections. This allows you to have smoother and lag-free online video streaming and gaming experiences when you sync your smartphone screens. The Bluetooth connection also allows you to connect to Bluetooth speakers or headphones for an immersive sound experience either indoors or outdoors.
---
WINDOW HOLOGRAPHIC PROJECTOR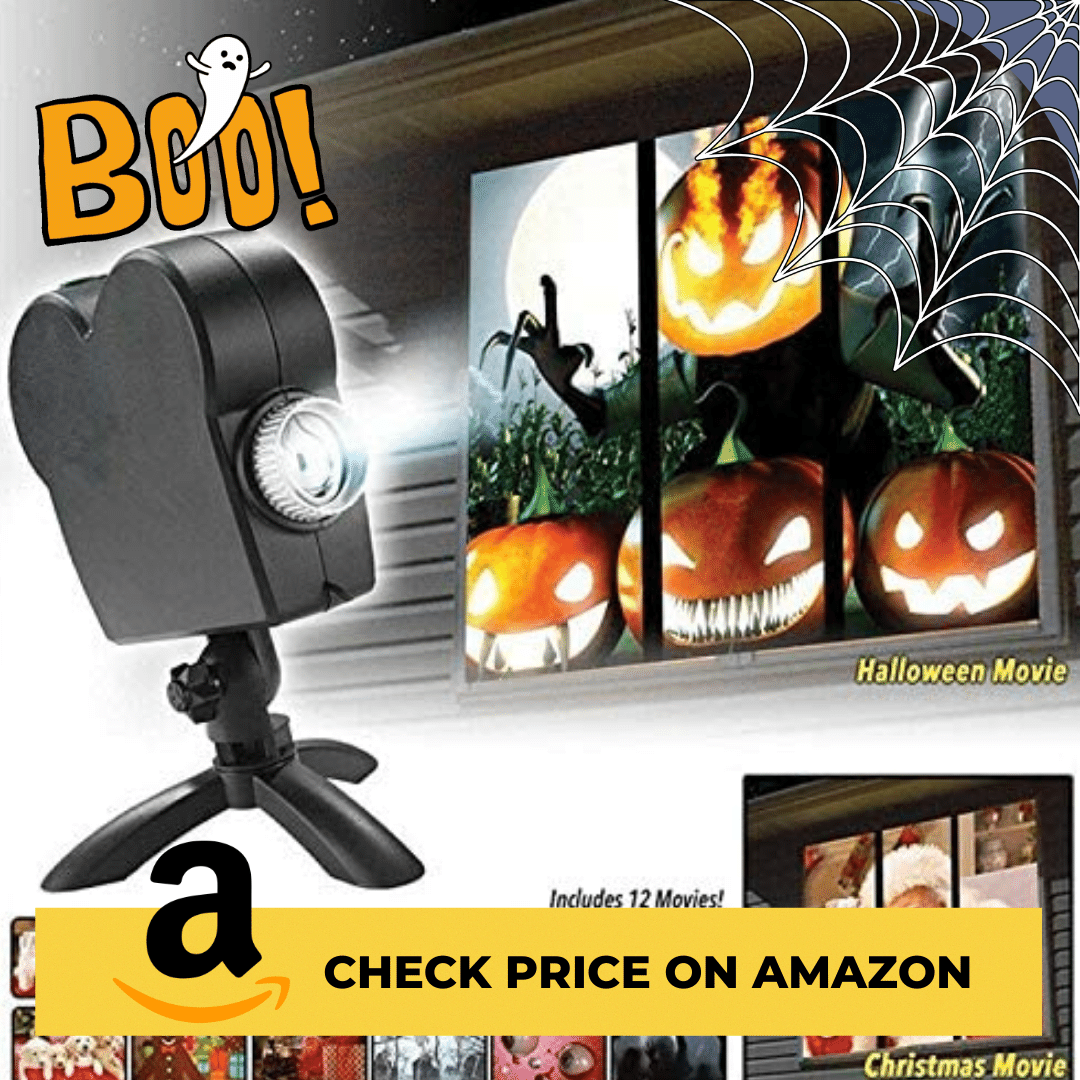 WHY IT's ONE OF OUR FAVs
This Halloween, make your house the talk of the town with the coolest holographic projection light show around! With 12 different patterns to choose from, you can create an epic display that is sure to spook and amaze trick-or-treaters of all ages.
For the price point, we love this window projector.   The concept behind it is to use the projector indoors, to reflect holographic type images (or even a movie) to be viewed from outside through the front windows.  The effect is very cool.
Best of all, this projector comes with a tripod so you can set it easily, almost anywhere Whether you are looking to create a spooky scene or just add some festive fun to your Halloween decor, this projector is a must-have!
FAV FEATURES
We love that this window projector comes with images and includes 6 Halloween and 6 Christmas short movies that you can loop so you can put on a great Halloween show right from your front lawn this spooky season.
What a great experience for kids to see at first glance, life-size jack o lanterns or a giant spider or an Addams family movie in your window on Hallows eve.
An Amazon Customer says it best:
"You play it from inside your home facing outside. It comes with a big plastic movie screen held up with 4 pieces of double sided tape. Works very well... and looks amazing outside!!"  By Amazon Customer, November, 2020
---
Best Holiday Projector FAQs
What is the best projector for a spooky scene?
The Yowhick Outdoor Movie Projector with Screen and 300" Display is a great option for creating a spooky scene. The built-in 5G WiFi and Bluetooth support make it easy to connect your favorite devices and stream content wirelessly, so you can create a truly haunting experience for trick-or-treaters.
What is the best projector for a festive scene?
If you're looking to add some festive fun to your Halloween decor, a window holographic projector is a great option to build out your spooky house. With lots of festive Halloween patterns to choose from, you can create an epic haunted yard display, right from your front lawn windows, that is sure to spook and amaze trick-or-treaters of all ages.
How do I set up my holographic window projector?
The holographic window projector comes with a tripod so you can set it up easily, almost anywhere.  Simply place the projector on the tripod, position the tripod so the projector is pointing out the window, and plug in the power cord. Then, select your desired pattern and enjoy the show!
What are some tips for using an outdoor movie projector?
Here are a few tips to help you get the most out of your outdoor movie projector:
1. Make sure the projector is positioned at least 10 feet away from the screen or surface you're projecting on, for optimal image quality.
2. If you're using a screen, make sure it's securely anchored so it doesn't blow away in the wind.
3. Use a long HDMI cable to connect your projector to your media player, so you can position the projector where you want it without having to worry about moving the players as well.
4. If you're projecting onto a wall or other flat surface, use painters tape or command strips to secure the edges of the screen so it doesn't move around.
5. For the clearest image possible, make sure the projector is in a dark room with no light shining on the screen. If you're projecting outdoors, wait until after sunset for the best results.
6. Use a wireless speaker to stream your audio from your media player to the projector, for the best sound quality.
7. If you're having trouble getting your projector to focus, try adjusting the zoom and/or lens shift.
8. Experiment with different projection angles to find the sweet spot for your particular setup.
How do I make my own movie screen?
If you don't have an inflatable screen, you can make your own movie screen by stretching a white bedsheet or tablecloth over a frame. We've even hung a white sheet from a clothesline and secured it on two sides.  You can also use a blank wall, the side of a tent, or a garage door as a projection surface. Just make sure the surface is smooth and flat for the best results.
---
SO THERE YOU HAVE IT!  
The Secret Behind Some of the Best Decorated Halloween Houses:  Halloween Decorations Displayed by Projectors
Investing in an indoor/outdoor projector is something you should consider. The best Halloween projector for you will depend on your intent for using it.  We've narrowed your choices to three different types and price points here in this article, hoping it will help you to make your decision.
If you're looking to take your Halloween decorating game up a notch this year, then investing in a good projector is likely worth it for you.  With the right projector, you can use it year-round for movie events, and you can transform your home into the best Halloween house on the block this year!
Happy Shopping!
Your FavReviews Team
PS - Have you subscribed to our FavReviews email list yet?  You don't have to miss out on another review.  We review family products that everyone uses.  We do the research for you.  Subscribe at the bottom of this page!  Happy Shopping.