We've all seen the doom and gloom headlines. We've read the stories that say it's too late. But we say otherwise. As awareness of our planet's state grows and expands worldwide, more people are making the right choice – the eco-conscious one.
And now, you can help to educate others to make that choice.
"How?" We hear you asking.
Great question!
With gifts!  Use your 'gift ideas' as inspiration and education for sustainable living with others.
In this review we've researched some of the best zero waste gifts we could find on Amazon - we are sure you'll find a great gift idea with these plastic free zero waste gifts.
How We Select The Best Zero Waste Gifts
We know you live a busy active lifestyle, and when it comes to finding great gift ideas of sustainable style products that you can order quickly, without doing a lot of random searching is key.  We want your zero waste journey to be fun and educational.
But finding the perfect sustainable gift can be difficult, because there are so many new products coming into the market. That's where FavReviews comes into action. We find out what's trending, read through thousands of reviews and analyze different products related to zero waste lifestyles to find and shortlist the best of the best zero waste gifts for you.
Our team of writers have done some amazing research and we're happy to provide you with a list of zero waste Christmas gifts, zero waste birthday gifts, and other sustainable gift ideas.  We even found eco friendly wrapping paper for you to present the perfect sustainable gifts to your family and friends.
Making the Right Choice - The Eco-Conscious Choice
Zero Waste Gift Ideas
Your zero waste journey can start with a simple gift. Sustainable gifts are growing in popularity, with many eco-conscious brands crafting kits suitable for birthdays, weddings, house warmings, and any other special occasion where an incredible gift is warranted!
So, what are zero waste gifts?
In a nutshell, a zero waste gift is any zero waste product. A zero waste product is an alternative to the synthetic products we use every day. The main difference is that zero waste products are designed to last. But if they must be thrown out, you can be assured they'll biodegrade or re-assimilate into nature, causing as little harm to the planet as possible.
Zero waste is becoming a movement
The most famous example of zero waste is the recent 'plastic straws vs. paper straws' debate. Plastic straws are single-use and they are not biodegradable – not good! On the other hand, paper straws are still single-use, but they are biodegradable  – very good!
Another example is single use plastic bags.  More and more grocers are expecting you to bring your own plastic free packaging to pack your groceries.
But don't worry, we're not asking you to gift your friends and family paper straws. Fortunately, several brands support sustainable living and are producing more gift-like zero waste products every day.  We're sure you can find a wonderful gift made with eco friendly materials for the eco conscious consumers in your life, just in time for the holiday season.
Give the gift of zero waste!
By gifting zero waste gifts, you treat not only one person but the entire world. So if you'd like to get in on the zero waste gift-giving movement and spread a little 'green',  we've got just the inspiration you need below!
5 Zero Waste Gift Ideas Everyone Can Use
Zero Waste Personal Care Kit
Ideal gift for teens and the ladies in your life.
Why It's One of our Favs
Caring about the earth shouldn't have to mean sacrificing self-care. We can care about ourselves and the planet. In fact, we must take care of ourselves first so that we feel strong and confident enough to take on the world.
But it's not easy to maintain a zero waste lifestyle, with most hygiene products being made out of plastic or other such unsustainable materials. And while there are sustainable alternatives, they can be hard to find.
This kit offers everything you need to stay clean, happy, and fresh in one neat, all-encompassing kit. And that's precisely why we love it! So, don't be afraid to share it around. We can guarantee that this gift will be met with huge smiles and plenty of thanks.
Fav Features
One of the first questions people ask of 'zero wasters' is, "but how do you stay clean?" While the long explanation usually follows, the short and sweet answer is contained within this delightfully sustainable self-care box.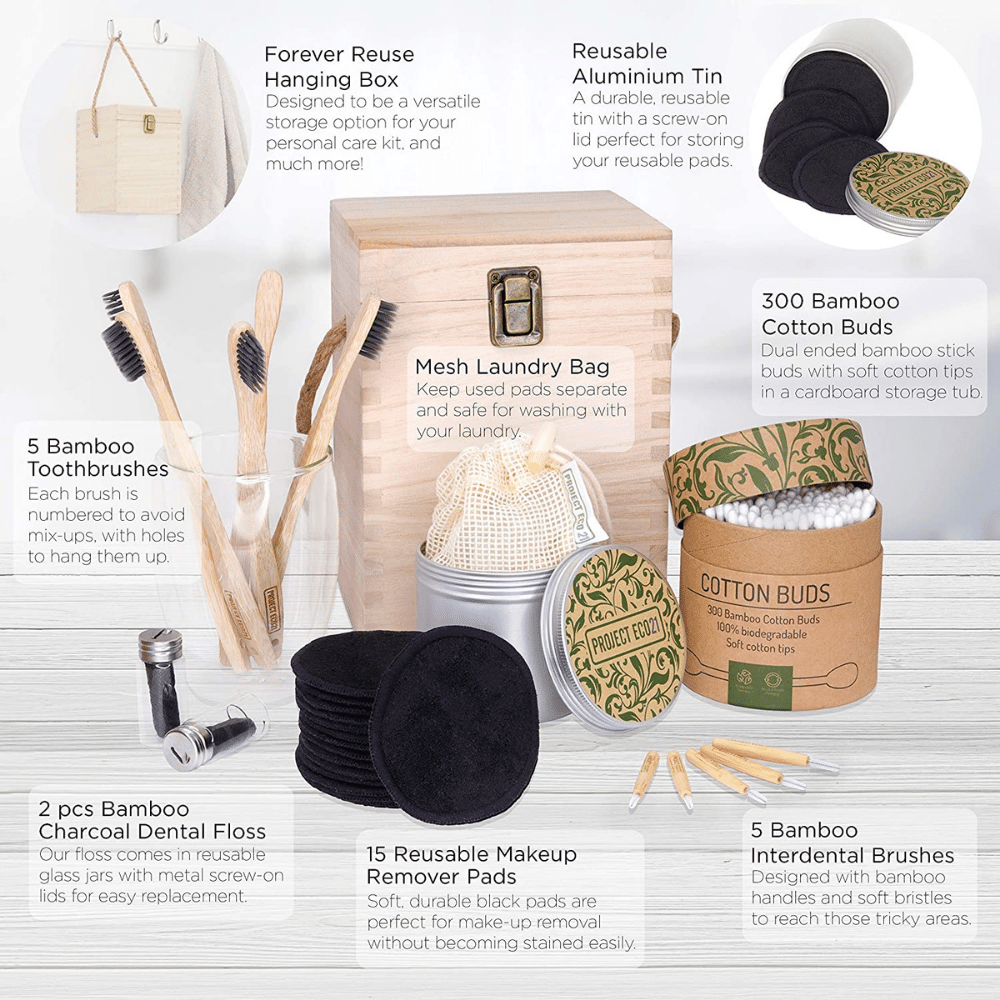 This unique zero waste personal care kit includes 15 Black Reusable Cotton Pads with Laundry Bag and Storage Tin, 300 Biodegradable Bamboo Cotton Buds, 5 Bamboo Toothbrushes, 5 Bamboo Interdental Brushes, 2 Sets of Bamboo Charcoal Dental Floss, and 1 Reusable Storage Box – phew! And it's all wrapped up in a visually-pleasing biodegradable box with a reasonable price tag to boot!
Ekomind Zero Waste Starter Kit
Ideal gift for the busy bee in your life.
Why It's One of our Favs
When it comes to zero waste gift-giving ideas, this kit is undoubtedly among the best. Containing a mix of bags and alternatives to standard kitchenware, this is a wonderfully practical gift for someone who's regularly on the go. Think along the lines of college students, working professionals, or even an athlete!
Another aspect of this product we appreciate is how passionate the brand is about taking care of the planet.  Ekomind is an earth-friendly conscientious brand that's known for its fun and functional products. Primarily a family-run business, Ekomind have since expanded into more expansive territories as they spread their world-saving message product by product. This adds a nice, charming, almost personal touch to this zero waste starter kit, making gifting it all the more special!
Fav Features
Every zero waste expert has to start somewhere. So, why not help them put their best foot forward by gifting them all they need to make the change as seamless and enjoyable as possible.
Within each spectacular kit, you'll find 3 small, medium, and large mesh bags, ideal for shopping or carrying bits here and there. Alongside are three beeswax wraps that can be used as an alternative to tinfoil and clingfilm for wrapping up snacks and keeping food fresh!
And for the grand finale – a spacious, reliable, and entirely sustainable tote bag! What's more, this is a wholly cruelty-free box, with all products being ethically sourced.
Zero Waste Kitchen Products
Ideal gift for zero waste parents for kitchen and home
Why It's One of Our Favs
Most 'zero wasters' agree: the kitchen is the hardest place to avoid waste. With all those paper towels, food packaging, harsh chemicals and plastic wrap to worry about, things can get stressful – fast.  But eco friendly living is achievable.
You can gift an eco-friendly kitchen & home set. This miracle zero waste kit includes food storage bags, beeswax food wraps, mesh produce bags, and reusable straws.
But that's not all. Keen to help fight the climate emergency, the producers of the box donate a portion of all sales towards supporting non-profits like the Coalition for Rainforest Nations – truly the gift that doesn't stop giving.
Fav Features
First of all, we can't help but mention the straws! These days, owning a metal straw is becoming more popular. In fact, many people now carry them as they go about their day-to-day activities/errands. So, we're delighted this kit includes a set!
Have you tried these food storage bags yet?  They are amazing.  Food keeps fresh so much longer, so it helps to prevent food waste which is an often overlooked but fundamental part of living a zero waste lifestyle. And finally, the beeswax wraps and produce bags bring this gift set together as the ideal gift for busy parents or working professionals in a rush!
Simple Ecology Farmers Market Shopping Bags
Ideal gift for the chic eco-conscious fashionista in your life
Why It's One of Our Favs
It's in the bag! These reusable bags are one of our favorite zero waste gift ideas.    As anyone who's ever dabbled in the sustainable lifestyle knows, you can't have enough bags. Of course, you don't throw them out. Still, there's plenty of stuff to be carried, especially when you shop for organic produce that's rarely stocked in containers or plastic bags.
So, these bags are ideal for carrying all your veggies, fruit, and other produce that are all part and parcel of keeping you healthy and saving the world!
Fav Features
Finding reusable bags that are stylish and functional can take a lot of patience. But this simple set of 8 farmers' market shopping bags has it covered. Stylishly minimalistic, durable, reliable, and incredibly comfortable to hold – these are the sustainable bags of the moment. Mid-length dual handles make carrying loads of all weights simple while giving you the option to carry by hand or sling across your shoulder for a casual look.
But that's not all. Keeping things fresh, the natural, breathable, and 100% organic fabric of each reusable produce bag ensures vegetables and fruit stay in tip-top condition.
This perfect gift includes:  XL Canvas and Jute Tote; Market String Bag; Muslin Produce Bag sizes L, M; Mesh Produce Bags sizes L, M.
Agile Eco-Friendly Pens
Ideal gift for the creative in your life
Why It's One of Our Favs
Okay, this one surprised us too!
This is the perfect gift for the student, artist, writer, or stationary lover in your life – a chic, ultra-cool collection of 50 eco-friendly and sustainable pens.
When we think sustainable, we don't usually think of stationery. However, since standard pens are primarily made from plastic, an eco-friendly alternative is certainly worth looking into.
That's why we think these pens are a unique, one-of-a-kind gift that anyone would be delighted to receive (a pen always comes in handy!)
Fav Features
So what makes these miracle pens zero waste? To begin with, they're entirely plastic free, meaning they won't contribute to the millions of tonnes of micro and macro plastics that clog the earth's waterways.
Instead, they're crafted from kraft paper & stainless steel. Secondly, they're completely biodegradable, meaning that once they run out of ink, you can disregard them guilt-free! These two factors earn these nifty gifts the title of 'Eco Pens.'
How do you wrap zero waste gifts?
So far, so good! You've selected the perfect zero waste gift, and the planet is breathing a sigh of relief.   So, it's time to pat yourself on the back!
But as everyone who has ever had a zero waste gift idea knows, there comes the issue of wrapping paper. With many wrapping papers made from non-recyclable material, finding a biodegradable or recyclable alternative can be challenging.
Fortunately, alongside the zero waste gifts above, you'll find several zero waste wrapping paper options online. Better still, these days, there are numerous recyclable wrapping paper styles to choose from and even some occasion-appropriate versions such as this Zero waste Christmas wrapping paper.
A more unconventional but popular option among eco-conscious proponents is Honeycomb packaging paper. This packaging is made from cardboard woven into a mesh-like style for strength and durability. It's commonly used for gifting bottles to avoid any cracks or smashes. However, the material can also be used to cover any product you wish.
Why Zero Waste Gifts are Replacing Standard Gifts
The world is changing. And with it, so are our mindsets. The more we learn about how our actions can affect the health of our planet, the more we're happy to amend them. In other words, being eco-friendly is trendy! Caring about the planet is cool. And with that, giving and receiving a sustainable gift says, "I care about you and the planet."
As well, our planet only has a fixed amount of natural resources that we can tap into. Once we run out – that's that. So, by making the eco-conscious decision to be more sustainable, we allow the exhausted planet to breathe and renew. By purchasing and gifting zero waste gifts, we're making the ethical choice.
Why not consider gifting great zero waste gifts this holiday season?
Consider zero waste Christmas gifts and an eco friendly zero waste stocking stuffer, like a bamboo toothbrush (Santa always leaves us toothbrushes!).
Need some more ideas?  How about a reusable coffee mug - that can be fun.  Or a zero waste book. Or something made of recycled materials, plastic free or organic cotton.  Or support a local vendor who sells fair trade products (like coffee).  What about a counter size waste free compost bin?  There are so many physical gifts you can consider that are zero waste Christmas gifts.
There is a perfect zero waste gift out there for everyone on your Christmas list.
Zero Waste Gift Wrap up
In the spirit of giving, we rounded up some of our favorite zero waste gift ideas in this article. We hope this list of gifts leaves you with zero worries while shopping for your eco-conscious friends and family.
The whole idea of zero waste living is to create as little waste as possible and send as little waste and harmful chemicals to landfills as possible.  All of this reduces your personal carbon footprint.  And these days, a gift that's not only useful but also helps keep the planet healthy is one of the most thoughtful gifts you can give!
If you found this post helpful, please help someone by sharing this article – sharing is caring.
Thank you,
Your FavReviews Team
FAQS for Zero and Low Waste Gifts
What are zero waste gifts?
There are a few different ways to approach giving zero waste gifts. One way is to look for things that can be reused or repurposed.  For example, instead of buying a new coffee mug, do you have an existing mug that you can regift?  You could also look for items that are made from sustainable materials, like bamboo or recycled glass.
Another idea is to give an experience rather than an object, like tickets to a show or a gift certificate for a yoga class.
Finally, you could simply choose to giving something that doesn't create any waste at all, like home cooked meals or baked goods. Whatever you decide, the important thing is to be thoughtful about the environmental impact of your gift.
What do you buy someone who cares about the environment?
There are so many things you can buy someone who cares about the environment.  Once you start thinking this way, the list of gifts made of natural materials or sold by fair trade certified companies will become limitless.
If you are just getting started thinking this way, you can buy them a reusable water bottle or coffee mug, for example, to help them reduce their use of disposable cups and plastic bottles. Or you could buy them a solar battery charger so they can charge their gadgets using solar energy. Or maybe a set of bamboo utensils to reduce the amount of plastic waste they produce.
We like gifts of 'experience' too.  You will find a family member or someone who cares about the environment will enjoy going on an outing with you, as they often care more about experiences than accumulating 'things'.
Whatever you choose to buy, make sure it's something the person will actually use and that will make a difference in terms of environmental impact.
What do you get someone who is zero waste?
There are plenty of options for zero waste gifts! For the foodie in your life, consider a gift basket filled with organic and locally sourced produce. For the fashionista, how about a stylish reusable tote bag or insulated water bottle (we like Yeti) ? And for the homebody, there are loads of sustainable cleaning and home goods available. Whatever your budget or recipient's interests, there are endless possibilities for Zero Waste gifts!
What do you get someone who is environmentally friendly?
There are a lot of great gift ideas for people who are environmentally friendly! Here are just a few ideas to get you started:
1. A Gardening Gift Set: If your friend or family member loves to garden, why not get them a gift set that will help them do it in an eco-friendly way? Look for sets that include items like organic fertilizer,  insect repellent, and recycled gardening tools.
2. A Reusable Shopping Bag: With more and more cities banning plastic shopping bags, now is the perfect time to give the gift of a sturdy, reusable shopping bag. Look for one made from sustainable materials like hemp or bamboo, or even reused materials like recycled fabric.
3. Eco-Friendly Kitchen and Home Set: Most' zero wasters' agree the kitchen is the hardest place to avoid waste.  Zero waste kitchen & home kits often include food storage bags, beeswax wraps, mesh produce bags, and reusable straws.
4. Baby Bamboo Bowl and Spoon Set: Promote healthy living for a new young family with a sleek bamboo bowl and spoon set.  A bamboo baby feeding bowl set is an excellent gift choice that is safe for a young family and will last for years to come.
What are 10 things we can do to live a zero waste life?
1. Refuse what you do not need.
2. Take your own reusable bags to the store.
3. Bring your own reusable container for food and drinks.
4. Say no to straws and disposable cutlery.
5. Take your own water bottle or coffee mug with you wherever you go.
6. Shop at thrift stores and farmers markets where less packaging is used.
7. Opt for products with minimal or recyclable packaging.
8. Make your own cleaning supplies, personal care products, and snacks instead of buying them packaged commercially.
9. Compost your organic waste instead of throwing it away in the trash can
10. Recycle everything that can be recycled!
OKAY, we like to over-deliver, here are 4 more things you can do:
11. Donate unwanted items instead of throwing them away.
12. Educate yourself and others about the importance of reducing, reusing, and recycling.
13. Advocate for change by supporting businesses that are environmentally friendly.
14. Be a role model for others in your community by living a green zero waste lifestyle yourself
Is buying zero waste cheaper?
It depends on what you buy. If you switch to bulk items and reusable containers, it can definitely be cheaper. However, some zero waste products can be more expensive than their disposable counterparts.
It's important to remember that the goal of Zero Waste is not just about buying things that create less waste. The goal is also to buy fewer things in the first place. When you buy less, you spend less money, which makes being zero waste more affordable.
What can we do for zero waste?
The best way to achieve zero waste is to change the way we produce and consume products. We can start by reducing our consumption of single-use and disposable items. This includes everything from plastic bags and water bottles to coffee cups and straws. Instead, we should opt for reusable alternatives.
Another way to reduce waste is to take a closer look at the products we buy and see if they can be recycled or composted instead of being thrown away. Lastly, we should spread the word about zero waste living to our friends and family members!
What is a sustainable kitchen?
A sustainable kitchen is one that is designed to use resources efficiently and minimize environmental impact. This can include features such as energy-efficient appliances, locally sourced materials, and waste reduction strategies. Creating a sustainable kitchen starts with careful planning and consideration of your needs and how they can be met in the most environmentally responsible way possible.
Looking for a kitchen gift for someone who is eco-friendly?  You can gift an eco-friendly kitchen & home set.  Our fav Kitchen and Home Zero Waste Starter Kit includes food storage bags, beeswax food wraps, mesh produce bags, and reusable straws.