Japandi is a new design trend that is taking the world by storm.
This hybrid style combines the best of both Japanese and Scandinavian design to create a unique and beautiful aesthetic.
If you're looking for a way to spruce up your outdoor space with simplistic but cozy styles to instill wellness and tranquility, Japandi furniture is a great option.
But first, let's explore Japandi design to better understand it.
Why Trust Us?
We hope you find your next favorite thing from FavReviews! We are a family friendly product review site.
Four Generation Family: As a four generation family, the breadth of products we consume and review as brand ambassadors is vast. But we can tell you, in general, in we love the outdoors, sports, staying active, living healthy and celebrating the changing seasons.
Trending Products: We also love finding new trending products and we are happy to pass along our research of new trending products to you. Follow us so you don't miss out on a thing! We send out cool emails with our latest reviews, and we will never sell or misuse your information.
Opinions Based on Use, Research and Reviews: Each product we write about is independently selected by our editors. All opinions in this article are our own, based on our own use of the product(s), or hours of research and reading reviews. We will never recommend something we wouldn't use ourselves in our own family.
Compensation: Yes, FavReviews may collect a share of sales or other compensation from the links on this page if you decide to buy something (that's how we stay in business). But, the product never costs you more, in fact in some cases, we hope we might help save you money based on our recommendations.
Reviews have been edited for length and clarity. Enjoy finding your next favorite thing! Happy Shopping! Your FavReviews Team
Japandi Interior Design | Hybrid Japandi Style
Japandi design is a new style that is becoming increasingly popular all over the world. It's a hybrid style that combines the best of both Japanese minimalism and Scandinavian hygge finding beauty in simplicity, while still making your space cozy as a top priority.
Japanese Minimalism
Japanese minimalism is all about keeping things simple, clean and uncluttered.
Japanese homes are typically small, so they need to be very efficient with their space. This means Japanese style tends to have very little furniture, art or decorations, creating a minimalist look. Everything has a purpose and a place, and there is nothing superfluous.
This philosophy can be applied to any kind of space, including your outdoor area. By choosing Japanese-inspired furniture and accessories, you can create a serene natural landscape and uncluttered space that is perfect for relaxing and enjoying the outdoors.
Japandi design styles and furniture are typically made of natural materials, such as wood or bamboo. It is simple and streamlined, with clean lines and a minimalist aesthetic.
Japanese interiors use minimalist principles with neutral tones, soft hues and muted color palettes.
Scandinavian hygge
Scandinavian design is all about creating a cozy, comfortable and inviting space.
Hygge (pronounced hoo-gah) is a Danish concept that can be described as "a feeling of cozy contentment and well-being." While there is no direct translation to English, hygge has come to be associated with ideas like coziness, comfort, togetherness, and simple pleasures.
Maybe you'd like to engage in cozy conversation with your friends and learn more about "The Hygge Way" with THE HYGGE GAME (available now on Amazon).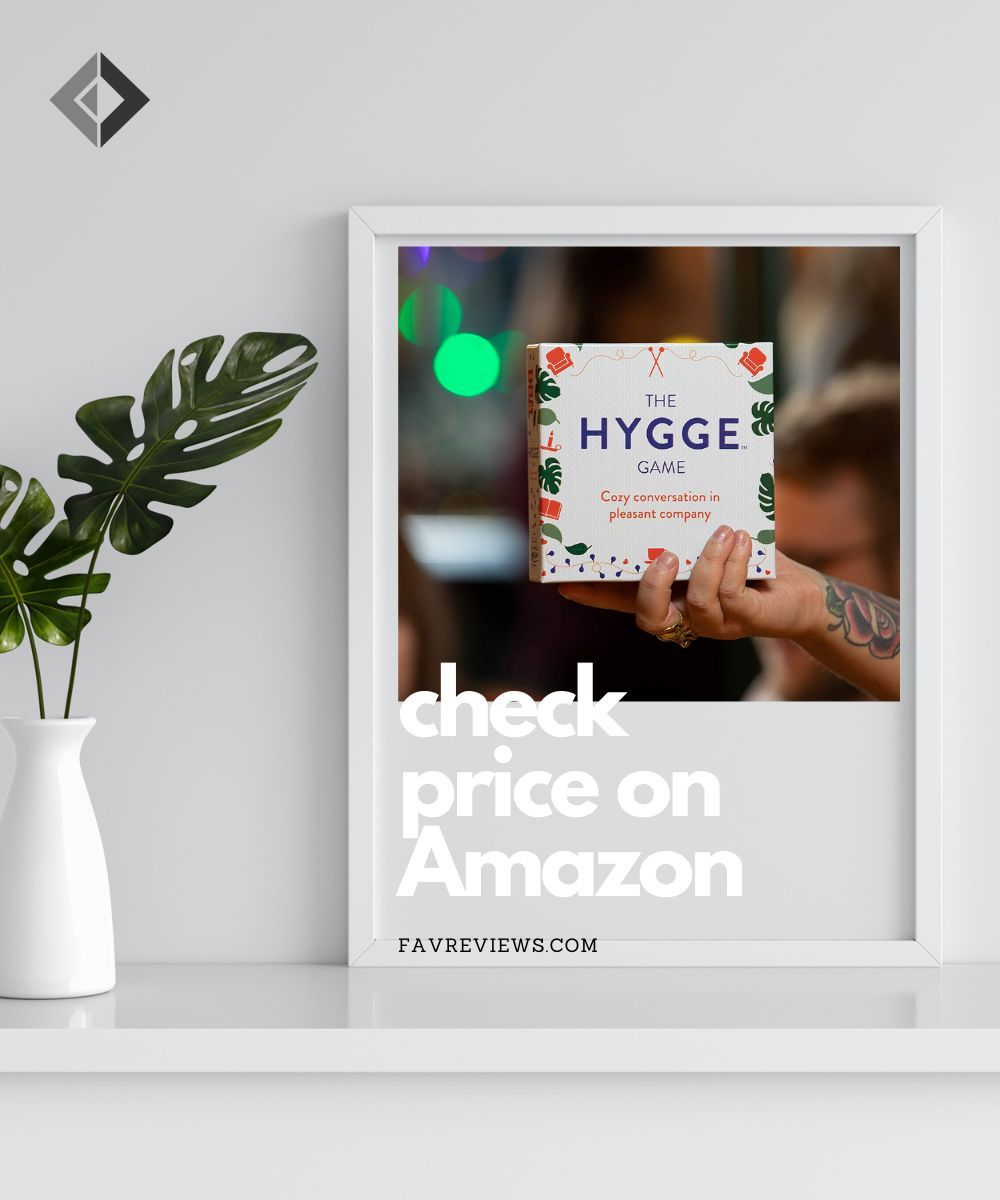 Imagine a dining room full of friends, with acorn tones, large ceramics and fewer but bigger plants.  Autumn foliage and colors brought in from the natural landscapes around the warm and cozy home.
Scandanavian design styles use natural light and their interiors favor functionality, natural fibers, the odd soft shaggy rug, light colors, bright spaces and simple line art to cover the otherwise blank walls.
Japandi Design
Japandi design takes the best of both worlds and creates a perfect blend of these two styles. This new trend is perfect for those who want to add a touch of elegance and sophistication to their outdoor space.
If you're looking for Japandi furniture, there are many great options available. From beautiful tables and chairs to stunning sculptures and vases, you can find everything you need to create a stunning Japandi-style outdoor space.
If you're looking for a way to spruce up your home's interior (or exterior), Japandi furniture and decor are great options.
Natural Materials We Love for Japandi Furniture
Our favorite textiles and color palettes for Japandi furnishings are:
Woven materials such as rattan, wicker
Sustainable materials like bamboo
Hardwoods like Acacia that can handle the outdoors
Natural fiber rugs
Neutral colors like black, white, gray and other neutral tones
Accents of blue or green solid colors
Furnishings are the perfect way to add a touch of style to a Japandi living room and these same natural materials add a level of sophistication to your outdoor space as well.
We love the clean lines and neutral colors of this new nordic style for your Japandi home.  And we love how eco-friendly and durable Japandi furniture is.
Learn More About Japandi Style in this Recently Published Book by Merrell:
Japandi Style: When Japanese and Scandinavian Designs Blend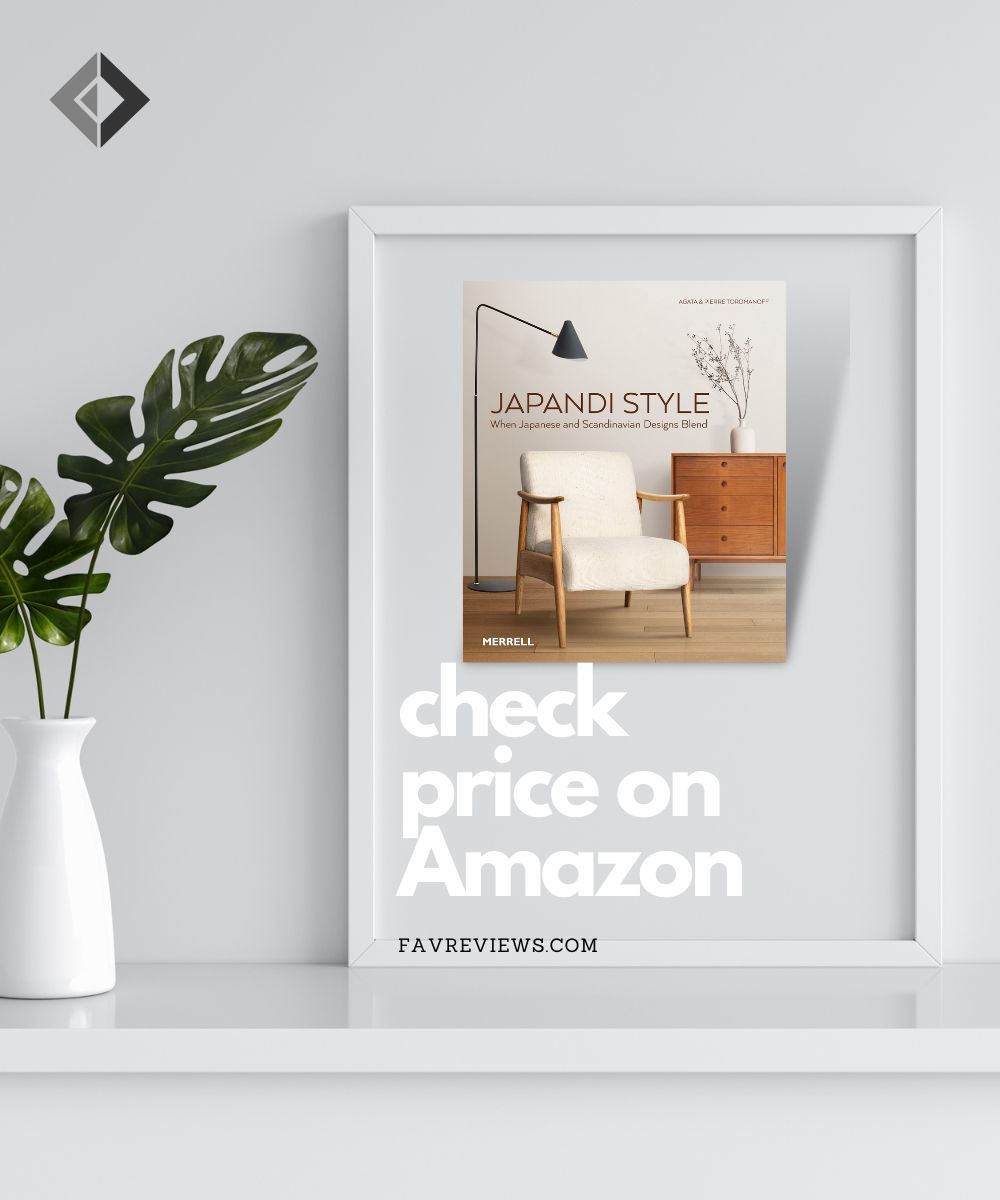 Japandi Style: A Trend for Your Outdoor Space Too!
If you're looking for a way to add some style and sophistication to your outdoor space, Japandi furniture is a great option.
Lots of people think about Japandi for interior design, but fewer are talking about Japandi to incorporate different furniture into your outdoor design.
Japandi furniture is a good way to spruce up your outdoor space because it's typically made from natural materials like wood, bamboo, and rattan. These materials are not only environmentally friendly, but they're also durable and built to last.
In addition to being eco-friendly and durable, Japandi furniture, with all of the muted colors, is also stylish and chic.  We love the modern and minimalist style of this new nordic style.
If you're looking for a way to add some style and sophistication to your outdoor space, Japandi furniture is a great option.
Here are some tips on how to incorporate Japandi style into your outdoor space for superior aesthetics:
Start with the basics.
Japandi style is all about simplicity, so start with the basics when furnishing your outdoor space. Think about how your outdoor spaces will be used.  Will you be dining outside on your patio, deck or in your yard?  
Stick to clean lines and neutral colors but also think about the importance of coziness, friendship and sharing the space.
Add some natural elements.
Incorporate some plants or flowers into your space to add a touch of nature.
Create a cozy seating area.
Japandi style is all about creating a cozy and inviting space. Create a seating area where you can relax and enjoy the outdoors.  Also think about how you will seat friends and guests comfortably in usable conversation areas.
Include some Japanese or Scandinavian elements.
Incorporate some traditional Japanese or Scandinavian elements into your outdoor space to really capture the Japandi aesthetic.
With these tips, you can easily create a beautiful and inviting Japandi-style outdoor space.  
We have curated 31 awesome Japandi inspired products you'll love for your outdoor space. Enjoy!
A minimalist garden bench made of teak or bamboo.
This type of bench would look great in any garden or backyard. It would also be perfect for enjoying the outdoors while reading a book or relaxing.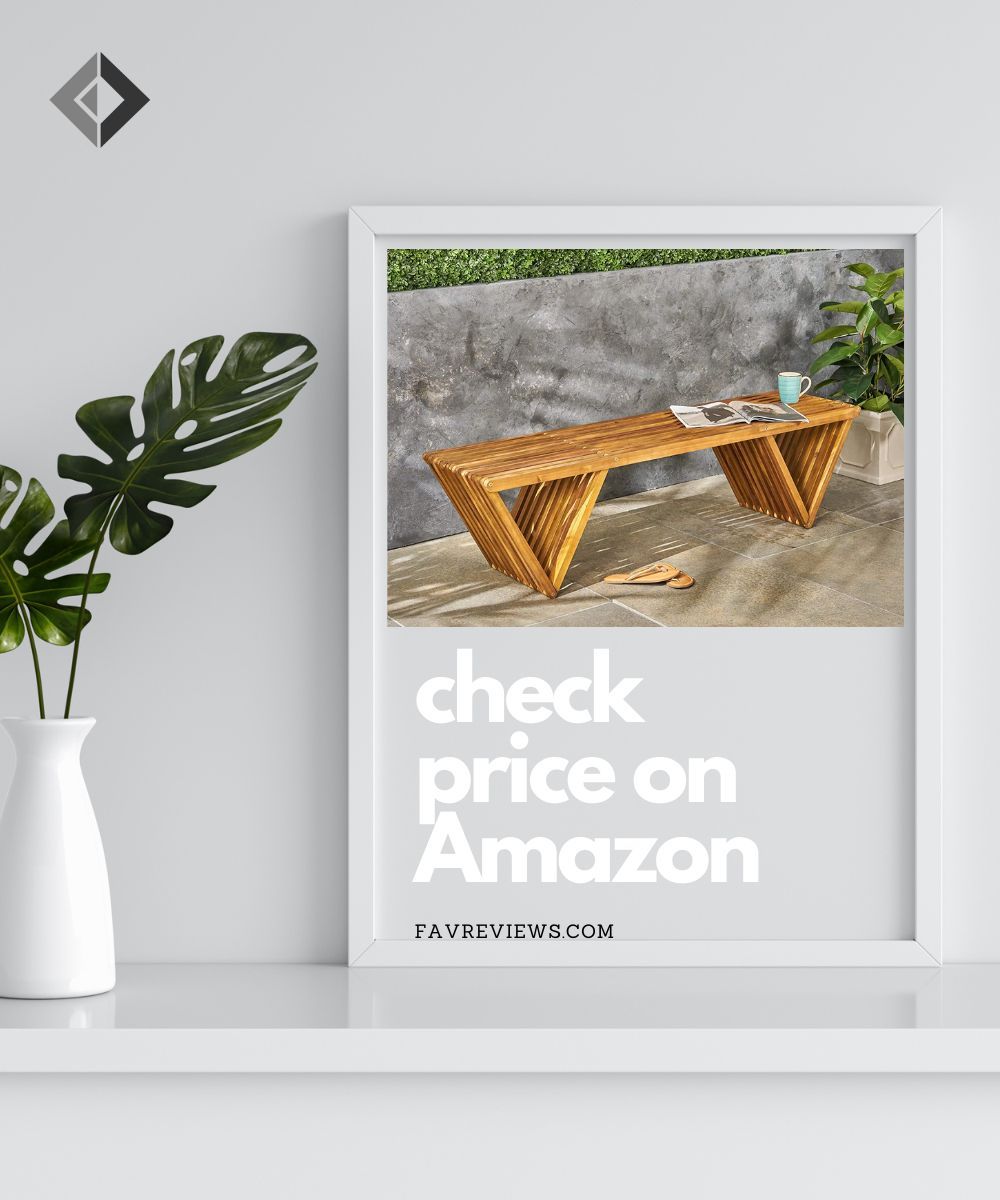 WHY WE LIKE IT
We love this outdoor bench for it's simple and timeless design.  It is the perfect way to add additional seating to your patio, deck or garden.
FAV FEATURES
This bench is made with Acacia Wood with a Teak finish is perfect to use on it's own, or as bench seating at a table.
---
Outdoor Japandi Inspired Chairs and Seating Areas
Below is a collection of Japandi Inspired Chairs and Seating areas.  These chairs are comfortable and stylish, making them ideal for spending time on the patio or deck.  They would also look great in a setting on their own, some around a fire pit or outdoor table.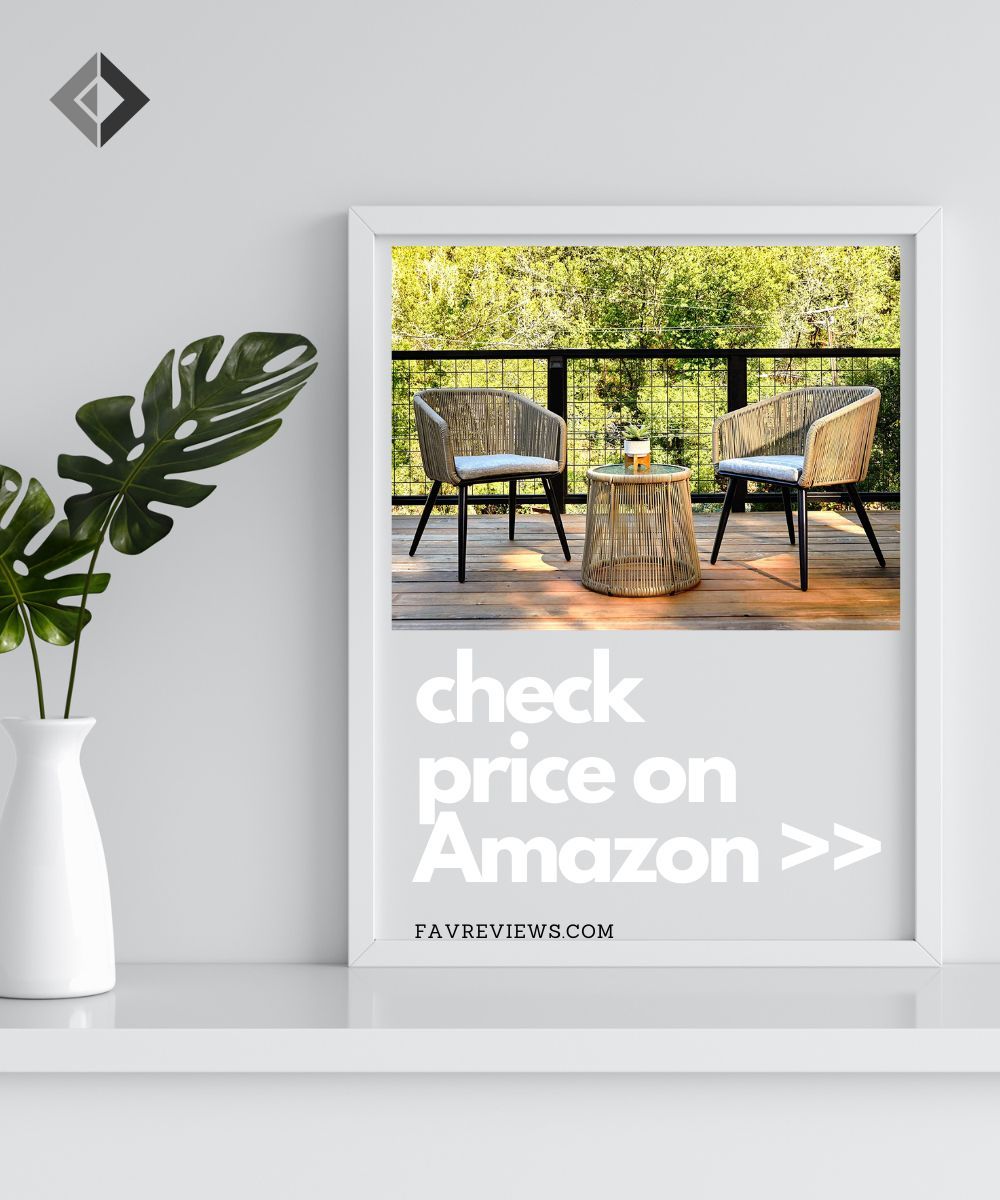 WHY WE LIKE IT
These Handwoven Rattan Wicker Chairs and Tempered Glasstop Table are the perfect addition to any deck or patio.  They provide cozy seating for two, or additional seating if entertaining a larger crowd.
FAV FEATURES
This set is built to last designed with an electrocoating steel frame, stainless steel screws and handcrafted wicker.  Chairs will hold up to 330lbs.
The fade-resistant cushions are made with a thick weatherproof fabric and an additional waterproof coating is added.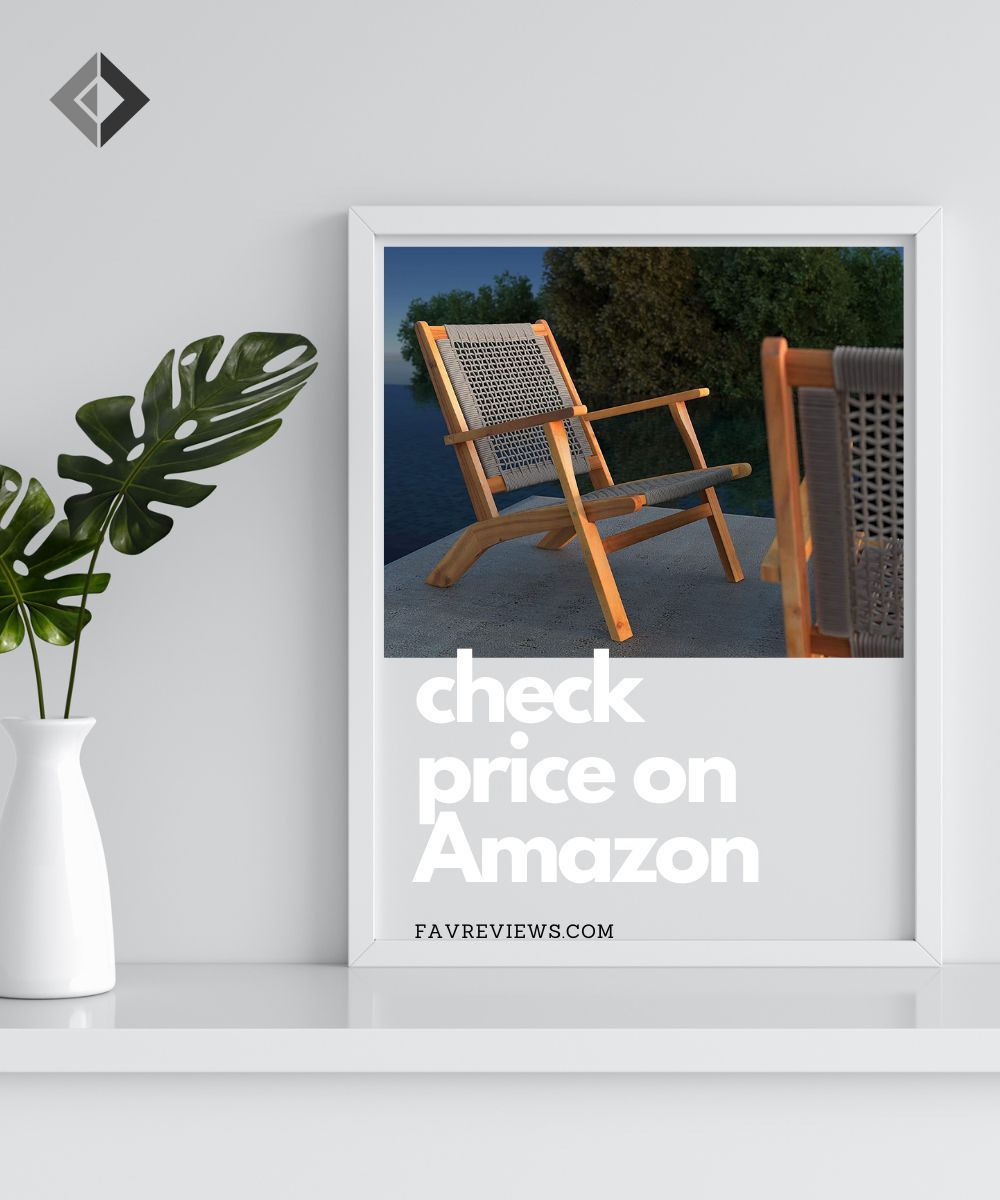 WHY WE LIKE IT
This is a reclining style chair for sitting back and relaxing.  A Japandi version of the Adirondack style chair.  We like the simplistic style and lighter weight of this chair, making it easy to move around your yard.
FAV FEATURES
This patio lounge chair is made with a durable acacia wood frame with a woven rope seat and backrest.  We like reports that the woven rope material dries off quickly.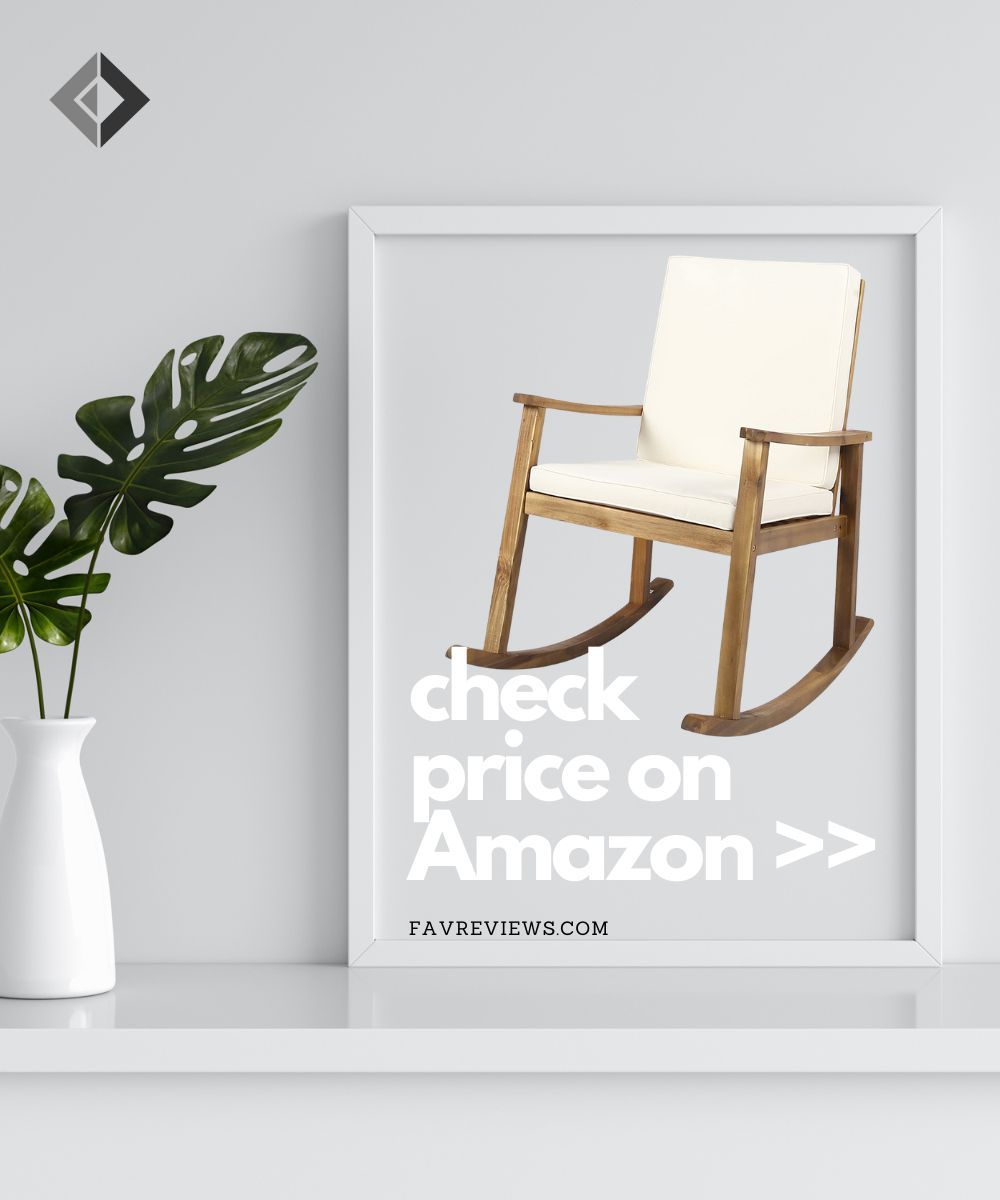 WHY WE LIKE IT
What's not to love?  It's a rocking chair!  What a wonderful addition to any patio or backyard.   It's perfect for watching the sunset, or watching the kids play, or simply curling up to read a good book.  
FAV FEATURES
What can be better than an outdoor rocking chair? water resistant cushion for comfort that perfectly contrasts the acacia wood rocking chair, This rocker will become your favorite chair on your patio, Perfect for watching the kids play outside, watching the sun set, or anything else you can imagine.
If not a rocker ... what about a recliner?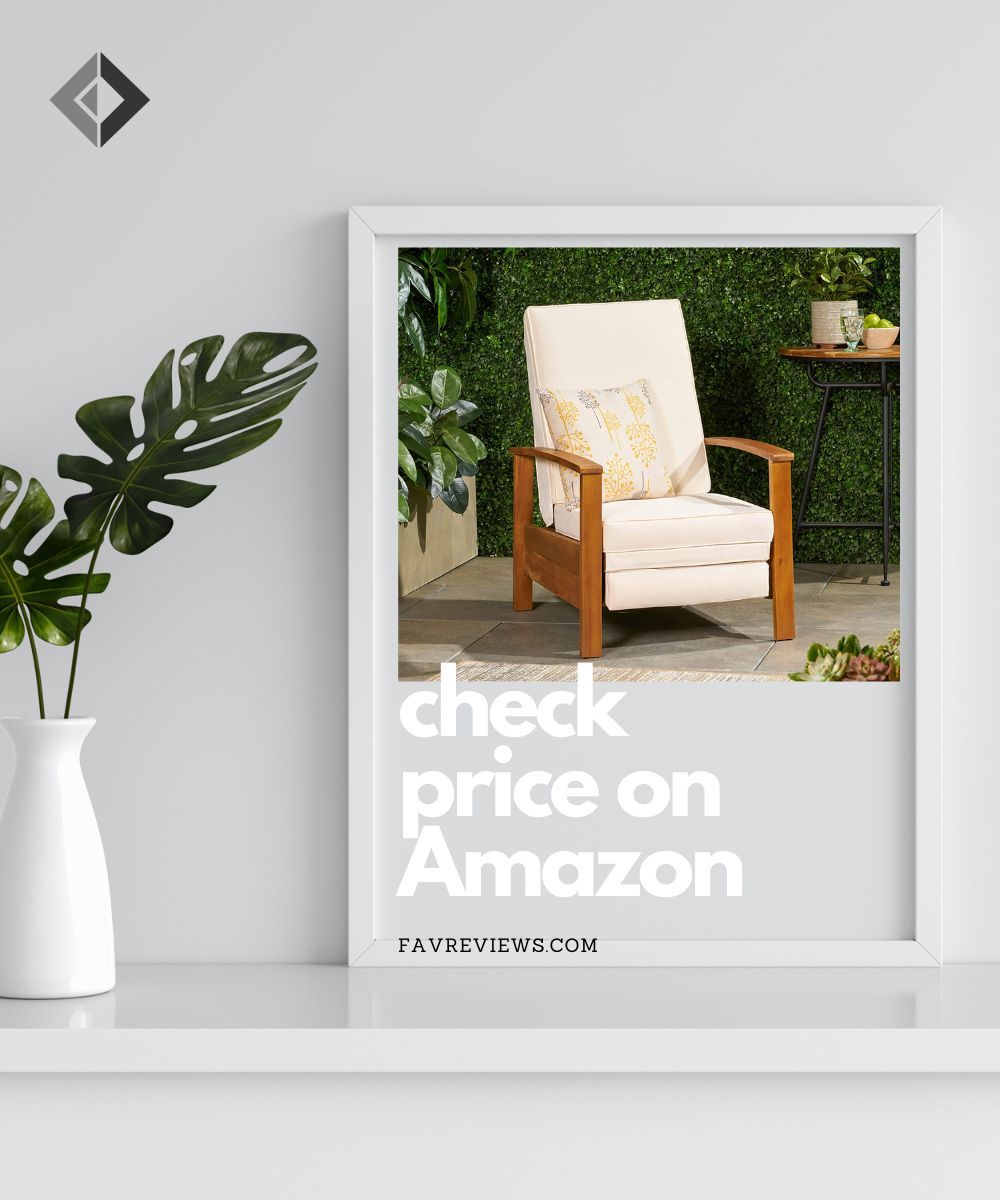 WHY WE LIKE IT
This recliner is a push-back recliner.  You simply use your body weight to push the chair back to recline.  It's a perfect outdoor chair to lay back for some rest and relaxation after a long day.
FAV FEATURES
We love the simple lines and designs of this chair that brings such a sleek look to any space.  It's heavy frame is made with durable Acacia hardwood that naturally withstands outdoor elements, resists wear and tear and will not darken over time.
This chair cushions are made with a water-resistant material, so light rain and minor spills are not a problem to wipe up.  For the longevity of the cushions please set them aside during rainy weather and storms.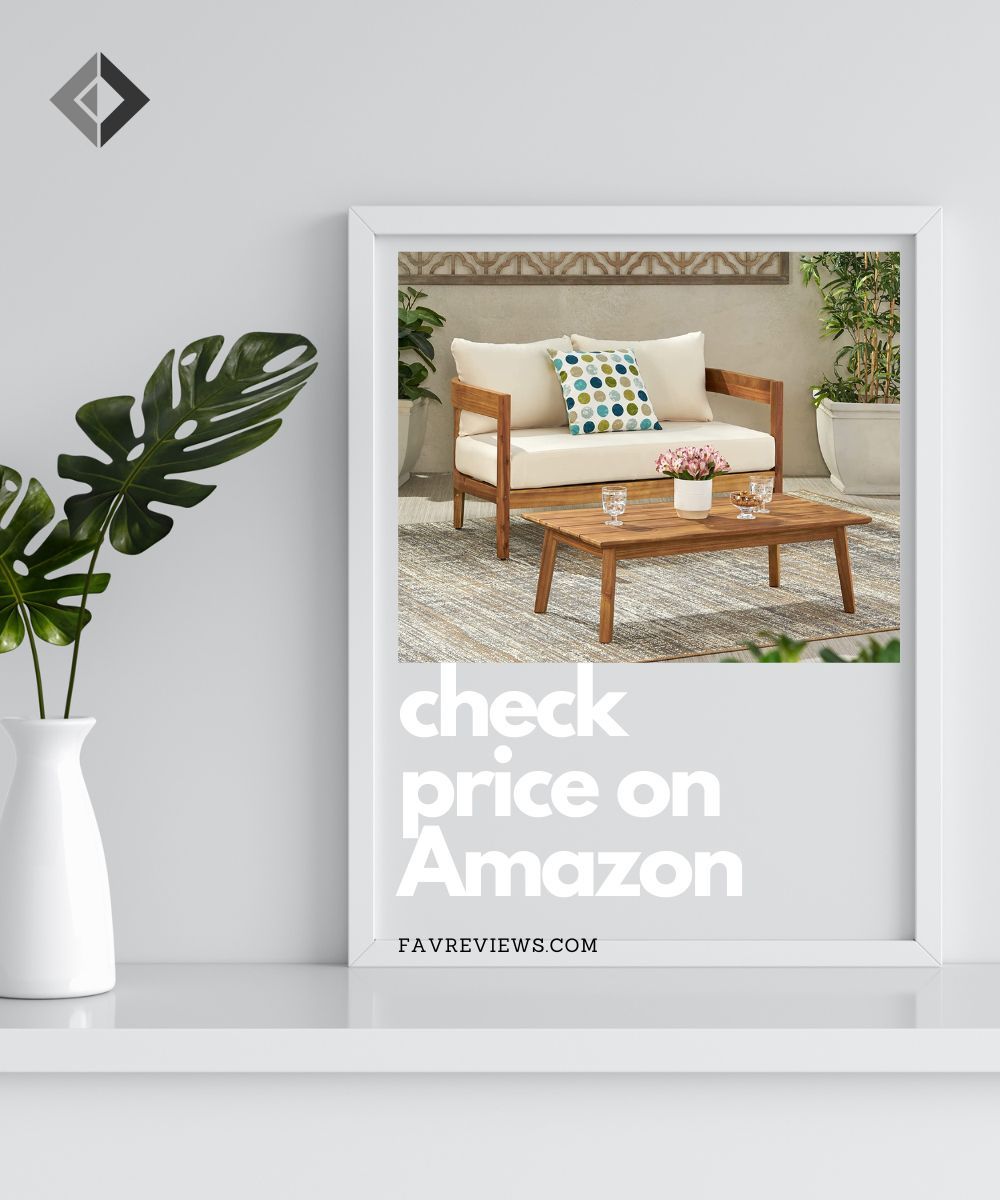 WHY WE LIKE IT
We like the tub design and simple lines of this love seat to bring a touch of class and refinement to your outdoor space.  The semi-circular back seamlessly transitions into the armrests of this loveseat.  Such a beautiful sleek design.
FAV FEATURES
One of our favs for outdoors, Acacia wood brings a sleek and exotic look to your space.   Acacia is a durable hardwood that naturally withstands outdoor elements. It's a perfect choice for solid, heavy frames that will be used outside and need to resist wear and tear.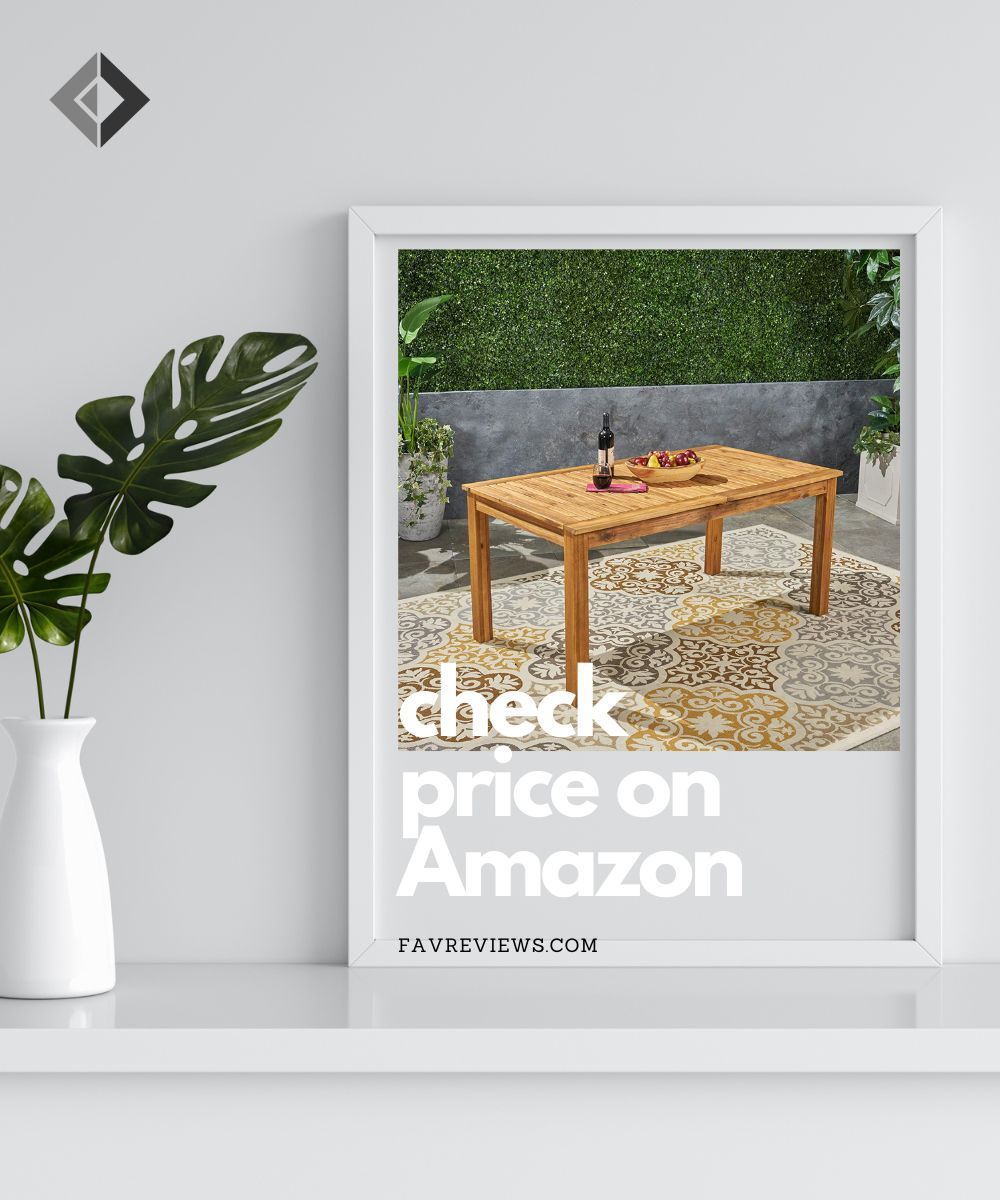 WHY WE LIKE IT
We think we've found the perfect wood table for your outdoor dinner parties. No more worrying about running out of surface area again with this expandable outdoor dining table.  
It can live in a perfectly compact state in your backyard for daily use, and when you need the extra space, with just a few simple motions, you have a beautifully textured wood table to serve your guests.
FAV FEATURES
Made from the naturally beautiful Acacia wood with a natural finish.  It's a perfect addition to any backyard, patio or deck.
Dimensions: 35.50 inches deep x 63.00 inches wide x 29.75 inches high
Would You Like Some Acacia Wood Chairs to Go With Your Table?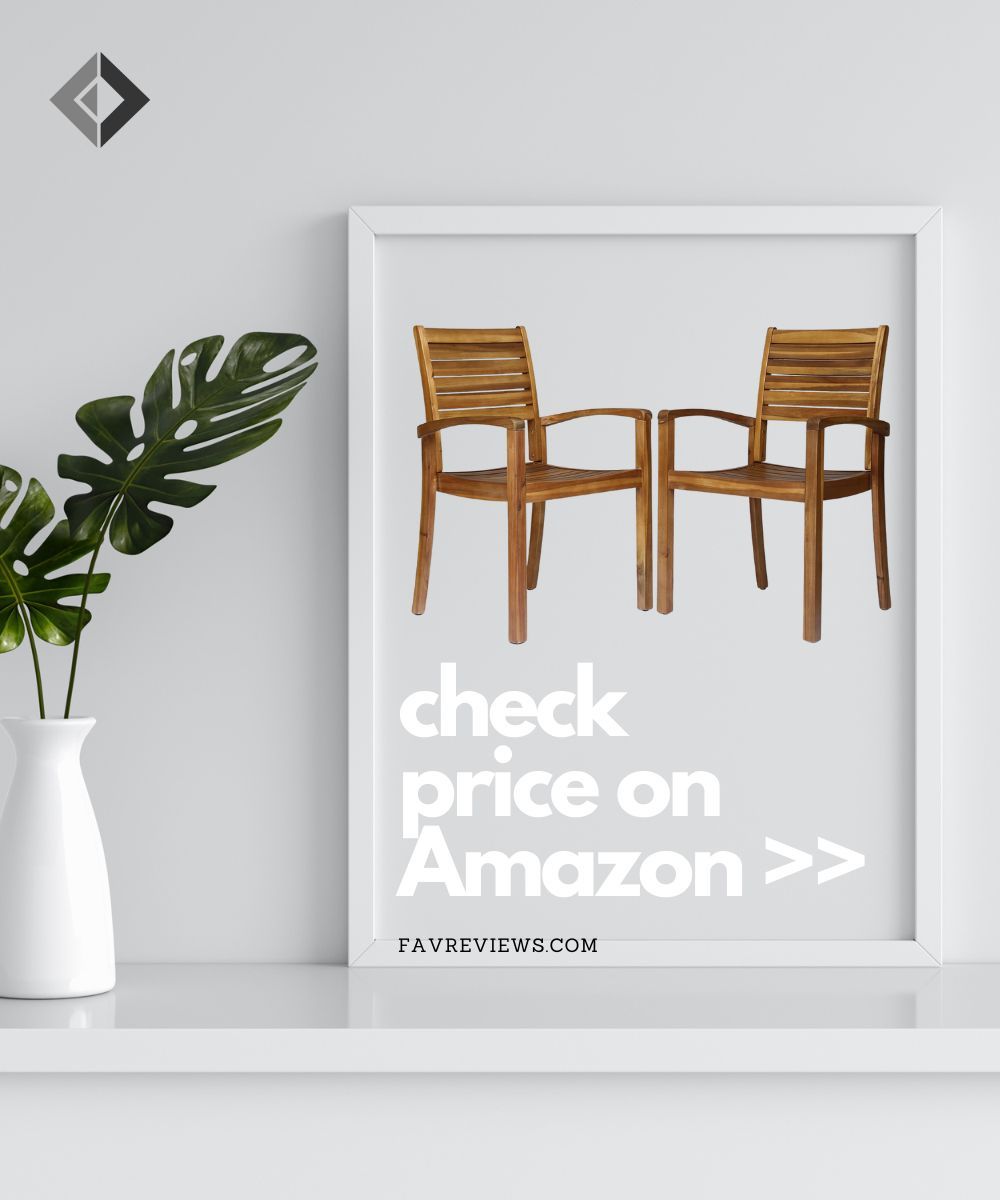 WHY WE LIKE IT
These stackable outdoor chairs are the perfect solution for adding more seating around your outdoor dining table, or to have scattered around the patio in groups of two for conversation before and after dinner.  
We love the smooth luxurious feel of their Acacia wood frames.  We also like the luxury coastal resort feel these chairs bring to any backyard.
FAV FEATURES
Well, it's the durable Acacia wood frames of course!  These chairs are super durable and will serve you well outdoors for a long time.
---
NEXT, we have curated a few occasional outdoor tables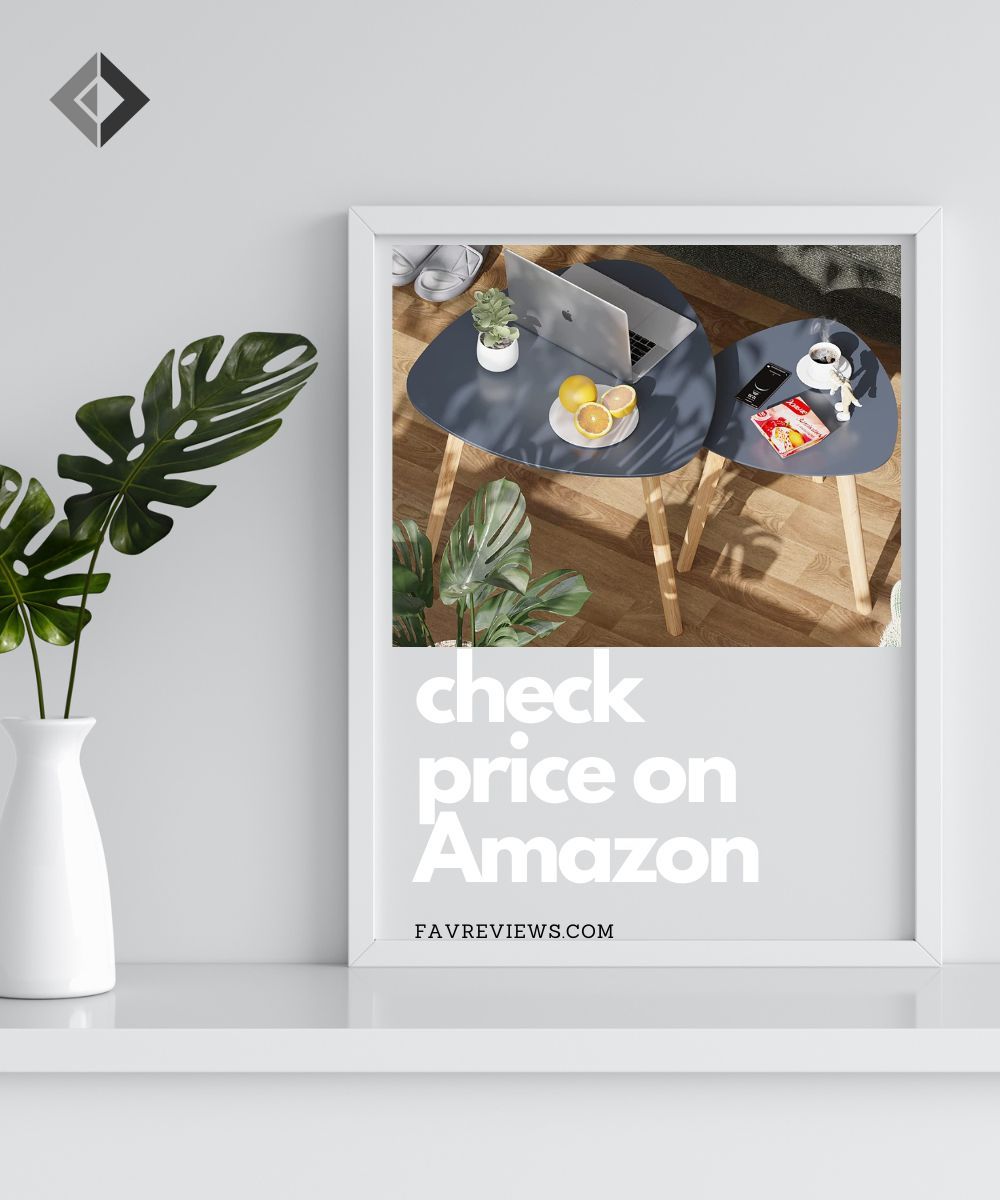 WHY WE LIKE IT
Remember the reclining grey outdoor chairs earlier in this review?  We like these grey side tables to go with the grey chair(s).  
Nesting tables are always neat and tidy, but conveniently provide extra space when you need it.
FAV FEATURES
We like the bamboo legs on these tables.  Making them more environmentally friendly that other types of wood.  
The painted top surface is not suited for all seasons, or all weather outdoors.  These tables are best suited for covered patios or balcony use.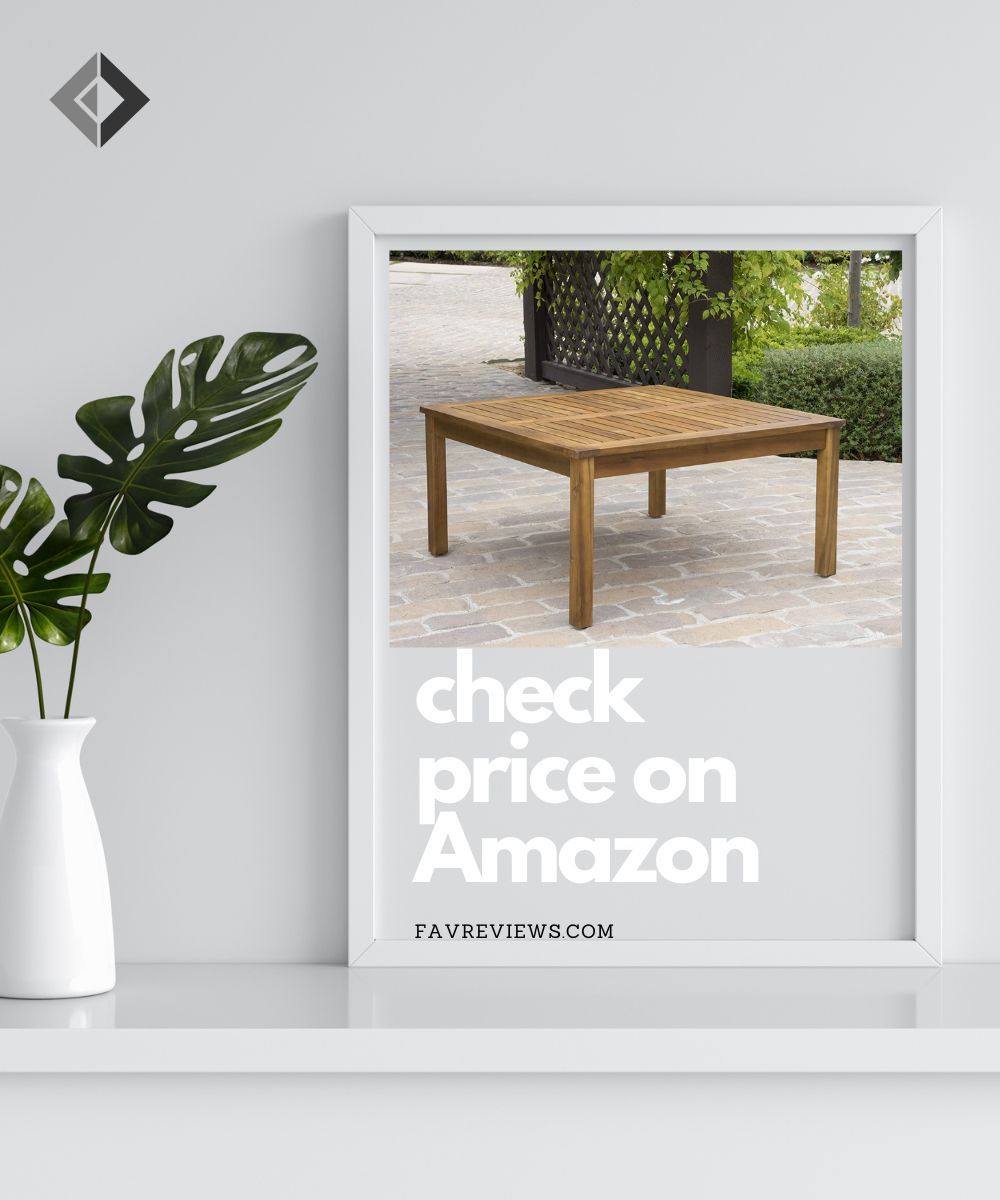 WHY WE LIKE IT
This is one of our favorite wood coffee tables for outdoors.  It has simple classic lines, made from Acacia Wood making it a great outdoor coffee table.
A perfect way to spruce up any outdoor patio set.
FAV FEATURES
The durable Acacia hardwood, and sleek design of this table makes it one of our favs.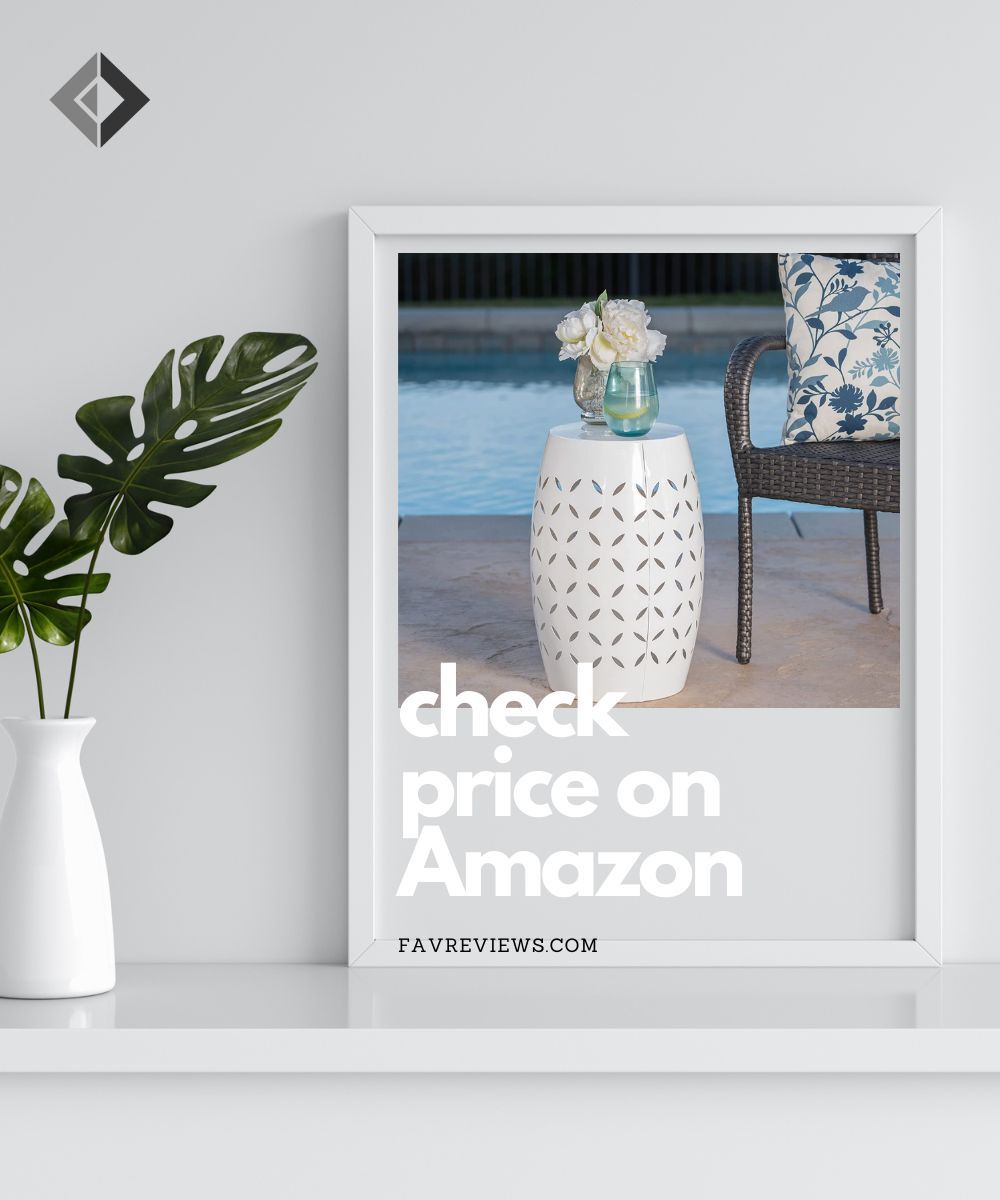 WHY WE LIKE IT
This little outdoor barrel shaped table is both functional and fun.  The lace-cut metal sides adds a unique element to the table.
We like it to add to a couple of chairs to create a cozy corner in your yard or deck, or you could use it as a stand to display something special in your yard.
In any case this side table will create a unique esthetic to your room.
FAV FEATURES
We like the all-metal, iron construction of this side table.  It will hold up to the weather and age very nicely for you.
PS - A similar barrel shaped table also comes in 'teal' color. You can see it HERE!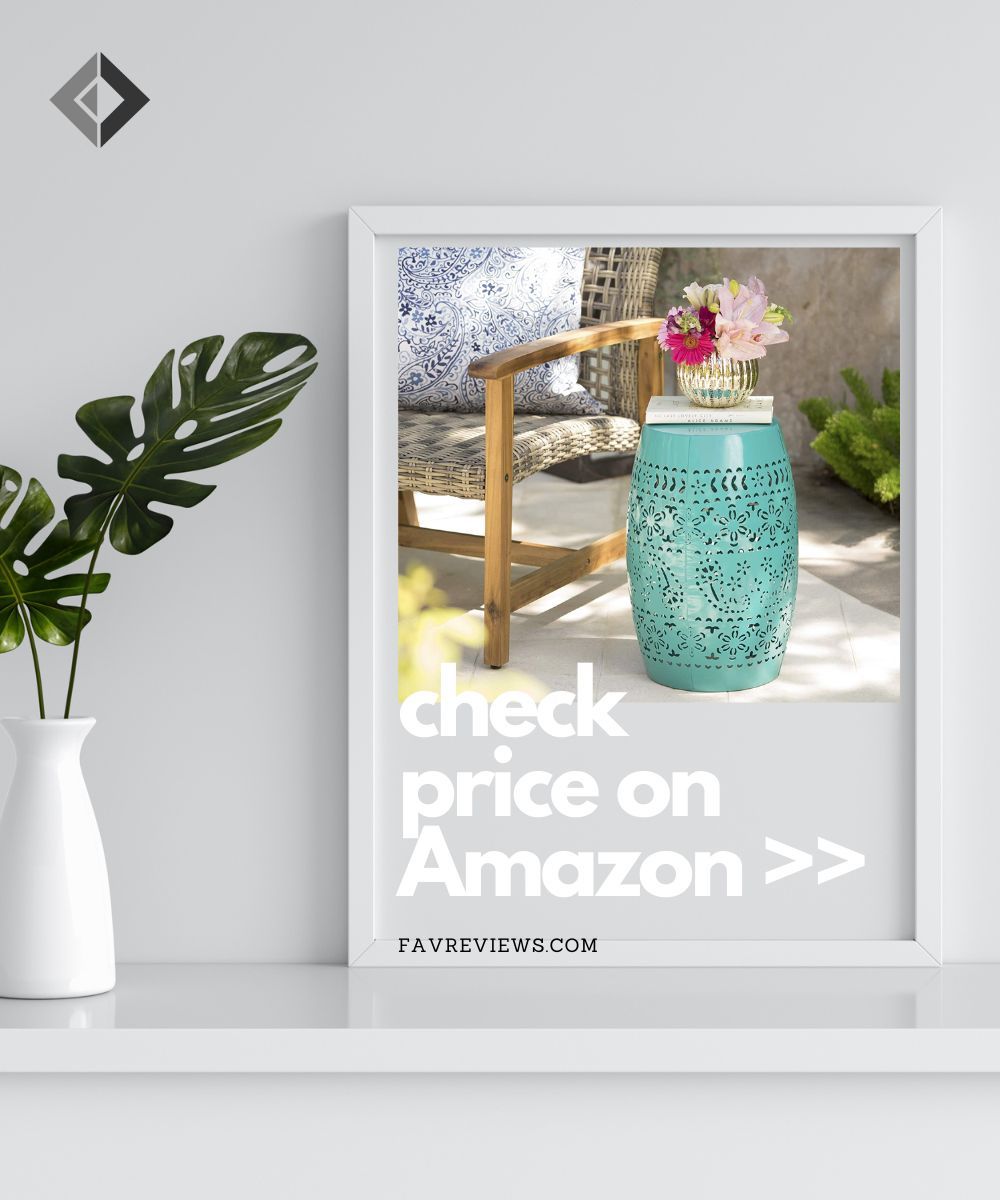 WHY WE LIKE IT
Who can resist a pop of color like teal. This is a great accent table for either indoors or outdoors.
FAV FEATURES
We like the all-metal, iron construction of this side table.  It will hold up to the weather and age very nicely for you.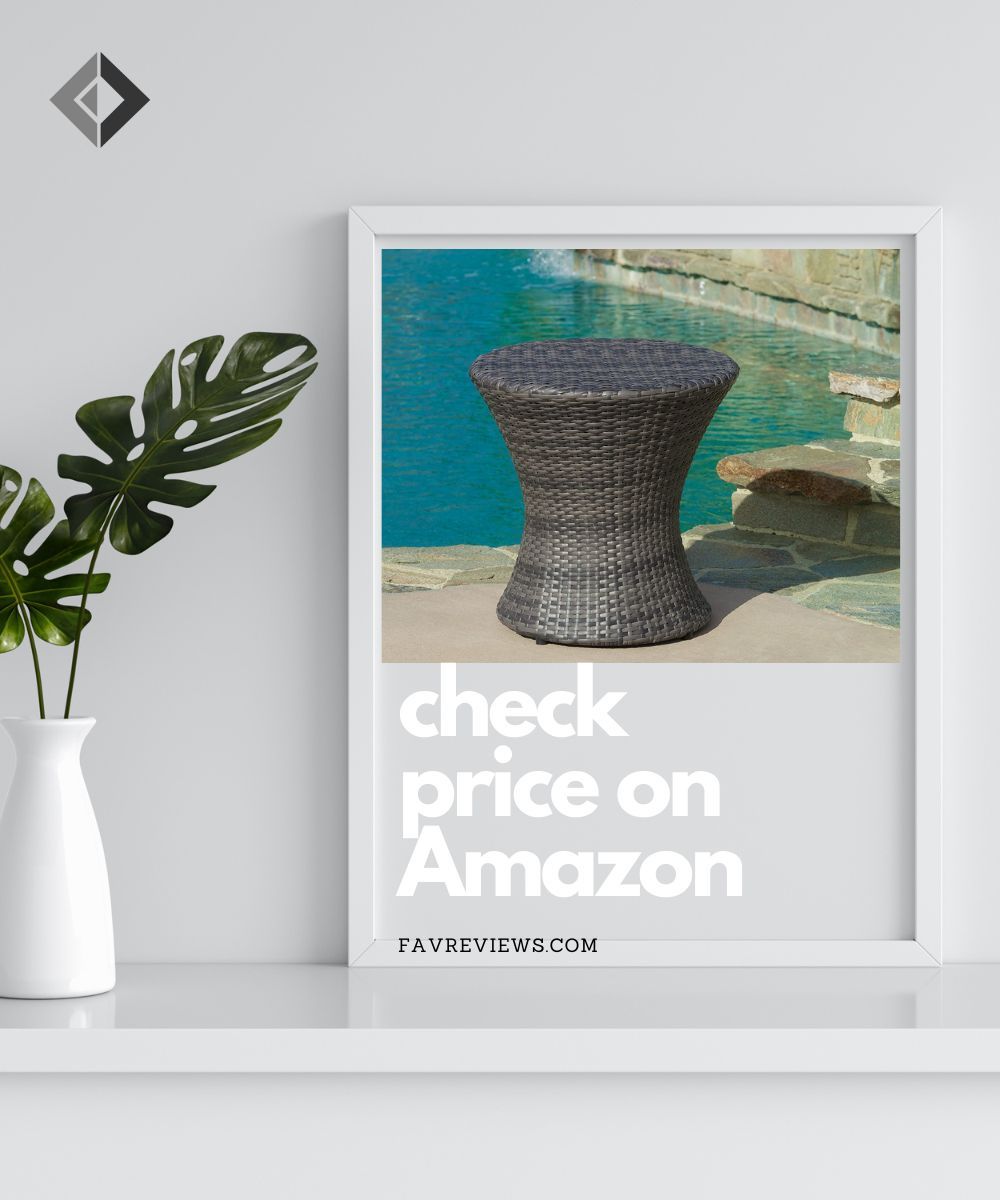 WHY WE LIKE IT
No assembly required! Always love that, right?!   We love the modern and contemporary lines of this accent table.  It can be used in a seating arrangement as an occasional table, or it can be used as an accent table almost anywhere in your yard.
FAV FEATURES
This sleek outdoor side table is made of synthetic wicker and aluminum, so it can endure the elements.  It comes in three different colors and adds a unique element of interest to any area of your yard, patio, deck.
Christopher Knight Home Carina Accent Round Table, Teak Finish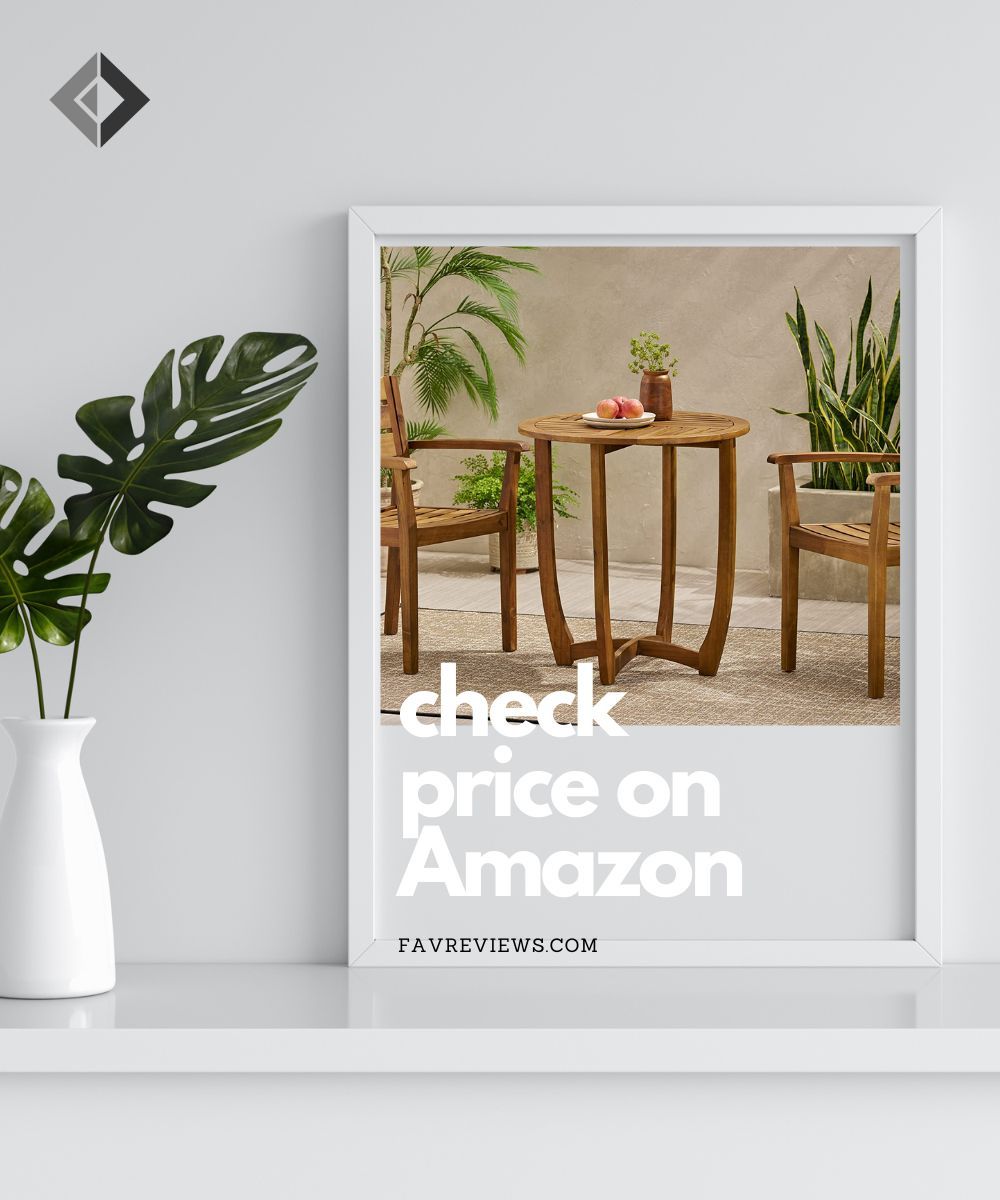 WHY WE LIKE IT
This might be the perfect accent table.  It is totally durable, made from Acaci hardwood so it can endure the outdoors and will add elegance to any outdoor space, but you could also use this table indoors.  So multi-functional.
FAV FEATURES
With Christopher Knight Home's Coronado Table, you get the beauty of a smooth finish with the strength of true acacia hardwood.
It's hard to resist this one.
---
It's also nice to have some items reflective of both cultures - the Japanese culture and the Scandinavian Culture.   In the list below we have curated some nice accessory pieces that will fit into your Japandi theme and style.
A Bonsai Tree.
Bonsai trees are traditionally associated with Japan, but they can also be used in Japandi-style gardens. They add a touch of elegance and serenity to any outdoor space.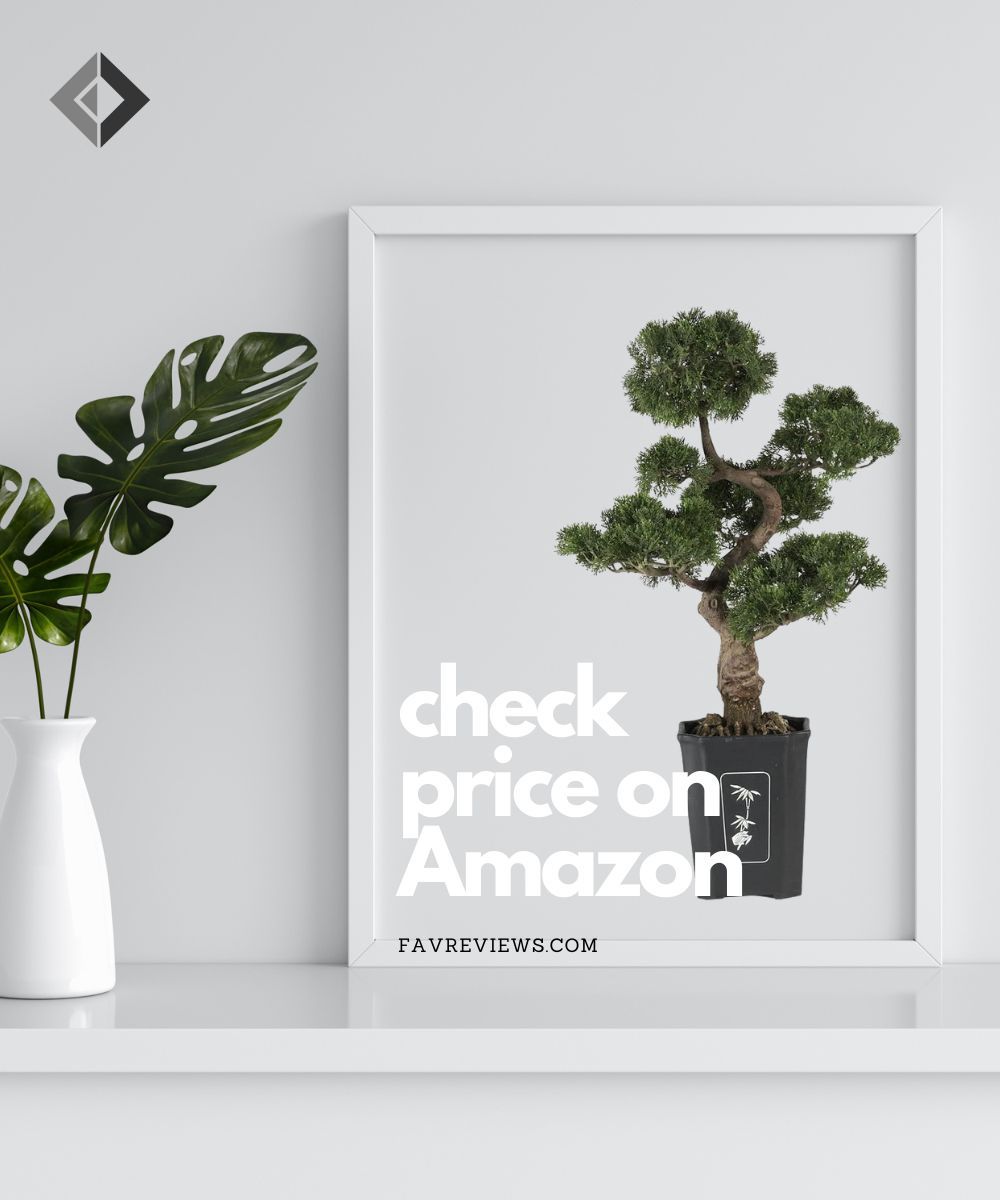 WHY WE LIKE IT
This 3 foot tree makes quite a statement in any room or garden.
It is an artfully trimmed Bonsai replica, with a natural looking trunk and exposed roots.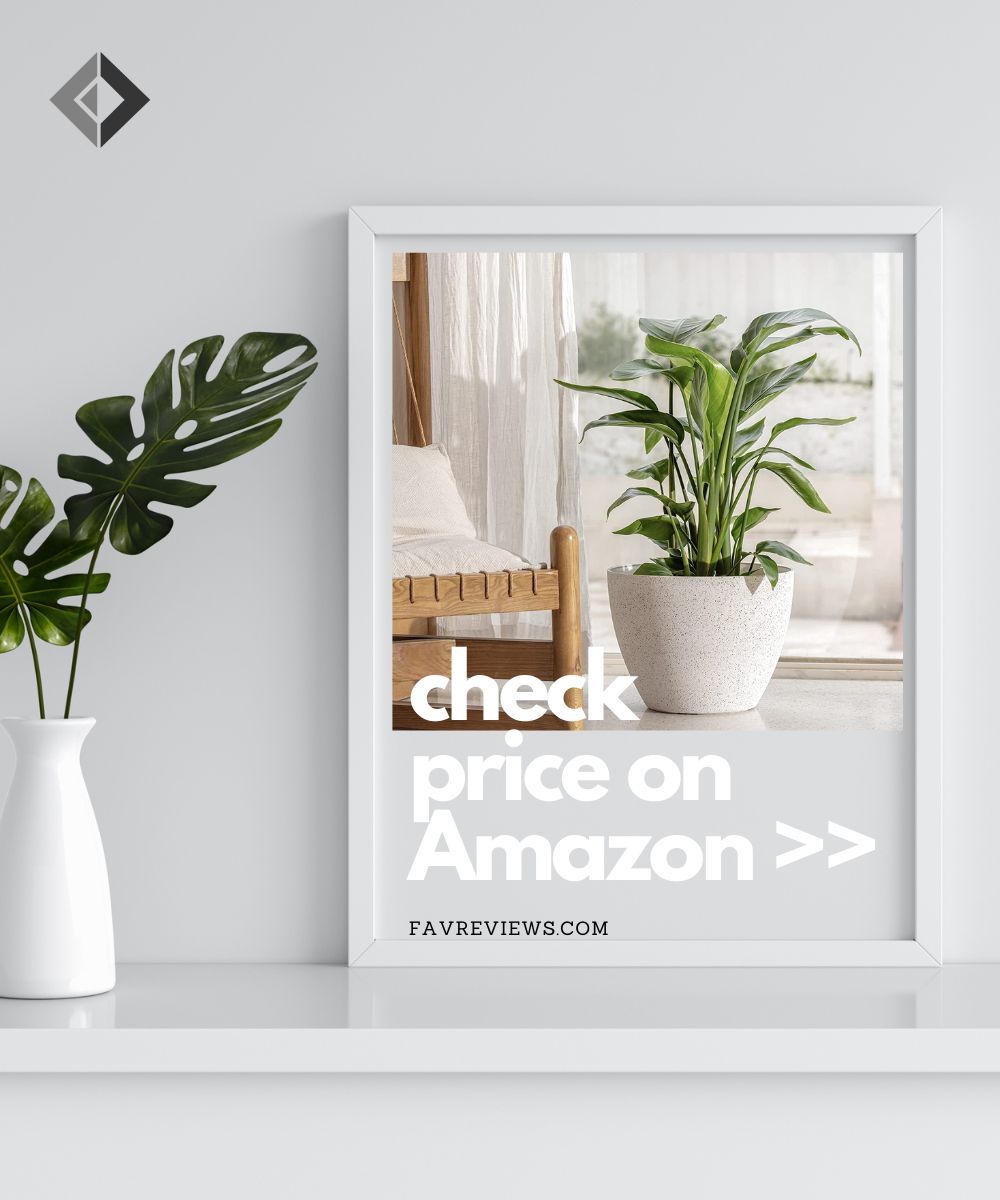 WHY WE LIKE IT
This speckled white outdoor flower pot is a stylish way to display your favorite plants (indoors or outdoors).    This flower pot will look great on your patio, deck or garden.  
It comes in five different colors - have a look at them all.   NOTE: Plant is not included.  (See a plant that you could use in it, in the next listing)
FAV FEATURES
We like this flower pot for all types of weather.  It is made from durable recycled plastic and natural stone powder, so it is fairly lightweight and easy to move around.  It is constructed to withstand harsh winter temperatures, or intense sunshine.  It shouldn't fade, or crack with normal use.  
It also has a good drainage system built in, so you will be creating a healthy living environment for your plants.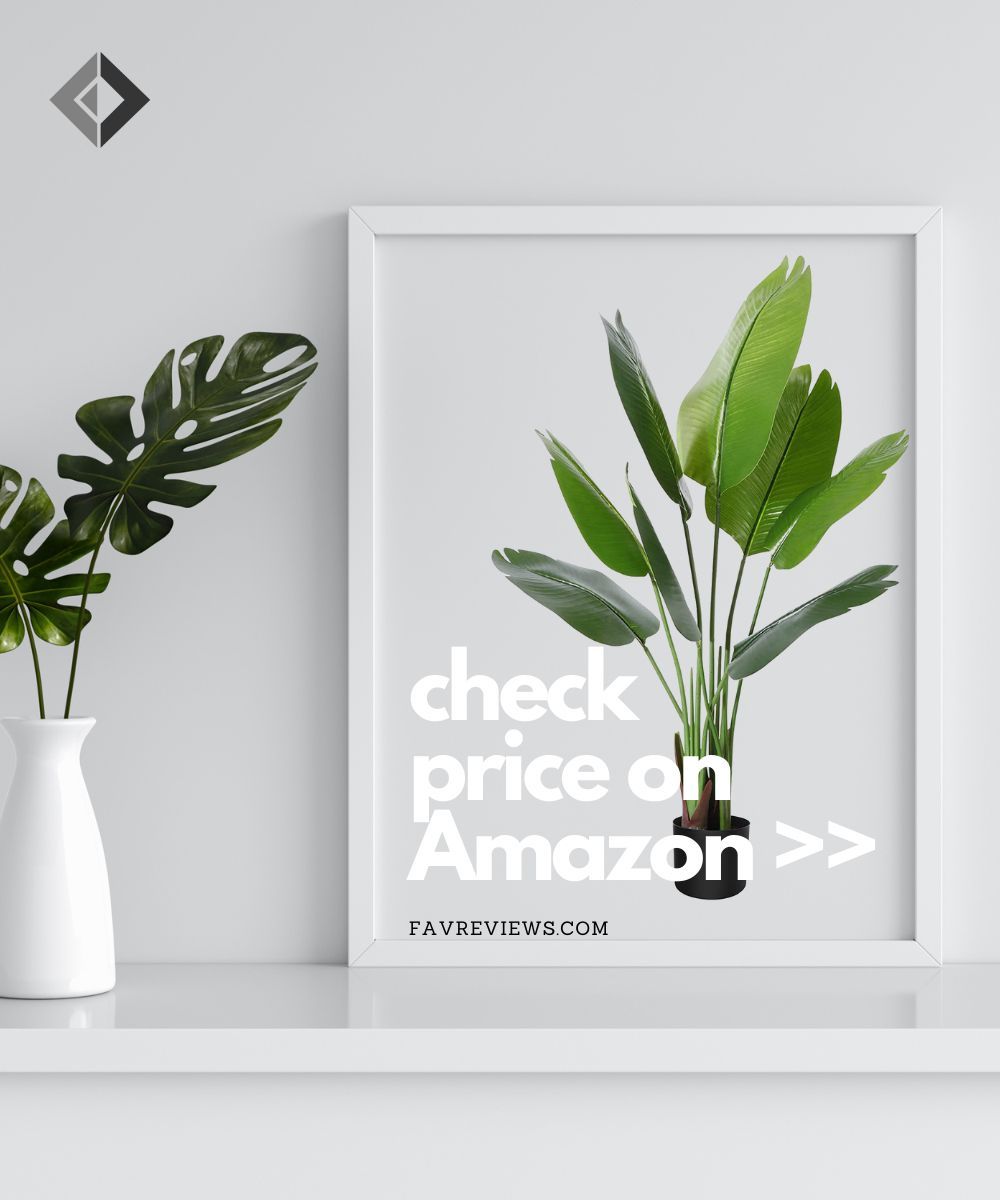 WHY WE LIKE IT
You can't beat faux plants, no watering and they are always green.
This artificial tree is made of durable, premium PU material (eco friendly, real to the touch).  The base is made of cement so it won't knock over easily by children or pets.
FAV FEATURES
This Canna plant has been constructed with sturdy inner metal wires, so the banches and leaves can be adjusted to the shape you like.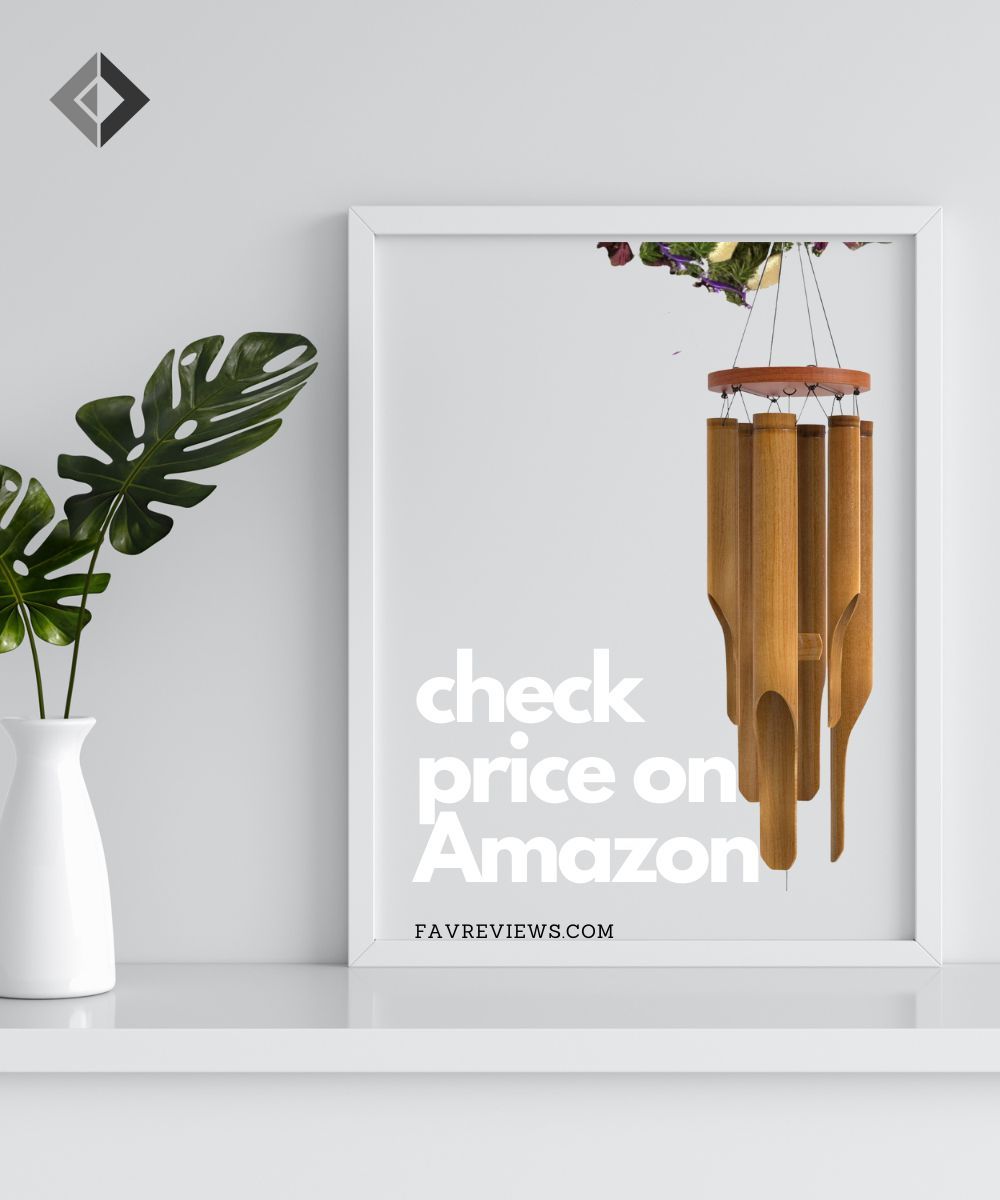 WHY WE LIKE IT
Ahh, there is nothing like the southing sound of Bamboo Wind Chimes.
These are a classic, handcrafted (one of a kind) creations - The Nalulu Classic Bamboo Wind Chime is Handcrafted by their own Artisans.   Each has a unique, one-of-a-kind feel.
The classic shape and dark color of the bamboo is ideal in any outdoor setting and will be sure to bring a calmness and serenity to the space.
FAV FEATURES
We especially like that these bamboo wind chimes are all individually handcrafted by artisans.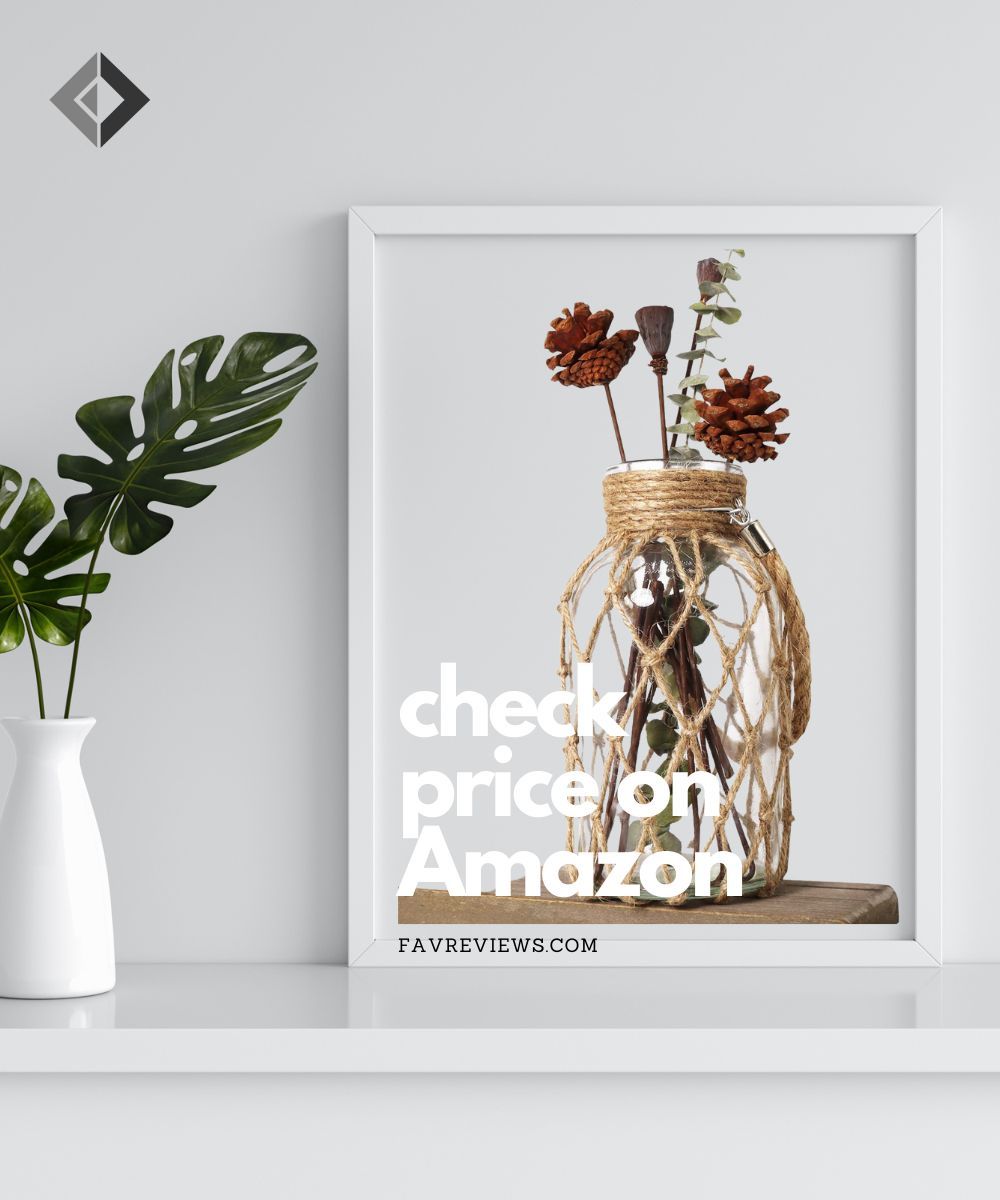 WHY WE LIKE IT
We like the simplicity of this vase design.  Made from Hemp Rope and Mason Jar glass, this vase will look good on any shelf.
FAV FEATURES
You can add almost anything to this vase (jar).  It could house a candle, sticks, plant, or even candy.
It has a handle so it can hang or sit on a shelf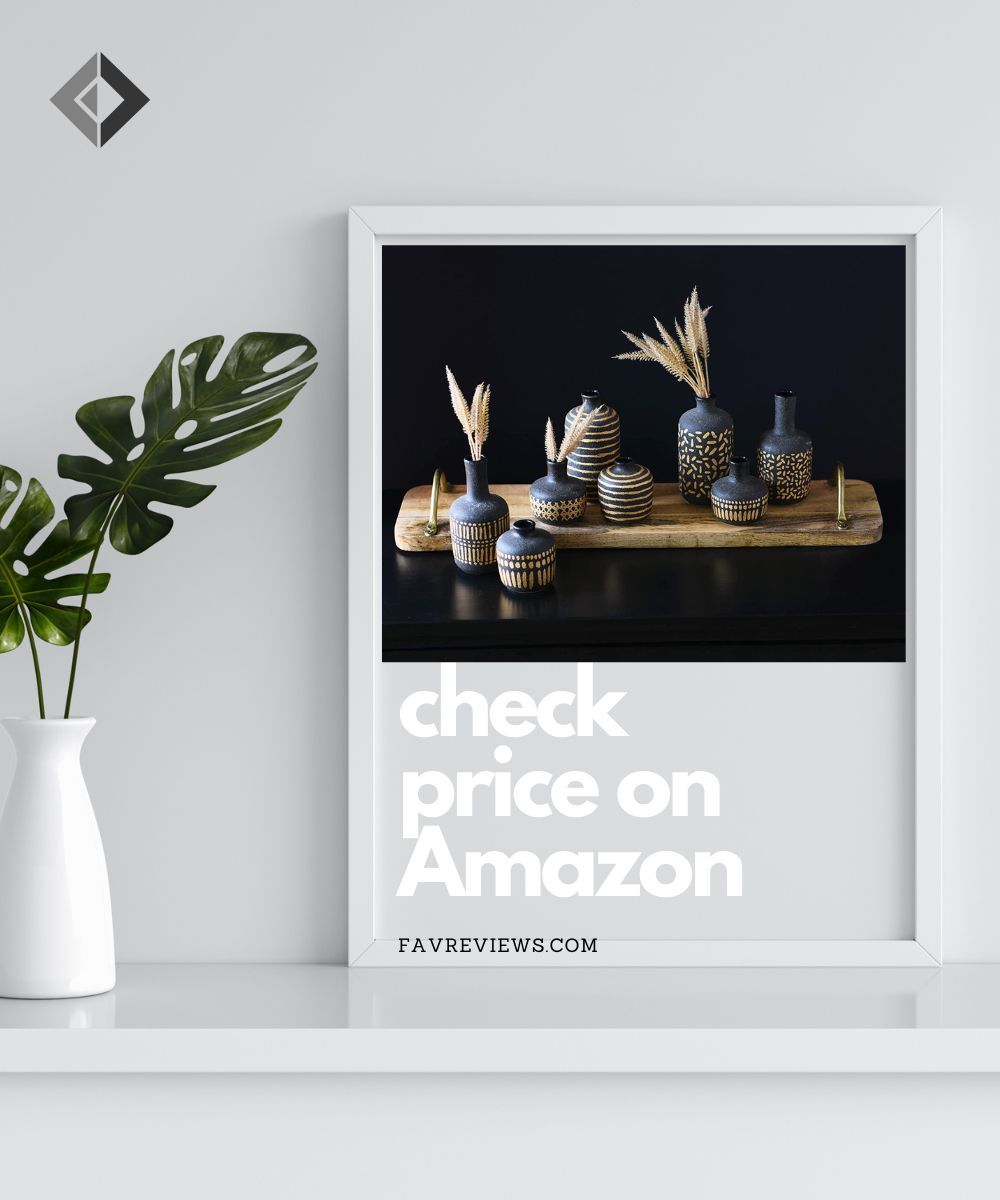 WHY WE LIKE IT
This set of 8 decorative bud vases are made of stoneware, with a variety of modern silhouettes in a matte finish.  Each has a metallic gold pattern and matte finish.

FAV FEATURES
Vases vary in size, measuring 5.5 inches tall and 3 inches tall.
The vases are also water tight (no holes in bottom).  Best used for artificial plants.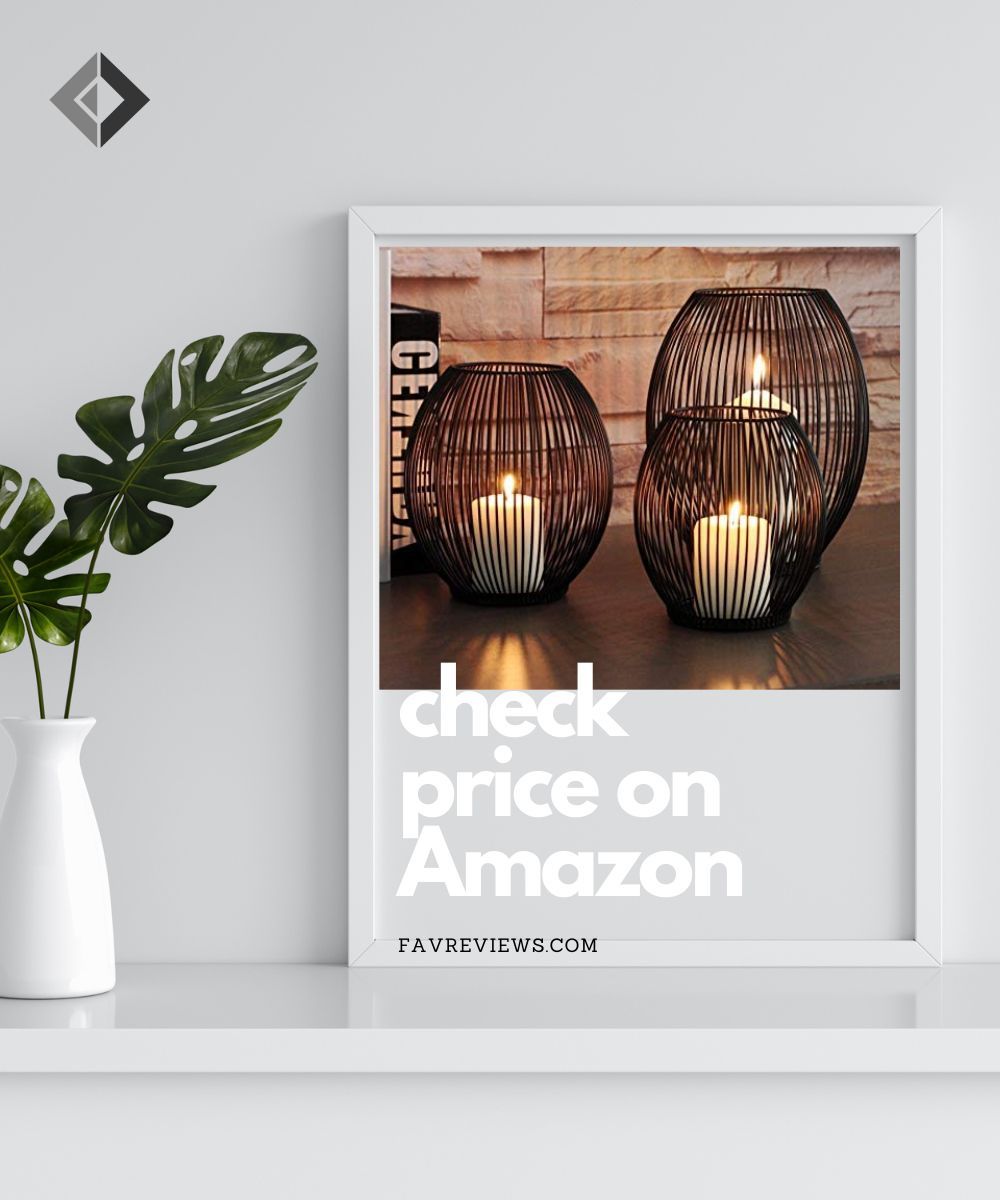 WHY WE LIKE IT
These simple but beautiful metal wire cage candleholders will add elegance to any patio, deck, porch or yard.  

FAV FEATURES
Metal design makes them durable for outdoor patio use.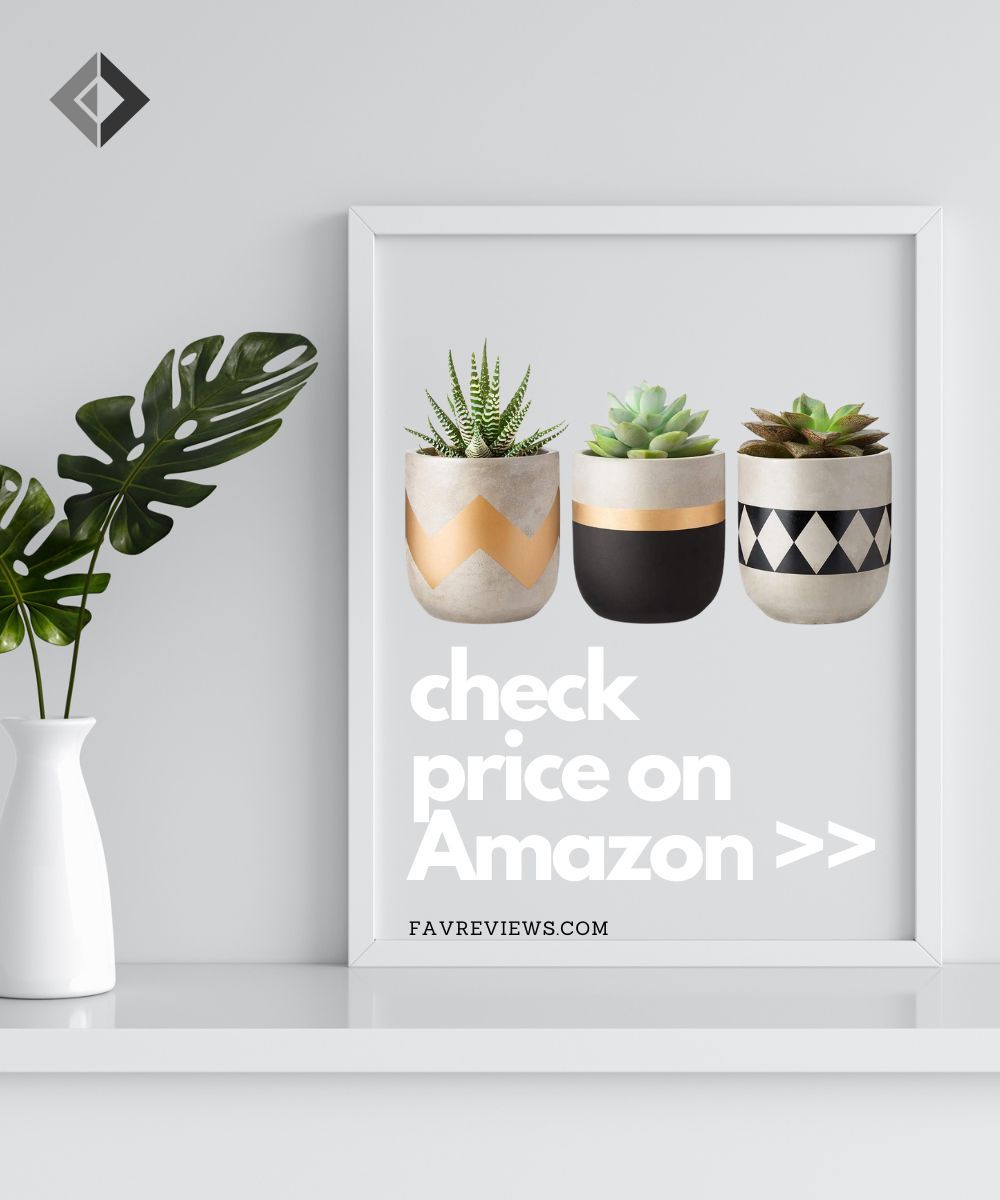 WHY WE LIKE THEM
You can upgrade any living space indoors or outdoors with these concrete planters. We like that they cleverly harmonize both natural and modern elements of Japandi design.  
They are a perfect way to display your small indoor plants like succulents, cactus or herbs.   NOTE: Plants are not included.
FAV FEATURES
Each cement planter is drilled with one hole for water drainage. A detachable rubber plug comes with each in the set to keep the dirt and water inside.  
They come in a set of three and each is 4 inches in diameter.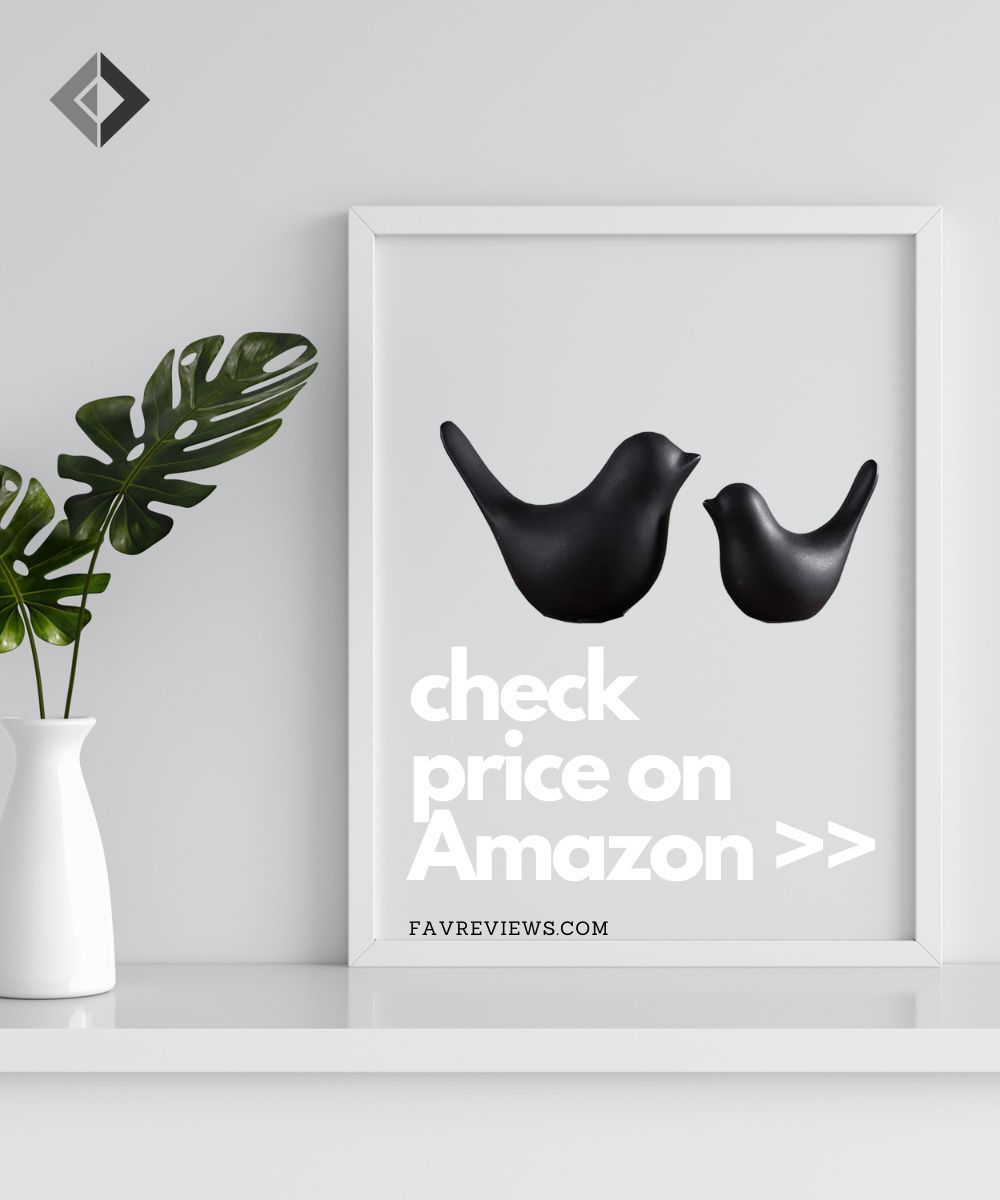 WHY WE LIKE THEM
If you are looking for all of the right pieces in all of the right places, these two minimalist design birds will be the right touch.
FAV FEATURES
These are two different sizes, small birds, suitable for a table top or a shelf. They are made of ceramic.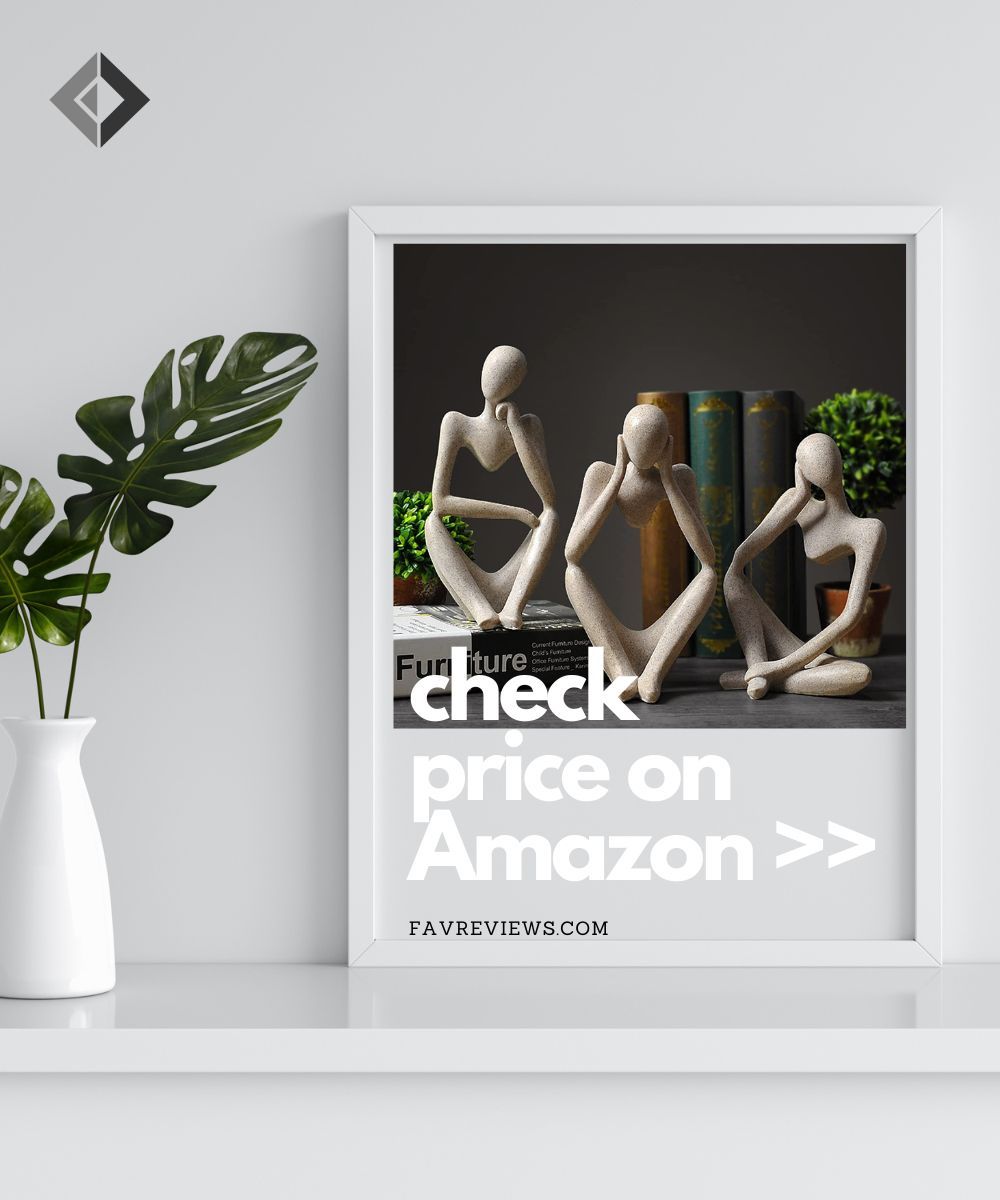 WHY WE LIKE THEM
We like what these abstract resin and sandstone sculptures represent ... The Thinkers.  Great for reflection every time you look at them on your side table or shelf.
These sculptures combine a retro character image and modern abstract style. No matter where you put them, they will become the focus of that area.
FAV FEATURES
They are made of a nearly indestructible material, resin and sandstone.  With this kind of durability they can be used indoors or outdoors.
Fragrance Notes: Black Tea and Mint Leaves, Dried Apples and Baked Cinnamon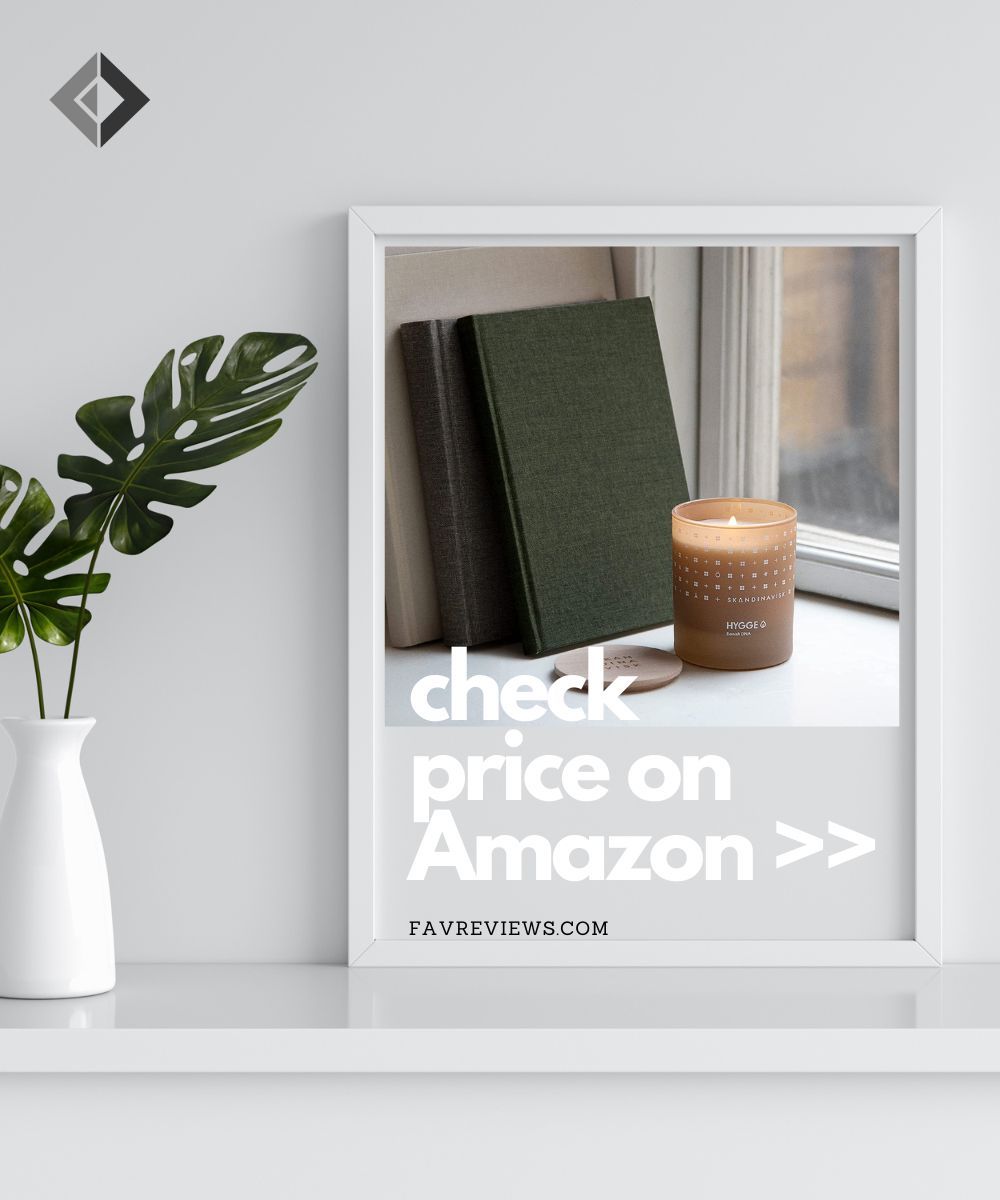 WHY WE LIKE IT
These candles are sustainably made.  They are a perfume and sustainably-farmed, non-GMO Swedish rapeseed wax blend in a painted glass votive.  They have pure cotton wicks and engraved, FSC-certified beechwood lids.
FAV FEATURE
Beyond being produced by Skandinavisk, a certified B corporation, meeting the highest standards of social and environmental impace.  They are also vegan and cruelty free.
Their burn time runs about 50 hours for the 7.0 oz size, candle stands about 3.9" tall.
Our Last Group of Curated Japandi Outdoor Furnishings are Comforts of Home
Japandi Outdoor Patio Cushion Covers
Cushion Covers are an easy way to change up your japandi space with neutral palettes and aesthetically pleasing design.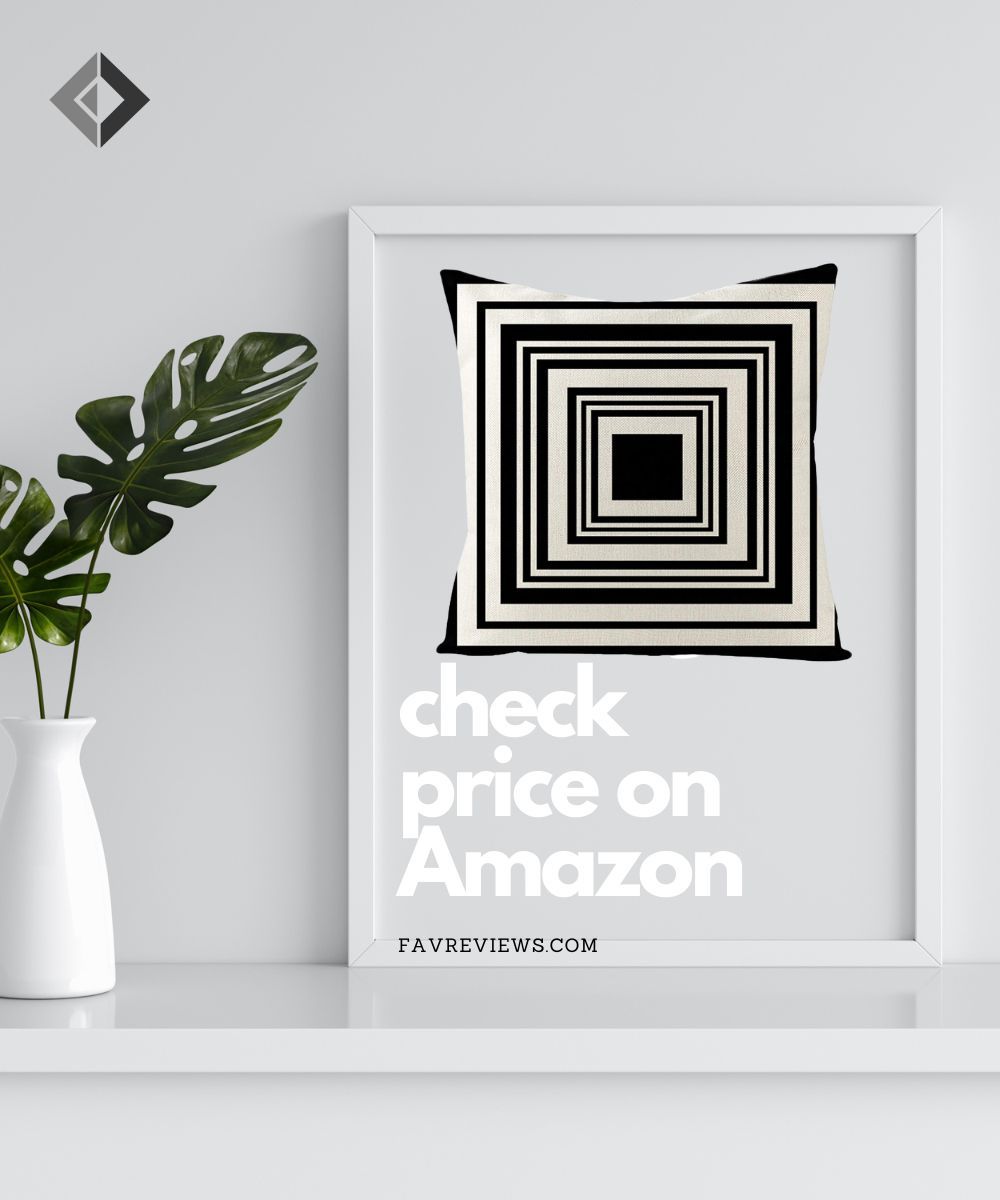 WHY WE LIKE THEM
There are 20+ different patterns, in these minimalist style pillow covers.  The outdoor covers are made from polyester hemp so the surface is waterproof making them especially suitable for outdoor throw pillows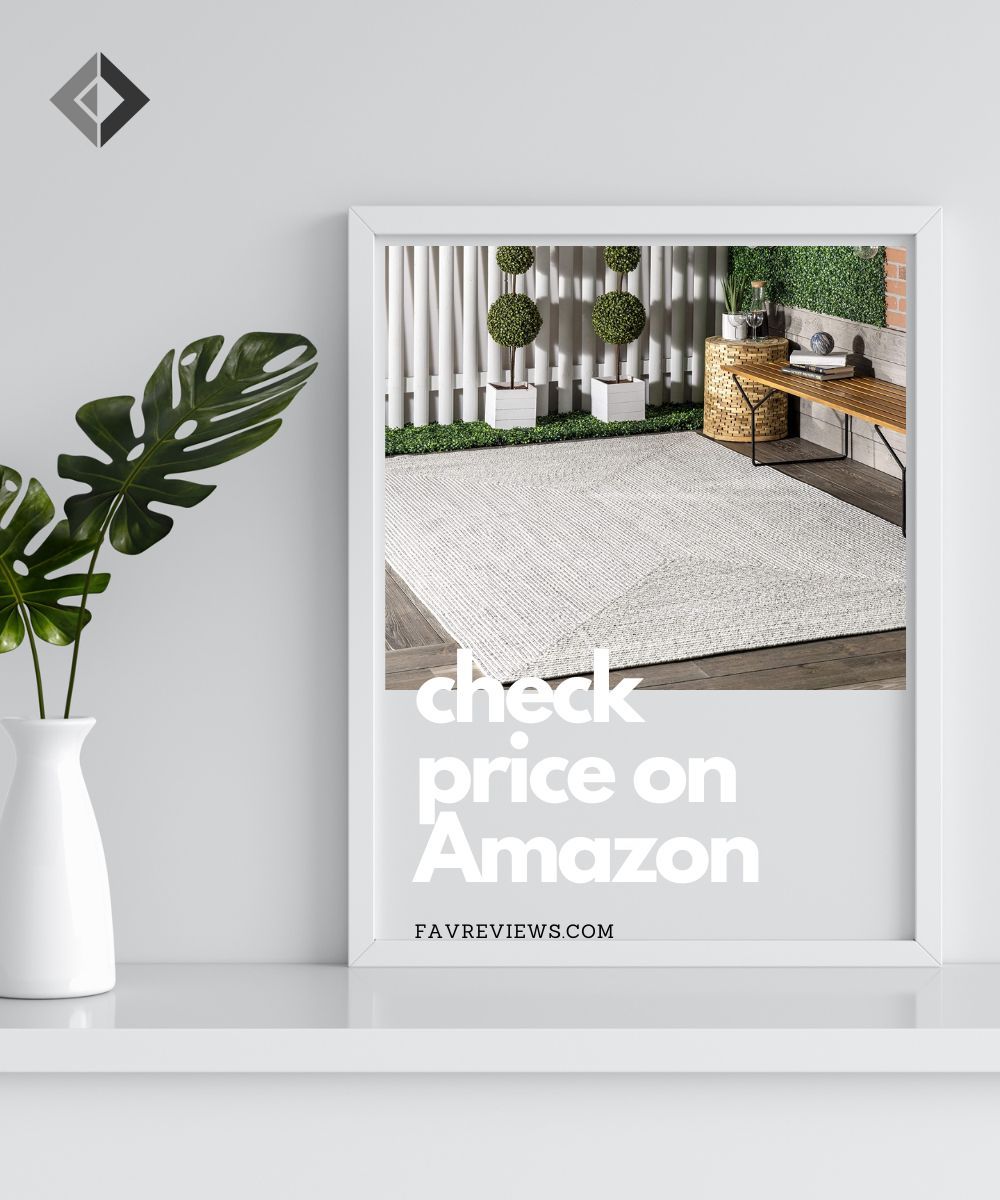 WHY WE LIKE IT
This rug has been designed to be an indoor/outdoor rug.  It is perfect for high traffic areas and is resilient against every day wear and tear.
The rug is easy to clean.  If you use it out on your patio, deck or porch you can simply hose it down to clean it.  Spot clean for stains with a rug cleaner.
FAV FEATURES
It is made of 100% Polypropylene, so it stands up to outdoor use.  It is made in India.  
The sleek and functional style (.31" thickness) does not obstruct doorways and fits easily under furniture.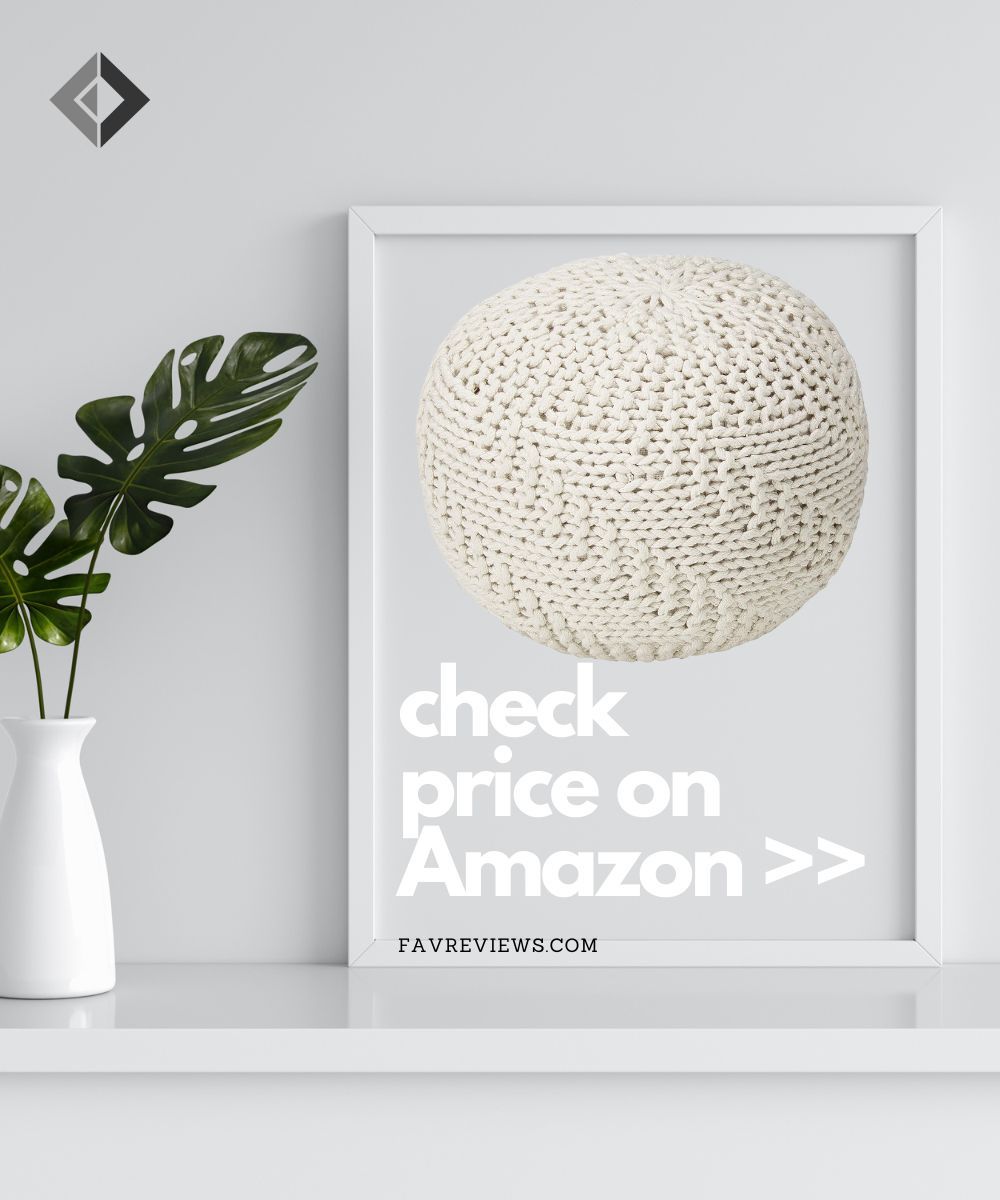 WHY WE LIKE IT
Who doesn't love a pouf?!   This modern design pouf is ideal for anyone who enjoys simple, uncluttered spaces and wants all elements within their space to be useful and functional.  
This pouf brings a charming coziness to your home with its knit weave cover. It adds texture to your decor.
These are handcrafted by artisans and will have natural variations that are not product flaws, but rather signs of them being one-of-a-kind product.
FAV FEATURES
The pouf is hand-knitted with a sturdy rope material made out of PET yarn.  The PET yarn is made from fibers that are extracted by recycled water bottles, making this accent piece suitable for outdoor use.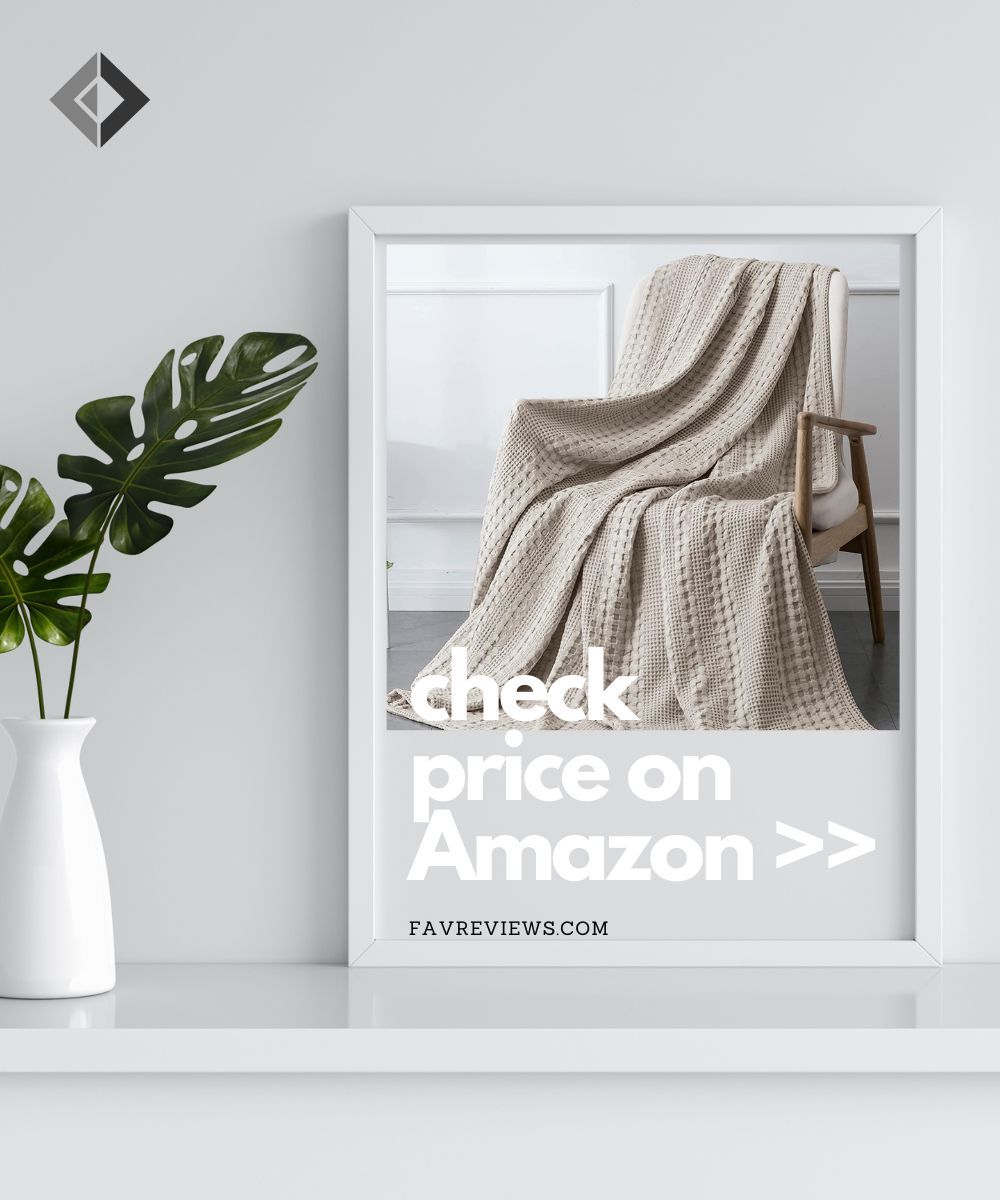 WHY WE LIKE IT
Who doesn't love the comfort of a natural cotton throw to cuddle in outside?  
We love the luxurious waffle weave design.  It presents a classic yet stylish design that is three-dimensional, making it puffy and adding to the elegant appearance.
The craftsmanship is complex and the special waffle weave helps with air circulation enhancing the breathability of the throw.
FAV FEATURES
It comes available in 10+ different colors, but of course we like the muted light khaki cover of the throw in our image.
It also comes in four different sizes, but for the purposes of having a throw to use outside we like this size.  Check it out today!
We hope you enjoyed looking through our curated list of Japandi Furniture and Designs for Outdoors.
We Find and Research New Trends for You!
We hope you love getting our reviews to learn about new trends.
WHAT!?!  You aren't getting our emails yet? ... you can subscribe to our email at the bottom of this page!   Or the bottom of any page on FavReviews.com
Japandi design is a beautiful and unique way to spruce up your outdoor space. With its combination of Japanese and Scandinavian elements, it is sure to create a stunning aesthetic that will be enjoyed for years to come.
What are some of your favorite Japandi furniture pieces? Let us know in the comments below!
Looking for more design inspiration?   Here are two books that may interest you further:
Check out our blog for more articles like this one.
See, Outdoors can be as much fun as interiors when it comes to decorating.
Think Simplicity, think Japandi,
Happy decorating!
Shop Now!