Are you ready to add a burst of color and nostalgia to your wardrobe?
The iconic collaboration between Lisa Frank and Crocs brings you a vibrant collection of footwear that will transport you back to the 90s when Lisa Frank was the supplier of some of your coolest most colorful school supplies.
Here, we will explore the eye-catching designs of Lisa Frank Crocs, learn where to buy these colorful Crocs, and offer styling tips to help you rock your new pair with confidence. Let's dive into this kaleidoscope of color and imagination!
Fav Highlights:
Our FAV highlights include the most important points from the blog post for those who are short on time:
Introducing the vibrant collaboration between Lisa Frank and Crocs for stylish, personalized footwear.
Accessorize with Jibbitz™ charms to create a unique look that reflects your individual style.
Clean and maintain regularly for vibrancy and longevity of your Lisa Frank Crocs.
We trust that you'll find your next favorite item from the list we've researched for you below. All of these products have been hand-picked by our editors and we won't recommend something we wouldn't use in our own family. Some may even be items that we already use! We may receive a small compensation if you decide to buy something (that's how we keep the lights on). Some reviews have been edited for length and clarity.
Have fun searching for your next fav pair of Crocs!
Lisa Frank Crocs: A Colorful Collaboration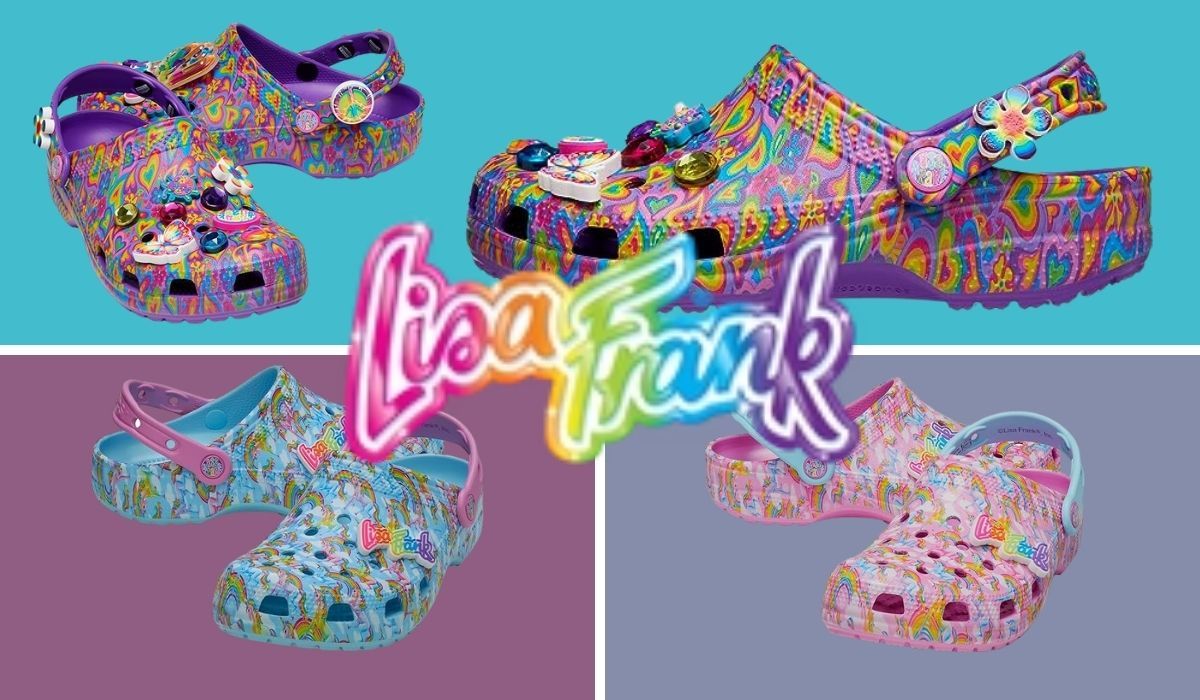 The Lisa Frank Crocs collection is the perfect union of two beloved brands, combining Lisa Frank's iconic, whimsical designs with Crocs' signature comfort and style.
This collaboration features unique patterns and vibrant colors that cater to your inner child and artistic spirit. As a successful businesswoman, Lisa Frank established her company in 1979 and has since become renowned for her colorful and imaginative designs that adorn school supplies, stickers, and other merchandise. Now, you can experience her artistic flair on your favorite Crocs.
Aiming to infuse footwear with fun and individuality, the collaboration reflects Lisa Frank's signature imaginative designs.
These clogs come adorned with delightful patterns and are further customizable with a variety of Jibbitz™ charms to add that extra touch of personality.
The result?
A one-of-a-kind Crocs collection that stands out from the crowd.
Design Inspiration
Rooted in the nostalgic and colorful world of the 90s, it's really memories of your youth that the Lisa Frank Crocs collaboration derives its inspiration.
Lisa Frank, the founder and CEO of Lisa Frank Incorporated, has always been known for her vibrant and playful designs that bring joy and imagination to everyday items. This creative collaboration between Lisa Frank and Crocs is a celebration of that iconic style, adding a dash of whimsy and fun to your shoe collection.
Featuring bold rainbow designs, cute animal prints, and fantastical patterns, the Lisa Frank Crocs capture the brand's imaginative and cheerful style.
These shoes are not just a fashion statement; they are a celebration of color, positivity, and creativity. With the addition of playful Jibbitz charms, you can truly make your Lisa Frank Crocs a reflection of your unique personality.
Collection Highlights
The Lisa Frank Crocs collection offers a range of styles that cater to every fashion preference. From clogs, sandals, flats, platforms, wedges, slides, to flip flops, there's something for everyone. These Crocs also come in a variety of vibrant colors, including blue, pink, and patterned designs, allowing you to find the perfect pair to suit your style.
The signature Lisa Frank designs and the addition of Jibbitz charms truly differentiate the Lisa Frank Crocs collection from other Crocs. These charms add a touch of whimsy and allow you to personalize your Crocs, making them truly unique to your style and taste. With limited edition designs available, you can express your love for Lisa Frank and Crocs in a fun and fashionable way.
Where to Buy Lisa Frank Crocs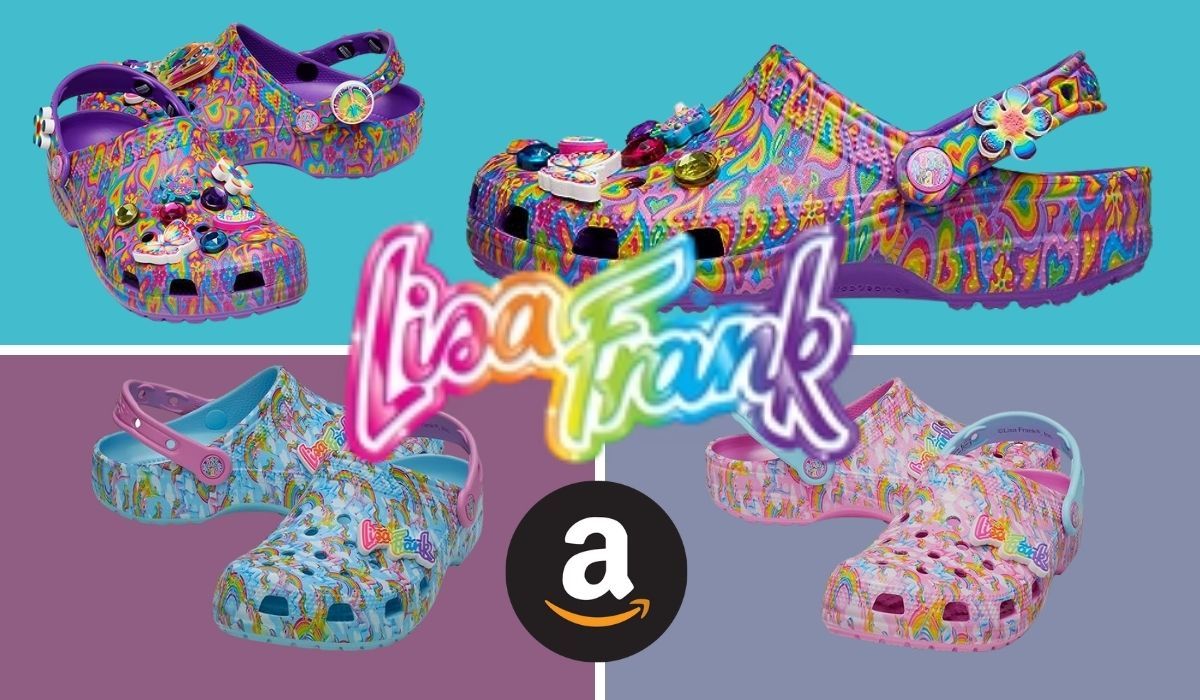 If the vibrant and nostalgic world of Lisa Frank Crocs has captured your heart, you may be wondering where to get a pair. Don't worry, we have you covered! From online shopping options to in-store availability, you'll be able to find the perfect pair of Lisa Frank Crocs to add to your collection.
Whether you prefer shopping from the comfort of your home or trying on your new Crocs in person, we'll guide you through the best places to visit for purchasing these colorful clogs.
Let's explore your shopping options and make your Lisa Frank Crocs dream a reality.
Online Shopping Options
If you prefer online shopping, you're in luck! Lisa Frank Crocs are available on various platforms such as:
the official Crocs website
Foot Locker
Macy's
Famous Footwear
From the convenience of your own home, you can access the collection, select your desired style and size, and have your new Lisa Frank Crocs sent to your address via ship, with various shipping options available.
With a few clicks, you'll be the proud owner of a pair of Lisa Frank Crocs that will add a pop of color and nostalgia to your wardrobe.
Check out the selection we like from Amazon - you'll love these colors and patterns for Adults and Kids!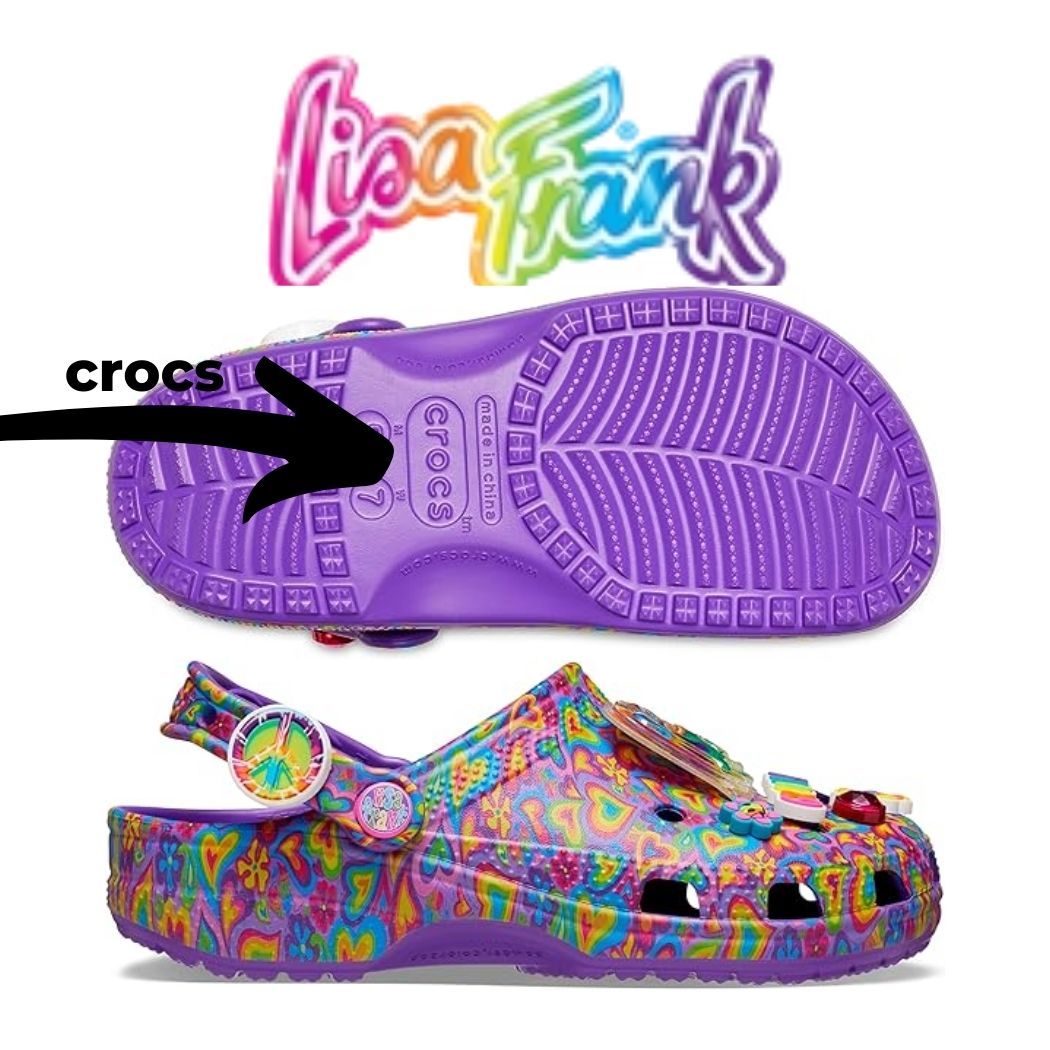 Lisa Frank Crocs - ADULT Size
Neon Purple/Multi - Wide Variety of Sizes W4-15 | M2-15
Check Availability on Amazon!
Genuine Crocs by Lisa Frank - Taffy Pink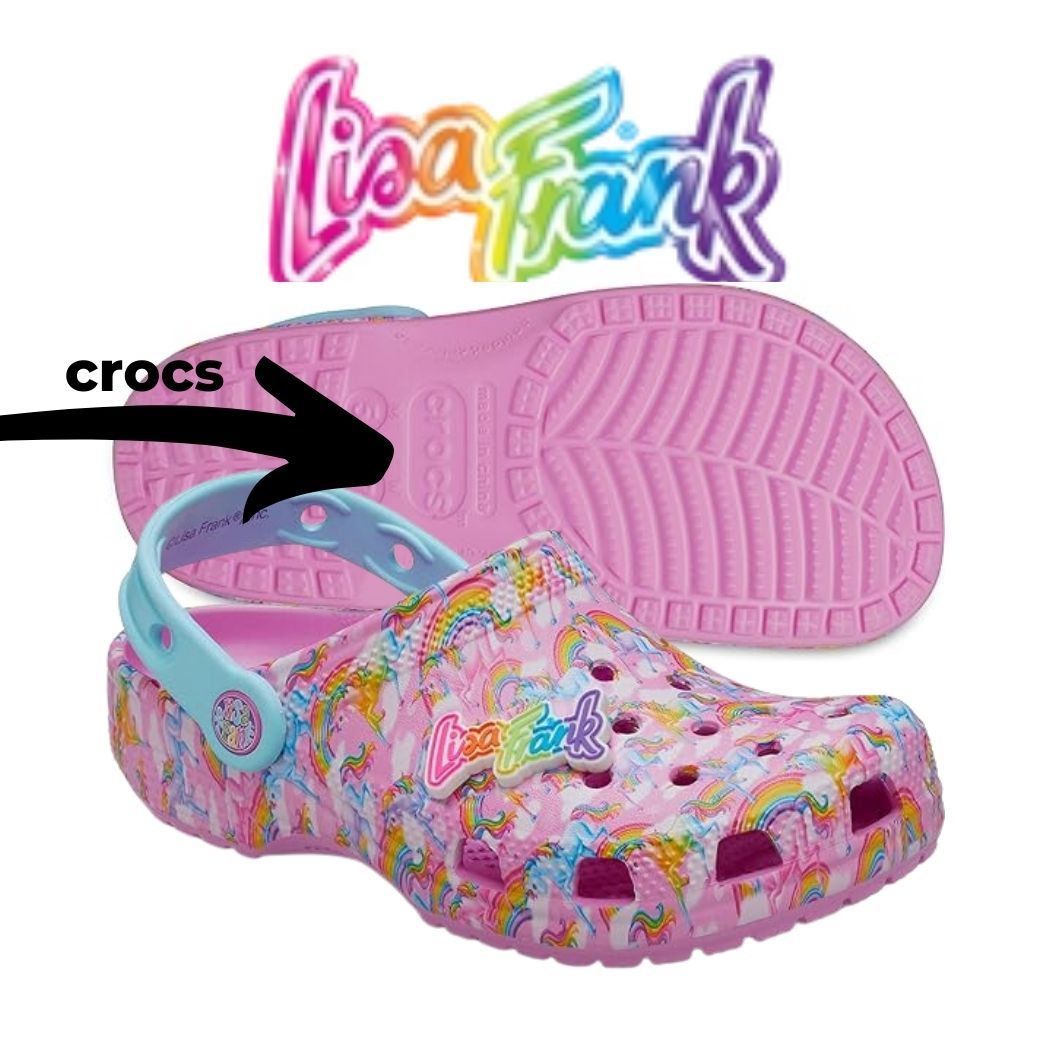 Lisa Frank Crocs - ADULT Size
Taffy Pink - Wide Variety of Sizes 2 - 15
Check Price on Amazon!
Genuine Crocs by Lisa Frank - Artic
Lisa Frank Crocs - ADULT Size
Color is Artic - wide variety of sizes 2 - 15
Check Price on Amazon!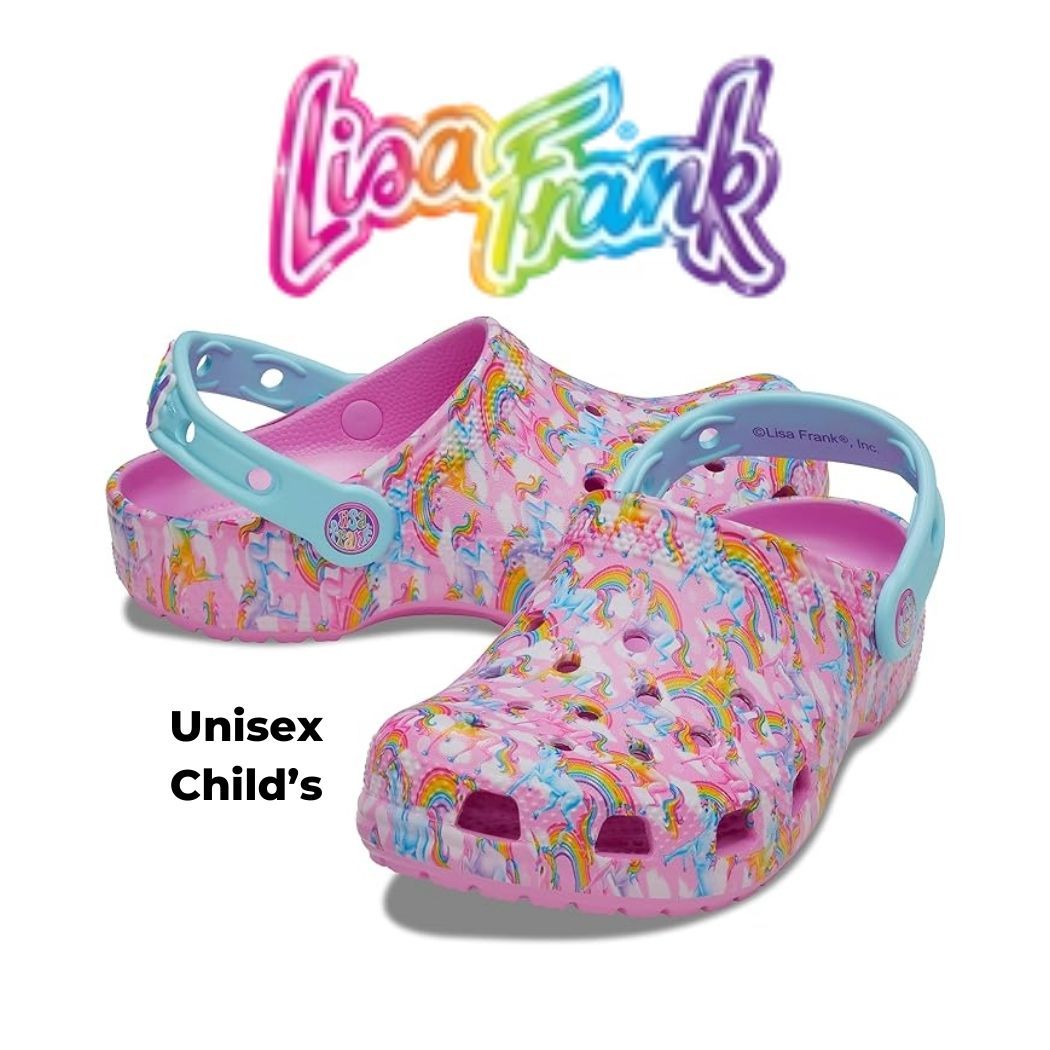 Lisa Frank Crocs Kids Sizes
Taffy Pink - Sizes Little Kid 11, 12, 13, 1, 2, 3 | Big Kid 4, 5, 6
Check Availability on Amzon!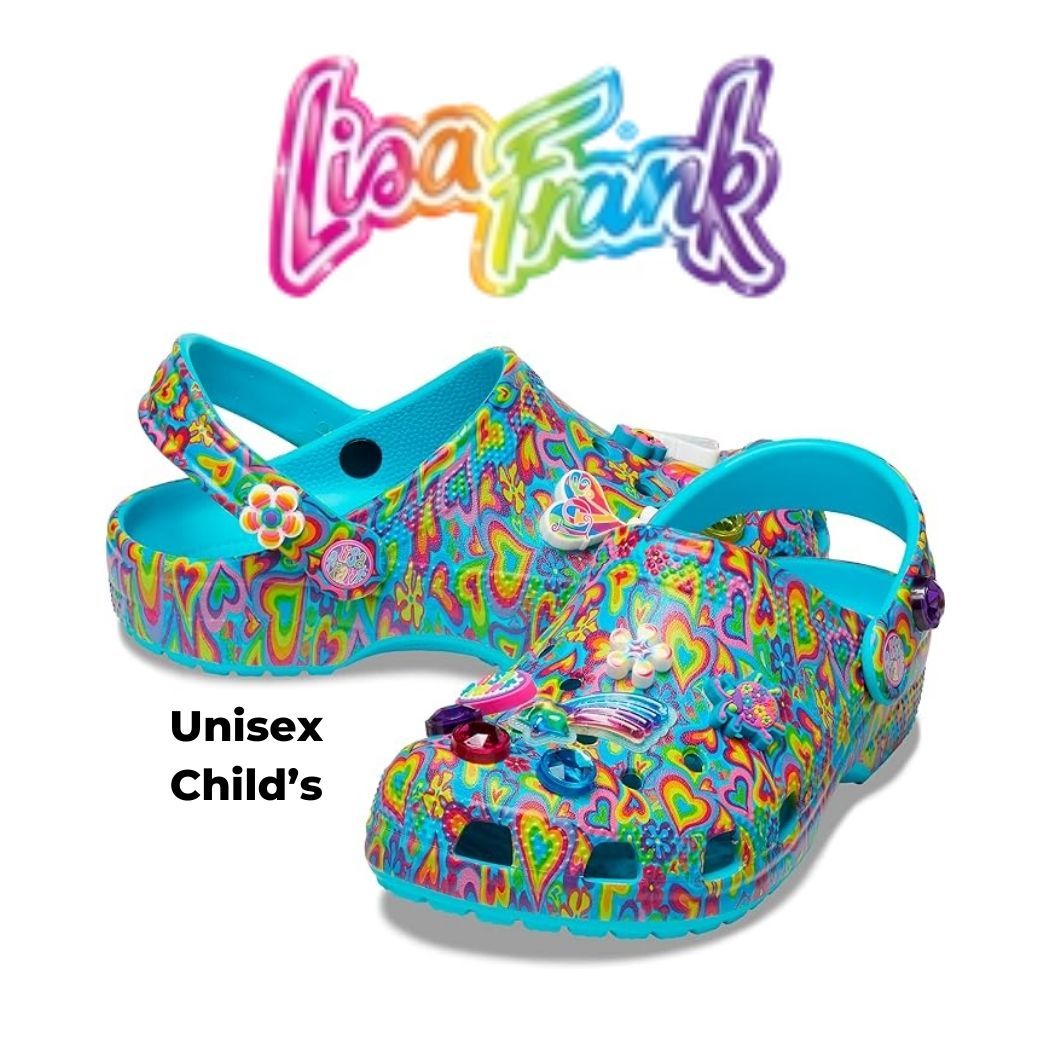 Lisa Frank Crocs Kids Sizes
Digital Aqua/Multi - Little Kid Sizes 11, 12, 13, 1, 2, 3 | Big Kid 4, 5, 6
Check Availability on Amazon!
In-Store Availability
If you prefer to try on shoes before buying, select Crocs stores and outlets stock Lisa Frank Crocs. To find the nearest location, you can use the Crocs store locator on their website and input your city or zip code. This will provide you with a list of nearby stores that carry the collection.
Major shoe retailers that offer Lisa Frank Crocs include Famous Footwear, Foot Locker, Macy's and Finish Line. While stock may vary across locations, you shouldn't have any trouble finding a store that carries these vibrant and nostalgic Crocs. So, get ready to try on your new shoes and let your feet sparkle with the magic of Lisa Frank!
Styling Your Lisa Frank Crocs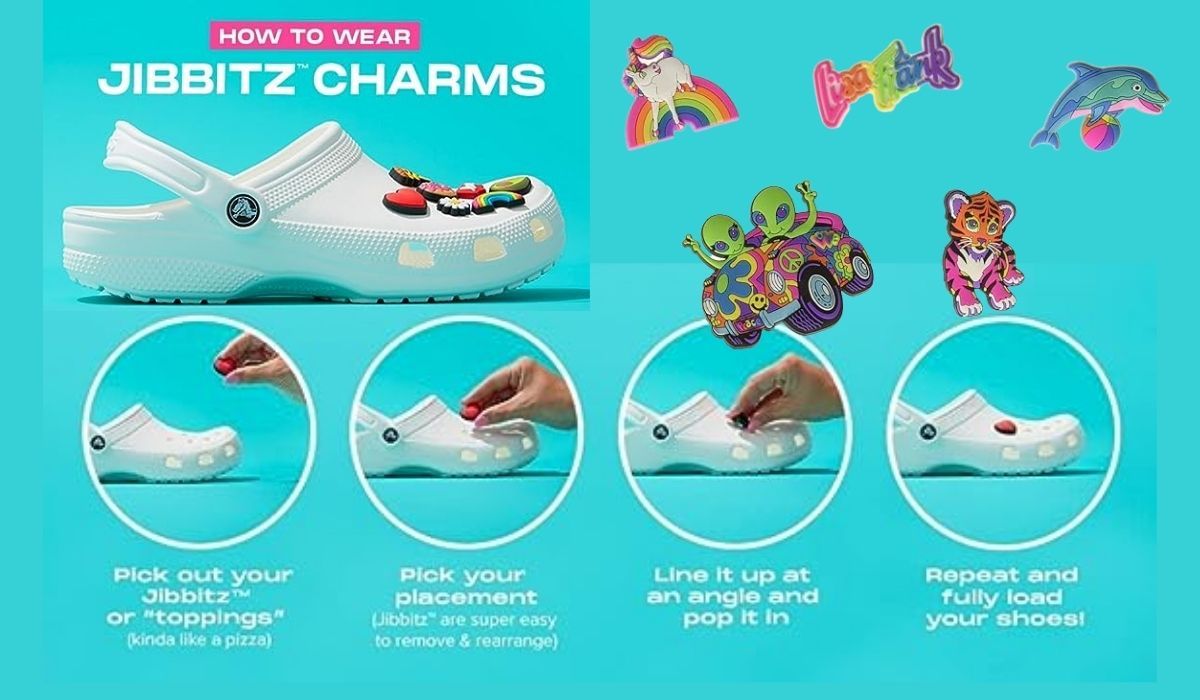 Having secured a pair of Lisa Frank Crocs, it's now time to flaunt them!
But how do you style these vibrant shoes? Fear not, we're here to help you create the perfect outfit to complement your new colorful Crocs.
From pairing your Crocs with various outfits to accessorizing them with Jibbitz™ charms, we'll provide you with tips and tricks to make your Lisa Frank Crocs the star of your wardrobe.
Let's explore the many ways you can style your Crocs with Lisa Frank Croc Charms and make a fashion statement like no other.
Pairing with Outfits
Endless possibilities await when styling your Lisa Frank Crocs. For a casual summer look, consider pairing your Crocs with:
Denim shorts
Funky Jackets
Jeans
Skirts or skorts
Denim offers a complementary palette to the vibrant colors of the Crocs, creating a fun and casual ensemble bursting with style, making it a popular subject among fashion enthusiasts.
For a bolder statement, why not mix and match your Lisa Frank Crocs with outfits featuring vibrant and lively colors like:
The key is to have confidence in your style choices and embrace the playful and imaginative spirit of Lisa Frank. With the right outfit, your Lisa Frank Crocs can be the perfect accessory for any occasion.
Accessorizing with Jibbitz™ Charms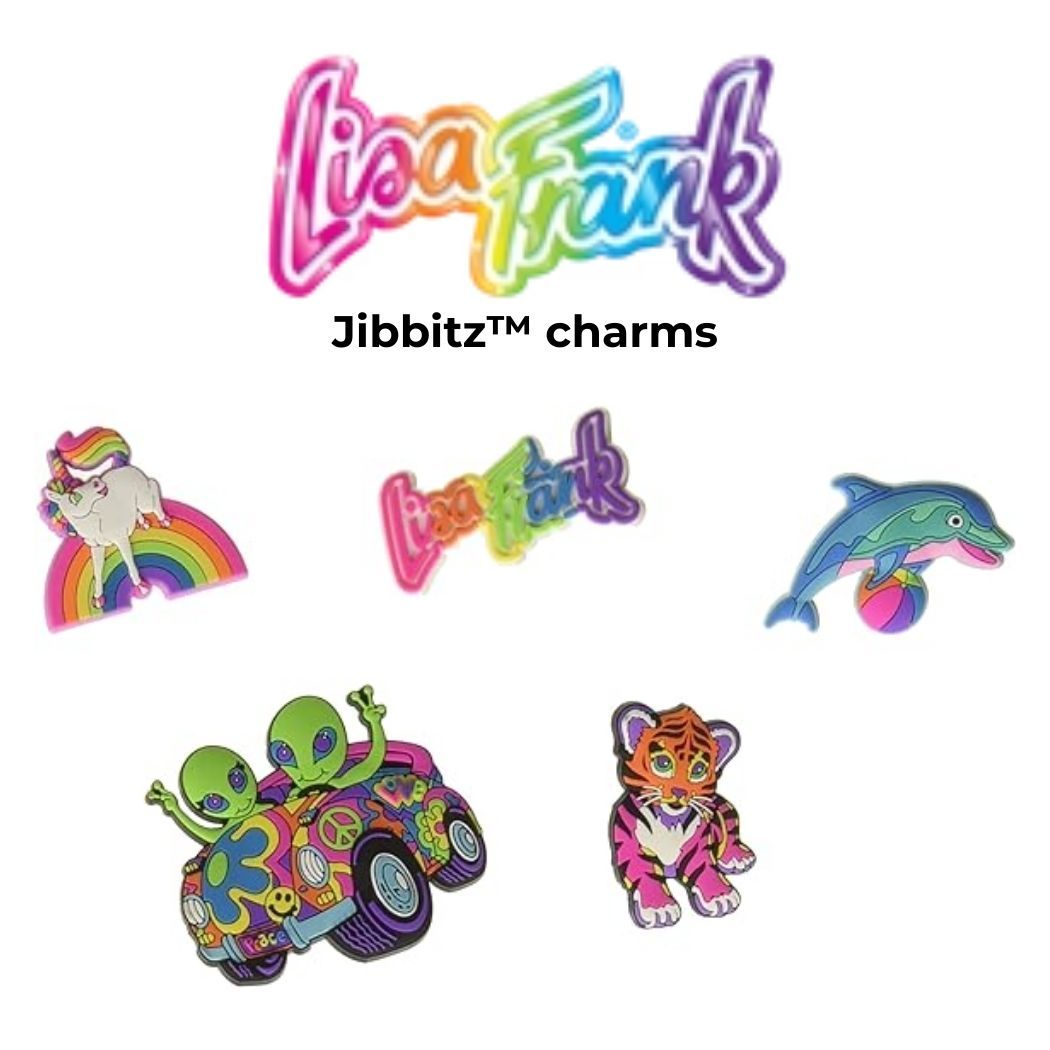 Lisa Frank Croc Charms - Jibbitz
Jibbitz shoe charms allow you to flash more Lisa Frank style on your Crocs. Show off your personality ... colorful fun designs.
Check Price on Amazon!
Adding accessories to your Lisa Frank Crocs with Jibbitz charms is a great way to add a personal touch. These decorative shoe charms come in various colors, shapes, and themes, allowing you to create a unique look that reflects your individual style and preferences.
Attaching Jibbitz™ charms to your Crocs is simple: support the top of the shoe with one hand and push the charm's base into the holes on the Crocs with the other hand.
With a wide range of Lisa Frank-themed Jibbitz™ charms available, you can mix and match to create a one-of-a-kind pair of Crocs that showcases your personality and flair for fashion.
Customer Reviews and Feedback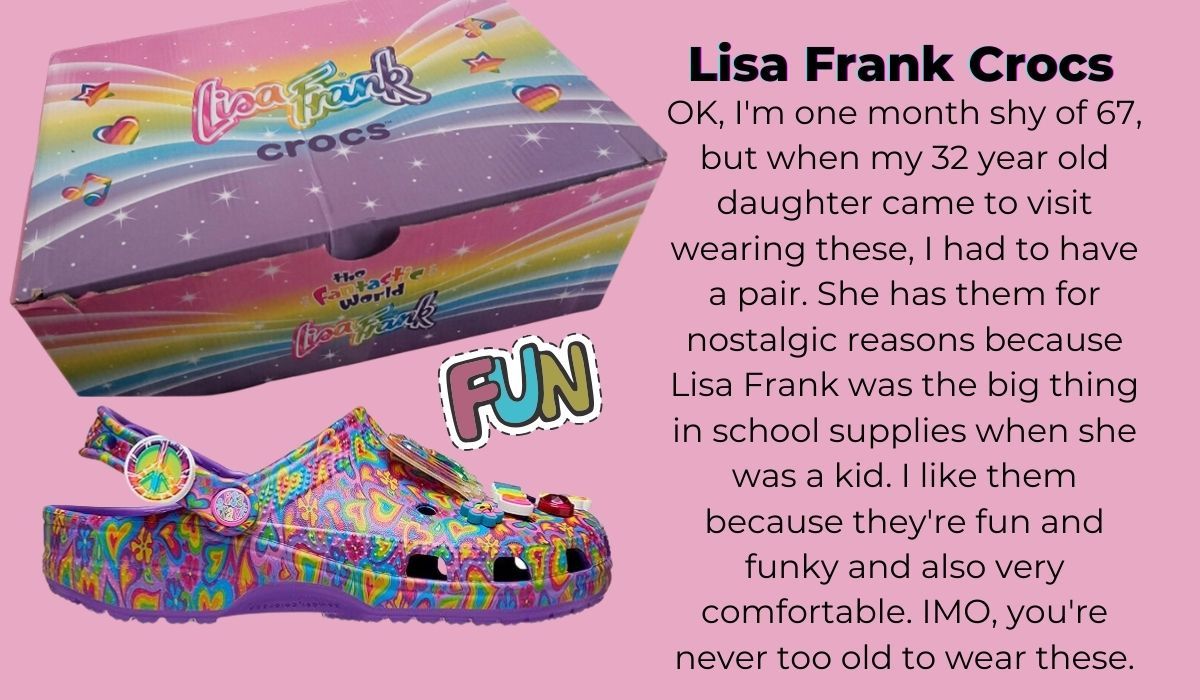 If you're curious about others' opinions on their Lisa Frank Crocs, look no further! In this section, we'll explore customer reviews and feedback that focus on the following aspects of these vibrant shoes:
Comfort
Fit
Durability
Quality
Hearing from real customers who have experienced the product first-hand can provide valuable insights and help you make an informed decision. So, let's dive into the customer feedback and see what people have to say about their Lisa Frank Crocs.
Comfort and Fit
Comfort and fit are highly praised aspects of Lisa Frank Crocs among customers. Many have noted that the shoes are roomy, lightweight, and water-resistant, ensuring maximum ventilation and preventing the accumulation of dirt and moisture. Additionally, customers have found that the shoes are true to size and conform to a variety of foot shapes and sizes, making them suitable for everyone.
The overall consensus is that Lisa Frank Crocs provide a comfortable and spacious fit that is perfect for extended wear or air travel. With their lightweight construction and flexible cushioning, your feet will feel like they're walking on clouds.
Durability and Quality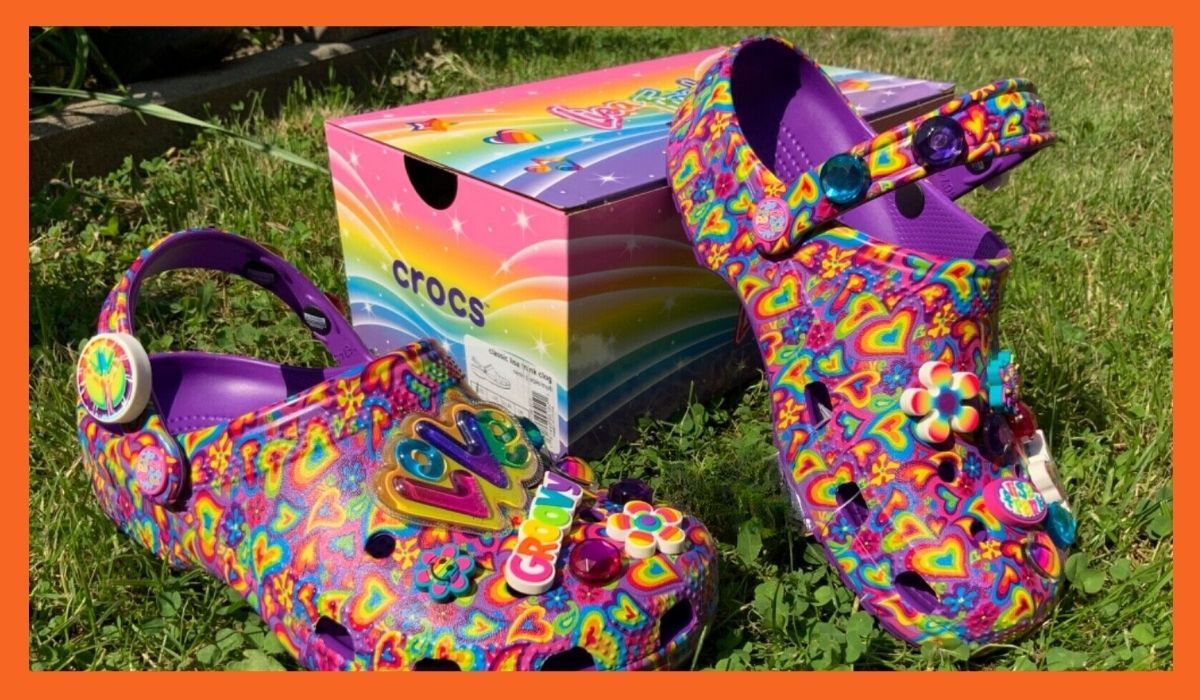 Customers laud the durability and quality of Lisa Frank Crocs. Many have reported that the shoes are highly durable, withstanding regular use while maintaining their vibrant patterns. Customers have also noted that the fit is precise, and the comfort level is high, even during pregnancy and air travel.
In short, customers are satisfied with the durability and quality of their Lisa Frank Crocs. With proper care and maintenance, these shoes can remain in great condition for a long time, allowing you to enjoy their vibrant colors and unique designs for years to come.
Caring for Your Lisa Frank Crocs
Proper care is key to maintaining the fresh and vibrant look of your Lisa Frank Crocs. In this section, we'll share cleaning instructions and maintenance tips that will help you preserve the color and longevity of your Crocs.
From cleaning solutions to storage tips, we've got you covered to ensure your Lisa Frank Crocs continue to sparkle and shine, just like you!
Cleaning Instructions
Regular cleaning is crucial to maintaining the best look of your Lisa Frank Crocs. For optimal results, follow these steps:
Use warm water and mild soap to gently clean the shoes.
If your Crocs have fur or fleece, you can also wash them on a gentle cycle in the washing machine.
Avoid using harsh chemicals or exposing them to high temperatures, as this can damage the colors and patterns.
For tough stains, consider using hand sanitizer or isopropyl alcohol to gently rub the affected area with a cloth. By following these cleaning instructions, you'll ensure your Lisa Frank Crocs stay looking vibrant and colorful for longer.
Maintenance Tips
Beyond cleaning, diligent maintenance is key to preserving the color vibrancy and longevity of your Lisa Frank Crocs. Here are some maintenance tips to help you keep your Crocs looking their best:
Clean them regularly with mild soap and water.
Allow them to air dry naturally after cleaning.
Store them in a cool, dry place away from direct sunlight to prevent fading.
Avoid exposing them to extreme temperatures or excessive moisture.
By following these maintenance tips, you can ensure your Lisa Frank Crocs remain in great condition and continue to be a vibrant and colorful addition to your wardrobe.
Lisa Frank and Crocs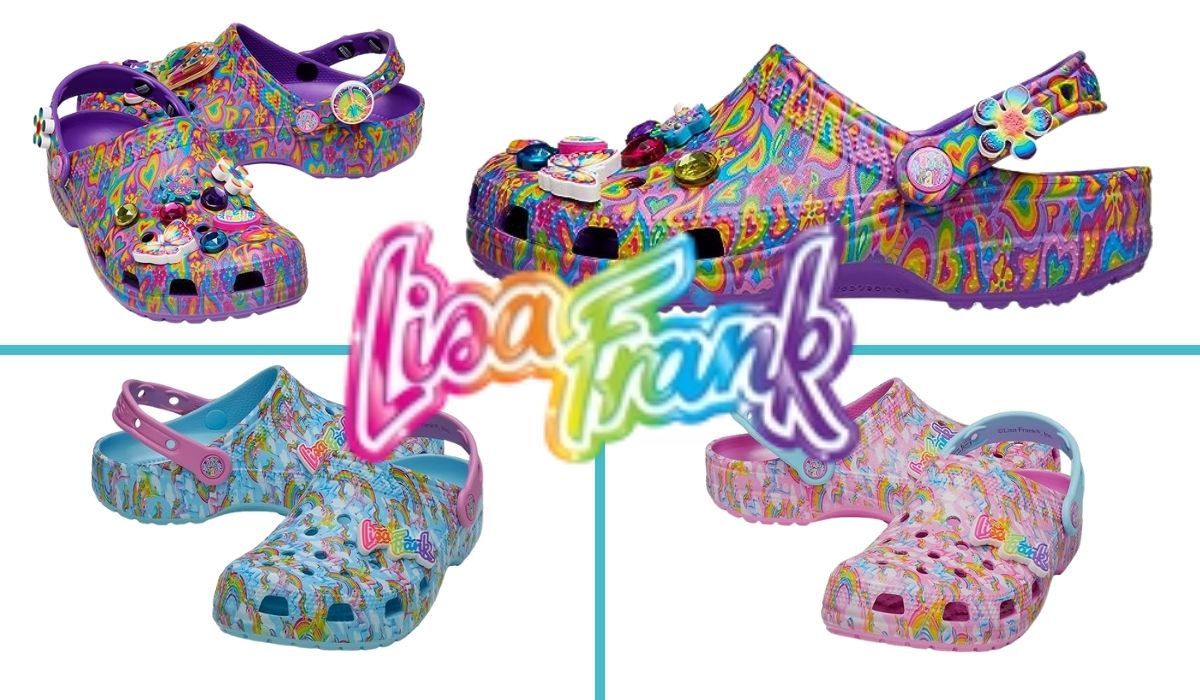 The collaboration between Lisa Frank and Crocs offers a vibrant and nostalgic collection that adds a pop of color and fun to your wardrobe. So whether you are being nostalgic because you remember Lisa Frank school supplies, or you simply like the fun and colorful vibe of her now famous Crocs we're certain you'll love your purchase.
With various styles, shopping options, and styling tips, you can confidently rock your Lisa Frank Crocs and make a statement wherever you go.
By caring for your Crocs and following the maintenance tips provided, you'll ensure they continue to sparkle and shine for years to come.
So, step into the world of Lisa Frank Crocs and let your feet be a canvas of color and imagination.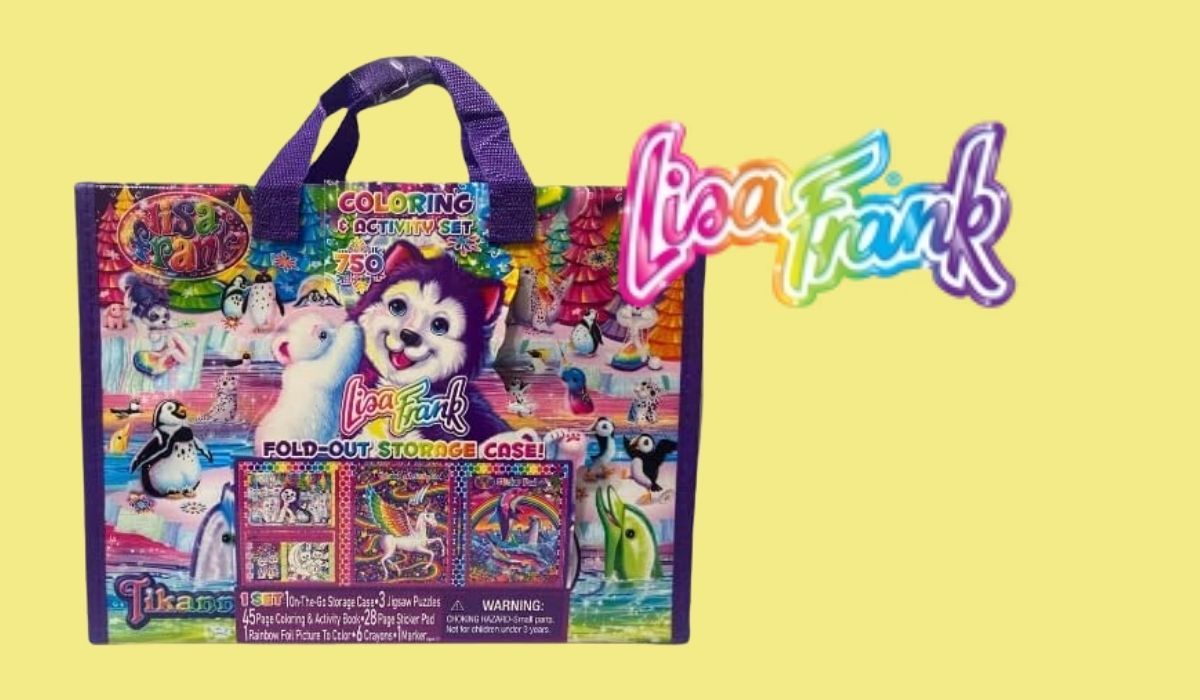 Lisa Frank also has a collaboration with Bendon. She teamed up with Bendon to create a range of coloring and activity sets. These sets are perfect for sparking creativity and imagination, featuring Lisa Frank's iconic, vibrant designs.
The collaboration includes a handy fold-out storage case, making it easy to keep all your coloring essentials in one place. Lisa Frank Coloring & Activity Set with Fold Out Storage Case. So if you're someone who finds coloring a relaxing evening activity, why not pick up both the shoes and this lovely activity set (for yourself of course ... but hmm, may also make a great gift for someone you know.)
Happy Shopping!
Your Fav Reviews Team
PS - You might also like these other Crocs articles written by our teams ...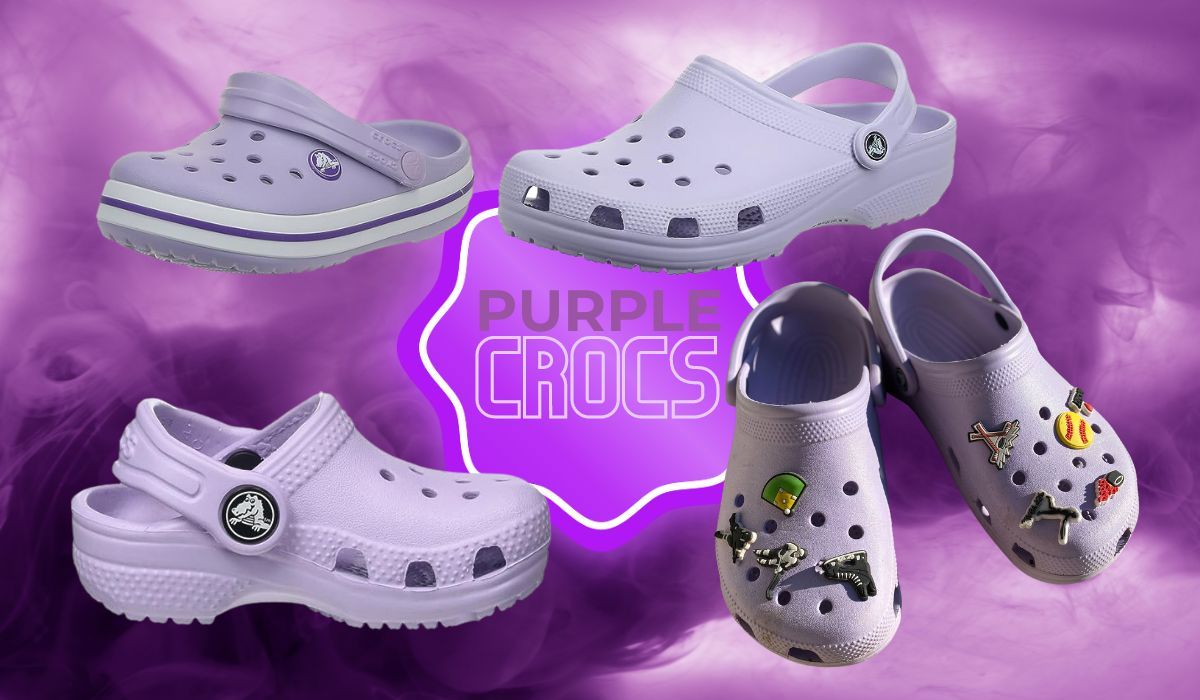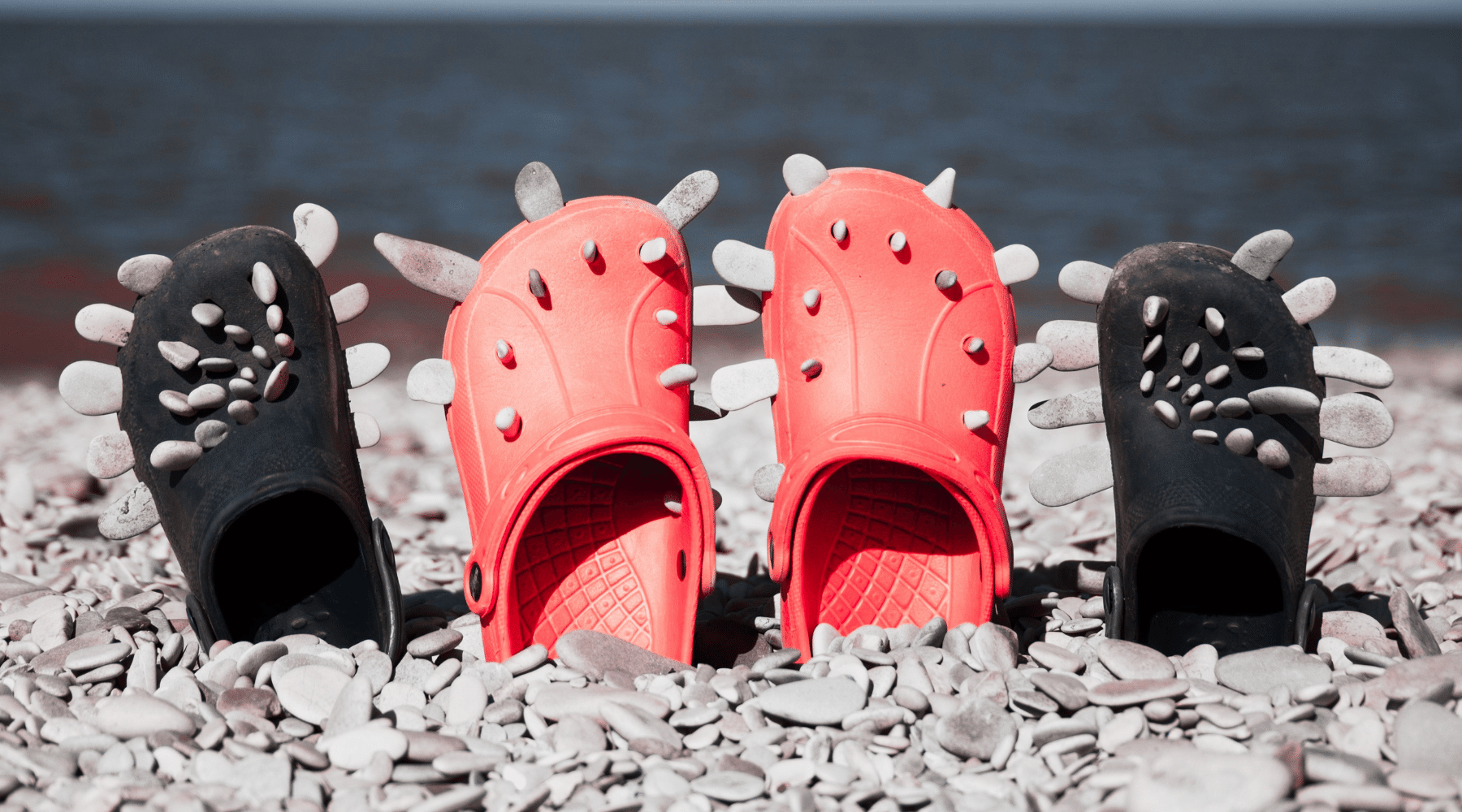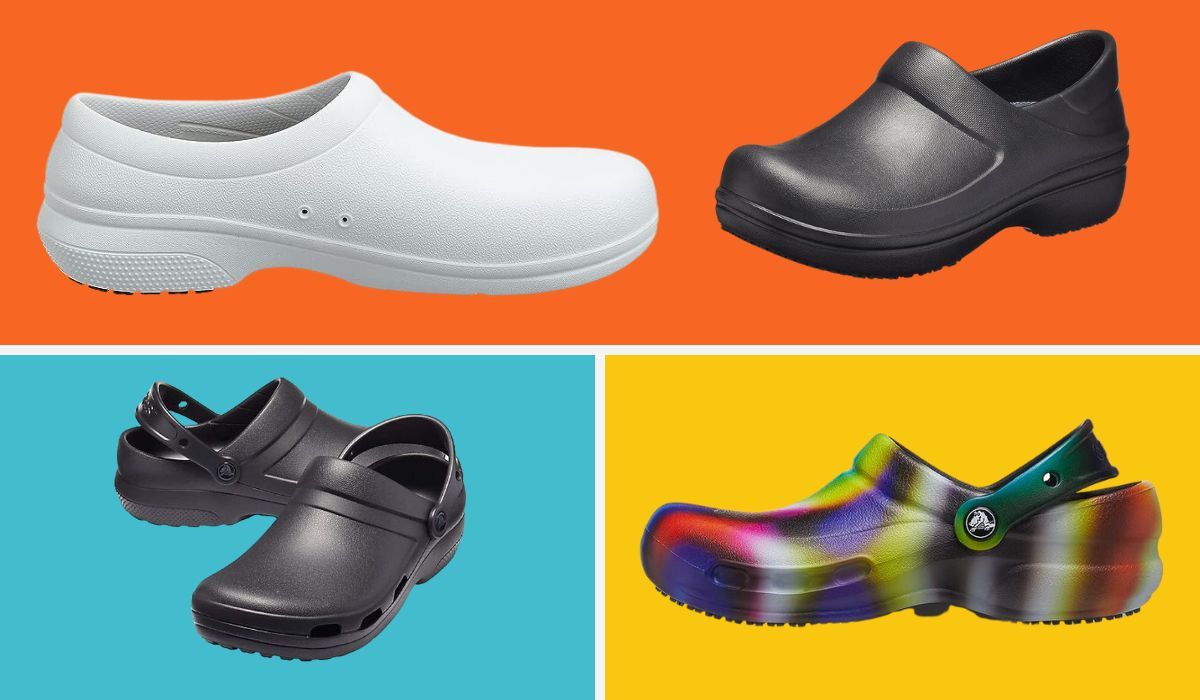 ---
Frequently Asked Questions
Lisa Frank is an American businesswoman and the founder of Lisa Frank Incorporated, a company known for producing whimsical and colorful stationery products. Born in 1955, Lisa Frank has always had a love for art and started her company in 1979. Her distinctive, vibrant designs quickly became a cultural phenomenon in the 1980s and 1990s, adorning a vast range of products from school supplies to clothing. Today, Lisa Frank continues to inspire with her iconic style, most recently through her collaboration with Crocs, bringing her imaginative designs to the world of footwear.
Release Date of Lisa Frank Crocs
The vibrant and nostalgic Lisa Frank Crocs collection was officially released to the public in 2021-22. This collaboration between Lisa Frank and Crocs brought a splash of color and whimsy to the world of footwear, making a significant impact in the fashion industry and among Crocs enthusiasts worldwide.
Are Crocs good for your feet?
This question is asked by many considering the unique design and material of Crocs. While some styles of Crocs might not be recommended for extended periods of activity or for those with arch support needs due to their flat and plastic construction, they have expanded their line of Crocs and many styles do have certain advantages. Most people agree all Crocs are lightweight, breathable, and offer a roomy fit which can be beneficial for people with certain foot conditions.
Moreover, Crocs has expanded their product line to include an entire Crocs at Work line, which are designed with the needs of specific professions in mind. The Crocs at Work collection includes Crocs for nursing shoes, chef shoes, slip-resistant shoes, standing shoes and hospitality shoes. These versions are equipped with enhanced traction and extra comfort features, making them suitable for people who spend long hours on their feet, such as healthcare and restaurant workers.
As with any footwear, the suitability of Crocs will vary from person to person and style to style. It's always recommended to try on different styles and sizes to find the most comfortable and supportive fit for your specific foot shape and lifestyle needs.
Doogie Lish Sandtiger, a 32-year old man from Connecticut, owns the largest collection of Crocs in the world, boasting an impressive 2,131 pairs at the time this research was done.
Where can I buy Lisa Frank Crocs?
You can purchase Lisa Frank Crocs online through the official Crocs website, Amazon, or in-store at select Crocs stores and outlets, as well as other major shoe retailers.
---
Do You Enjoy the Outdoors as Much as We Do?
If you like to listen while walking or relaxing outdoors like we do, you can get lots of great music with Amazon Prime Music or 2 FREE Audiobooks from Audible Plus!
I love learning and I never give myself enough time to read books, so I love listening to a great book or motivating myself with great songs when out for my daily walks.
Plus, if you want to take advantage of 2-day shipping, get a free 30-day trial of Amazon Prime. ( I used to think free shipping was the biggest benefit of Amazon Prime, but have you seen how many new movies have been added to Amazon Prime lately?) PLUS, did you know if you receive qualifying government assistance like SNAP or Medicaid, and others you can save even more with Prime Access.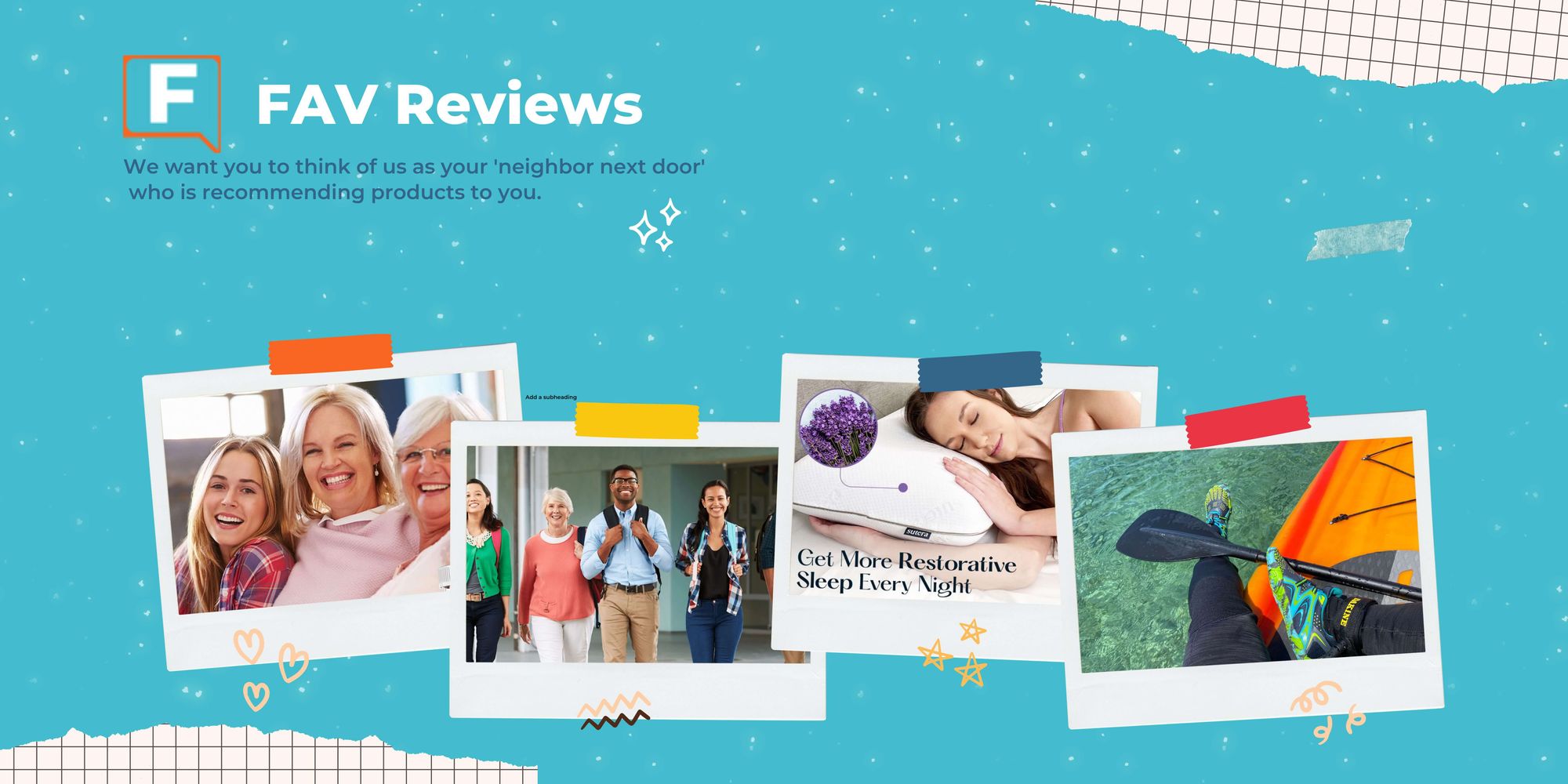 Want to see even more content about products for healthy lifestyles and outdoor enthusiasts? Be sure to check out all of our FAV Reviews.
Do you love the outdoors as much as we do? Check out our other articles:
Or shop by the season:
Thank you for visiting us at Fav Reviews :) Stop by again! Better yet subscribe with the button on this page and never miss another thing.
---
We hope you find your next favorite thing from FavReviews! We are a family friendly product review site.
Four Generation Family: As a four generation family, the breadth of products we consume and review as brand ambassadors is vast. But we can tell you, in general, in we love the outdoors, sports, staying active, living healthy and celebrating the changing seasons.
Trending Products: We also love finding new trending products and we are happy to pass along our research of new trending products to you. Follow us so you don't miss out on a thing! We send out cool emails with our latest reviews, and we will never sell or misuse your information.
Opinions Based on Use, Research and Reviews: Each product we write about is independently selected by our editors. All opinions in this article are our own, based on our own use of the product(s), or hours of research and reading reviews. We will never recommend something we wouldn't use ourselves in our own family.
Compensation: Yes, FavReviews may collect a share of sales or other compensation from the links on this page if you decide to buy something (that's how we stay in business). But, the product never costs you more, in fact in some cases, we hope we might help save you money based on our recommendations.
Reviews have been edited for length and clarity. Enjoy finding your next favorite thing!
Happy Shopping!
Your FavReviews Team
____________________________________________________
BEHIND the SCENES LOOK: If you'd like to learn how to start your own product review blog, with products that you love, check out our article How to Become a Brand Ambassador or visit LearnWriteLive.com There is room for all of us to provide better service to online shoppers. What's your passion?