If your home is like ours, you loved your parsons dining room chairs in dark brown or black, and you have counter height chairs sitting at your island. It was a great look about 10 years ago ... but the chairs are getting tired. The kids have been hard on the counter height chairs, and you aren't ready to dish out thousands of dollars for new chairs right now.
We get it! We were exactly there with you.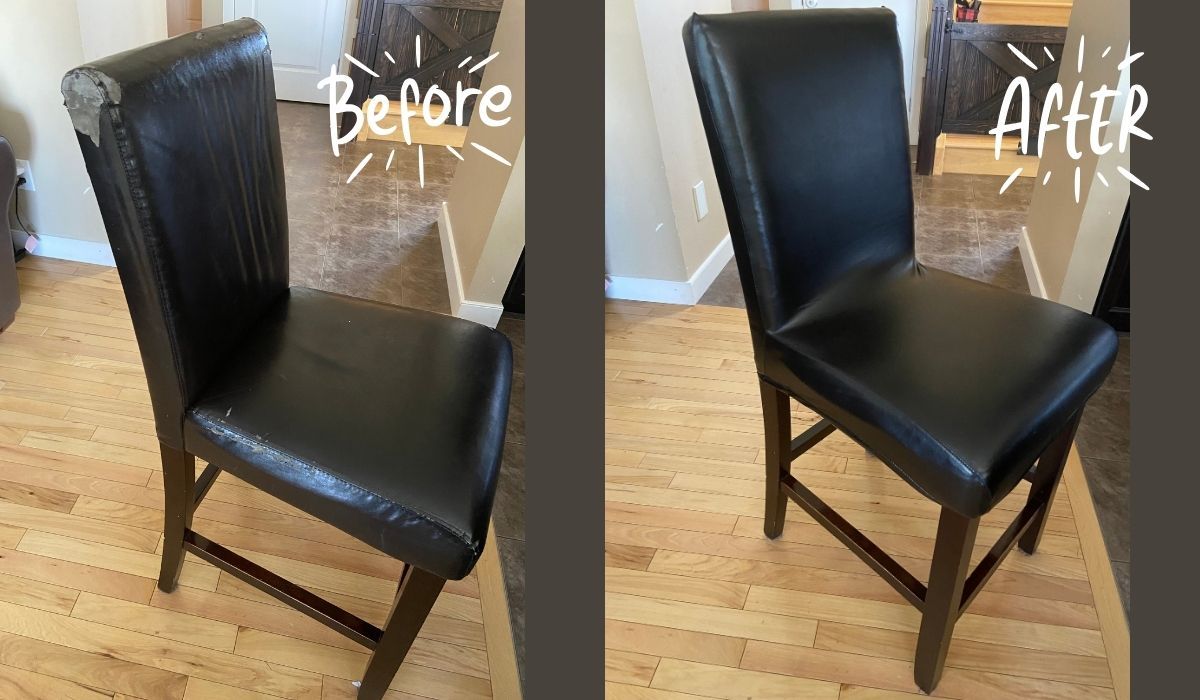 Happily we're here to tell you we've done the research for you too, and we have found some great PU Leather black (washable) chair covers that will provide you with an economical solution.
It's truly an inexpensive solution to get your whole room looking better again.
We were starting to be embarrassed to invite someone into our home the chairs looked so bad. Wish we had ordered these covers long ago!
Black Chair Covers
If you're looking to give your home a sleek and sophisticated look, black chair covers are the perfect accessory. They are not only stylish but also practical, providing an extra layer of protection for your chairs. Or, alternatively they cover up chairs that are looking cracked, torn and old.
We consider ourselves pretty savvy searching around Amazon, but let me tell you when we needed to find these exact black chair covers reviewed below, it was a nightmare to find the right ones!
We've done the research for you ... to make it easier for you to make the right purchase for your home and chairs.
This guide will provide you with all the information you need to feel comfortable ordering black chair covers, focusing on kitchen and dining chairs as well as counter height chairs.
We trust that you'll find your next favorite item from the list we've researched for you below. All of these products have been hand-picked by our editors and we won't recommend something we wouldn't use in our own family. Some may even be items that we already use! We may receive a small compensation if you decide to buy something (that's how we keep the lights on). Some reviews have been edited for length and clarity.
Have fun searching for your next fav product!
---
Let's Start with Some Buying TIPS:
Tips for Choosing Chair Covers
Size and Fit: Always measure your chairs before buying covers. Chair covers that are too small will not fit, and those that are too large will look ill-fitting and messy. Always check the product specifications for sizing details.
Material: Choose a material that is durable and easy to clean, especially if you have children or pets. PU Leather is a popular choice as it is water-resistant and easy to clean.
Design: Consider the overall aesthetic of your room. Black chair covers can give a sleek and sophisticated look, but you also might consider other colors or designs that complement your interior.
Ease of Use: Look for chair covers that are easy to put on and take off for washing or cleaning. Look for those with zippers or preferably elastic edges for a snug fit.
Reviews: Check out reviews and ratings online. They give a good sense of the quality of the chair covers and can provide useful information about the fit and durability.
Remember, investing in the right chair covers can extend the life of your chairs, regardless of condition, so you don't have to replace them right away, saving you money in the long term.
---
Choosing the Right Black Chair Covers
SIZE and FIT MATTERS ... First consideration, "Will they fit?"
When choosing black chair covers, consider your specific needs and preferences. Whether you're looking for waterproof protection or a sleek and sophisticated look, there are black chair covers available in a variety of materials and patterns to suit your style.
Remember to measure your chairs before ordering and refer to the size chart provided by the manufacturer to ensure a proper fit.
With this guide, you can confidently select the perfect black chair covers for your kitchen or dining room, adding both style and practicality to your furniture.
So go ahead, give your old chairs a new and improved look with black chair covers.
Putting them on your chairs is as easy as 1 - 2 - 3 !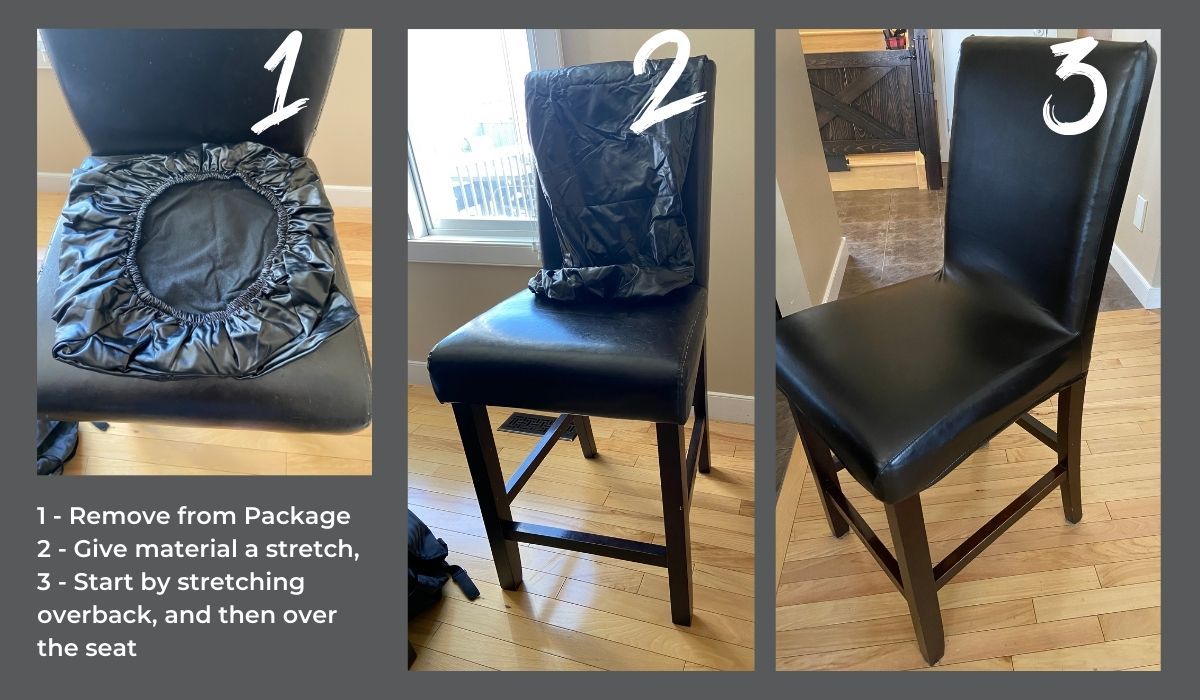 Why It's One of Our Favs
We love the quality of these PU Leather Chair Covers. Important considerations were the smooth finish of the PU Leather, quality of the elastic in the covers, ease to apply and professional look when finished.
We are super impressed with the different styles of chairs these covers will work with, but must mention, since the cover is a parson chair style cover, they will feel most secure and natural when covering a solid back style chair, like a Parson Chair.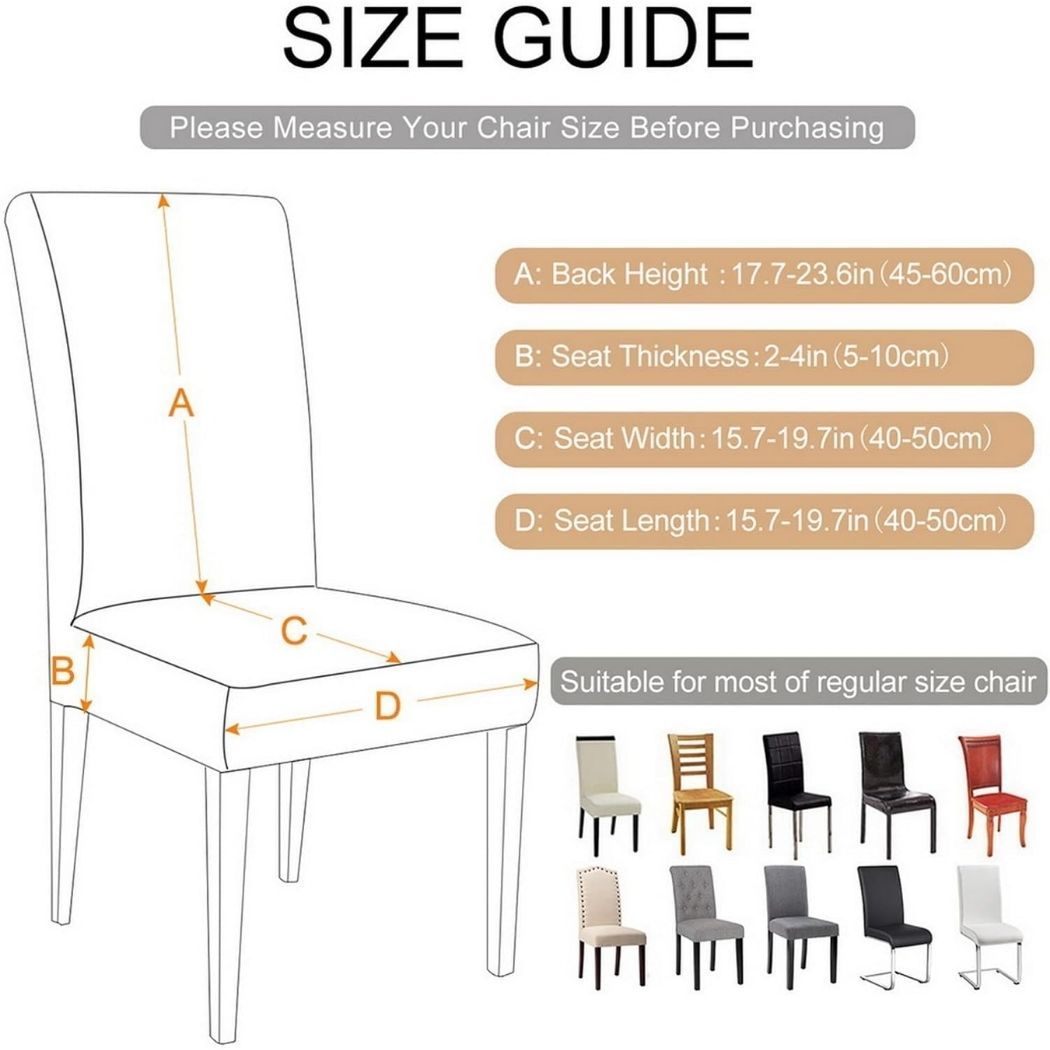 FAV Features
Some of the features we like about this black chair cover are:
chair back height of 18" - 24"
thick chair seat can be accommodated, thickness 1.5" to 4" deep
generous chair seat length and width, 16" - 20"
We also like the smooth PU Leather surface. Other materials, even if a solid black color had patterns in the material. We like the clean, classic look of these Black PU Leather covers.
They are easy covers to put on your chairs, the material stretches well and is strong (not too thin) for all of the snug pulling. Kind of like putting on my wetsuit.
The elastic around the edges keeps the chair cover snug once on the chair.
---
Why It's One of Our Favs
SearchI dining chair seat covers have quickly become one of our favorites, thanks to their perfect blend of form and function.
The fabric composition, a blend of 92% polyester and 8% spandex, gives these covers remarkable stretchability, softness, and durability - essential features for a comfortable dining experience.
These covers are constructed with excellent craftsmanship, ensuring they are anti-wrinkle and resistant to tearing and fading.
But it's not just about practicality - these covers are also a treat for the eyes. These chair seat covers would be perfectly suited for home, cottage, restaurants, B&B, hotels, banquet facilities and more, perfectly complementing existing decor, and breathing new life into vintage chairs.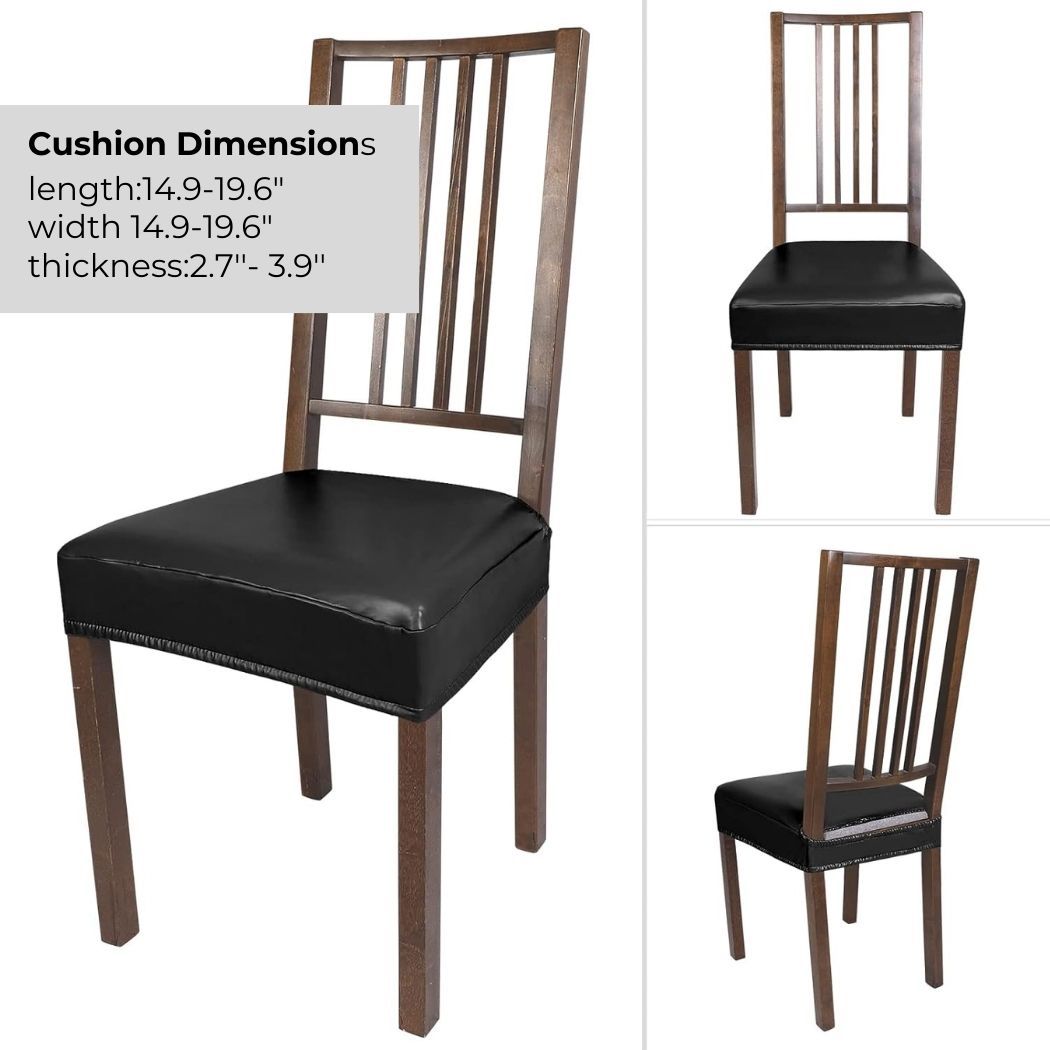 FAV Features
We especially like the premium fabric of these seat covers. Crafted from a high-quality blend of 92% polyester and 8% spandex, these chair covers are not only soft and durable but also have a high stretchability that ensures a snug fit.
Exquisite Design
The stylish and novel pattern design will not only spice up your home decor but also give your old chairs a fresh new look.
Easy Installation
Say goodbye to the hassle of disassembling your seats. Thanks to the rear-gapped design, you can slip these covers on effortlessly. The elastic edges will keep the covers securely in place.
Suitable Size
These covers are highly stretchy and can fit chair cushions with a length and width of 14.9-19.6", and thickness of 2.7''- 3.9''. Please measure your chairs before ordering to ensure the best fit.
Versatility & Care
These dining room chair seat covers are not just for home use. They are also suitable for various occasions including hotels, restaurants, banquets, meetings, dinners, and ceremonies. When it comes to care, simply wash in cold water on a gentle cycle, tumble dry low, and refrain from ironing and bleaching.
---
Why It's One of Our Favs
This is where our story began, when we personally started searching for high back chair covers for counter height chairs (shown in photo above). We share some of the before and after photos in this article. As good as we are with Amazon product searches, finding this specific 'high back', PU Leather chair cover was not so easy to find. So we are happy to share our research and findings with you here. Shipping was super fast and the quality of the chair covers quite good. They breathed life back into some pretty tired looking counter height kitchen chairs.
When it comes to top-notch quality and exceptional functionality, SearchI bar stool covers take the cake. Engineered with an optimal blend of polyester and spandex, these covers are lauded for their outstanding elasticity, ensuring a perfect fit.
Superior textile technology coupled with a reactive dyeing process affords these covers an enhanced texture and durability, delivering unmatched softness and comfort.
Moreover, the covers are versatile, suitable for various chair types from dining rooms, bars, kitchens to cafe furniture. With a fitting range for chair back height 13.7-17.7", chair seat length and width 14.9-18.8", and thickness of 3-4 inches, these covers are designed to tailor-fit most counter height or bar stool chairs. (Do measure your chairs before purchase to avoid any sizing errors.)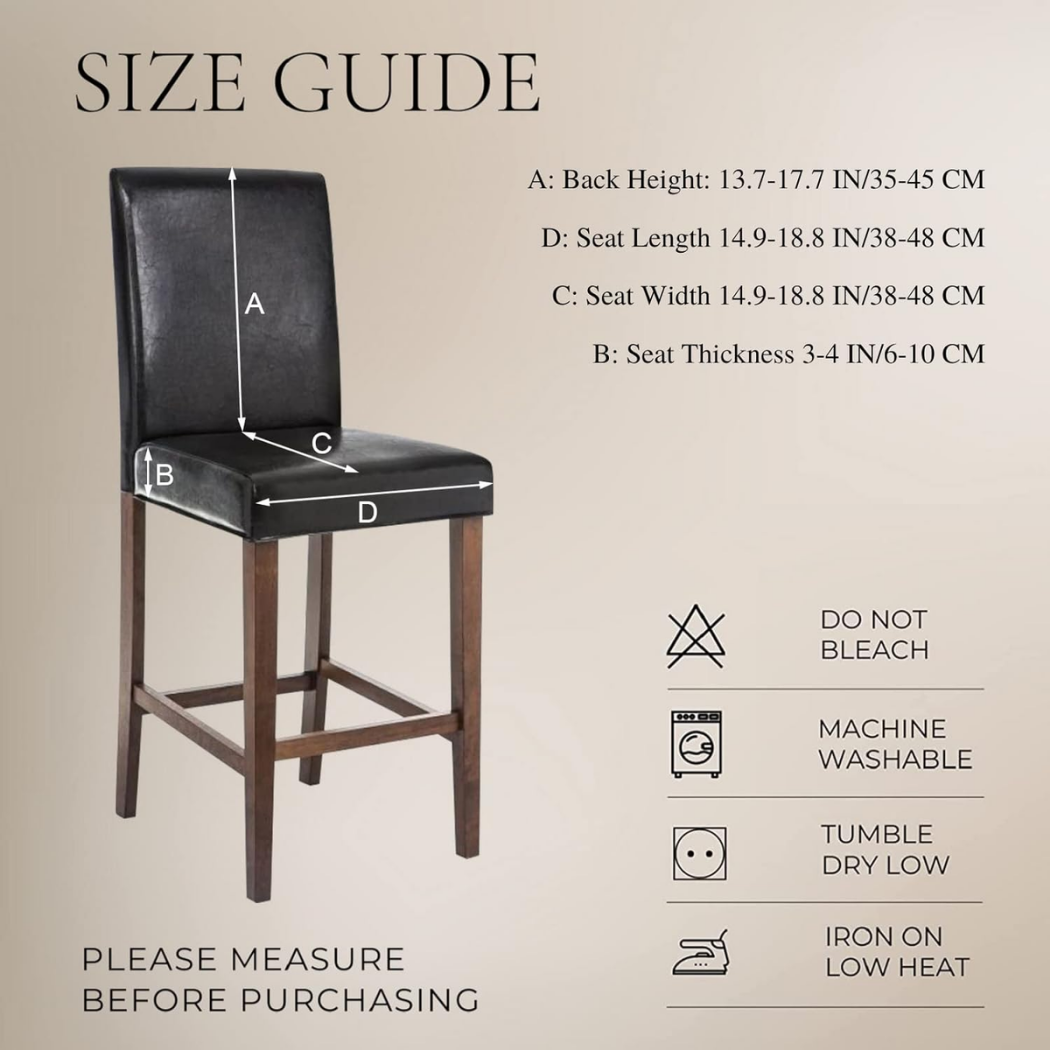 FAV Features
Quality Material
SearchI bar stool covers are crafted from a choice blend of polyester and spandex, ensuring considerable elasticity for a snug fit. Thanks to superb textile technology and reactive dyeing processes, these covers provide an enhanced texture and longevity, offering the softness and comfort your home deserves.
Suitable for Chair Size
These covers boast high elasticity, providing an ideal fit for most bar stool chairs in various settings, such as dining rooms, bars, kitchens, or cafes. The fitting dimensions include chair back height 13.7-17.7", chair seat length and width 14.9-18.8", and thickness of 3-4 inches.
Good Protection
Perfect for safeguarding your chairs from spills, daily stains, and wear and tear, these covers even deter potential damage from pets. Rather than replacing old barstools, these covers provide an economical solution to rejuvenate and protect your much-loved seating.
Exquisite Pattern Design
Featuring stylish and fashionable pattern designs, these covers not only protect your barstool chairs but also serve as elegant and aesthetic decor elements in your living space.
Easy Care and Installation
These machine-washable covers are low maintenance — simply wash in cold water on a gentle cycle, tumble dry low, and avoid bleaching or ironing. Installation is a breeze, with a simple three-step process that can be completed in under a minute.
---
MATERIAL PREFERENCE - Second consideration
Aside from size, material is another important factor to consider when choosing black chair covers.
When looking for black chair covers for our kitchen island chairs, it was important the chairs were washable (because we're raising two busy boys in the house); and the material needed to be durable. We didn't want to spend the money to replace the chairs until the boys are older and we know they won't get ruined again.
We also wanted to stay with the look of leather that we had with the existing chairs. So we choose PU Leather as the sleek look and care option that we needed for our counter height chairs.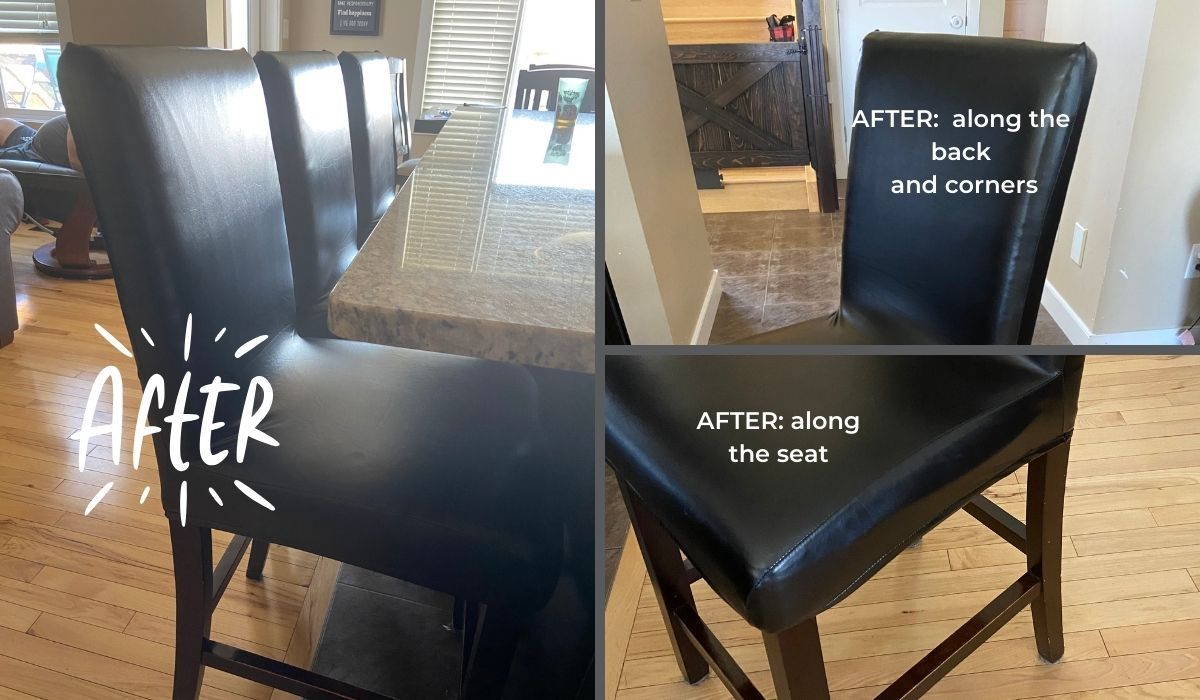 Sometimes it gets confusing with the different types of language being used for faux leather. It's our hope this brief review of faux leather terms will help.
What is PU Leather?
PU leather, also known as polyurethane leather, is a type of synthetic leather made from a split leather backing that is coated with a layer of polyurethane. This gives it a similar appearance and texture to genuine leather, but at a more affordable price point. PU leather is a durable material and has the ability to withstand spills and stains, making it a popular choice for furniture covers. It also has a smooth and polished surface, giving it a classic and sophisticated look.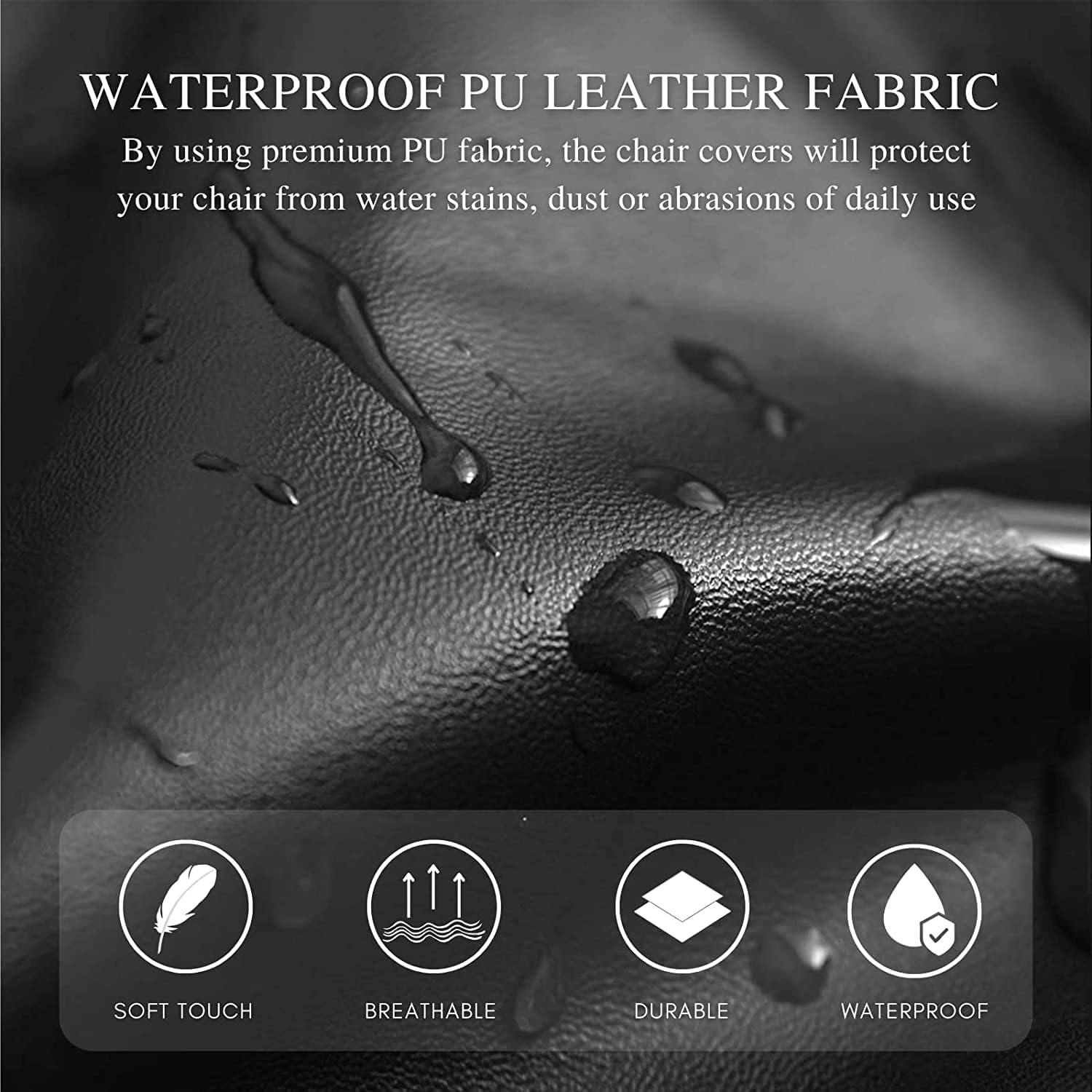 PU Leather vs Genuine Leather
While PU leather may resemble genuine leather in appearance, there are some key differences between the two.
Cost: PU leather is significantly more affordable than genuine leather.
Quality: Genuine leather is known for its high quality and durability, while PU leather may not be as long-lasting.
Sustainability: Unlike genuine leather which is a natural material, PU leather is synthetic and therefore not as environmentally friendly.
Care: to clean PU leather, it's easier to both clean and maintain compared to genuine leather, which requires special care.
Is PU Leather toxic?
No, PU leather is not toxic. It is made from synthetic materials and does not contain any harmful chemicals. In fact, it is often considered a more environmentally friendly alternative to genuine leather, as it does not require the use of animal products. However, some cheaper versions of PU leather may contain toxic additives or solvents, so it's important to choose high-quality options from reputable brands.
Ultimately, the choice between PU leather furniture and genuine leather comes down to personal preference and budget.
For the purpose of this review and those looking for an economical and practical option for chair covers, PU leather products like the black chair covers we are reviewing are an excellent choice.
What is Faux Leather?
Faux leather, also known as synthetic leather or vegan leather, is a type of material that mimics the look and feel of genuine leather but is not an animal leather. It is typically made from a fabric base, such as polyester or cotton, which is then coated with a plastic material like polyurethane or vinyl to give it a leather-like appearance.
Similar to PU leather, faux leather is a more affordable and sustainable alternative to genuine leather. It also offers the added benefit of being cruelty-free, making it a popular choice for those looking for ethical and environmentally-friendly options.
What is artificial leather?
Artificial leather is another term for faux leather or synthetic leather, and it refers to any material that imitates the look and feel of genuine leather but is made from different materials. It may also be referred to as imitation leather or fake leather. Artificial leather has been around since the early 20th century and has evolved over time to become a popular alternative to real leather.
What is synthetic leather?
Synthetic leather is a broad term that encompasses any type of artificial leather, including both PU leather and faux leather. It refers to a material that is man-made rather than natural, designed to imitate the look and feel of real leather. Synthetic leather can be made from a variety of synthetic material types such as plastic, rubber, or fabric coated with polyurethane or vinyl. It is often used in the manufacturing of furniture, clothing, and accessories.
What is bicast leather?
Bicast leather, also known as bycast leather, is a type of artificial or synthetic leather that is made using a split leather backing and a polyurethane coating. The difference between bicast and PU leather is that bicast has an additional layer of polyurethane applied to the surface to give it a glossy appearance. This makes it more resistant to stains and scratches, but it also makes it less breathable and more prone to cracking over time.
How to care for your black chair covers
To keep your black chair covers looking clean and new, it's important to follow proper care instructions.
Here are some tips:
For spills or stains, use a damp cloth to quickly wipe away the mess before it sets in.
If necessary, use mild soap and water to spot clean any stubborn stains.
Avoid using harsh chemicals or cleaners on your PU leather chair covers.
To maintain the shape and stretch of your covers, avoid machine washing and opt for hand-washing instead.
Hang dry your chair covers to prevent shrinking or damage in the dryer.
If needed (only VERY CAREFULLY), you can iron your PU leather chair covers on low heat to remove any wrinkles or creases. However, be sure to use a pressing cloth between the iron and the cover to prevent damage.
With proper care, your black chair covers can last for years to come, providing both style and protection for your chairs.
So why wait?
Upgrade your home decor today with these stylish and practical PU leather chair covers!
It's time to give your home a chic and polished look with black chair covers.
With the right size and material, you can easily transform your chairs into stylish pieces of furniture while also keeping them protected. And with proper care, your chair covers will continue to provide the perfect touch to your home for years to come.
So what are you waiting for? Start shopping for your black chair covers today.
Design
Black Chair Covers In Other Materials (Polyester, Spandex, Velvet Spandex - not PU Leather)
Note: Most materials in polyester/spandex, or velvet spandex have a pattern in them, even solid black has a pattern in the material itself. So be sure to take a close look at the colors and patterns in the material before ordering.
Also Note: Sizes vary depending on the material, so always check the manufacturers size chart before placing your order.
MATERIAL Multi Patterns and Colors
over 30 different colors and designs to choose from
notice even this solid black spandex chair cover has a design in the material
Fav Features of these Additional Materials
Polyester Spandex combination is a popular choice due to its durability, quality and extra stretch making them easy to put on and take off.
Spandex chair covers black or any color, pattern are easy to apply.
Another option is velvet spandex, which adds a touch of luxury to your chairs. Be sure to look at the material closely so you know what you are getting before you order.
COLORs, DESIGNS and PATTERNS
Our article is about Black Chair Covers, so color, design and pattern is fairly easy.
Our purchase was the PU Leather, smooth (no design). However, be aware, f you choose polyester, spandex or velvet spandex, you may get a jaquard pattern even in your solid color chair covers.
---
Ready for a Refresh? Black Chair Covers May be Just the Answer!
Black chair covers are a versatile accessory that can enhance the look of your home. Whether you're covering parson chairs or counter height chairs, make sure to choose covers that are the right size and made from durable materials.
The Waterproof Bar Stool Covers Set of 4, Stretch Removable Washable PU Bar Stool Chair Covers from SearchI Store on Amazon is a great starting point for those looking to enhance their dining area.
Happy decorating!
Your FavReviews Team
PS - You might also like our home decor articles about ...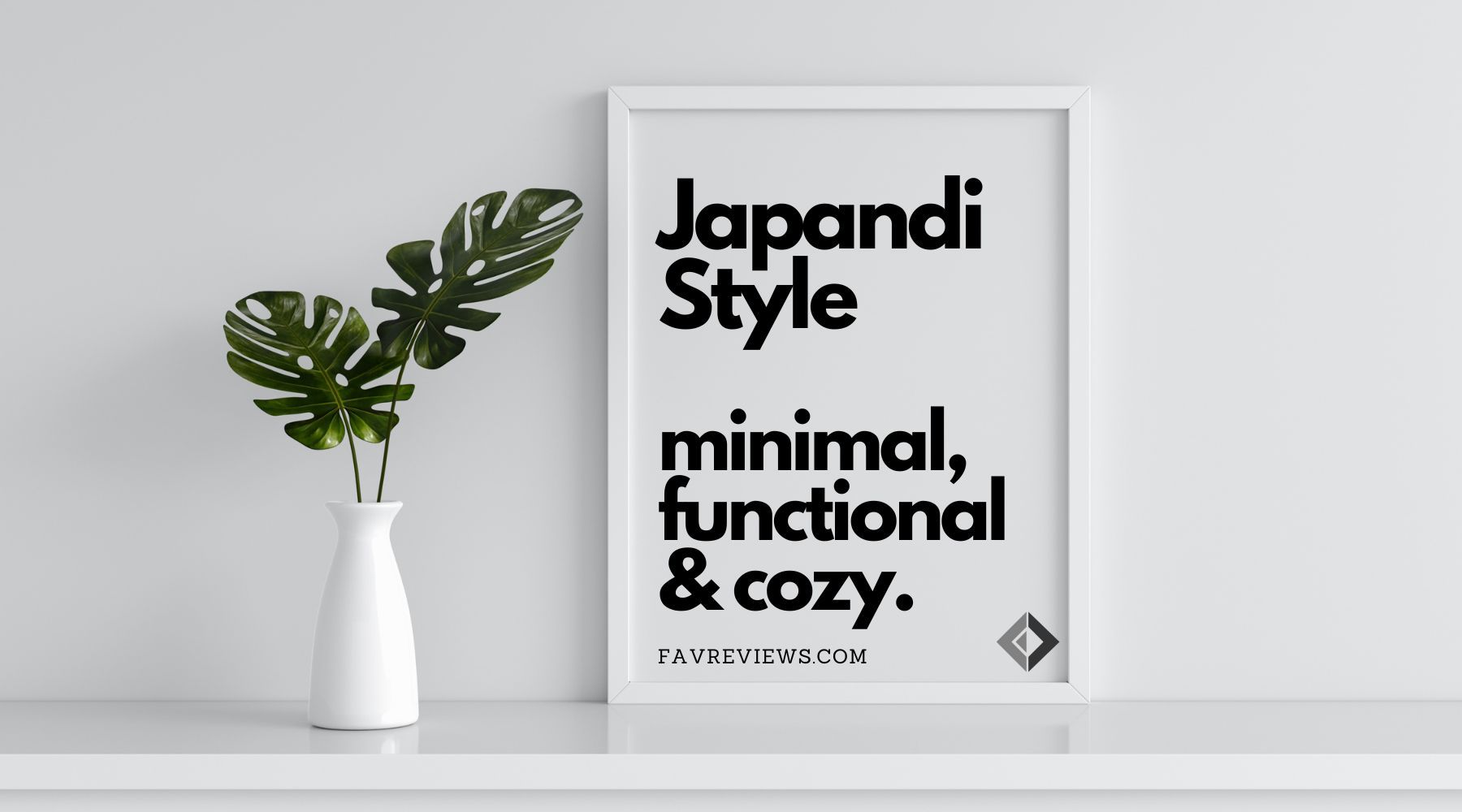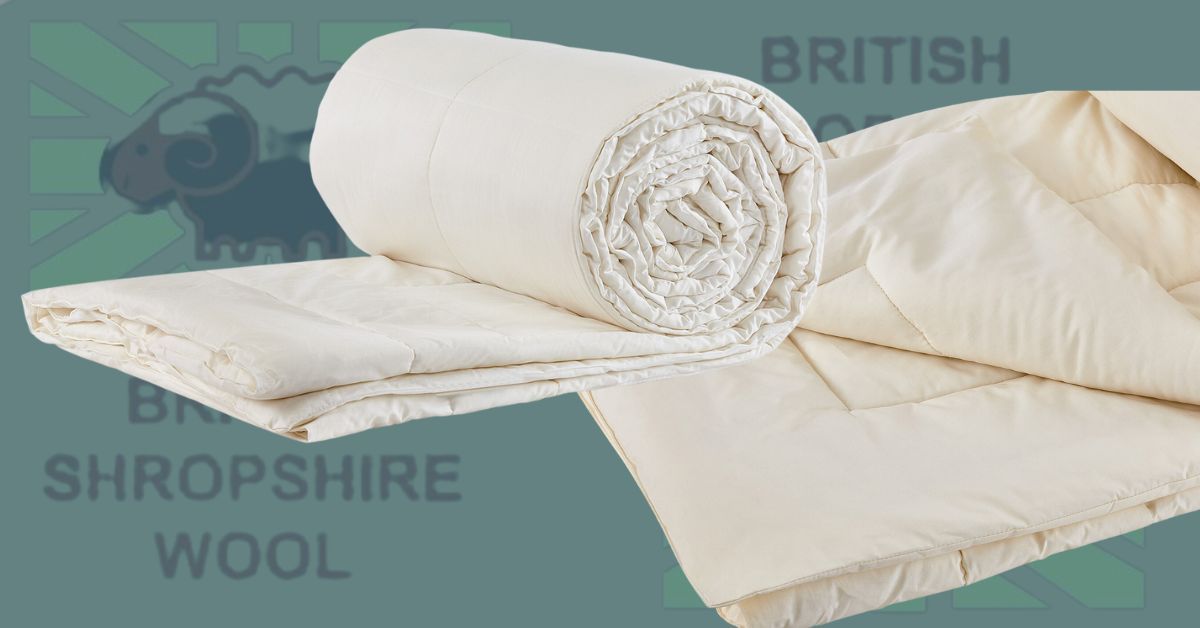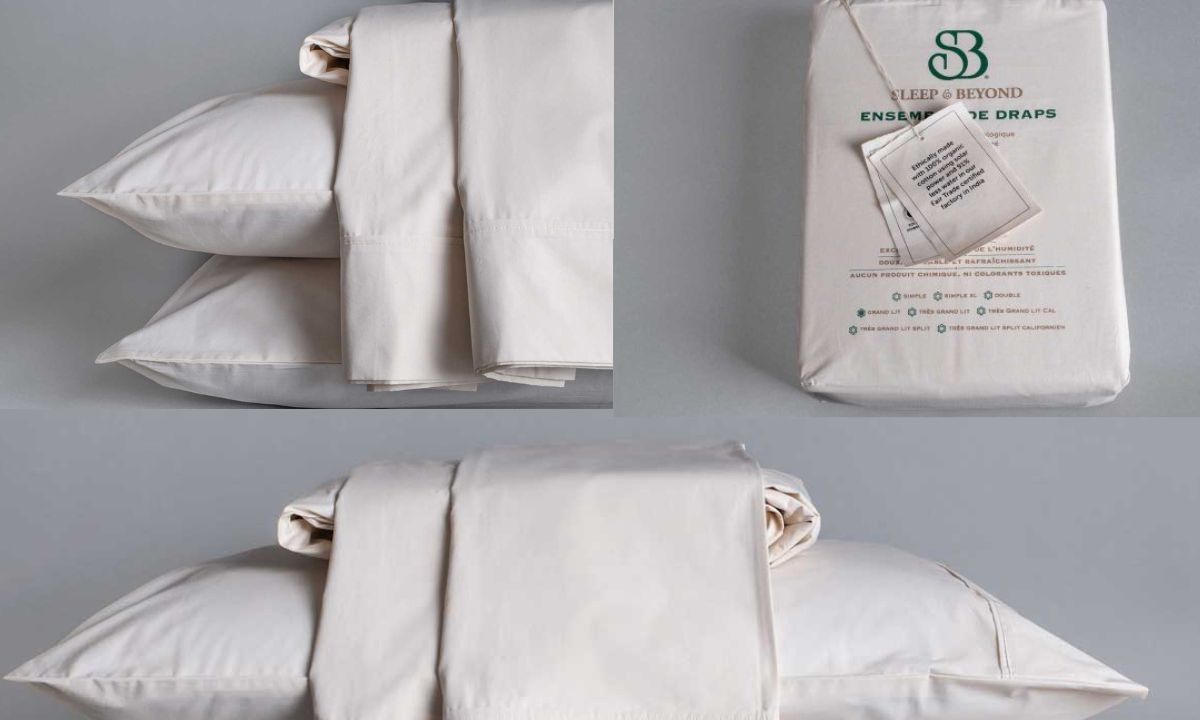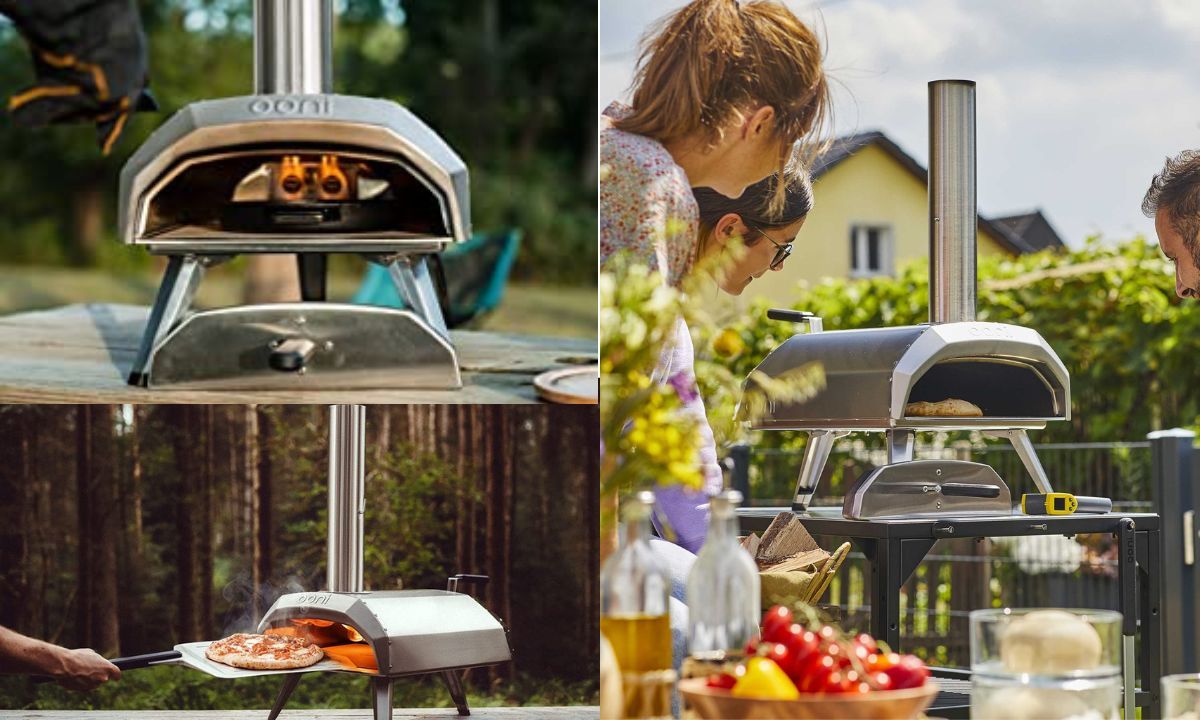 ---
Do You Enjoy the Outdoors as Much as We Do?
If you like to listen while walking or relaxing outdoors like we do, you can get lots of great music with Amazon Prime Music or 2 FREE Audiobooks from Audible Plus!
I love learning and I never give myself enough time to read books, so I love listening to a great book or motivating myself with great songs when out for my daily walks.
Plus, if you want to take advantage of 2-day shipping, get a free 30-day trial of Amazon Prime. ( I used to think free shipping was the biggest benefit of Amazon Prime, but have you seen how many new movies have been added to Amazon Prime lately?) PLUS, did you know if you receive qualifying government assistance like SNAP or Medicaid, and others you can save even more with Prime Access.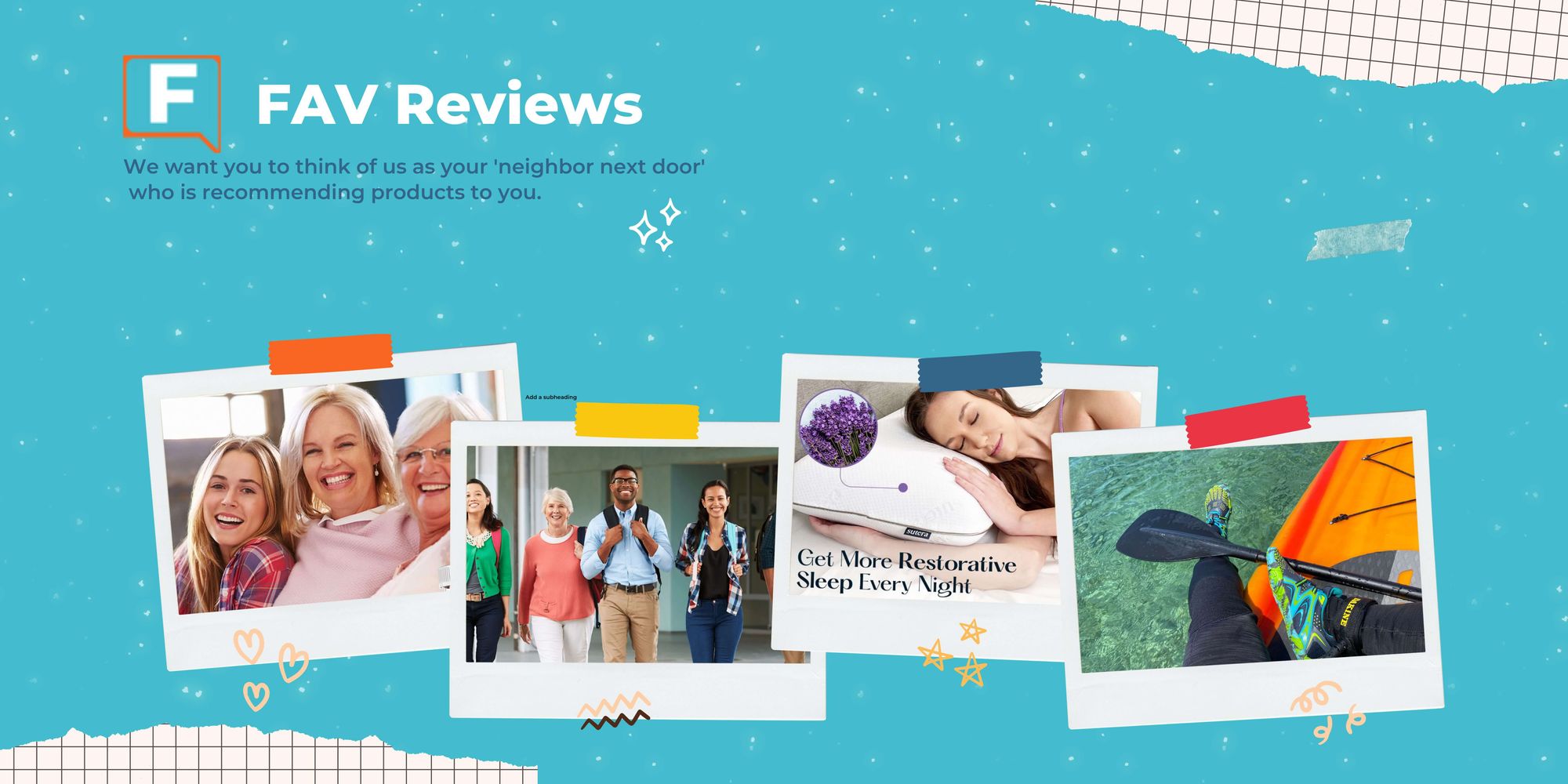 Want to see even more content about products for healthy lifestyles and outdoor enthusiasts? Be sure to check out all of our FAV Reviews.
Do you love the outdoors as much as we do? Check out our other articles:
Or shop by the season:
Thank you for visiting us at Fav Reviews :) Stop by again! Better yet subscribe with the button on this page and never miss another thing.
---