Looking for a great water shoe or slide?
Water sports may not be the first thing that comes to mind when you think of Nike footwear, but they've been making water shoes for years.
Their Aqua Sock 360 became one of the boldest silhouettes of the '90s thanks to its bright colors and sleek minimalist design.  Today, however, the Aqua Sock 360 is only available for kids and toddlers, but their best selling water shoe for kids is the Nike Sunray Protect 2 (see it here)
But, we've researched and found a variety of Swoosh options for men for you to choose from, so you're sure to find the perfect pair of shoes for your next water adventure whether boating or beaching.
Nike men love the comfortable fit and stylish design of Nike's water shoes. They're perfect for any activity involving water - whether you're boating, or just hanging out at the beach.
Which water shoe or slide will become your next fav?
How We Choose our Favs For You
We know when shopping for water shoes, you are looking for the peace of mind that comes with the Nike brand, and we have done our research with the footwear giant to help you get the best water shoes possible.
To be quite honest the search has taken us high and low, and a lot of hours, to find the best possible choices for you.
Our team has researched the best water shoes for men and we have read through thousands of user reviews and star ratings to come up with a lineup that will give you everything your wallet can handle when it comes to men's water shoes.
In this list, we are focusing on the Nike brand, shoes, slides, and sandals some are better as water shoes than others - but we're pretty sure there is something here just right for you no matter what style or price point you are looking for if you are looking for beach or everyday summer shoes, slides or sandals.
Nike Mens ACG Air Deschutz Sandal
Why We Like It
Looking for a versatile and comfortable sandal that can take you from any city location to the great outdoors? Look no further than the ACG Air Deschutz+.
In our search for the best water shoes, we found the footwear giant themselves categorize the ACG Air Deschutz as the best sandal for trails and beaches.
This classic '90s-inspired sandal features a quick-drying upper and a durable rubber sole that can stand up to any adventure.
Plus, with an inflatable air unit in the heel, you'll enjoy all-day comfort whether you're hiking exploring nature, participating in water sports, kayaking, or just running errands around town. So strap in and hit the country trail – your next adventure awaits!
Fav Features
The ACG Air Deschutz are perfect for getting through any terrain, in almost any location, with their classic nineties-inspired design and plush padding around the ankle. The quick-drying upper will help your feet dry faster, while the famous air unit in the heel makes them ideal if you're looking for some extra cushioning on hard hiking surfaces with rocks!
Nike Men's Victori One Slide
Why We Like It
Athletes and non-athletes alike will appreciate the comfort and appearance of the classic black and white Victori One Slide.
The one-piece foam design feels soft and comfortable, while perforations in the midsole help to accelerate drying.  The Victori One is a solid choice for wet surfaces.
If you are looking for water shoes, this slide is a perfect slide for public showers or a day enjoying the outdoors.
Fav Features
This slide has several features that make it an ideal choice for wearing on casual outings.
The sole provides excellent cushioning and has holes to accelerate drying.
The traction pattern on the sole helps on wet surfaces making this sandal suitable for wet slippery surfaces.


Nike Canyon Sandal for Men
Why We Like It
Their Men's Canyon Sandal is a great choice for outdoor enthusiasts and everyday activities. This rugged hiking classic is available in 7 different colors.  With a rubber sole and velcro strap, it provides good traction and stability, while solid construction ensures good quality. We feel this shoe offers the most stability of their water shoe line up.
Fav Features
If you are looking for comfort, the three different straps allow for lots of adjustment to make this a perfect-fitting shoe.  And we like the thick sole that provides lots of cushioning so it feels like you are walking on a cloud.
Nike On Deck Flip Flops for Men
Why We Like It
A no-frills design and easy-on style make the On Deck Flip Flops a must-have for any guys wardrobe. The synthetic rubber sole provides durability and traction, while the foam midsole delivers lightweight cushioning. Whether you're headed to the coast, going out on your boat, or just running errands, this flip flop will become a go-to favorite.  We like the four classic colors available too!
Fav Features
This is a fun-to-wear, slip-on flip flop that is comfortable because of the foam midsole. Its waffle-inspired tread adds a bit of traction and durability.  They are super light and easy to pack to go everywhere with you.
Nike Air Max 90 Sandals
Why We Like It
The chunky-soled Air Max 90s offer a practical alternative to wedge-style shoes. The innovative cushioning and support system from these chunky soles gives you the comfy feeling of slippers or nothing at all!
This Air Max Slide, slips into the retro world with its Air Max unit visible in the heel, celebrating a tradition that started with their shoes.  A comfortable foam interior keeps your feet happy, while an embroidered swoosh identifies this slide as one of the legend's best designs to date!
Fav Features
A foam inner sole ensures comfort for outdoor activities or just lounging around at home! And with the classic color-blocking design elements like leather across key areas on this slide, it's sharp looking.
They're sure not going anywhere anytime soon either- so if it's been a while since your shoes have seen some love, don't hesitate another second before grabbing another pair today.
Nike Men's Ultra Comfort 3 Slide
Why We Like It
The Men's Ultra Comfort 3 Slide is a great choice for those looking for a comfortable, stylish, and durable slide. The rubber sole provides excellent traction and the black and white color blocking is both eye-catching and timeless.
The large Nike brand logo is also a nice touch. This slide is really cushy and comfortable, making it a great choice for daily use.
Fav Features
Looking for a summertime essential that's both comfortable and stylish? Check out the Men's Ultra Comfort Slide! These flip-flops feature a foam insole that's squishy and soft for your feet, as well as a rubber outer sole that provides good traction in and around water.
Whether you're headed to the seaside or just running errands, these slides are a great choice.
Plus, they are reported to ship fast, so you can enjoy them in no time. So don't wait - order your pair of Men's Ultra Comfort Slide today!
Nike Men's Benassi Slide Sandal
Why We Like It
Men's Benassi "Just Do It" Sandal is a lightweight sport slide with the NIKE corporate logo embellished on the strap. Its soft midsole foam and cloth lining provide comfort so you can enjoy a relaxed, premium experience.
The Benassi is unrivaled as the most 'all around' sandal made by the footwear giant in any location.  It's a Nike best seller, available in a dozen different colors and patterns.
Fav Features
Looking for a comfortable, lightweight pair of around-town sandals?
Check out the classic Benassi Slide.  They have a synthetic leather strap that is lined with soft, towel-like fabric, providing a comfortable and secure fit. The foam midsole and soft outsole provide lightweight cushioning, while the flex grooves let you move comfortably.
Plus, the Benassi comes in a dozen classic colors, so you're sure to find some you like!  Maybe a couple of pairs?
Best Water Shoes for Men FAQs
What are the best mens Nike sandals for trails and beaches?
For sandals that can be used on both trails and beaches, Nike offers a few different options. The Benassi JDI slides are perfect for a day on the coast – they're made with a synthetic upper and foam cushioning for a plush feel, and the flex grooves on the outsole allow you to move naturally. If you're looking for something more versatile that can also be used for light hiking, the Nike ACG Air Deschutz is ideal – it has a quick-drying upper, plus an Air unit in the heel for cushioning.
What are Nikes most comfortable slides?
The footwear giant makes a lot of different slides, so it really depends on what you're looking for. Some people prefer the more minimalist designs, like the Benassi "Just Do It" Slide, while others might prefer something with more cushioning and support, like running shoes. Ultimately it comes down to personal preference.
What slides are best for men?
There is no definitive answer to this question, as it depends on each gentleman's individual preference. However, we can generalize and say that some of the most popular options include sleek and classic slides, comfy and sporty slides, and trendy and stylish slides.
If you're unsure of what kind of slides to go for, we suggest taking a look at some of your favorite fashion bloggers or celebrities - likely they have been spotted sporting one (or more!) of the aforementioned styles. And if all else fails, black always looks good - just make sure to choose a material that will suit your needs (for example, leather slides may not be the best choice for the seaside).
Which one are the famous Nike slides?
There are a few different versions of Nike brand slides that have become popular over the years. One popular choice has been the Benassi JDI slide, which was originally released in 2001 and has been reintroduced a few times since then.  It just never seems to go out of style, with a dozen different colors and patterns available, the classic black or black and white "Just Do It" pattern is a winner.
What are the most popular slides right now?
The most popular Nike slides right now are the Benassi JDI Men's Slides. They come in a variety of colors, so you will some something for every personality. They're also very affordable, which is why they're so popular.
Why are Nike slides so popular?
There are a few reasons why the footwear giant's slides have become so popular in recent years. First, they're extremely comfortable, some with soles almost like running shoes, and they are easy on and off - perfect for lazy days around the house or throwing on after a workout. Second, they're stylish and come in a variety of colors and designs to suit any taste. And third, they're relatively inexpensive compared to other options.
So if you're looking for a comfortable, stylish and affordable shoe option, it's no wonder Nike slides are at the top of many people's list!
Are Nike slides good for your feet?
There is some debate on whether or not Nike slides are good for your feet. And, it's not the brand, it's "slides" in general.
Some people argue that they provide good support and are super comfortable, while others say that they can cause foot problems and are best avoided.  The actual slide or sandal itself will vary in arch support, and cushion support in the sole, even within a brand.
Ultimately, it comes down to personal preference and how you feel having them on.   Like any shoe, if you find them comfortable and they don't cause any problems, then they're probably fine for you. However, if you start to experience any discomfort or issues when you have them on, it's best to stop using them and look for a different type of shoe.
Should I size up or down for slides?
In our experience, with hours of research and reading reviews of Nike brand slides, we've learned most are narrow and customers are suggesting to go up a half or full size.  Whichever slide you decide on, read the reviews and look at the questions/answers offered.  Reviewers who offer this type of feedback are typically pretty accurate with their assessments related to sizing.
What are the slides everyone is wearing?
The most sold Nike slide in 2022 is the Benassi JDI Men's Slide. It is a super lightweight slide with a one-piece synthetic upper and injected Phylon foam for soft cushioning. It also has a TPU plate in the forefoot for durable traction and a comfortable fit. It comes in a dozen different colors including the classic black with "Just Do It" monochrome pattern.
How long do Nike slides last?
In our experience, reviewing customer feedback, we've learned most will replace their slides every couple of years.  With so many different types, styles, and colors, you will want more than one pair anywhere.
Can Nikes slides get wet?
Yes, most Nike brand slides can get wet. Most are made of a water-resistant or quick-drying material.
Some, like the NIKE Victori One Slide (which rivals the Bennasi as the most versatile and classic slides), have perforated soles to release water making them better for water sports, and some, like the NIKE ACG Deschutz is made with a quick-drying upper as well.
Like any shoe that gets wet be sure to leave them out to air dry to keep them in good condition.
Are Nike slides good?
Yes. Nike slides are good because they're comfortable and provide good arch support.
Most of them are made of a soft foam that molds to your feet over time, which makes them especially comfortable. And the synthetic upper helps keep your feet cool and dry. Plus, the contoured footbed provides good arch support, which is important for preventing injuries and improving overall foot health.
Nike brand slides are a popular option because they're affordable, comfortable, and versatile.  So overall, they're a good buy if you're looking for something that is both functional and stylish.
Are you supposed to wear socks with Nike slides?
Thankfully, there is no right or wrong answer to this question anymore!
Some people believe that it's best, even fashionable, to use sports socks with slides to avoid getting blisters, while others think that going sockless provides a more comfortable cool experience.  Experiment and see what works best for you.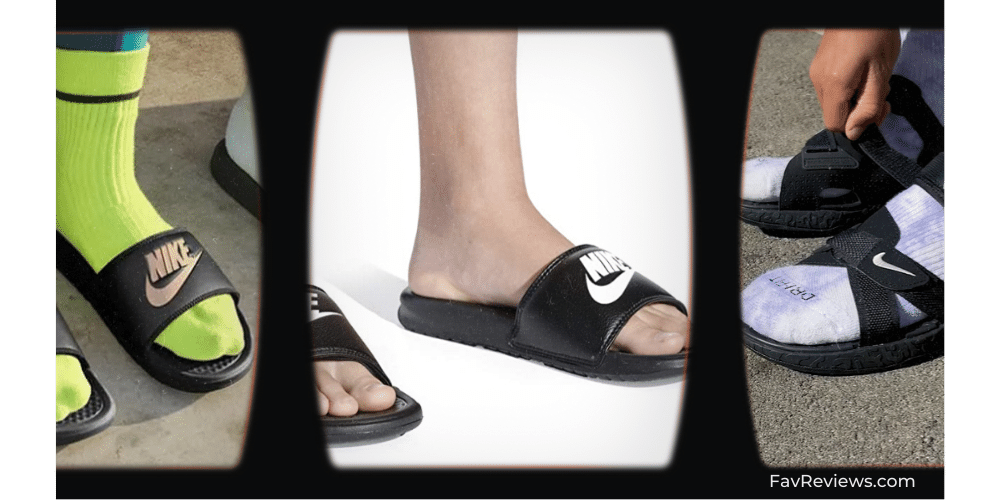 What Are The Best Nike Water Shoes for Men?
So there you have it! After hours of research, we've found the best Nike brand water shoes, not to be shoes at all ... they are slides (sandals)!
Nike sandals and slides are perfect for those who love spending time at the beach, going out on your boat, or just for every day. And with so many different styles and colors to choose from, if you love spending time outdoors and in the sun, you're sure to find the perfect pair for you.
They are cool, and versatile, while still being stylish and comfortable.
With so many different styles and colors to choose from, you're sure to find the perfect pair for you.
We hope this article was helpful and that you find the perfect pair of Nikes for your summer adventures.
And if you need help picking the right product, here is the list once again:
1) Best Men's Walking Sandals - Nike Canyon Hiker
2) Best Nike Sandal for Trails and Beaches - Nike ACG Air Deschutz
3) Best Slide for Every Occasion - Nike Benassi
4) Best Flip-flops - Nike On Deck Flip Flop
5) Most Versatile Water Slide - Nike Victori One
6) Our Overall Fav's for Stability - Nike Canyon Rugged Hiker
We hope this article has helped you decide what Nike water shoes you're going to get!
Don't wait - here's your sign, "we've done the search for you" - order your pair of Nike water shoes today.
PS - after you finish your order, to find the best name brand water shoes for women, connect with our review " The Best Water Shoes for Women (Brand Names) in 2022"