If you're an outdoorsy person who loves to explore nature and spend time outside, you might want to name your pup something that reflects your adventurous spirit!
When our 15 year old Schnauzer passed away, my husband and I vowed we wouldn't get another dog.  We had her 6 years before we had children, she was our firstborn.  We felt our life with our two daughters was too busy to have another dog.   Yet, it was only two months later, when picking up our daughters from a horse camp, when they reminded us 'we were a dog family'.   And, it just happened the ranch dog had pups that summer and the pups were ready to find new homes. After some serious discussion, we decided to adopt Makita (named after the biggest horse at the ranch, or power tools, or a famous hockey player depending who you talk to).  
Makita was an outdoor dog, he had an outdoor/indoor kennel and could stay overnight on his own if we were away overnight for a sports tournament.  He was an 'outdoors' dog ... and he protected us and our home for 15 years until his passing.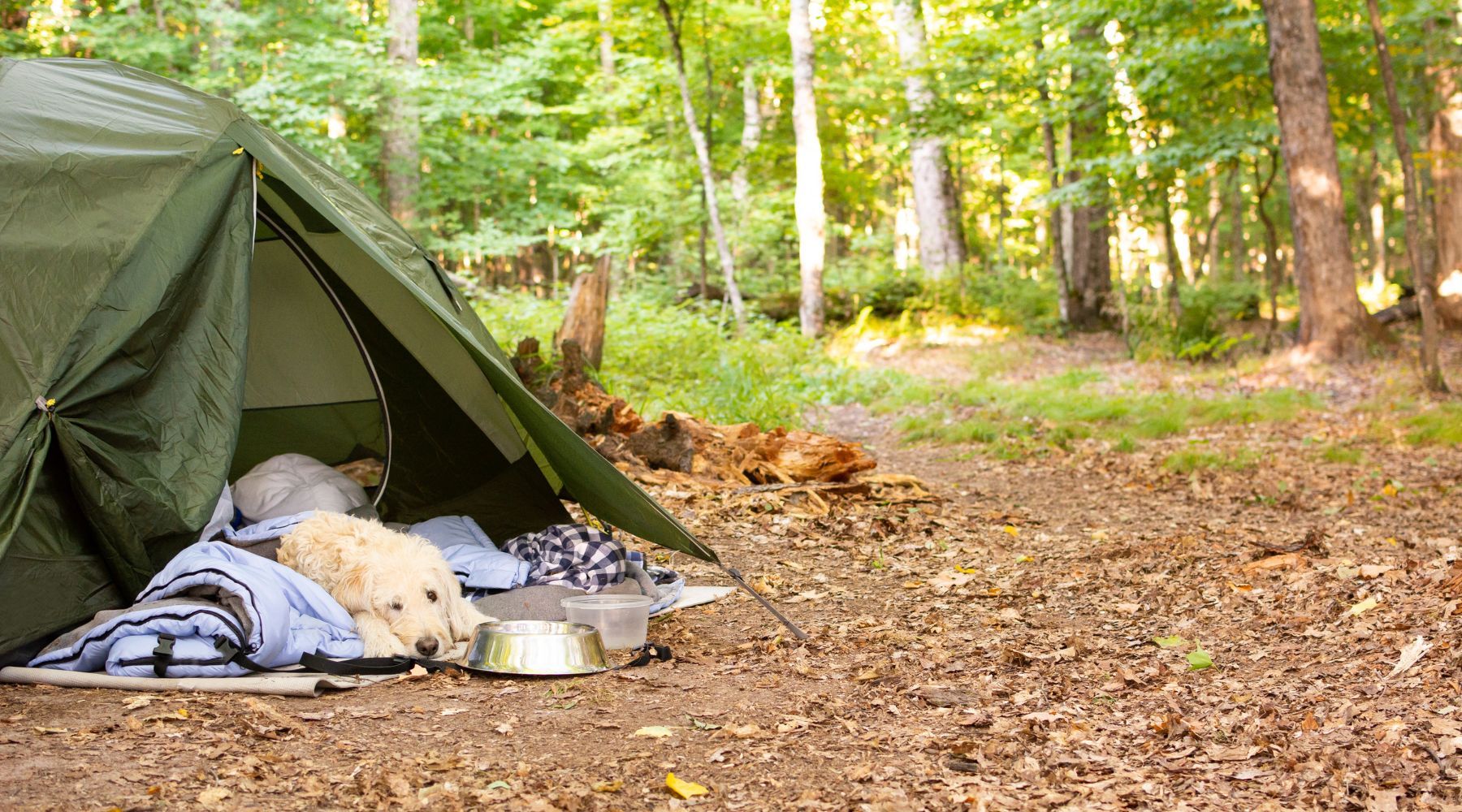 Whether you're looking for a name for your outdoors dog, or your cozy indoor lap pet, a name can be inspired by nature, the seasons, or anything in between. There are plenty of creative naming options if you love the outdoors.  Enjoy our list!
Here are 21 outdoorsy dog names that will fit right in with your outdoor lifestyle.
21 Outdoorsy Names for Your Dog
Aspen – After the beautiful mountain town located in Colorado
Autumn – For all the fall lovers out there
Blaze – This is great for a pup who loves to explore the trails
Cliff – Channeling the ruggedness of a rock climbing enthusiast
Daisy – A flower commonly found in nature and fields
Ember – A reminder of campfires and s'mores by the lake
Fern – An iconic plant found throughout many forests and mountains  
Glacier – Inspired by snow-capped peaks and rivers of ice  
Hunter – Perfect for an active pup who loves to wander off on his own adventures  
Ivy – The perfect greenery-inspired name
Koda – Inspired by Native American culture
Maple– Named after one of North America's most iconic trees
Ranger – Ideal for an intrepid explorer
River – Great if your pup loves to play in water
Rocky– For dogs who love to climb
Sage– A plant often found growing wild
Storm– Appropriate if your pup loves bad weather
Timber– Perfect if they love woodsy hikes
Umber– Named after earth tones
Violet– Perfect for wildflower admirers
Willow– Beautiful as it is graceful, this tree is perfect for any outdoorsy pup!
Show off Your Passion for Nature with an Outdoorsy Dog Name  
Choosing an outdoorsy dog name can be a fun way to show off your passion for exploring nature! Whether you choose one inspired by plants, animals, or hiking trails, these names will be sure to reflect your pet's adventurous personality!
With so many choices, there's sure to be something that fits perfectly with both you and your pet's sense of style!
You may also be interested in one of our articles like ...
Happy Trails!
Your FavReview Team
Why Trust Us?
We hope you find your next favorite thing from FavReviews! We are a family friendly product review site.
Four Generation Family: As a four generation family, the breadth of products we consume and review as brand ambassadors is vast. But we can tell you, in general, in we love the outdoors, sports, staying active, living healthy and celebrating the changing seasons.
Trending Products: We also love finding new trending products and we are happy to pass along our research of new trending products to you. Follow us so you don't miss out on a thing! We send out cool emails with our latest reviews, and we will never sell or misuse your information.
Opinions Based on Use, Research and Reviews: Each product we write about is independently selected by our editors. All opinions in this article are our own, based on our own use of the product(s), or hours of research and reading reviews. We will never recommend something we wouldn't use ourselves in our own family.
Compensation: Yes, FavReviews may collect a share of sales or other compensation from the links on this page if you decide to buy something (that's how we stay in business). But, the product never costs you more, in fact in some cases, we hope we might help save you money based on our recommendations.
Reviews have been edited for length and clarity. Enjoy finding your next favorite thing! Happy Shopping! Your FavReviews Team