The Stanley Quencher Cup, a staple in the hydration industry, has become an essential accessory for individuals seeking to maintain their fluid intake throughout the day.
Known for its impressive insulation capabilities, the Stanley Quencher Cup is much more than just a drinking vessel - it's a stylish companion that accompanies you on your daily commute, studio workouts, day trips, kids ballgames or even when you're simply relaxing on your front porch12.
While we can't confirm if the Stanley Quencher H2.0 Flowstate tumbler was designed by a woman. It was certainly a group of female influencers (mostly mothers) who helped the 40 oz tumbler to go viral. Keeping up with the need for hydration, the latest collection of Stanley Quencher cups, in an array of colors utilizing a unique combination of vibrant hues and playful shades, elevates the style quotient on any occasion or outing.
More importantly, the sleek design of each cup was crafted with the intention to provide customers with drinkware that meets all the needs of someone on the go needing to stay hydrated and fashionable at the same time.
Our First Introduction to Stanley Quencher Tumblers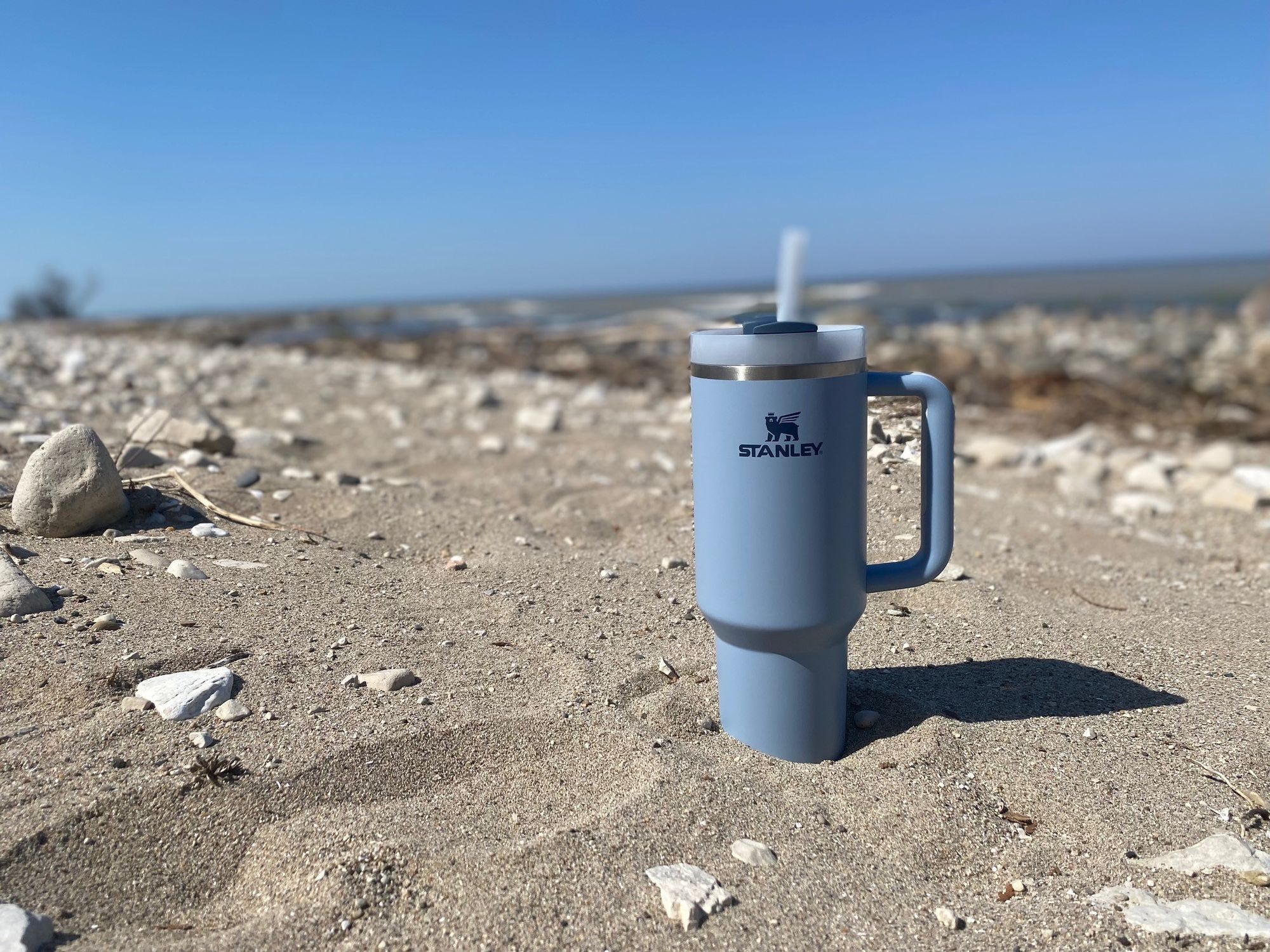 One of our writers first introduced the Stanley Cups and this particular Stanley Tumbler to us. She is a busy mom, who is often running kids to baseball try-out, hockey camps, soccer practice, so she needed a cup that she:
could take with her in the car (it fits most car holders)
could keep her drinks hot or cold for hours (insulated well)
could easily measure her water intake (40 oz per tumbler)
could carry even with full hands (because it has a handle)
could keep covered with a lid (so it wouldn't spill easily)
and could be easily sipped (because it has a straw)
With its updated look and feel, anyone can enjoy their favorite drinks while still looking great day in and day out.
The versatility of these cups make them perfect for anyone that enjoys expressing their style through the objects they own. Whether you're heading off to an outdoor adventure, kids soccer game, or enjoying a walk on the beach.
Official Name of the Stanley Tumbler Everyone is Talking About
The official name of the Stanley cup everyone is talking about is THE QUENCHER H2.0 FLOWSTATE™ TUMBLER. It is a whopping 40 OZ | 1.18 L in size.
The Evolution of the Stanley Quencher Cup
The Stanley Quencher Cup has come a long way since its inception. Originally designed as a practical solution for on-the-go hydration, it quickly gained popularity due to its functionality and aesthetic appeal. Constructed of recycled stainless steel, this tumbler offers maximal hydration with fewer refills3. The cup's vacuum-insulated design ensures that drinks stay cold for up to 11 hours and iced for 2 days4. It's no surprise that it's affectionately referred to by fans as "the Stanley cup," or "the Stanley"5.
The 2023 Color Spectrum of Stanley Quencher H2.0 Flowstate Tumbler
What Colors do the Stanley Cup Come in?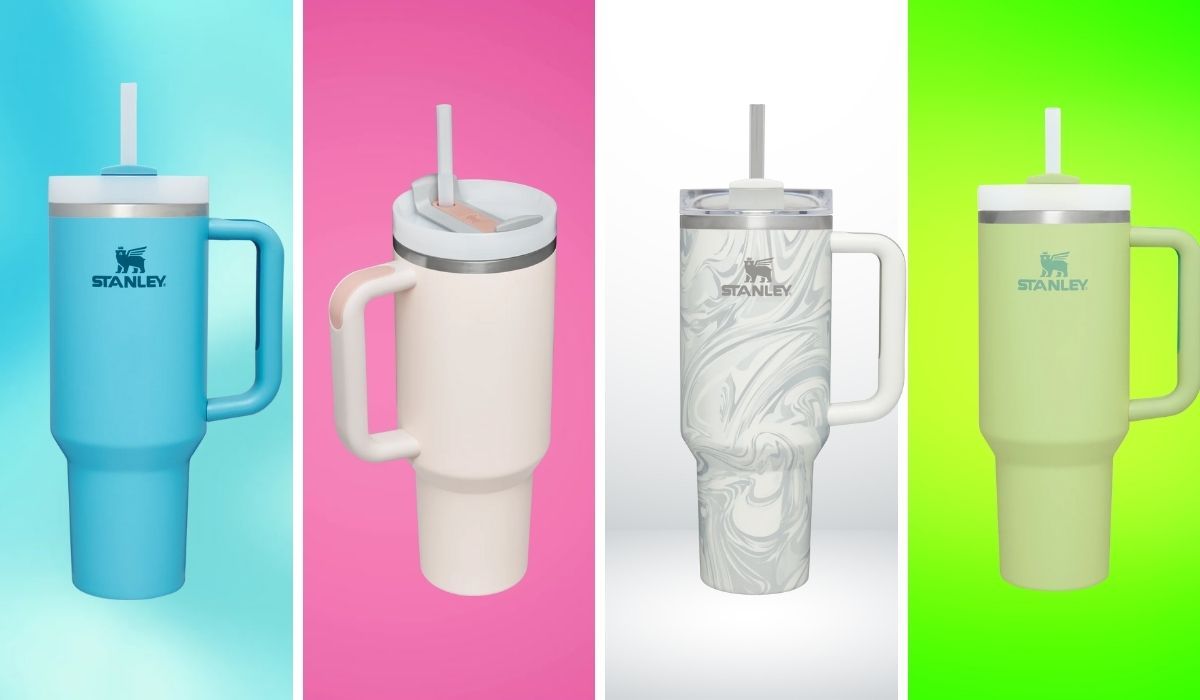 Stanley has always been known for its vibrant color selection, a trademark that sets it apart from other brands in the market. Past releases have seen a range of hues from classic stainless steel to bold reds and calming blues. But in 2023, Stanley has taken its color game to a new level.
Iris
Rose Quartz Swirl
Polar Swirl
Tiger Lily
Citron
Chambray
Eucalyptus
Jade (currently not available)
Pool
Yarrow
Stainless Steel Shale
Black Glow
Flint
Fog
Cream (like sour cream)
Charcoal
Black
Orchid (see this awesome lavender color on your local Amazon!)
Pink Dust (this is a Stanley cup pink!)
Rose Quartz (this is the Stanley cup pink!)
Although limited time colors will come and go throughout the years you can be sure they will have both new and classic shades in their line up. Given Stanley's history of innovative color choices, like basic brown, serene green, and the many soft matte colors, we can expect a spectrum that caters to every taste, from understated neutrals for the minimalist to vibrant pops of color for the adventurous.
Different Types of Stanley Quencher Cups
The Stanley Quencher collection offers a variety of options to suit different needs. The Adventure Quencher Travel Tumbler 30 OZ, for example, is perfect for all-day hydration whether you're at your desk or by the pool6.
The Quencher H2.0 FlowState™ Tumbler, on the other hand, allows you to sip 40 OZ of your favorite drink through a reusable straw1. This cup is also designed to fit into most cup holders and features a comfortable handle for easy grabbing and going7. The Quencher H2.0 Flowstate is available in four sizes, but by far and wide the most popular is the 40 oz tumbler.
In addition to the standard collection, Stanley often releases special edition colors that quickly become fan favorites. These limited-edition tumblers add a unique touch to the collection and often sell out within hours8.
Stanley Cups Now and In the Future
As Stanley continues to innovate and expand its product line, we can expect to see even more exciting color options and designs in the future.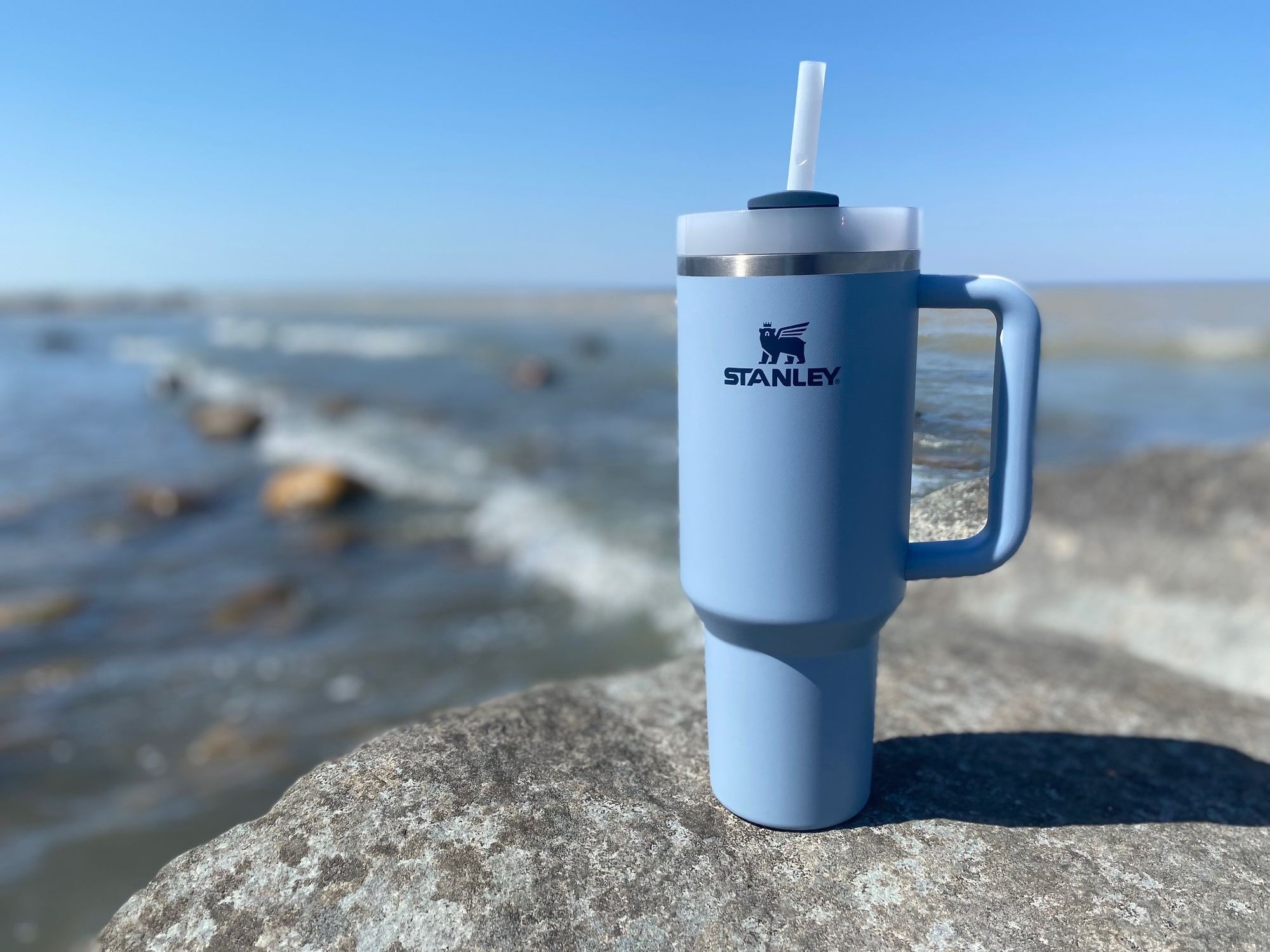 These popular Quenchers are currently available in four different sizes and come in a great collection of colors.
Stanley Quencher H2.0 Flowstate Tumbler, 14 oz, 20 oz, 30 oz and the popular 40 oz
Plus the also popular
Stanley Adventure Travel Tumbler, 30 oz
Frequently Asked Questions about the Stanley Quencher H2.0 Flowstate Tumbler
The Stanley Quencher H2.0 Flowstate Tumbler is one of the most popular cups in the hydration industry. As such, many people have questions about this product's features and specifications. To help answer these queries, we've compiled a list of some frequently asked questions about the Stanley Quencher H2.0 Flowstate Tumbler. Read on to find out more about this popular cup!
What is the maximum capacity of the Stanley Quencher H2.0 Flowstate Tumbler?
The Stanley Quencher H2.0 Flowstate Tumbler has a maximum capacity of 40 oz | 1.18 L, making it perfect for all-day hydration.
Is the Stanley Quencher H2.0 Flowstate Tumbler leak-proof?
Yes, the cup is equipped with a leak-proof lid that ensures drinks stay tucked away and secure during transit or storage.
Does the Stanley Quencher H2.0 Flowstate Tumbler come with a straw?
Yes, the cup comes with an ergonomically designed reusable straw that makes drinking on-the-go a breeze. The stainless steel design is both functional and elegant.
Is the Stanley Quencher H2.0 Flowstate Tumbler dishwasher safe?
Yes, all parts of the Stanley Quencher H2.0 Flowstate Tumbler are top-rack dishwasher safe, making clean up a breeze.
How long does the Stanley Quencher H2.0 Flowstate Tumbler keep drinks cold?
The Stanley Quencher H2.0 Flowstate Tumbler is designed with double-wall vacuum insulation that keeps drinks cold for up to 11 hours and iced for up to 2 days. It's the perfect companion for a day of adventure or relaxation!
What other features does the Stanley Quencher H2.0 Flowstate Tumbler have?
The cup is designed with an ergonomic handle that ensures comfortable sipping and carrying. The exterior of the cup is also equipped with a non-slip grip so that you always have a secure hold on your drink. The Stanley Quencher H2.0 Flowstate Tumbler also fits easily into most cup holders, making it an ideal companion for long drives and adventurous trips. Whether you're headed to work or out for a day of fun, the Stanley Quencher H2.0 Flowstate Tumbler is the perfect hydration solution.
An Iconic Cup That Has Come a Long Way Since Its Inception in Early 2023
The Stanley Quencher H2.0 Flowstate Tumbler is an iconic cup that has come a long way since its inception in 2023. It's beloved for its leak-proof lid, colorful palette and ergonomic design that ensures comfortable drinking and carrying.
It took off like wildfire and now the Stanley Quencher H2.0 Flowstate Tumbler is one of the hottest cups on the market! Whether you're looking for a practical solution for all-day hydration or something more stylish, this cup has got you covered.
The cup features a rotating cover that has a drink opening for sips and one for the straw opening. This allows for easy sipping without having to remove the lid each time. This ensures that your beverage stays leak-proof even when you're on the go. It's truly an innovative design!
With the diverse Stanley cup colors, selection and innovative features, it's sure to stay a top insulated tumbler and will become a staple in any hydration collection. So, what are you waiting for? Get your hands on a Stanley Quencher H2.0 Flowstate Tumbler and join the millions of fans around the world who love their cup to the moon and back!
Sources
"Stanley Classic Vacuum Insulated Water Bottle with Reusable Straw Lid, 40oz," Amazon.com, https://www.amazon.com/Stanley-Quencher-FlowState-Stainless-Insulated/dp/B0BQZ9K23L?th=1&linkCode=ll1&tag=ebizc-20&linkId=f66d57f461cdcdbd17cea9adc5899853&language=en_US&ref_=as_li_ss_tl
"Stanley Adventure Vacuum Travel Mug 30oz," Stanley, https://www.stanley-pmi.com/products/adventure-vacuum-travel-mug-30oz
"Stanley Color Collection," Stanley, https://www.stanley-pmi.com/color_collection
"About the Brand," Stanley, https://www.stanley-pmi.com/about-the-brand/our-history
Footnotes
https://www.stanley1913.com/products/adventure-quencher-travel-tumbler-40-oz ↩ ↩2

https://www.dickssportinggoods.com/p/stanley-40-ozquencher-h2-0-flowstate-tumbler-22stau40zstnlyqnchydb/22stau40zstnlyqnchydb

https://www.rei.com/product/220438/stanley-quencher-h20-flowstate-tumbler-40-fl-oz

https://www.target.com/p/stanley-40oz-stainless-steel-h2-0-flowstate-quencher-tumbler-hearth-hand-with-magnolia/-/A-88247817

https://www.nbcnews.com/select/shopping/stanley-cup-quencher-review-ncna1302852

https://www.stanley1913.com/collections/adventure-quencher-travel-tumblers

https://www.target.com/p/stanley-40oz-stainless-steel-h2-0-flowstate-quencher-tumbler/-/A-88429520

https://www.today.com/shop/stanley-adventure-quencher-40-oz-tumbler-t226227

---
We hope you find your next favorite thing from FavReviews! We are a family friendly product review site.
Four Generation Family: As a four generation family, the breadth of products we consume and review as brand ambassadors is vast. But we can tell you, in general, in we love the outdoors, sports, staying active, living healthy and celebrating the changing seasons.
Trending Products: We also love finding new trending products and we are happy to pass along our research of new trending products to you. Follow us so you don't miss out on a thing! We send out cool emails with our latest reviews, and we will never sell or misuse your information.
Opinions Based on Use, Research and Reviews: Each product we write about is independently selected by our editors. All opinions in this article are our own, based on our own use of the product(s), or hours of research and reading reviews. We will never recommend something we wouldn't use ourselves in our own family.
Compensation: Yes, FavReviews may collect a share of sales or other compensation from the links on this page if you decide to buy something (that's how we stay in business). But, the product never costs you more, in fact in some cases, we hope we might help save you money based on our recommendations.
Reviews have been edited for length and clarity. Enjoy finding your next favorite thing!
Happy Shopping!
Your FavReviews Team
____________________________________________________
BEHIND the SCENES LOOK: If you'd like to learn how to start your own product review blog, with products that you love, check out our article How to Become a Brand Ambassador or visit LearnWriteLive.com There is room for all of us to provide better service to online shoppers. What's your passion?