Have you ever wondered, "why are Stanley Cups so popular?"
They have become the go-to choice for people seeking a durable, stylish, and eco-friendly drinking companion.
With a rich history of over a century in the making, Stanley has perfected their craft, creating a tumbler that checks all the boxes.
In this blog post, we'll delve into the world of Stanley Cups and explore the features that make them stand out from the crowd, as well as tips to help you find the perfect one for your needs.
Key Takeaways
Stanley Cups are the perfect blend of practicality, stylishness and social media influence.
They offer excellent temperature control, aesthetic appeal & eco-friendly materials plus features like cupholder compatibility and FlowState Lid for a superior drinking experience.
Get yours from the official Stanley store on Amazon or major retailers to find best deals on limited edition colors!
The Allure of Stanley Cups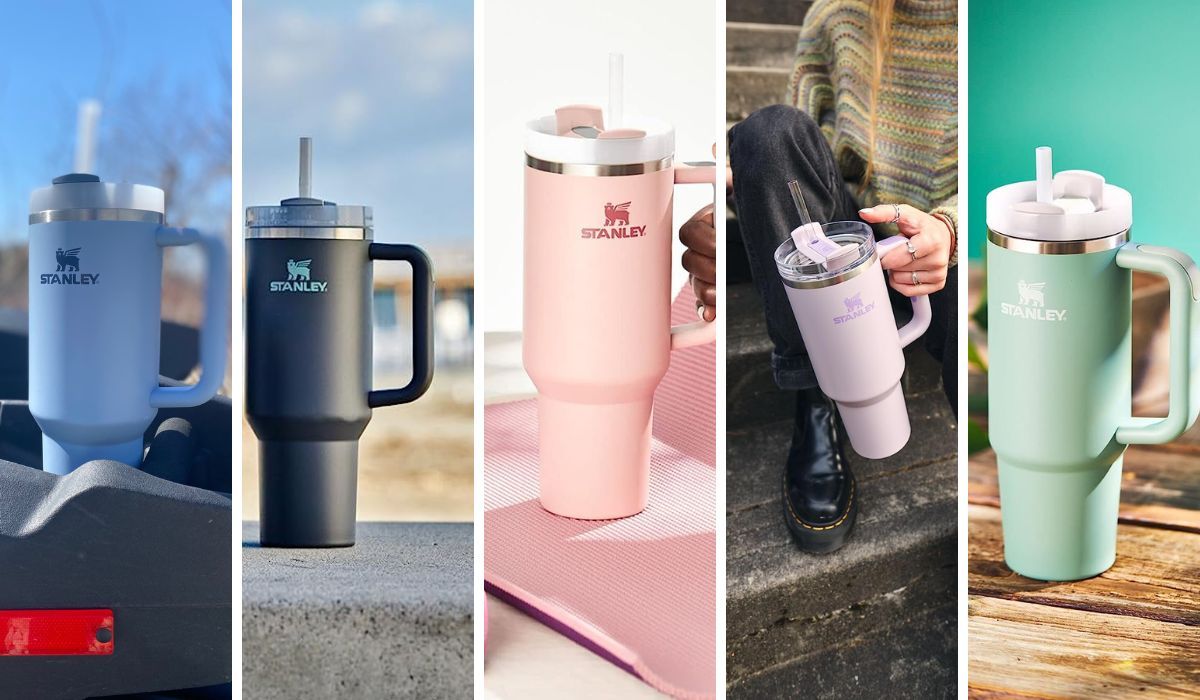 Stanley Cups have made their mark in the tumbler world, offering an ideal combination of impressive temperature control, aesthetic appeal, and social media influence. From keeping your drinks ice solid on hot summer days to adding a touch of style to your daily routine, Stanley Cups have quickly become a must-have accessory for many.
Their unique design and construction make them the perfect choice for any occasion, whether you'
Temperature Control
One of the most significant selling points of Stanley Cups is their double wall vacuum insulation technology, which keeps drinks cold for 11 hours and hot for seven hours. The double-walled insulation and vacuum technology ensure that your drinks stay at the perfect temperature for longer, whether you're sipping your morning coffee or enjoying a refreshing cold beverage in the afternoon sun.
In addition to their remarkable temperature control, Stanley Cups have the following features:
Designed to maintain insulation without forming condensation on the outside of the cup
Perfect for use in various settings, from your office desk to a picnic in the park
No worries about leaving water rings or damp surfaces behind
Aesthetic Appeal
Stanley Cups' aesthetic appeal is another reason for their rising popularity. With a range of colors, including special editions and soft matte finishes, these tumblers cater to various personal styles. The Stanley Quencher, also known as the Stanley Adventure Quencher, comes in:
Rose quartz
Eucalyptus
Bay leaf
Stormy sea
Occasionally limited-edition colors
Moreover, the minimal design and tapered bottom of Stanley Cups make them not only visually appealing but also functional, as they fit perfectly in most cupholders. This combination of form and function ensures that your Stanley Cup will not only look great but also be practical and easy to use on the go.
Social Media Influence
Social media has played a crucial role in propelling the popularity of Stanley Cups to new heights. Influencers and users alike have taken to platforms like TikTok, Instagram, and Facebook to share their experiences with the product, showcasing its exceptional temperature control, unique design, and eco-friendly materials.
This surge in social media exposure has led to increased brand recognition and demand for Stanley Cups, with many people discovering the benefits of owning a reusable, stylish, and functional tumbler. As a result, the Stanley Cup has become a sought-after accessory for those looking to stay hydrated while reducing their environmental impact, making Stanley tumblers trending in the market.
Convenience and Functionality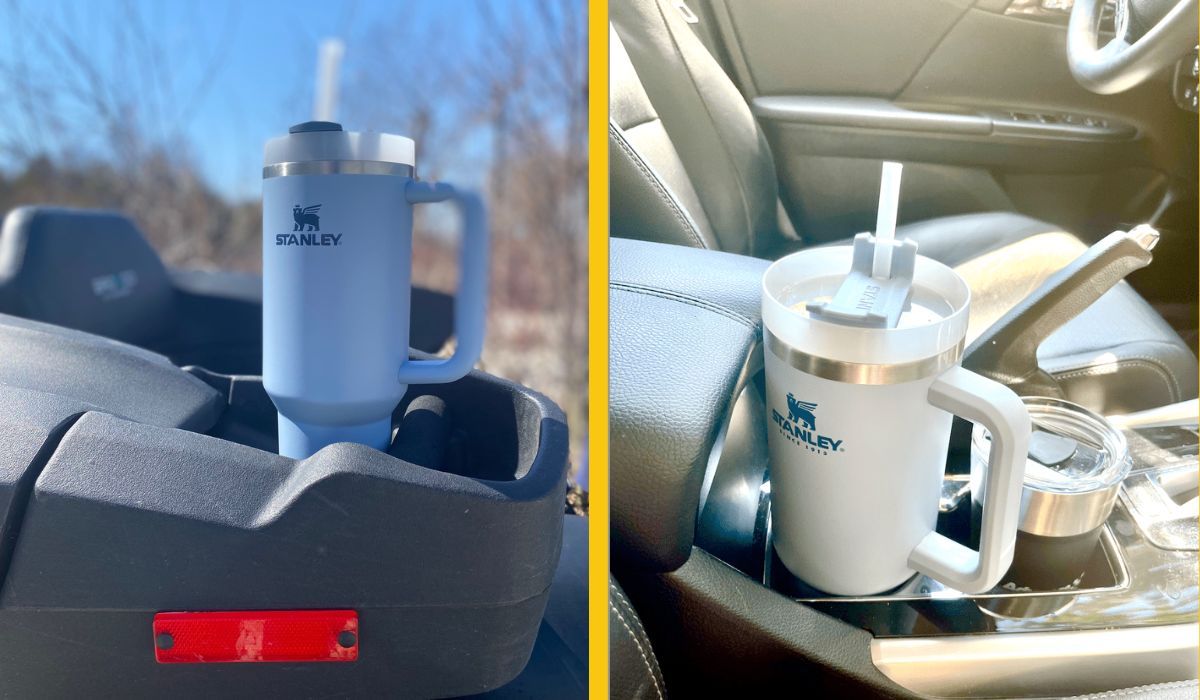 In addition to their alluring design and social media presence, Stanley Cups offer an array of convenient and functional features that set them apart from other tumblers. These features include cupholder compatibility, a comfortable grip handle, and the innovative FlowState Lid, which contribute to making Stanley Cups a top choice for those seeking a reliable and user-friendly drinking companion.
The car cup holder compatibility allows users to easily transport their Stanley Cup with them wherever they go, ensuring their cup holder is always put to good use.
Cupholder Compatibility
One of the standout features of Stanley Cups is their compatibility with cup holders. The tapered bottom allows them to fit snugly in most car cupholders, making them an ideal choice for commuters, road trippers, or anyone who wants to enjoy their favorite beverage while on the move.
This thoughtful design ensures that your Stanley Cup stays secure and accessible during your daily adventures, whether you're heading to work, running errands, or embarking on a weekend getaway.
Comfortable Grip Handle
Another notable feature of Stanley Cups is their comfortable grip handle, which is designed with a soft-touch rubberized material and an ergonomic shape to fit comfortably in the hand. This easy-to-hold handle not only makes carrying your Stanley Cup a breeze, but it also provides a secure grip and prevents the cup from slipping out of your hand.
The inclusion of a comfortable grip handle on Stanley Cups demonstrates the brand's commitment to user satisfaction, ensuring that your experience with their product is as enjoyable and hassle-free as possible.
FlowState Lid
The FlowState Lid is another innovative feature of Stanley Cups that sets them apart from other tumblers. This patented lid design has two openings for different drinking preferences, allowing you to enjoy your beverage in a way that suits you best. Whether you prefer to sip through a straw or drink directly from the cup, the FlowState Lid caters to your needs.
Furthermore, the FlowState Lid is designed for easy cleaning, ensuring that your Stanley Cup remains hygienic and ready for your next adventure. This attention to detail in the design of Stanley Cups showcases the brand's dedication to providing a superior drinking experience for their customers.
Eco-Friendly and Sustainable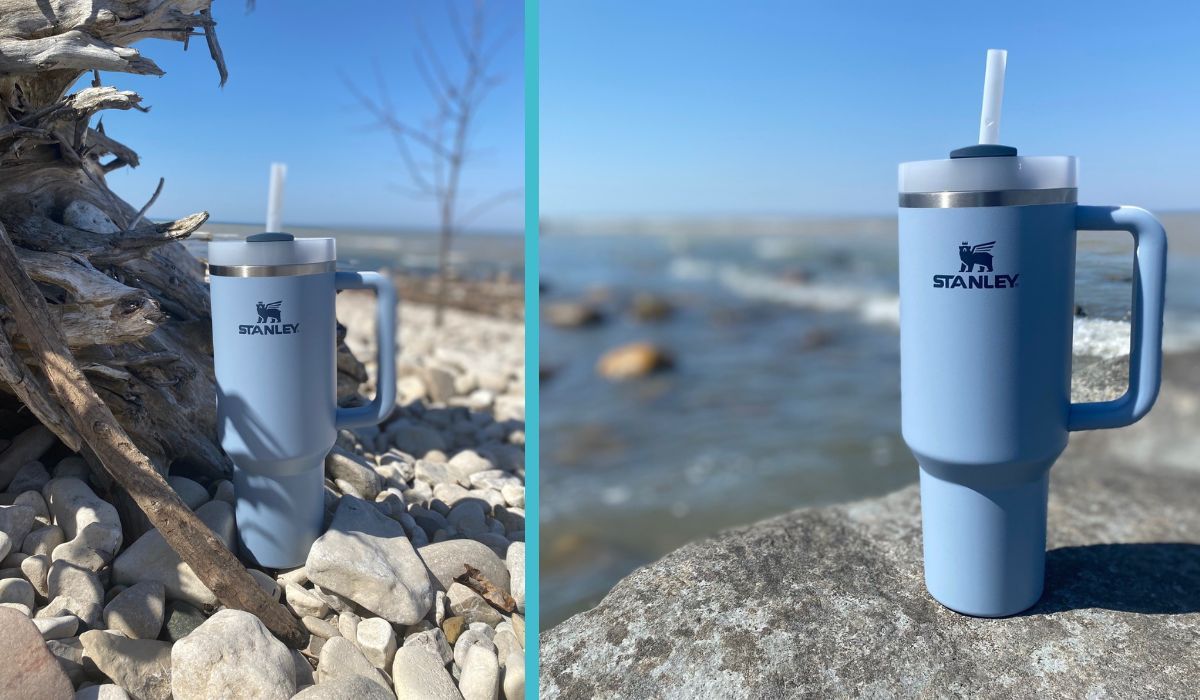 Given the heightened environmental consciousness in today's world, we must be mindful of the impact our choices have on the planet. Stanley Cups exemplify this awareness as they are crafted from recycled materials and contribute to reducing single-use plastic waste.
Selecting a Stanley Cup not only means investing in a superior drinking companion but also positively contributing to the environment.
Recycled Materials
Stanley Cups are crafted from 90% recycled stainless steel, making them an environmentally friendly choice for those looking to reduce their carbon footprint. The use of recycled materials in the construction of Stanley Cups demonstrates the brand's commitment to sustainability and helps to conserve valuable resources.
By choosing a Stanley Cup made of recycled materials, you can enjoy your favorite beverages guilt-free, knowing that you're contributing to a more sustainable future for our planet.
Reducing Single-Use Plastic Waste
Using a reusable Stanley Cup not only saves you money in the long run, but it also plays a crucial role in reducing single-use plastic waste. By replacing disposable plastic bottles and cups with a durable and reusable Stanley Cup, you can significantly decrease the amount of plastic waste generated and subsequently reduce the negative impact of single-use plastics on the environment.
Whether you're taking your morning coffee to work, carrying a refreshing drink to the beach, or staying hydrated during a workout, a reusable water bottle like a Stanley Cup or a hydro flask is a practical and eco-friendly solution to help you minimize your plastic consumption and contribute to a greener future.
Comparing Stanley Cups to Other Tumbler Brands
With the vast array of tumbler brands available in the market, it becomes vital to comprehend the distinctions between Stanley Cups, a brand with a legacy of over a century, and the alternatives for making a knowledgeable choice when considering a stanley tumbler.
By contrasting elements like design, functionality, and cost, you can ascertain which tumbler aligns best with your requirements and tastes.
Design Comparison
When it comes to design, Stanley Cups boast a unique aesthetic that sets them apart from other tumbler brands like Yeti and RTIC. From the minimal design and tapered bottom that fits perfectly in most cupholders, to the wide range of colors and finishes, Stanley Cups offer a distinctive look that caters to various personal styles.
While other brands may also provide visually appealing options, the combination of form and function in Stanley Cups design ensures that they remain a popular choice for those seeking a reliable, stylish, and practical drinking vessel.
Functionality Comparison
In terms of functionality, Stanley Cups offer similar features as other tumbler brands, such as temperature control, comfortable grip handles, and cupholder compatibility. However, personal preferences play a significant role in determining which brand is the best fit for individual users. Some may prefer the unique design and eco-friendly materials of Stanley Cups, while others might lean towards the aesthetic or price point of a different brand.
Ultimately, the choice between Stanley Cups and other tumbler brands comes down to personal preference, with each brand offering its unique set of features and benefits.
Price Comparison
Price is often a critical factor when comparing Stanley Cups to other tumbler brands. While Stanley Cups can be more expensive than some alternatives, many users find the investment worthwhile. The superior temperature control, unique design features, and eco-friendly materials all contribute to the perceived value of Stanley Cups, making the higher price point justifiable for those seeking a high-quality and sustainable drinking companion.
Of course, budget-friendly alternatives are also available, providing similar features and aesthetics at a lower price point. In the end, the decision comes down to personal preferences and priorities, with Stanley Cups remaining a popular choice for those willing to invest in a premium product.
Where to Buy Stanley Cups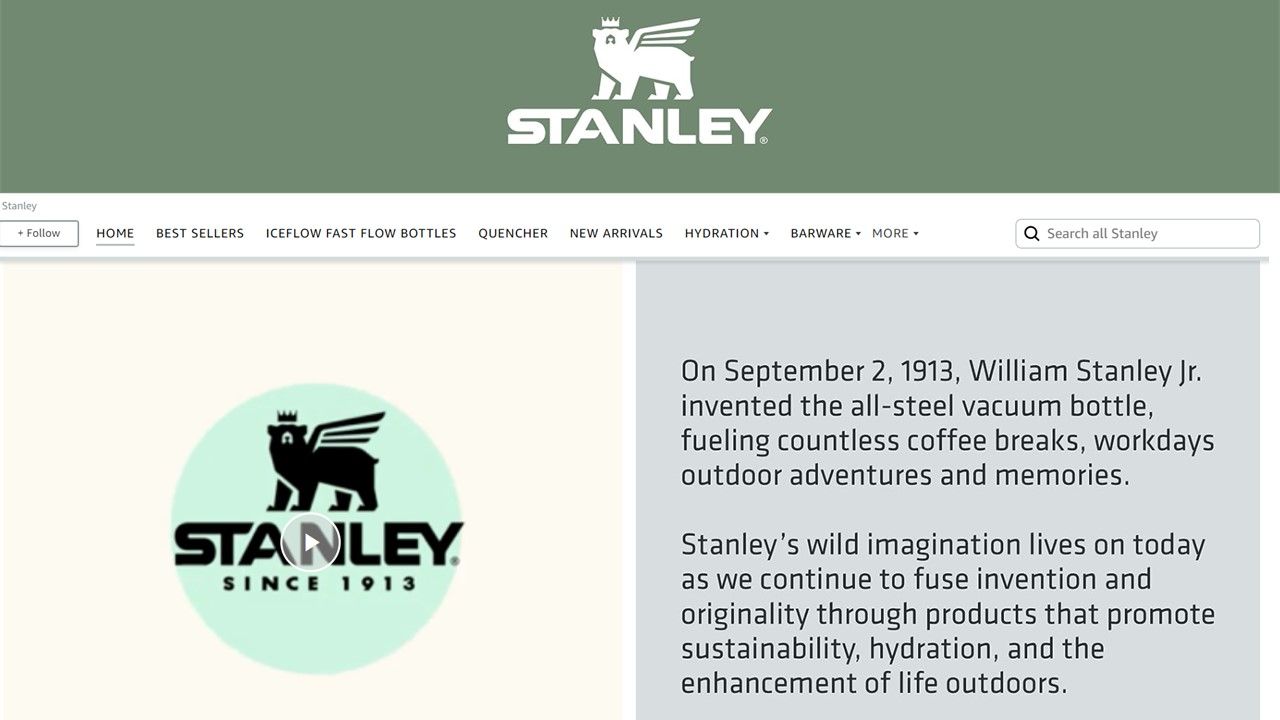 Being acquainted with the Stanley Cups universe, you may ponder where to acquire one for personal use or to present as a gift. Luckily, several options are available, such as the Stanley's official website, major retail outlets, and strategies to locate limited edition colors or discounts.
For the official Stanley store on Amazon, you can find a wide selection of Stanley cups in various sizes and colors.
You may have a someone in the family who would like a pink Stanley cup, or you might be wondering what is the most sought after Stanley cup, on the official Stanley store, at Fav Reviews we've been researching it all for you.
The official Stanley website is the most comprehensive source for purchasing Stanley Cups and accessories. By shopping directly from the manufacturer, you'll have access to the widest selection of colors, sizes, and limited edition options, as well as exclusive discounts and promotions.
To stay up-to-date with the latest releases and offers, consider signing up for the Stanley newsletter or following the brand on social media.
---
Stanley Cups a Popular and Practical Choice
In conclusion, Stanley Cups have emerged as a popular and practical choice for those seeking a durable, stylish, and eco-friendly tumbler. With their impressive temperature control, aesthetic appeal, and convenient features, Stanley Cups cater to a wide range of preferences and needs. By exploring the various options and comparing them to other tumbler brands, you can find the perfect Stanley Cup to accompany you on your daily adventures and contribute to a more sustainable future.
So, whether you're a busy professional looking for a reliable travel companion or an environmentally conscious individual seeking a reusable drinking solution, Stanley Cups offer an ideal blend of functionality, style, and sustainability that's worth the investment.
---
Frequently Asked Questions
What is so special about Stanley Cups?
Stanley Cups are special because of their portability and insulation capabilities; they fit comfortably in a car's cup holder, carry 40 fluid ounces and keep your drink cold for up to 11 hours or two days. So whether you're sipping on an icy beverage at home or on-the-go, Stanley Cups are the ideal cup for the job.
Why are Stanley Cups suddenly so popular?
The Stanley Cup became popular due to its sleek design, ability to keep drinks cold for long periods of time, and the demand created by three female bloggers featuring it on their e-commerce blog. Its popularity has grown even further thanks to its bright colors and strong branding.
How does the vacuum insulation technology in Stanley Cups work?
The vacuum insulation technology in Stanley Cups works by maintaining a double-walled insulation and vacuum seal, so drinks can stay cold for up to 11 hours and hot for up to 7 hours.
Are Stanley Cups eco-friendly?
Yes, Stanley Cups are eco-friendly since they are made from 90% recycled stainless steel.
Where can I purchase Stanley Cups?
You can purchase a Stanley Cup from the official website, major retailers such as REI, Dicks, and Golf Galaxy, or by looking for limited edition colors and discounts.
---
Do You Enjoy the Outdoors as Much as We Do?
If you like to listen while walking or relaxing outdoors like we do, you can get lots of great music with Amazon Prime Music or 2 FREE Audiobooks from Audible Plus!
I love learning and I never give myself enough time to read books, so I love listening to a great book or motivating myself with great songs when out for my daily walks.
Plus, if you want to take advantage of 2-day shipping, get a free 30-day trial of Amazon Prime. ( I used to think free shipping was the biggest benefit of Amazon Prime, but have you seen how many new movies have been added to Amazon Prime lately?) PLUS, did you know if you receive qualifying government assistance like SNAP or Medicaid, and others you can save even more with Prime Access.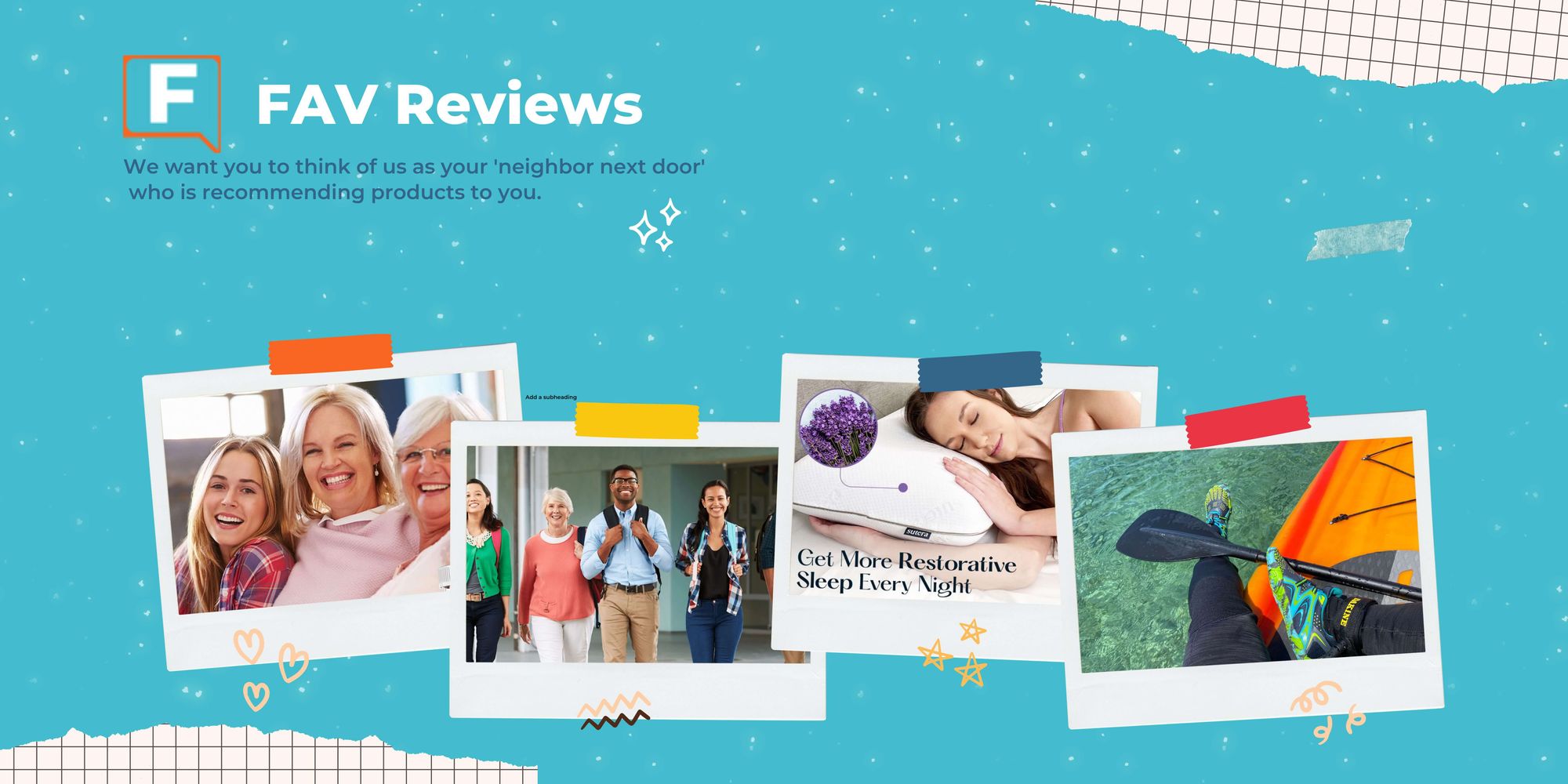 Want to see even more content about products for healthy lifestyles and outdoor enthusiasts? Be sure to check out all of our FAV Reviews.
Do you love the outdoors as much as we do? Check out our other articles:
Or shop by the season:
Thank you for visiting us at Fav Reviews :) Stop by again! Better yet subscribe with the button on this page and never miss another thing.
---
We hope you find your next favorite thing from FavReviews! We are a family friendly product review site.
Four Generation Family: As a four generation family, the breadth of products we consume and review as brand ambassadors is vast. But we can tell you, in general, in we love the outdoors, sports, staying active, living healthy and celebrating the changing seasons.
Trending Products: We also love finding new trending products and we are happy to pass along our research of new trending products to you. Follow us so you don't miss out on a thing! We send out cool emails with our latest reviews, and we will never sell or misuse your information.
Opinions Based on Use, Research and Reviews: Each product we write about is independently selected by our editors. All opinions in this article are our own, based on our own use of the product(s), or hours of research and reading reviews. We will never recommend something we wouldn't use ourselves in our own family.
Compensation: Yes, FavReviews may collect a share of sales or other compensation from the links on this page if you decide to buy something (that's how we stay in business). But, the product never costs you more, in fact in some cases, we hope we might help save you money based on our recommendations.
Reviews have been edited for length and clarity. Enjoy finding your next favorite thing!
Happy Shopping!
Your FavReviews Team
____________________________________________________
BEHIND the SCENES LOOK: If you'd like to learn how to start your own product review blog, with products that you love, check out our article How to Become a Brand Ambassador or visit LearnWriteLive.com There is room for all of us to provide better service to online shoppers. What's your passion?