Stanley tumblers have been making waves in the world of hydration, rapidly becoming a must-have item in 2023. Its popularity has skyrocketed, leaving many to wonder, "what is the most sought after Stanley Cup?"
In this blog post, we'll delve into the features, designs, and benefits of the Stanley tumbler, helping you make an informed decision on the perfect tumbler for your lifestyle.
Key Takeaways
The Stanley Quencher H2.0 FlowState Tumbler is a 40oz tumbler renowned for its insulation and style.
It offers features such as double wall vacuum insulation, comfort grip handle, and advanced FlowState Lid with three positions.
This guide provides tips on choosing the right cup for your lifestyle plus advice on care & maintenance to ensure longevity of use.
The Most Desired Stanley Tumbler: A Comprehensive Guide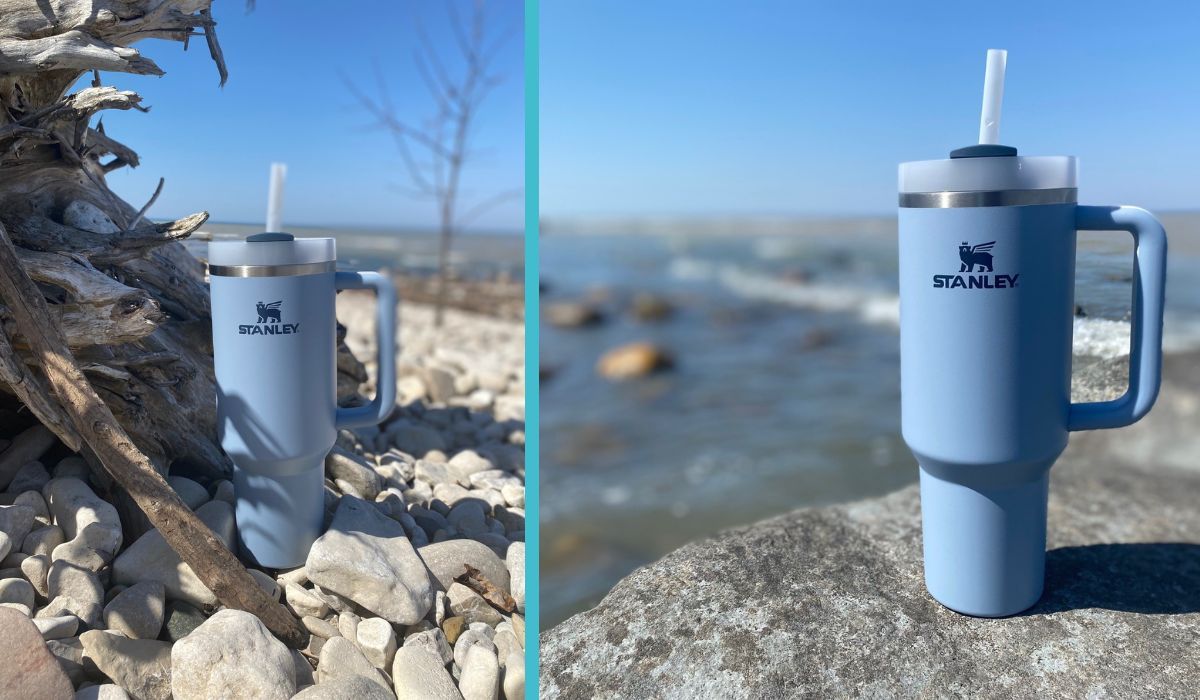 The Quencher H2.0 FlowState Tumbler, also known as the Stanley Quencher, stands tall as the most desired Stanley tumbler in the market. This 40 oz tumbler has gained immense popularity due to its ability to keep drinks cold for an impressive duration, making it the talk of the town. Its $40 price tag reflects the quality and features it brings to the table, making it a worthy investment.
What makes this tumbler stand out is its perfect blend of functionality and style. The Quencher H2.0 is specifically designed for those with busy schedules who need a reliable tumbler that fits in most cars cup holder and keeps your beverages at the desired temperature. It's no wonder that the Stanley Quencher has become the go-to choice for many seeking the ideal companion for their hydration needs.
Key Features of the Top Stanley Tumbler
One of the most notable features of the Stanley Quencher is its:
Double wall vacuum insulation, which helps maintain the temperature of your beverages for extended periods
Crafted from 90% recycled stainless steel, making it an environmentally-friendly option
Comfort grip handle, offering an easy-to-hold and carry design
This ensures that you can take your tumbler with you wherever you go.
The Quencher H2.0 FlowState Tumbler also boasts an advanced FlowState Lid, which features a rotating cover with three distinct positions: a straw opening designed to inhibit splashes while securely holding the reusable straw in place, a drink opening, and a full-cover top. This innovative lid design makes it easy for users to enjoy their favorite beverages with minimal mess and maximum convenience.
Why This Stanley Tumbler Stands Out
The Quencher H2.0 FlowState Tumbler has the following features that set it apart from other tumblers in the market:
Ergonomic shape fits into most vehicles cup holder
Sustainable sipping features
Impressive 40 oz capacity
Rotating handle for convenience and spill-free pouring
These features make it a great choice for staying hydrated throughout the day with fewer refills.
Apart from its functional attributes, the Stanley Quencher also prioritizes sustainability. The spill-proof built-in straw and double wall vacuum insulation ensure that drinks remain hot or drinks cold for extended periods, promoting sustainable sipping habits. With these unique aspects, it's clear that the Quencher H2.0 FlowState Tumbler is the ideal choice for those seeking a combination of style, functionality, and sustainability.
Comparing Stanley Tumblers: Which One is Right for You?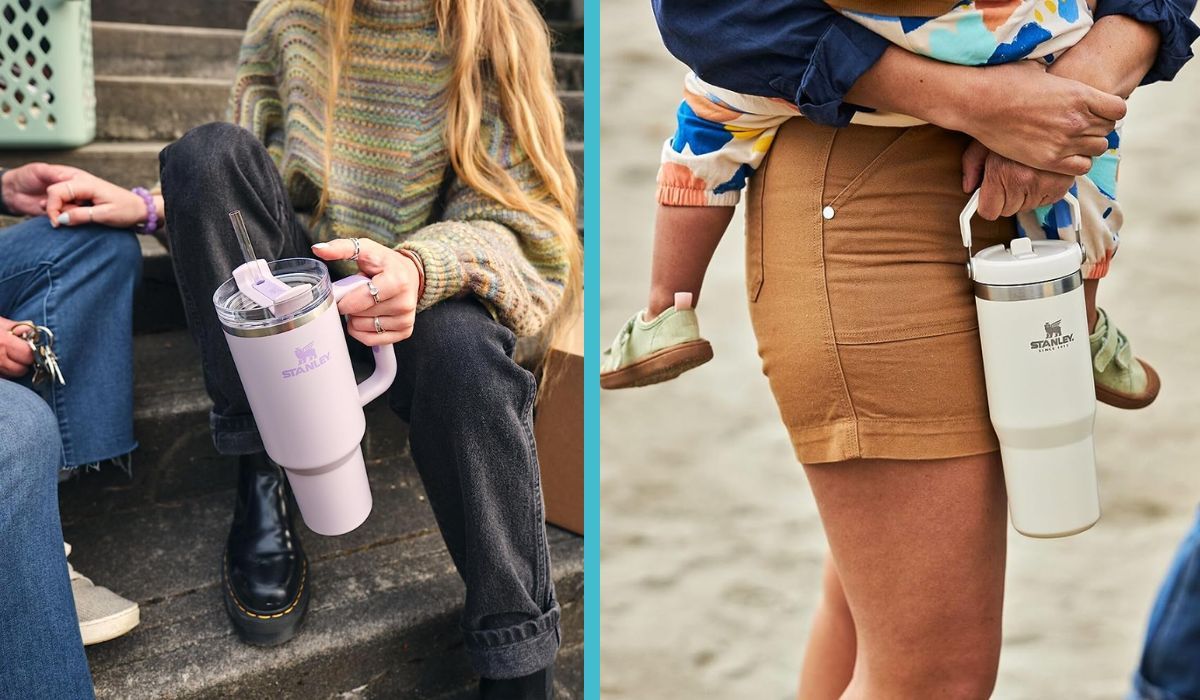 While the Quencher H2.0 FlowState Tumbler enjoys immense popularity, exploring other market options will facilitate an informed decision. This section presents a comparison between the highly favored Stanley tumbler and other popular models to aid in your selection process, guided by your needs and preferences.
Comprehending the differences between various Stanley tumblers and cups will assist you in selecting the one best suited to your lifestyle. The following subsections detail comparisons among the following:
Quencher H2.0 FlowState Tumbler
IceFlow Tumbler
Stanley Water Bottle
Hydro Flask
Quencher IceFlow Tumbler vs. H2.0 Flowstate Tumbler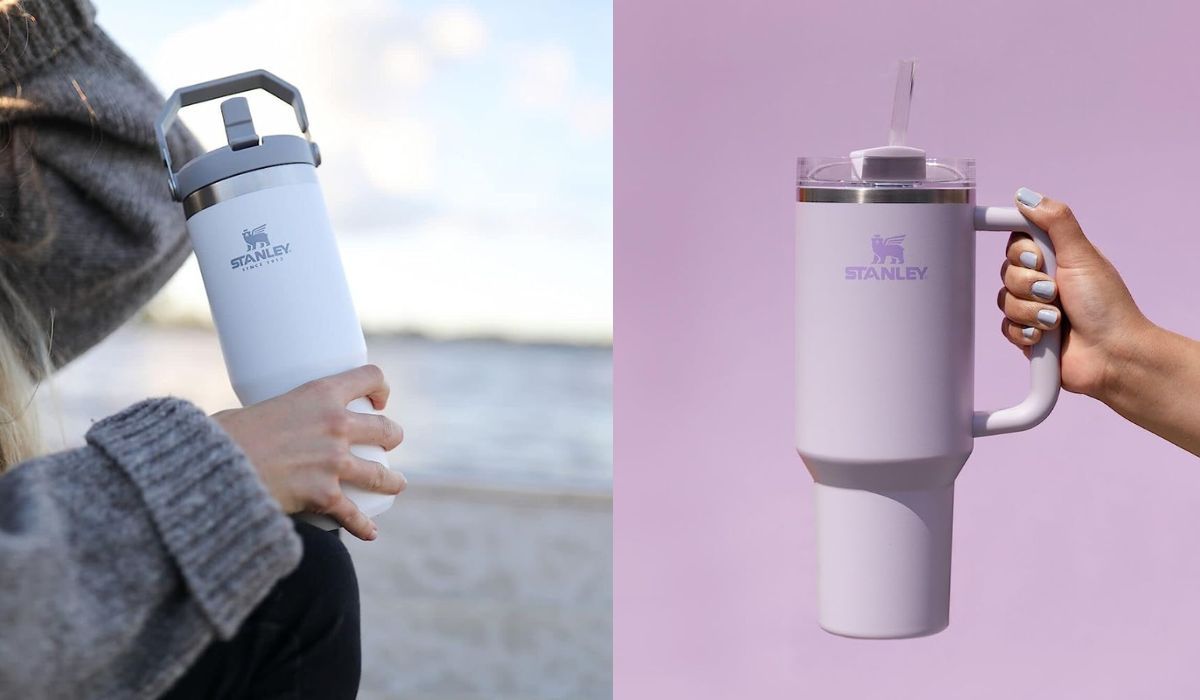 The Quencher H2.0 FlowState Tumbler and IceFlow Tumbler are both popular choices among Stanley fans, but they have some key differences. The Quencher H2.0 is equipped with AeroLightTM technology, providing exceptional durability and double wall vacuum insulation, while the IceFlow Tumbler is stated to keep water cold for 34 hours, though ice may melt after a few hours.
In terms of lid design, the Quencher H2.0 features the advanced FlowState Lid with a rotating cover, straw opening, and drink opening, making it versatile and user-friendly. On the other hand, the IceFlow Tumbler has a drink-through lid that locks securely for safe transport in your bag or backpack.
Both tumblers cater to different user preferences, so consider these distinctions when selecting the best cup for your needs.
Stanley Water Bottle vs. Hydro Flask
When comparing the Stanley Water Bottle to the Hydro Flask, it's important to consider their differences in insulation capabilities and construction materials. The Stanley Water Bottle is crafted from stainless steel and is engineered to maintain beverages cold for up to 24 hours, whereas the Hydro Flask is constructed from double-walled stainless steel and is designed to preserve drinks cold for up to 48 hours.
While the Hydro Flask may offer longer insulation, the Stanley Water Bottle shines with its:
Wide mouth opening for convenient filling and cleaning
Leak-proof lid
Durable stainless steel construction Furthermore, it is backed by a lifetime warranty, making it a worthwhile investment.
When selecting between these two options, consider your insulation needs, budget, and preferences.
How to Choose the Perfect Stanley Cup for Your Lifestyle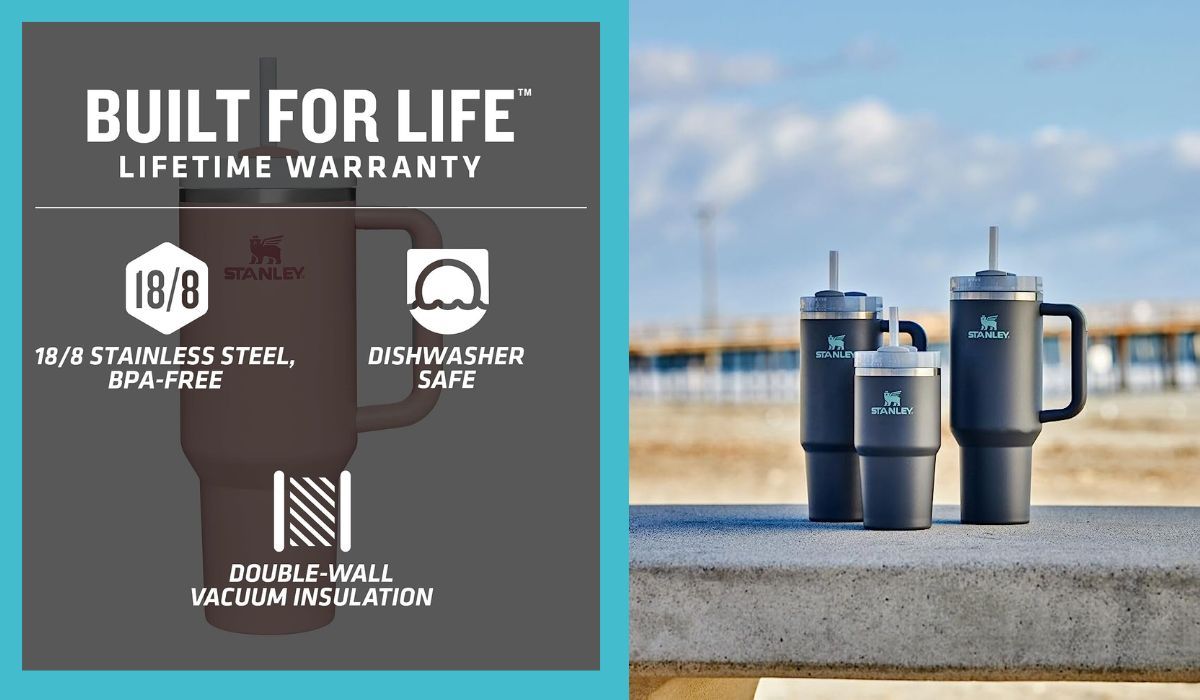 Choosing the Stanley that best fits your lifestyle requires the consideration of various factors such as:
insulation
size
design
your daily activities
This section provides tips and advice to guide you in selecting the most suitable Stanley, tailoring your choice to your personal preferences and specific needs.
We will delve further into the factors worthy of consideration, including Stanley cup worth, and guide you on aligning the ideal Stanley tumbler with your activities, aiming to maximize the utility of your purchase.
Factors to Consider
Size, insulation, and portability are crucial factors to consider when selecting Stanley Quencher tumblers. The range of sizes available caters to different needs, from small cups for short commutes to large ones for extended outdoor adventures. Insulation is another essential aspect to consider, as it determines how long your beverages will maintain their temperature.
Portability is important, especially if you're always on the go. Look for cups with easy-to-carry handles or those that fit comfortably in most car cup holders. By taking these factors into account, you can ensure that you choose a Stanley that aligns with your lifestyle and activities.
Matching Your Stanley Cup to Your Activities
When selecting a Stanley, think about your typical daily activities. For car commutes and running errands, a cup that fits in most cup holders, like the Quencher H2.0 FlowState Tumbler, would be ideal.
If you engage in outdoor adventures or sports, a larger capacity cup that can maintain hydration for extended periods is recommended. By matching your Stanley to the activities you frequently engage in, you can ensure that you get the most use and enjoyment out of your chosen tumbler.
Remember, a perfect cup with a wide range of colors to complements your lifestyle, making it an indispensable part of your daily routine.
Caring for Your Stanley Cup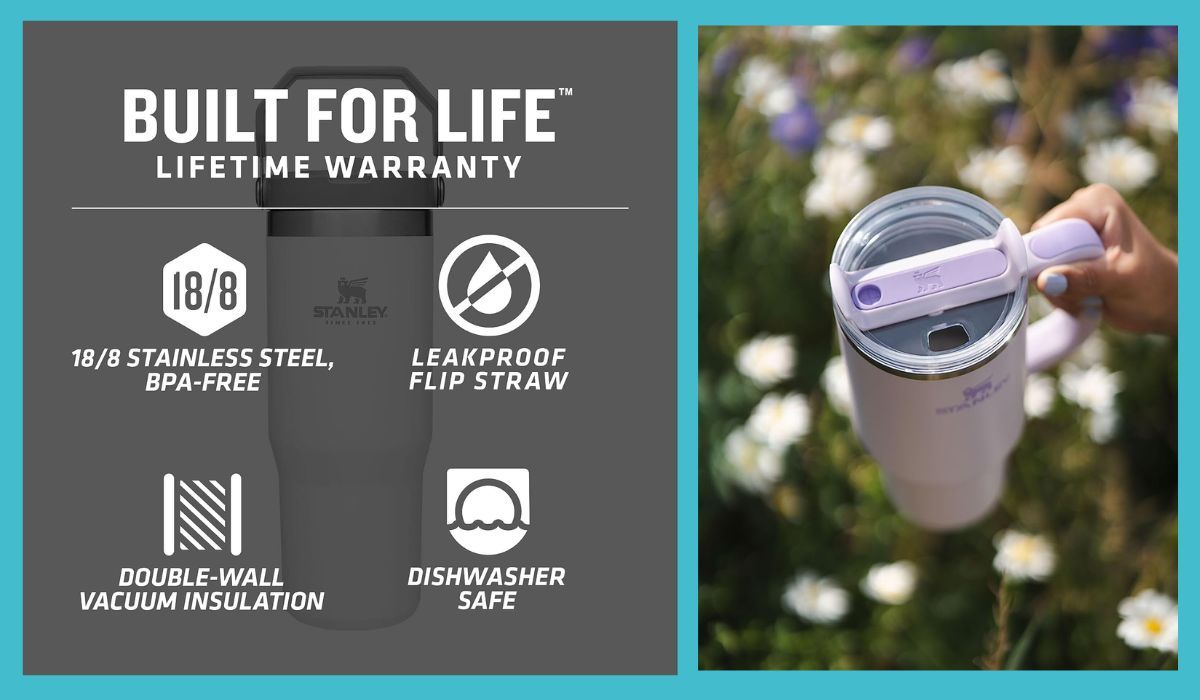 Maintaining your Stanley in top condition necessitates adherence to proper maintenance practices. This section disseminates some valuable tips and tricks for cleaning and caring for your Stanley, aiding in extending its lifespan and maximizing your investment value.
We shall delve into cleaning and dishwasher safety guidelines, along with methods to prolong your cup's life, empowering you to indulge in your favorite beverages with panache continually.
Cleaning and Dishwasher Safety
Proper cleaning is crucial for maintaining the performance and appearance of your Stanley Quencher tumbler. Here are some cleaning tips:
When cleaning the lid and straw, separate them from the cup and clean them with a soft, damp cloth or sponge and mild detergent. Ensure to rinse thoroughly and allow them to air dry.
While Stanley tumblers are dishwasher safe, it is recommended to place them on the top rack only.
Avoid using harsh detergents or abrasive scrubbers.
For cleaning the seals of your cup, soaking the top in white vinegar or lemon juice is a useful trick. By following these cleaning guidelines, you can ensure that your Stanley remains in optimal condition and continues to function effectively.
Prolonging the Life of Your Cup
Taking care of your Stanley not only keeps it looking great, but also extends its lifespan. To prolong the life of your cup, avoid using harsh chemicals and abrasive materials when cleaning, as they can damage the surface. Furthermore, try to prevent dropping or banging the cup, as this can lead to cracking or breaking.
Consider using accessories like carrying cases, lids, and sleeves to safeguard your cup and make it more convenient to carry around. By taking these steps, you can ensure the longevity of your Stanley Quencher tumbler and continue enjoying your favorite beverages for years to come.
User Testimonials: Why People Love Their Stanley Cups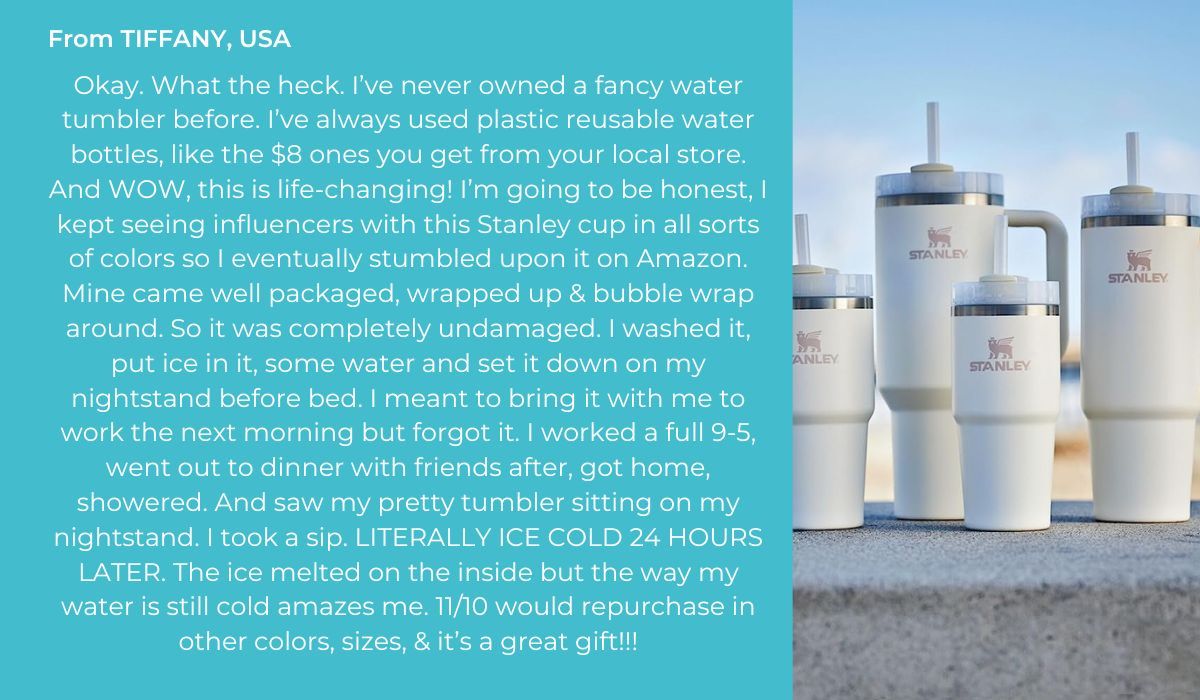 Insights from those who have reaped the benefits of owning a Stanley Quencher tumbler can prove invaluable in your decision-making process. This section displays real-life experiences and testimonials from content Stanley users, underscoring the perks they've relished from their purchases.
We will examine how a Stanley tumbler has enhanced users' daily routines and hydration habits, along with the available customization options for personalizing your cup.
Everyday Life with a Stanley Cup
Many users have shared stories of how the Stanley tumbler has transformed their daily routines and hydration habits. The convenience and practicality of the cup make it an essential part of their everyday lives, ensuring they stay hydrated throughout the day. Its wide mouth allows for easy cleaning, further enhancing its appeal as a reusable option.
The Stanley Cup's ability to maintain cold drinks, such as iced coffee, for an extended period has been a game-changer for many users, allowing them to enjoy their favorite beverages at the perfect temperature, even during long commutes or outdoor activities. With these benefits, it's easy to see why so many people have fallen in love with their Stanley Cups.
Customization Options
Stanley offers a variety of customization options, allowing users to personalize their cups and make them truly unique. From monogramming to choosing from a wide range of colors, there are plenty of ways to make your Stanley Quencher tumbler reflect your individual style and preferences.
Some creative customizations include adding a personalized lid or handle, incorporating a design or pattern on the cup, or even painting it with your favorite colors. With these customization options, your Stanley can become a reflection of your personality and a conversation starter wherever you go.
Immensely Popular - For Good Reason
The Stanley Cup has gained immense popularity in 2023 due to its exceptional features, stylish design, and practicality. From the most sought after Quencher H2.0 FlowState Tumbler to other popular models, there is a Stanley to suit everyone's needs and preferences.
By considering factors such as insulation, size, and portability, as well as matching the cup to your daily activities, you can find the perfect Stanley Quencher tumbler for your lifestyle.
With proper care and maintenance, your Stanley will be a long-lasting companion, keeping you hydrated and making everyday life more enjoyable.
Frequently Asked Questions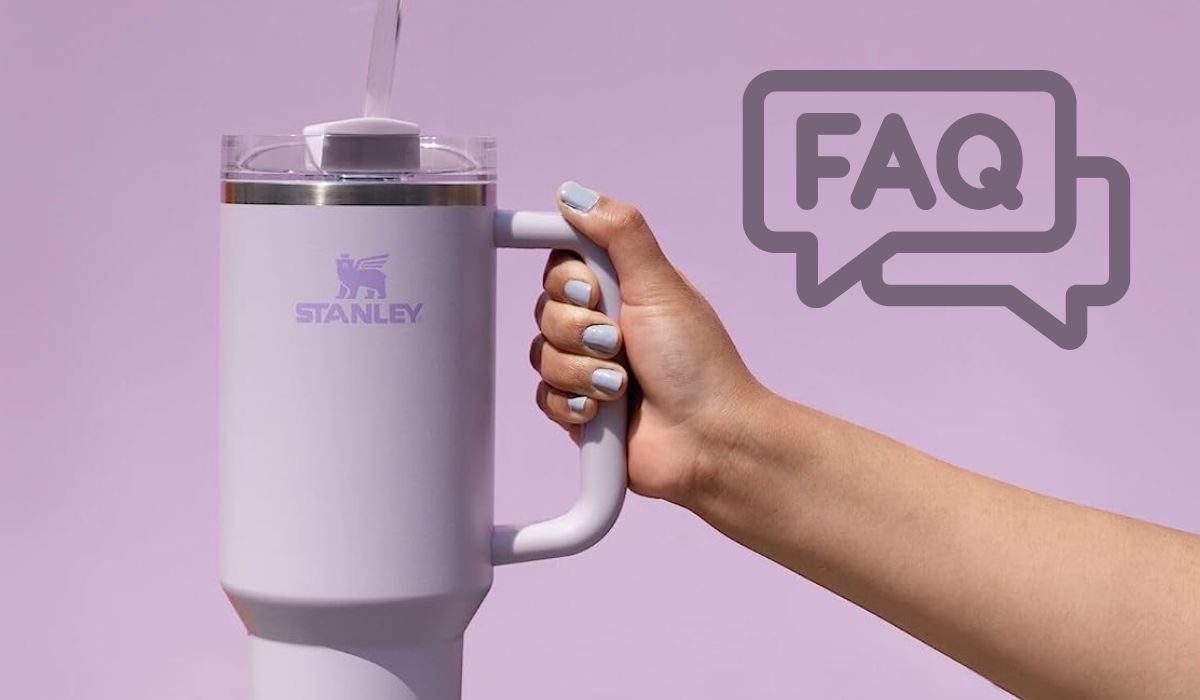 Which Stanley cup is most popular?
The Adventure Quencher from Stanley is the most popular Stanley cup, having been launched in 2016 and widely shared on social media. It has become the cup of choice among countless influencers, with its 40 oz capacity making it an ideal travel companion for outdoor adventurers.
Stanley Quencher is so popular due to its practicality: it fits in cup holders, carries 40oz of liquid, and features an insulated straw for easy sipping and transportable handle. It is the perfect companion for any outdoor activity, from camping to tailgating. It is also great for everyday use, as it is lightweight and easy to carry. The insulated straw keeps drinks cold for hours, and the handle makes it easy to transport.
---
We hope you find your next favorite thing from FavReviews! We are a family friendly product review site.
Four Generation Family: As a four generation family, the breadth of products we consume and review as brand ambassadors is vast. But we can tell you, in general, in we love the outdoors, sports, staying active, living healthy and celebrating the changing seasons.
Trending Products: We also love finding new trending products and we are happy to pass along our research of new trending products to you. Follow us so you don't miss out on a thing! We send out cool emails with our latest reviews, and we will never sell or misuse your information.
Opinions Based on Use, Research and Reviews: Each product we write about is independently selected by our editors. All opinions in this article are our own, based on our own use of the product(s), or hours of research and reading reviews. We will never recommend something we wouldn't use ourselves in our own family.
Compensation: Yes, FavReviews may collect a share of sales or other compensation from the links on this page if you decide to buy something (that's how we stay in business). But, the product never costs you more, in fact in some cases, we hope we might help save you money based on our recommendations.
Reviews have been edited for length and clarity. Enjoy finding your next favorite thing!
Happy Shopping!
Your FavReviews Team
____________________________________________________
BEHIND the SCENES LOOK: If you'd like to learn how to start your own product review blog, with products that you love, check out our article How to Become a Brand Ambassador or visit LearnWriteLive.com There is room for all of us to provide better service to online shoppers. What's your passion?