Imagine sipping your favorite beverage (even if it's nice cold refreshing water) at the end of a busy day, while watching one of your kids playing soccer, football or baseball. You're relaxed, getting hydrated and enjoying the slight breeze through your hair.
Intrigued? Let's dive into the world of the pink Stanley Quencher and discover "what is the pink Stanley Cup called" and why everyone is talking about it.
Key Takeaways
Unveil the stylish and durable Pink Stanley Quencher, a popular drinkware accessory made popular by influencer moms on and off sports fields.
Enjoy superior insulation performance with hot beverages staying hot up to seven hours & cold drinks remaining chilled for two days.
Eco-friendly features include recycled stainless steel construction & dishwasher safe components, reducing environmental footprints.
Unveiling the Pink Stanley Quencher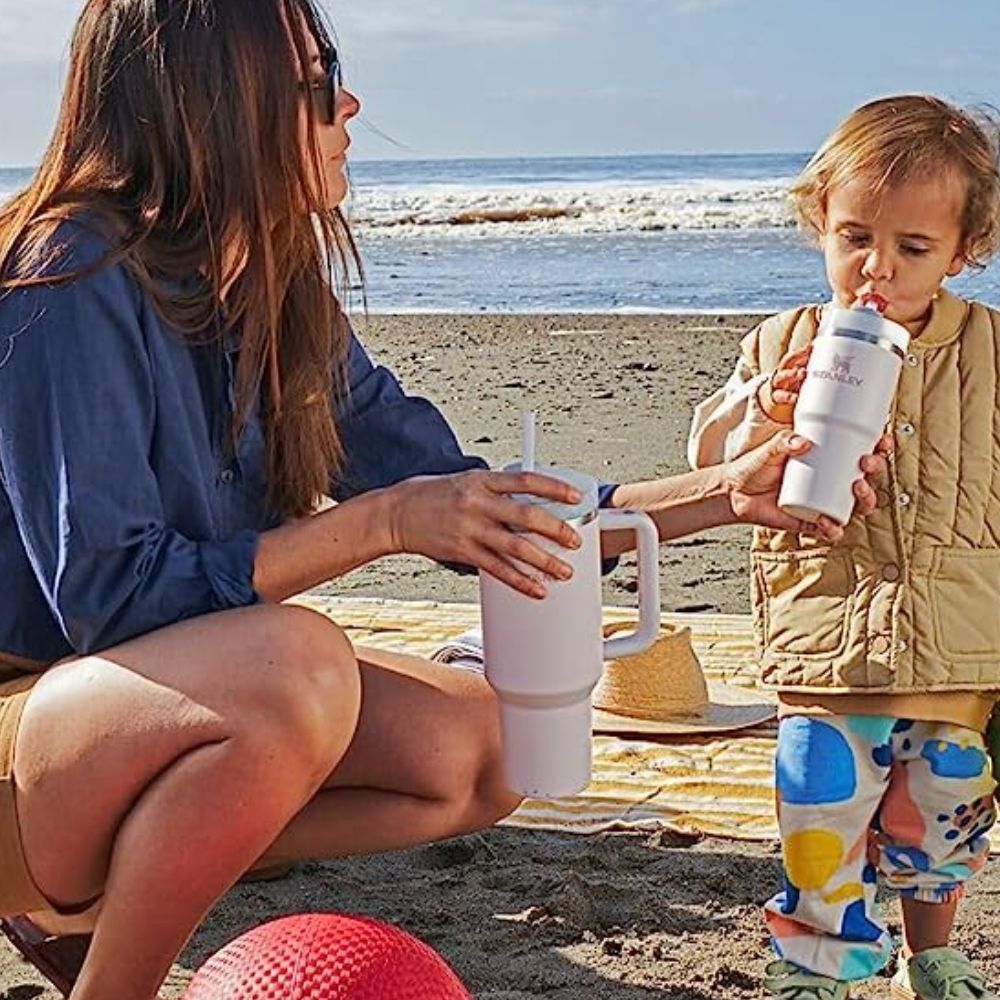 The Stanley Adventure Quencher H2.0 Flowstate Tumbler, is making waves in the world of drinkware. Its features include:
Eye-catching design
Impressive insulation
Maximum hydration with fewer refills
Easy to hang onto with handle
Lid features rotating cover with 3 positions
Easy sip straw
Fits in most car, SUV, truck holders
The tumbler comes in a range of color options, but the pink version holds a special place in the hearts of many.
The Stanley Quencher is so popular that it is often out of stock, with restocks happening every few months. Target has even teamed up with Stanley to create an exclusive collaboration, offering six neutral and earthy shades for the Quencher H2.0 Flowstate Tumbler. For those wanting a more personalized touch, Stanley Create allows customers to add text, monograms, or graphics to their tumblers.
The story behind the pink Stanley Cup
The origin of the pink Stanley Cup is rooted in a breast cancer awareness initiative. The pink color was specifically chosen to generate funds and bring attention to the cause, making it more than just a stylish accessory. Since, the pink Stanley Cup has become popular for:
Its striking appearance
Its association with various fundraising events and campaigns
Its aim to increase awareness and generate funds for breast cancer research
Choosing the pink Stanley Quencher allows you to make a statement with your drinkware and contribute to a global movement. So, the next time you take a sip from your pink tumbler, remember that you're part of a collective effort to make a difference.
Benefits of owning a pink Stanley Quencher
Alongside making a statement for breast cancer awareness, the pink Stanley Quencher presents numerous practical benefits. For one, the bright color makes it easy to spot, ensuring you'll never lose your tumbler in a sea of plain water bottles. Moreover, the pink Quencher allows you to personalize your drinkware with your preferred colors and designs, making it a perfect reflection of your style.
The pink Stanley Quencher has the following features:
Built from durable stainless steel
Designed to withstand the test of time
Ideal companion for extended trips or outdoor activities
40 oz capacity ensures you have enough water to stay hydrated
Ergonomic handle makes carrying it a breeze
With the pink Stanley Quencher, you'll enjoy both form and function, all while supporting a meaningful cause.
Double Wall Vacuum Insulation Technology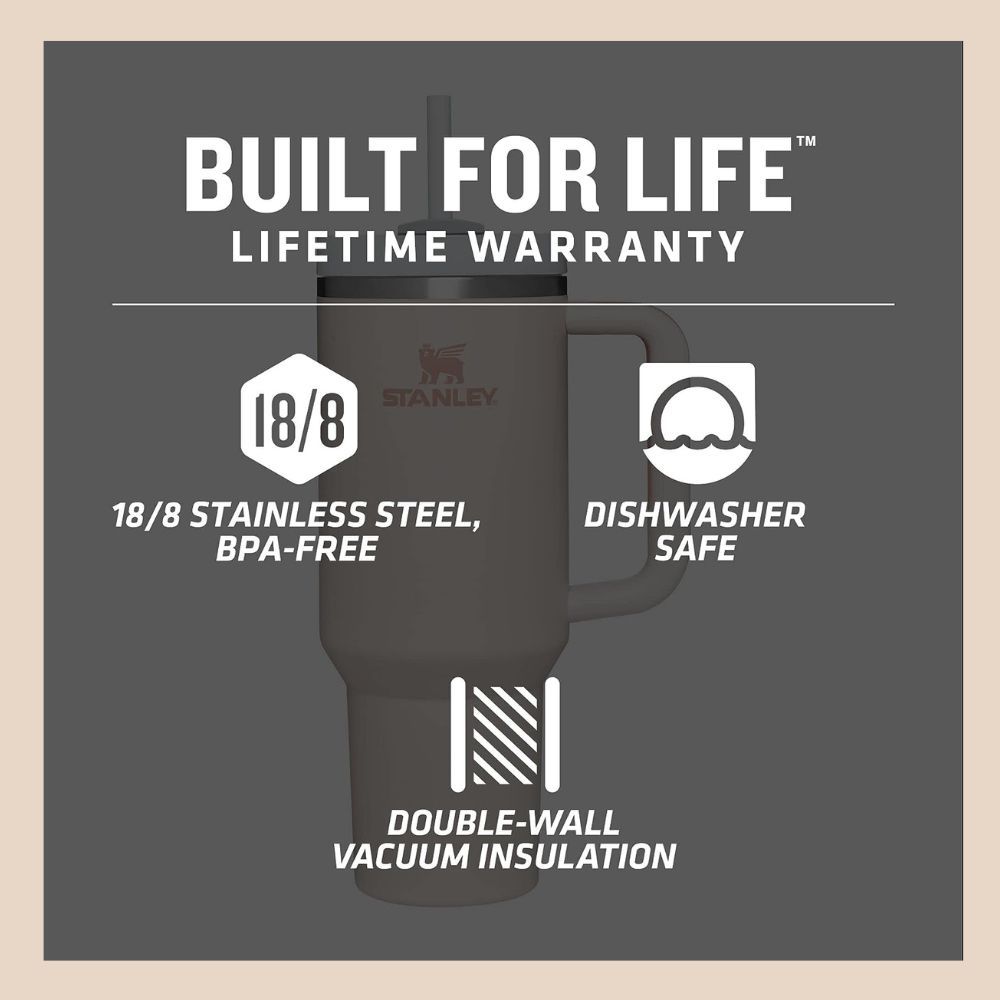 The double wall vacuum insulation technology is a standout feature of the Stanley Quencher. This innovative design helps keep your beverages hot or water cold for extended periods, ensuring your drink stays at the perfect temperature, no matter where you go.
You might wonder how this technology operates and what makes it so potent. We'll delve into the science behind double wall vacuum insulation and how it enhances the performance of the Stanley Quencher.
How it works
Double wall vacuum insulation consists of two walls with a vacuum between them, trapping air and inhibiting heat transfer from one side to the other. This design helps maintain the temperature inside the Stanley Quencher, ensuring your hot beverages stay hot and cold beverages stay cold for an extended duration.
The benefits of using double wall vacuum insulation in the Stanley Quencher are numerous.
Improved temperature retention means your drink stays at the perfect temperature, no matter what the conditions outside.
Enhanced durability ensures your tumbler can withstand the rigors of daily use.
Increased energy efficiency helps keep your beverages at the ideal temperature without using additional resources.
Comparing the insulation performance
When it comes to insulation performance, the pink Stanley Quencher outshines many other popular tumblers available in the market. Its double-wall vacuum insulation allows beverages to remain hot for up to seven hours and iced for a maximum of two days.
Such impressive performance makes the pink Stanley Quencher a top choice among other tumblers in the market. Whether you're sipping coffee on your morning commute or enjoying a cold beverage on a hot day, the Stanley Quencher ensures your drink stays at the perfect temperature for hours on end.
Design Features and Functionality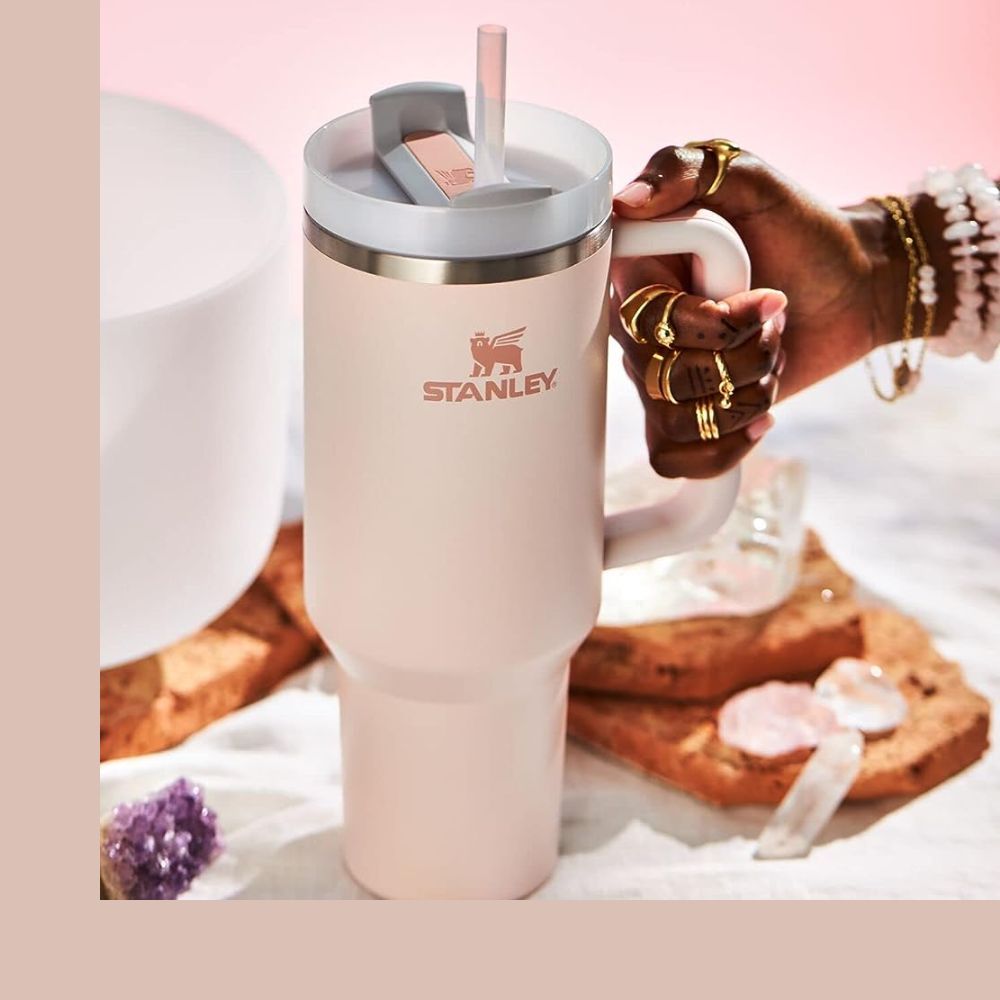 Beyond insulation performance, the Stanley Quencher distinguishes itself with a plethora of design features that set it apart from other Stanley tumblers. The rotating lid provides three different positions: one for a reusable straw, one for sipping, and a full-cover closure, ensuring you can enjoy your beverage the way you like it. The comfort grip handle makes carrying the tumbler easy and comfortable, even on long journeys.
With its 40 oz capacity, the Stanley Quencher water bottle is perfect for those who need a sufficient amount of water for extended trips or outdoor activities. Its sleek design and eye-catching color options make it a fashionable choice, while its practical features ensure you can enjoy your favorite beverages without compromising on style.
Car cup holder (recreational vehicle holder) compatibility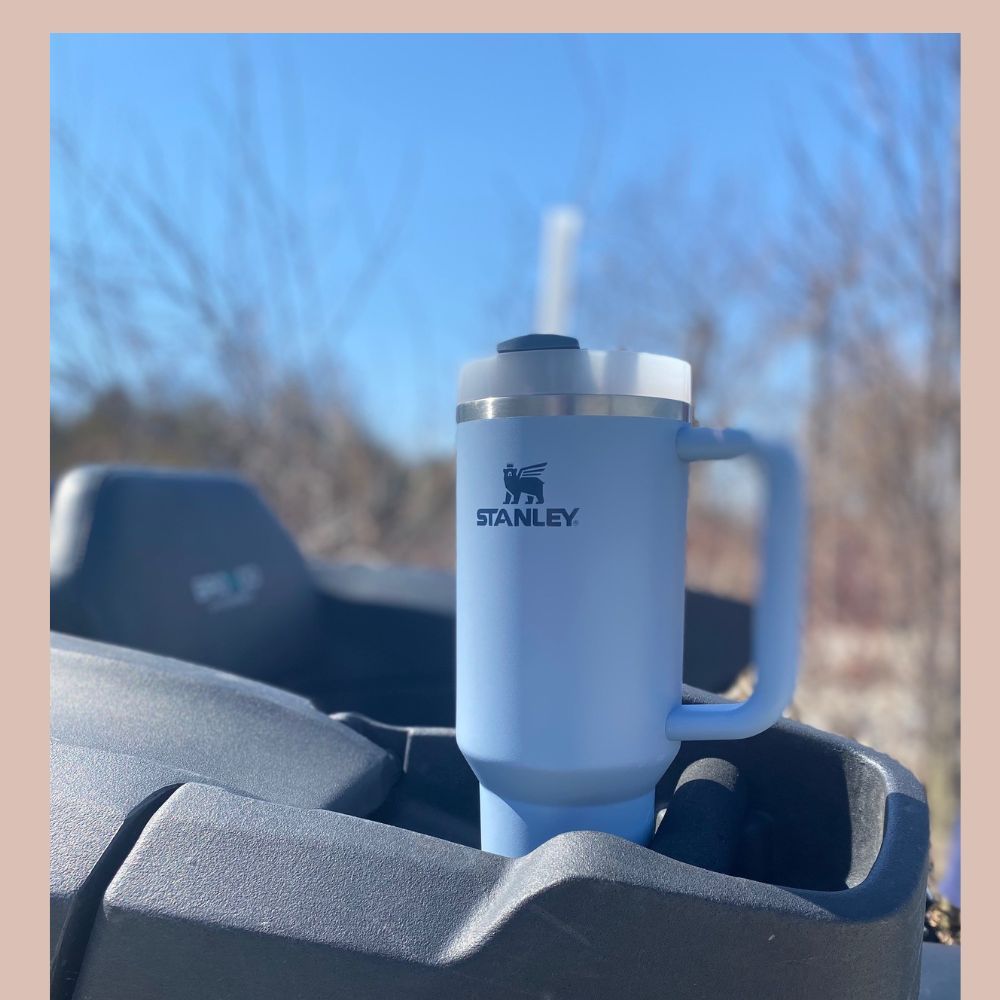 The Stanley Quencher's standout design feature is its tapered shape, designed to fit comfortably in most car cup holders with comfort grip inserts. This compatibility ensures a secure fit in a variety of standard car cup holders, including those commonly found in cars, SUVs, trucks and recreational vehicles.
However, it's worth noting that the tumbler may not be suitable for certain specialty car cup holders, such as those featured in some luxury vehicles. Nevertheless, the Stanley Quencher's compatibility with most car cup holders ensures you can easily bring your favorite beverage along, whether you're running errands around town or embarking on a road trip.
Dishwasher safe components
Thanks to its dishwasher-safe components, maintaining the Stanley Quencher is effortless. The lid, body, and base can all be cleaned in a dishwasher, making maintenance quick and easy.
The convenience of having dishwasher-safe components not only saves time, but also ensures your tumbler stays in top condition for longer. With the Stanley Quencher, you can enjoy your favorite beverages without the hassle of extensive cleaning and upkeep.
Eco-friendly Aspects of the Stanley Quencher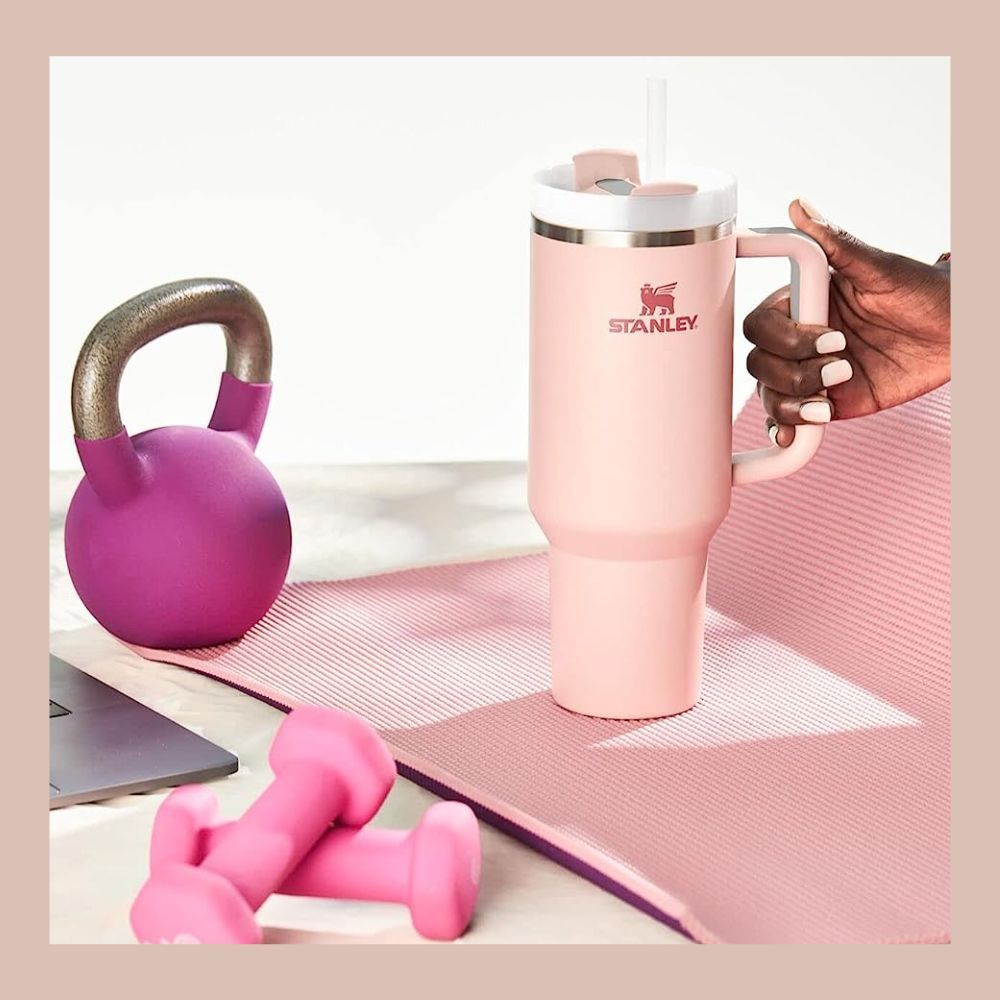 In an era where environmental consciousness is paramount, the Stanley Quencher emerges as an eco-friendly choice. Constructed with recycled stainless steel, the tumbler emphasizes the use of recycled and upcycled materials. Stanley has committed to producing at least 50% of their stainless steel products from recycled materials by 2025, making the Quencher a responsible choice for those looking to reduce their environmental footprint.
The Quencher is also designed to be durable and long-lasting. It is double-sided.
Sustainable materials
The Stanley Quencher incorporates sustainable materials like recycled stainless steel in its construction, making it the perfect Stanley tumbler. This sturdy and enduring construction ensures your tumbler can withstand daily use while minimizing its impact on the environment.
The tumbler also features a silicone seal, which serves to secure the contents and prevent any potential leakage. With its combination of recycled stainless steel and silicone seal, the Stanley Quencher is an eco-friendly option for those looking to enjoy their beverages while reducing their environmental impact.
Reducing plastic waste
A significant advantage of using a reusable tumbler like the Stanley Quencher is the reduction of single-use plastic waste. By replacing conventional plastic packaging with sustainable materials like BPA-free Tritan plastic and stainless steel, the Quencher helps decrease the need for disposable plastic cups and straws, while also utilizing a straw base for added convenience.
The reduction in plastic waste not only helps decrease the amount of waste that ends up in landfills and oceans, but also contributes to a cleaner and healthier planet for future generations. Choosing the Stanley Quencher is a simple yet effective way to make a positive impact on the environment.
Alternatives to the Pink Stanley Quencher
Although the pink Stanley Quencher is a sought-after and stylish choice, other tumblers and water bottles can serve as alternatives for those exploring different options. The YETI Rambler Mug and Simple Modern tumbler are both viable options, each offering unique features and benefits.
The YETI Rambler Mug is constructed of stainless steel and features double-walled and vacuum-insulated technology, along with a No Sweat Design to keep your hands dry. The Simple Modern tumbler also boasts stainless steel construction, double-walled and vacuum-insulated design, a leak-proof lid, and is BPA-free.
These alternatives provide additional options for those looking for a high-quality tumbler that suits their preferences and needs, available in three positions to cater to different requirements.
Summary
In conclusion, the pink Stanley Quencher is more than just a trendy tumbler; it's a status symbol for the fit and an eco-friendly choice for those looking to stay hydrated in style. With its eye-catching design, impressive double wall vacuum insulation technology, and convenient features like car cup holder compatibility and dishwasher-safe components, it's no wonder this tumbler has gained a dedicated following.
Whether you're looking for a tumbler to keep your beverages at the perfect temperature, a statement piece that supports healthy lifestyles, or an eco-friendly alternative to single-use plastic, the pink Stanley Quencher is an excellent choice. So go ahead, treat yourself or someone special to this fashionable and functional tumbler, and be part of a movement that's making a difference in everyday lives.
Frequently Asked Questions
What are the names of the Stanley cup colors?
The Stanley Cup Quencher colors are Iris, Rose Quartz Swirl, Polar Swirl, Tiger Lily, Citron, Chambray, Eucalyptus, Jade (currently not available), Pool, Yarrow
Stainless Steel Shale, Black Glow, Flint, Fog, Cream, Charcoal, Black, Orchid,
Pink Dust and Rose Quartz (the last two are called Stanley cup pink!). Read more about Stanley cup colors "The Colorful Palette of Stanley Quencher Cups: A Detailed Overview"
What are the new colors for the Stanley cup 2023?
Be the first to get the new and stylish Stanley cup in three different colors - black glow, rose quartz glow and stainless steel shale. Read more about "The Colorful Palette of Stanley Quencher Cups: A Detailed Overview" Or, Shop now at the Stanley store on Amazon!
Why is the Stanley Quencher so popular?
The Stanley Quencher is popular because its unique design features fit effortlessly into a car's cup holder, it carries 40 fluid ounces of liquid to keep you hydrated and its double-wall vacuum insulation keeps your drink cold for up to 11 hours. Its sturdy handle also makes it highly portable.
What is the name of the 40 oz Stanley cup?
The name of the 40 oz Stanley cup is the Quencher H2.0 Flowstate.
---
We hope you find your next favorite thing from FavReviews! We are a family friendly product review site.
Four Generation Family: As a four generation family, the breadth of products we consume and review as brand ambassadors is vast. But we can tell you, in general, in we love the outdoors, sports, staying active, living healthy and celebrating the changing seasons.
Trending Products: We also love finding new trending products and we are happy to pass along our research of new trending products to you. Follow us so you don't miss out on a thing! We send out cool emails with our latest reviews, and we will never sell or misuse your information.
Opinions Based on Use, Research and Reviews: Each product we write about is independently selected by our editors. All opinions in this article are our own, based on our own use of the product(s), or hours of research and reading reviews. We will never recommend something we wouldn't use ourselves in our own family.
Compensation: Yes, FavReviews may collect a share of sales or other compensation from the links on this page if you decide to buy something (that's how we stay in business). But, the product never costs you more, in fact in some cases, we hope we might help save you money based on our recommendations.
Reviews have been edited for length and clarity. Enjoy finding your next favorite thing!
Happy Shopping!
Your FavReviews Team
____________________________________________________
BEHIND the SCENES LOOK: If you'd like to learn how to start your own product review blog, with products that you love, check out our article How to Become a Brand Ambassador or visit LearnWriteLive.com There is room for all of us to provide better service to online shoppers. What's your passion?