Yeti coolers have taken the outdoor world by storm, thanks to their top-notch performance and durability. With a wide range of sizes and types to choose from, selecting the perfect Yeti cooler can be a bit overwhelming.
Fear not, as we're here to help you find the ideal cooler size based on your needs, activities, and preferences, including answering the question: what is the most popular Yeti size?
Key Takeaways
The most popular Yeti cooler sizes in 2023 are the Tundra 45, Roadie 24 and Tundra Haul.
Infographic explaining best YETI cooler size by activity
Consider intended use, capacity requirements and portability when choosing a size.
Maximize ice retention with pre-chilling, proper ice ratio & efficient packing techniques.
Most Popular Yeti Cooler Sizes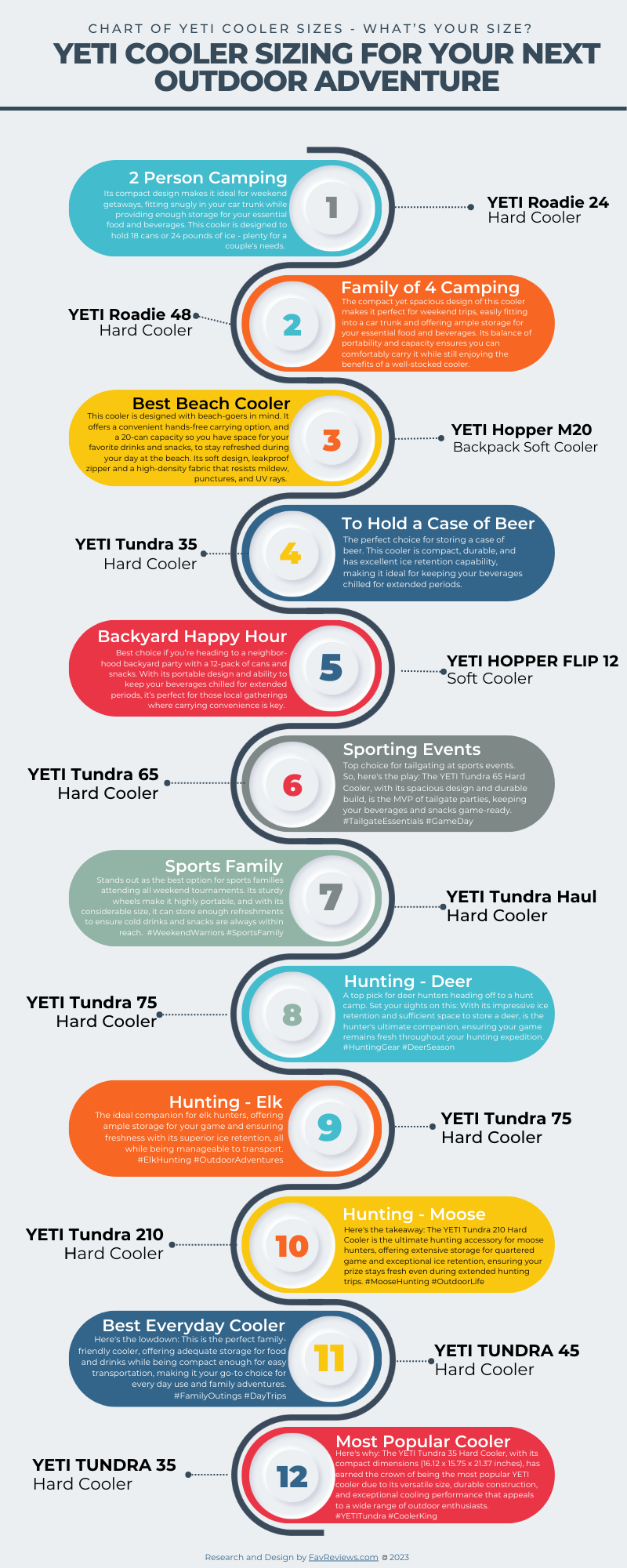 Among the various models and sizes available, the Tundra 45 (Best Everyday Cooler), Roadie 24 (Best Cooler for Two People), and Tundra Haul (Best for Sports Families and More!) stand out as the most popular Yeti cooler sizes in 2023. Each of these coolers offers unique features and capacities to cater to a wide range of outdoor enthusiasts.
The Tundra 45 is the largest of the three coolers, with a capacity of 28 cans, making it an excellent choice for those who need a substantial amount of storage for their outdoor adventures. This cooler, often referred to as the 'party animal' of coolers, is perfect for those weekend camping trips or tailgating events where you need to keep a large amount of food and drinks cold. Its size, combined with its robust construction and superior insulation, ensures your items stay chilled, no matter the external conditions.
YETI Tundra 45
The YETI Tundra 45 is a highly versatile and robust cooler with the following features:
Capacity of 28 cans, making it an ideal choice for family outings and weekend trips
Dimensions of 15 3/8" x 25 3/4" x 16 1/8"
Weight of 20 pounds, making it easily maneuverable by a single individual.
This cooler is perfect for those who need a reliable, durable, and space-efficient option for their adventures. The Tundra 45 features:
Yeti's signature rotomolded construction
Permafrost insulation, ensuring that your beverages stay cold for an extended period
28-can capacity, with a 2:1 ice-to-can ratio
This allows you to pack enough drinks and food for your family or friends without compromising on performance.
YETI Roadie 24
If you're leaning towards a compact and portable cooler, the YETI Roadie 24 fits the bill perfectly. With a 24-can capacity, this small but mighty cooler provides ample space for your favorite beverages while ensuring they stay cold throughout the day. The Roadie 24 is also designed with rotomolded construction, making it durable and robust for various outdoor activities.
The YETI Roadie 24 offers the following features:
Weighs just 12.8 pounds, making it easy to transport and carry around for day trips and solo excursions
Thermal performance is 30% better than its predecessor, the Roadie 20, ensuring that your drinks stay colder for longer
Perfect for those who need a lightweight and portable option without sacrificing on performance.
YETI Tundra Haul
If you're looking for a larger cooler to accommodate extended trips and group outings, the YETI Tundra Haul will serve you well. This tundra haul wheeled cooler is well-suited for long excursions and group events due to its large capacity and sturdy design. With puncture-resistant wheels, the Tundra Haul is ready to roll over any terrain, making transportation a breeze.
The Tundra Haul boasts a generous capacity, superior cooling performance, and a robust, indestructible design, ensuring that your items stay chilled throughout your outdoor adventures. Weighing in at 37 pounds, this wheeled cooler is perfect for those who need a reliable and spacious cooler for their extended trips.
Comparing Yeti Cooler Sizes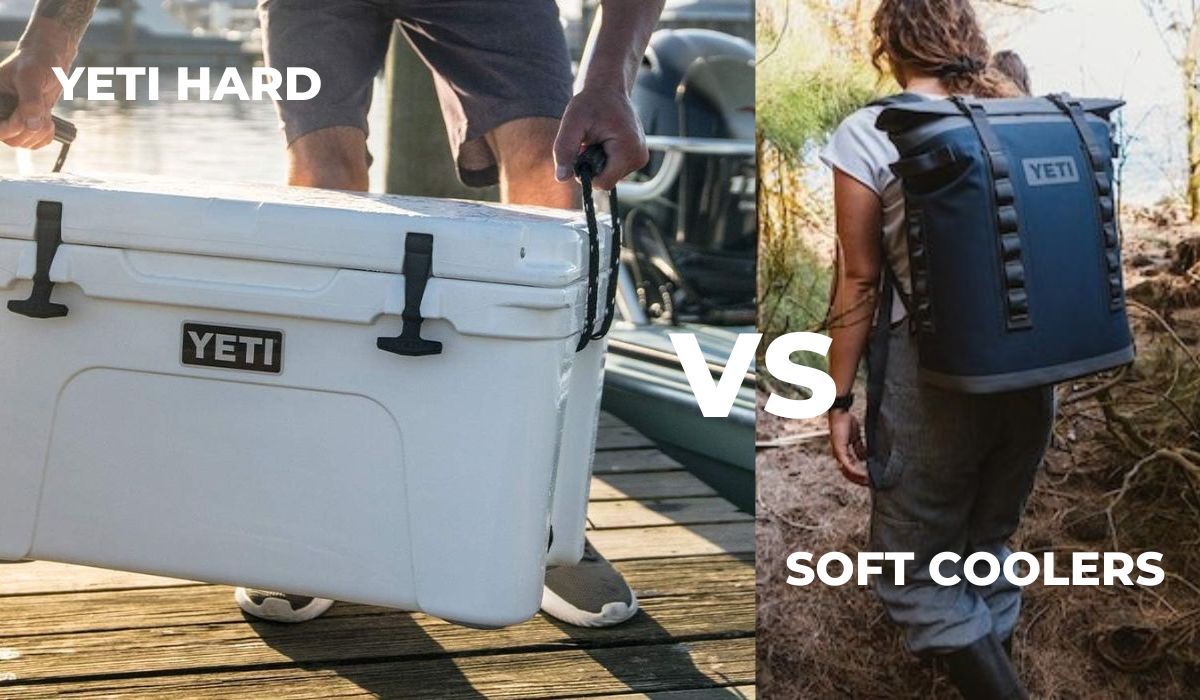 Understanding the differences between hard and soft coolers, each with unique capacities and ideal usage scenarios, is key when choosing the perfect Yeti cooler. Knowing the distinctions between these types of coolers will help you select the most suitable option for your outdoor adventures.
Hard Coolers
Yeti hard coolers come in a variety of sizes, such as the Tundra 35, Tundra 45, Tundra 65, Tundra Haul, and Tundra 75, to accommodate different needs and preferences. The prices of these coolers generally range between $100 and $1000, depending on the size and features. These coolers are known for their top-notch durability and impressive ice retention capabilities, thanks to their thick walls, permafrost insulation, and rotomolded construction.
Optimal performance depends on choosing the right size Yeti hard cooler. Whether you're planning a day trip to the beach or a week-long camping adventure, the ideal hard cooler size will depend on your specific needs, such as the amount of food and drinks you'll be packing, the duration of your trip, and the mode of transportation.
Soft Coolers
In contrast to hard coolers, Yeti soft coolers are designed for portability and convenience. These coolers are lightweight and supple, making them perfect for day trips, picnics, or short excursions. The available sizes of Yeti soft coolers in the market are the Hopper Flip 8, Hopper Flip 12, and Hopper Flip 18. Their compact design and easy transportability make them ideal for those who prioritize convenience and ease of use.
While soft coolers may not offer the same level of durability and ice retention as hard coolers, they still provide impressive cooling performance, keeping your drinks cold during your trip. They are also easier to carry and transport, making them a popular choice for individuals who require a cooler that can be easily maneuvered and stored.
Factors to Consider When Choosing a Yeti Cooler Size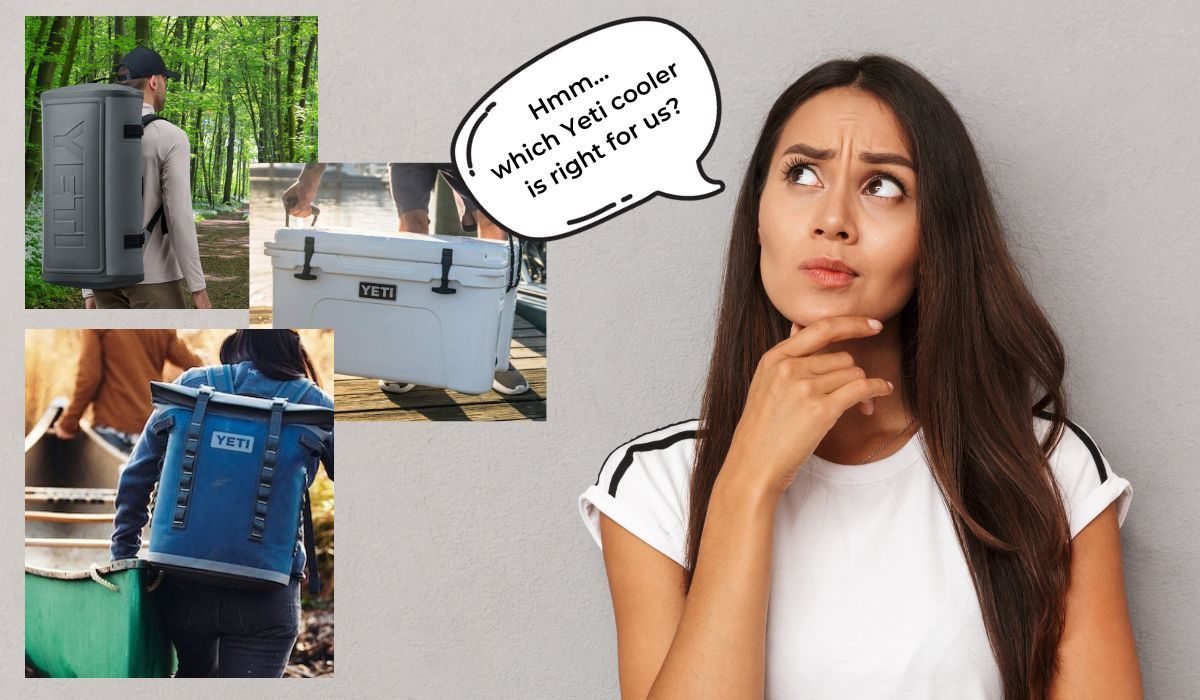 Consideration of intended use, capacity requirements, and portability and transportation is crucial when selecting the perfect Yeti cooler size. Keeping these factors in mind will ensure that you choose the right cooler size for your needs, providing optimal cooling performance and convenience during your outdoor adventures.
Intended Use
When choosing the appropriate size Yeti cooler, it greatly depends on the activities and duration of your outdoor adventures. For example, the Roadie 24 and Tundra 45 are ideal for camping trips, while larger models like the Tundra 110 and Tundra 125 are more suitable for stationary use at events or gatherings.
Beach outings, picnics, hunting, sport-fishing, camping, boating, rafting, tailgating, paddling, barbecuing, kayaking, and floating the river are just a few examples of activities that may necessitate the use of a Yeti cooler.
Considering your specific activities and trip duration can help you select the most suitable Yeti cooler size, ensuring your food and drinks remain fresh and cold throughout your adventure.
Capacity Requirements
Assessing the amount of food, drinks, and ice needed for your trip is a vital step when choosing a Yeti cooler size. The capacity requirements for a cooler can vary depending on the number of people in your group, the duration of your trip, and the type of food and drinks you'll be packing. For example, a weekend camping trip for a family of four would require a cooler with a larger capacity, such as the Yeti Tundra 45.
It's important to maintain a 2:1 ice-to-contents ratio for optimal ice retention in Yeti coolers. This means that two-thirds of the cooler should be filled with ice, while one-third can accommodate drinks and food. By considering your capacity requirements and following the recommended ice-to-contents ratio, you can ensure that your Yeti cooler provides the best cooling performance for your needs.
Portability and Transportation
Ease of transportation and handling plays a vital role when selecting the perfect Yeti cooler size. Smaller Yeti coolers, such as the Roadie or the Hopper, are more portable and suitable for activities such as kayaking, floating the river, or short camping trips. Larger Yeti coolers, like the Tundra series, may be less portable due to their larger dimensions and weight, but they are more appropriate for situations where you have a vehicle available to transport them.
Yeti offers wheeled options, like the Tundra Haul, for those who require a larger cooler that is still easy to transport. Or alternatively, the Yeti Roadie 48 Wheeled Cooler or the Roadie 60 Wheeled Cooler for slightly smaller wheeled variations. Additionally, carrying handles and shoulder straps are available on some models to enhance portability of the haul portable wheeled cooler, making it a reliable yeti tank for your outdoor adventures.
Considering the portability and transportation of your Yeti cooler will help you choose the most appropriate size for your outdoor adventures.
Yeti Cooler Accessories and Customization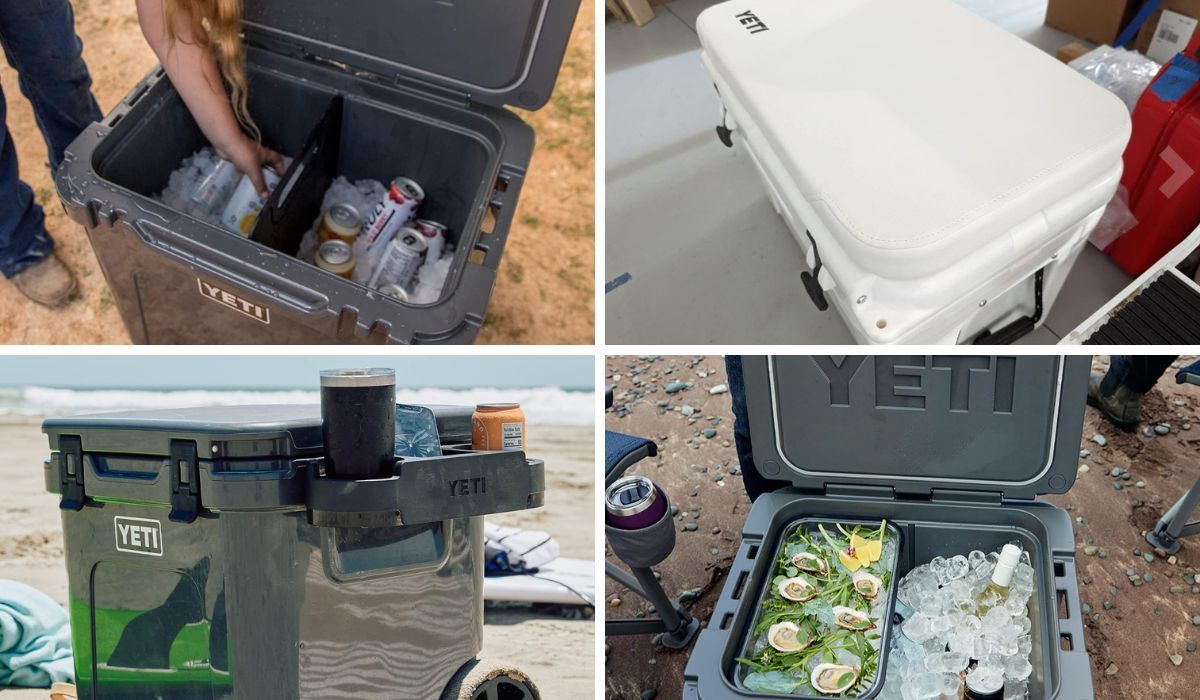 Various accessories and customization options are available to enhance the functionality and personalization of your Yeti cooler. These include divider and basket systems, cushions and seat covers, and custom colors and logos.
By customizing your Yeti cooler, you can create a unique and practical solution tailored to your specific needs and preferences, making it one of the best yeti's coolers on the market.
Divider and Basket Systems
Dividers and baskets designed for specific Yeti cooler models can help improve organization and storage within your cooler. Horizontal and vertical dividers are available, and some can also be used as food-safe cutting boards. Coated steel wire baskets are also available for added durability. Utilizing these accessories will help you make the most of your cooler's space while keeping your items organized and easily accessible.
To install a divider or basket system in a Yeti cooler, simply insert the divider into the built-in divider grooves or place the basket inside the cooler. Dividers and basket systems can be found on the official Yeti website or through online retailers such as the Yeti Store or other Third Party Suppliers like the Above Sea Level Store on Amazon.
Cushions and Seat Covers
Yeti cushions and seat covers can transform your Yeti cooler into comfortable seating during your outdoor adventures. These accessories are designed to fit various cooler sizes and are crafted from dense foam and marine-grade vinyl or premium fabric such as Sunbrella. They are easy to install on the cooler lid and can be removed for cleaning or when not in use.
To install a cushion or seat cover on a Yeti cooler, clean the surface of the cooler lid, then secure the included studs into the cooler lid before snapping the cushion in place.
Cushions and seat covers can be found on the official Yeti website or through online retailers such as Amazon.
Custom Colors and Logos
Personalize your Yeti cooler, tumblers cups and more with custom colors like pink Yeti Coolers and logos to showcase your style or represent your favorite team or brand. Yeti offers custom colors on their coolers through their official customization service, allowing you to create a unique and eye-catching cooler.
You can also add custom logos to your Yeti cooler by visiting the Yeti website Design Your Own feature.
By customizing your Yeti cooler with your choice of colors and logos, you can create a one-of-a-kind cooler that reflects your individual style and preferences.
Tips for Maximizing Ice Retention in Your Yeti Cooler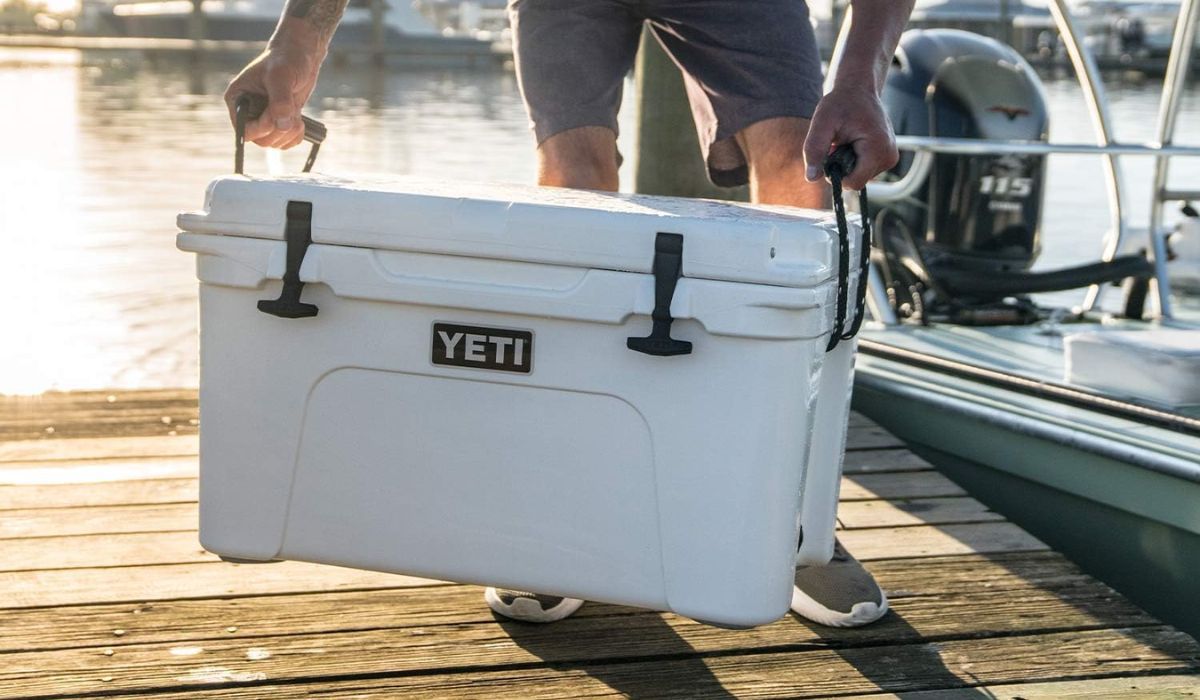 Following some best practices is essential to maximize your Yeti cooler's ice retention capabilities. In this section, we'll explore tips for:
Pre-chilling your cooler
Maintaining the proper ice-to-contents ratio
Utilizing efficient packing techniques to keep your food and drinks cold for an extended period.
Pre-Chilling the Cooler
You can extend ice retention times by up to one full day by pre-chilling your Yeti cooler before use. Store your cooler in a cool place for a few hours before use, or add ice packs or frozen water bottles to help maintain the temperature inside the cooler. Pre-chilling the cooler is beneficial in terms of maximizing ice retention and keeping items colder for longer.
In addition to pre-chilling the cooler itself, you can also chill the contents before packing them. This will help to maintain the cooler's temperature and further improve ice retention.
Using the Right Ice-to-Contents Ratio
For maximizing cooling efficiency and prolonging ice life, it's vital to maintain the ideal ice-to-contents ratio in your Yeti cooler. It is recommended to use a 2:1 ice-to-contents ratio by volume, meaning that one-third of the cooler should be filled with the contents while the other two-thirds should be filled with ice.
When packing your cooler, it's essential to consider the specific heat of the contents and the temperature of the cooler when loaded. By maintaining the recommended ice-to-contents ratio, you can ensure that your Yeti cooler provides the best cooling performance possible.
Proper Packing Techniques
Using efficient packing techniques can optimize space and enhance cooling performance within your Yeti cooler. Here's how:
Start by placing a layer of ice at the bottom of the cooler.
Follow with cold or frozen food items.
Arrange your drinks and other items on top of the food.
Add another layer of ice to cover everything.
This layered approach helps to maintain an even temperature throughout the cooler and ensures that your food and drink cold items stay cold.
In addition to using a layered packing method, be sure to pack your cooler tightly to minimize air gaps, as air can cause the ice to melt more quickly. By following these proper packing techniques, you can maximize ice retention and keep your food and drinks cold throughout your outdoor adventure.
In the End ...Various Factors go into Choosing the Right Yeti Size
In the end, selecting the right Yeti cooler size depends on various factors, such as intended use, capacity requirements, and portability. By considering these factors and utilizing the tips and information provided throughout this blog post, you can make an informed decision and choose the perfect Yeti cooler to accompany you on your outdoor adventures. So, gear up, grab your Yeti cooler, and head out for an unforgettable experience in the great outdoors.
Frequently Asked Questions
Is Yeti 35 too small?
The YETI Tundra 35 is a great size for a 2 day camping trip, offering both portability and performance with its 28.8 quart capacity and 20 lbs weight.
What is the best Yeti for daily use?
For daily use, the YETI Rambler Vacuum Bottle is the best option due to its durable construction and ability to keep beverages hot and cold all day long. It's the most reliable water bottle on the market that will last you for years.
For daily use, for a cooler, the best option is the YETI Tundra 45 for every day use. See infographic "best Yeti Cooler Sizes for various activities"
Is the Yeti 24 big enough?
The Yeti 24 provides enough interior space to fit wine bottles upright and multiple options for hauling. Therefore, it is big enough for most people's needs.
Is Yeti 75 too big?
The YETI Tundra 75 is a great option for larger groups, as its exterior size of 17 7/8" x 17 1/2" x 33 1/2" provides ample space. However, due to its size, you'll likely need an extended cab or truckbed to transport it around. Thus, the YETI 75 is too big for some uses.
What is the most popular Yeti cooler size in 2023?
In 2023, the most popular Yeti cooler sizes are the Tundra 45, Roadie 24, and Tundra Haul.
---
You might also like our YETI articles: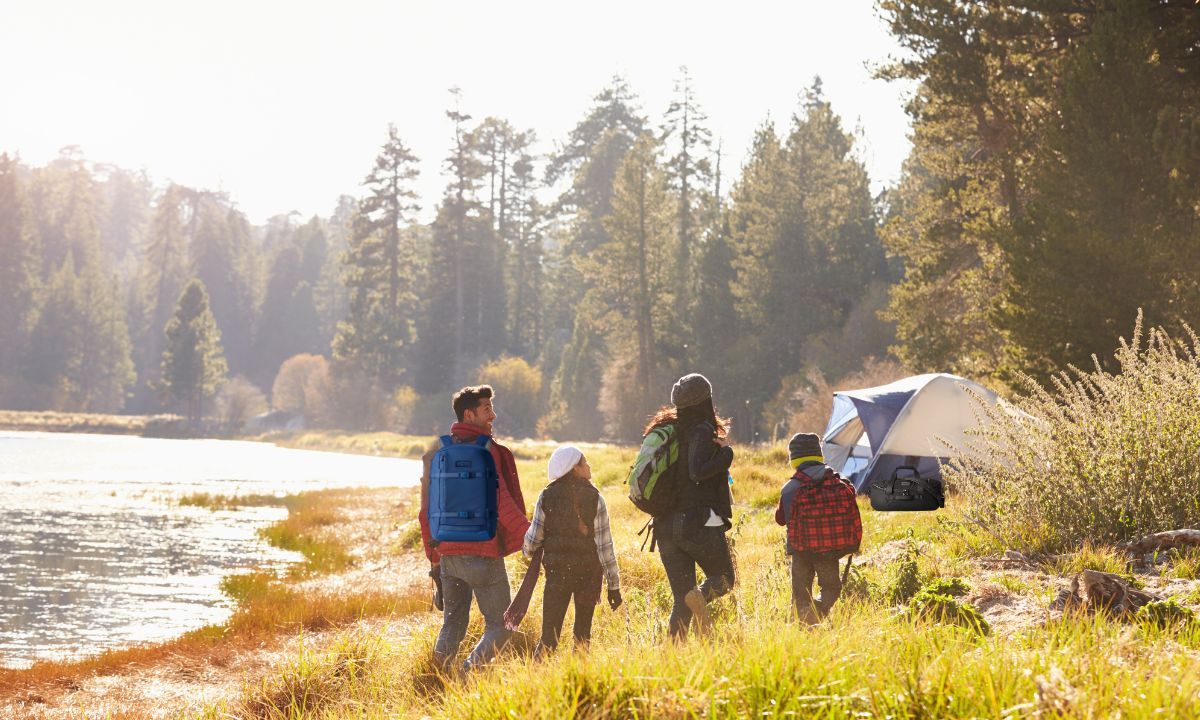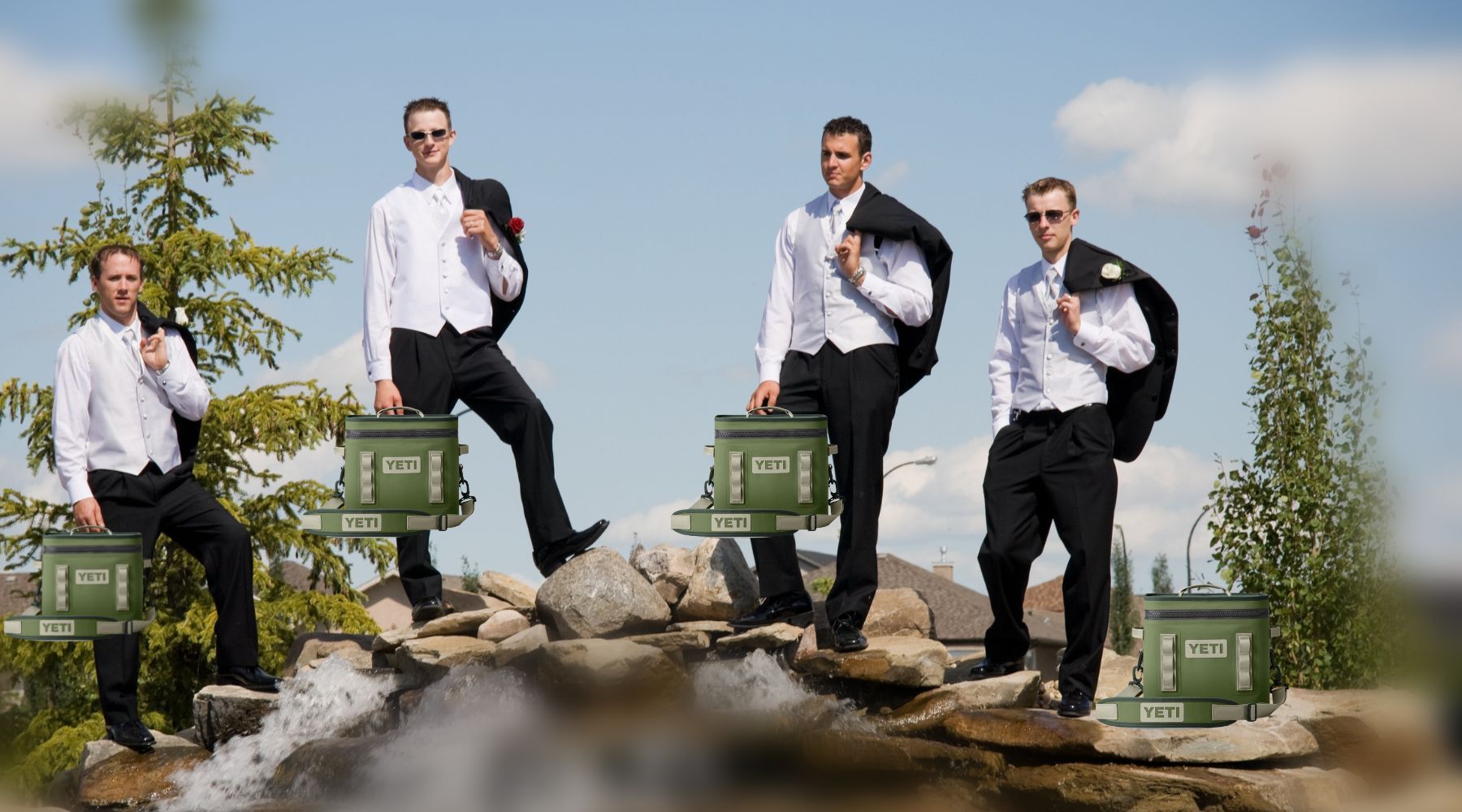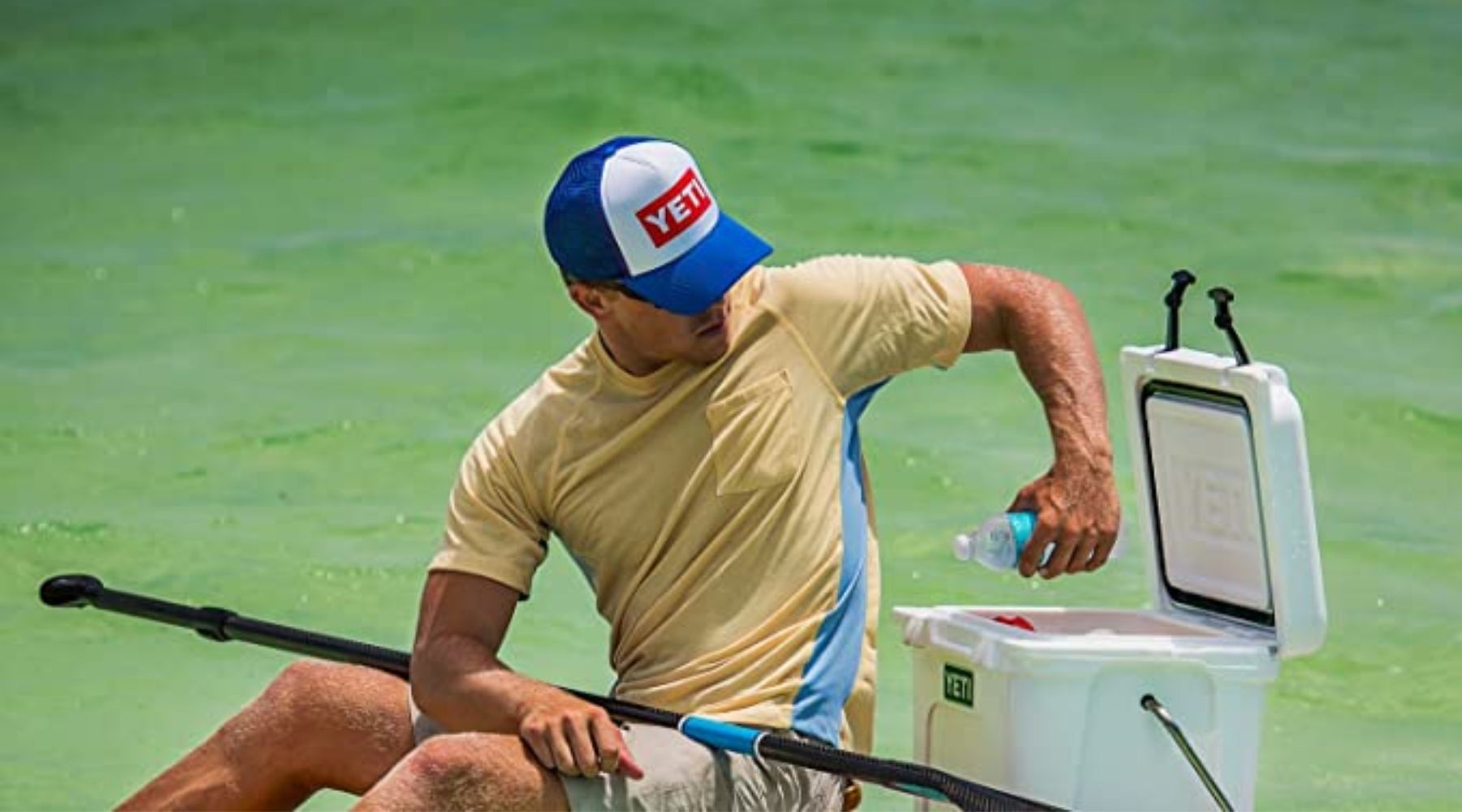 ---
We hope you find your next favorite thing from FavReviews! We are a family friendly product review site.
Four Generation Family: As a four generation family, the breadth of products we consume and review as brand ambassadors is vast. But we can tell you, in general, in we love the outdoors, sports, staying active, living healthy and celebrating the changing seasons.
Trending Products: We also love finding new trending products and we are happy to pass along our research of new trending products to you. Follow us so you don't miss out on a thing! We send out cool emails with our latest reviews, and we will never sell or misuse your information.
Opinions Based on Use, Research and Reviews: Each product we write about is independently selected by our editors. All opinions in this article are our own, based on our own use of the product(s), or hours of research and reading reviews. We will never recommend something we wouldn't use ourselves in our own family.
Compensation: Yes, FavReviews may collect a share of sales or other compensation from the links on this page if you decide to buy something (that's how we stay in business). But, the product never costs you more, in fact in some cases, we hope we might help save you money based on our recommendations.
Reviews have been edited for length and clarity. Enjoy finding your next favorite thing!
Happy Shopping!
Your FavReviews Team
____________________________________________________
BEHIND the SCENES LOOK: If you'd like to learn how to start your own product review blog, with products that you love, check out our article How to Become a Brand Ambassador or visit LearnWriteLive.com There is room for all of us to provide better service to online shoppers. What's your passion?