If you're looking for toddler water shoes, look no further! In this blog post, we will be reviewing our five favorite water shoes that are perfect for keeping your child's feet safe while they're having fun in the water. From splashpads to beaches, these shoes will keep your child protected from harmful surfaces and sharp objects.
Do your kids love going to the beach but you worry about the rocks or shells seaside or lakeside? Or you worry about the hot sand burning their feet? Or you worry about picking up a virus at the splashpad or pool?
We have researched the perfect solution for you – water shoes for toddlers! These are aqua shoes designed to make life easier for both parents and kids. They're easy to slip on and off, and many of them are flat so they're easy to pack in your suitcase when travelling or going on vacation.
With water shoes or water sandals you can relax by the pool knowing that your kids' feet will be safe. No more worrying about them burning their feet on the hot cement or sand. Or scraping them poolside on the cement, or beachside on the rocks or shells. Plus, they'll stay nice and cool in the water with these stylish shoes.
The water shoes in our list are crafted from premium materials and are designed with your needs in mind. We are committed to reviewing the highest-quality toddler water shoes possible.
These water shoes for kids allow toddlers to run around and splash the day away without slowing them down. Parents will love that their young one's feet stay protected from hot pavement and trails while staying cool with all-day breathability.
How We Pick The Best Water Shoes For Toddlers Out Of So Many Products
It can be hard to choose a pair of kids water shoes.  There are so many different styles, brands, and designs available that it can be tough to decide which would be best. This is why we have created this list. We've done a lot of research looking into toddler water shoes and water sandals.   We've studied reviews and tried some of them with our own kids to see which ones work best.
We're constantly looking for new, innovative products worth your time and money. We love it when a product is as good as it can be, and we know that you do too.
Our goal is to make your life easier by finding the best water shoes for your toddler.
Sneaker Style Water Shoe For Toddlers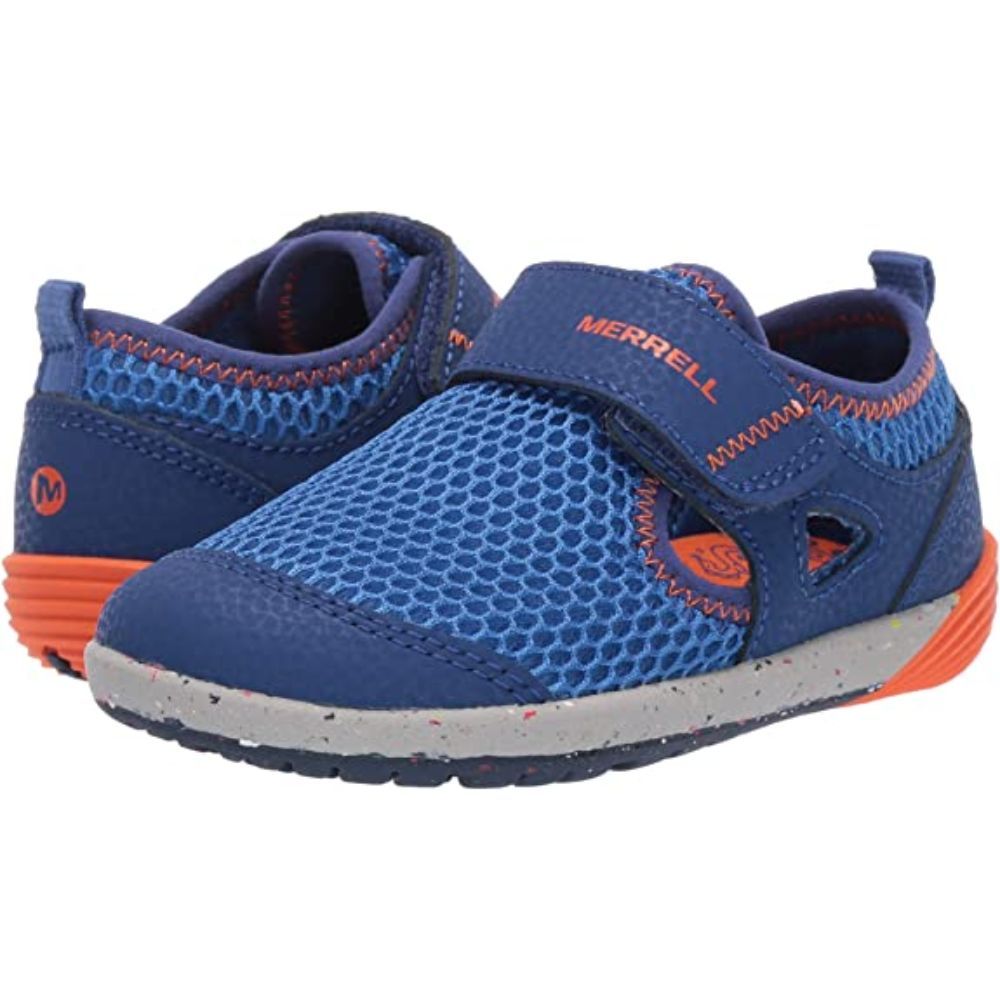 Best Sneaker Style Water Shoes for Toddler
MERRELL Toddler Bare Steps H2O Water Shoes | 7 Colors
Check Price on Amazon
Why We Like It
These water shoes by Merrell are a stellar example of the company's commitment to excellence.
The Merrell Bare Steps H20 Water Shoe is an eco-friendly water shoe for toddlers and kids. It is a safe alternative for parents who want to keep their children active and outdoor-oriented but may not be ready for a full-on pair of water shoes.
The brand uses recycled polyester and features flex grooves that help the shoe grip onto wet surfaces, allowing it to be easily worn on land or in water. The sole of these toddler water shoes are made of EVA foam, which helps provide cushioning and shock absorption while still allowing you to walk on hard surfaces easily.
All in all, they are available in three different sizes: small fits children ages 1-3 years old, medium fits children ages 3-6 years old, and large fits children ages 6-11 years old.
Fav Features
The Bare Steps H20 Shoes are a fun and comfortable way to get around the pool, beach, or lake. They offer great traction and stability, so you can concentrate on having fun instead of worrying about slipping.
They also have a wider toe area for more stability and with anti-slip rubber soles they have great traction. The waterproof lining keeps your toddlers feet dry and comfortable even in the wettest conditions.
This water shoe comes equipped with rubber soles that offer good traction, which is great for the little ones who are learning to walk. They are also very comfortable and lightweight, so your child will enjoy wearing them all day long.   So they have earned our label of the 'best kids water shoes."
Toddler Aqua Shoes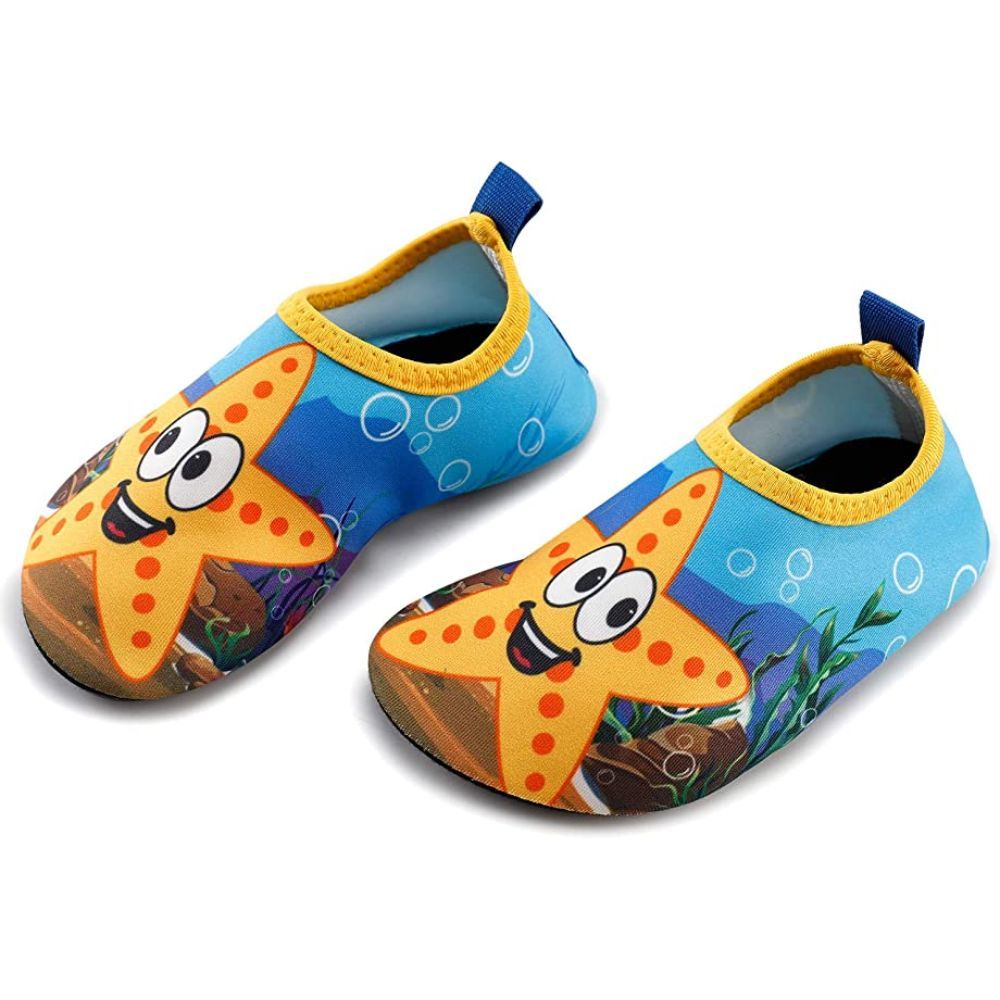 Best Toddler Aqua Shoes
Bigib Toddler Swim Water Shoes | 12 Colors and Patterns
Check Price on Amazon
Why We Like It
The Bigib Toddler Swim Water Shoes are a great choice for your child. These water shoes are designed with a soft rubber sole, which makes them comfortable to wear while swimming. The socks-style design has an attached strap that runs across the top of the foot and back around the ankle, so it provides good support and stability when walking or running in water.
Luckily, the shoes have a mesh lining, which helps wick away moisture from your child's feet, so they stay dry even during long periods in the pool or ocean. The breathable mesh lining also lets air circulate around their feet, so they don't feel hot while wearing them while swimming or playing outside on hot summer days!
Fav Features
Great for swimming and walking, the Bigib Toddler Kids Swim Water Shoes will help your little one stay comfortable while they explore the water.
The Bigib Toddler Kids Swim Water Shoes are designed to protect your child's feet against bacteria and mildew. The soft, comfortable material will provide a close, supportive fit, so there is no sogginess. No smell and no stinky feet either!
Also, the rubber outsole, hook and loop closure and foot safety make these shoes perfect for those learning how to swim or just playing in the pool or lake. They also provide a smooth neck design that allows them to slip on easily. Perfect for walking and swimming!
The Bigib Water Shoes come in three sizes: 6-inch, 7-inch, and 8 inch, so you can choose the right size for your toddler.
Keen Toddler Water Shoes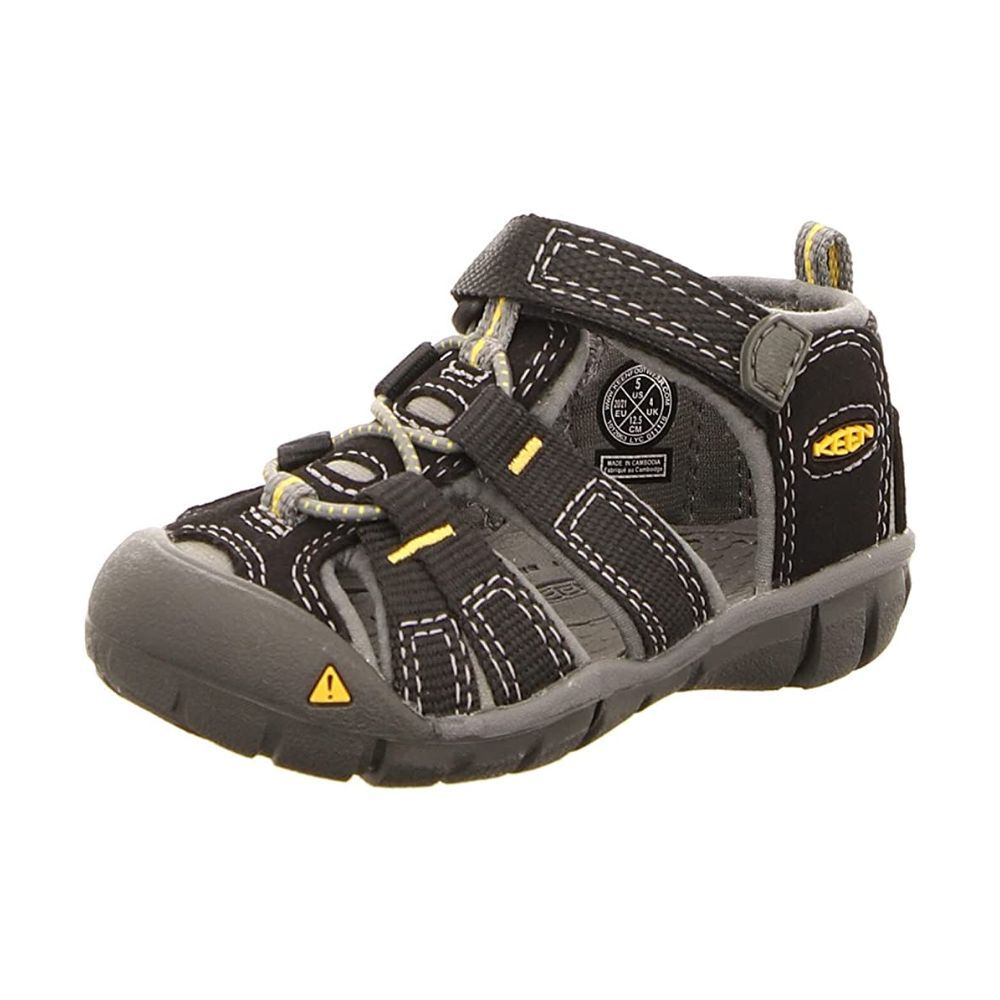 Keen Toddler Water Sandal
KEEN Toddler Seacamp Ii CNX Water Sandal | 37 Colors!
Check Price on Amazon
Why We Like It
If your child tends to go through shoes quickly and loves playing near water, consider buying them some sturdy water shoes—like the Keen Kids' Seacamp Ii CNX-C.  
Keen Sandals an excellent choice for your little ones!  They have a soft, flexible rubber outsole with a non-marking pattern, which will provide your child with a comfortable and sturdy walk.
It also features KEEN's AquaLiner® technology that keeps your toddlers feet dry and comfortable during every step. The footbed offers a cushioned feel, and the breathable top fabric allows quick drying after being in the water.
This Keen Sandal is designed to help your little ones get geared up and out the door fast. The wide, adjustable hook-and-loop strap makes it easy for them to put on by themselves. Plus, it's sprinkler ready! This sturdy carrier was crafted with quick dry performance nylon and lining.
Fav Features
Keen Unisex-Child Seacamp Ii CNX Sandal is an excellent shoe for your kids. It is made of a water-resistant upper material, which is washable and easy to clean.
Furthermore, this sandal has a PU midsole, which provides comfort and support to your kid's foot. The outsole of this sandal is made of durable rubber that can withstand daily wear and tear.
It comes with a nonslip bottom, which prevents the water sandal from slipping off when your kid walks on wet surfaces like grass or mud.
Nautica Toddler Water Shoe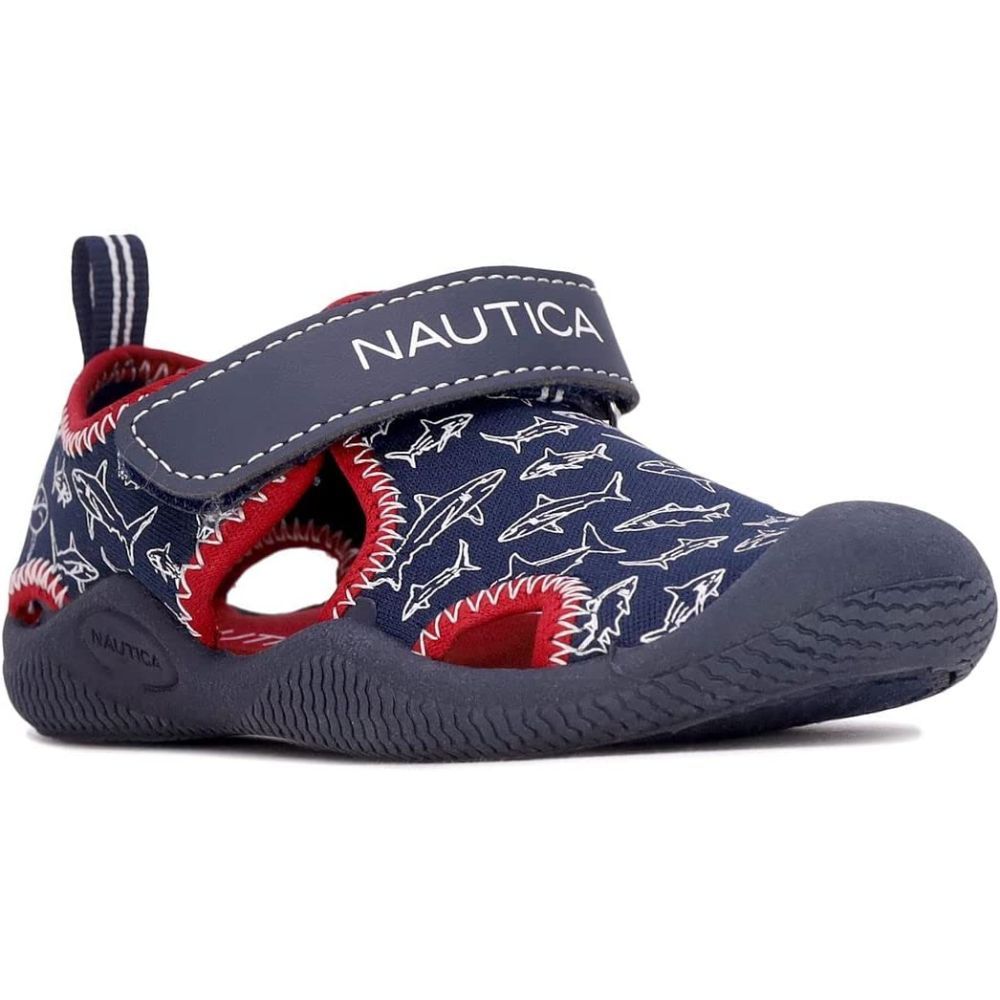 Nautica Toddler Water Shoe
NAUTICA Toddler Water Shoes | 38 Colors and Styles
Check Price on Amazon
Why We Like It
The Nautica toddler water shoe is one of our favorites because we like the sturdy rubber sole of this athletic sandal with open side panels and protective bump toe guard.  They will keep  your toddler's feet safe, secure and comfortable.
They velcro strap makes this shoe easy for children to put on and take off. The neoprene uppers dry quickly to keep your littles ones feet from chafing.
We also like the look of this quality water shoe, and it comes in over 40 patterns and colors.
Fav Features
These water shoes are designed with a slip-resistant grippy sole and convenient Velcro strap, offering comfort, durability, and style. They are perfect for your toddler who loves to play in the water.
The rubber sole provides a solid base for this water shoe, making it durable and sturdy. The breathable mesh material will keep your child's feet protected while they are playing in the water. These shoes are also lightweight, making them perfect for summertime. Your child will love wearing these shoes, whether they are playing in the water or on land.
Best Girls Aquatic Water Shoes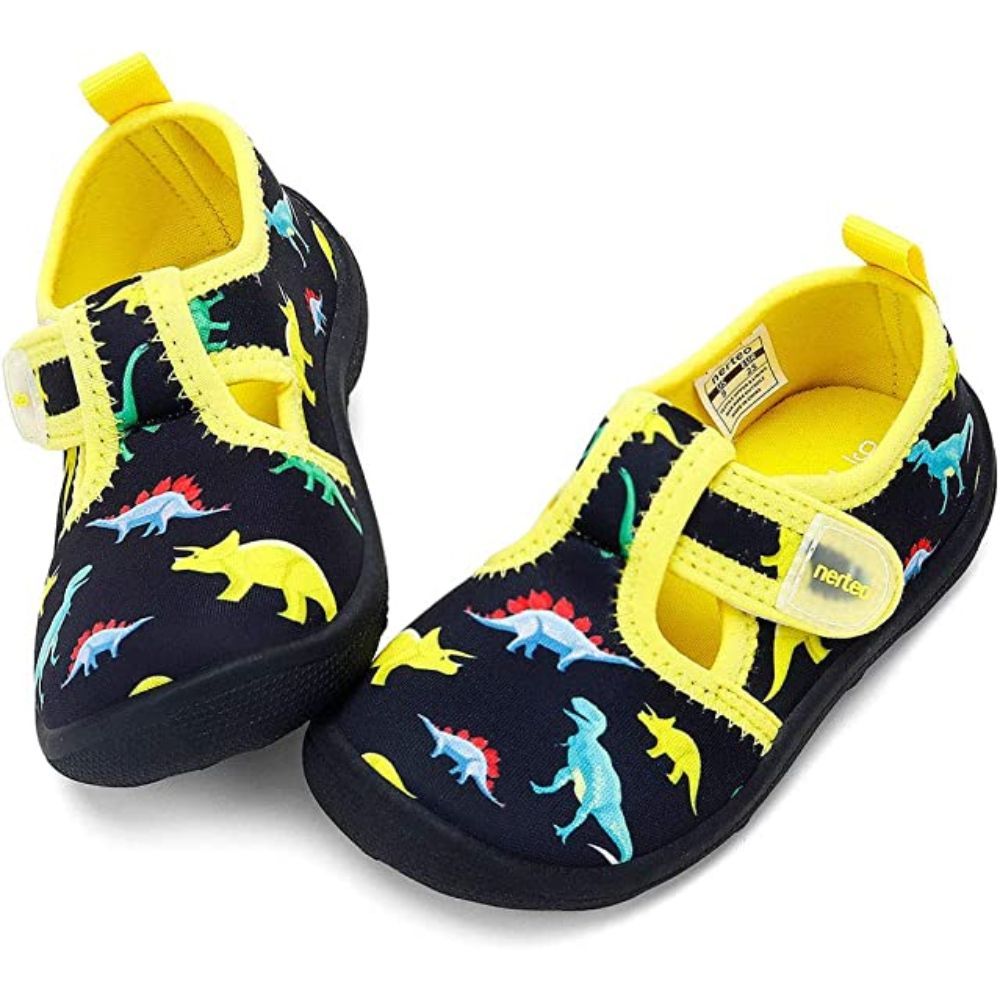 Cute Toddler Water Shoes
Nerteo Toddler Aquatic Water Shoes | 10+ Colors and Patterns
Check Price on Amazon
Why We Like It
If you're looking for simple, cute water shoes, the Nerteo Boys and Girls Water Shoes might be just what you need. These fun-looking designs are available in several animal patterns, including unicorns and dolphins.
The new Nerteo is a flexible and non-marking outsole worn with or without socks. It's designed for all-terrain use and features a durable EVA midsole for cushioning and shock absorption.
Moreover, the pair also features a secure fit with a contoured sock-like fit to provide comfort, support, and protection in the water. This shoe is constructed with a durable EVA midsole for cushioning and shock absorption.
They are also equipped with a water-resistant lining that provides protection when wet environments are encountered. The outsole uses FlexiFoam technology to provide flexibility and comfort during your aquatic adventures.
This cute little shoe is perfect for travel, play, or everyday wear, keeping your little ones comfortable whether you're at the pool, beach, or even the beach house!
Fav Features
The Nerteo water shoes are a great choice for young kids. The unique print is fun and colorful, and the hook-and-loop straps make them easy to put on and take off.
With a soft, comfortable insole and flex grooves for added stability, these best kids water shoes will keep your kids' feet dry and comfortable all summer long. And its flexible and non-marking outsole provides maximum stability.
Best Toddler Water Shoes FAQs:
Below, we have answered some of the most frequently asked questions about kids water shoes shoes.
Do kids need water shoes for the beach?
The short answer is yes! This is because water shoes are designed to provide more traction and will be quick drying compared to regular sneakers. Kids will be able to walk on wet or hot sand and stones with them, reducing the risk of getting hurt by slipping or tripping on the slippery surfaces.
If you're wondering whether kids should wear water shoes during a family trip to the beach, it's best to follow your child's lead. If they're comfortable in their water shoes, then go ahead and let them wear them. Also, the best toddler beach shoes will protect your little one's feet from sharp rocks, and other rough surfaces.
Can kids swim in water shoes?
Yes, kids can swim while wearing shoes. The toddler swim shoes allows kids to walk in the water and feel comfortable about stones or rocks that may be underfoot. Toddler water socks and beach shoes are also quick drying, so when back on the beach their shoes will dry fast.
There are a variety of aqua sock styles, water sandals and water shoes to choose from. So you should have no trouble finding a pair that will suit your little one's feet whether narrow or wide feet.
Should kids wear shoes at splash pads?
Nonslip shoes are a must for splash pad. If you have ever been in the pool and slipped on the wet floor, you know how dangerous this can be.  Most water parks and splash pads are made of cement, tile or other surfaces, so with varying levels of water splashing around it's a good idea protecting feet of early walkers and young children.
Do toddlers need swim shoes?
No, toddlers don't need swim shoes. Swim shoes are primarily worn to protect the feet from cuts and scrapes on rough pool surfaces. Toddlers are less likely to suffer these types of injuries because they typically spend less time walking around the pool deck and more time in the water.
If you're looking for a pair of swim shoes for your toddler, you can find some cute and functional options at your local swimwear or sporting goods store. However, it's important to keep in mind that swim shoes are not necessary for toddlers and they should not be worn all the time. Only put them on when you're planning to be in the water so that your toddler can get used to them.
Are Crocs good water shoes for toddlers?
There is divided opinion on whether Crocs are good water shoes for kids.
Some parents find them to be ideal because they are easy to get on and off, lightweight, and have drainage holes that help prevent water from building up inside the shoe.  Lots of parents love them for little feet running around a splash pad.
Other parents prefer other types of shoes because they feel that Crocs offer less protection from sharp objects and rocks.  And, the verdict is out if Crocs for kids are good or bad around slippery rocks.
Ultimately, it is up to the parent to decide what type of water shoe is best for their child's water play.
Some other popular options for water sandals and shoes include Keens, Stride Rite, and Merrell. These brands generally offer more protection than Crocs and are often preferred by parents for this reason.
What shoes should toddler wear to beach?
There is no definitive answer to this question as every toddler is different and what works for one may not work for another. However, some general tips that may be helpful include:
- Choose shoes that are comfortable and easy to put on and take off.
- Avoid shoes with open toes or heels as these can increase the risk of injury.
- Look for shoes with good traction to prevent slipping.
- Choose shoes that are appropriate for the activity you will be doing. For example, if you will be swimming, choose a pair of water shoes.
If you're still not sure what type of shoe is best for your toddler, check out our list of Best Water Shoes for Toddlers.
Should toddlers wear swim shoes?
When it comes to toddlers and swimming, there is divided opinion on whether or not they should wear swim shoes. Some parents feel that swim shoes offer protection from the hot pavement and rocks around pool areas, while others argue that they can be a hindrance to learning how to swim.
The truth is, there is no right or wrong answer when it comes to whether or not toddlers should wear swim shoes. It ultimately comes down to personal preference and what you feel is best for your child.
If you do decide to have your toddler wear swim shoes, there are a few things you should keep in mind. First, make sure that the shoes fit snugly and are comfortable. They should also have a good grip to prevent slipping.
Finally, keep an eye on your toddler while they are wearing swim shoes. If they seem to be having difficulty walking or swimming, take them off and try again another time. With a little practice, your toddler will be able to enjoy the pool safely and without incident.
What brand of shoes is best for toddlers?
There are a few brands that come to mind when looking for shoes for toddlers. First, there is Stride Rite. This brand has been around for awhile and makes high quality shoes. They have a good selection of shoes for toddlers, including sneakers, sandals, and boots.
Another option is Pediped. This brand also has a good selection of shoes for toddlers, and they are known for their comfort and durability.
Another option is Robeez. This brand makes soft soled shoes for infants and toddlers. They have a wide variety of styles to choose from, including Mary Janes, slip ons, and moccasins. All of these brands make high quality shoes that would be perfect for toddlers.
When it comes to choosing the right pair of shoes for your toddler, it is important to keep in mind their individual needs. If they have wide feet, you will want to look for a brand that offers wide width shoes. If they are prone to foot sweat, you will want to look for a brand that offers shoes with breathable materials. And if they have any other special needs, you will want to find a brand that offers shoes specifically designed for those needs. With so many great brands and options to choose from, you are sure to find the perfect pair of shoes for your toddler.
Speedo is one of the most popular brands when it comes to water shoes for toddlers. They have a wide variety of styles to choose from, and their shoes are known for being both comfortable and durable. Another great thing about Speedo shoes is that they come in a wide range of sizes, so you are sure to find a pair that will fit your toddler perfectly.
Conclusion:
Toddler water shoes protect feet while splashing in the water. Water shoes for toddlers will keep their feet safe from hot sand, rocky beaches and any sharp objects they may come across during playtime.
So, if you want to go to the beach or splashpad with your kids, and let them enjoy water sports, get them a pair of the water shoes for kids from our  list.
You may also be interested in our review on "5 Best Crocs Water Shoes for the Entire Family"
Happy Shopping!
The FavReviews Team
Why Trust Us?
We hope you find your next favorite thing from FavReviews! We are a family friendly product review site.
Four Generation Family: As a four generation family, the breadth of products we consume and review as brand ambassadors is vast. But we can tell you, in general, in we love the outdoors, sports, staying active, living healthy and celebrating the changing seasons.
Trending Products: We also love finding new trending products and we are happy to pass along our research of new trending products to you. Follow us so you don't miss out on a thing! We send out cool emails with our latest reviews, and we will never sell or misuse your information.
Opinions Based on Use, Research and Reviews: Each product we write about is independently selected by our editors. All opinions in this article are our own, based on our own use of the product(s), or hours of research and reading reviews. We will never recommend something we wouldn't use ourselves in our own family.
Compensation: Yes, FavReviews may collect a share of sales or other compensation from the links on this page if you decide to buy something (that's how we stay in business). But, the product never costs you more, in fact in some cases, we hope we might help save you money based on our recommendations.
Reviews have been edited for length and clarity. Enjoy finding your next favorite thing! Happy Shopping! Your FavReviews Team