It's that time of year again - March is here and Daylight Savings Time (DST) is coming next Sunday!
Every year on the second Sunday of March, most countries around the world switch to DST by setting their clocks ahead one hour.
This simple change helps us make better use of daylight hours by allowing for more sunlight in the evening, which can help with outdoor activities like sports and gardening.
By springing forward one hour in the spring, we also have an extra hour of sleep in the fall when daylight hours begin to shorten.   This switch helps us keep our bodies in sync with nature's light cycle and allows us to make the most of each day!
The Days are Getting Longer ...

Are you noticing the sun is setting a little later in the evenings?  You're getting more time after work before it gets dark.  
By following the Daylight Savings Time schedule, we can enjoy a little extra sunlight in the evenings during longer days and more sleep on shorter winter days.
As temperatures begin to rise, it's a great time to take advantage of this additional hour of daylight by spending time outdoors and enjoying nature with friends and family.
So this Sunday, don't forget to set your clocks forward one hour and spring into Daylight Savings Time!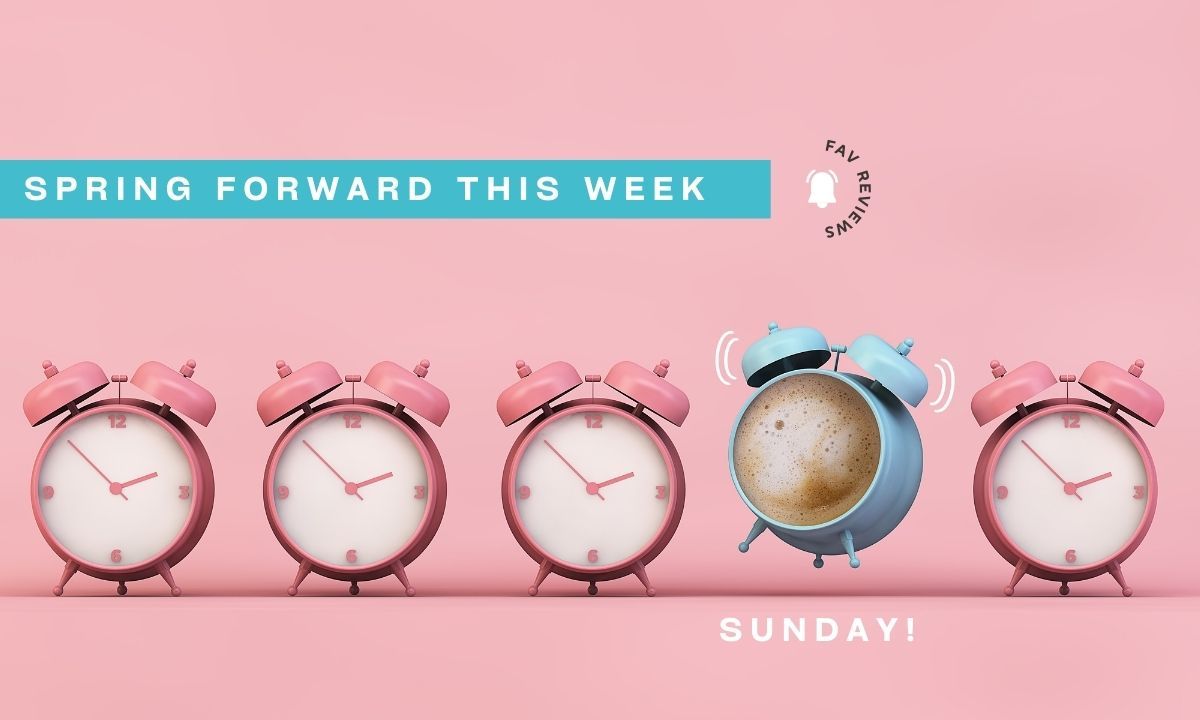 What will you do this week to Spring Forward in your life?
Sit and pause for a moment, maybe over a coffee or tea (or glass of water) and think about what you will do to spring forward in your life, starting this week.
This is what I'm thinking:
This week, I'm planning to spring forward in my life by taking advantage of the extra hour of daylight.
I'm going to set aside some time each day for outdoor exercise and activities such as walking or biking with my husband or friends.
Additionally, I'm going to make sure that I get enough rest each night by setting a bedtime routine and sticking to it.
Finally, I'm going to make sure that I make the most of my extra hour of daylight by taking some time each day for a leisurely stroll and enjoying sunsets and nature in my neighborhood.
By actively taking advantage of this switch to Daylight Savings Time, I am looking forward to improving my health and increasing the quality of my life!
Now it's your turn ...
Wwhat will you do to help spring forward in your life this week?

Spring is in the air!
Spring is in the air ... we aren't quite there yet, but when the winter thaw starts, and daffodils start peeking through the ground, it's hard not to get excited.
As we look forward to the start of Daylight Savings Time this Sunday, let's remember to make the most of this extra hour of daylight.
By taking advantage of this hour each day and spending time outdoors in the fresh air, we can improve our physical and mental health.
Additionally, by setting a consistent bedtime routine and getting enough sleep, we can ensure that our bodies are in sync with nature's light cycle.
So let's all spring forward this Sunday and enjoy the extra hour of daylight during longer days!
We hope that by understanding Daylight Savings Time and taking advantage of this extra hour of daylight, you can make each day a little brighter and enjoy the warmer months ahead.
Don't forget to set your clocks forward this Sunday!
Your FAV Reviews Team!
Why Trust Us?
We hope you find your next favorite thing from FavReviews! We are a family friendly product review site.
Four Generation Family: As a four generation family, the breadth of products we consume and review as brand ambassadors is vast. But we can tell you, in general, in we love the outdoors, sports, staying active, living healthy and celebrating the changing seasons.
Trending Products: We also love finding new trending products and we are happy to pass along our research of new trending products to you. Follow us so you don't miss out on a thing! We send out cool emails with our latest reviews, and we will never sell or misuse your information.
Opinions Based on Use, Research and Reviews: Each product we write about is independently selected by our editors. All opinions in this article are our own, based on our own use of the product(s), or hours of research and reading reviews. We will never recommend something we wouldn't use ourselves in our own family.
Compensation: Yes, FavReviews may collect a share of sales or other compensation from the links on this page if you decide to buy something (that's how we stay in business). But, the product never costs you more, in fact in some cases, we hope we might help save you money based on our recommendations.
Reviews have been edited for length and clarity. Enjoy finding your next favorite thing! Happy Shopping! Your FavReviews Team