Welcome to the journey of a self-proclaimed coffee enthusiast who has spent the last four years exploring the world of Yeti products.
Her story begins with the humble 14 oz Yeti Coffee Mug, evolves with the Yeti Rambler Bottle and Tumblers, and culminates in the groundbreaking Yeti Stackable Drinkware.
So, let's dive straight into the all-important question:
Is Yeti good for coffee?
Spoiler alert, Yes! Yeti makes an excellent companion for coffee lovers, a fact I can vouch for after my personal exploration with Yeti over the last few years. But don't just take my word for it - I encourage you to join me on this fascinating journey, read on and discover for yourself how Yeti is reinventing coffee mugs and has become a game-changer in the world of coffee.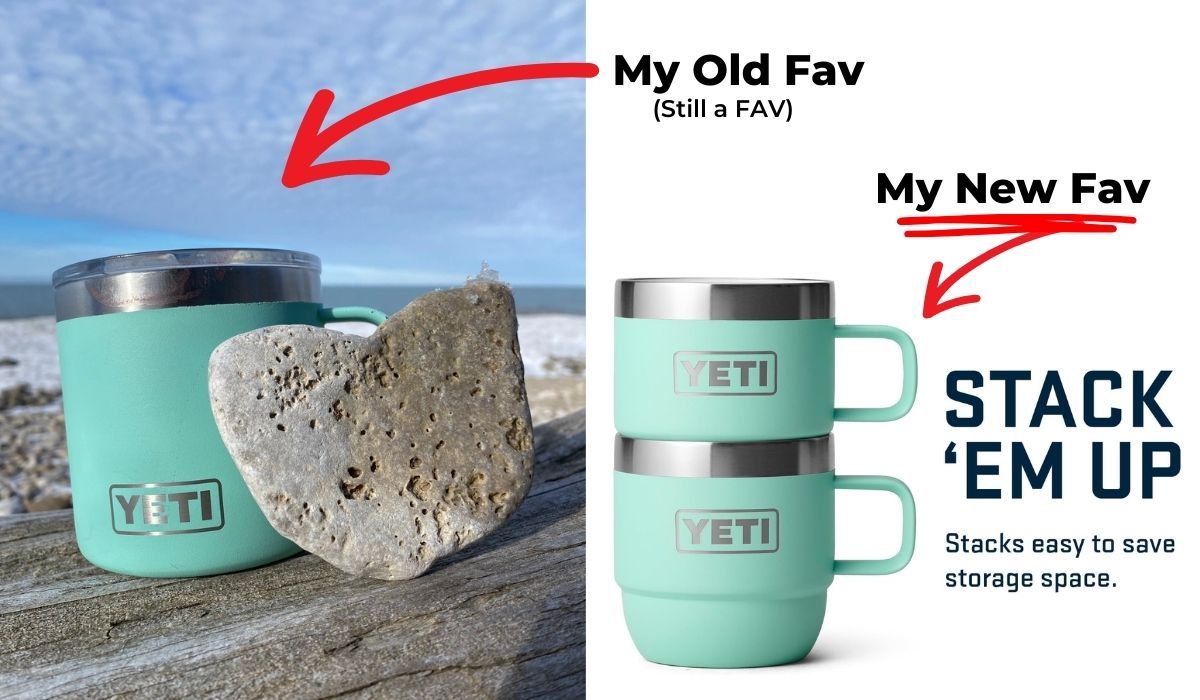 A Love Affair Begins: The Yeti Coffee Mug
Deborah's journey began with the 14 oz Yeti Coffee Mug. With its sleek design and promise of keeping her morning brew piping hot for hours, it was love at first sip. "The Yeti Coffee Mug is more than just a mug," Deborah says. "It's a reliable companion that never lets my coffee go cold. It's worth every penny." If you are working outside you'll enjoy the wider base for your mug. If you are working from a home office, you'll appreciate this Yeti mug keeping your coffee hot longer, a lot longer than a traditional mug.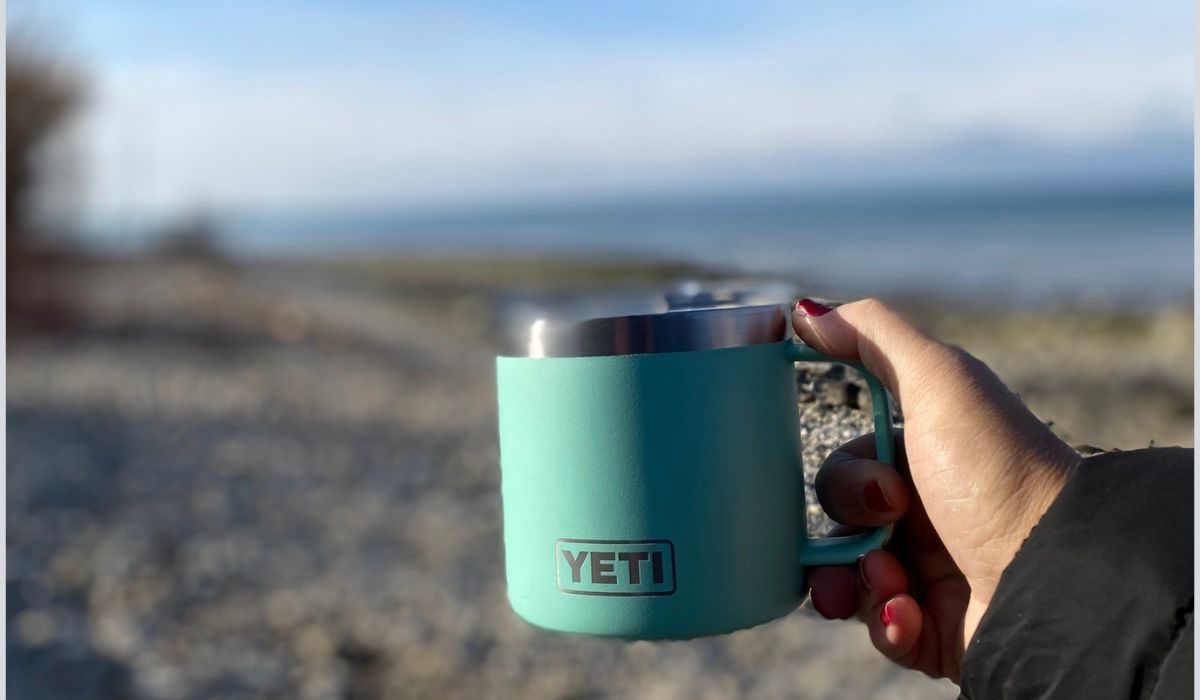 However, if you're a commuter or need to travel to work, you'll want a Yeti travel mug to fit into your vehicle cup holder for your morning coffee. Deborah's personal recommendation is the newer 20 oz Yeti Rambler Travel Mug with Stronghold lid and a handle. (btw it's a bestseller on Amazon for all insulated cups and mugs) It fits most cup holders and will keep your coffee hot the entire commute. . . even if it's to the lake to go fishing! It comes in 20 different colors, so there is a color for every personality in your life (great gift idea!)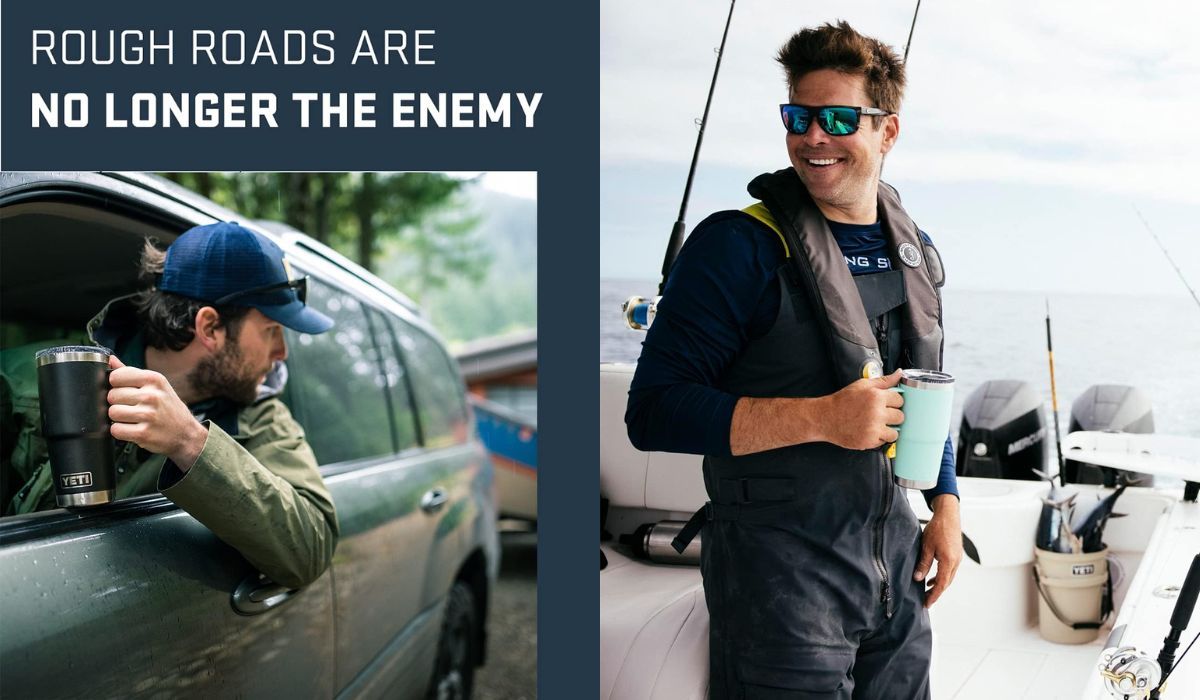 Adventure Calls: The Yeti Rambler Bottle with HotShot Lid Keeps Coffee Hot While Kayaking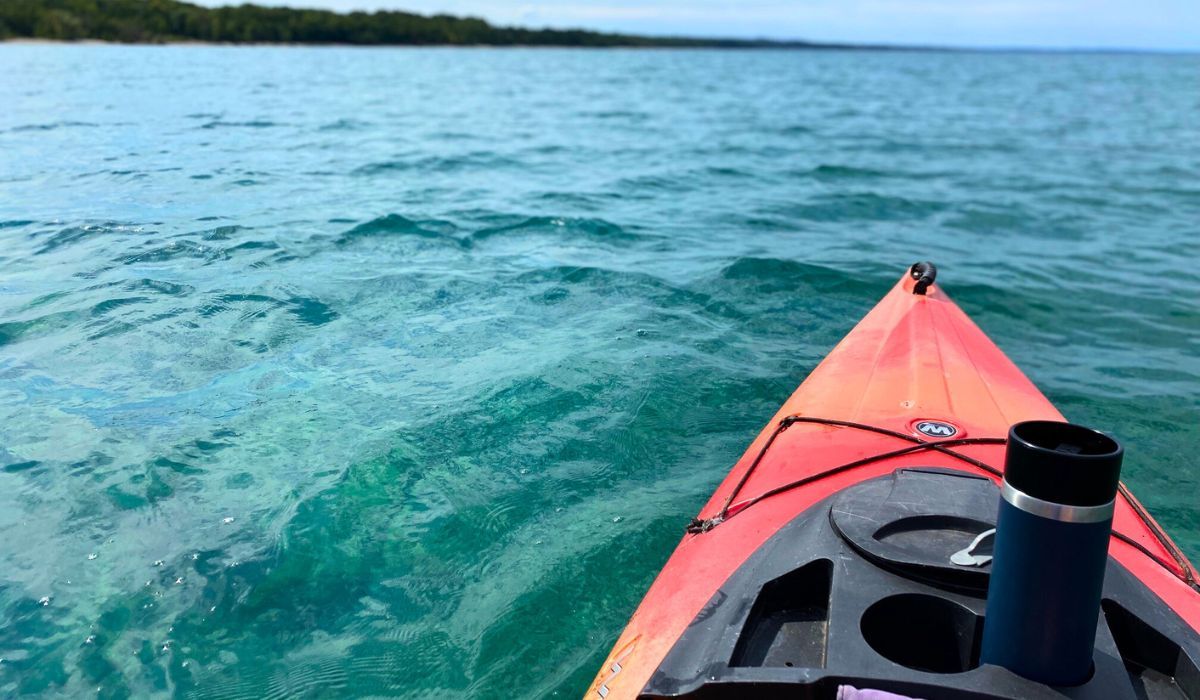 Then came the Yeti Rambler Bottle, which Deborah bought for her kayaking trips. The HotShot lid was a game-changer. "It allows 360-degree drinking so you don't need to worry about where your mouth lands," Deborah explains. "This feature is invaluable when you're out on the water. Plus, my coffee stays hot for my entire outing!"
Home Comforts: The 20 oz Yeti Rambler Tumbler One for Hot Coffee one for Water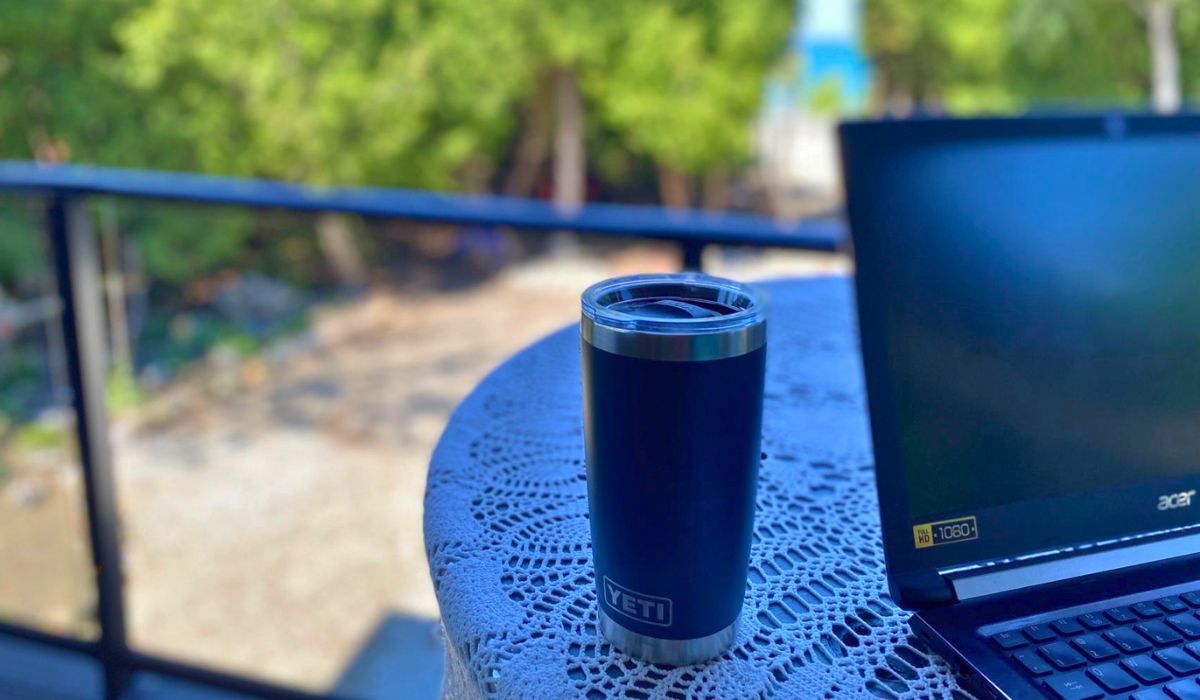 Next, Deborah introduced the 20 oz Yeti Rambler Tumbler to her home office. With its double-wall vacuum insulation, it proved perfect for both indoor and outdoor use. "Whether I'm working at my desk or enjoying the garden, my coffee remains at the perfect temperature," Deborah notes. The newer Magslide lids are a convenience, you can keep your drink covered when outdoors - keeps those pesky insects out.
The Yeti Rambler tumbler is dual purpose, perfect for hot beverages and cold drinks, so you'll want more than one! And don't forget when it comes to cleaning your Yeti tumblers lids, the Magslider comes off for easy cleaning, and you can also remove the rubber gasket around the edge that secures the lid to clean it too.
The Future of Coffee Drinking: Yeti Coffee Cup, the Stackables with DuraSip Ceramic Lining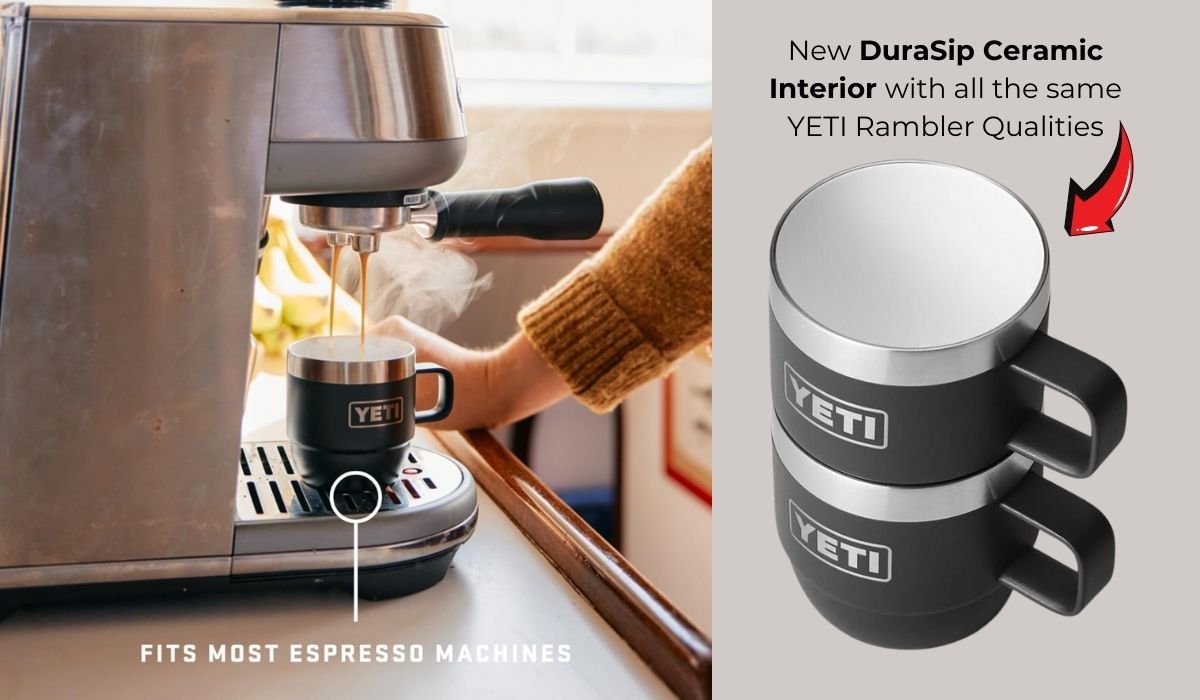 But the real star of the show? The newly introduced Yeti stackables. These are taking the coffee world by storm thanks to their DuraSip Ceramic Lining. This innovative lining prevents any flavor transfer, ensuring each brew tastes as good as it should. "It's like drinking from a ceramic mug, but with all the benefits of a travel cup," Deborah enthuses.
The Science Behind the Magic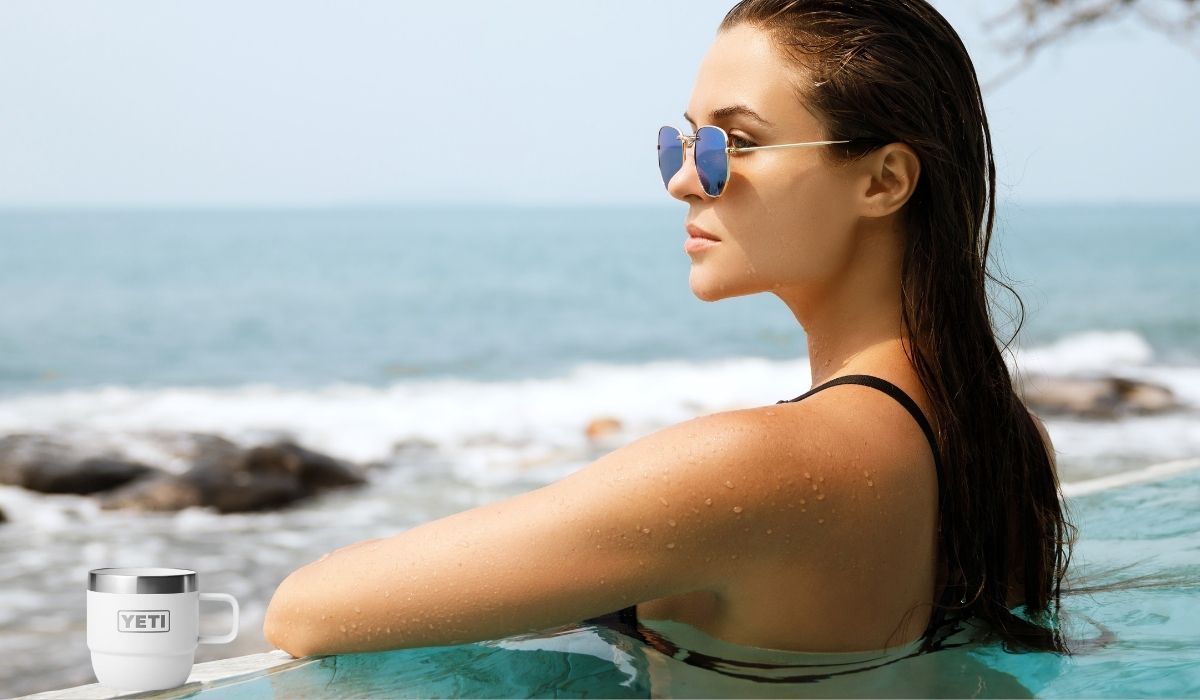 Let's get a little scientific here. The beauty of the DuraSip Ceramic Lining lies in its microscopic smoothness. Unlike stainless steel, ceramic doesn't allow coffee particles to stick to it. This means no more lingering taste from your previous brew.
From City Streets to Wilderness Peaks: The Versatility of Yeti
One of the remarkable aspects of Yeti products is their versatility, effortlessly adapting to various settings and lifestyles. Whether you're a city dweller sipping your morning java during the commute, an adventurer seeking the thrill of the great outdoors, or a homebody relishing the comfort of your garden, there's a Yeti product designed with you in mind.
When commuting, the Yeti Rambler Travel Mug fits snugly into most car cup holders, keeping your coffee hot throughout. For the outdoor enthusiasts, the Rambler Bottle with the HotShot lid is an excellent choice. Its design allows for 360-degree sipping — a convenience when you're navigating turbulent waters or trekking along a mountain trail.
At home, the Yeti Rambler Tumbler is a fantastic addition to any home office or garden space, maintaining the ideal temperature for your beverages regardless of your surroundings.
And let's not forget the innovative Yeti Stackables with DuraSip Ceramic lining, offering the comfort of a traditional ceramic mug and the durability and mobility of a travel cup.
In essence, Yeti's array of products truly caters to every coffee drinker's needs, no matter where their day takes them.
The Verdict - Can a Yeti be used for Hot Coffee?
Absolutely! Each product offers unique features that enhance the coffee-drinking experience. From keeping your coffee hot for hours to preserving the true taste of your brew, Yeti products are worth the investment. And according to Deborah, "Once you go Yeti, you won't want to go back."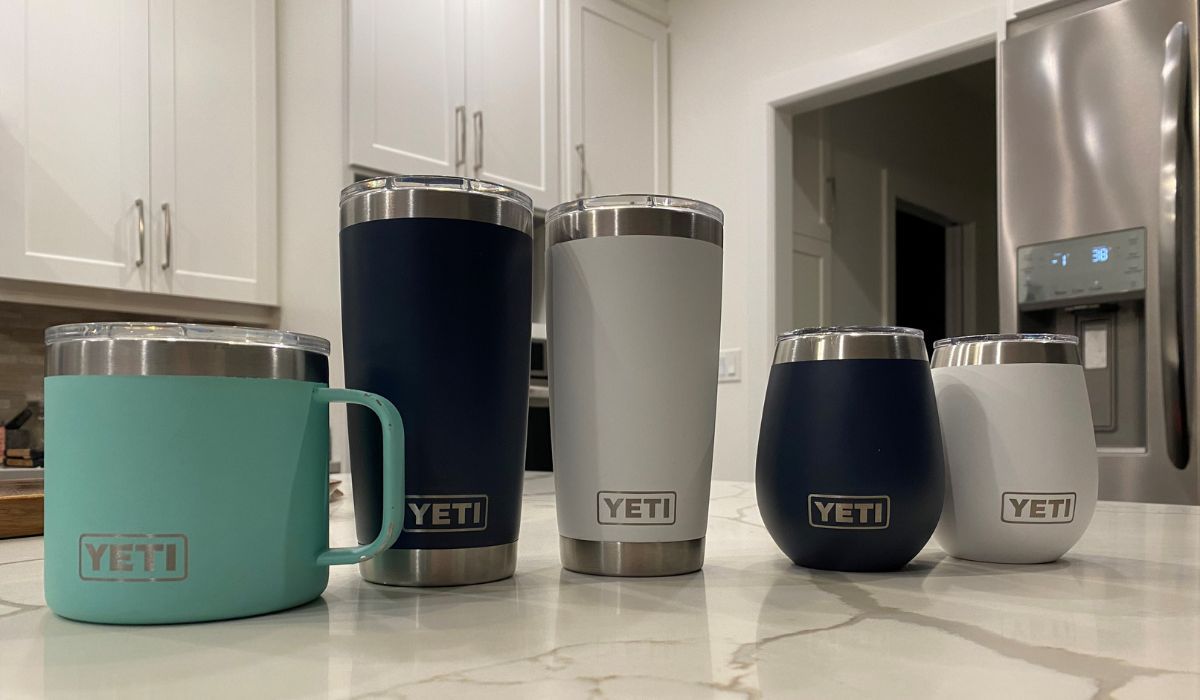 In the world of coffee, Yeti is more than just a brand; it's a lifestyle choice. If you value taste, temperature, and durability, then Yeti is the way to go.
Join Deborah and countless others in the Yeti revolution.
#YetiForCoffee , anyone?
In closing
POEM: The Perfect Yeti Day
by Deborah Clarke, Ontario, Canada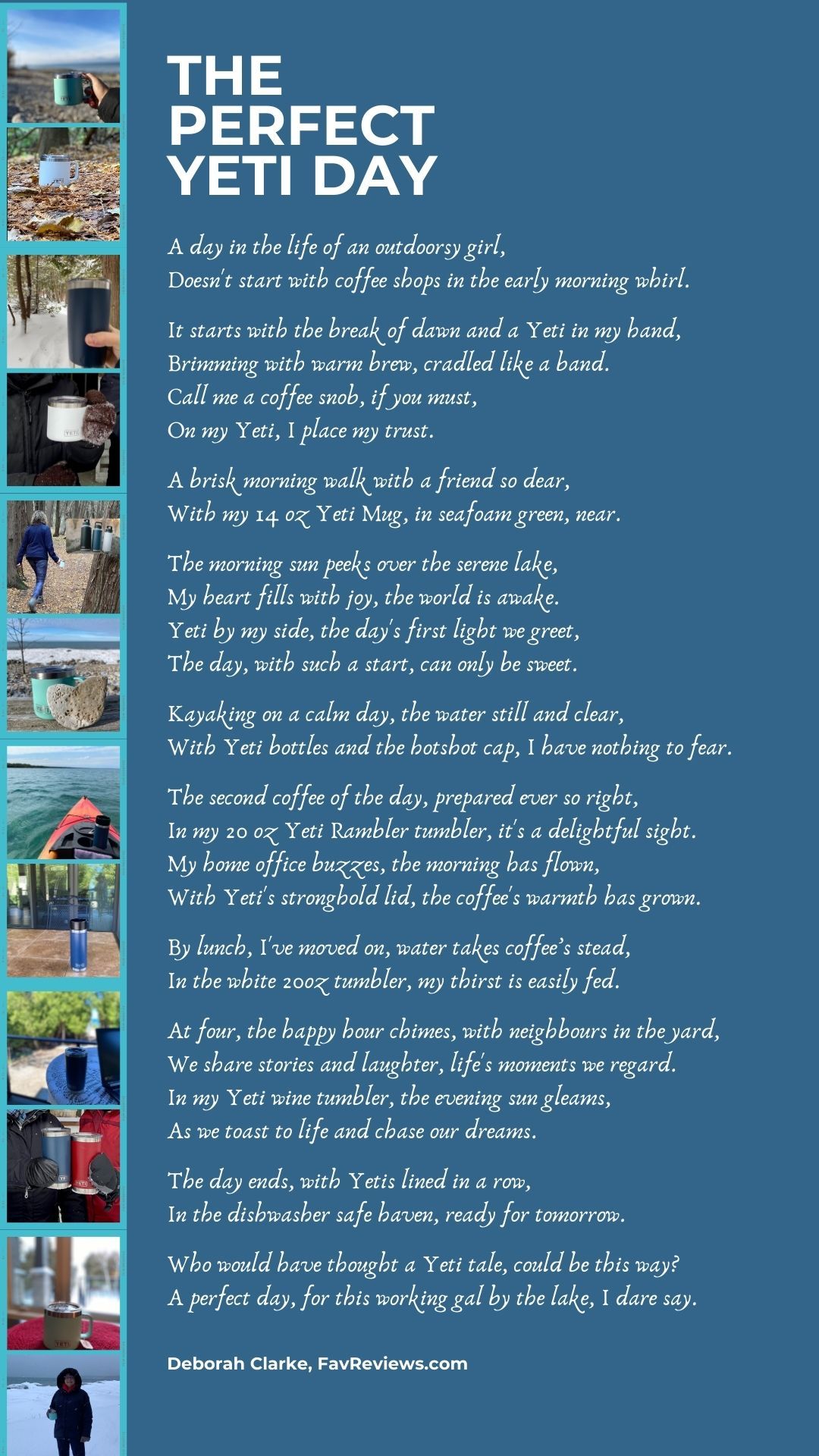 ---
Another Yeti Poem ... you can read Deborah's first Yeti Cooler Poem in her article "A Guide to YETI Sizes and Capacities [Includes an Original YETI Cooler Poem]"
---
You may also like ...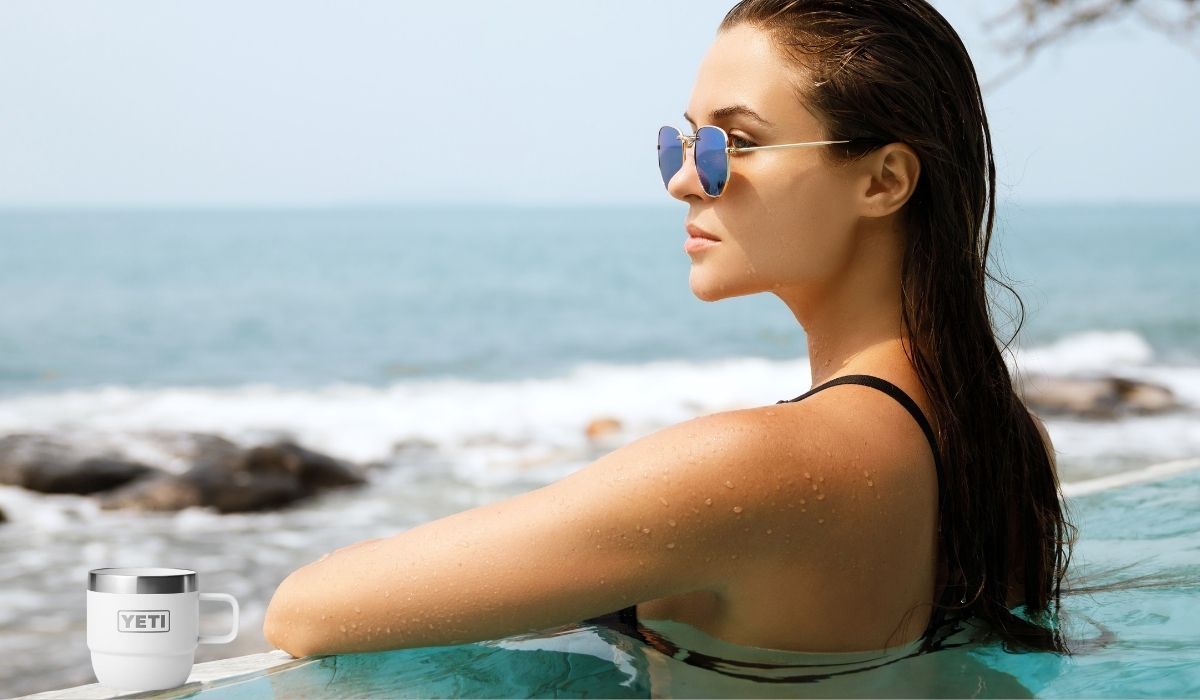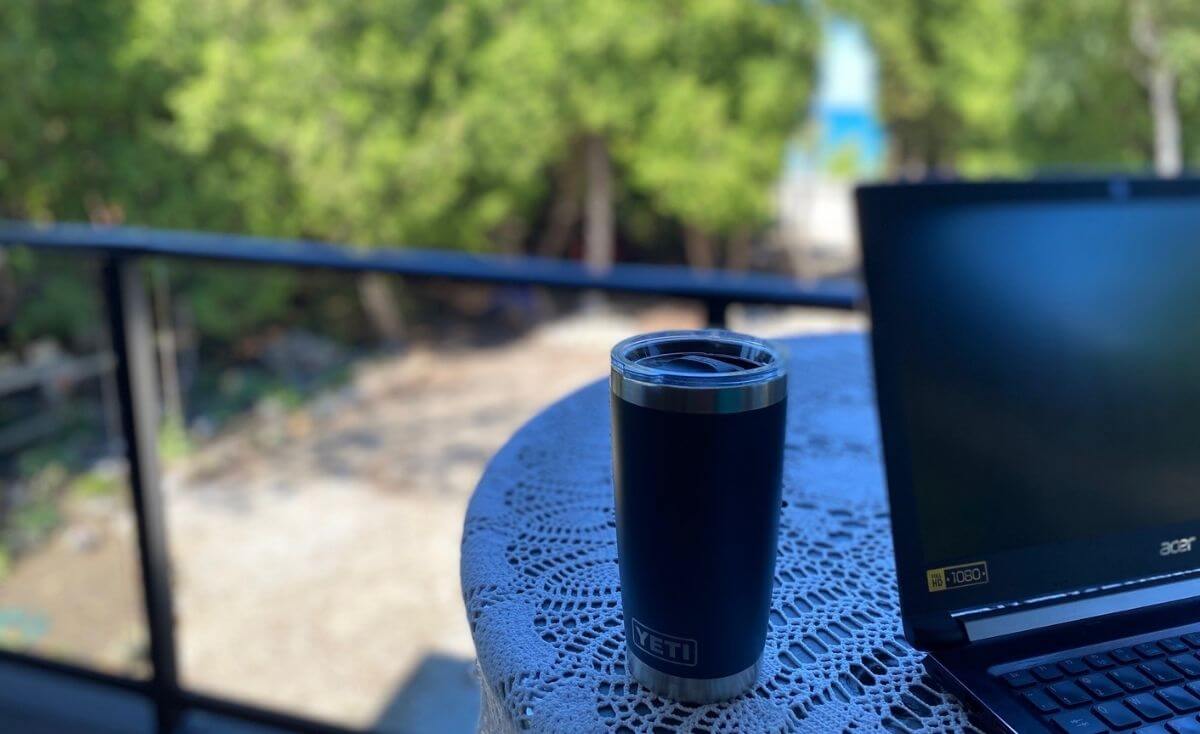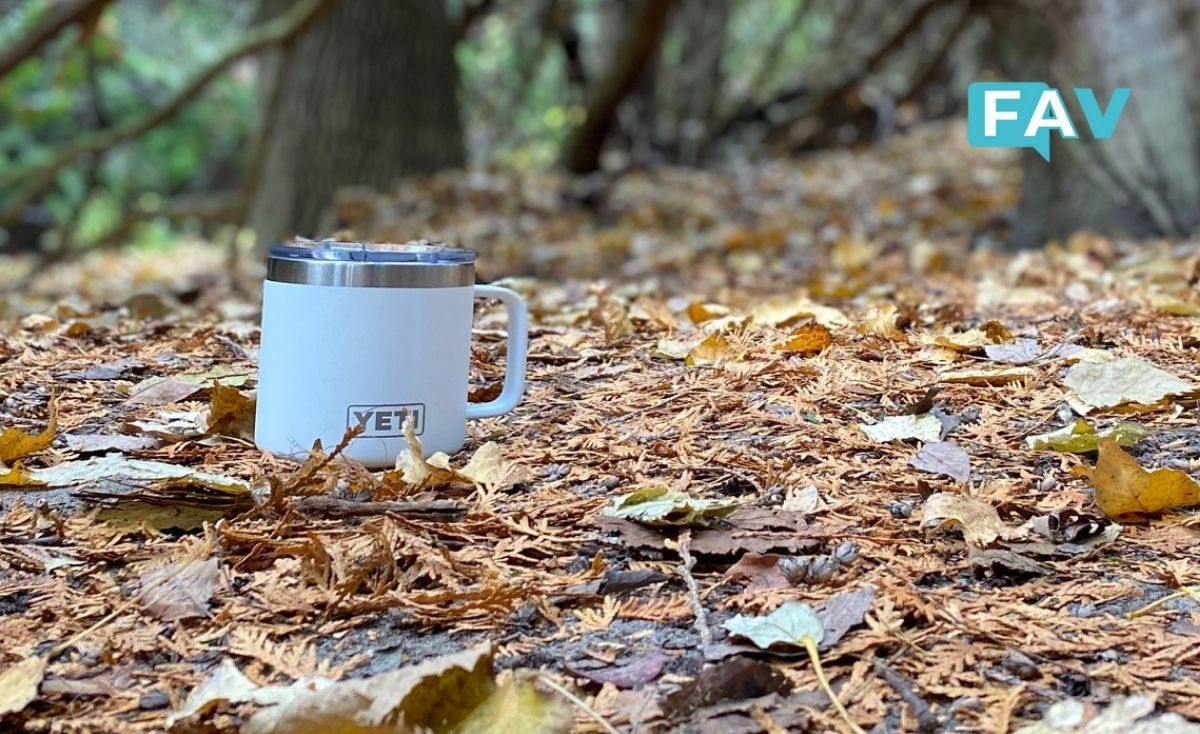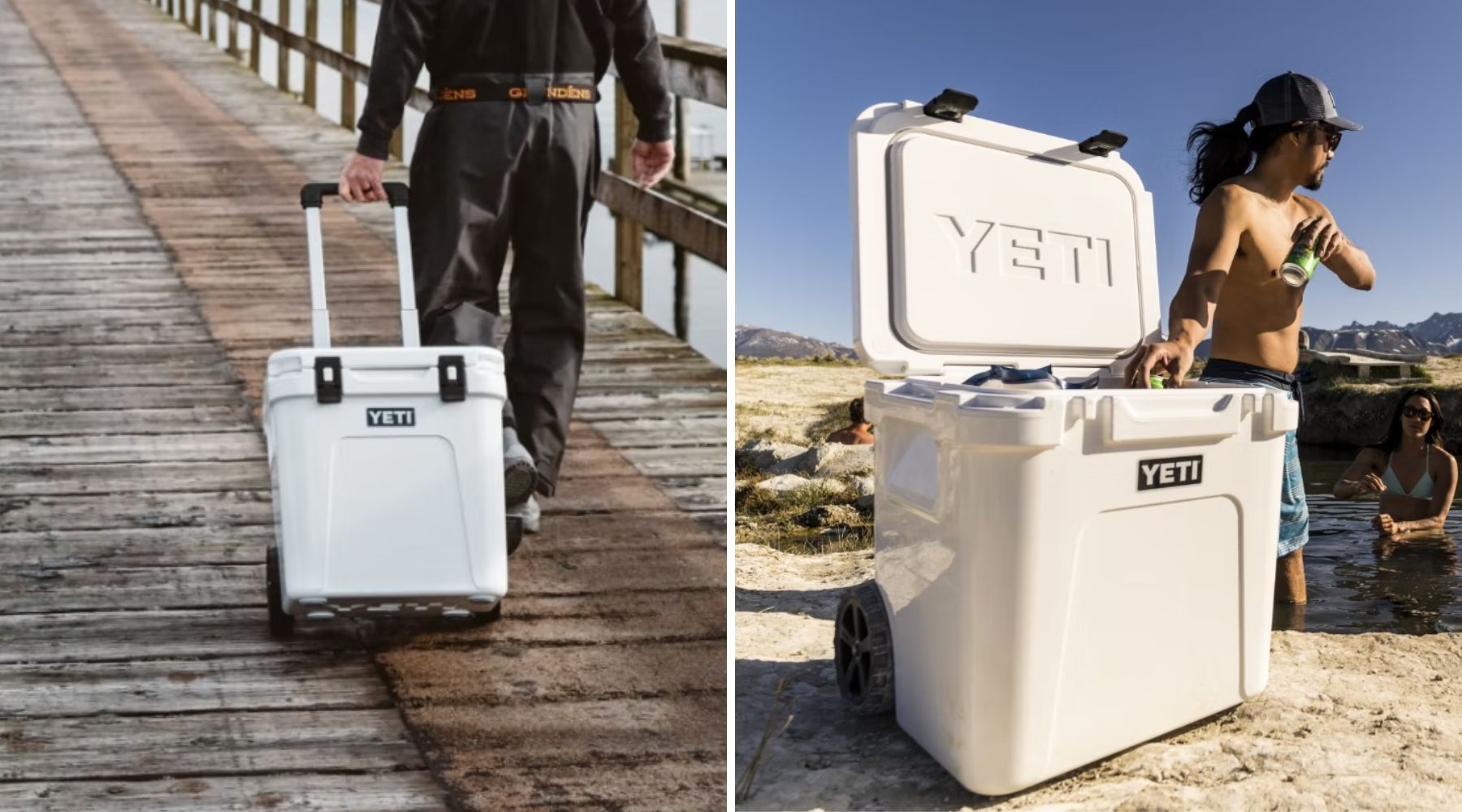 ---
Frequently Asked Questions
Addressing Common Concerns About Yeti Products
While Yeti products have undoubtedly gained a stellar reputation, there may be a few concerns or queries that potential customers might have. Here, we address some of the common questions.
Are Yeti Products Worth the Price?
Yeti products might seem expensive compared to other brands, but you are investing in quality, durability, and superior technology. Yeti products are designed to last, making them a cost-effective choice in the long run.
Are Yeti Products Dishwasher Safe?
Most Yeti Drinkware is dishwasher safe, making it easy to clean and maintain. However, it's always a good idea to check the product details before cleaning.
Does Yeti Offer Products in Different Sizes?
Absolutely! Yeti offers a variety of products in different sizes to suit various needs. From the newest 4 oz Stackable Yeti Coffee Cup to the largest 64 oz water bottle or half gallon water jug. So don't worry, whether you need a compact tumbler for your office desk or a larger bottle for outdoor adventures, Yeti has got you covered.
Can I use Yeti products for drinks other than coffee?
Yes, you can. Yeti's double-wall vacuum insulation is perfect for maintaining the temperature of both hot and cold beverages, making them versatile for all types of drinks.
By addressing these concerns, we hope to provide clarity and reassurance to anyone considering investing in Yeti products. Enjoy the Yeti experience with confidence and satisfaction.
---
We hope you find your next favorite thing from FavReviews! We are a family friendly product review site.
Four Generation Family: As a four generation family, the breadth of products we consume and review as brand ambassadors is vast. But we can tell you, in general, in we love the outdoors, sports, staying active, living healthy and celebrating the changing seasons.
Trending Products: We also love finding new trending products and we are happy to pass along our research of new trending products to you. Follow us so you don't miss out on a thing! We send out cool emails with our latest reviews, and we will never sell or misuse your information.
Opinions Based on Use, Research and Reviews: Each product we write about is independently selected by our editors. All opinions in this article are our own, based on our own use of the product(s), or hours of research and reading reviews. We will never recommend something we wouldn't use ourselves in our own family.
Compensation: Yes, FavReviews may collect a share of sales or other compensation from the links on this page if you decide to buy something (that's how we stay in business). But, the product never costs you more, in fact in some cases, we hope we might help save you money based on our recommendations.
Reviews have been edited for length and clarity. Enjoy finding your next favorite thing!
Happy Shopping!
Your FavReviews Team
____________________________________________________
BEHIND the SCENES LOOK: If you'd like to learn how to start your own product review blog, with products that you love, check out our article How to Become a Brand Ambassador or visit LearnWriteLive.com There is room for all of us to provide better service to online shoppers. What's your passion?