Whether you're a seasoned camper or a first-timer, it's always helpful to have a checklist of essentials to make sure you don't forget anything important when packing for your trip. This is especially true for women, we love lists, right?  Why would you want to take the chance of leaving something behind.
To help you out, we've put together a simple checklist of essential camping items for women, so you can make sure you have everything you need for a fun and safe trip.   [See a printable checklist to save and print, at the bottom of this article]
1. A Good Tent
2. A Sleeping Bag
3. A Sleeping Pad
4. A Camping Stove
5. Pots and Pans
6. Food and Water (of course!)
7. Water Bottles and Your Favorite Travel Mug
8. A First Aid Kit
9. Bug Repellent
10. Sunscreen
11. A Sun Hat
12. Sunglasses
13. Comfortable Hiking Shoes
14. Headlamp (in a Toque)
15. Lighter or Matches (Fire Starter)
16. Camping Gear Multi-Tool
17. Privacy Pop-Up Pod
18. Female Urination Device
19. Sanitary Cleansing Wipes
20. Camping Backpack for Women
21. Hammock Camping Chair
22. Folding Camping Wagon
23. The Right Size of Cooler to Keep Food and Drinks
We hope this checklist of essential camping items for women is helpful in packing for your next trip. Just remember to pack light, and have fun!
HERE IS A PRINTABLE CHECKLIST: Camping Essentials for Women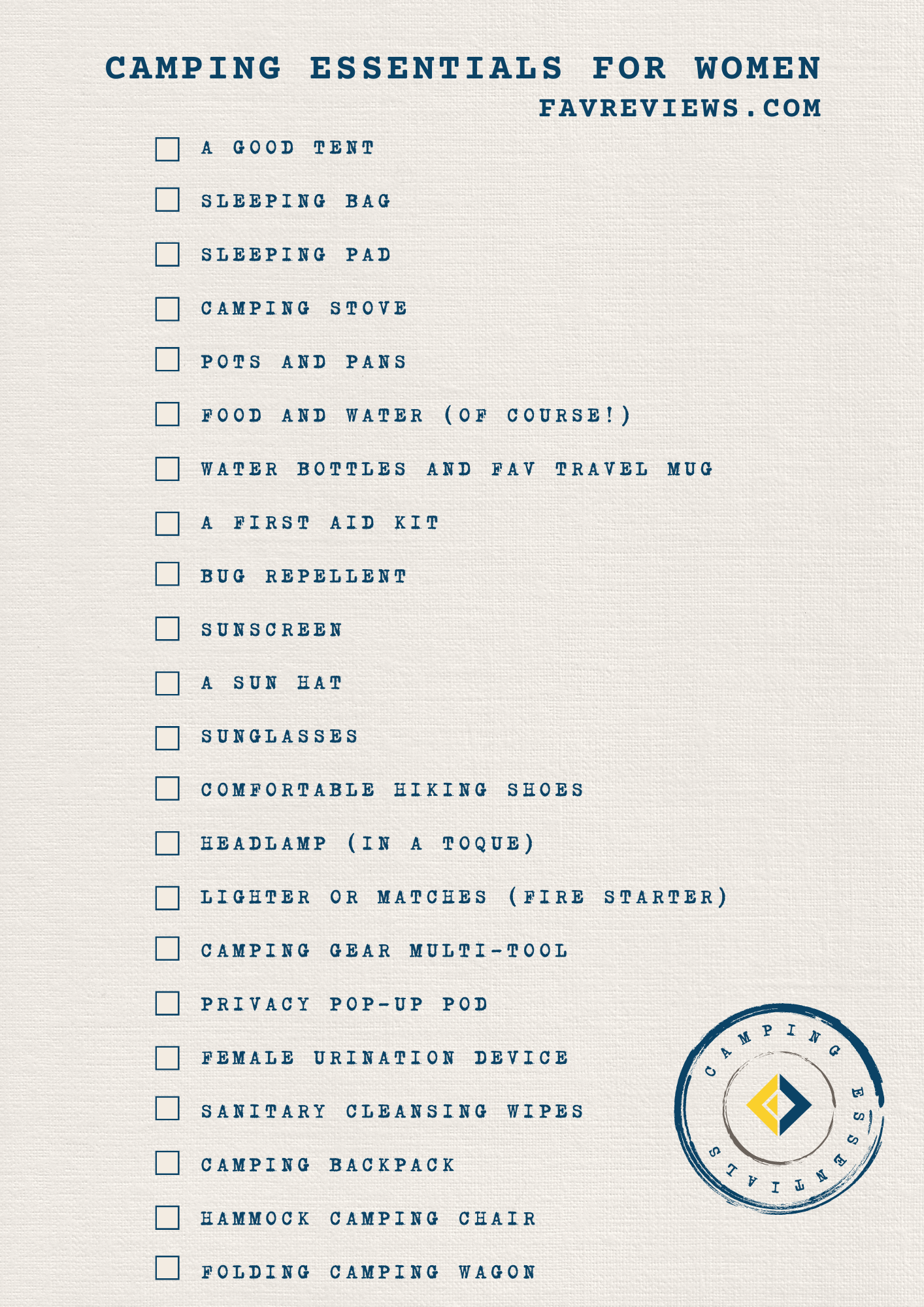 Need some more inspiration?
Looking for a fast way to source some of these items on the checklist?  
We've done the research for you!   Check out our blog post on the "Our Fav 22 Camping Essentials for Women" with recommendations for each of the items on the checklist.
You may also appreciate our guide to different YETI Cooler Sizes.
PS - Please share this Essential Camping List with your friends! It's a great checklist and an easy way to pick up whatever you are missing from your camping gear. Enjoy!   Thank you, Your FavReviews Team.
Why Trust Us?
We hope you find your next favorite thing from FavReviews! We are a family friendly product review site.
Four Generation Family: As a four generation family, the breadth of products we consume and review as brand ambassadors is vast. But we can tell you, in general, in we love the outdoors, sports, staying active, living healthy and celebrating the changing seasons.
Trending Products: We also love finding new trending products and we are happy to pass along our research of new trending products to you. Follow us so you don't miss out on a thing! We send out cool emails with our latest reviews, and we will never sell or misuse your information.
Opinions Based on Use, Research and Reviews: Each product we write about is independently selected by our editors. All opinions in this article are our own, based on our own use of the product(s), or hours of research and reading reviews. We will never recommend something we wouldn't use ourselves in our own family.
Compensation: Yes, FavReviews may collect a share of sales or other compensation from the links on this page if you decide to buy something (that's how we stay in business). But, the product never costs you more, in fact in some cases, we hope we might help save you money based on our recommendations.
Reviews have been edited for length and clarity. Enjoy finding your next favorite thing! Happy Shopping! Your FavReviews Team