Barbie Just Got a Major Makeover (again)- Check Out These Must-Have Accessories for Your Life
If you've been wondering what kind of Barbie clothing and accessories are out there for you or someone you love, then you've come to the right place!
From shoulder bags and clutch purses to fashionable jewelry, there is so much available for every fashionista, beyond the doll.
When it comes to Barbie accessories for you, one of the most popular items are sunglasses. Not only do they provide sun protection, they also look super stylish with any outfit, they're almost instantly identifiable ... but, there is so much more!
Look no further – we've got you covered with our list of ten must-have Barbie accessories and Barbie licensed apparel. From pj's, t-shirts, to sunglasses and purses or jewelry, these items are sure to make any outfit look super stylish. Read on and find out why you need these accessories in your life! #BarbieAccessories #Fashionista #BarbieApparel #ShopNow #beyondthedoll
How We Choose the Best Barbie Accessories and Apparel for you!
At Fav Reviews we stay on top of trending products for families who love the outdoors. We would be remiss if we didn't research the 2023 Barbie resurgence phenomenon. With the 2023 release of the Barbie Movie, we have been invited to relive many of our childhood memories, whether you had a Barbie or not you will have been touched in some way with the Barbie culture ... she is a pop culture icon that has stood the test of time.
Let's face it, like your family, Barbie has been around our family for generations. Yup, Grandma played with them, Mom played with them and now the kids are playing with them and all ages are having fun dressing up to go to the new Barbie movie. Who knew it would become such a craze? Barbie has certainly stood the test of time.
Barbie has invented and reinvented herself throughout the Baby Boom Generation (1946-1964); Generation X (born 1965-1980); Millennials (born 1981-1996); Generation Z (born 1996-2012) and the current Gen Alpha (born 2013 – 2025). For five generations (60+ Years), Barbie has been setting a standard for women in careers, sports, families and each of our roles (men and women) in a diverse society.
Not only do we have people writing and researching for us from 3 of these generations, we have children and grandchildren who have been impacted by the roles Barbie has played in our lives and society in general.
For this particular article, we focus on the Barbie wearables and accessories available on Amazon, through the Licensed Barbie Store on Amazon (Beyond the Doll) and other licensed or similar non-licensed products available on Amazon.
We trust that you'll find your next favorite Barbie inspired item from the list we've researched for you below. All of these products have been hand-picked by our editors and we won't recommend something we wouldn't use in our own family. Some may even be items that we already use! We may receive a small compensation if you decide to buy something (that's how we keep the lights on). Some reviews have been edited for length and clarity. Have fun searching for your next fav product!
One of the reasons we love Barbie, is she loves the outdoors ... and so do we! Have fun ... we have found some 'hard to find' direct links to help you in your research to find the perfect products for you (or a loved one).
Barbie Items for You (Beyond the Doll) on Amazon - Hard to Find Quick Links
We aren't reviewing doll accessories. We're reviewing apparel and accessories life size, just for you!
Bonus - We thought you might also like to see Barbie's Top 10 Inspirational Quotes of all time! Read to the end of the article to see them, complete with author and year of release where available.
Enjoy Shopping for everything Pink!
---
Ready to Start with Barbie Outdoors? Begin Here!
Shop Amazon for Barbie products you can enjoy outdoors! Quick Link for Barbie items you can enjoy outdoors!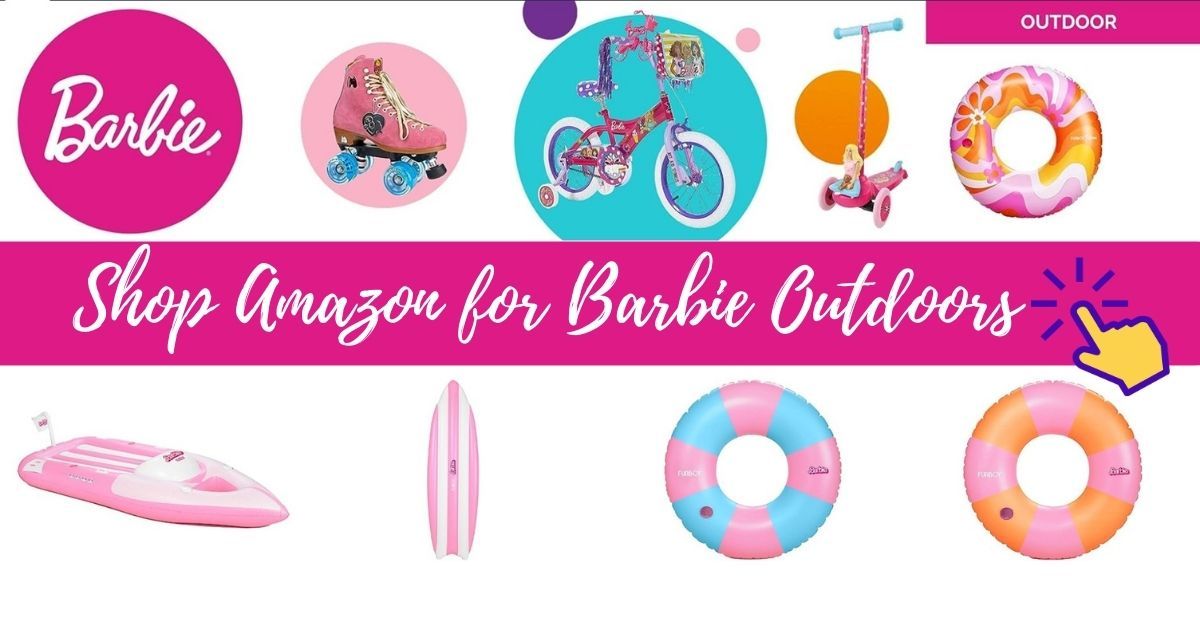 ---
10 Barbie Inspired Accessories You Need Now
These aren't doll accessories ... we're talking about apparel, accessories and gifts life size, just for you and your home!
BONUS: Look just below the 10 Inspirational Barbie Quotes near the end of this article.
---
Have Fun With Your Accessories
If you started with Barbie apparel, the fun doesn't have to stop there! Use accessories to create unique and stylish outfits. Put different items together to create the perfect look for any occasion. Whether you're heading out on a date or just hanging out with friends, Barbie accessories are sure to take your outfit to the next level.
Did you know Barbie has a store on Amazon? Check out the Barbie Shop on Amazon for what's new, toys, the movie, back to school and more.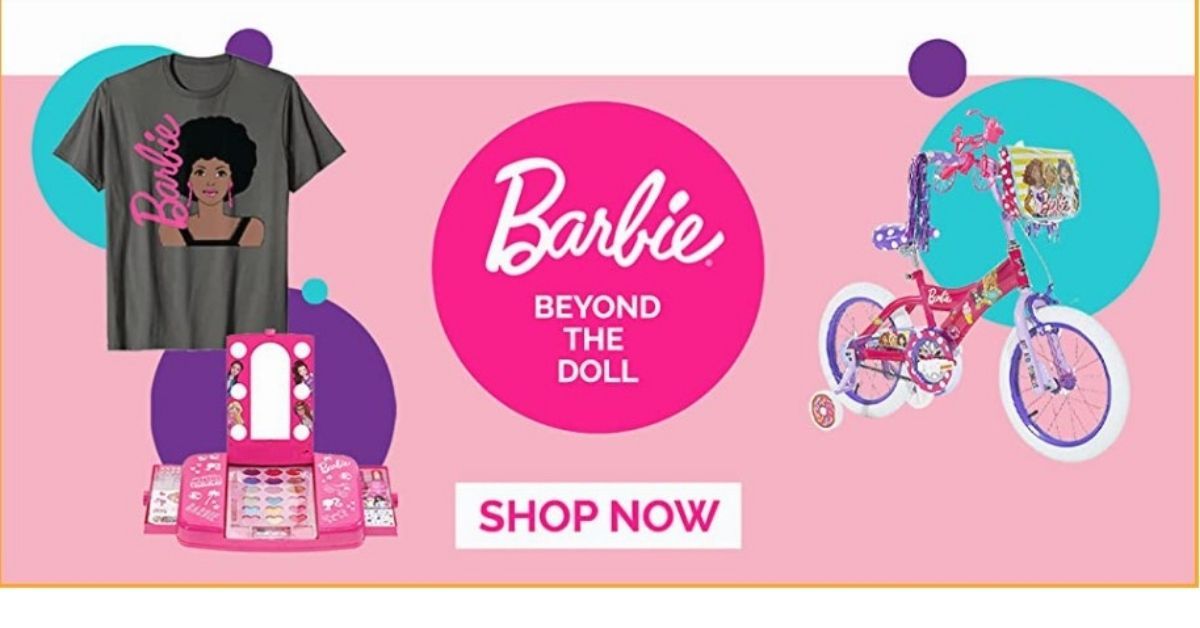 Make memories with your friends with Barbie Nails, Barbie Pool and Barbie Posters. Each perfect for throwing the ultimate Barbie party.
---
Barbie Sister Dolls
Editor Note: I would be remiss to write an article about the iconic Barbie and her accessories without talking about my own personal experience with Barbie. She was born in 1959, the same year as me. Of course my parents had to adorn their first daughter with the new fashion icon Barbie, however, when my sister came along three years later and was old enough to have a Barbie of her own (mid-sixties) mom and dad opted to buy her a Barbie 'sister doll', that doll was Tammy at the time.
Tammy was a bit bigger and most of the Barbie clothes wouldn't fit her. It's something fifty-plus years later we still talk about in our family. How slighted my sister still feels that she got 'Tammy' instead of what has become the iconic Barbie. Turns out Tammy Doll has become an icon in her own right ... I wonder where Tammy is now?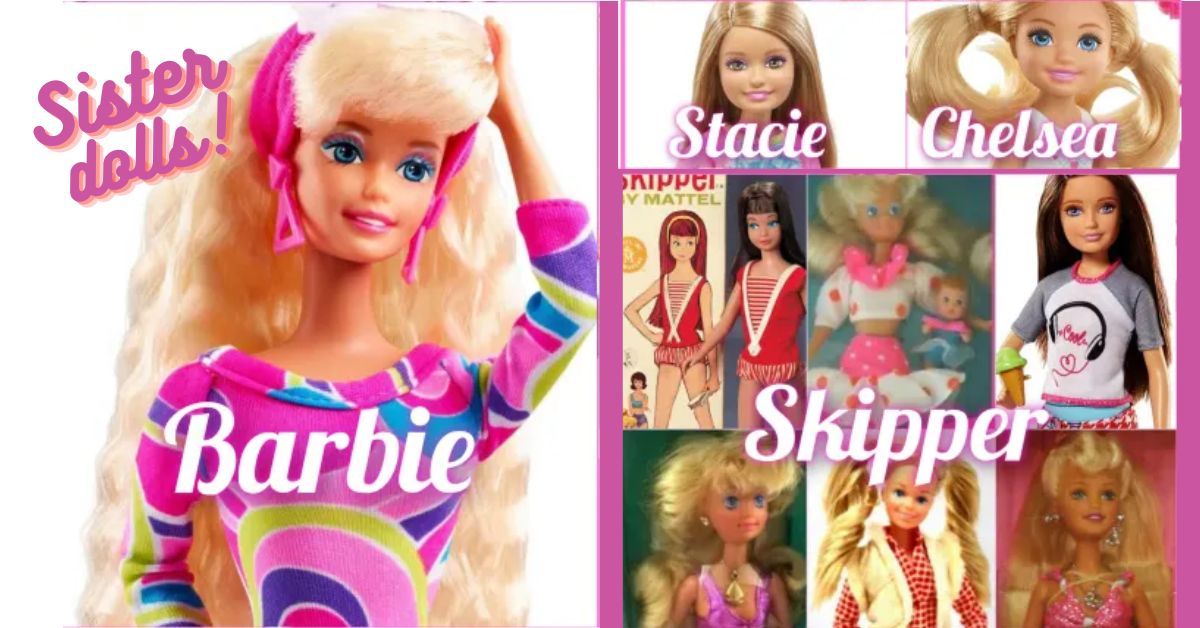 So to honour my own sister, I thought it would be fun to add a list of the early Barbie (and not so Barbie) Sister Dolls as we remember them.
Tammy Doll - The Tammy doll was a 12" fashion doll created by the Ideal Toy Company that debuted at the 1962 International Toy Fair. In fairness to my parents who bought her for my sister, she was brand new the year my sister was born and she was promoted as "The Doll You Love to Dress". She was a bit taller than her (let's say) cousin Barbie, with long blonde hair and blue eyes. Her wardrobe included stylish dresses and skirts, as well as accessories like purses and hats. But even with all that fuss, my sister never got over the fact Tammy was not a Barbie doll.
Francie Doll - Francie was introduced in 1966, and she quickly became a favorite among Barbie fans. She had strawberry-blonde hair and bright blue eyes, and her wardrobe included everything from mod minidresses to groovy bell bottoms.
Skipper Doll - Skipper was the littlest of the three 'sister' dolls, debuting in 1964. Her signature outfit included a mini skirt and t-shirt combo, as well as a variety of cool accessories like sunglasses and purses.
Stacey Doll - Stacey was the oldest of the 'sister' dolls, debuting in 1967. She had brunette hair with an iconic French twist hairstyle, along with her own unique wardrobe that included stylish dresses and skirts.
Christie Doll - Christie was the first Black 'sister' doll, debuting in 1968. Her wardrobe featured both modern and traditional pieces, such as floral-patterned dresses and sleek leggings.
Julie Doll - Julie was introduced in 1975, and she was the first Barbie to have an entirely new body shape. She had long, lush brown hair and big brown eyes, along with her own selection of stylish outfits.
Kira Doll - Last but not least, Kira was introduced in 1988 and she featured an updated version of Barbie's classic body shape. She had gorgeous dark-brown hair and green eyes, and her wardrobe was filled with daring designs like jumpsuits and mini-dresses.
These early Barbie 'sister' dolls are a great reminder of the iconic figure that has become an integral part of many childhoods!
---
Dress Up With Friends. It's Time to Party!
Visit the Amazon Barbie Store "Party and Seasonal" products. Fun stuff!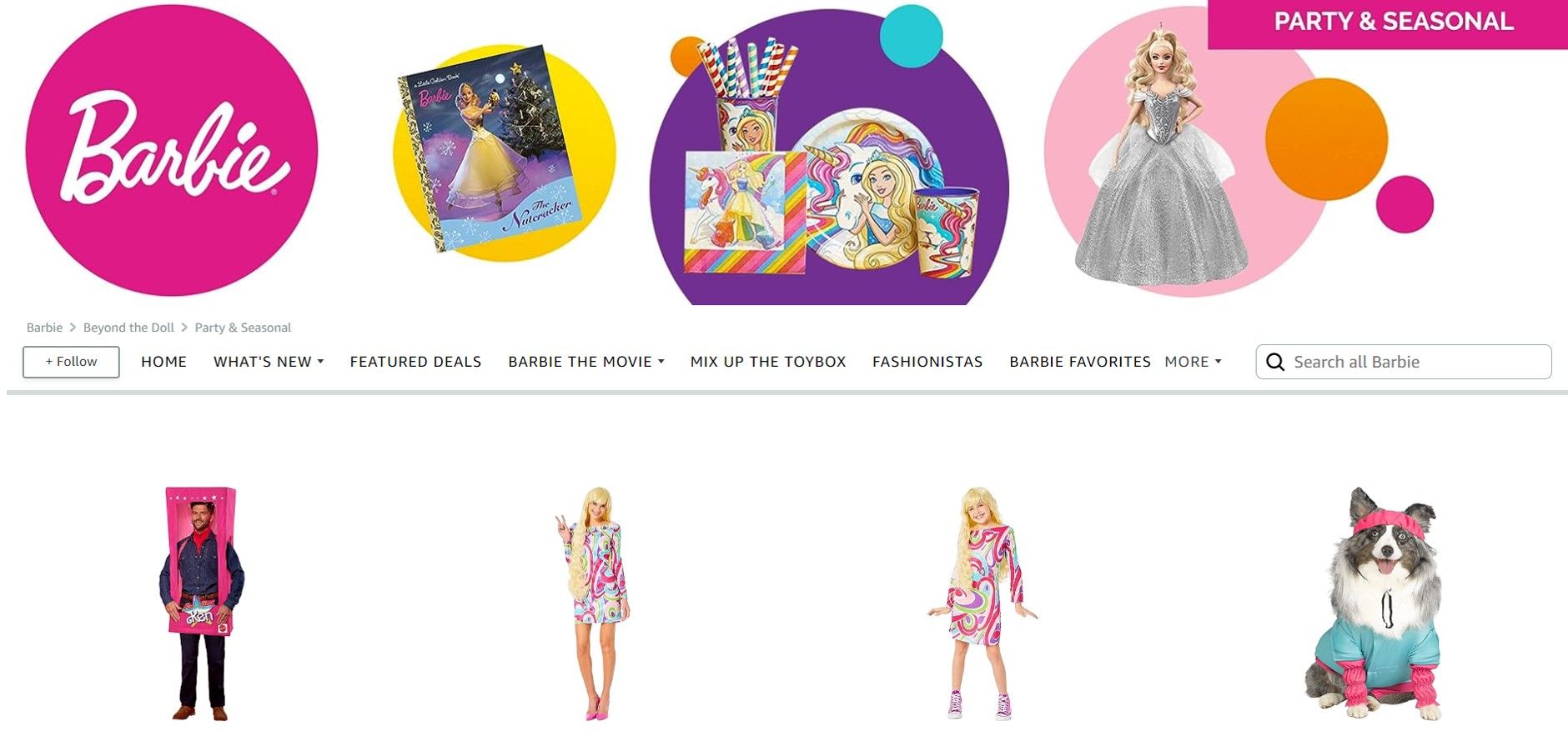 Remember, it's more fun to dress up with friends! Whether you're looking for the perfect outfit to wear on a night out or you want to add some extra flair to your everyday look, or you're looking for the most popular costume for 2023, Barbie and Ken costumes accessories are sure to make any outfit look super stylish.
Barbie loved dogs, how about matching track suit looks for you and your dog! So come join the #BarbieAccessories movement and show off your unique style!
Here we go! Check out our list of Fav's below and make sure you're looking pink and stylish!
---
Ready to Shop?
TOP 10 Barbie Gifts and Accessories to Spice Up Your Life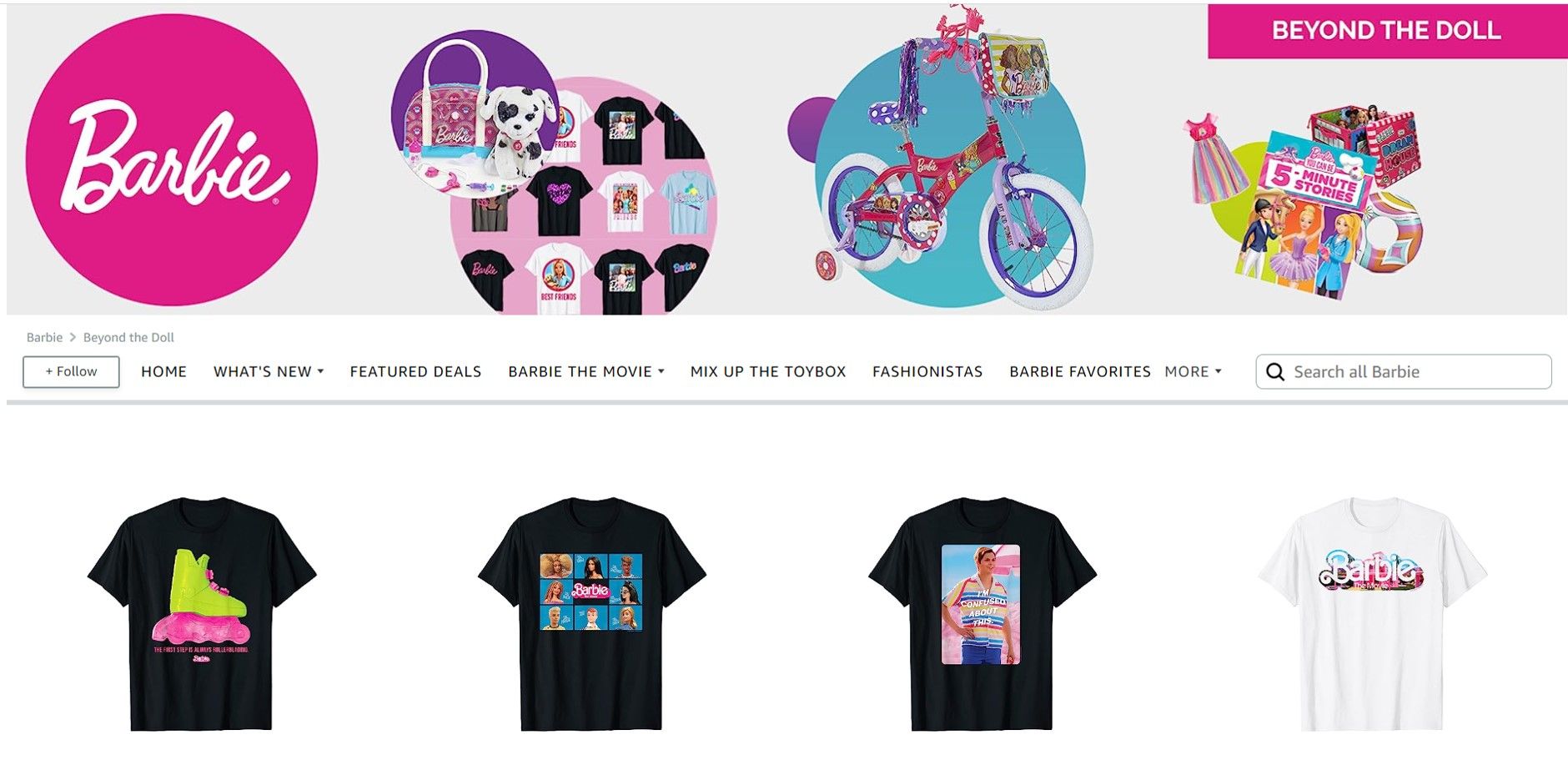 Item 1 is the Iconic Barbie Ponytail
... two versions, in many colors shown
Clip in Ponytail Extension Dirty Blonde 18 Inch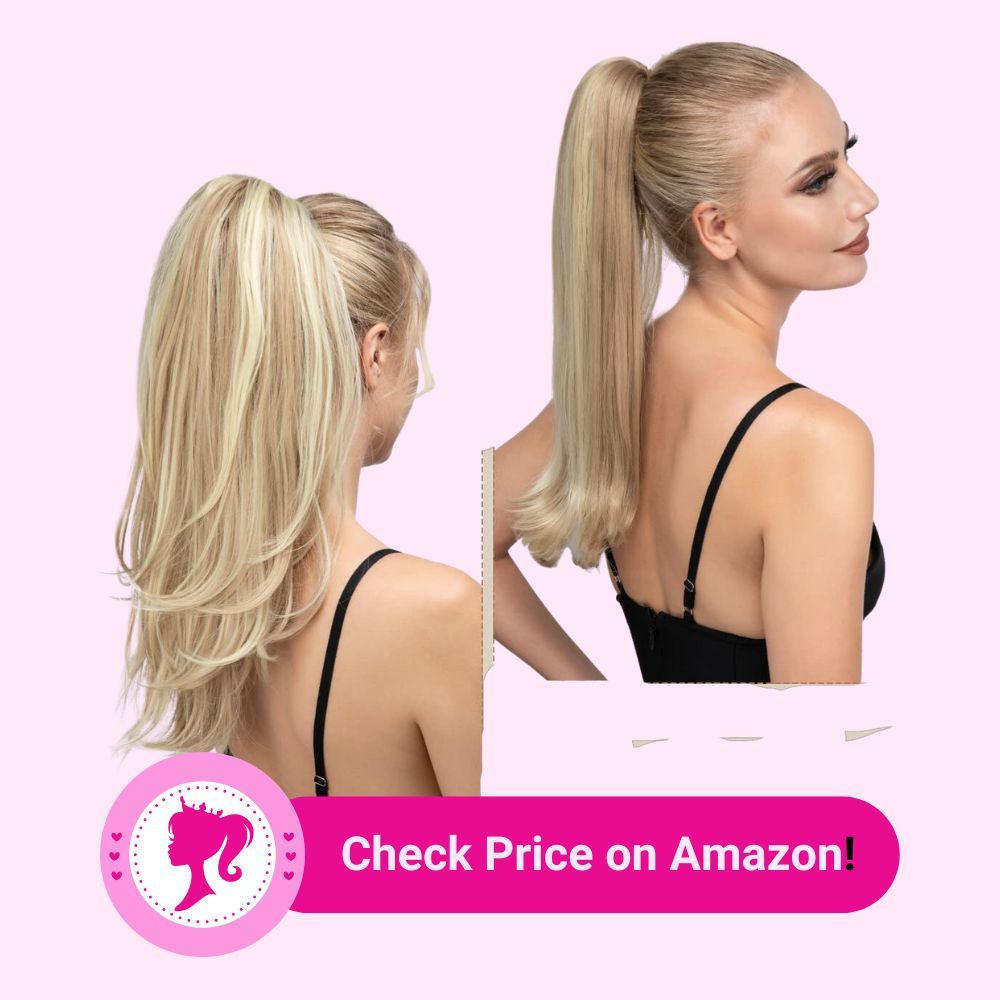 Why It's One of Our Favs
This clip-in ponytail extension is the perfect solution to switch up your look and add some extra volume to your hair for a night out! The 18 inch length ensures that it won't be too bulky, but still adds plenty of length. Plus, the dirty blonde color will blend in perfectly with any hair color.
We also like that this ponytail comes in many different colors - check them out!
FAV Features
Easy to use clip-in design
Dirty blonde color is perfect for any hair color; plus it comes in 7 different colors
18 inch length provides the perfect amount of volume
High quality synthetic fibers are soft and natural looking
---
Looking for Black LOC Barbie Ponytail?
Locs Twisted Black Hair Ponytail Extensions, 18 Inch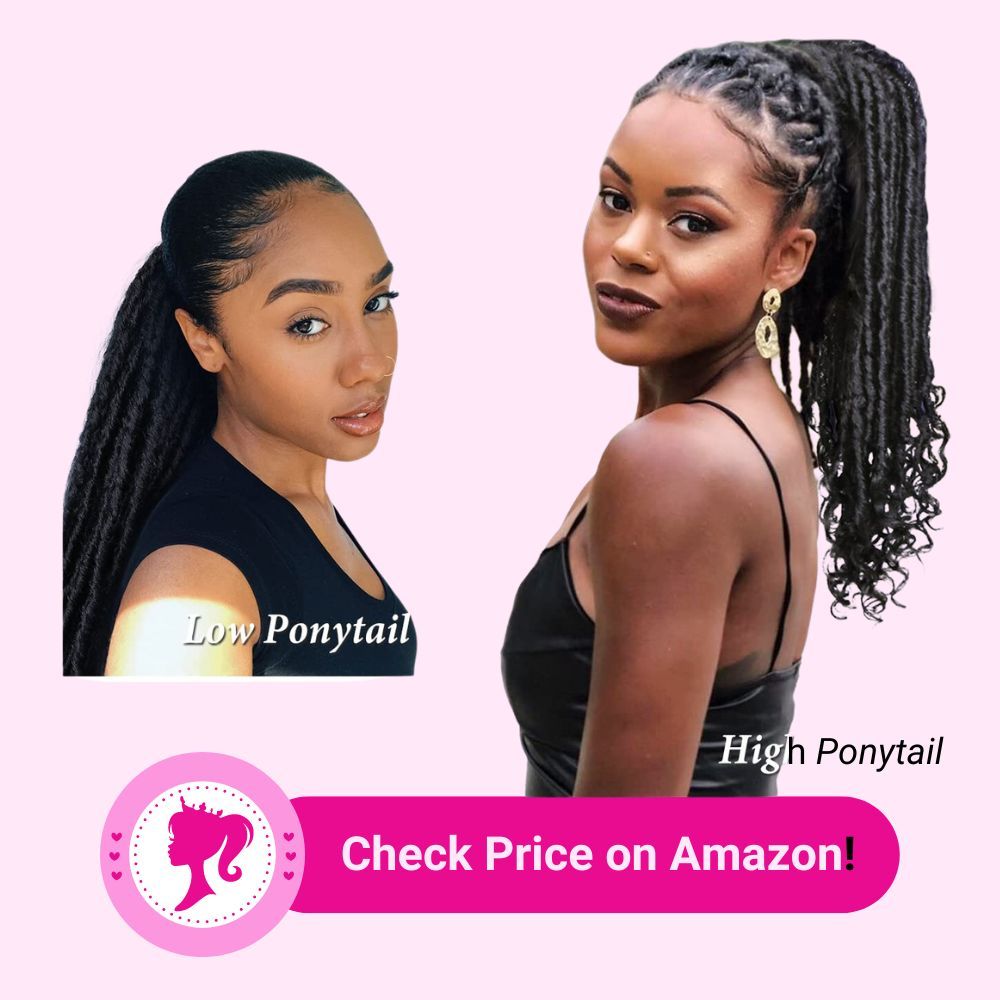 Why It's One of Our Favs
The Locs Twisted Black Ponytail Extensions are one of our all-time favorites! It's 18 inches of beautiful, soft hair extensions that you can easily clip in to your own locks for gorgeous, voluminous waves. This ponytail is easy to apply and stays securely in place until you're ready to remove it. Plus, with its gentle texture, it looks and feels just like your own natural hair. So go ahead, style on! Create whatever look you want and take your mane game to the next level!
And best of all? This ponytail is made from 100% human hair so you don't have to worry about any nasty chemicals
FAV Features at a Glance
· Soft and gentle texture for silky smooth perfection
· Easily clip-in design for simple application
· Transforms your look with voluminous, long hair extensions
· 100% human hair to ensure natural shine and quality
· Perfect for adding a pop of color to your mane
No matter what style you've been looking for, this ponytail is sure to help you get there. So try it today and see how it can transform your look!
You won't be disappointed! You'll love the results. And don't forget to check out our other hair extensions and styling products to create your signature look. Get creative and rock it like only you can!
Happy styling!
---
You thought the most popular Barbie Costume was her pink dress, right? No! It's the pink cowboy costume, with bell bottoms!
Item #2
Barbie Cowgirl Outfit 70s 80s Hippie Disco Costume with Pink Flare Pant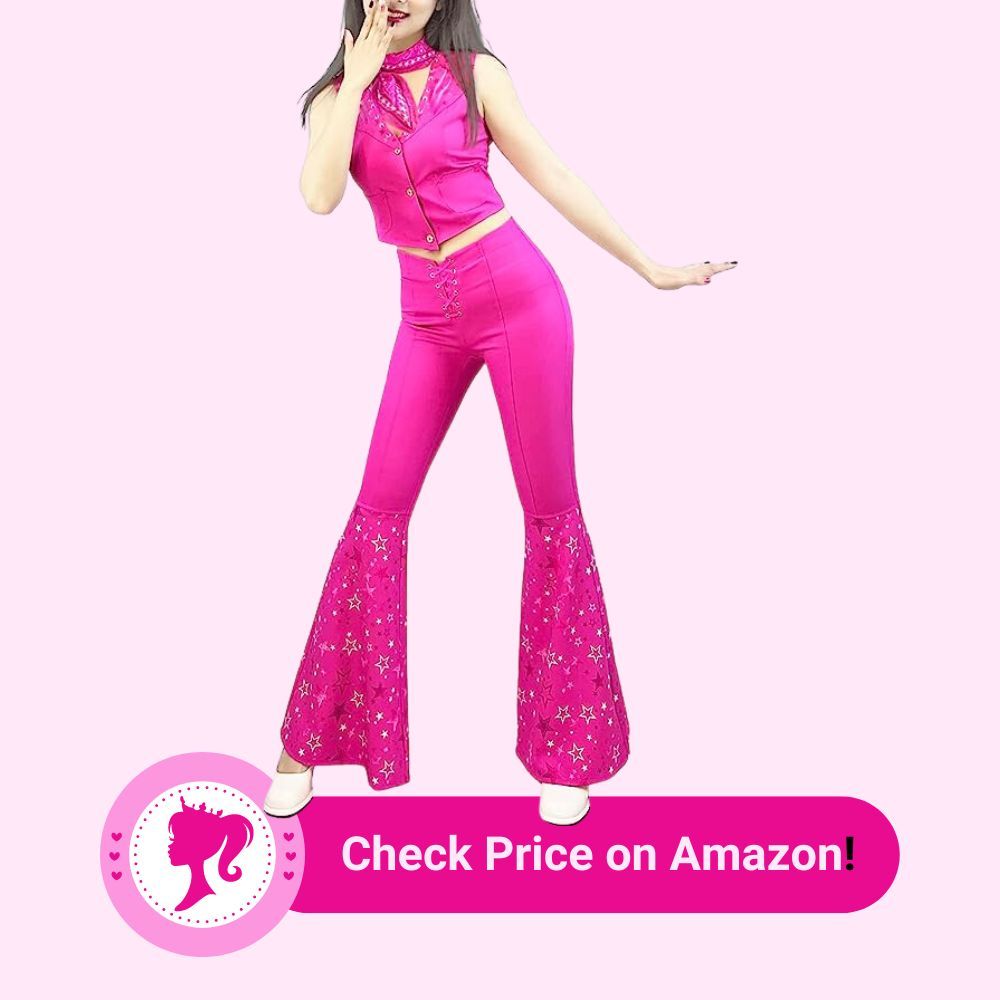 Why It's One Of Our Favs
Welcome to the world of Barbie's popular cowgirl outfit! This iconic costume is just as fashionable now as it was in the 70s and 80s. Perfect for a hippie disco party or going to the Barbie movie or Barbie party!
If you're looking for a classic Barbie look – the cowgirl costume is it! It's got everything you need to make your little one look glamorous and iconic. The silhouette features flared bell bottom pink pants, a coordinating vest, and a white fringed shirt to complete the ensemble. This outfit is available in adult and girls sizes, so you can have yourself and your little one ready to show off your style in no time!
FAV Features
The fabric is made of high-quality polyester, which makes it comfortable to wear and durable for all the fun that comes with being a Barbie Cowgirl. The velcro closure at the back allows your little one to easily adjust the fit, making sure they look great in their cowgirl costume.
It's easy to accessorize too - just add a cowboy hat and some of Barbie's signature jewelry! With this outfit, your little one will be the star of the show. So put on your cowgirl boots, strap on the pink pants, and get ready for a wild ride! This costume is sure to make any event extra special for your little one. So don't wait - order yours today and let Barbie's Cowgirl Outfit make every day special!
---
Item #3
Come On Barbie Let's Go Party T-Shirt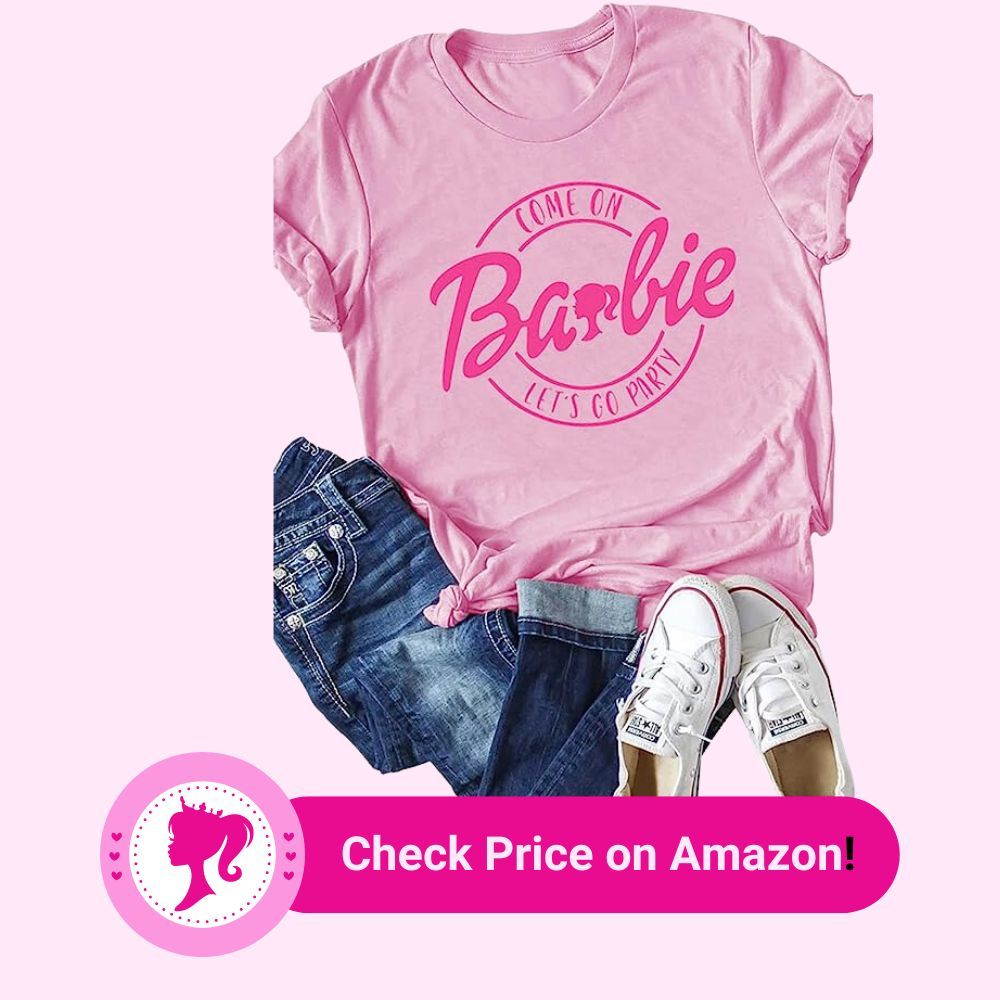 Why It's One Of Our Favs
Are you looking to stand out at your next girls night out party? With "Come On Barbie Let's Go Party" T-Shirt, you get the perfect mix of fashion and fun. Featuring a bold design, it's sure to draw attention and make you the star of the show.
FAV Features
Best of all, this unique piece is made with premium cotton so you can trust that it'll last throughout any wild night out. And, it will wash and wear over and over again. So let's get ready to party in style!
Add this Barbie t-shirt to your wardrobe and make a statement everyone won't forget. It may just become your FAV go-to t-shirt of the year!
---
Item #4
Sunglasses? Heart Shape Rimless Transparent Pink Sunglasses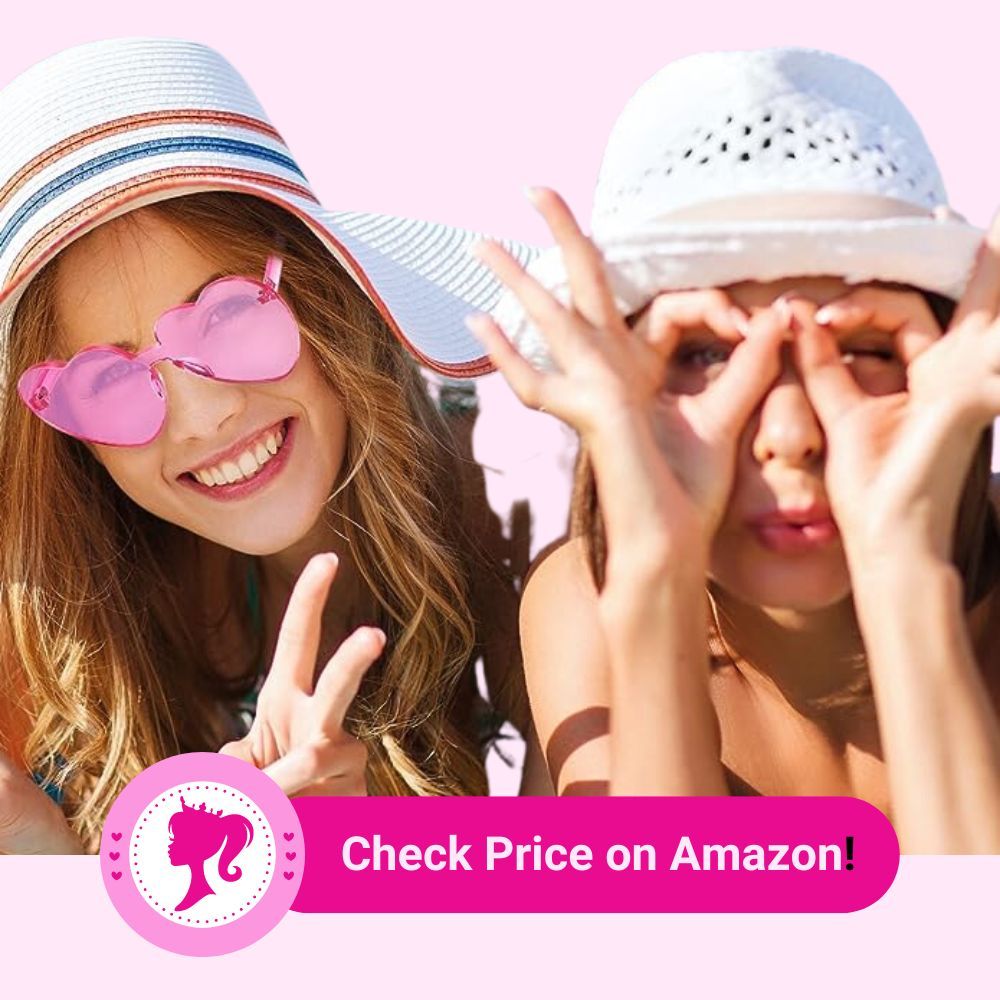 Why It's One of Our Favs
Are you looking for a stylish look to stand out from the crowd? These Heart Shape Rimless Transparent Sunglasses are the number one choice for Barbie sunglasses on Amazon.
These Barbie heart sunglasses feature an easy-to-wear design with unique heart shapes that will look great on any face. The frames are lightweight and comfortable, making them perfect for all-day wear.
FAV Features
The lenses are also shatter-resistant and provide 100% UV protection, so you can rest assured that your eyes will be protected from the sun's harmful rays. Plus, they come in a variety of beautiful colors to suit any style. So why wait?
Grab a pair of Pink Heart Shape Sunglasses today for the perfect finishing touch to your Barbie outfit!
No matter where you go, these sunglasses will turn heads. With eye-catching heart shapes and a variety of fun colors, they are sure to add a unique charm to all your looks. The lightweight frames provide comfortable wear for hours on end without fatigue or discomfort.
---
Item #5
Barbie The Movie - Rainbow Logo T-Shirt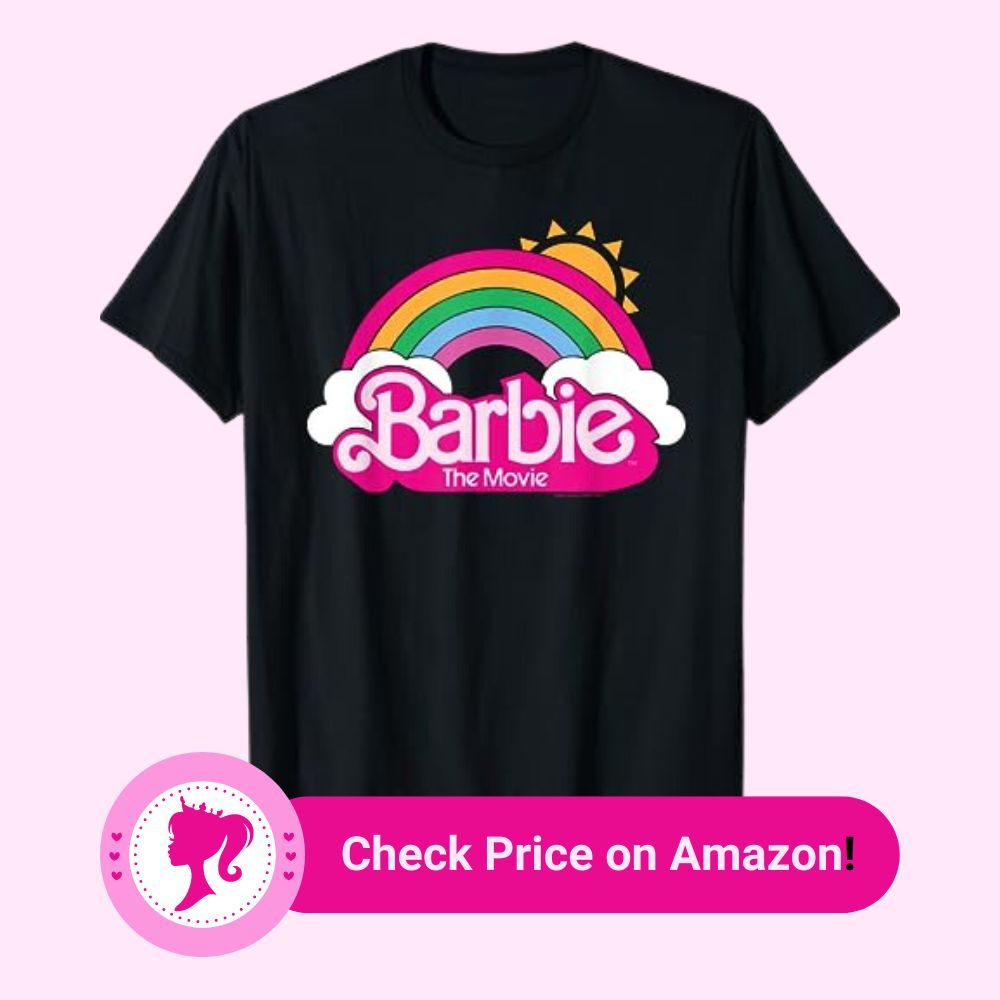 Why It's One of Our Favs
For starters it's the licensed Barbie Brand, who wouldn't love this branded Barbie Movie Rainbow T-shirt. This Barbie T-Shirt is one of our favorites! Not only does it feature the iconic Barbie logo, but it also has a fun rainbow effect that adds a playful and stylish touch.
The lightweight cotton fabric provides effortless comfort and breathability, while the unique design ensures you stand out in the crowd.
So, whether you are an devoted Barbie fan or just looking for a stylish and fun addition to your wardrobe, this T-shirt won't disappoint!
FAV Features
High quality, lightweight cotton fabric is breathable and comfortable.
Unique design featuring a rainbow effect adds a stylish and playful touch.
Iconic Barbie logo ensures you don't go unnoticed.
Available in a wide range of sizes for the perfect fit.
Machine washable for easy care and extended wear.
This Barbie Movie Rainbow Logo T-Shirt is a must-have for any Barbie fan!
Its stylish design, comfortable fit and iconic brand makes this item one of our favorites. Plus, it's available in a variety of sizes so you're sure to find the perfect fit.
Whether you are looking for a fun way to show your love for one of the greatest brands ever or just want to add a unique touch to your wardrobe, this T-shirt is sure to meet your needs!
MORE of your favorite Barbie Brand t-shirts and apparel can be found here in the Barbie Store on Amazon.

---
Item #6
Pink Nail Art Stickers: 6 Sheets Cute Pink Girls Nail Art Stickers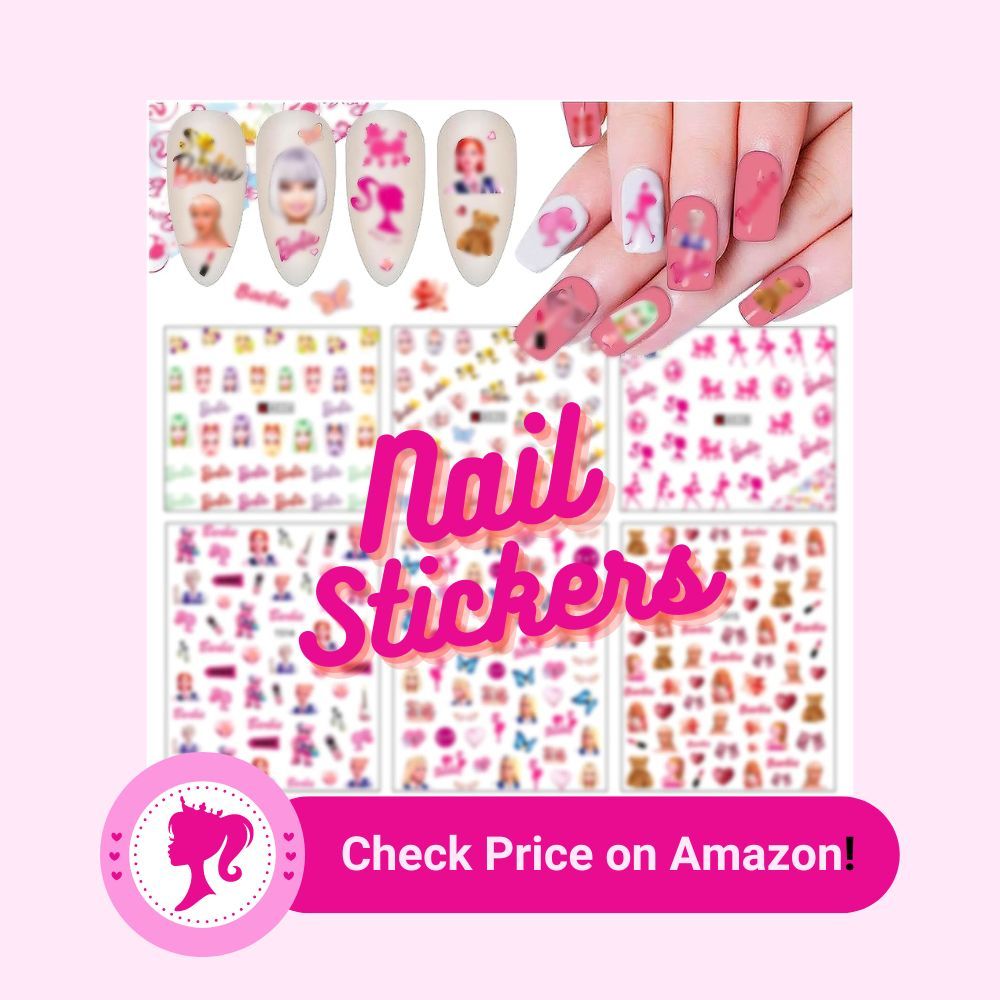 Why It's One of Our Favs:
So you want Barbie Nails! We are amazed at how well these nail art stickers form to your finger nails and stay on, even after several hand washings. These cute pink girls nail art stickers are perfect for adding a stylish touch to create an eye-catching manicure.
Each sheet contains 6 different designs, giving you plenty of pink options to choose from and mix-and-match. Whether you're going for a subtle look or something bold and bright, these adhesive nails stickers have got you covered!
FAV Features:
Made of high-quality vinyl, they are non-toxic and safe to use.
Easy to apply – just peel off the sticker from its backing and place it on your clean nail.
Comes with 6 sheets with 6 different designs in each sheet for you to choose from.
Perfect for at home DIY manicures or professional salon use.
Perfect for creating a fun and unique look - great for special occasions, parties, festivals or just everyday wear!
We love these cute pink nail art stickers! They are easy to apply, non-toxic and safe to use, plus they come with 6 sheets of different designs, including Barbie nail designs.
MORE Barbie Beauty and Accessories available on Amazon - Shop the Barbie Store!

---
Item #7 Love Barbie Pool?
FUNBOY Malibu Barbie Inflatables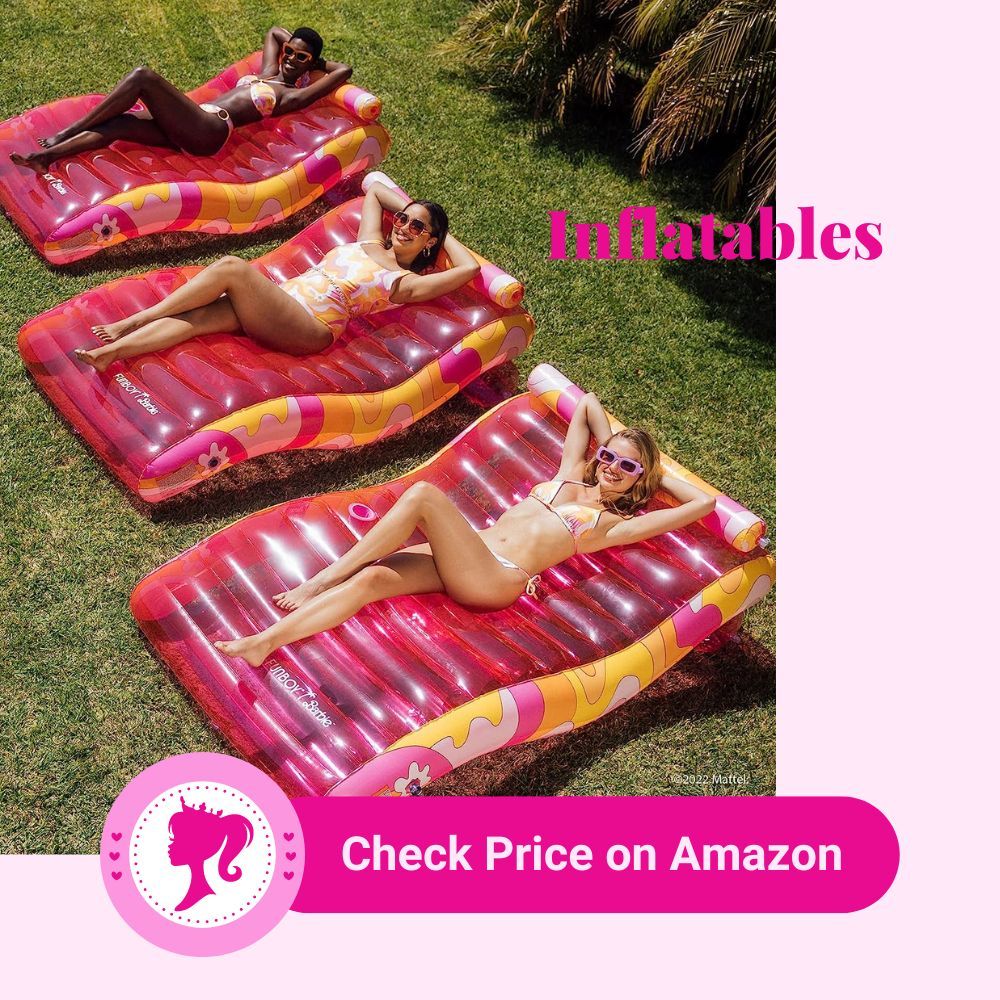 Why It's One of Our Favs
We all know Barbie loves her pool (or lake) inflatables. Check out this Malibu Barbie Luxury Lounger. FUNBOY's Malibu Barbie Lounger is the perfect Barbie pool accessory for all of your summer adventures!
This ultra-luxurious float is made from thick, durable vinyl and features a swirly pink design that looks like something right out of the Barbie™ Dreamhouse. With its extra wide base and pillow-top backrest, this float is perfect for lounging in the sun and soaking up some rays.
So grab your sunglasses, put on your summer playlist, and hop aboard the FUNBOY Malibu Barbie Luxury Lounger for an unforgettable day of fun!
FAV Features
The FUNBOY Malibu Barbie Luxury Lounger features a large, comfortable pillow-top backrest for maximum relaxation in the water and includes two built-in drink holders to keep your favorite beverages within easy reach.
It is also equipped with heavy duty handles on both sides for extra stability as you enter and exit the pool.
Finally, this float comes with a patch kit for easy repairs and maintenance, giving you peace of mind that your fun won't be cut short due to a puncture.
BONUS: More FUN BARBIE OUTDOOR STUFF HERE!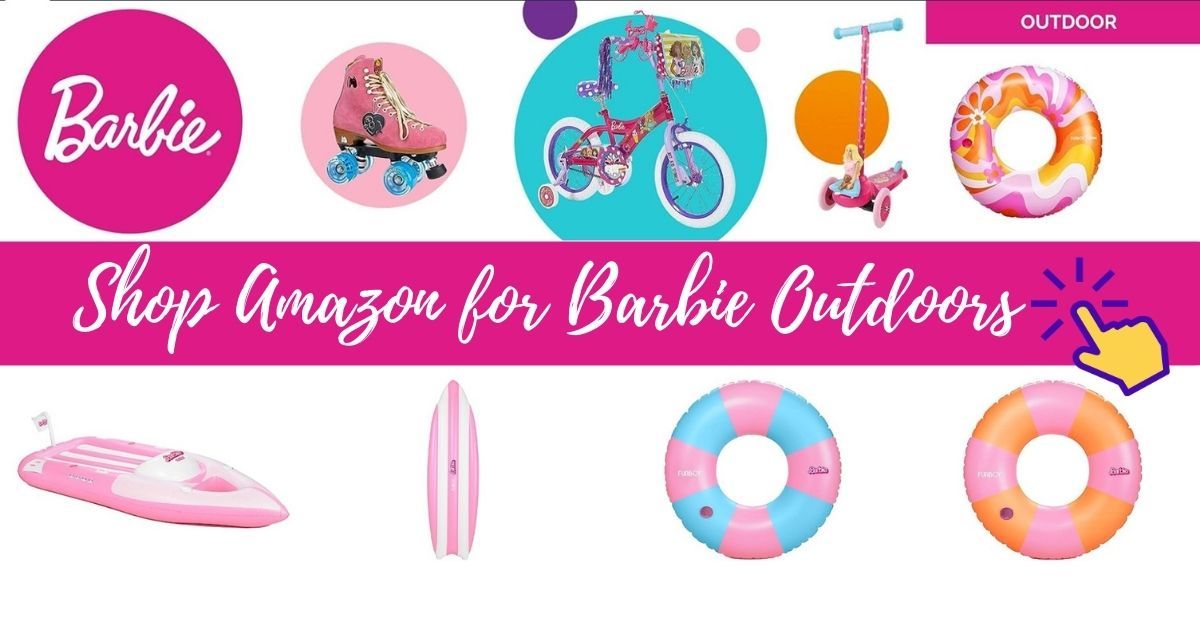 ---
Item #8
Darling Pink Barbie Dress Style for Girls - Danna Belle One Shoulder Summer Party Dresses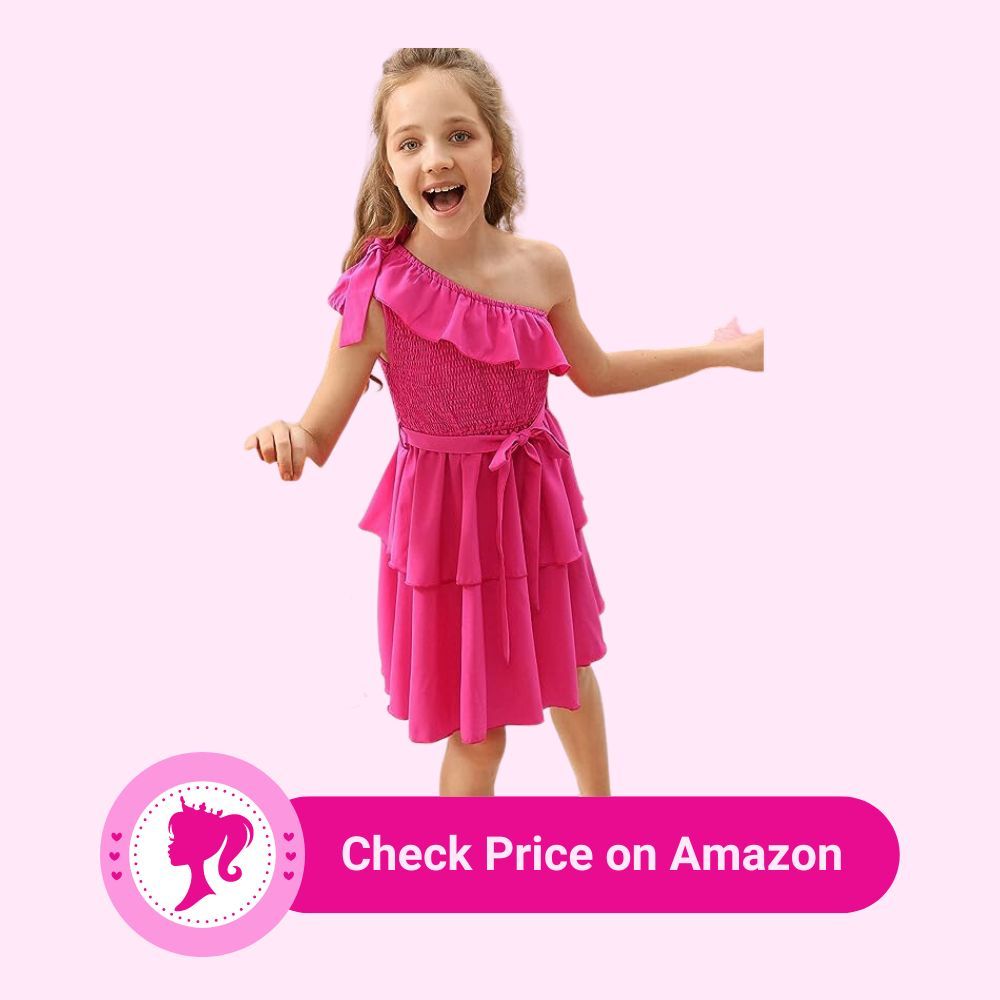 Why It's One of Our Favs
This Danna Belle Dress is perfect for your little girl's special pink dress up day. It's a darling one-shoulder design with ruffles and sequins that add fun texture and sparkle to the dress.
It's a fav that comes in sizes 5 to 14. Everyone loves to dress up like Barbie.
FAV Features
The waistband is elasticized, ensuring a comfortable fit throughout the day.
The beautiful and bold Barbie pink color is sure to make her the center of attention.
The one-shoulder design with ruffles and sequins will give her a truly special look.
It's perfect for any summer party or special occasion.
Its machine washable fabric makes it easy to care for and maintain.
It comes in a stylish package, perfect for gifting.
This dress is sure to make her the belle of the ball! Your daughter will feel confident and beautiful when she wears this Barbie inspired dress. It's a must-have for any girl who loves all things Barbie! With its unique design and comfortable fit, it's sure to be a hit.
Plus, you can be sure that it will last through all of your daughter's playdates and special occasions. She'll love the way she looks in this Barbie-inspired dress!
Don't miss out on this unique, fun, and stylish dress for girls. Get it now to make her birthday or any other special occasion extra memorable.
So don't wait, get your daughter (or granddaughter) the perfect birthday or special occasion dress she's been dreaming of. With its unique design and comfortable fit, it's sure to make her feel beautiful and confident for any event! Get the Danna Belle Girls Dress today. She's sure to be the belle of the ball!
Order yours now and make your little girl feel extra special in this stunning Barbie inspired dress. With its unique design, comfortable fit, and bold color, she'll be sure to stand out at any event.
---
Item #9
POSTER Mattel Barbie: The Movie - Barbie Car Wall Poster, 22.375" x 34", Unframed Version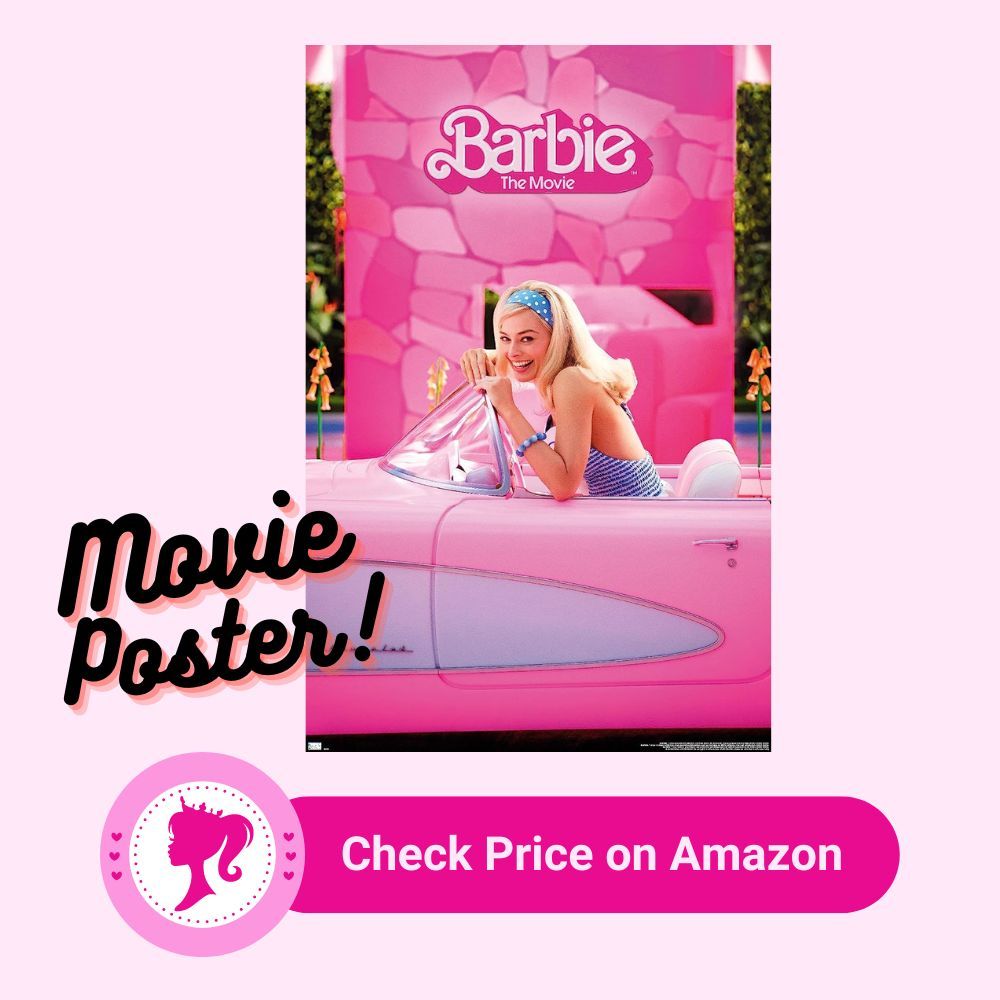 Why It's One of Our Favs
Trends International licensed by Mattel Barbie has the Movie - Barbie Car Wall Poster it's the perfect way to decorate any space with your favorite movie moment!
Printed on high-quality paper, this poster features a dynamic image of Barbie and her car from the iconic film. With its vibrant colors and bold design, this 22.375" x 34", unframed version poster will become the center of attention in any room.
FAV Features
It's easy to hang and can be framed to give it a more finished look. When you're looking for a unique way to add some style to your space, this Barbie movie poster is sure to be a hit!
Get yours today and start creating an unforgettable impression with Trends International Mattel Barbie: The Movie - Barbie Car Wall Poster.
---
---
Item #10
Barbie Cat Eye Sunglasses and Handled Hard Case Set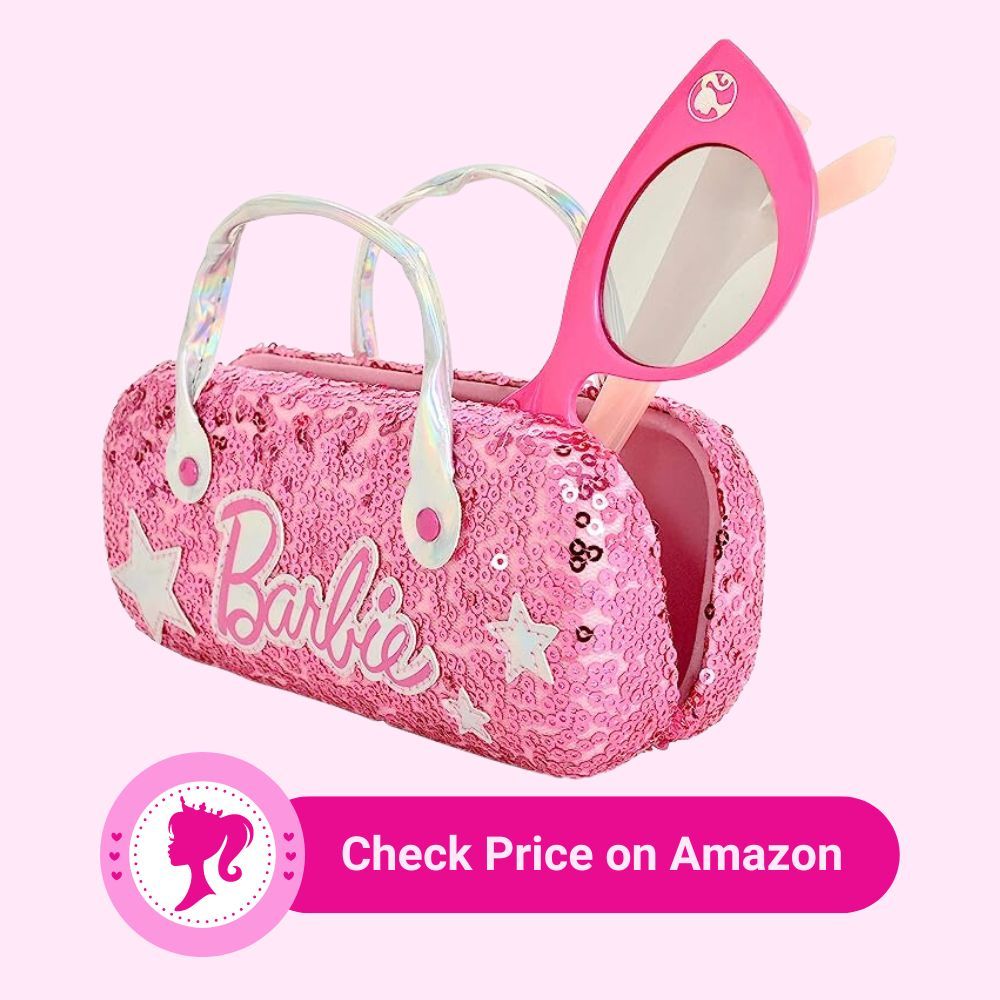 Why It's One of Our Favs
Barbie Cat Eyed Sunglasses with Hard Case! is the perfect addition to your little one's dress-up fun. The set includes an adorable pair of cat eye sunglasses in pink or blue, along with a sparkly hot pink hard handled case. Perfect for traveling or outdoor adventures, she'll be stylish and ready for anything with this cute accessory.
FAV Features
The sunglasses provide 100% UV protection for safe outdoor play! The sparkly adhesive patches add an extra touch of fun for your Barbie fan.
The hard case with handle makes it perfect for keeping her glasses safe and looking great, so she can rock the world in her stylish accessories.
Get ready for some serious Barbie fashion fun!
BONUS: Make sure to check out the other great Barbie beauty and accessory products on Amazon, like a matching backpack and lunch box set or glittery pink flower girls shoes. She'll be ready for any special event with her new look! With these stylish pieces, your child can make everyday an adventure and a way to express their creativity. These are perfect gifts for any occasion and are sure to bring lots of giggles as your little one enjoys the outdoors and parties.
---
BONUS: Top 10 Most Inspirational Barbie Quotes of All Time
We compiled a list of the top 10 most inspirational Barbie quotes of all time. These quotes provide motivation, inspiration, and positive messages for kids and adults alike.
Here are our Fav quotes along with the year, and authors name where known: and name of the author:
"The power to change the world has been inside you all along." - Barbie In Princess Power (2015)
This quote emphasizes the importance of recognizing one's own power and ability to make a difference in the world.
"The most beautiful thing you can be is yourself." - Barbie
This quote celebrates individuality and encourages self-acceptance and self-expression.
"True courage is pursuing your dream, even when everyone else says it's impossible." - Barbie And The Three Musketeers (2009)
This quote highlights the significance of perseverance and determination in achieving one's dreams, despite obstacles and doubts from others.
"Life isn't a competition." - Barbie In A Mermaid Tale (2010)
This quote reminds us to prioritize personal growth and happiness rather than constantly comparing ourselves to others.
"Friendship is the true treasure." - Barbie in A Christmas Carol (2008)
This quote emphasizes the value of genuine friendships and the joy they bring to our lives.
"Dream big and dare to fail." - Barbie
This quote encourages taking risks and embracing failure as an opportunity for growth and learning.
"Kindness is always in style." - Barbie
This quote promotes the importance of treating others with kindness and compassion.
"Believe in yourself and all that you are." - Barbie
This quote instills self-belief and confidence in one's abilities and potential.
"You can be anything." - Barbie
This quote inspires limitless possibilities and encourages individuals to pursue their passions and aspirations without limitations.
"Every day is a new adventure." - Barbie
This quote encourages embracing life with a sense of curiosity, excitement, and positivity.
These quotes made our Top 10 List of Barbie Inspirational Quotes of all time because they promote positive values such as self-belief, kindness, perseverance, and embracing individuality. They serve as reminders to children and adults alike that they (we) have the power to make a difference, to pursue their (our) dreams, and to be true to (them) ourselves.
Thank you Barbie for these messages of inspiration and motivation. Thank you for your decades of uplifting messaging to empower individuals to overcome challenges and strive for personal growth and happiness. See these inspirational quotes on our FavReviews YouTube Channel, give it a like and share it!
---
Barbie Accessories FAQ's
We know that searching for Barbie clothing and accessory options can be confusing. Are you wondering what's available? You have come to the right place!
Throughout this article we provided you with some great (hard to find) Barbie Store licensed product links on Amazon, for products beyond the doll.
Here we've put together a list of the most Frequently Asked Questions about Barbie, accessories, and her wearables to help make your purchase decisions easier and stress-free.
So, if you still have questions, check out our list of FAQs to learn all you need to know about Barbie real-life accessories!
Where Can I Find Barbie Accessories?
Barbie wearables can be found online and at most major retailers. From Amazon (see the Barbie Store on Amazon here!) to Walmart, you're sure to find the perfect accessory for you or your little one!
What Types of Barbie Accessories Are Available?
There is a wide range of Barbie accessories available, including purses, sunglasses, hard cases, nail polish sets, and more! Whether you're looking for something simple or something a bit more glamorous, there is sure to be an accessory that is perfect for you or your child.
More FAQs ... Inquiring Minds Want to Know ...
Does Mattel still make Barbies?
Yes, Mattel still produces Barbie dolls.
What is the oldest Barbie doll?
The oldest Barbie doll is the original 1959 Barbie.
How did Barbie get her name?
Barbie was named after the daughter of Mattel founders, Ruth and Elliot Handler. They had two children, Barbara and Ken. The name "Barbie" was chosen because it sounded youthful and fashionable. It is also a shortened version of the name "Barbara", which means "stranger". So Barbie is truly an iconic name that stands for style and confidence!
What year was Barbie invented?
Barbie was first released in 1959, making her over 60 years old. The original Barbie doll, it's been surmised, was based on a German doll called "Lilli" and is still one of the most popular dolls in history. Over the years, Barbie has evolved to include inspiring roles such as entrepreneurs, presidents, and more! So there's no doubt that she will continue to be a beloved icon for another 60 years.
Are all Barbie dolls the same size?
No, not all Barbie dolls are the same size. The classic 11.5-inch fashion dolls are the most iconic size of Barbie doll. However, there are also 12-inch "Glamour" dolls and a variety of other sizes to choose from.
What is the most popular Barbie accessory?
What type of clothing does Barbie typically wear?
While many Barbie dolls do come with accessories, additional items can be purchased separately if desired. This allows children to customize their doll's look and create new outfits and scenes. Accessories are a great way to expand the play experience with role play!
---
Barbie Accessories for Every Occasion
With so much to choose from, you're sure to find the perfect accessories for you or your kiddos!
Remember when donning these accessories it's all about your delivery with attitude and confidence just like the icon herself. Whether it's a classic dress-up look or a more modern ensemble, there is something suitable for any occasion. From sunglasses and purses to nail polish sets and posters, there's something for everyone in the family.
With these must-have items, you or your little one will be ready for any adventure and look their absolute best!
Any of these items will also make great gifts. So don't wait – add a whole new dimension to their playtime by stocking up on these amazing accessories now! Once you get Barbie in your head it's hard to get that image out.
Happy shopping and happy playing!
Your Fav Reviews Team
P.S. - Before you leave, please subscribe, so you will be the first to see reviews you can rely on.
P.S.S. - You may also be interested in our articles about ...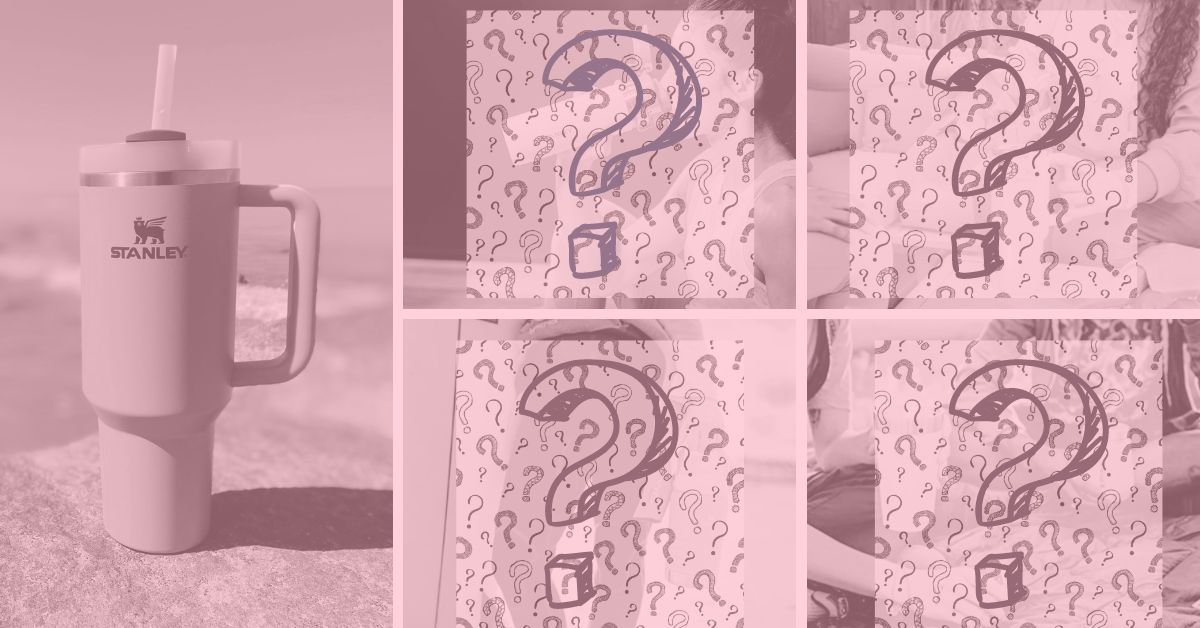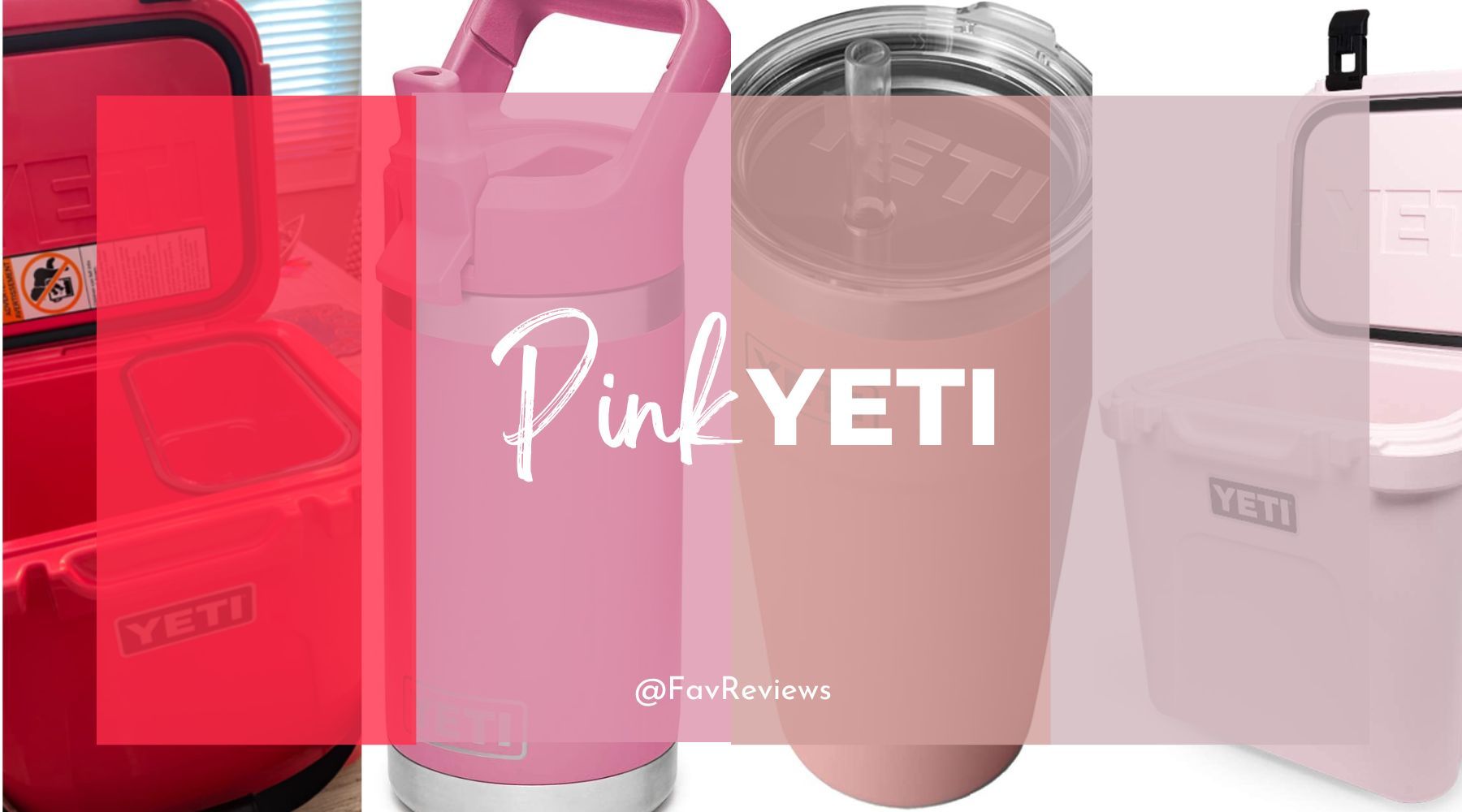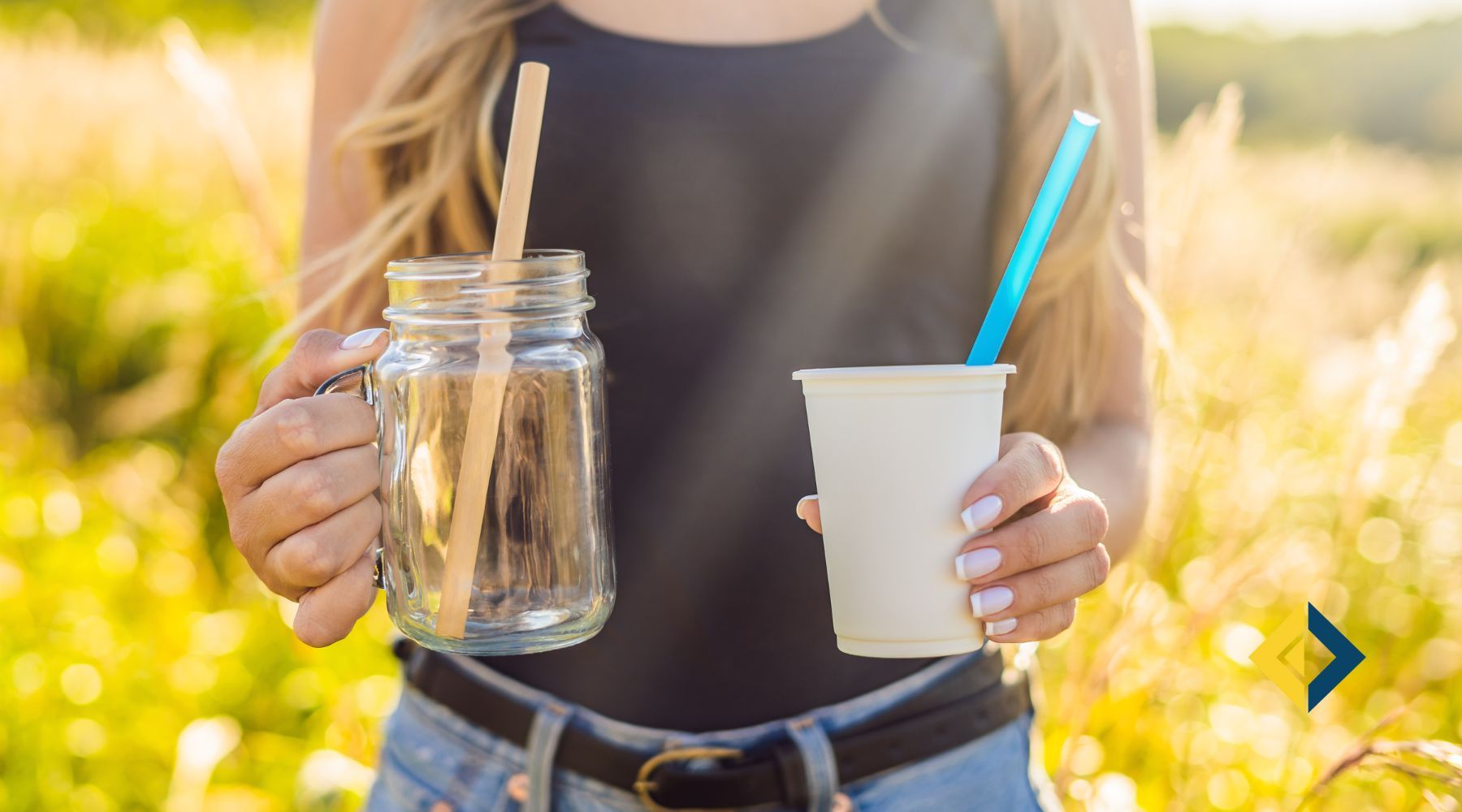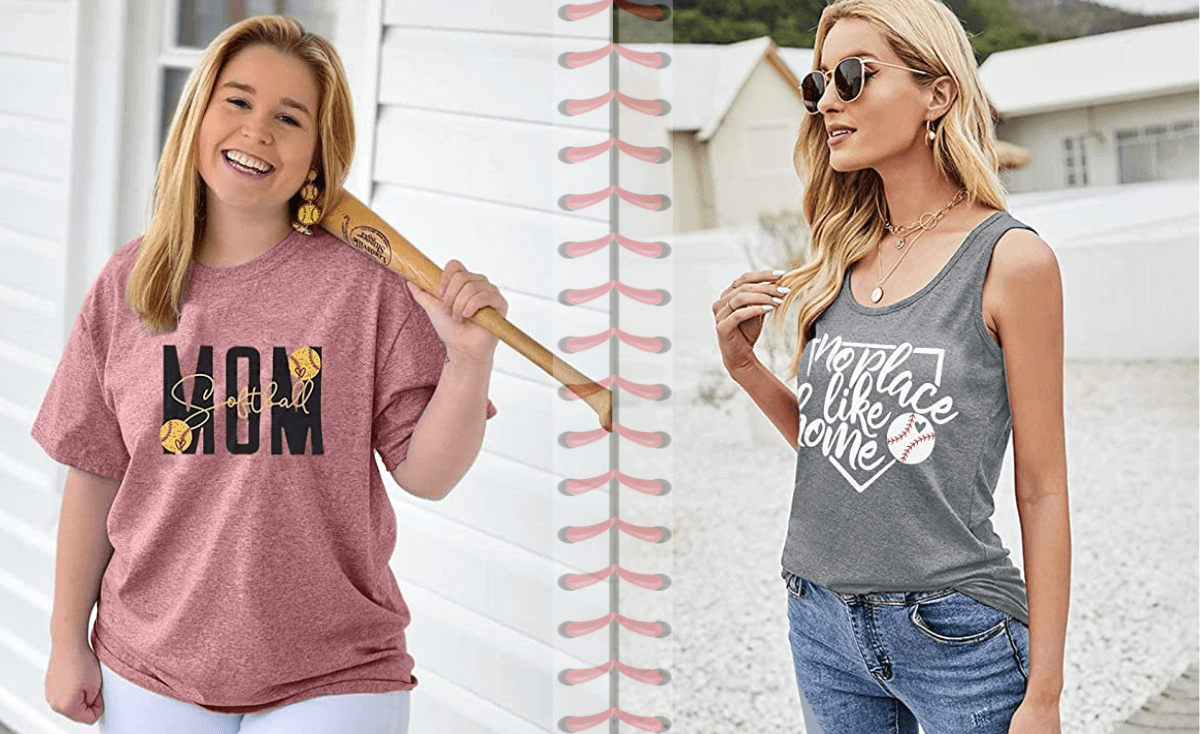 Do You Enjoy the Outdoors as Much as We Do?
If you like to listen while walking or relaxing outdoors like we do, you can get lots of great music with Amazon Prime Music or 2 FREE Audiobooks from Audible Plus!
I love learning and I never give myself enough time to read books, so I love listening to a great book or motivating myself with great songs when out for my daily walks.
Plus, if you want to take advantage of 2-day shipping, get a free 30-day trial of Amazon Prime. ( I used to think free shipping was the biggest benefit of Amazon Prime, but have you seen how many new movies have been added to Amazon Prime lately?) PLUS, did you know if you receive qualifying government assistance like SNAP or Medicaid, and others you can save even more with Prime Access.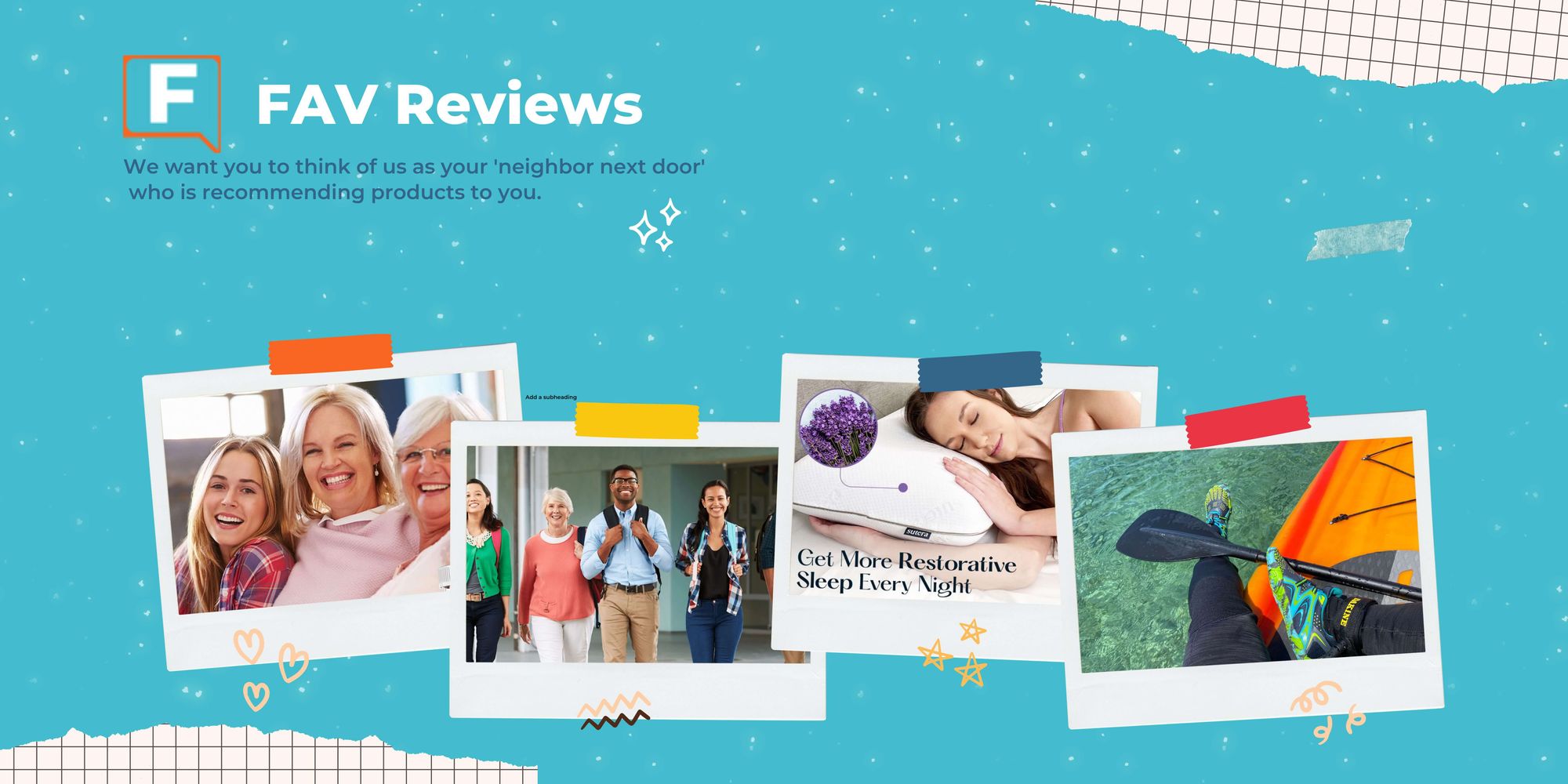 Want to see even more content about products for healthy lifestyles and outdoor enthusiasts? Be sure to check out all of our FAV Reviews.
Do you love the outdoors as much as we do? Check out our other articles:
Or shop by the season:
---
We hope you find your next favorite thing from FavReviews! We are a family friendly product review site.
Four Generation Family: As a four generation family, the breadth of products we consume and review as brand ambassadors is vast. But we can tell you, in general, in we love the outdoors, sports, staying active, living healthy and celebrating the changing seasons.
Trending Products: We also love finding new trending products and we are happy to pass along our research of new trending products to you. Follow us so you don't miss out on a thing! We send out cool emails with our latest reviews, and we will never sell or misuse your information.
Opinions Based on Use, Research and Reviews: Each product we write about is independently selected by our editors. All opinions in this article are our own, based on our own use of the product(s), or hours of research and reading reviews. We will never recommend something we wouldn't use ourselves in our own family.
Compensation: Yes, FavReviews may collect a share of sales or other compensation from the links on this page if you decide to buy something (that's how we stay in business). But, the product never costs you more, in fact in some cases, we hope we might help save you money based on our recommendations.
Reviews have been edited for length and clarity. Enjoy finding your next favorite thing!
Happy Shopping!
Your FavReviews Team
____________________________________________________
BEHIND the SCENES LOOK: If you'd like to learn how to start your own product review blog, with products that you love, check out our article How to Become a Brand Ambassador or visit LearnWriteLive.com There is room for all of us to provide better service to online shoppers. What's your passion?
Thank you for visiting us at Fav Reviews :) Stop by again! Better yet subscribe with the button on this page and never miss another thing.
Thank you for reading our article!