The name YETI is synonymous with durable, high-quality products—so much so that it's become ubiquitous with any kind of insulated drinkware. But have you ever wondered if you can put a YETI in the microwave?
This blog post will answer your burning question about whether or not this is possible and what happens if you do.
Stainless Steel Cup - YETI Cups
First off, NO, you should not put your YETI in the microwave!‌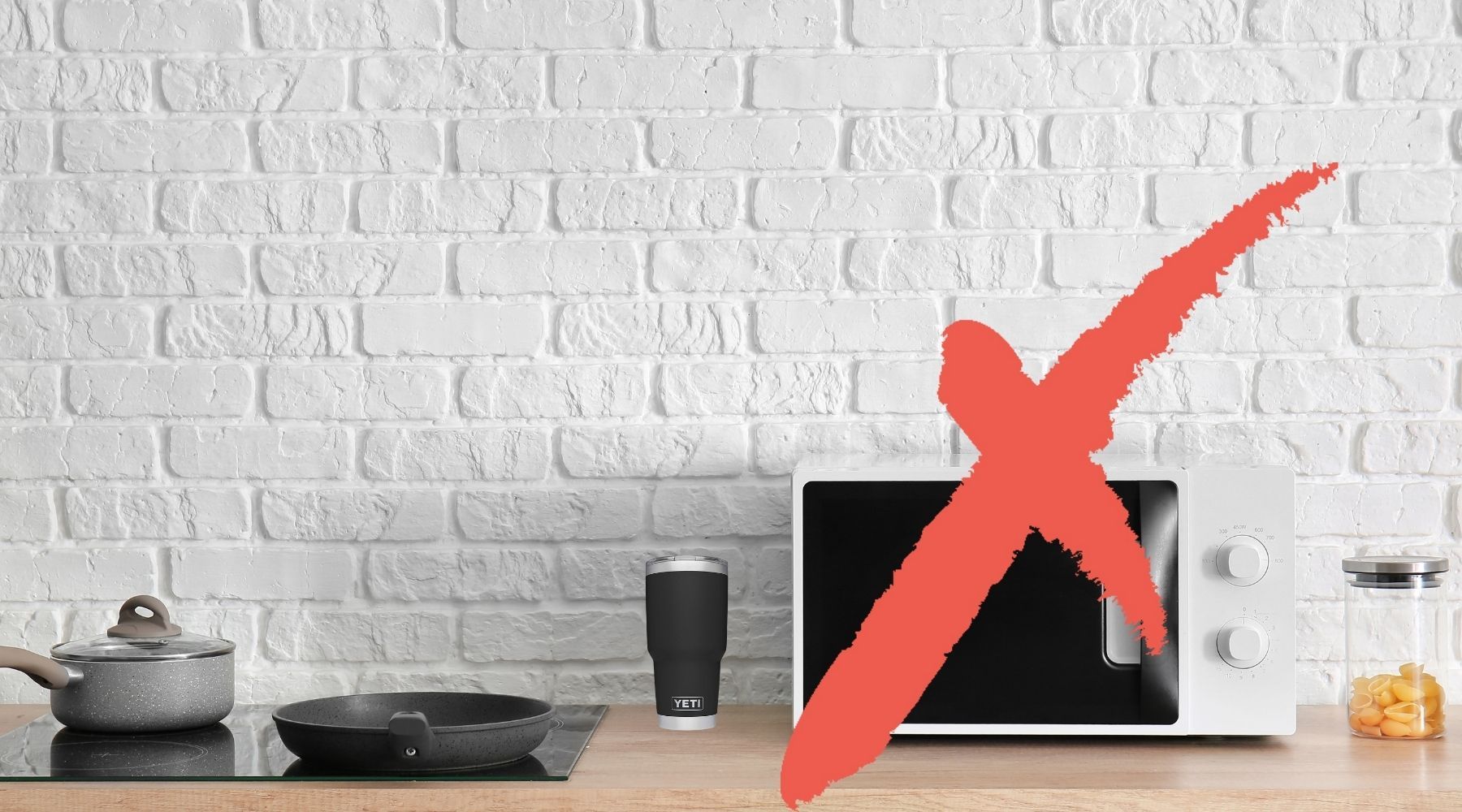 Putting a YETI in the microwave can be a dangerous fire hazard. The body of YETI drinkware is made of 18/8 stainless steel.  Stainless steel is not microwave safe and it is possible that, if microwaved, the metal body could cause sparks or fires, leading to potential injuries and damage to your property. Stainless steel reflects microwaves instead of absorbing them like other cookware materials do.  This will create hotspots within the glass, leading to intense heat and a possible fire hazard, leading to potential harm if placed in the microwave.
Heat Your Drink Safely First, Then Pour in Your YETI Cup
If you need to heat a drink before putting it in your YETI, make sure you start with a microwave safe container, glass or mug, heat it up, and then pour it into the YETI Rambler glass or mug after it's heated.
Double Wall Vacuum Insulation
YETI over-engineered their double-wall insulated tumblers with an 18/8 stainless steel body, and shatter-resistant construction.  The thick insulation means hot drinks will keep their temperature for a l-o-n-g time no matter how much of a beating your YETI cup takes.
You wouldn't put aluminum foil in the microwave, so don't put your stainless steel YETI in the microwave.
In short, don't put your YETI in the microwave—it won't end well!
But, with their wide selection of insulated stainless steel cup, mugs, bottles and tumblers designed with double-wall vacuum insulation technology, you'll have no trouble keeping your cold beverages cold and your hot beverage hot.  There's sure to be a YETI drinkware model that meets your needs - just don't microwave YETI cups.
So what are you waiting for?
Grab yourself a quality YETI insulated mug today and start enjoying warm drinks wherever life takes you!
ENJOY your hot bevvy!
Your Fav Reviews Team
You May Also Be Interested In ...