Kayaking is a great way to get outdoors and enjoy nature.
There's nothing quite like getting out on the water and experiencing nature up close and personal. Whether you take a fishing rod, relaxing music, or plan a picnic, you can take in all the environment has to offer while keeping your balance afloat from your kayak.
Kayaking is an excellent way to explore beachside bays, riverside forests and lakeside trails — all without having to pack any extra equipment!
The benefits of kayaking include improved cardiovascular health due to low-impact rowing; access to otherwise inaccessible places; and improved coordination and balance as you learn how best to maneuver under different conditions.
Plus, depending on where you go, you may even spot some wildlife along the way — so don't forget your camera!
If you're looking for an activity that lets you enjoy nature from a unique perspective, then put kayaking at the top of your list. You won't regret it!
You don't need a lot of gear to get started kayaking - these are the 3 essentials
If you're just getting started kayaking, you don't need a lot of gear to get out on the water.

There are just three essentials for kayaking for beginners:
a kayak, a paddle and some type of flotation device.
The best kayaks for beginners are usually sit-on-top models. These provide a stable platform while allowing you to remain comfortable on the kayak. They also tend to be more affordable than other types of kayaks.
We also like sit-in kayaks that have a wider base making them more stable for beginning kayakers.  We present you options below of both sit-in and sit-on-top models for beginners.
Look for a kayak that is easy to transport and has plenty of room for you and your gear. Make sure that the kayak also has enough flotation and stability to keep you safe while you explore your surroundings.
Also when choosing a kayak, consider the type of waterways you will be exploring and the stability your waterways require.  Whether you will be kayaking on flat water, or a lively lake (like one of the Great Lakes) makes a difference.
Lastly, when considering the best kayak for you consider your main uses for the kayak.   Will you be using it for fishing? Will you need a sea kayak for longer journeys?  Or, are you just getting started for recreational purposes?
A fishing kayak will have different features than most beginner kayaks.  Some will have lots of gear storage and a rod holder.
A sea kayak is different because it is more slender (which means more tippy) and swift because it is used for longer sea journeys and is designed to hold up in more demanding water conditions.
Kayaking can be a great way to enjoy nature, exercise and relax all at the same time.  The best beginner kayaks are the ones most suited to your weight and type of waterways you will be travelling.
BEGINNER KAYAK
Best Kayak for Beginners | Budget Sit-on-Top Model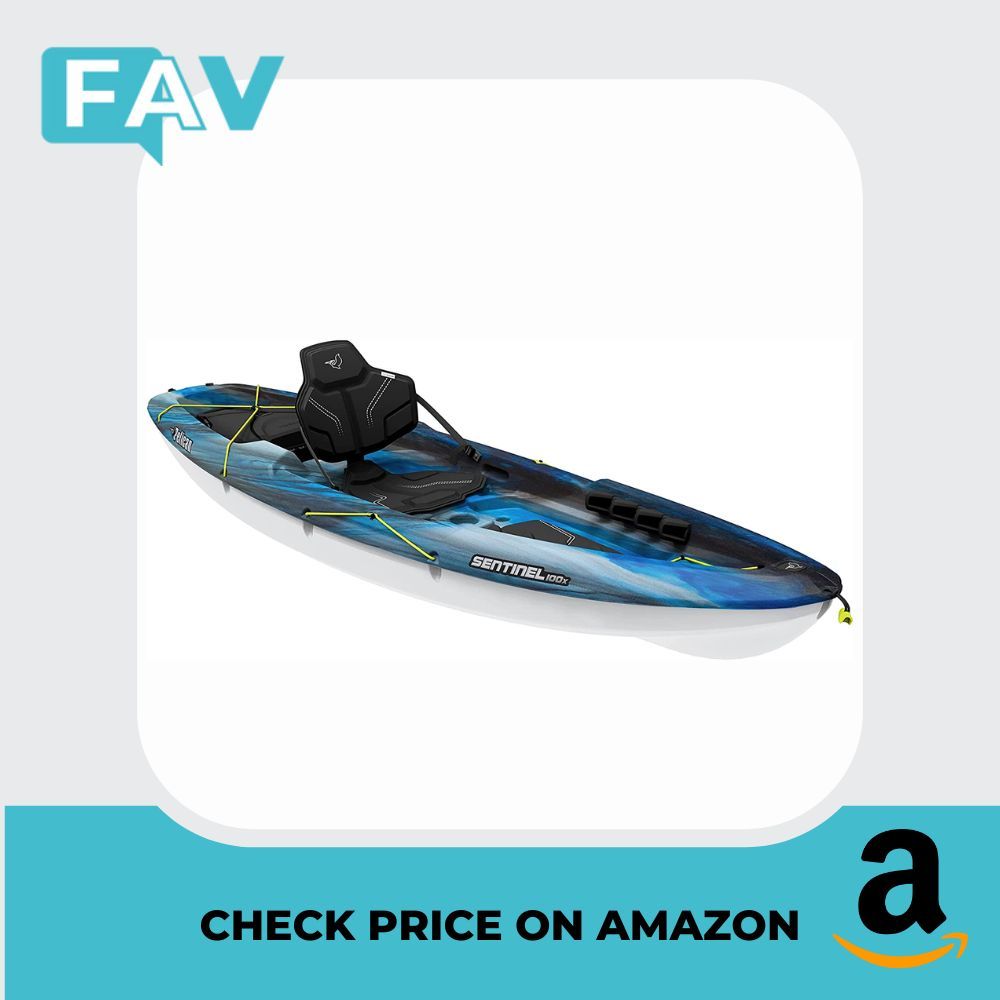 WHY IT'S ONE OF OUR FAVS
The Pelican sit-on-top kayaks have a maximum capacity of 275 lb, the extra capacity provides users with a greater sense of security.
Comfortable paddling is also helped by their adjustable ERGOLOUNGE seating system.  An adjustable seat with extra-thick cushioning and an extra high and wide padded backrest is super great for comfort on longer kayaking trips.
FAV FEATURES
The Pelican sit-on-top kayaks feature an enhanced manufacturing process, designed to meet or even exceed ABYC standards.
Additionally, the scupper holes at the base of the watercraft are perfectly safe and can drain away any excess water.
Furthermore, the flatter hull design ensures a smoother ride and makes the kayak easier to balance and sit in one place.  For the times you want to sit on the water and enjoy a morning coffee.
---
Best Kayak for Beginners | Sit-in Kayak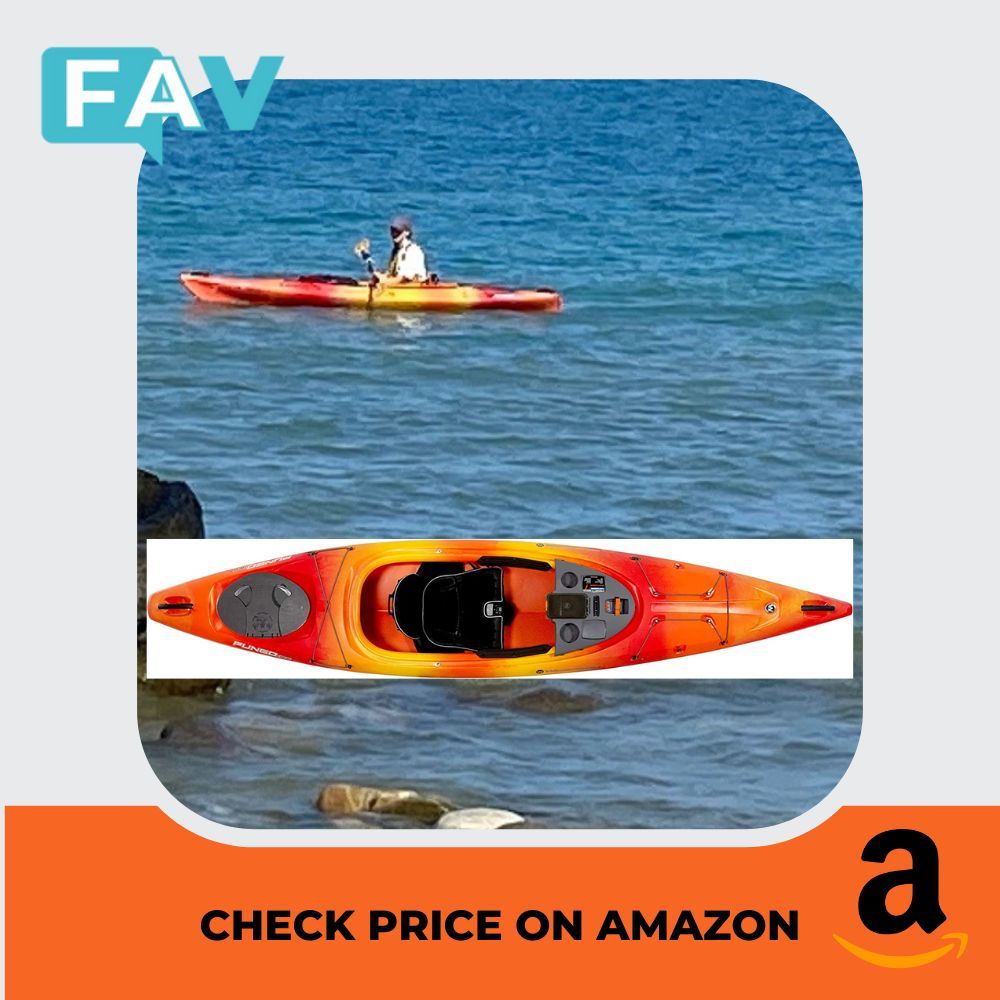 WHY IT'S ONE OF OUR FAVS
This Wilderness Pungo 125 is their best-selling sit-inside recreation kayak for larger paddlers, the maximum weight capacity is 325lbs so it has a super generous fit and it is easier to get in and out of.
Editors note: I have personally used this kayak in our Great Lakes several times and love it!  It's comfortable, stable and easy to maneuver for a beginner.
Sit-in models are more popular among experienced paddlers and offer more control in choppy waters.    Some people will tell you sit-in models can be difficult for beginners due to their confined space limiting movement, but as a beginner kayaker myself, I can tell you first-hand this Wilderness Pungo 125 was a breeze to handle.
I was at ease the entire time in the kayak and if I wanted to stop paddling and just sit, to take in the scenery or to take a photo or sip coffee, I was comfortable doing that too.
FAV FEATURES
The Phase 3 Air Pro seat offers ergonomic support for your lower back and improved airflow to keep you cool, while adjustable foot rests and thigh pads make it possible to customize your fit. The Pungo dashboard's removable Dry box, two cup holders, Slidetrax for accessories, and recess designed for the Wilderness Systems battery provide convenience and storage for all your gear. The renowned hull ensures stability without sacrificing performance, making the Pungo a great choice for paddlers of all levels.
---
Wilderness Systems
We like the Wildnerness Systems brand for all things Kayaking.  Check out the Wilderness Store on Amazon!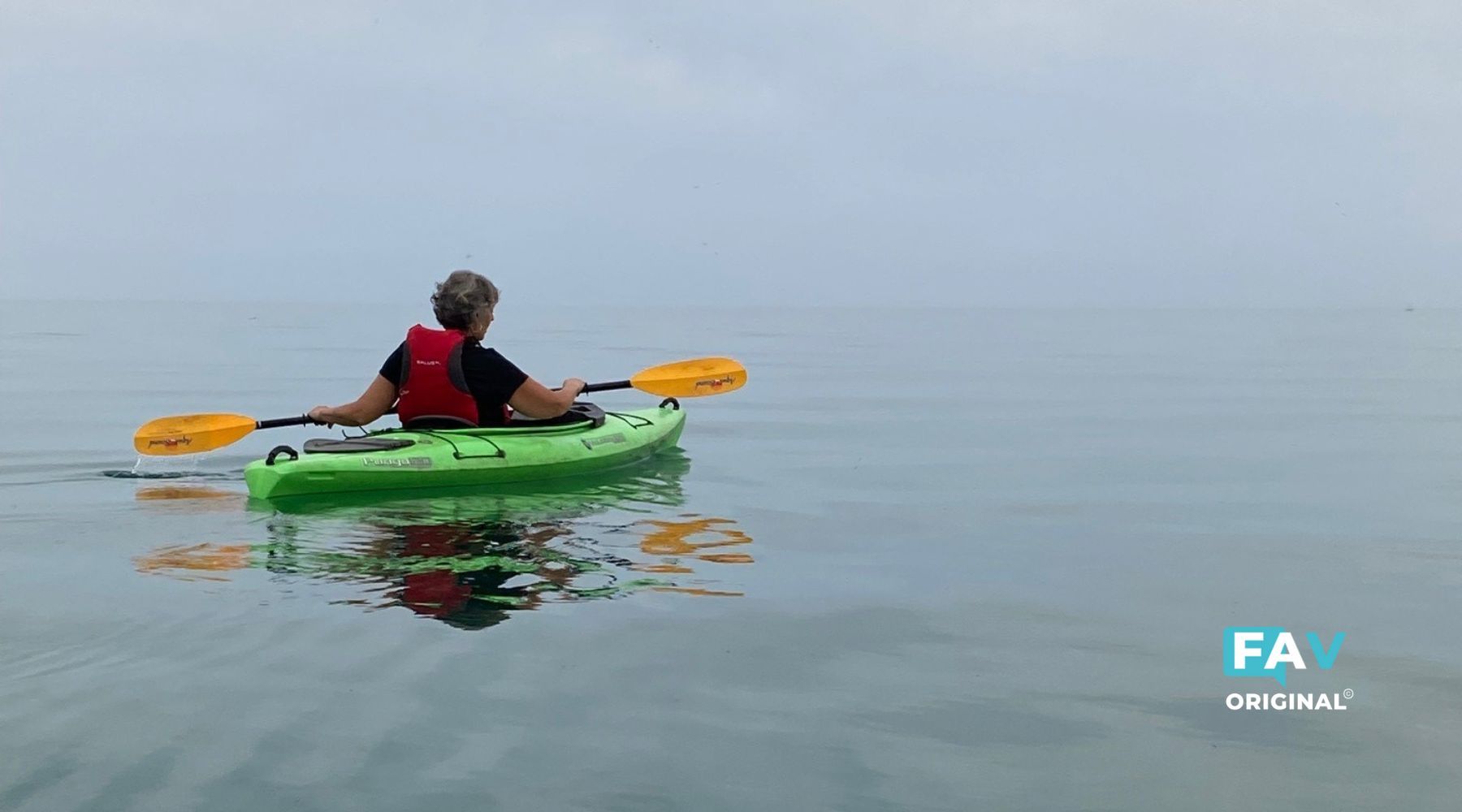 ---
There are also inflatable kayaks that are good recreational kayaks too.  We have some experience with them and will cover them in a separate review.
---
Different Types of Kayak Paddles
When buying a paddle, it's important to get the right length and blade shape for your height and strength.   If you start with an adjustable paddle, you will be able to adjust the proper width for each kayaker using your kayak.
A longer paddle with a narrower blade is designed for stability and speed, while a shorter paddle with a wider blade is better for manoeuvrability.
The type of blade and shaft of your paddle will make a difference as well.  Aluminium shaft paddles are lighter.
Best Kayak Paddle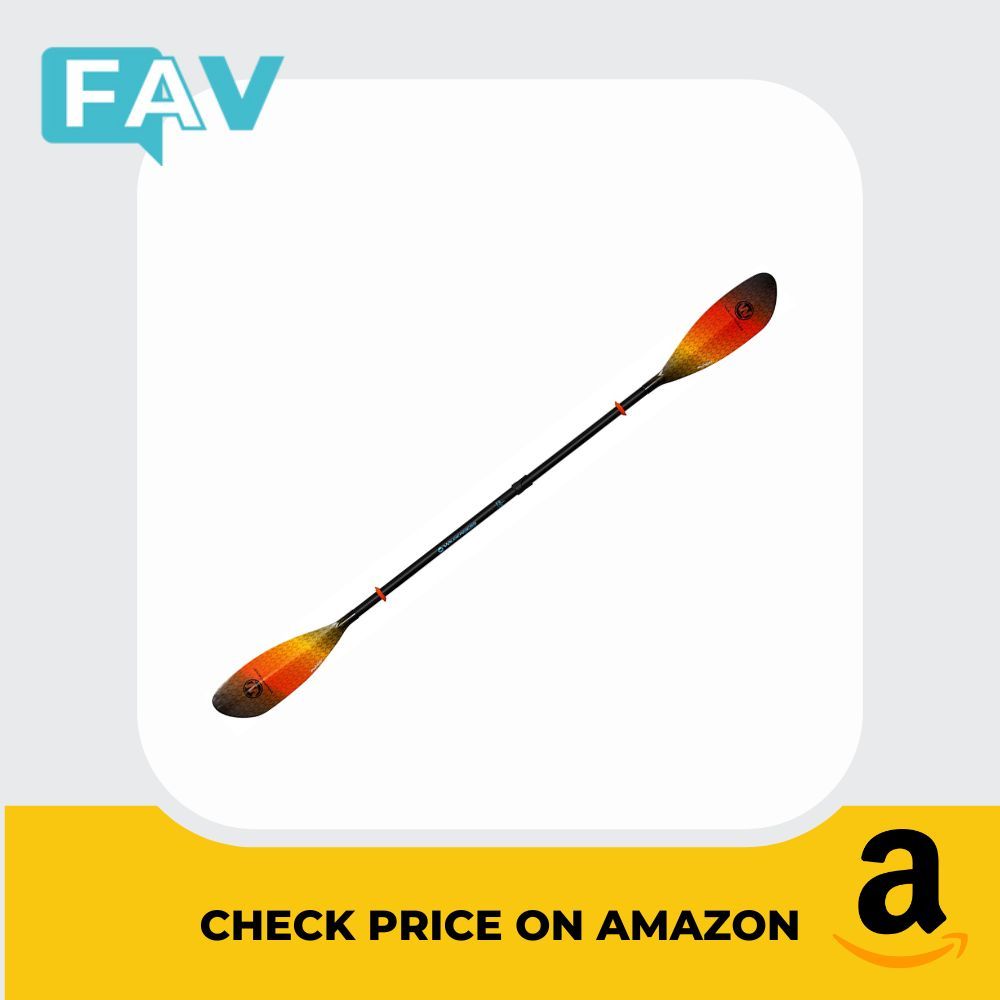 WHY IT'S ONE OF OUR FAVS
We like this paddle because it's lightweight, adjustable and works with all brands and styles of kayaks.   If you've ever used a heavy paddle, you will soon learn that lightweight matters, and a lightweight paddle will make your outings more enjoyable.
This particular model has been designed for use with the Wilderness Pungo Kayaks, all sizes and all models. (which we feature above).
It has been designed to deliver maximum kayak control for recreational and touring paddlers and it's versatile to work well in any type of water condition.
FAV FEATURES
The benefit of this paddle is that users can enjoy sustainable paddling power without feeling fatigued. The lightweight carbon fibre blade or the more durable fibreglass composite blade provides a range of options to meet individual needs. Furthermore, it allows for an adjustable size of up to 240cm and works well with other Recreation kayak models. This ensures an enjoyable, comfortable experience out on the water.
---
Best Kayak Life Vests
When kayaking, it's important to have the right life vest that fits comfortably and provides necessary buoyancy in case of emergency.
For beginner kayakers, look for a life jacket with enough flotation to keep your head above the water, adjustable straps for easy fitting, mesh panels for comfort and breathability, and bright colors for visibility.
You will want a personal floatation device or 'life jacket' that is designed for sitting in a kayak, or against a kayak seat.  Otherwise, your life jacket will be pushed up around your neck all the time.
It's also important to make sure the life vest is Coast Guard or CSA-approved so that you know it will provide maximum protection.
Here are two of our choices for a favorite personal flotation device.
Best Kayak Life Vest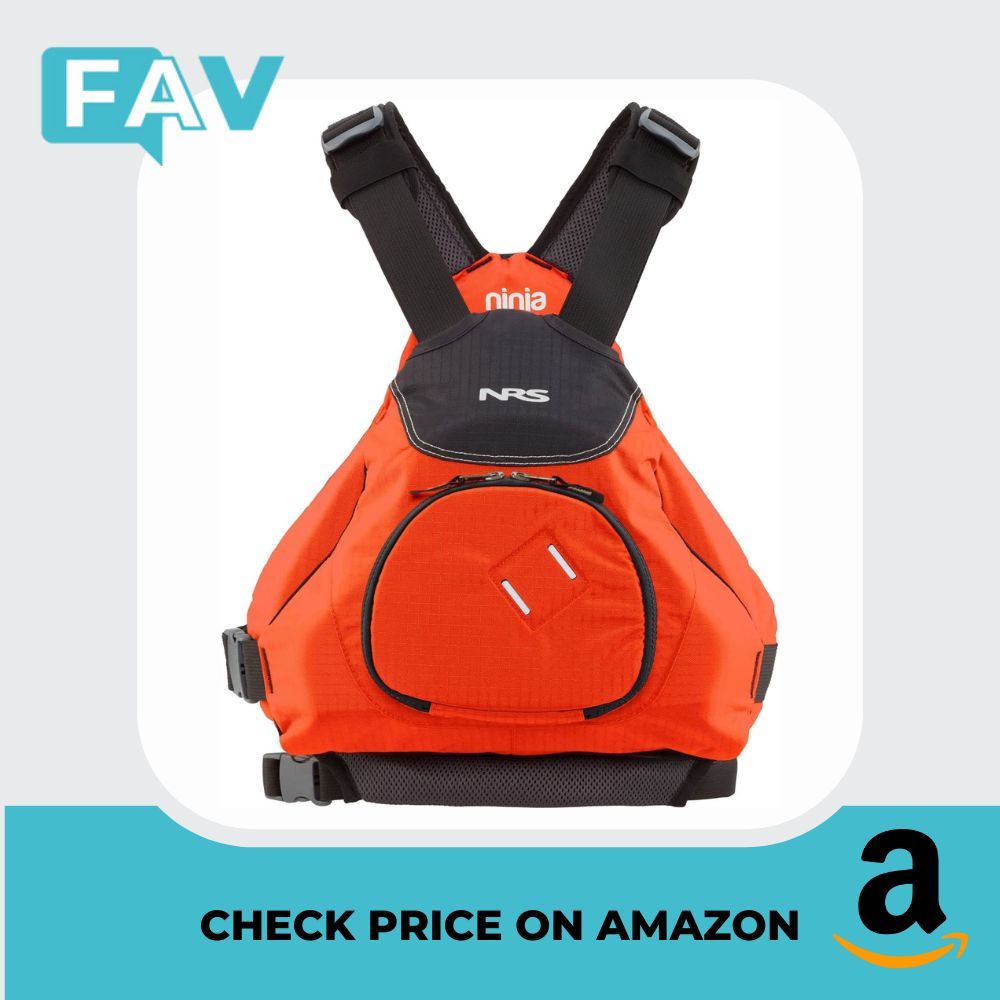 WHY IT'S ONE OF OUR FAVS
The NRS Ninja Kayak Lifejacket offers a secure and comfortable fit with its low profile design, making it an ideal choice for beginner kayakers.
With 6 adjustable points and side-entry closure, you can customize your fit for secure wear.
FAV FEATURES
The foam panels are shaped to provide maximum comfort while the AirMesh shoulder fabric straps and inner panels ensure cool ventilation.
The redesigned front clamshell pocket with dual-entry zippers and internal organization allows you to keep your essentials safe while still having access to frosty beverages.
This lifejacket provides the perfect combination of comfort, security and convenience for any kayaking adventure!
---
Best Kayak Life Vest | Best Life Jacket for Kayaking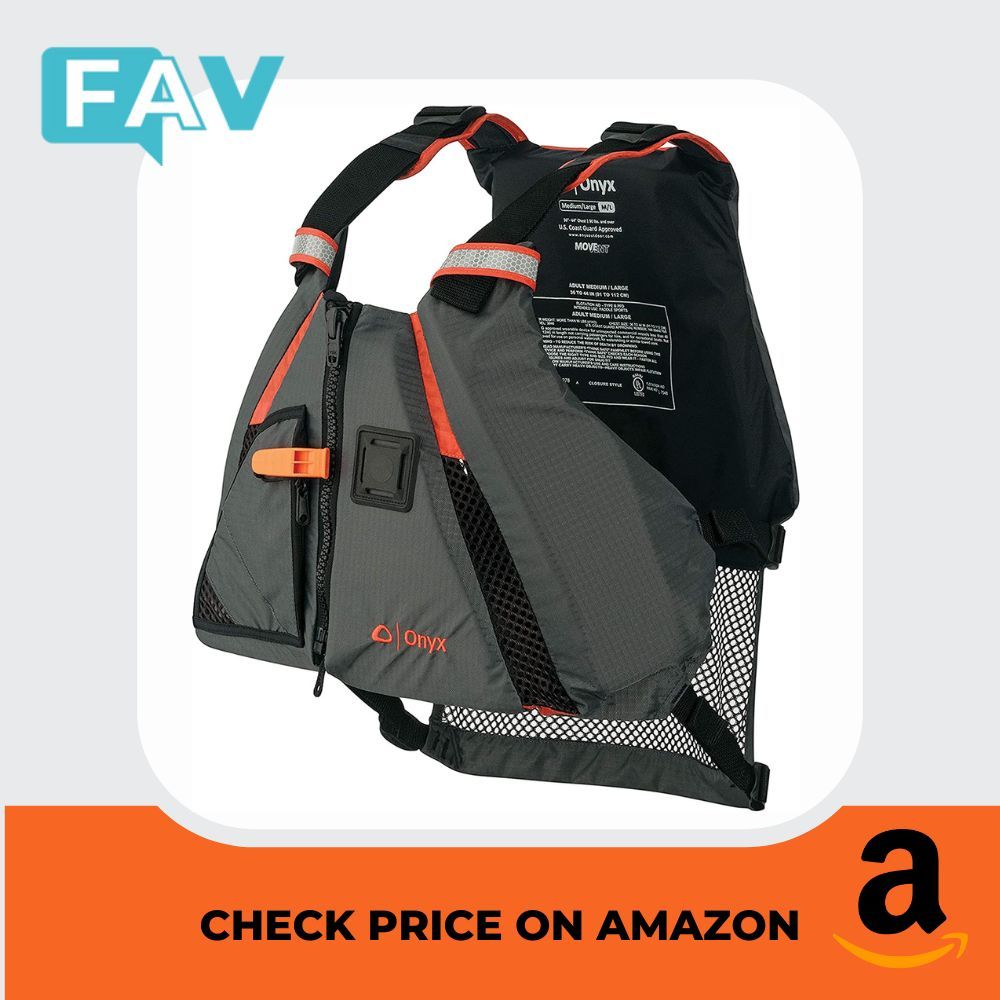 WHY IT'S ONE OF OUR FAVS
We like the Onyx MoveVent Kayak Life Vest.   This is the best life vest for kayaking because it has mesh in the lower back that allows for comfort, sitting inside against your high kayak seat.  It has adjustable shoulder straps and adjustable straps around your waist.   It also comes with an attached whistle for safety.
Editors Note:  This is the life jacket I use for both paddleboarding and kayaking.  It is a bit bulky in the front for sitting in a kayak, but not bad. It does have a comfortable mesh back for sitting in the kayak.
FAV FEATURES
The SOLAS-grade reflective material increases visibility, and the expandable zippered pockets with mesh drainage provide added storage for items.
The heavy-duty nylon fabric and soft flotation foam offer lightweight buoyancy in water should an emergency arise.
It also features a double crimp funnel entry system to ensure maximum security and safety.
In addition, 200 denier nylon ripstop and nylon oxford have been used for added durability and strength.
A safety whistle is attached to the life jacket/PFD, along with a zip assist loop at the zipper base for easier use.
This U.S Coast Guard Approved Type III Life Jacket / Personal Flotation Device (PFD) will provide ultimate protection in the water.
---
Getting You Started With Beginner Kayaks
Of course, these are the basic pieces of kayaking equipment – you'll also find plenty of speciality items, accessories and high-tech gear like GPS Trackers that can improve your kayaking experience.
But if you're just learning the basics or going out on calm waterways, all you need is the traditional kayak, either sit-on kayak or sit-in kayaks – no motor needed!   The right kayak for you will have some storage space and kayak seats that are adjustable.   Just get started.
The kayak should fit your size; paddles come in various lengths so choosing one that is adjustable and feels comfortable in your hands is best.
As for flotation devices, all beginner kayakers should wear personal flotation devices (PFDs) or kayak life vests while out paddling to stay safe in case of an emergency.
With these three essentials on hand, you'll be ready to enjoy kayaking adventures anytime!
---
Best Kayak For Beginners FAQS
We understand that starting a new sport can be both exciting and overwhelming, with numerous questions popping up in your mind. This section aims to address all those burning queries you may have about equipment, safety measures, techniques, and more. So, whether you're wondering what type of kayak to buy, how to paddle efficiently, or what to wear for your first kayaking adventure, we've got you covered. Let's dive in and demystify the art of kayaking together!
What type of Kayak should I buy as a beginner?
As a beginner, sit-on-top kayaks are generally recommended as they are more stable, comfortable and easier to paddle than other types of kayaks. Having said this, as beginners ourselves, many of our team started out in very stable sit-in kayaks. In particular, we like the Wilderness Pungo 125 for stability and ease of use for a beginner kayaker. When you are buying a kayak make sure you discuss the type of water (lake, rivers) you will be paddling and your intended use (recreational calm water paddling, fishing, touring, etc) in order to select the right type of kayak to get you started.
What Size Kayak Do I Need?
When choosing a kayak, the size you should choose depends on several factors, including your height and weight, where you intend to paddle, and the type of water. For recreational kayaking in calm waters such as lakes or slow-moving rivers, it is recommended that beginners use a longer and wider kayak such as a 10-12 foot sit-in kayak. This size and shape will provide greater stability, making it easier to paddle, especially in windy conditions.
For more adventurous paddling, such as whitewater or ocean kayaking, a shorter and narrower kayak is recommended. These boats are less stable than recreational models but offer better maneuverability in rough water.
For those who are taller or heavier, a wider kayak may be preferred for greater comfort and stability. And if you plan to bring along fishing gear or camping equipment, there are kayaks specifically designed for these activities that will provide enough storage space.
Ultimately, the size of kayak you need depends on your preferences and the type of kayaking you plan to do. It's important to try out different sizes and styles to find the right one for you.
Do I need a specific type of life jacket for kayaking?
Yes, it is important to select a life jacket specifically designed for kayaking. It will fit more comfortably for sitting in a kayak. U.S Coast Guard Approved Type III Life Jackets/Personal Flotation Devices (PFDs) provide extra safety and protection in the water.
What size paddle should I get?
When selecting a paddle, it is important to know your height. Generally speaking, paddles are sized based on the kayaker's height and the type of kayaking you will be doing. Adjustable paddles are great for beginners as they allow you to customize the size for maximum comfort.
Is it safe to go Kayaking alone?
While solo kayaking can be enjoyable, it is advised that beginners go with a buddy or group for added safety. It is also important to check the local waterways and weather conditions before venturing out on your own.
What other items do I need for Kayaking?
Kayaking accessories such as dry bags, hatches and bungees are great for storing extra gear. Other items to consider include safety equipment like flares and whistles, sunscreen, bug spray and a first aid kit.
How do I know if my Kayak is secure?
Look for kayaks that include adjustable straps, foot braces and thigh pads. These features will help keep you secure in the kayak during your paddling adventure. Additionally, make sure to inspect your kayak before each use for any cracks or other signs of damage. This helps ensure that your kayak is safe to use and won't cause any accidents while out on the water.
Are Inflatable Kayaks good?
Inflatable kayaks are great for those who want to save space and transport their kayak easily. They are also lighter than traditional hard-shell models, making them easier to handle. However, they can be more difficult to paddle in windy or choppy conditions and may not provide the same level of stability as a hard-shell boat
When is the best time to go Kayaking?
The best time to go kayaking depends on your location and the type of water. Generally speaking, kayak trips in calm waters such as lakes are best done during the summer months when temperatures are warmer and days are longer. For more adventurous paddling in rapids or ocean waves, the spring and fall months offer cooler temperatures but more reliable water conditions.
Ultimately, the best time to go kayaking is when you feel comfortable and have the necessary gear and safety precautions in place. By taking into consideration your skill level, weather conditions, and type of water you'll be paddling in, you can ensure a safe and enjoyable kayaking experience.
At our house we have a saying, "when you look out and see calm waters, 'it's time to go paddling!"
---
So what are you waiting for?
What may seem obvious, the three essentials you need to get started kayaking are - a kayak, a paddle and a life jacket.   But, believe us when we say, the options for these three items are endless, so having the research done for you is so wonderful!
We know this first-hand, we started looking for the best beginner kayak only a few years ago, so we could paddle on Lake Huron.   We did it ... and we love it!   We think you will too.
We are pretty sure you will love this pastime too.
Gather up these three essential items and join us in exploring the water like a pro!
Happy Kayaking!
Your FavReviews Team.
PS - You may also like our article(s) on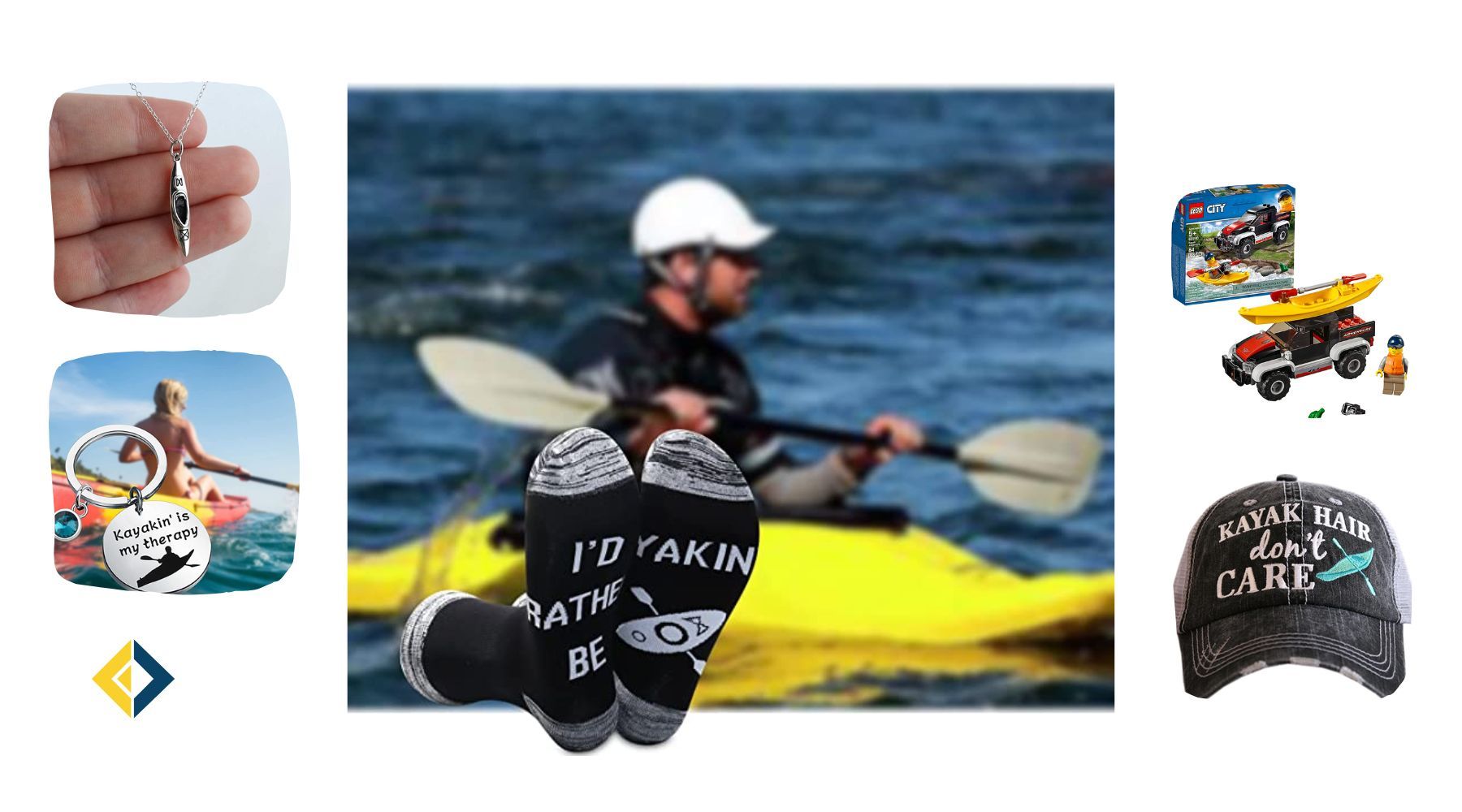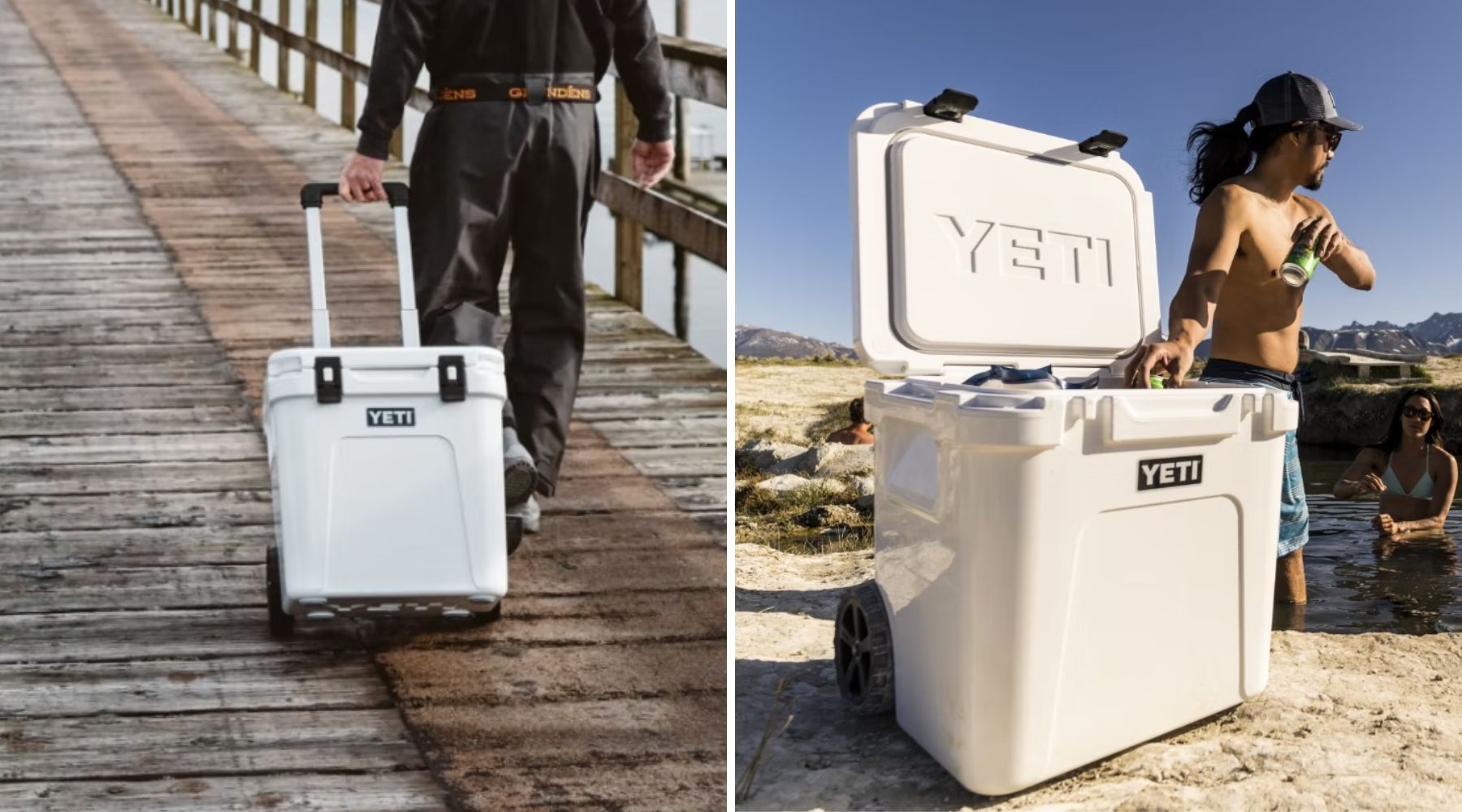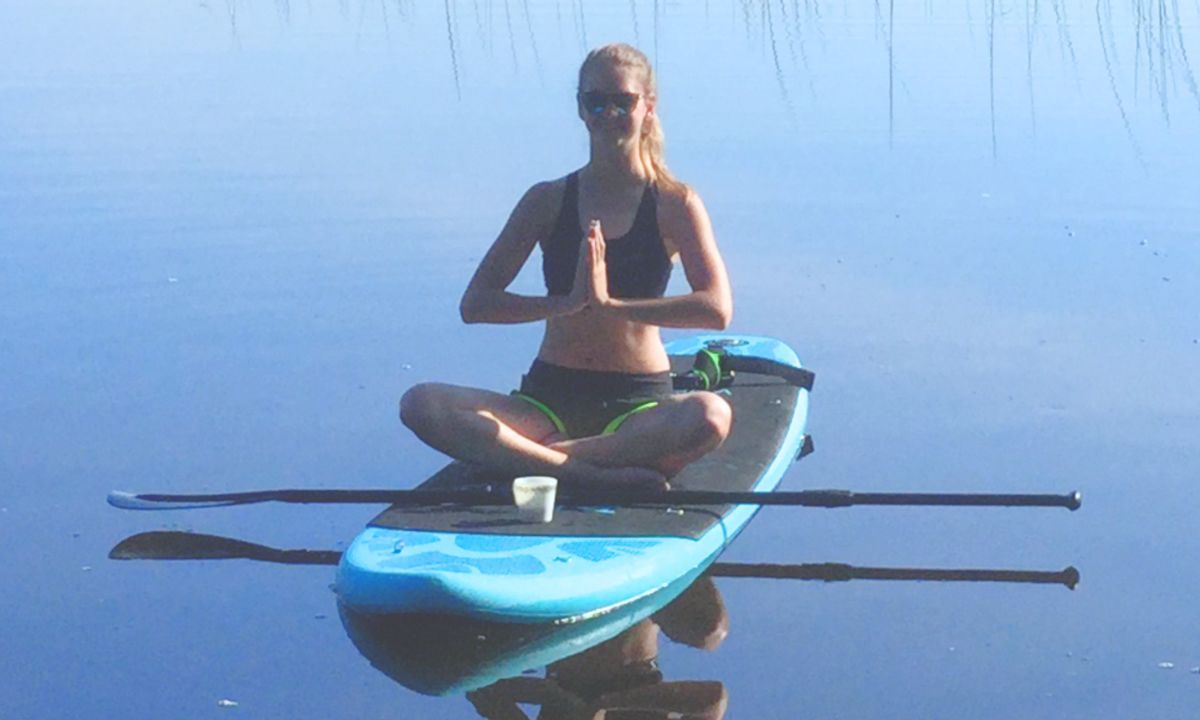 ---
Do You Enjoy the Outdoors as Much as We Do?
If you like to listen while walking or relaxing outdoors like we do, you can get lots of great music with Amazon Prime Music or 2 FREE Audiobooks from Audible Plus!
I love learning and I never give myself enough time to read books, so I love listening to a great book or motivating myself with great songs when out for my daily walks.
Plus, if you want to take advantage of 2-day shipping, get a free 30-day trial of Amazon Prime. ( I used to think free shipping was the biggest benefit of Amazon Prime, but have you seen how many new movies have been added to Amazon Prime lately?)  PLUS, did you know if you receive qualifying government assistance like SNAP or Medicaid, and others you can save even more with Prime Access.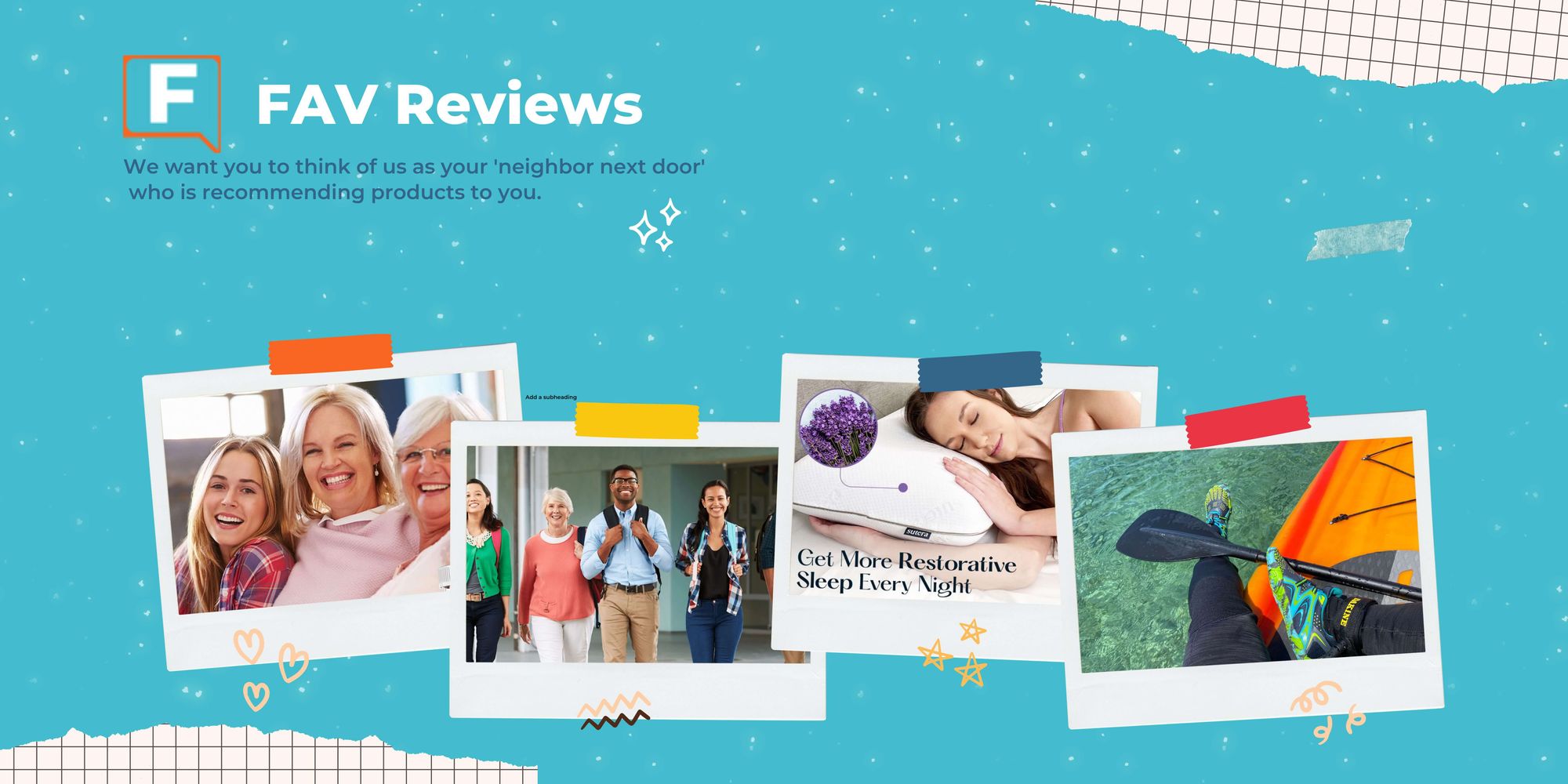 Want to see even more content about products for healthy lifestyles and outdoor enthusiasts?    Be sure to check out all of our FAV Reviews.
Do you love the outdoors as much as we do? Check out our other articles:
Or shop by the season:
Thank you for visiting us at Fav Reviews :)  Stop by again!  Better yet subscribe with the button on this page and never miss another thing.
---
Why Trust Us?
We hope you find your next favorite thing from FavReviews! We are a family friendly product review site.
Four Generation Family: As a four generation family, the breadth of products we consume and review as brand ambassadors is vast. But we can tell you, in general, in we love the outdoors, sports, staying active, living healthy and celebrating the changing seasons.
Trending Products: We also love finding new trending products and we are happy to pass along our research of new trending products to you. Follow us so you don't miss out on a thing! We send out cool emails with our latest reviews, and we will never sell or misuse your information.
Opinions Based on Use, Research and Reviews: Each product we write about is independently selected by our editors. All opinions in this article are our own, based on our own use of the product(s), or hours of research and reading reviews. We will never recommend something we wouldn't use ourselves in our own family.
Compensation: Yes, FavReviews may collect a share of sales or other compensation from the links on this page if you decide to buy something (that's how we stay in business). But, the product never costs you more, in fact in some cases, we hope we might help save you money based on our recommendations.
Reviews have been edited for length and clarity. Enjoy finding your next favorite thing!
Happy Shopping!
Your FavReviews Team
____________________________________________________
BEHIND the SCENES LOOK: If you'd like to learn how to start your own product review blog, with products that you love, check out our article How to Become a Brand Ambassador or visit LearnWriteLive.com There is room for all of us to provide better service to online shoppers. What's your passion?