Happy Blue Monday!
For those of you who don't know, the term Blue Monday is a label for what is supposedly the most depressing day of the year. It falls on the third Monday in January, and is supposedly caused by a combination of seasonal affective disorder, winter weather, debt, low motivation, and Christmas blues causing us stress.
But don't worry! We have some tips to help make your day better.
It's still Good Morning Monday to us!
Good Morning Monday is a weekly post written by Deborah Clarke, founder of FavReviews.com   Our goal with Good Morning Monday is to inspire you to have a great week!  FavReviews is a family friendly product review site.  We review products loved and used by four generation families who love the outdoors, like ours.  We also need to let you know, if you decide to purchase through one of our links on any of our pages we may receive a compensation from Amazon or the product manufacturer. (It's what keeps our team researching and writing).  It's our hope, that our reviews will help save you money and frustration by getting your purchase right the first time.  Subscribe to receive an email from us with every new post, so you never miss another Good Morning Monday or product review.
Blue Monday?  On this Third Monday in January, Look Up and Make Your Day Better
If you're feeling down today, here is a simple message from Peanuts, Charles Schultz, that sits on a shelf in my office to remind me daily about the secret of life:   " Keep looking up! That's the secret of life."   and as simple as that sounds, it's true.    You can't help but start to smile if you raise your head and start to look up.  So don't be hanging your head today, look up ... your day just got brighter.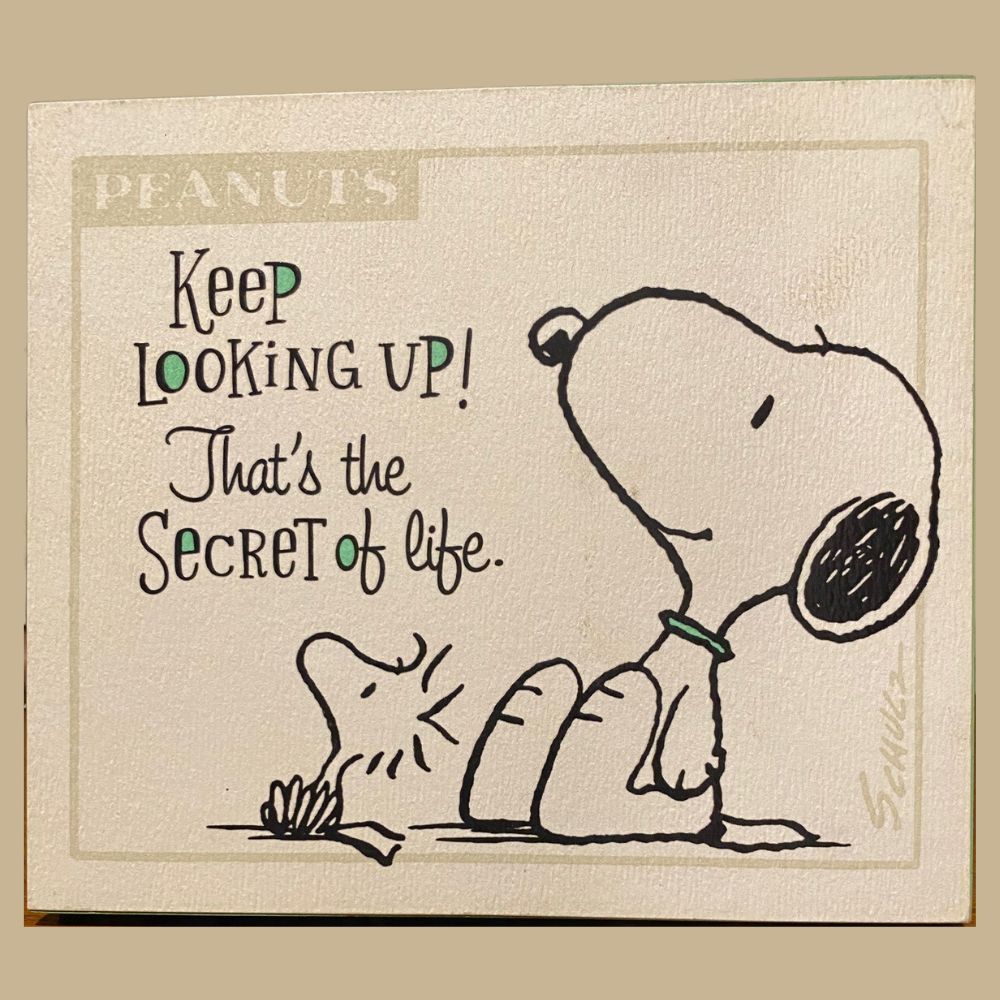 Keep Looking Up! That's the Secret of Life - Schultz, Peanuts
While it may seem counterintuitive or even silly at first, there are actually plenty of benefits to taking a few moments each day to look up.
For example, research suggests that getting some sun every day can help improve your mood, as well as help regulate your circadian rhythm so you get better quality sleep.
Plus, getting outside in general can be beneficial for your physical and mental health.
Even if you can't get outside right now due to weather or other factors, just looking out a window and looking up can still provide some benefit.
In addition to those more tangible benefits of looking up, it also gives us the opportunity to appreciate beauty in our everyday lives.
Taking time each day to admire the sky – whether it's a beautiful sunset or just the vastness of space – can give us perspective on our own problems and worries.
As Charles Schulz wrote in another of his Peanuts cartoon strip:
"Life is like a 10 speed bicycle. Most of us have gears we never use."
Looking beyond our daily routines helps us tap into all those extra gears and make life more enjoyable overall.
---
Here are 3 Tips and Good Morning Monday Images to make your day (and week) better.
With the tips and good morning Monday images below, I share everyday thoughts and pictures to hopefully put some ideas in your head and a smile on your face so you can start your week off just right.  Enjoy!
TIP#1 Look Up:
If you can get outside today, even just step outside your door and look up. If the sun is shining, soak in its warmth and say to yourself "today just got better!" and put a smile on your face.
Studies have shown that sunshine increases our serotonin levels naturally, making us feel happy and energized. Taking a few minutes to bask in some sunlight can improve our mood significantly. It's so simple, give it a try?
No sunshine ... just look up anyway and let that automatic smile just happen.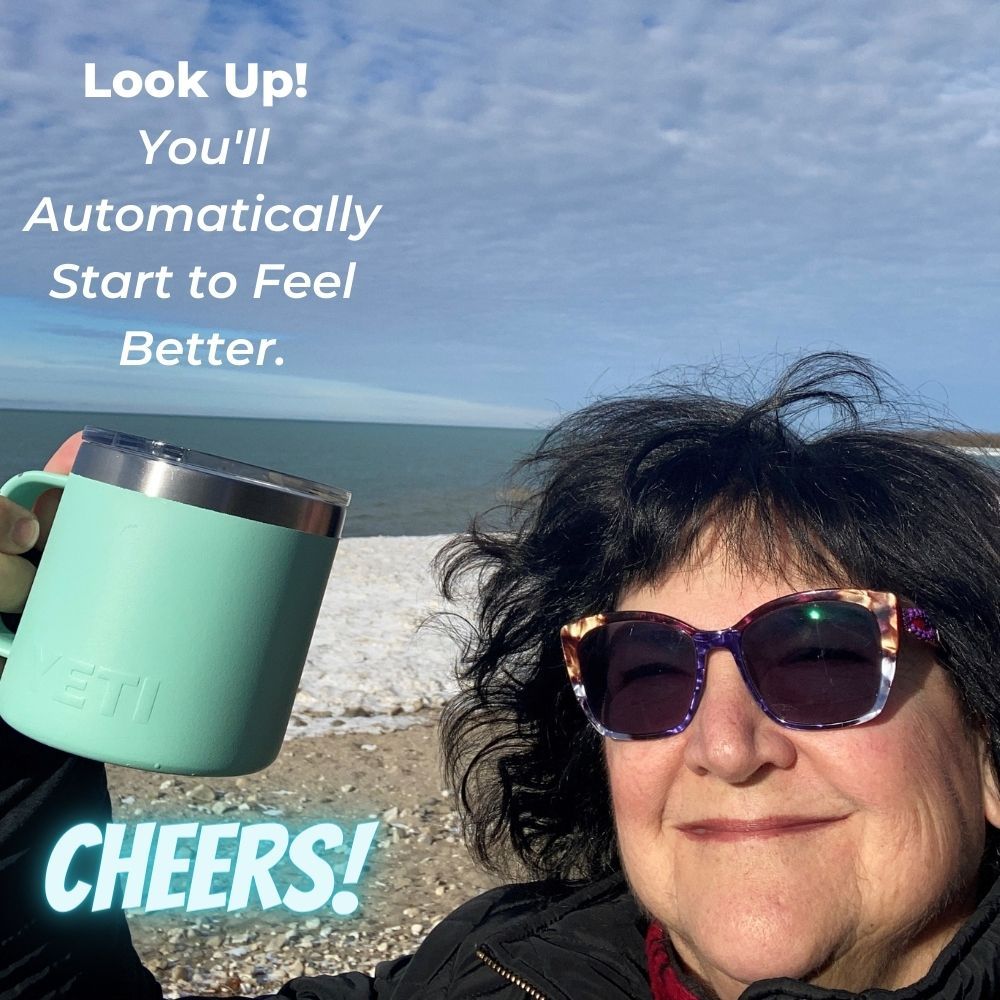 TIP #2 See The Good:
On days when things don't seem to be going our way, it can be hard to find the good in the situation.
But if we take a moment to stop and appreciate what is going right instead of focusing on what went wrong or what still needs improvement, then we can start feeling better about ourselves and about life in general.
Finding small moments of joy throughout the day will help us stay positive throughout any tough challenges we may face.   #SeeTheGood
Choose any small moment of joy.   When 'looking up' basking in a few minutes of sunshine this weekend, I decided to take a photo of the sun in the blue sky.  After I took the photo I realized the sun had gone behind a cloud and I thought I missed the perfect shot.  😞(sad face).  
BUT ... When I got back to the house, I found this!  
A beautiful photograph, with the clouds looking like cotton candy and the sun and clouds making the shape of a heart!   What a gift!  #SeeTheGood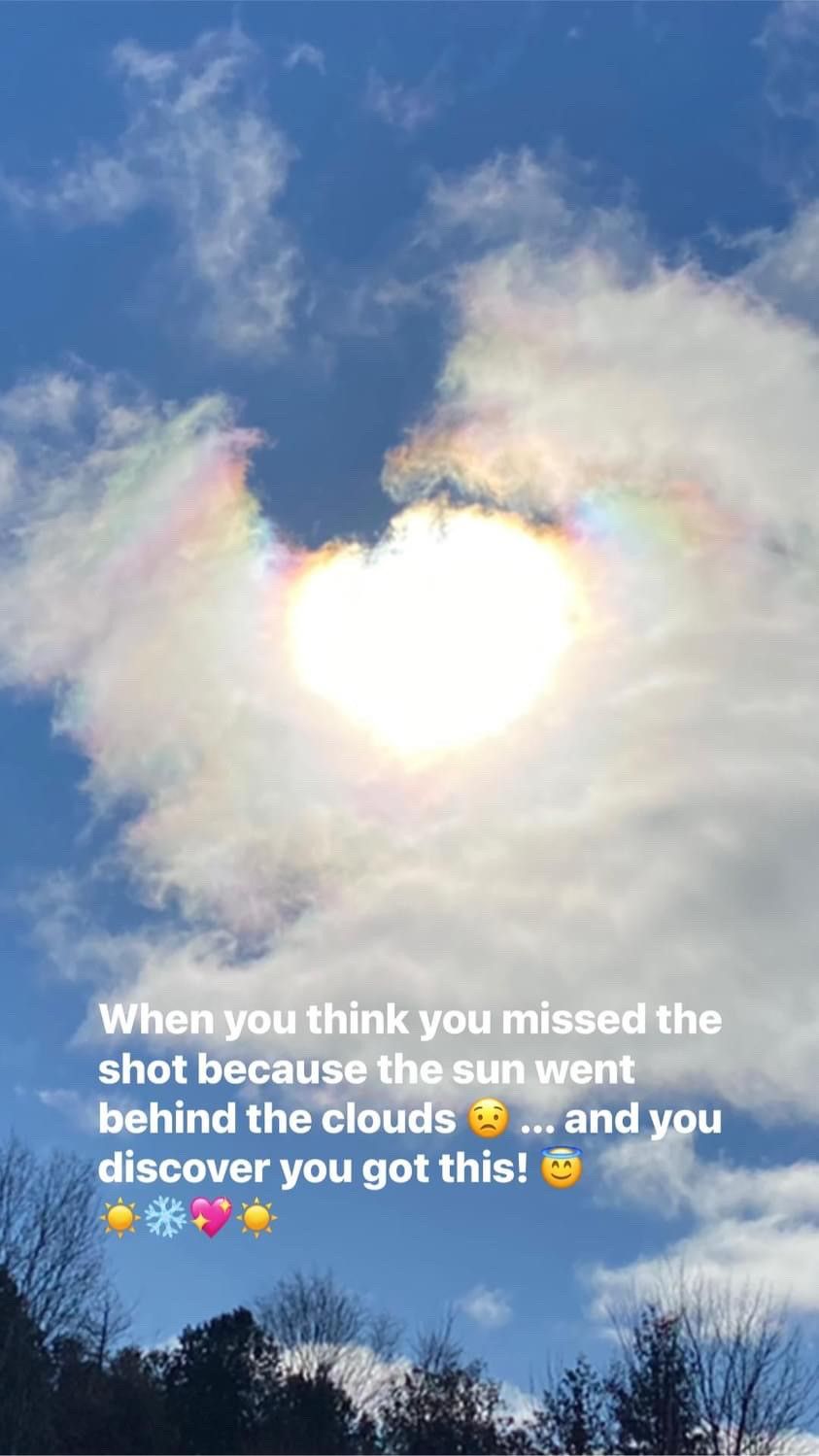 Tip #3 Half-Hearted Is Okay:
Not every day will be full of enthusiasm and excitement. That's okay! We can still make progress even if we don't always have our hearts fully invested in what we're doing.
Achieving success doesn't require us to love everything we do—sometimes simply showing up consistently is enough for us to reach our goals over time.
So don't beat yourself up if you don't feel motivated every single day; just keep working at it little by little until you get there!
This morning on my walk to the beach, while enjoying my morning coffee, I found another beautiful heart shaped rock.   As I set it for an image with my YETI coffee mug, I noticed it was half dry and half wet, half light and half dark.  
It made me think about being 'half-hearted'. We don't have to be 100% happy all the time, that's nearly impossible.  
It's okay to sometimes feel half-hearted, if your heart is feeling dark or not fully loving the moment of time you are in.   But we also need to recognize we have the ability to change that feeling for ourselves, in our own time.  
You have the ability to change your heart from dark to light.   We can't always be successful changing how someone else feels, but we can be responsible for changing the way we feel.
If today is one of those days for you .. think of this image and use that thought or idea to lighten the dark side of your heart.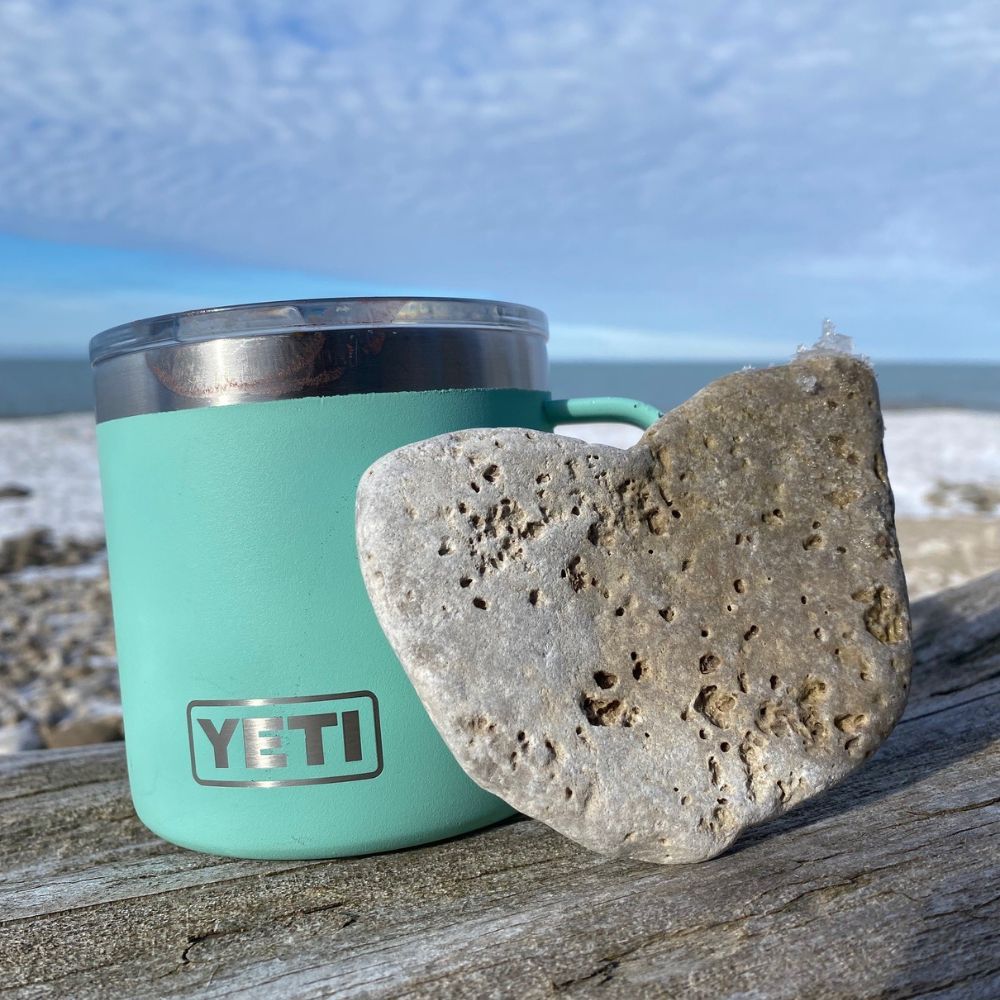 One Small Action
So whatever today has in store for you,  remember what Peanuts creator Charles M Schulz once said "Keep looking up! That's the secret of life."  When you look up you automatically start to feel better.
All it takes is one small action.  Whether it's stepping outside your door or just glancing out your window at the sky above, it can help to put things into perspective and make your day – Blue Monday included – just a little bit brighter.
I hope these tips help you make your Monday—and week—better than before!
Small Changes Lead to Big Results
Remember that small changes can lead to big results over time; so take one step forward today, and look up to find something that makes you happy and fulfilled!
Enjoy these Good Morning Monday images shared with you today as a reminder that looking up can make your day brighter.  There is always a sunshiny blue sky above the clouds!
Enjoy!  It doesn't have to be your happiest day of the year, but it can be a happier Monday now than it was going to be even 10 minutes ago!
Look up and smile friends!
Deborah

Deborah Clarke, Founder
FavReviews.com
#GoodMorningMonday #lookup #secretoflife #bluemonday #mondaymotivation #monday
P.S. - If you set new year's resolutions for 2023, you need to read our Good Morning Monday post from last week!  Go read it now ... 12 New Chapters, 365 Chances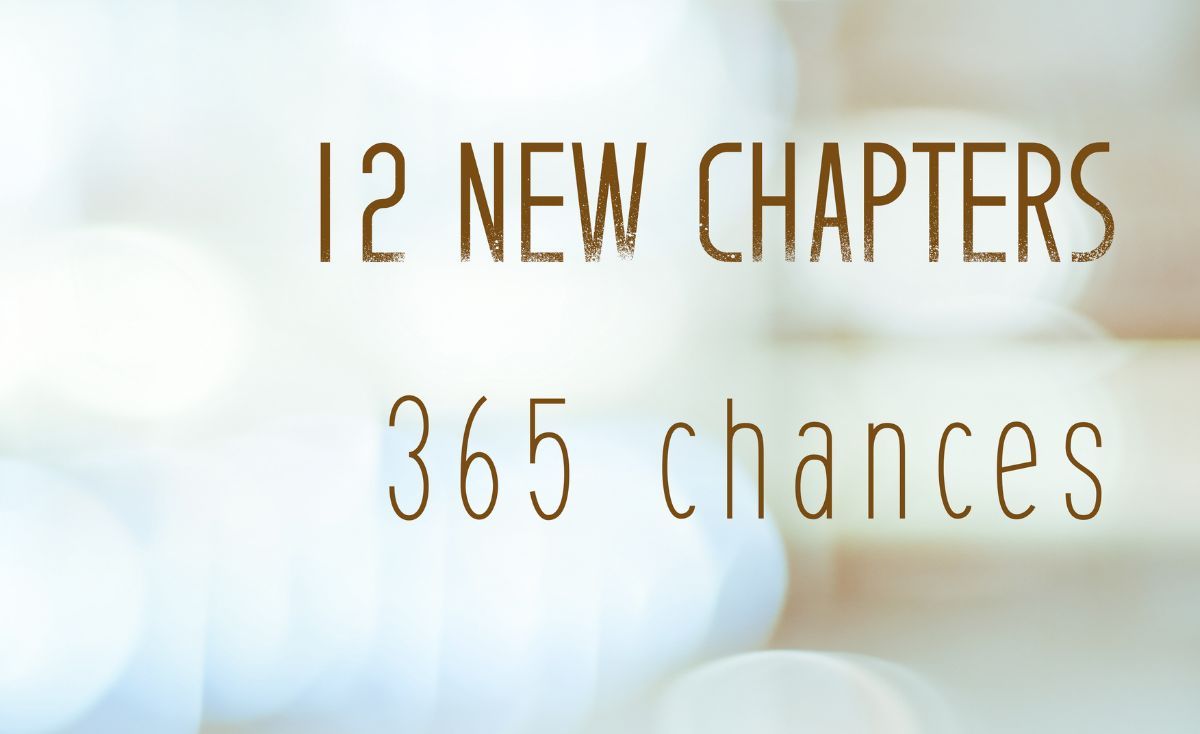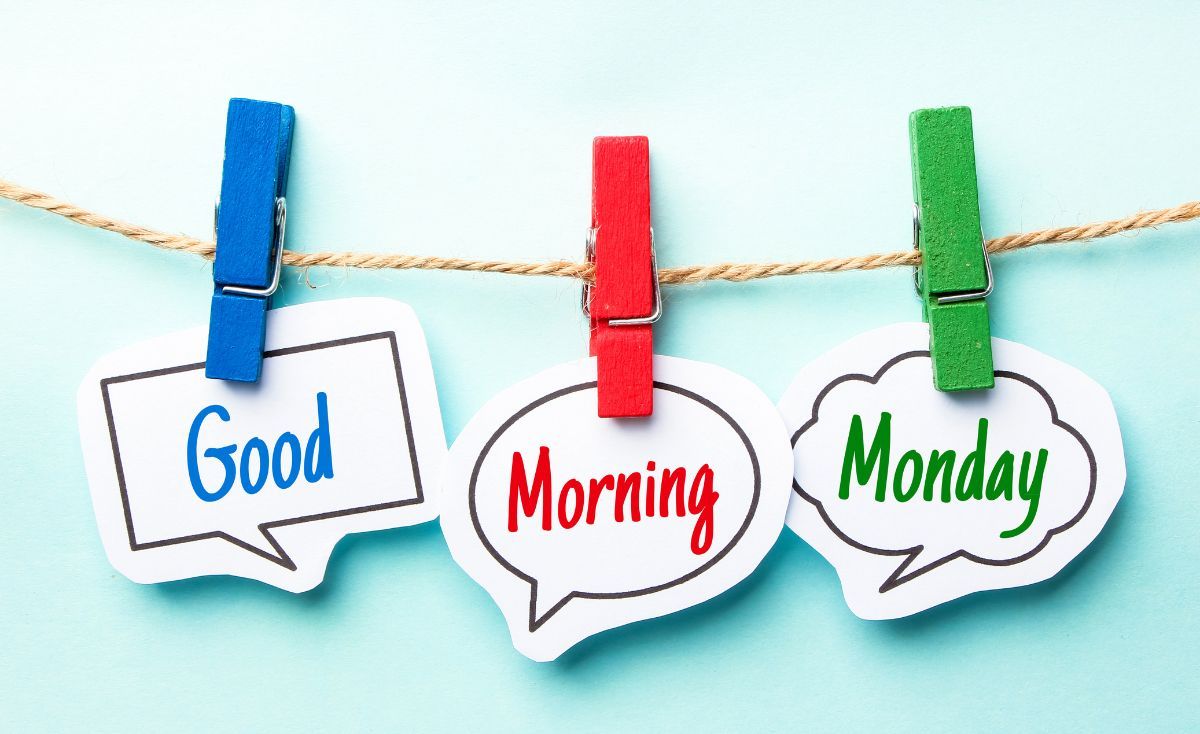 ---
Why Trust Us?
We hope you find your next favorite thing from FavReviews! We are a family friendly product review site.
Four Generation Family: As a four generation family, the breadth of products we consume and review as brand ambassadors is vast. But we can tell you, in general, in we love the outdoors, sports, staying active, living healthy and celebrating the changing seasons.
Trending Products: We also love finding new trending products and we are happy to pass along our research of new trending products to you. Follow us so you don't miss out on a thing! We send out cool emails with our latest reviews, and we will never sell or misuse your information.
Opinions Based on Use, Research and Reviews: Each product we write about is independently selected by our editors. All opinions in this article are our own, based on our own use of the product(s), or hours of research and reading reviews. We will never recommend something we wouldn't use ourselves in our own family.
Compensation: Yes, FavReviews may collect a share of sales or other compensation from the links on this page if you decide to buy something (that's how we stay in business). But, the product never costs you more, in fact in some cases, we hope we might help save you money based on our recommendations.
Reviews have been edited for length and clarity. Enjoy finding your next favorite thing! Happy Shopping! Your FavReviews Team