For those of us who consider our canine pals as integral members of the family, it's only fitting that they receive the best gifts.
And, we believe a Yeti Dog is a happy dog.
That's why we've put together this list of YETI gifts ideal for dogs and their owners. YETI has a reputation for making outdoor gear that's sturdy and long-lasting, ensuring it can keep up with your adventurous lifestyle, and now, your dog's needs too.
We're pretty sure if your dog could make it's own wishlist, a Yeti Dog Bowl would be on it.
YETI is a brand known for its robust outdoor products that are designed to last. It's the standard against which other outdoor companies gauge their products. Ensure you spot the authentic YETI label to avoid falling for knockoffs.
In this article we explore Yeti Dog Bowls.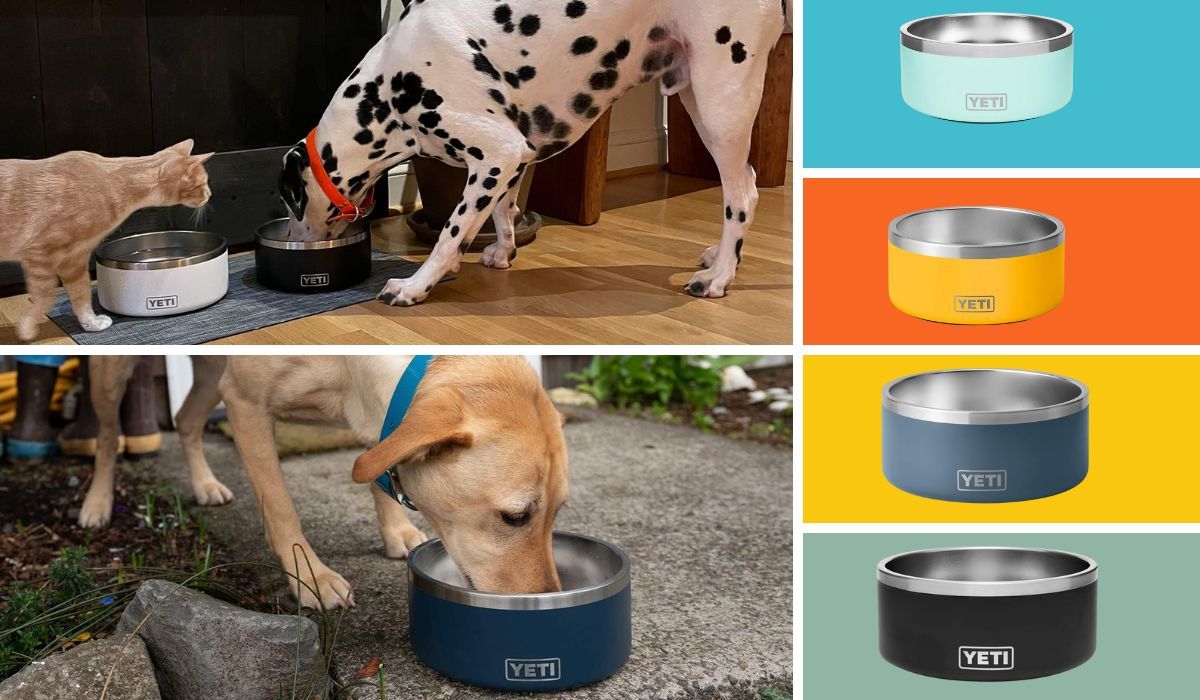 The excitement among outdoor-loving families peaked when YETI added Dog Bowls and a Dog Bed to their product range. If you want your gifts to be cherished for a long time, consider YETI's offerings for their pets.
A quick review of the Yeti Dog Bowls below and you'll surely find the exact right size for the dog lover in your family.
We research and recommend products that we would also use in our own families, and some we already use! We may receive a small commission if you make a purchase, which helps us keep things running. Some reviews have been edited for brevity and clarity. Happy shopping!
PS - Like you, we're dog lovers through and through...and Yeti lovers too.
YETI Dog Bowls and Why We Like Them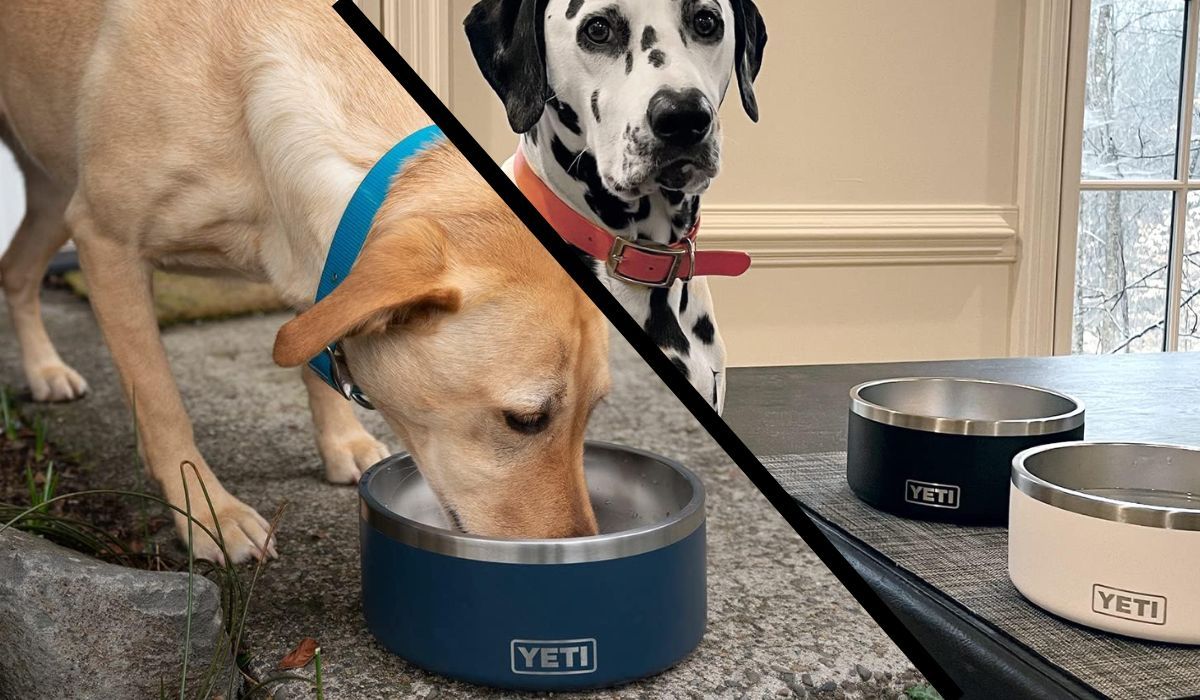 YETI products are renowned for their superior quality and unmatched durability. The brand prides itself on utilizing top-tier materials and cutting-edge design techniques to create products that withstand the test of time.
In the case of YETI Dog Bowls, they are built with the same ruggedness and durability found in other YETI products. These bowls are made from robust, food-safe materials that can withstand even the most excited eaters.
They are puncture-resistant, rust-resistant, and non-slip, meaning they're designed to handle any rough-and-tumble play your dog can dish out.
With YETI, you're not just purchasing a product; you're investing in a long-lasting solution for your dog's needs. Truly, YETI's commitment to quality is reflected in every product they craft.
Whether you're exploring the wilderness or relaxing at home, these YETI dog bowls ensure your furry friend never goes thirsty.
They're sturdy, can be cleaned in a dishwasher, and are available in two sizes (4 cup and 8 cup), catering to dogs of all sizes.
We also appreciate the non-slip base that prevents tipping, and the variety of 14 colors, although they sell out fast during peak seasons.
Amazing Reviews!
"This is the best dog bowl on the planet! It's super insulated and keeps my dogs' water cold for hours. Love it!"
It's heavy duty, I can easily hand wash it or throw it in the dishwasher if I have space. The dog hasn't been able to flip it over and it stays put, even when she was in her "I'm going to swim in the bowl" phase. These are definitely not cheap bowls but I imagine we'll have it for years to come so I can justify the expenditure.
Our sturdy, easy to clean dog bowl arrived quickly. We love these bowls. They don't scoot around. We have 3, 45 lb dogs and they don't clang and bang around. Makes life nice a quiet. Easy care. Highly recommend
Love these!! I had them on my wishlist forever and finally got them for my pup. The color is stunning and I love that they are heavy enough that my pup can't tip them over. Highly recommend.
Indeed, the popularity of YETI products among dog owners is both undeniable and burgeoning. The stellar reviews and ratings from satisfied customers are a testament to the brand's commitment to quality. Dog owners appreciate the rugged durability and the thoughtful design of YETI Dog Bowls, which make meal times easier and more enjoyable for their furry friends. The brand's recognition in the dog-owner community has grown exponentially, largely due to their understanding of dogs' needs and their consistent delivery of top-tier, long-lasting products. The YETI Dog Bowl is more than just a feeding vessel; it's a reliable companion in every pet-owner's journey.
Your only decision now should be
Which size do I need?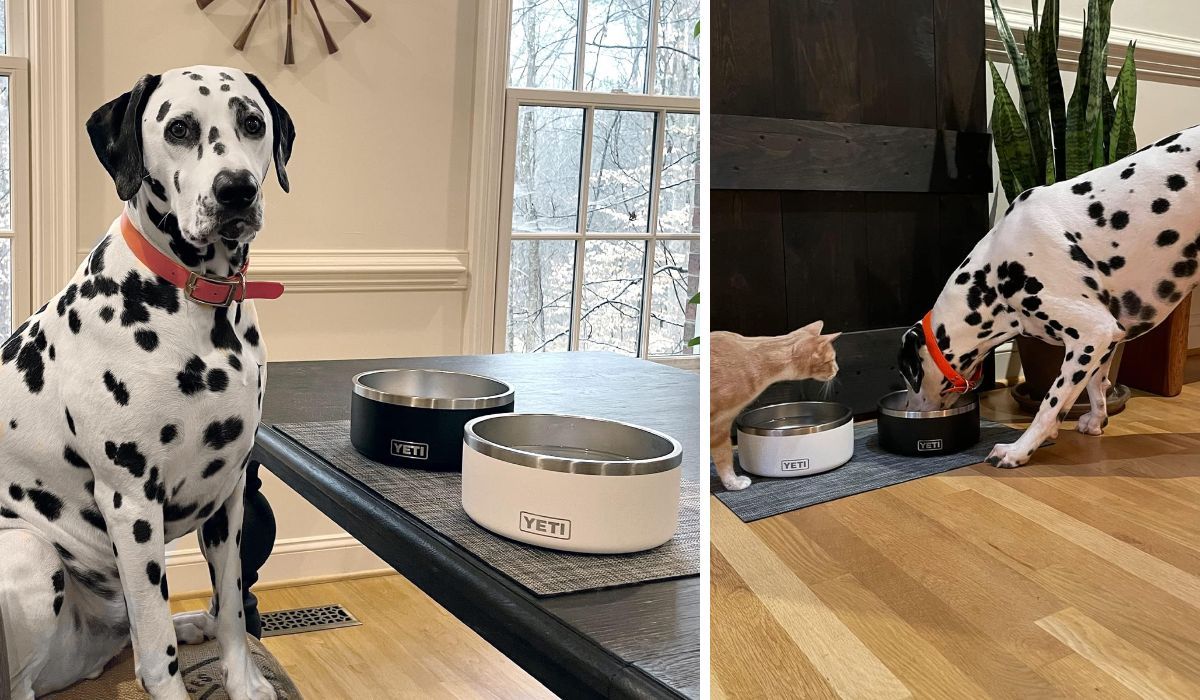 We provide a guideline below for small or large size dogs. But as you can see in the photo above, some families will have a large dog bowl for water and a smaller bowl for food. Or, as you also see in the photo above some have one size for the cat and one size for the dog.
Small to medium sized dogs are best suited for the YETI Boomer 4 Dog Bowl
Small to medium-sized dogs are typically those that, when fully grown, weigh between 10 to 50 pounds. This category includes a wide range of breeds.
Some examples of small to medium-sized dog breeds include Beagles, French Bulldogs, Poodles, Shih Tzus, Cavalier King Charles Spaniels, Boston Terriers, Cocker Spaniels, and Border Collies.
It's important to remember that while these breeds fall into the small to medium size category, their dietary needs, activity levels, and temperaments can vary significantly.
Therefore, it's crucial to consider these factors while choosing the right YETI Dog Bowl size for your pet.
Large sized dogs are best suited for the YETI Boomer 8 Dog Bowl
Large breeds of dogs are usually those that, when fully grown, weigh more than 50 pounds.
This group encompasses a diverse array of breeds.
Some examples of large dog breeds include Golden Retrievers, German Shepherds, Labrador Retrievers, Boxers, Rottweilers, and Dalmatians.
Much like their smaller counterparts, large dog breeds also have varying dietary needs, activity levels, and temperaments.
These factors should be kept in mind when choosing the right YETI Dog Bowl size for your large pet.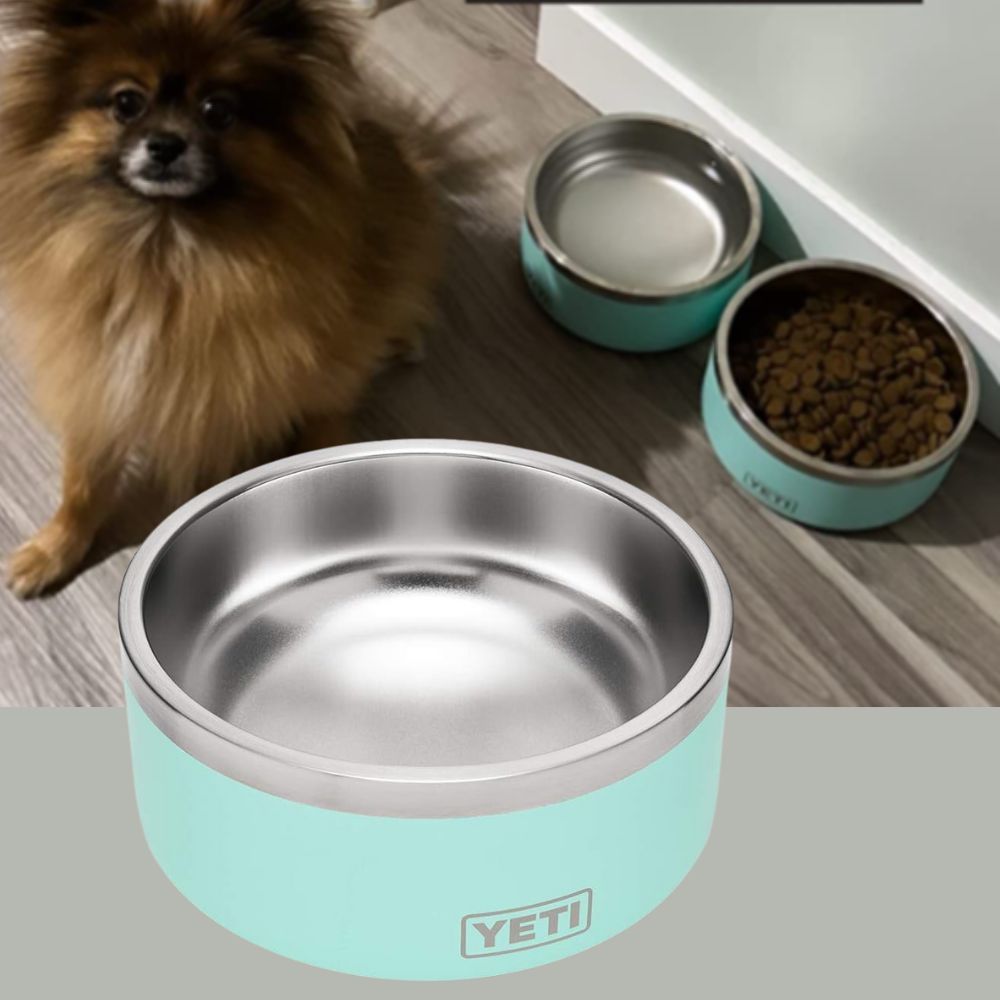 Why It's One of Our Favs
The YETI Boomer 4 Dog Bowl is a favorite among dog lovers for many valid reasons. Foremost, its 32 ounces (4-cup) capacity makes it a perfect choice for small to medium-sized dogs or for serving water and food for a day trip.
This dog bowl's durability is second to none, thanks to the 18/8 stainless steel construction, ensuring it can withstand even the toughest of chewers.
FAV Features
The Boomer 4 has a few standout features that make it a worthy addition to any dog household.
Its "Bearfoot" non-slip ring at the base ensures the bowl stays in place even with the most enthusiastic eaters, preventing spills and messes.
The rust-resistant and puncture-resistant properties mean this bowl will maintain its appearance for years to come.
Lastly, it's dishwasher safe, making clean-up a breeze for busy pet parents.
The icing on the cake is the array of vibrant colors available, allowing you to choose a bowl that matches your dog's personality or your home decor.
With the YETI Boomer 4 Dog Bowl, mealtime becomes a stylish, stress-free, and durable affair.
---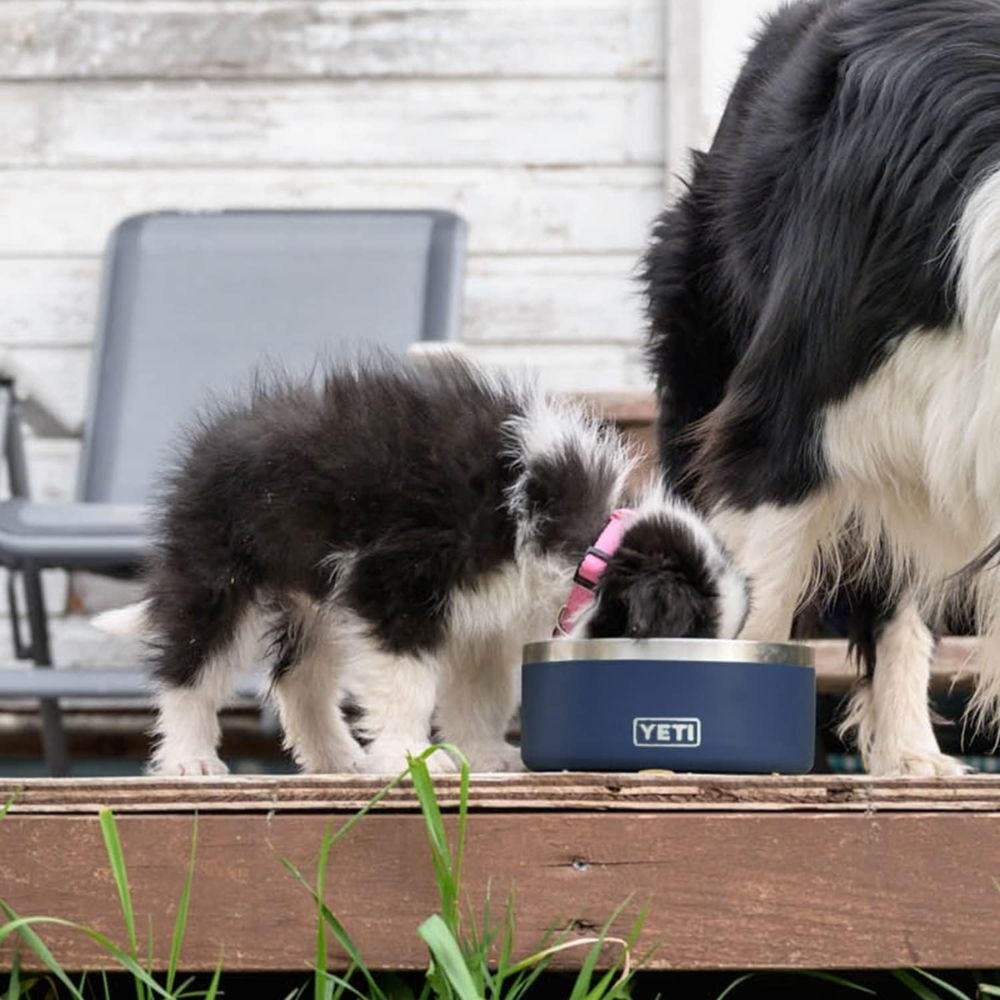 Why It's One of Our Favs
The YETI Boomer 8 Dog Bowl is a fantastic option for larger dogs, thanks to its generous 64 ounces or 8 cups of capacity. This bowl's size is perfectly suited for larger breeds or multi-dog households.
Constructed with 18/8 stainless steel, it offers the same robustness and durability YETI products are renowned for. This bowl is designed to last, providing the assurance that even the most aggressive chewers won't leave a dent.
FAV Features
The YETI Boomer 8 Dog Bowl encapsulates essential features that make it an asset for any dog owner.
Its non-slip ring at the base ensures stability, reducing the likelihood of accidental spills while your dog enjoys its meal.
Just like the Boomer 4, the Boomer 8 is rust-resistant and puncture-resistant, guaranteeing longevity and maintaining its good looks through the years.
Its dishwasher-safe property is a godsend for busy pet parents, enabling easy and quick clean-ups.
The range of available colors will allow you to choose one that suits your aesthetic preferences or complements your home decor.
The YETI Boomer Eight Dog Bowl delivers durability, functionality, and style, making feeding time a joy for both you and your beloved pet.
---
Aging Dogs Need Elevated Dog Bowls
Note: Add to bag, an elevated dog bowl stand?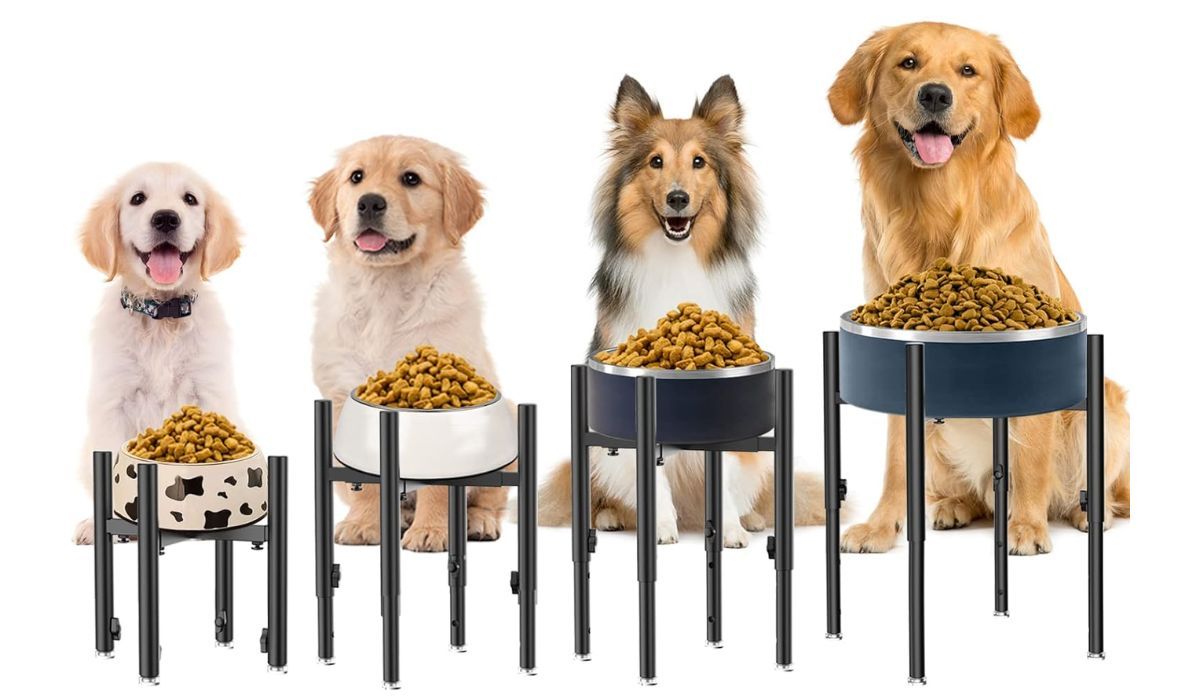 Elevated dog bowls offer several distinct benefits that can improve the quality of life for your pet. Firstly, they promote a healthier eating posture. Dogs, especially larger breeds, can strain their necks and shoulders when leaning down to eat or drink from ground-level bowls. Elevated bowls help maintain a more natural alignment of the dog's body, preventing potential discomfort and health issues.
Secondly, elevated bowls can aid in digestion. By allowing dogs to swallow food and water more naturally, the risk of conditions such as choking or gastric dilatation-volvulus (GDV), also known as bloat, can be reduced.
Additionally, elevated feeders can slow down the eating pace of fast eaters, which can decrease the likelihood of digestive problems such as indigestion and vomiting.
Lastly, elevated dog bowls can be more hygienic. By keeping the food and water off the floor, these types of bowls can help reduce the amount of bacteria and pests that your dog may ingest.
Furthermore, elevated bowls can also have benefits for pet owners. They can be easier to clean since you won't need to lean down as far to pick them up or refill them. They can also provide a neater eating area as some designs come with features that help contain spills. Overall, while elevated bowls may not be necessary for every dog, they can provide certain benefits that make them a worthwhile consideration for many pet owners.
4 Height Adjustments. Holder for Raised Food Water Feeder for Small, Medium or Large Dogs. Available on Amazon.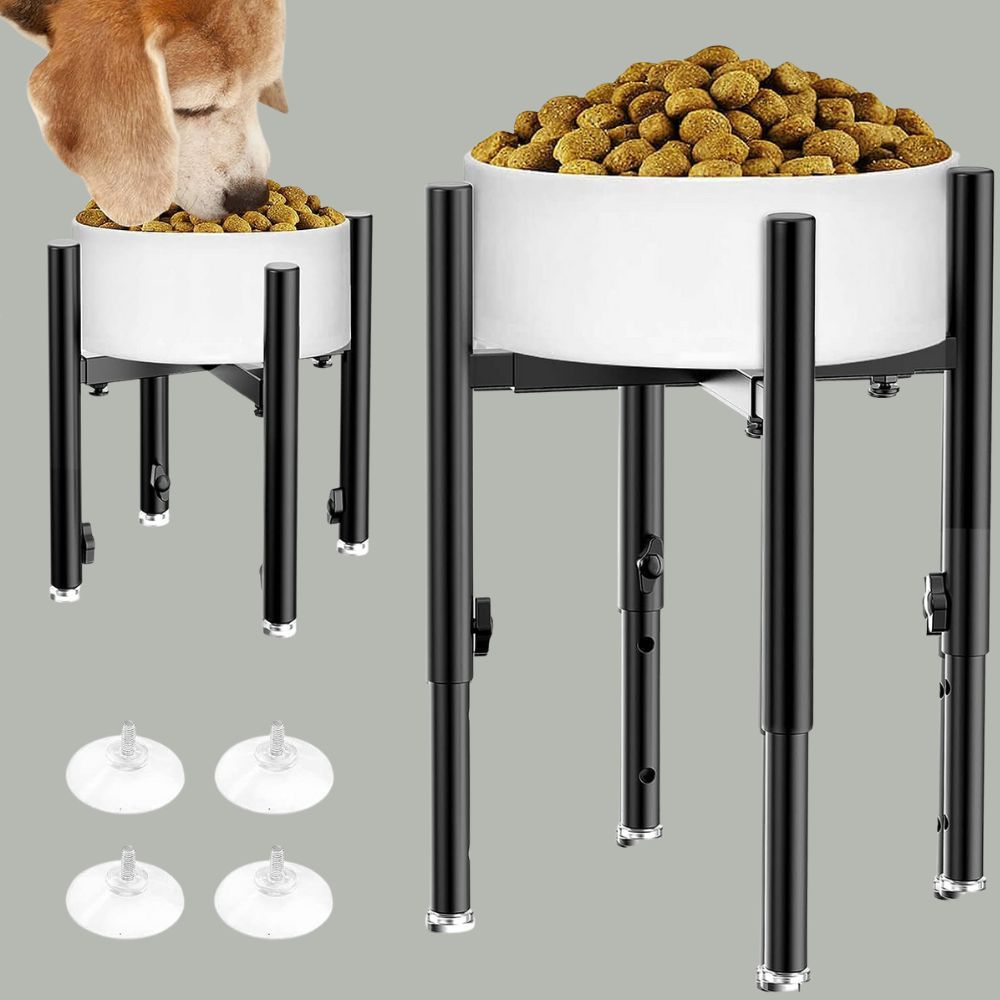 Why It's One Of Our Favs
The SYBECHATF Adjustable Elevated Dog Bowl Stand is a versatile and practical addition for dog owners. It's design accommodates both the Yeti Boomer 4 and Yeti Boomer 8 dog bowls, making it a perfect choice for multi-dog households or owners who have both sizes of Yeti bowls.
It's adjustable, enabling you to customize the height to the size and needs of your dog. This ensures your dog eats in a comfortable and natural position, potentially alleviating health issues related to posture and digestion.
FAV Features
What sets the SYBECHATF Adjustable Bowl Stand apart are its thoughtful and functional features. Firstly, it boasts four height adjustments, providing flexibility for different sized dogs or changing needs as your pup grows.
Secondly, the stand holds the bowls securely in place, which helps prevent spills or the bowls from being knocked over. This design feature makes feeding time less messy and more enjoyable both for your pet and you.
Lastly, the stand's minimalistic design and neutral color make it a stylish fit in any decor setting. It's not just a feeding stand - it's a piece that complements your home while providing comfort and convenience for your furry family member.
Still Want More Gift Ideas ...
If you are looking something to package with your YETI Dog Bowl, you might consider a YETI Dog Bed.
YETI Trailhead Dog Beds | 2-in-1 Dog Bed
At the end of an eventful day, your dog deserves a plush place to snooze. YETI's dog beds are a wonderful choice.
The Ultimate in Canine Comfort.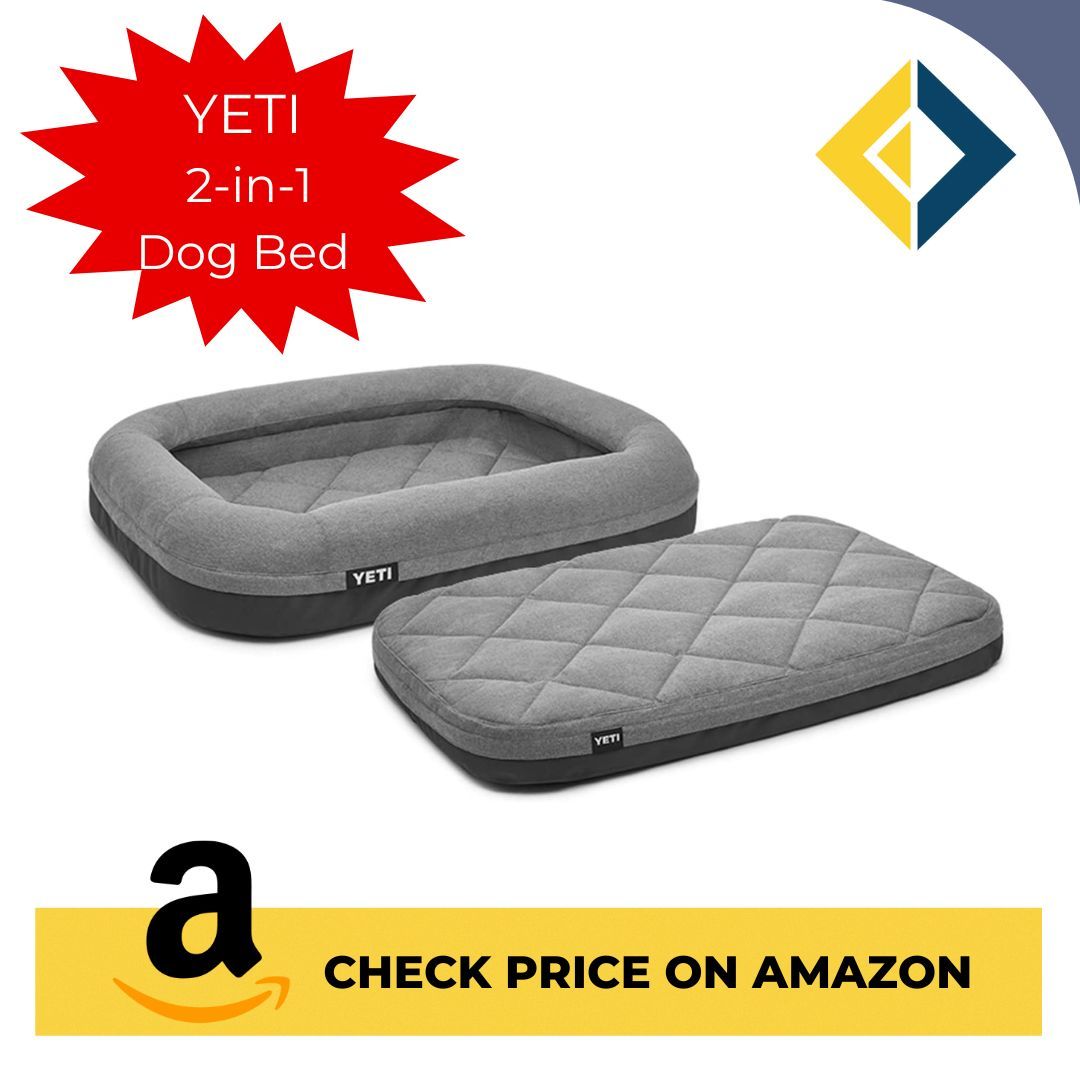 Why It's One of Our Favs
The YETI Trailhead Dog Bed stands out for its innovativeness, offering a 2-in-1 solution for dog owners. It has been thoughtfully designed to provide a comfortable resting spot for your pet, whether at home or on the go. The home base is built with sturdy, high-density foam that provides optimum support, while the travel pad, made with a softer foam, is perfect for on-the-go use.
FAV Features
One of the standout features of the YETI Trailhead Dog Bed is its versatility. The bed includes a detachable Travel Pad, which can be used independently, offering a comfortable resting place for your dog during travel or outdoor trips.
Both the home base and the travel pad are lined with a ultra-durable and easy to clean materials, ensuring the bed stays in great condition for a long time.
Moreover, the bed's handsome design and color options (we like the charcoal) add a touch of style to your home or travel gear. With the YETI Trailhead Dog Bed, dog owners are investing in a product that brings comfort, convenience, and style.
---
Frequently Asked Questions About Yeti Dog Bowls
To help you make the best choice for your furry friend, we've compiled a list of frequently asked questions about Yeti Dog Bowls. These queries address common concerns and inquiries that many pet owners have when considering this product. Read on to gain a better understanding about Yeti Dog Bowls and how they can cater to your pet's needs.
Does Yeti dog bowl keep water cold?
Yes, Yeti Dog Bowls are designed with insulation technology that helps to keep water cool for longer periods. This is especially beneficial during hot summer months or for dogs who tend to take their time drinking water.
Can Yeti dog bowls be used for food as well?
Yes, the YETI Boomer 4 and Boomer 8 Dog Bowls are designed for both food and water. They are made with stainless steel, which is suitable for both types of pet meals.
What is the difference between Yeti 4 cup and 8 cup dog bowl? The main difference between the YETI Boomer 4 and Boomer 8 is their capacity. The Boomer 4 can hold up to four cups of food or water, while the Boomer 8 can hold up to eight cups. This makes the Boomer 4 more suitable for smaller dogs and the Boomer 8 more suitable for larger breeds or multi-dog households.
Are Yeti dog bowls dishwasher safe?
Yes, both the YETI Boomer 4 and Boomer 8 Dog Bowls are dishwasher safe. This makes cleaning up after your pet's meals quick and convenient.
Can I adjust the height of the SYBECHATF Adjustable Elevated Dog Bowl Stand?
Yes, the stand offers four height adjustments, allowing you to customize it for your dog's needs and comfort. This feature is especially beneficial for older dogs or those with health issues that may require a lower or higher feeding position.
Can you wash a Yeti dog bowl in the dishwasher?
Yes, the YETI Boomer 4 and Boomer 8 Dog Bowls are both dishwasher safe.
What is the best dog water bowl?
The best dog water bowl may vary depending on your pet's needs and preferences. However, the YETI Boomer 4 and Boomer 8 Dog Bowls are considered top choices due to their durable stainless steel construction, insulation technology, and secure non-slip design features.
Are Yeti dog bowls safe?
Yes, Yeti Dog Bowls are designed with safety in mind. They are made with food-grade stainless steel and have non-slip bases to prevent spills or movement during mealtime. Additionally, they are free from any harmful materials such as BPA or lead. Overall, the YETI Boomer 4 and Boomer 8 Dog Bowls provide a safe and secure feeding option for your furry friend.
What is the benefit of Yeti dog bowl?
The benefits of Yeti Dog Bowls include their durable construction, insulation technology for keeping water cool, and thoughtful design features such as non-slip bases and secure lids. They also offer versatility with the option to use them for both food and water. Overall, they provide a reliable and stylish way to keep your pet hydrated and fed.
Does the Yeti dog bowl keep water cold?
Yes, the insulation technology used in Yeti Dog Bowls helps to keep water cool for longer periods. This is especially beneficial during hot weather or for outdoor activities with your pet. Overall, the YETI Boomer 4 and Boomer 8 Dog Bowls provide a reliable way to ensure your pet always has access to fresh and cool water.
Should dog bowls be on a stand?
Elevated dog bowl stands have various benefits for your pet, including improved posture and digestion. The SYBECHATF Adjustable Elevated Dog Bowl Stand allows you to customize the height according to your dog's needs, ensuring they are comfortable while eating or drinking. For older dogs or those with health issues, using a stand can also make it easier for them to access their food and water without straining their neck or back. Overall, the YETI Boomer Dog Bowls and SYBECHATF Adjustable Elevated Dog Bowl Stand are an excellent combination to provide comfort, convenience, and style for you and your furry friend.
---
Know a Dog Lover? These are Great Gifts!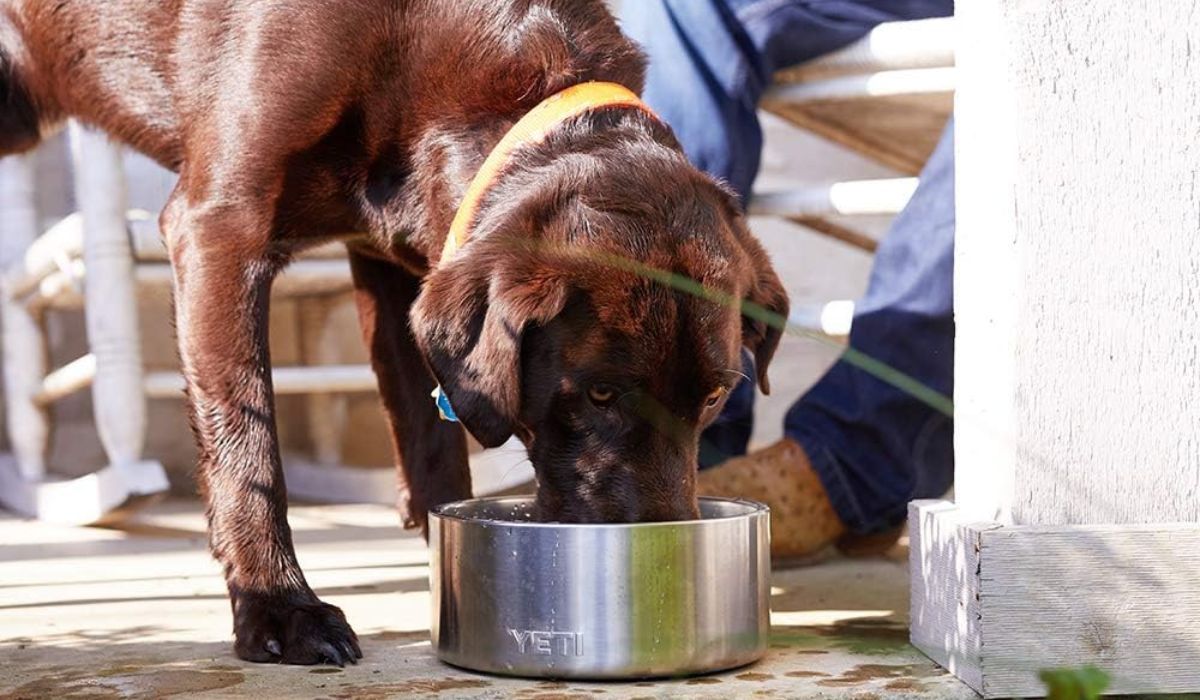 Upgrade your gear and spoil your pet this season with these essential YETI items for dogs.
Durable dog bowls, and dog beds are something that every pet and owner needs. So why not a YETI? Go ahead and make the most of the outdoors with your beloved companions!
Discover the limited edition Yeti dog bowls and beds, now available in unique colors and patterns to add a touch of exclusivity to your pet's gear.
Owners of YETI products understand the brand's value, so spend the 40.00 or $50.00, they'll surely appreciate a sturdy Yeti dog bowl or YETI dog bed for their pet.
The dog will be grateful too!
Happy Gifting.
Your FavReviews Team
PS - You may also be interested in several of our other YETI review articles: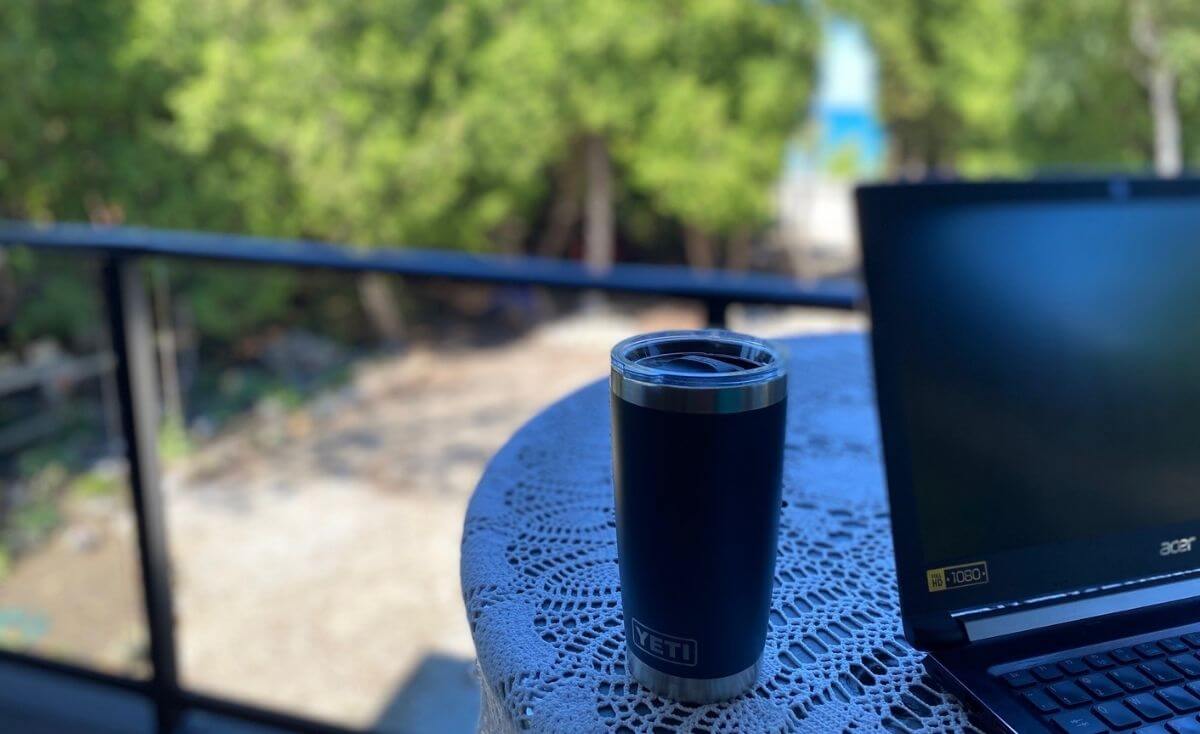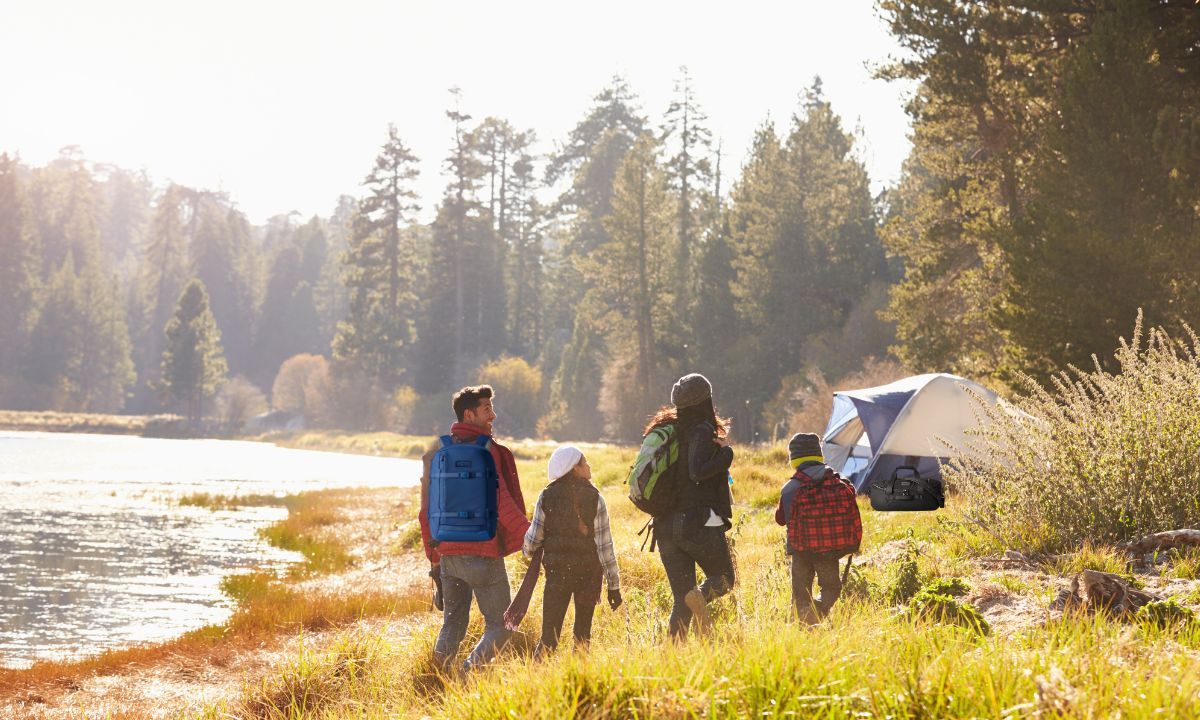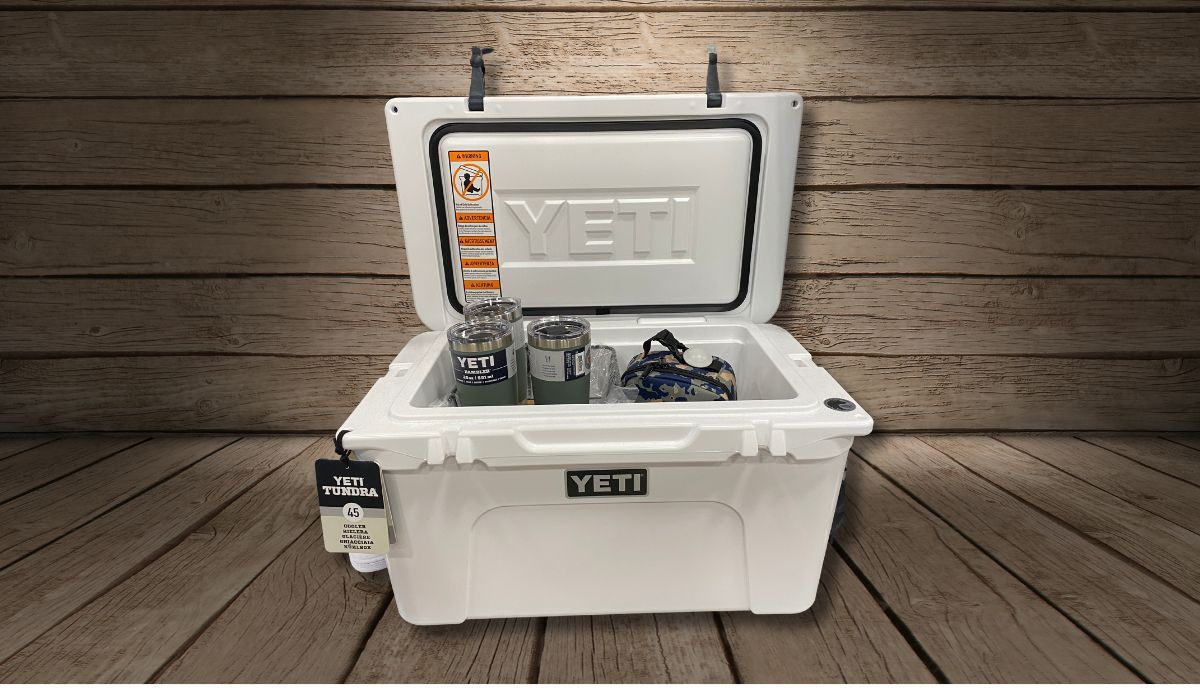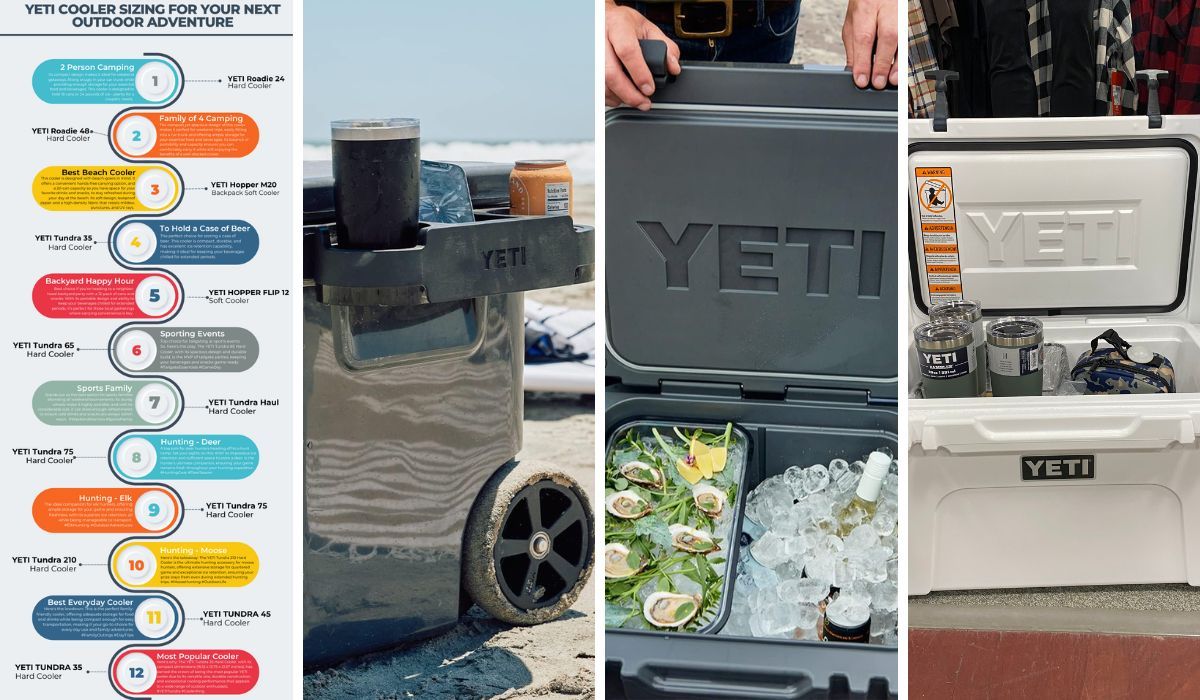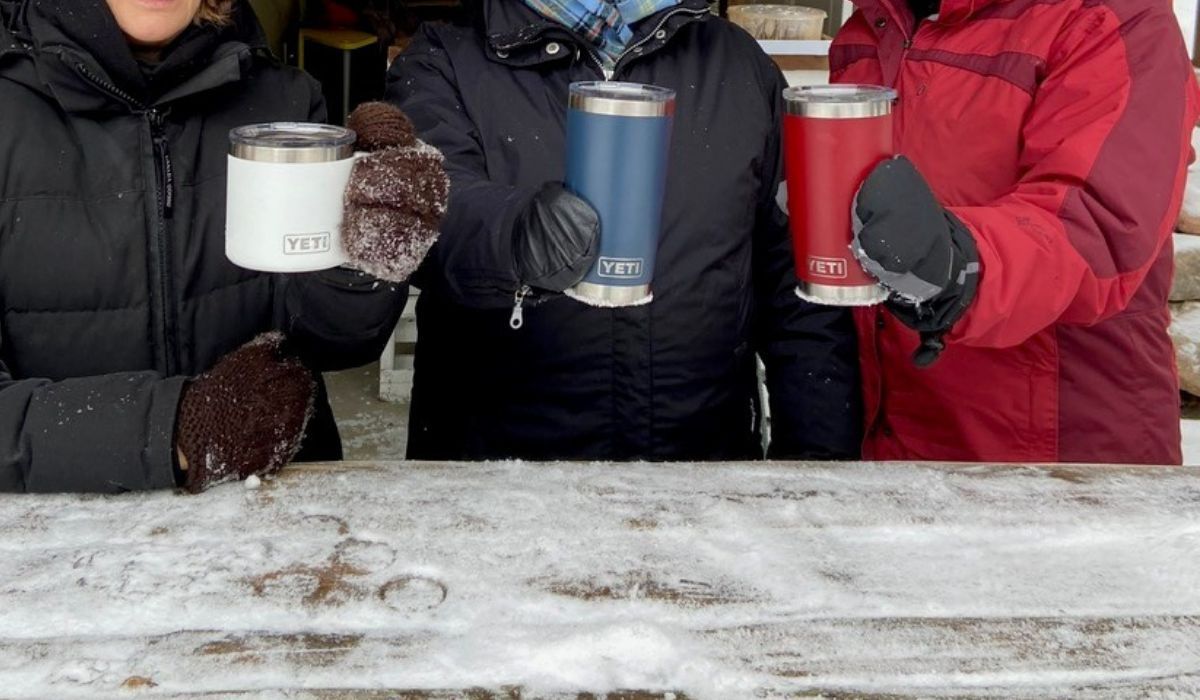 ... and many many more. Simply search YETI at FavReviews.com
---
Do You Enjoy the Outdoors as Much as We Do?
If you like to listen while walking or relaxing outdoors like we do, you can get lots of great music with Amazon Prime Music or 2 FREE Audiobooks from Audible Plus!
I love learning and I never give myself enough time to read books, so I love listening to a great book or motivating myself with great songs when out for my daily walks.
Plus, if you want to take advantage of 2-day shipping, get a free 30-day trial of Amazon Prime. ( I used to think free shipping was the biggest benefit of Amazon Prime, but have you seen how many new movies have been added to Amazon Prime lately?) PLUS, did you know if you receive qualifying government assistance like SNAP or Medicaid, and others you can save even more with Prime Access.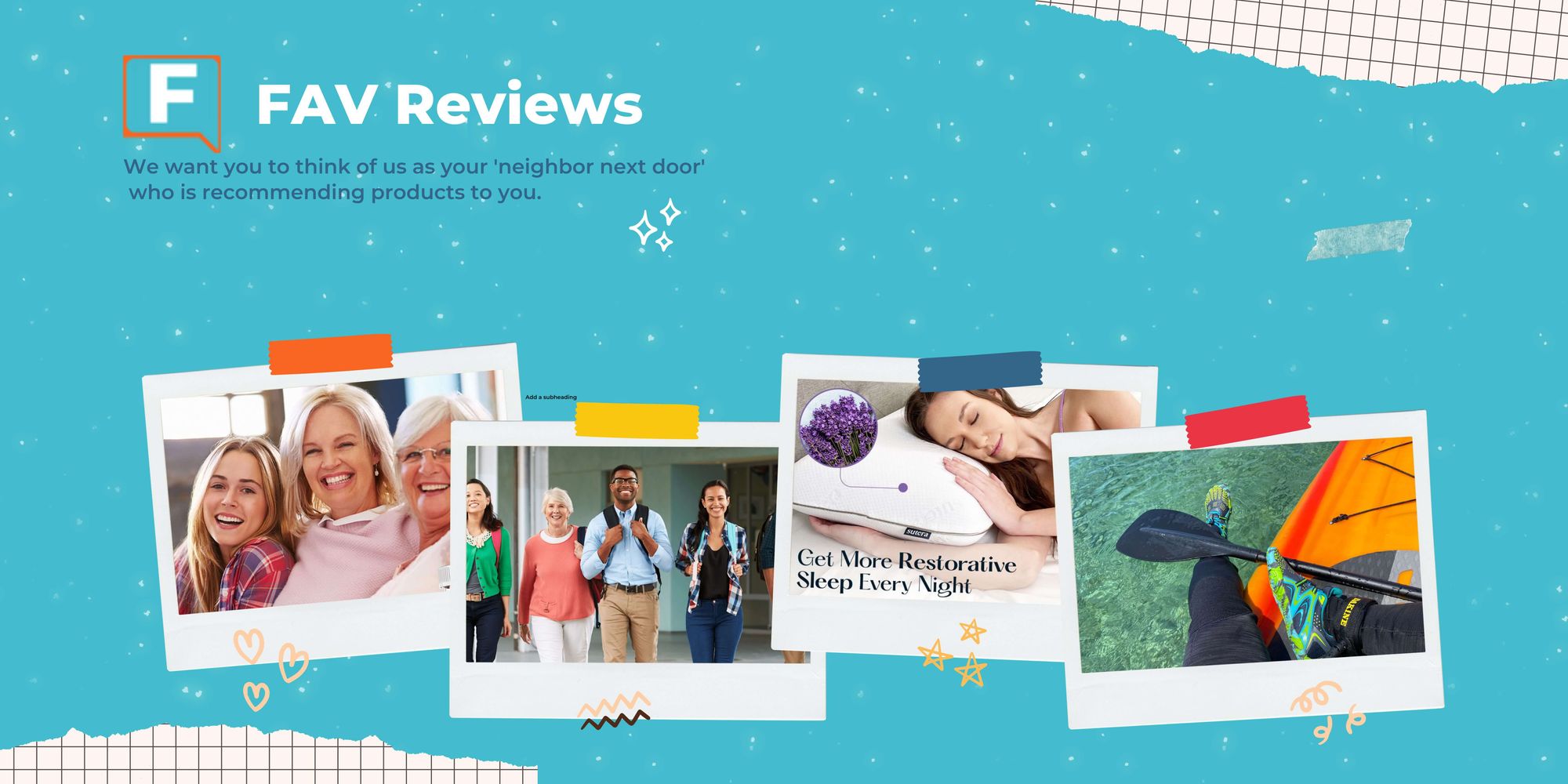 Want to see even more content about products for healthy lifestyles and outdoor enthusiasts? Be sure to check out all of our FAV Reviews.
Do you love the outdoors as much as we do? Check out our other articles:
Or shop by the season:
Thank you for visiting us at Fav Reviews :) Stop by again! Better yet subscribe with the button on this page and never miss another thing.
---
We hope you find your next favorite thing from FavReviews! We are a family friendly product review site.
Four Generation Family: As a four generation family, the breadth of products we consume and review as brand ambassadors is vast. But we can tell you, in general, in we love the outdoors, sports, staying active, living healthy and celebrating the changing seasons.
Trending Products: We also love finding new trending products and we are happy to pass along our research of new trending products to you. Follow us so you don't miss out on a thing! We send out cool emails with our latest reviews, and we will never sell or misuse your information.
Opinions Based on Use, Research and Reviews: Each product we write about is independently selected by our editors. All opinions in this article are our own, based on our own use of the product(s), or hours of research and reading reviews. We will never recommend something we wouldn't use ourselves in our own family.
Compensation: Yes, FavReviews may collect a share of sales or other compensation from the links on this page if you decide to buy something (that's how we stay in business). But, the product never costs you more, in fact in some cases, we hope we might help save you money based on our recommendations.
Reviews have been edited for length and clarity. Enjoy finding your next favorite thing!
Happy Shopping!
Your FavReviews Team
____________________________________________________
BEHIND the SCENES LOOK: If you'd like to learn how to start your own product review blog, with products that you love, check out our article How to Become a Brand Ambassador or visit LearnWriteLive.com There is room for all of us to provide better service to online shoppers. What's your passion?